Edraw Support Center
Get quick answers and step-by-step instructions in our support center.
Style
Rainbow Style
The Rainbow Style lets you choose how to distribute the theme colors. There are 4 rainbow styles: Single Color, Rainbow, Symmetrical, and Alternate.
You can go to Page Style tab or Format panel to find Rainbow option.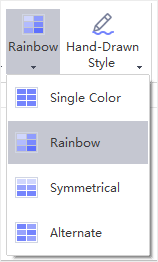 Single Color

Clicking Single Color button will apply a single color for all branches.

Rainbow

Clicking Rainbow button will apply different colors for each branch.

Symmetrical

Clicking Symmetrical button will apply bilateral symmetrical colors for branches.

Alternate

Clicking Alternate button will apply two alternate colors for branches.
Hand-drawn Style
The default effect of a map is Normal Style. A hand-drawn style turns the default lines and shape borders into natural wavy lines to give the map a hand-drawn look.
Select nothing on the map.
Go to Page Style tab or Format panel, and click Hand-Drawn Style button.
To change back to normal style, click Normal Style button.