Organizational Chart Software

Create professional-looking organization charts based on the free organizational chart templates and examples with no drawing skills required.
Organizational Chart Software
Edraw is a powerful but easy-to-use organizational chart software, which makes it easy to create professional-looking basic organizational charts, functional organizational chart, matrix organizational chart, divisional organizational chart, and photo organizational chart. Use Edraw. Use it to make your organizational charts feast for the audience's eyes. Make yourself understood instantly.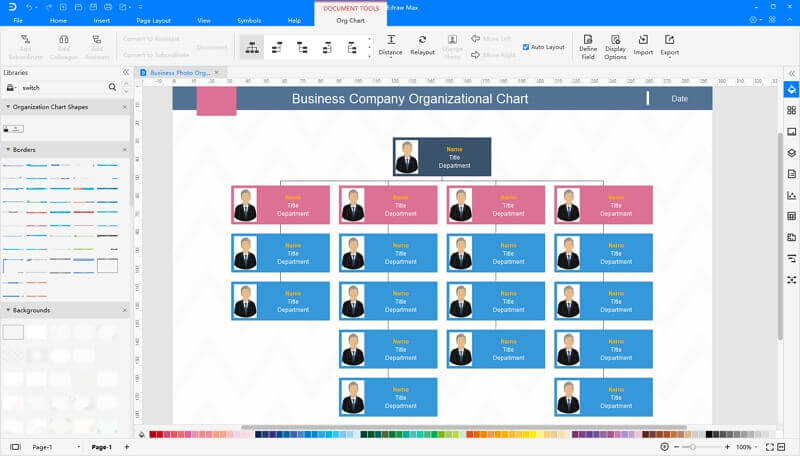 Org Chart Software is the best way to visualize and understand your workforce and is used to illustrate hierarchical relationships. Edraw Org Chart software was designed specifically to create diagrams for human resources management, staff organization, office administration, management structures, and family tree.
It will help you visualize and structure information, add illustrations and drawings to your documents and make all this fast and easy. That's possible thanks to the program's intuitive interface, easy-to-use drawing tools, and lots of pre-drawn library objects.
Free organizational chart templates and organizational chart symbols will help to quickly create most common organization charts.
EdrawMax
All-in-One Diagram Software
Create more than 280 types of diagrams effortlessly
Start diagramming with various templates and symbols easily
Superior file compatibility: Import and export drawings to various file formats, such as Visio
Cross-platform supported (Windows, Mac, Linux, Web)
Security Verified |
Switch to Mac >>
Security Verified |
Switch to Linux >>
Security Verified |
Switch to Windows >>
Works on Windows 2000/2003/2008/Vista/7/8/10 (32bit/64 bit)
Works on Mac OS X 10.11 and later
Compatible with Linux distributions such as Debian, Ubuntu, Fedora, etc
Overview of Organizational Chart
An organizational chart represents the structure of an organization in terms of relationships among personnel or departments and is the most intuitive way to understand your organization. Org chart makes information accessible throughout the organization with a unified, visual view of critical data from different business systems. It provides the tools to model business scenarios and plan for change. The organizational chart makes employees more productive, helping them understand company strategy and structure.
Who Need To Use Organizational Chart Software
Aggregate Data from multiple departments;
Visualize and manage workforce information;
Build stronger and closer relationship between staff;
Create boardroom-quality organizational charts.
What Can You Get with Organizational Chart Software
Elaborately built templates and examples for fast building of organizational charts;
Various kinds of shapes for characteristic charts appearance;
Quick add of shapes by only clicking the floating control buttons;
Pre-draw textbox for immediate typing of description;
Inserting photos in the charts for quick recognition and acquaintance among staff.
Organizational Chart Templates
Create high quality organizational charts, org charts from examples!
Create Org Charts Quickly and Easily
The organization chart (org chart) is a diagram of a reporting hierarchy that is commonly used to show relationships among employees, titles, and groups. Whether yours is a start-up company or an established institution, Edraw is the smartest way to chart and manage the structure of any company. The shapes in your org chart can display basic information such as name and title, or details such as department and cost center. You can even add pictures to the org chart shapes. Managers, business professionals, and executive assistants will benefit from automatic chart drawing, custom formatting, compact layouts, and easy editing.
Edraw beats any other drag-and-drop application, hands down. Whether you are working for a small start-up or a large institution, Edraw is the smartest way to chart and manage the structure of your company. With no drawing skills required, it helps you do the work in up to 70% less time.
More detailed information can be found in page: Create Fabulous Org Charts fast (with Pictures).
Easy to Add Photo for Organizational Chart Shape
Including pictures of employees in your organization charts can help to humanize your corporate intranet site, help new employees get acquainted, and assist far-flung virtual teams to get a sense of who their co-workers are. By using the improved organization chart shapes in Edraw, you can easily add pictures to your organizational charts.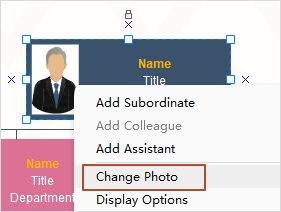 Right-click the organization chart shape you want to add a picture, and then click Replace Photo. In the Insert Picture dialog box, locate the folder that contains the picture you want to insert, and then click the picture file.
No Other Organizational Chart Software Gives You All These
Easy-to-use organization chart drawing tools and organization charts managing tools.
Affordable price and high quality.
Free update for ever, free technology support.
Free examples and built-in templates to help you draw organizational charts rapidly.
Read More:
Top 12 Reasons to Use Organizational Chart