Edraw Support Center
Get quick answers and step-by-step instructions in our support center.
Insert Marks/Tags
Insert Marks
(F9)
Marks are used to avoid the monotony of words and display focal points prominently. You can add marks from the pre-defined mark groups or create your own mark group.
To Insert Marks into Topics:
Select a topic to add marks.
Open Mark panel by pressing F9, clicking Mark button on Home tab or clicking Mark icon on the right sidebar.
Click any mark on Mark panel to add it into the selected topic.
Notes:
Marks from one group can be mutually exclusive and only one mark from this group can be added on a topic, but multiple marks from different groups can be added on a topic.
After a mark is added to a topic, you can click it to switch to another mark from the same group.
To Manage Mark Groups: This feature is used to change ways to view Mark panel: icon list and icon tile. The default view for marks is icon tile view. If you intend to change to icon list view, you can click the button

.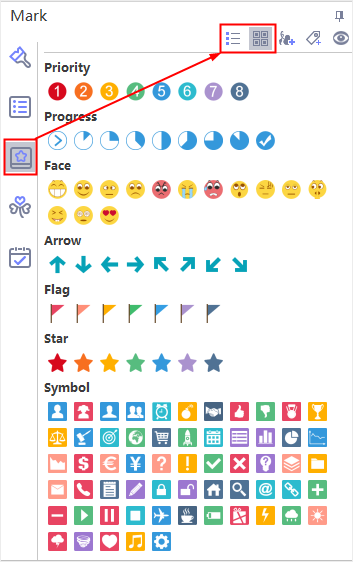 To Add a New Mark Group:
On the top of the Mark panel, click Mark Manager button .
Click Add group and rename it.
Tick Mutex if the content of this group are mutually exclusive.
Click Add marks to insert marks from local disk to your group.
Click Delete mark at any time if you want to remove it from the group.
To Hide Unused Marks: Click

on Mark panel to hide unused marks and concentrate on frequently-used marks.
Insert Tags
(Ctrl + G)
A tag is one of a text annotation to present brief information below the topic. The collection of tags can be widely used for identification, emphasis and transmission.
To Add a Group of Tags:
Select a target topic.
Click Tag button on Home tab or right-click the topic to select Tag to enter Tag manager window.
Or you can click tag button on Mark panel.

Type tag text into the typing box.
Click Add to add it into a group.
To Insert a Tag into Text:
Select a target topic.
Click Tag button on Home tab or right-click the topic to select Tag.
Select one tag or more in the groups that you have created and the tag will be inserted into the text.
To Manage Tags:
Click Add group for adding another group of tags.
Double-click the name to rename tags.
Click Delete group to remove the unnecessary group.