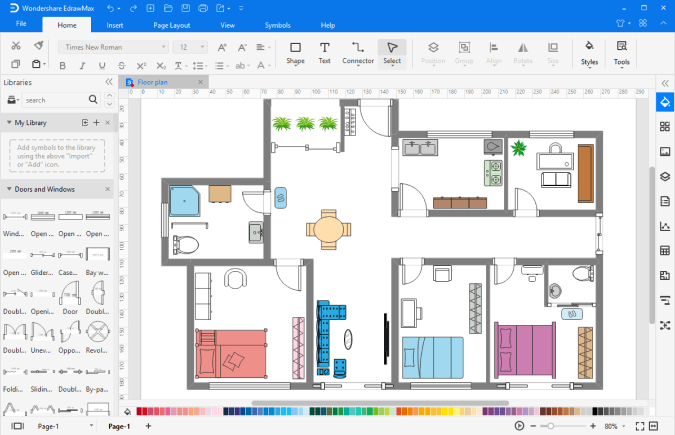 Floor Plan Maker
Make Floor Plans with Ease
Design your space effortlessly with our fast and easy-to-use floor plan maker.
Try it Free
Try it Free
Try it Free
Download for Windows 2000/2003/2008/XP/Vista/7/8/10
Download for Mac OS X 10.10 and later
Download for Linux Debian, Ubuntu, Fedora, CentOS, Mint and more
All-in-One Software with Powerful Tools
EdrawMax is an all-inclusive software and supports a collection of popular diagram types for different industries. You can work with it and make flowcharts, UML diagrams, ER Diagrams, Gantt charts, genograms, P&ID, engineering diagrams, and more. As a simple yet powerful floor plan maker, EdrawMax can make 12 kinds of building plans with a group of smart features and full drawing toolkits to simplify the design process and help you create a floor plan with top-notch quality.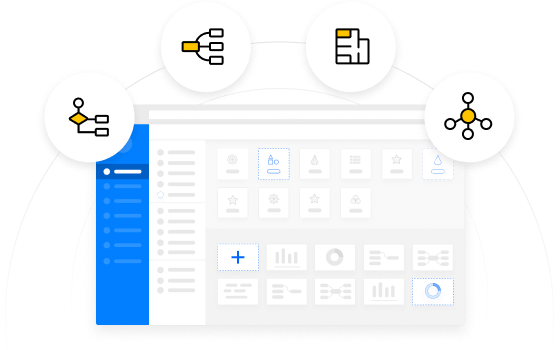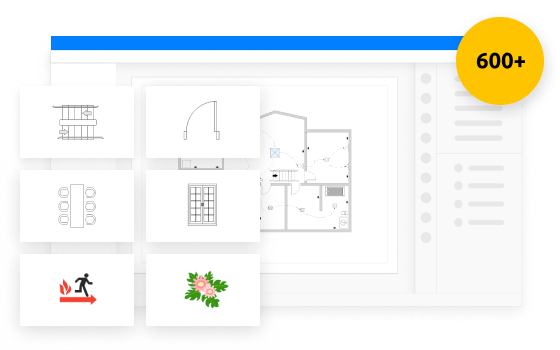 Decorate Rooms with Built-in Symbols
When you create a floor plan on your own, you can decorate it with different symbols from our extensive symbol libraries containing over 600 2D floor plan symbols. Just drag floor plan symbols that you want and drop them onto the canvas; align and arrange walls, fixtures, and outlets in the suitable places; and more importantly, use the easy scale tools to make sure everything in the drawing is accurate.
Easy-to-Customize Floor Plan Templates
With EdrawMax, you can start to design your floor plan using one of the pre-made floor plan templates - not just build from a blank canvas. You can easily customize it. Whether you are a beginner or an expert in this field, these free editable templates will help you draw a draft effortlessly and get a perfect floor plan to meet all your needs.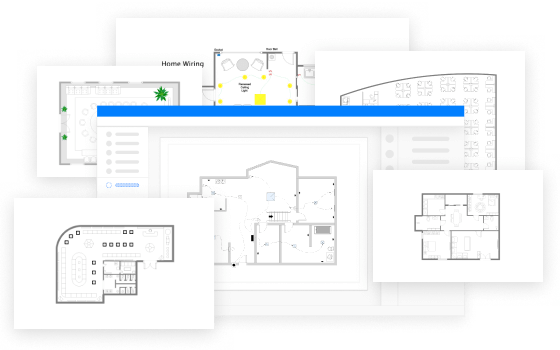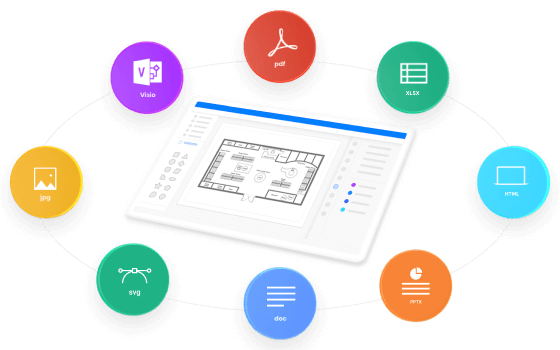 Export Floor Plans to Various Formats Easily
Try it yourself. Our floor plan maker takes you a few minutes to create beautiful floor plans. Once your floor plan is complete, you can export the drawing into a variety of commonly-used file formats, including PDF, Visio, Word, Excel, PPT, PNG, JPG, SVG, and HTML. The seamless compatibility with other programs enables you to easily share your work with others, even those who don't use EdrawMax.
Frequently Asked Questions
How can I make a floor plan in EdrawMax?

You can create a floor plan in EdrawMax by using the inbuilt floor plan template or designing on your own with different floor plan symbols.

Can I open my floor plans made in Visio with EdrawMax?

Yes! You can import your diagrams from Visio to EdrawMax, and also export the drawings in EdrawMax as a Visio file. The Import and Export buttons are all under the File tab.

How can I adjust the scale of the elements in EdrawMax?

When you select the elements, the scale tools will be available on the right pane, where you can change the drawing scale and precision.
Over 15 Million Users Worldwide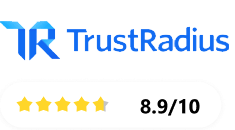 EdrawMax is an all-in-one diagram software designed to make it simple to create professional-looking flowcharts, org charts, network diagrams, building plans, mind maps, science illustration, fashion designs, UML diagrams, web design diagrams, electrical engineering diagrams, maps and more.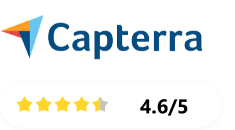 EdrawMax integrates the 100% functionality and libraries of all our other products. It is a versatile diagram software, with features that make it perfect not only for the professional-looking flowchart.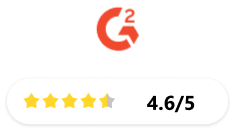 EdrawMax is a 2D business technical diagramming software that helps create flowcharts, organizational charts, mind maps, network diagrams, floor plans, workflow diagrams, business charts, and engineering diagrams.