Edraw Support Center
Get quick answers and step-by-step instructions in our support center.
Resources
(Ctrl + G)
In MindMaster, resources for completing tasks are treated as a special tag group, so you can create and manage resources on Tag Manager panel.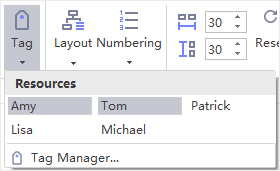 Create/Delete Resources
You can create resources in Resources group.
Select a topic.
Click Tag button on Home tab or select Tag on the right-clicking menu to open Tag Manager window.
You can see the Resources group already in Tag Manager window as a default tag group.
Click to select the Resources group (if there is no other tag group, this resource group will be selected automatically).
Type resource names in the right text box.
Click Add and then click OK after finishing adding all names.

The created resources will appear in the drop-down menu of Tag, Resource list of Task panel, and Resource group of Mark panel.
To remove resources from Resource group, open Tag Manager window, select a resource, then click Delete button.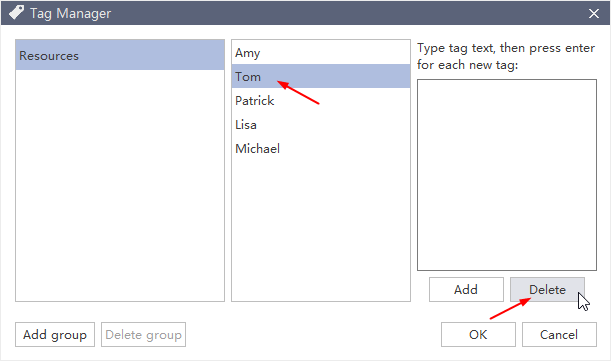 Add/Delete Resources to Topics
When resources are created, it's easy to add them to topics.
Select a topic you want to add resources.
Choose a resource from:
Drop-down menu of Tag
Resource group on Mark panel
Resource list on Task panel
When a resource is added to a topic, it will be marked with a person icon.
To remove resources from a topic, simply uncheck the names on the menu or list.