Edraw Support Center
Get quick answers and step-by-step instructions in our support center.
Insert Table
To insert a table on the canvas, you can
Go to Insert > Table, and move the cursor over the grid until you highlight the number of columns and rows that you want.

If your table is larger than 8*10, click Insert Table, open the Insert Table window or press Ctrl + Alt + T directly.
In the pop-up Insert Table window, input the desired numbers of rows and columns.

Besides, when you want to see different colors shown on the title, rows and columns, check the corresponding options and choose the desired colors on the color menu.
To customize a table, select the table, click Table icon on the right sidebar to open Table pane.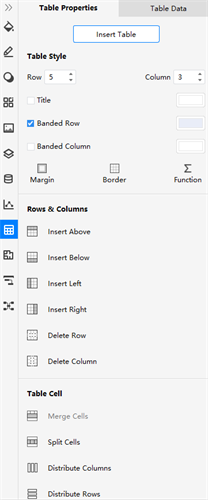 In the Table Properties pane, you can
Modify Table Styles:
Modify the numbers of rows and columns in the corresponding number boxes
Change colors of the title, banded rows or columns of the table
Margin: Change the look of the table margin in 4 different types (No, Narrow, Normal, Wide)
Border: Change the look of the table borders
Function: Run basic mathematical formulas
Insert/Delete Rows & Columns: select a table cell, row or column, click the corresponding buttons to add rows or columns in different orientations, or delete the selected row or column
Merge/Split Cells: select the table cells that you want to merge or split, click Merge Cells or Split Cells
Distribute Rows & Columns: when the width of columns or the height of rows are different in a table, select the columns or rows, click Distribute Columns or Distribute Rows to make the columns or the rows distribute evenly
In the Table Data pane, you can
Import data: click Import to import the data file (xlsx, csv) that you need into the built-in worksheet
Export data: click Export to export the table into files (xlsx, csv)
Apart from importing data, you can also input the table data by:
Double-click on the cells of the table in the canvas and type numbers or text
Click cells of the worksheet on Table Data pane and type numbers or text