Edraw Support Center
Get quick answers and step-by-step instructions in our support center.
Edraw Max Guide
Start Your Work in Edraw Max

Quick Document Operations

How to Make a Gantt Chart

Video Tutorial
Activate and Deactivate Edraw Max
How to Activate?
To get the full features of our product, you can activate Edraw Max and use the premium version. Edraw Activation is an anti-piracy technology designed to verify that software products are legitimately licensed. It works by checking whether the valid license code is used in another device that is more than the permitted number.
Run Edraw Max with computer administrator privilege and navigate to Help > Activate.

The Activation window will open, where you can enter your license name and valid license code. Then just click the Activate button to finish the process.
If you do not have a license code, but want to continue to use Edraw Max after the trial period, you can click the Buy Now button and go to the product purchase page: https://www.edrawsoft.com/pricing-edrawmax.html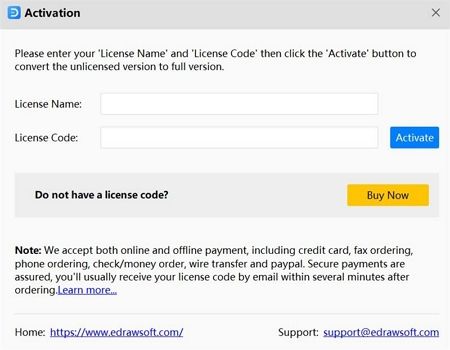 How to Deactivate?
Deactivation is necessary if you want to activate Edraw programs in another computer. Simply go to the Help tab and click Deactivate.
Once you deactivate the software, Edraw Max on this computer will turn into the unlicensed version, and you can activate it on another computer.
Note: Deactivation can only be done once every 30 days.
The Limitation of Unlicensed Version
An unlicensed version allows you to use Edraw Max freely for 15 days. Using diagrams created by Edraw max (unlicensed version) for commercial purposes is NOT ALLOWED.
The unlicensed Edraw Max will add watermarks when you want to export your designs, and there are also some other function limitations. Refer to Edraw Max FAQ.