Edraw Support Center
Get quick answers and step-by-step instructions in our support center.
Edraw Max Guide
Start Your Work in Edraw Max

Quick Document Operations

How to Make a Gantt Chart

Video Tutorial
Add Special Object
Insert Container
When there are 2 or more shapes on the canvas and you want to move them together, drag these shapes onto the container, and move this container.
To insert a container on the canvas, go to Insert > Container, choose one that you like.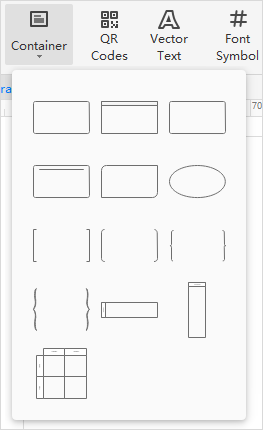 Insert QR Code
To insert a QR code, you can
Go to Insert tab and choose QR Codes, or press Ctrl + Alt + Q
In the pop-up Insert QR Code window, input the web URL or text, and Edraw Max will create the corresponding QR code

Adjust the margin and code quality, and upload or remove logos optionally
Click OK
Add Vector Text
To add vector text on the canvas, you can
Select Insert > Vector Text
Type the words on the pop-up Add Vector Text window

Modify the font style and font size, or adjust text styles
Click OK
Insert Font Symbol
To insert special font symbols in the diagram, you can
For basic symbols, click Insert > Font Symbol and move the cursor over the menu until you pick up the symbol you want

For more symbols, click More Font Symbol to open the Insert Font Symbol window; Click Font to switch symbol categories

Find the font symbols that you want and click Insert