Edraw Support Center
Get quick answers and step-by-step instructions in our support center.
Background and Layer
Background
To add a background color on your document, you can
Go to Page Layout tab, click Background button and choose one color that you like.

Go to Library pane, select General, then click Backgrounds, and drag a background shape onto your page directly. Or you can click Choose Background in the drop-down menu, the background library will show on the left pane automatically.
To remove the background, you can click Remove Background or just add a white background color.
Layer
EdrawMax allows to assign layers to shapes as needed. You can also create your own layers. Layers can help you deal with different groups of shapes. Open the Layer pane to modify layer settings.
To create a new layer, click New Layer. The Background is the default setting that you can't delete. When there are only Background and Layer-1, you can't delete Layer-1.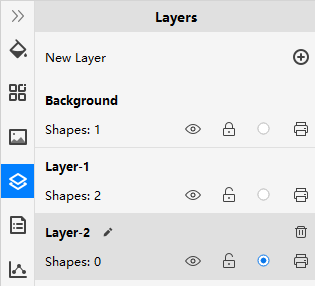 Click the pen icon, you can rename the layers and background.
Click the open-eye icon, the eye will be closed, which means you will not see any shapes on this layer.
Click the lock icon, if it is closed, the shapes in this layer will be locked and cannot be selected or operated.
The third icon indicates whether the layer is active or not, and it will tell you on which layer you are editing.
If you click the printer icon and it shows banned, the shapes in this layer will not be printed.