Edraw Support Center
Get quick answers and step-by-step instructions in our support center.
Insert Chart
To insert a chart, you can
Go to Insert > Insert Chart or click Insert Chart on the right Chart pane.
In the pop-up Insert Chart window, choose the desired type of the chart.
Click OK.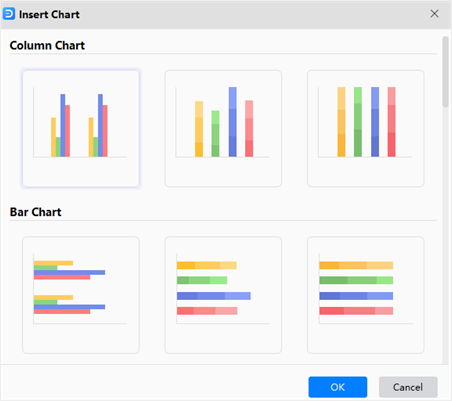 There are different types of pre-defined charts in EdrawMax:
Column Chart
Bar Chart
Line Chart
Area Chart
Scatter Chart
Radar Chart
Pie/Doughnut Chart
Gauges Chart
Funnel Chart
To customize a chart, select the chart, click Chart icon on the right sidebar to open Chart pane. In the Properties pane, you can click Change Chart Type button to change the type of the selected chart.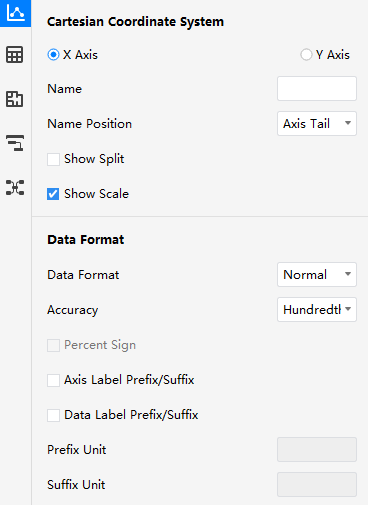 Once you insert a chart in the canvas, the Properties pane shows up and the options will be different according to the type of the inserted chart. For example, there inserts a column chart on the canvas and the right Chart pane has shown the specific properties of this chart.
On the Properties pane, the common options are:
Chart Style
Series Setting
Tag Title
Cartesian/Radar Coordinate System
Data Format
In the Data pane, you can
Import data: click Import to import the data file (xlsx, csv) that you need into the built-in worksheet.
Export data: click Export to export the table into a file (xlsx, csv).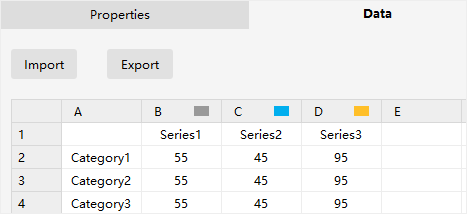 Apart from importing data, you can also input the chart data by double-clicking on the cells of the worksheet on the Data pane and typing numbers or text into them.