Documentation and visualization are an essential practice in almost every project since it helps create a general overview of a business process. This enables you to understand how your business is working. There are several tools/software that can help you create a neat, professional overview, and one of them is Workflow Diagrams or Workflow charts. A workflow diagram is usually considered as the foundation for other documentation tools, such as data flow diagrams, flowcharts, and more.
So, what is a workflow diagram?
In this article, we will discuss all the essential topics related to workflow diagrams, which include:
What is a Workflow Diagram
A workflow diagram is a graphical representation of workflow with the help of a flowchart, which involves the illustration of business processes and activities such as transfer or flow of information, tasks, and documents throughout the whole operation of the said workflow.
So, in simple terms, a project management tool portrays a series of actions that describe a job or how a particular work should be done. It helps in visualizing how tasks will move between resources. Furthermore, they define what condition is a sequence allowed to move forward, regardless of whether they are people or machines.
Purpose and Benefit
A workflow diagram has multiple purposes and benefits that will prove beneficial to almost every organization. These benefits and purposes include:
E-commerce: This field is an ideal place for workflow diagrams, especially when it comes to online shopping and delivery of purchased products. In this case, an online store can use workflow charts to depict steps followed from the purchase/order phase to a customer receiving the order.
Finance: Workflow diagrams have proven to be purposeful and beneficial in this field too. With it, you can show steps to be taken from payment processing to delivery and collections of procured orders.
Military: Like in any other business, a workflow diagram can also be used in the military in several areas. For example, to show the steps to be or should be taken during a deployment operation
Medical: In the medicine field, a workflow diagram can also be used to set or achieve specific steps and goals. For example, to illustrate the necessary steps during emergency room visits, a hospital can use this diagram.
Education: Any learning institution can utilize this type of diagram to show different processes in their school. For example, using it to illustrate steps needed to get enrolled.
Basic Workflow Diagram Symbols
Every graphical representation diagram utilizes symbols, and those symbols explain the various steps and processes within the entire process. These are basic workflow diagram symbols and their distinctive applications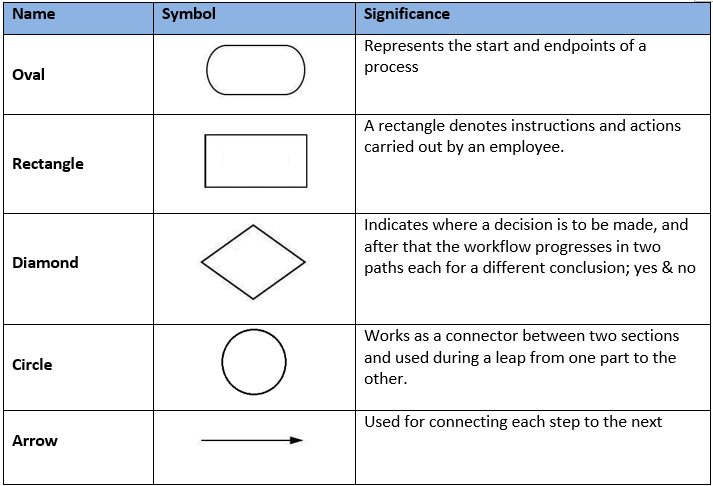 What to Do before Creating a Workflow Diagram
The best way to designing a comprehensive workflow diagram is to start by brainstorming, researching, and analyzing data. This phase is where there is zero designing involved, just planning to analyze and categorize available data. Here are some of the things to do before creating a Workflow Diagram:
Start by defining your diagramming point of a few: Is it customers or business? Are you displaying how you want the new implementation to look? Or how the existing process currently works?
Next, create a rough sketch of your current idea: It probably ideal for creating a general overview illustrating the high-level steps in your process.
Do research: This phase is about diving into the details by gathering necessary and essential information to be used in designing your diagram. You can obtain information from people and other relevant sources. To achieve this, ask yourself these questions:
What's your overall goal?
What indicators will you use to indicate the start and end of the business process?
In each step, what actions are involved, and who is involved in each of them?
What transpires next?
Are there any deviations from this process?"
Conduct a Workflow analysis:This process will involve several steps that will help remove inefficiencies. The steps include categorizing data, pinpointing weak areas, and include future goals (think ahead)
With all information there and analysis done, you can head over to the designing phase below.
How to Make a Workflow Diagram in EdrawMax
First, EdrawMax is a multipurpose online visuals tool that can be used in creating a wide range of charts, diagrams, and other visual content. That said, here are 5 steps to create a professional workflow diagram for your project:
Step 1: First, you will need to sign up to EdrawMax if you don't have an account there yet. However, if you have, you can just sign in and head to the next step.
Step 2: On the left side, you will see a navigation pane, click on "Flowchart" and then "Workflow."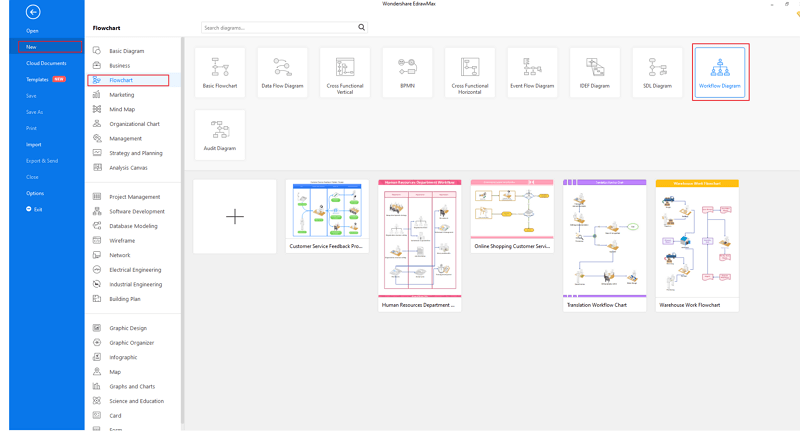 Step 3: A new tap will be opened, in it are several workflow templates that you can use to take/click and modify to meet your needs. But if you want to create a whole new diagram from scratch, click on the "+" sign to open a new worksheet window.
Step 4: Create a well-customized diagram using different formatting tools existing in the Edraw library. You can adjust the alignment, shape, color, font, size, and many other finer details to get a well-designed diagram.
Step 5: Once you are done designing or modifying your workflow diagram click on "File" and then "save as" to save your diagram.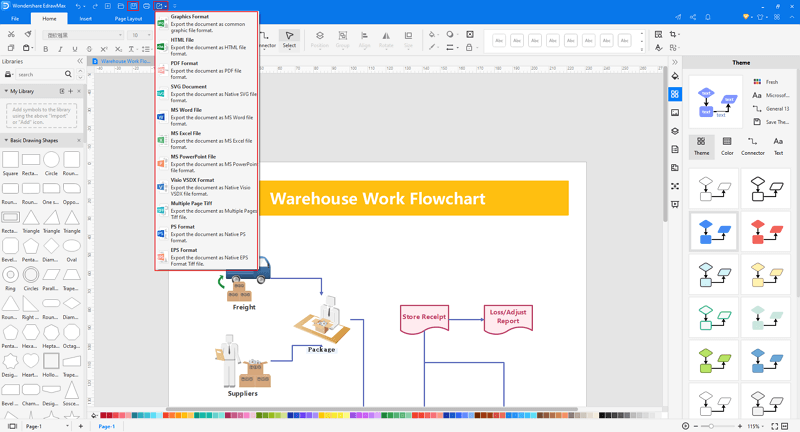 Note: Edraw allows you to save and export your diagrams in several formats, including MS Office file, PDF, SVG, Visio vsdx file, and Graphics.
Workflow Diagram Software
Many people believe workflow diagrams need to be created by someone with specialized programming knowledge. But with the right software, that's not the case. Even the most complex business processes can be mapped with Edraw Workflow software, which has been developed with a user-friendly graphical interface. The wide range of intuitive tools allows anyone to build professional, accurate workflow diagrams without any coding skills whatsoever. Edraw is a rapid and powerful workflow drawing software, providing vibrant pre-defined shapes for drawing workflow diagrams.
Download Edraw Workflow Diagram Software, then you can use the built-in templates to create and present your workflow diagrams in minutes. So, it has become super easy to create diagrams of information flow, business process automation, business process re-engineering, accounting, management, and human resources tasks.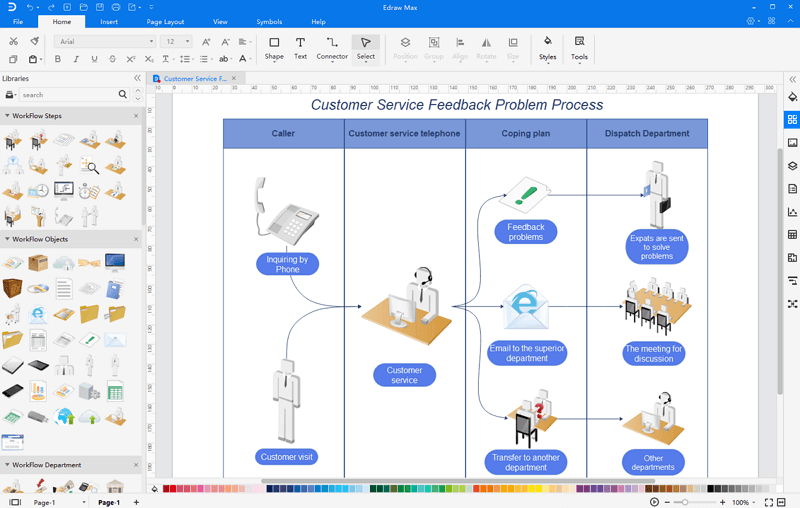 Every shape can be changed in color easily. They are great for showing different departments in a company or different stages of a typical business process.Here are a few examples of the shapes:
EdrawMax
All-in-One Diagram Software
Create more than 280 types of diagrams effortlessly
Start diagramming with various templates and symbols easily
Superior file compatibility: Import and export drawings to various file formats, such as Visio
Cross-platform supported (Windows, Mac, Linux, Web)
Security Verified |
Switch to Mac >>
Security Verified |
Switch to Linux >>
Security Verified |
Switch to Windows >>
Tips for Making a Workflow Diagram
To create a professional workflow diagram, follow the tips below:
When designing your diagram, use consistent elements (lines, shapes, color, and texts).
Keep everything on one page. Remember, a good flowchart is the one that fits on a single page. If it is too big, then try the following practices:

Try scaling it down
Design your chart to flow from left to right then down to subsequent line
You can also break the larger charts into a collection of smaller ones.

Data should flow from left to right or top to bottom
Instead of a traditional decision symbol (diamond symbol), use a split path to represent a decision
When designing a diagram with return lines, place those lines under the flow diagram.
Workflow Diagram Example
A workflow diagram can help design an efficient content marketing process and effectively manage it. The diagram below shows the entire process from start to end to be used in content marketing.
Its tarts with draft making
Then, draft approval process in which two decisions are expected -draft approval or edits suggested.
If approved, it goes to the next step, which is creating graphics to be used in the article.
The final step is upload to CMS, optimization, and publishing.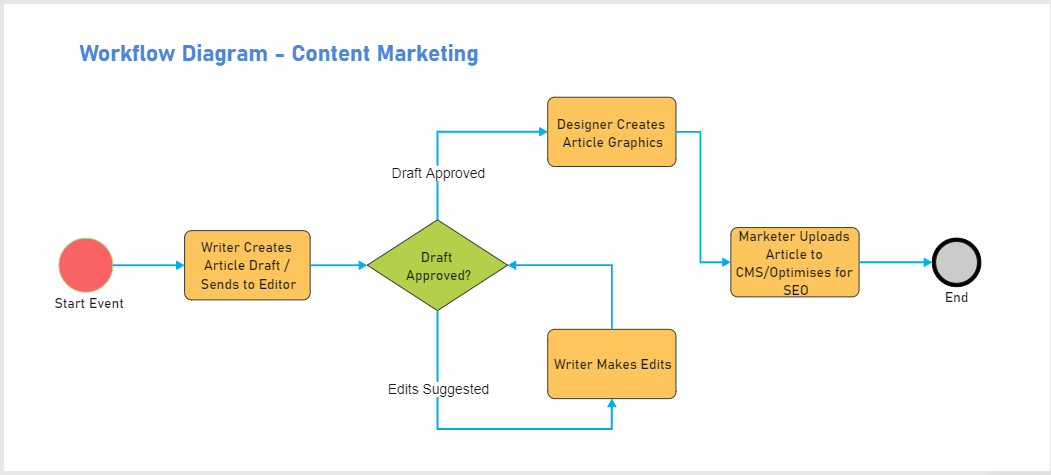 There are various work flow diagram examples both in the software and on the web page. Some of the examples use the swim lanes. They are easily editable. Below is a sample work flow chart presenting document management procedure.
Work flow diagram is easy to create with Edraw if you already understand the work flow process. Our pre-made workflow symbols make work flow design much easier and faster. To learn how to use the shapes, click How to Create a Workflow Diagram. To better illustrate how to use workflow to present your work process, here are two practical examples: