Almost all professional fields, industries, and organizations make use of workflow diagrams today. The use of these tools simplifies and clarifies business processes. A workflow chart is essential for making better business decisions and utilizing efficiency to achieve better results. Business workflow diagrams are an important part of many operations, which is why understanding how and when to use them is crucial.
With the help of this article, you will gain a thorough understanding of what workflow diagrams are all about.
What is a Workflow Diagram
A workflow diagram visually represents tasks, usually with arrows, shapes, and labels. A diagram like this might be used to illustrate the steps that team members take to solve a problem or resolve an issue they are facing.
For instance, a customer service team might have a workflow diagram that shows the steps they take to meet their clients' needs. A team effort is illustrated in some workflow diagrams, such as when creating a new product. Each step represents a different member's responsibilities in those diagrams.
The following are some of the key benefits of using a workflow diagram:
Workflow optimization may boost efficiency, reduce waste, and generate income or cost savings for any size firm.
Workflow charts offer more than just a useful visual depiction. They also offer the required paperwork for things like legal, compliance, and audit requirements.
Workflow charts can improve a professional's ability to collaborate with other members of their team.
Work flow diagram can be a valuable training tool for new team members.
Work flow diagram can be used to increase workplace satisfaction by providing clear expectations for each stage of a task.
Types of Workflow Diagrams
The fact that flowcharts are such powerful tools means that they are used across a wide range of fields and industries. There are a number of types of workflow charts that you can use, depending on the type of process you're trying to visualize.
Here are some of the types of workflow charts:
2.1 ANSI Diagram:
An ANSI flowchart represents the details of the entire business process. The symbols used in this design are utilized as a universal language of workflow symbols. It is one of the earliest standards for workflows.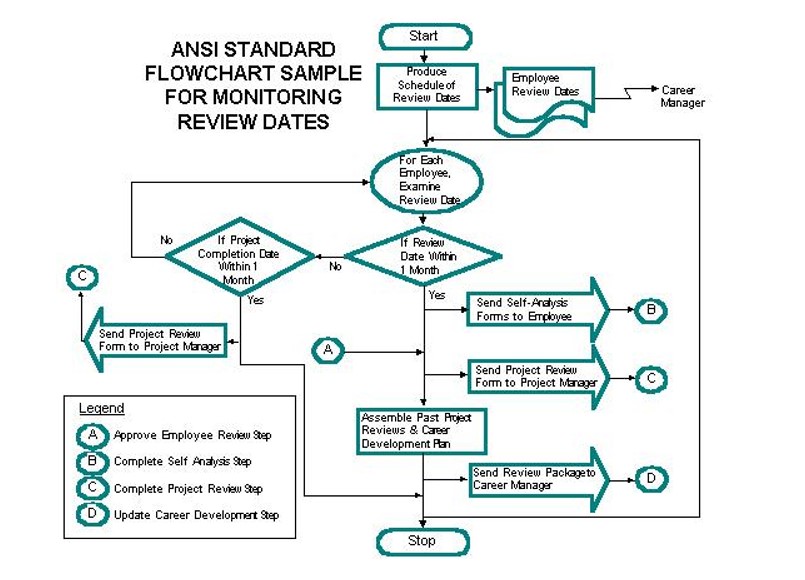 2.2. SSD Flowcharts:
Structured Systems Design is a process-oriented approach. It attempts to break down a complex project into a number of smaller, more manageable modules or tasks.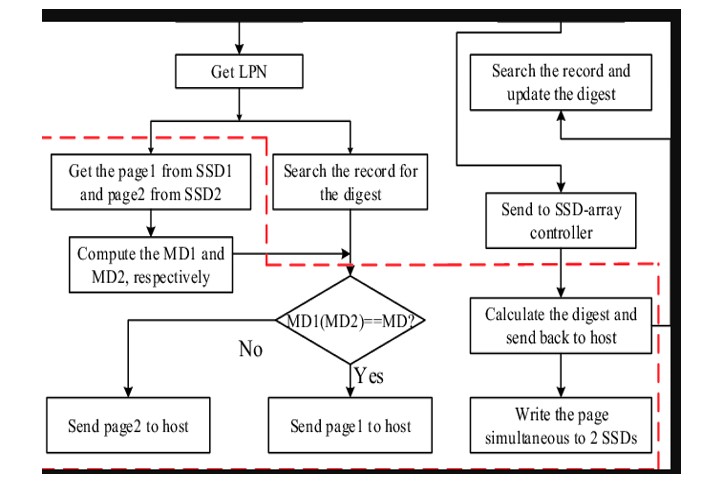 2.3 Swimlane Diagram:
A Swimlane flowchart is another of the most commonly used flowcharts in business. In addition, it introduces several categories that help employees understand their jobs in a better way.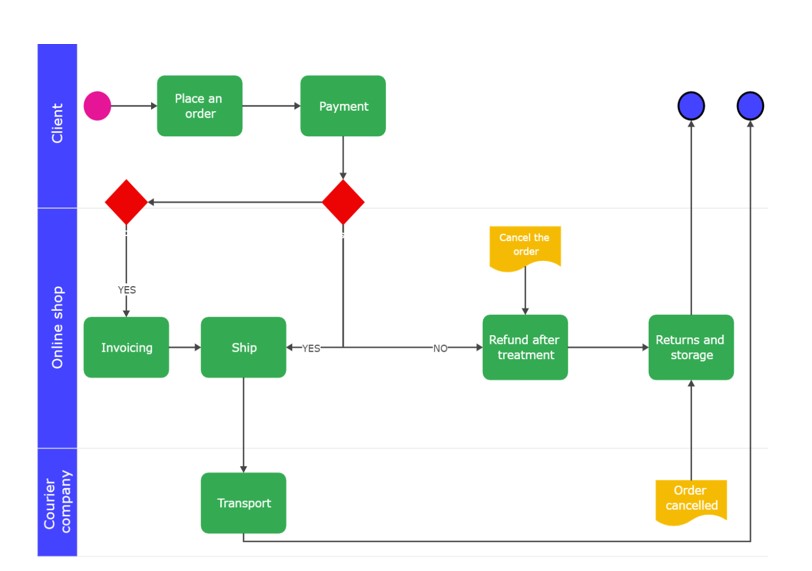 2.4 Data Flow Diagram:
For any process or system, a data flow diagram (DFD) shows how information flows. You can analyze existing systems or model new ones with them.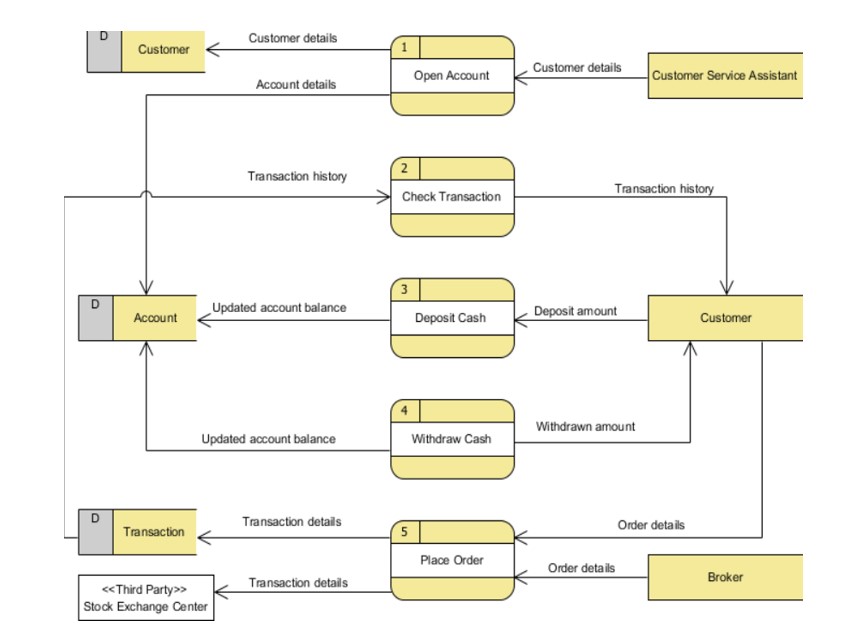 2.5 UML Diagram:
The most common diagram is the Unified Modeling Language. In business, it is used to represent architectural designs. Additionally, it provides stakeholders with a complete overview of the system.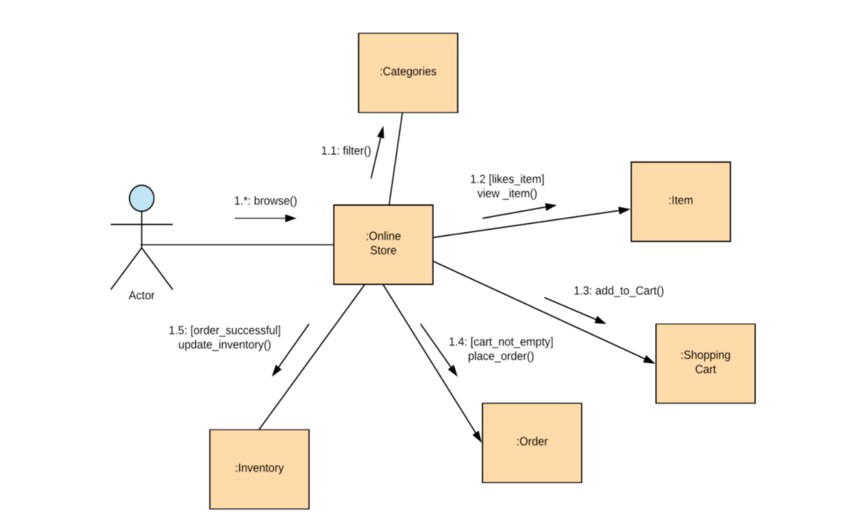 2.6 SIPOC Diagram:
Supplier input process output customer diagram shows the flow of information between input and output. In this way, the information is presented in a high-quality way.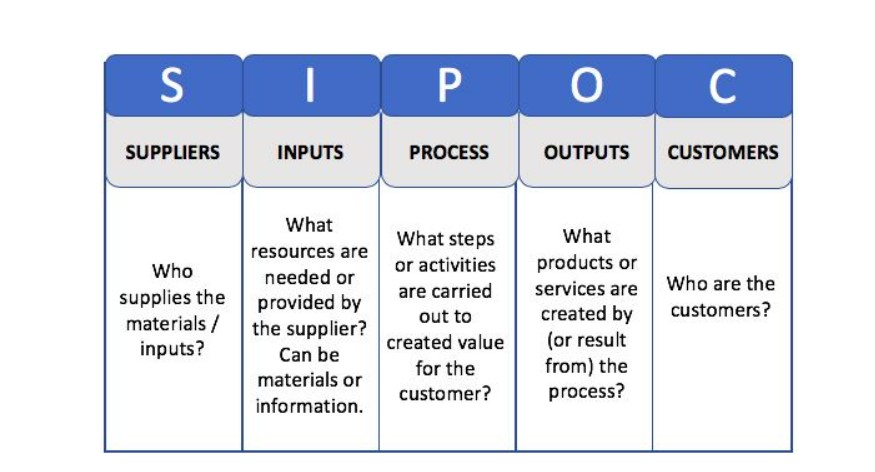 2.7 BPMN Diagram:
A BPMN flowchart is quite similar to a unified modeling language flowchart. It shows the order process. Business users and technical users can communicate using a common language.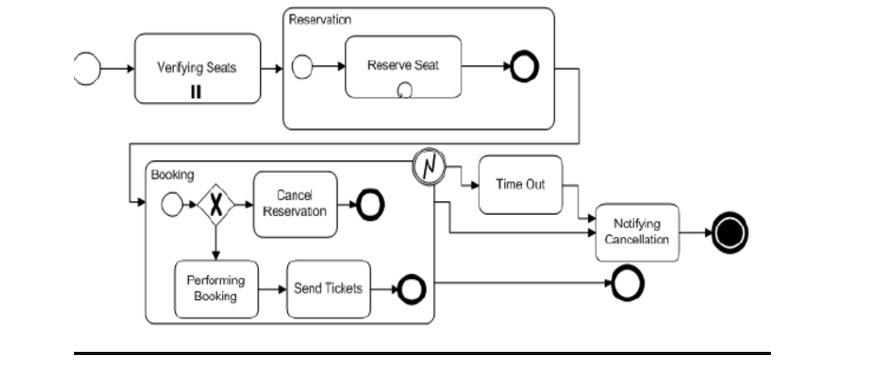 2.8 Warehouse Flowchart:
The Warehouse Flowchart is a type of diagram that describes the processes involved in the management of the warehouse and inventory. A warehouse workflow chart example is provided here.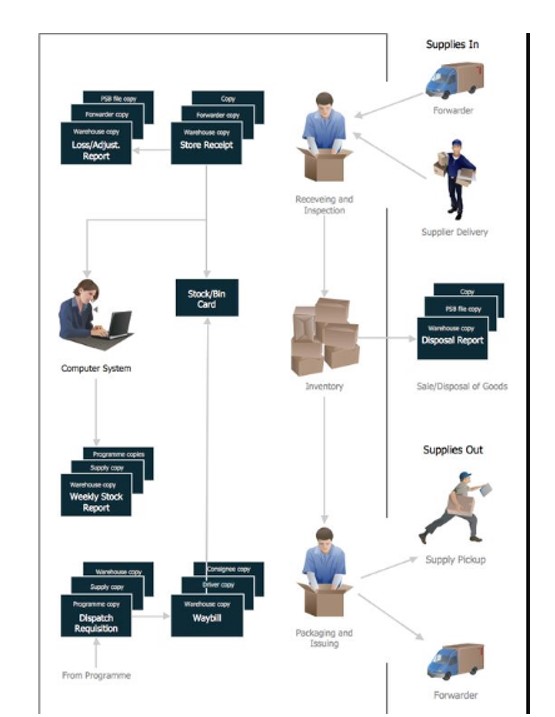 Workflow Diagram Symbols and Shapes
The flowchart is a diagram that uses special shapes in order to represent different types of actions or steps in the process. The symbols that appear on a flowchart are known as flowchart symbols.
Rectangle - In this section, you can put instructions or actions.
Ovals - This represents the beginning and end of a process.
Diamonds - A diamond shape represents a decision that has been made.
Parallelogram - A parallelogram is a representation of inputs and outputs.
Circles - The circle acts as a connector; it allows the reader to jump from one section to another without having to pass through other sections.
Here is a workflow chart example-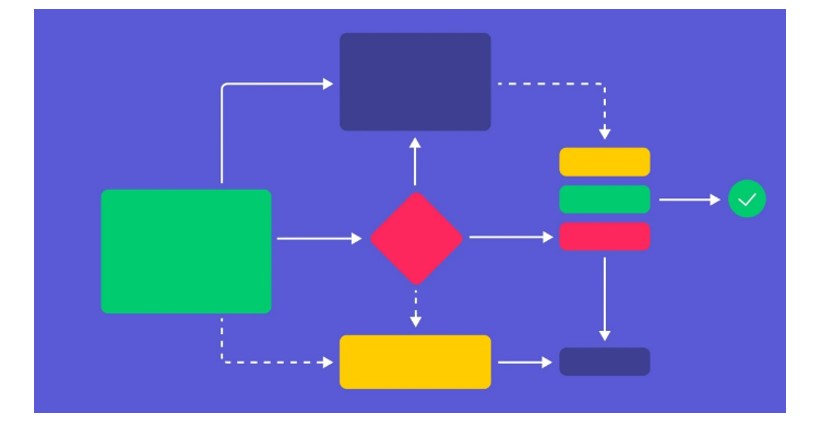 Workflow Diagram Components
The components that make up a workflow are the key to understanding how a workflow diagram works. A deliverable is communicated in the least amount of time by using inputs, outputs, and transformations.
By understanding these components, you'll be able to correctly read a workflow process diagram and create your own. A work flow diagram consists of the following components:
Input: The input is the labour, capital, equipment, or information required to complete a step.
Transformation: It is the transformation of a process, such as a change in location, physical characteristics, ownership, or purpose, which creates the output.
Output: The result of the transformation is the output.
Shapes and arrows are used to visualize these components in the workflow diagram. You can learn more about them from the workflow diagram examples provided by us.
Steps to Create a Workflow Diagram
It is possible to create a business work flow diagram for multiple processes within your company. Business workflow diagrams vary based on the scenario and type of business practice, but there are some general steps to follow. Here is your step-by-step guide:

EdrawMax
EdrawMax is a powerful, all-in-one, and yet easy-to-use diagramming tool that enables users to visualize the ideas effortlessly.
Download
Download
EdrawMax provides beginners and pros the cutting-edge functionalities to build professional-looking diagrams easier, faster, and cheaper! It allows you to create more than 280 types of diagrams and should be an excellent Visio alternative.
Step1

Identify the Process

Visualize only one business process at a time so you don't end up with an overly complicated diagram. It's also crucial to say whether your workflow represents a process as it now is or a procedure you intend to execute in the future.
Step2

Assemble your information

Make sure your workflow is as accurate as possible by speaking with different people and departments. The activities involved in each step should be outlined, and the person responsible for them should be identified. 
Step3

Create the Workflow Diagram

It's time to turn that data into visuals. It's up to you whether you use a diagramming tool or pen and paper. Whichever method you choose, make sure it can be shared, edited, and is easy to understand.

However, drawing diagrams can be time-consuming and might require a lot of attention. So, what if we have Workflow diagram templates? EdrawMax provides you with various templates to create a workflow diagram of your business's processes. Thus, you can adapt existing processes or create new ones quite conveniently. Moreover, EdrawMax offers a free trial version too, so if you want to know how it can be used, try its free version.
Step4

Share the Final Draft

If you've perfected your workflow diagram, share it with your team members so everyone understands the steps and actions involved. Furthermore, sharing the diagram will help people understand the bigger picture. It's especially useful when mapping out multi-department processes.
Step5

Track, Analyze, and Improve

The more steps in a business process are documented, the easier it is to identify potential bottlenecks. It is also possible to identify key players in the process. Use the diagram to identify which tasks are essential, which can be eliminated or streamlined, and which can be automated.
Workflow Diagram Examples
A workflow diagram can be used for a variety of businesses and industries. You can learn how each breakdown is created from these workflow diagram examples.
Example 1- Clinical Workflow Diagram
The clinical workflow diagram helps you show the steps necessary to achieve a specific goal, such as providing clinical services in healthcare.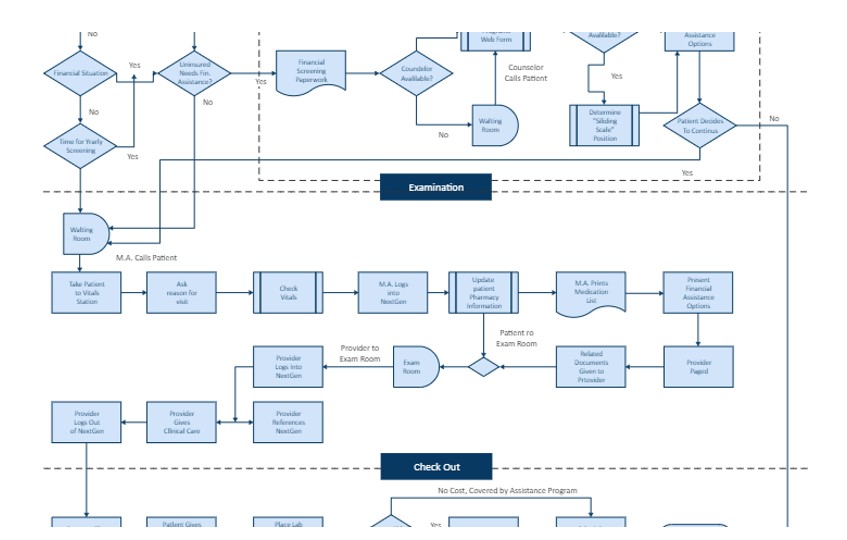 Example 2- Pay Cycle Workflow Diagram
In the Pay Cycle Workflow diagram, swim lanes are used to demonstrate the procure-to-pay cycle. Each department or team is represented by its own lane.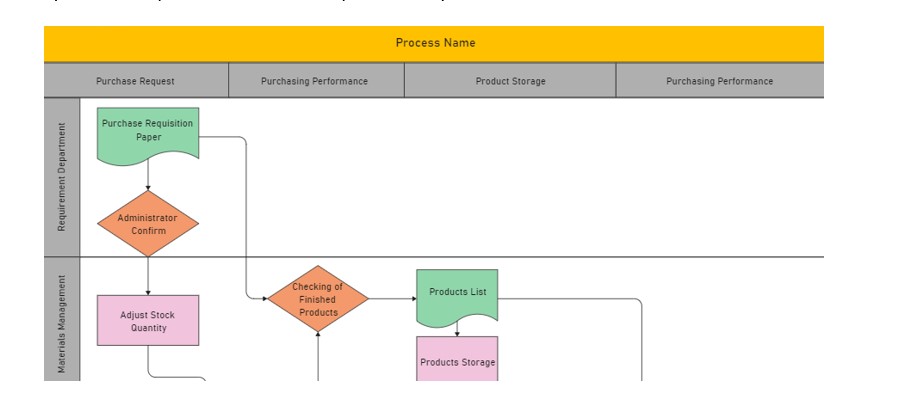 Example 3- Workflow UML Diagram
Unified Modeling Language diagrams include structure diagrams, interaction diagrams, and behavior diagrams. In essence, it simplifies the flow of information.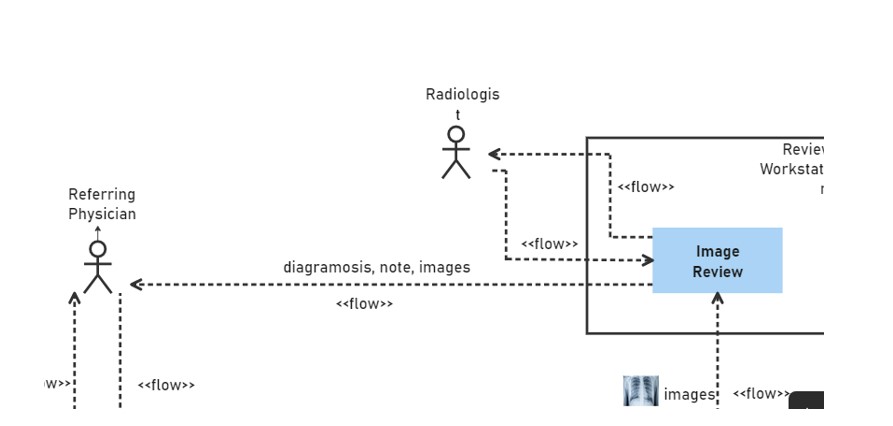 Example 4- Workflow Diagram Template
A workflow diagram illustrates how a business process works visually. This diagram can be used to depict the numerous tasks and team members who will be responsible for completing them.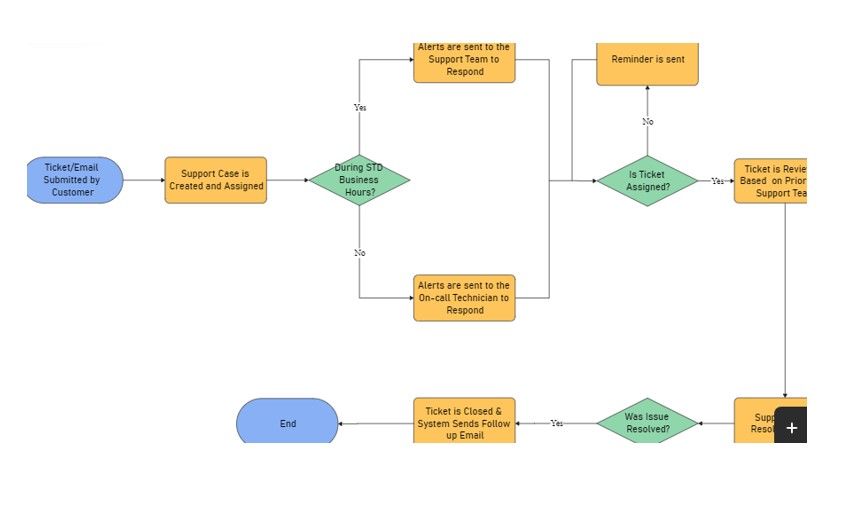 Example 5- Stock Order Processing
The stock order processing diagram helps in the process of restocking inventory and replenishing shelves by ordering fresh goods for retail.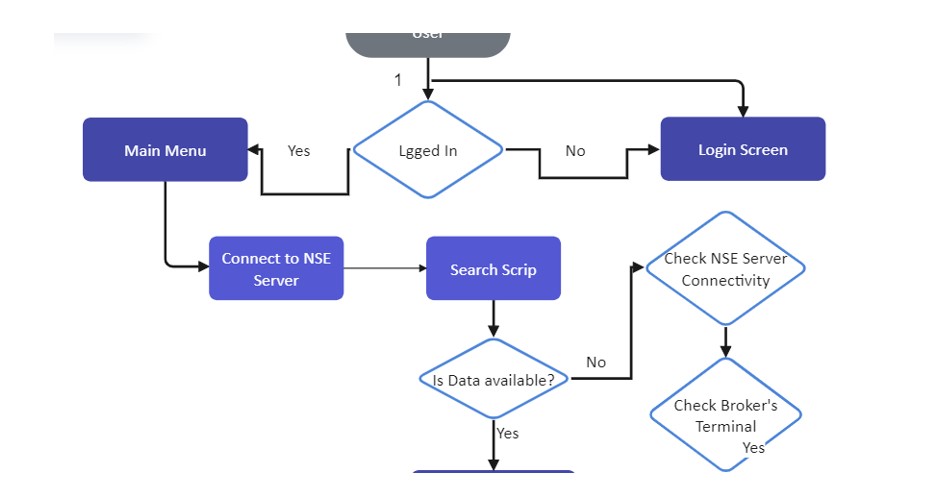 Conclusion
Creating a workflow diagram may seem intimidating initially, but easy-to-use tools are available to help you and your team accomplish this task. Automate your team's workflow with EdrawMax so you don't miss out on anything. EdrawMax is built to improve team communication and collaboration. Explore our features and integrations right away!
EdrawMax
EdrawMax is the versatile diagram software that integrates 100% functionality and libraries of all other drawing products.