The Gantt chart is considered as a productive project management tool in many industries. Check out all the essential points of Gantt charts in this detailed article to learn about the concept with useful real-time examples.
1: What is a Gantt Chart?
To put it simply, a Gantt chart is a kind of colored-bar visual presentation of a series of breakdown scheduled tasks over a certain period. The horizontal axis represents the total time span and task sequence based on daily, weekly or monthly frequency, while the vertical axis shows the specific tasks that need to be completed. Project managers use such charts to update and monitor resources and team members along the way to achieve the final goal.
An illustration drawn horizontally and visually explains the overall project, its current state, its progress, and the people involved in it is a Gantt Chart. A typical Gantt Chart is detailed and has all the stages of the process listed along with their start and end dates. The horizontal bars in the drawing represent the progress, and the connecting lines between the two stages tell when the task was moved from a phase to the next one.
Compared to many other project management tactics, Gantt chart is a more ancient invention. Actually, the idea of Gantt chart was first pointed out by a Polish engineer Karol Adamiecki in 1896, who came up with the idea of showing steps visually to easily see his steel production plans. The result was spectacular since Karol had finally four times of the original steel production amount. Karol named his chart as Harmonogram, which can be considered as a precursor to the modern Gantt chart. Around 14 years later, Henry Gantt, a business consultant, developed Karol's idea in a more visual way and firstly published the Gantt chart theory in English-speaking western countries. Nevertheless, nature and charting process of Gantt charts stay largely the same as to help project supervisors to check work schedule and progress.
2: History of Gantt Chart
The idea of preparing a Gantt Chart came into existence in the 19th Century. The first Gantt Chart was created by Henry L. Gantt, who along with his coworker, Frederick Taylor wanted to describe the planning and progress of the project they were working on via visual illustration.
Before the technology took over and the PCs became more common, the Gantt Charts were drawn by hand, and because the progress was shown in the form of bars, they were sometimes also referred to as Bar Charts.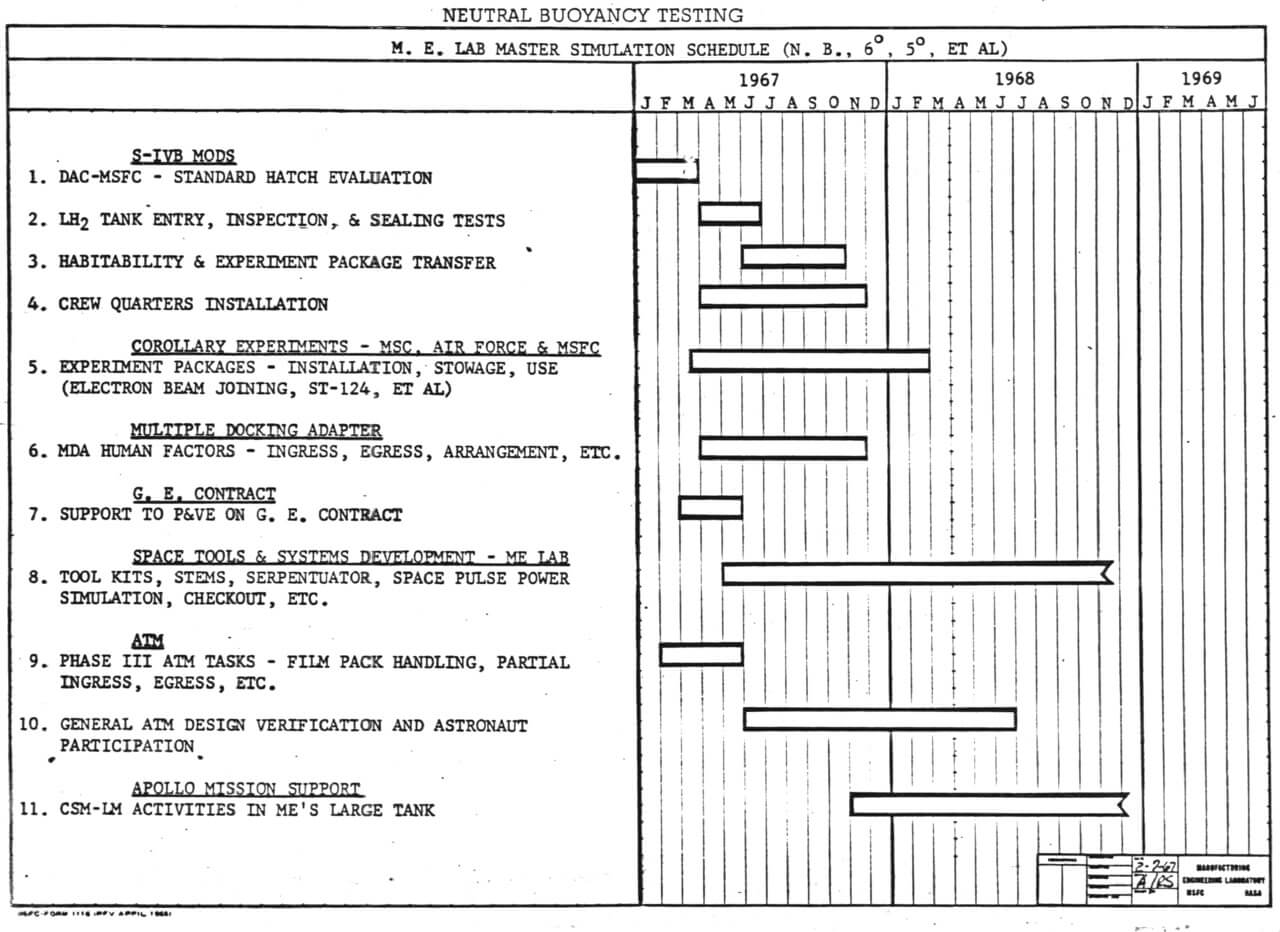 3: Why Gantt Charts Are Used – Advantages and Disadvantages
As mentioned earlier, a Gantt Chart shows all the tasks that are to be covered to complete a project along with the expected turnaround time. Some of the major advantages that a Gantt Chart comes along with include:
Scheduling

A Gantt Chart enables the managers to have a rough guideline at the initial stage of a project. The diagram shows how many phases would be there in the process and who will be responsible for which task.

Resource Allocation

A Gantt Chart shows what kind of resources would be required in the project and how and up to what extent they would be engaged so that the maximum output can be extracted with minimum investment.

Monitoring and Updates

As a manager, you can even monitor the progress of the projects from time to time and get a fair idea about the then-current status of the resource availability with the help of a Gantt Chart.

Amendments

Because the projects may not go according to what they were initially planned, and some modifications always have to be made when things are taken to the practical grounds, a Gantt Chart gives a clear glimpse of the inconsistencies that a process might be going through. With such an insight, it becomes easier for the managers to address the issue(s) by making basic adjustments in the workflow.

Quick to Accommodate "Big and Small Pictures"

Different roles may have a different need in terms of knowing about what's going on with a specific project. The "big picture" would help people who have not experienced project members, like stakeholders or other external sponsors, to quickly go through the overall percentage of completion, or the process of a specific task. In contrast, the "small picture" view is for members within the project team who need a more detailed check of their project.

More Accountable Team Communication

The task assignment, task relationships and project progress are clear enough for team leaders to monitor work and force slacking members to speed up. Moreover, milestones in Gantt charts can be served as a motivational tool.

Better Resource Utilization

Gantt charts work great for solving juggle resources across several different projects. Besides, for tasks that have simultaneous duration, you as the project manager can easily track and spot overworked or underutilized tasks by using Gantt charts.

Estimate Tasks more Appropriately

Estimating a project seems to be a big challenge to project managers. In Gantt charts, however, team leaders can estimate based on the rich existing data and resources. So now you may wonder about the disadvantages of using Gantt charts? Feel free to read this advantages and disadvantages of Gantt chart article for the answer.
As with everything else, there are some downsides of using a Gantt Chart too. These disadvantages are listed below:
Imperfection

Because Gantt Charts contain almost all, if not every, detail of the project, they may get overly complex over time and end up losing perfection. In simple words, when it comes to accuracy, Gantt Charts can be counted on but cannot be considered fully reliable.

Relativity

Gantt Charts do not always clearly show the related tasks, such as those that depend on the illustrated ones. Simply put, a Gantt Chart is only good for demonstrating the major tasks that need to be performed to complete the projects and does not contain every detail of the process.
4: In What Fields the Gantt Charts Are Used
Gantt Charts are in common practice in many industries. Some of these are listed below:
Manufacturing Plants

Because a manufactured product undergoes several phases before it is made available to the public, a Gantt Chart is used in such plants to illustrate the stages and tasks that need to be performed during the process.

Advertising and Marketing

From receiving a product to selling it to the end-users, a lot of advertisements are to be done. A Gantt Chart is drawn by the marketing managers to illustrate and even assess the procedure being followed to improve the sales. Such a Gantt Chart also hints the managers when the new recruits are required for further expansion.

Actually, Gantt charts can even be used in business strategy fields like marketing campaigns, consulting programs, report writing, event planning and more. For instance, the Gantt chart example here shows you how to set up the business analysis of a new market.

Internet Industry

Gantt charts can also be used for online sectors, such as setting up new websites, development software or applications and so on. Again all of these tasks are interdependent so your team may need to follow a clear sequence from creating the user interface wireframe to test website. Check out more insights into the below Gantt chart example for task duration, task priority and milestones etc.

Constructions

Because constructing a building is a complex task that requires a lot of strategic planning, a Gantt Chart is drawn to elaborate the phases the entire construction process needs to follow.
5: What are the Components of a Gantt Chart?
No matter how complex a project can be, the Gantt chart can be broken into five main parts:
1. Task names - it directly shows you what a task is about, for example, digital design or software development etc.
2. Task bars - this element indicates information like task start and finish date, task duration, and task progress in percentages. For task progress two different colors are used to differ the completed part and the unfinished part.
3. Task relationships - this normally cover task priority and task dependencies, for example, in how much degree that one activity overlaps the other, or the sequence of doing tasks; Generally, task dependencies can be set based on start-to-finish, start-to-start, finish-to-finish, and finish-to-start. The finish-to-start dependency means task B can't start until task A has finished.
4.Milestones it is often shown in a tiny diamond-shaped icon in your Gantt chart as an important deliverable to remark major step.
5. Resource management - it is basically about who should do what by using what types of materials etc. In the project below, Gwen and Dylan are assigned to do the promotion jobs start on 14th Aug 2018.
For more advanced Gantt charts used in complex projects, you may also see:
The sum-up of working hours
The early start/finish date
The later start/finish date
The report for cost and task allocation
6: Tips for Preparing a Gantt Chart
A couple of important tips that you may want to keep in mind while preparing a Gantt Chart include:
Prepare a list of each task that needs to be completed. Add every task in a separate row.
Ensure to list the tasks in the order they need to be performed
Define a standard color and shape of the bars that are to be used to show the progress. Make sure to use the same formatting style to keep the Gantt Chart consistent and easily readable
Add as many descriptions as you can to make the chart informative. However, do not overpopulate with too much text
Consider using dashed vertical connecting lines to show when a task is shifted to the next phase
Consider using an efficient PC application like Wondershare EdrawMax to ease and expedite the Gantt Chart creation process
7: How to Create a Gantt Chart Conveniently?
In early times, Gantt charts are all drawn on paper by hands. Nowadays, however, paperless project management software with advanced Gantt chart functions to speed up the overall work productivity. You can quickly add new tasks, set data formats and units, name tasks, build task dependencies, manage resources and generate reports etc. EdrawProj happens to be one of the best project management tool.
Edraw Project: a professional interactive Gantt chart tool
Visualize how projects evolve over time
Schedule, mange, and track your projects in real-time
Provide various Gantt chart templates and easy-to-use
Easy to estimate project costs and manage budgets
Compatible with MS office files (e.g. Microsoft Project)
Collaborate with team members effortlessly
8: Gantt Chart Example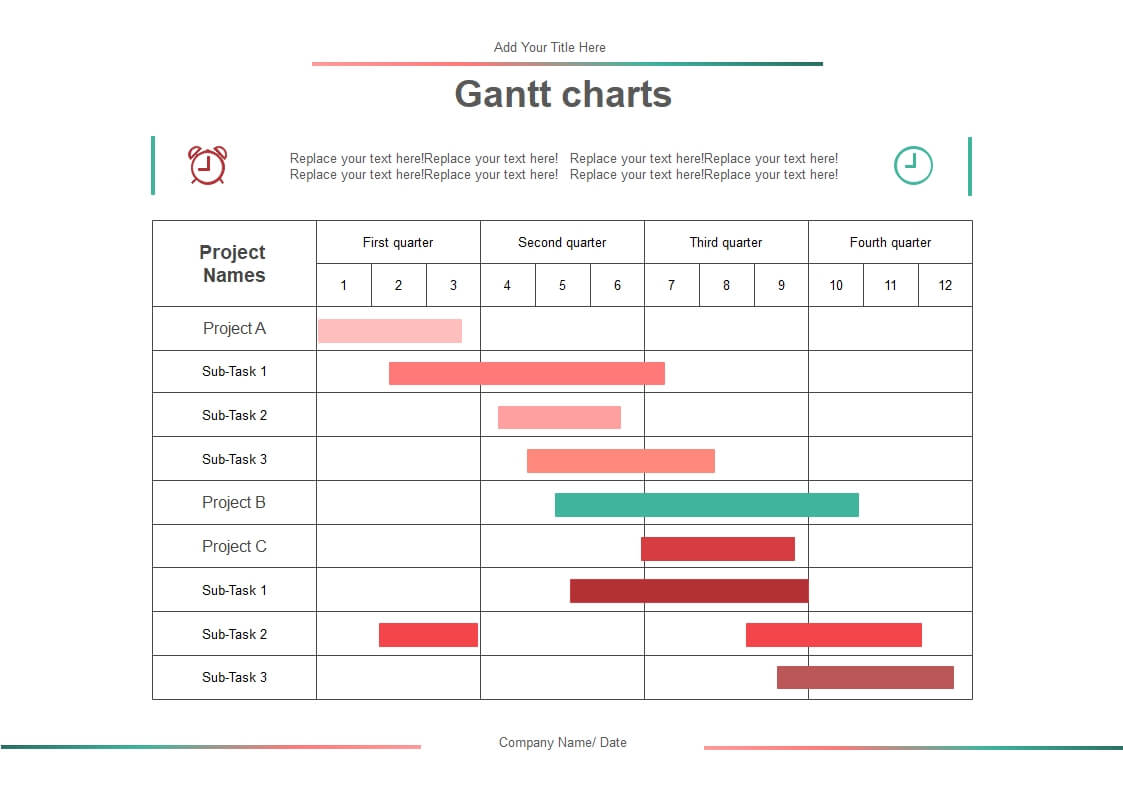 The above image is an example of a generic Gantt Chart that lists all the currently active projects in the first column. The column also includes the sub-tasks involved in each of the projects. The other columns show the timeline taking an entire year as a scale, and the tenure of the projects is divided into four quarters.
The bars present next to each row of the first column show the duration and the time of the year a sub-task was (or is expected to be) completed, and the process was moved to the next phase.
9: Conclusion
Preparation of a Gantt Chart is simple and can be created even on a Microsoft Excel sheet. However, you are strongly advised to use an efficient PC application such as Wondershare EdrawMax that not only expedites the drawing process with the help of its built-in icons and symbols it also makes it simple for you to come up with a well-drawn illustration that can be exported to your computer in your preferred format, or printed on paper for physical distribution.
More Examples
The following free Gantt chart examples and templates includes the main categories of Gantt chart for construction management and business projects.