Free Printable and Editable Org Chart Templates
>
Edraw Example
>
Free Printable and Editable Org Chart Templates

EdrawMax offers free printable organizational chart templates that are available to download and use. There list different types of organizational chart templates to give you inspiration when you create your own organizational chart.
Part 1: What is The Organizational Chart?
Organizational charts (org charts) are used to portray the relationships and chain of command between individuals in a company, sometimes across positions, departments, and regions. Org charts are typically used by HR professionals and office administrators to illustrate the relationships and hierarchies between colleagues.
The primary benefit of org charts is the level of clarity that they bring. It highlights which colleagues are responsible for what task, and who they should be deferring to in cases of conflict. Without one, there may be lots of confusion and delay in decision-making processes.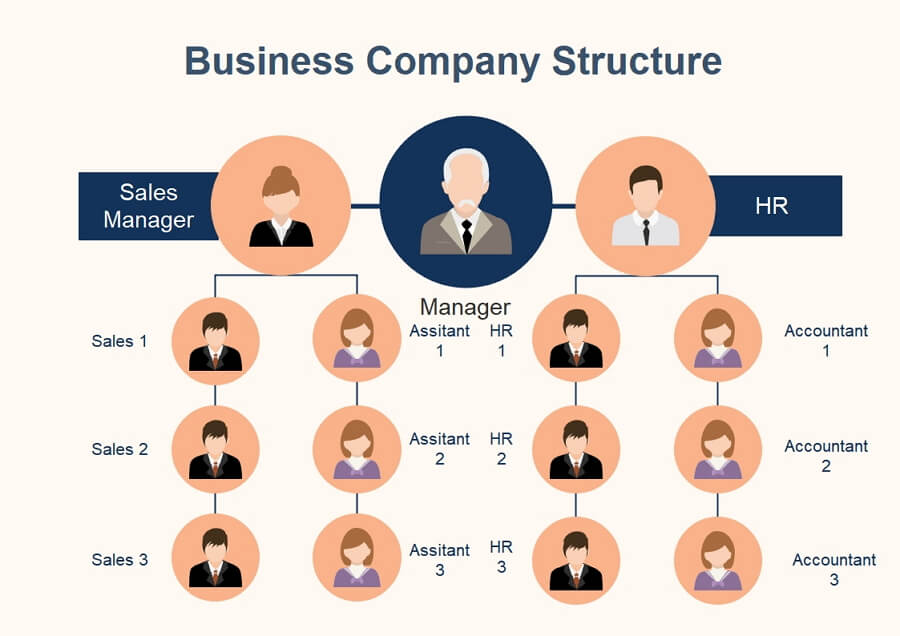 Part 2: The Symbols of Organizational Chart
There are massive symbols in EdrawMax to support your org chart creation. The symbols are divided into org chart symbols and family tree symbols.
Organizational Chart Symbols
Concerning the org chart symbols, in the EdrawMax, there are substantial symbols and cliparts for making org chart.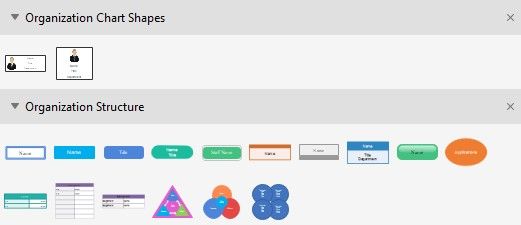 Family Tree Symbols
The family tree symbols could be able to attach the photoes of users, which is easy to make family trees. .

EdrawMax
All-in-One Diagram Software
Create more than 280 types of diagrams effortlessly
Start diagramming with various templates and symbols easily
Superior file compatibility: Import and export drawings to various file formats, such as Visio
Cross-platform supported (Windows, Mac, Linux, Web)
Security Verified |
Switch to Mac >>
Security Verified |
Switch to Linux >>
Security Verified |
Switch to Windows >>
Part 3: Free Editable Org Chart Templates
Dozens of organizational chart templates are readily available to help you depict your organizations' workforce, department and structure. The major types include the basic organizational chart, photo organizational chart, custom organizational chart and family tree. Have a look at some examples.
In this article, we will show you different types of free printable templates and you can visit the org chart templates page to download more free org chart templates.
Creative Org Chart Template
Regarding the creative org charts, not only from the color theme or the structure, they are eye-catching for audience. It means these templates are highly suitable for showing in the public or in the presentation when doing the company introduction.
Basic Org Chart Template
As for the basic org chart templates, they are usually applied in professional occassion, like businee bargain, company report and etc. Check the following free editable org chart templates, and visit our template gallery to search more templates!
Photo Org Chart Template
Concerning the photo org chart, accroding to its name, it is the chart that can attach the people's photo. This kind of org chart or family tree is official and more attractive for some business exhinitions. Check the following free editable org chart templates, and visit our template gallery to search more templates!
Part 4: Org Chart Maker - EdrawMax
One of the most powerful programs that can compete with Microsoft Visio, EdrawMax is yet another diagramming software available for Windows, macOS, and Linux. The tool has several categories for almost all types of industries, and each category further has numerous floor plan templates to choose from, thus saving you a lot of time that you would otherwise waste in structuring a diagram, org chart for this example, from scratch.
EdrawMax is a powerful but easy-to-use org chart software that makes it easy to create org chart based on pre-formatted org chart templates and examples - with no drawing required. The smart org charts are designed with auto generation, allowing users to add and connect shapes easily. With substantial org chart symbols and cliparts, making org charts could be as simple as possible. Also, it supports to export your work in multiple formats and share your work with others. Get started to create your org charts now!
More Related
Top 5 University Organizational Chart Examples
Top Recommended Restaurant Organizational Chart Examples