Do You Want to Create Your Mind Map?
EdrawMind specializes in mind mapping. Learn from this article to get more mind map templates and create your own with ease. Just try it free now!
The mind map allows you to illustrate the concepts you are trying to absorb in pictures, hierarchy, short phrases, colors, etc. In a mind map, you first write the central concept inside a shape and then link other shapes with the main concept according to their relation.
It is the best and the straightforward way to understand something quickly. When you learn by using the mind map tool, it never makes you bore while studying or making presentations by using the mind map. In this article, we will see different mind map templates and some tips for making them perfect.
Part 1: Free Mind Map Templates & Examples
EdrawMind offers you a number of ready-made mind map templates that you can use them for free. And here are the list of different kinds of templates, you can click to know details.
More Business Mind Map Templates:
More Education Mind Map Templates:
More Daily Life Mind Map Templates:
These mind map templates don't fit your needs? It doesn't matter. Because EdrawMind has powerful built-in templates and a wonderful templates gallery, there are more mind maps for you to explore. What's more, you can DIY and creat a great mind map then share with others.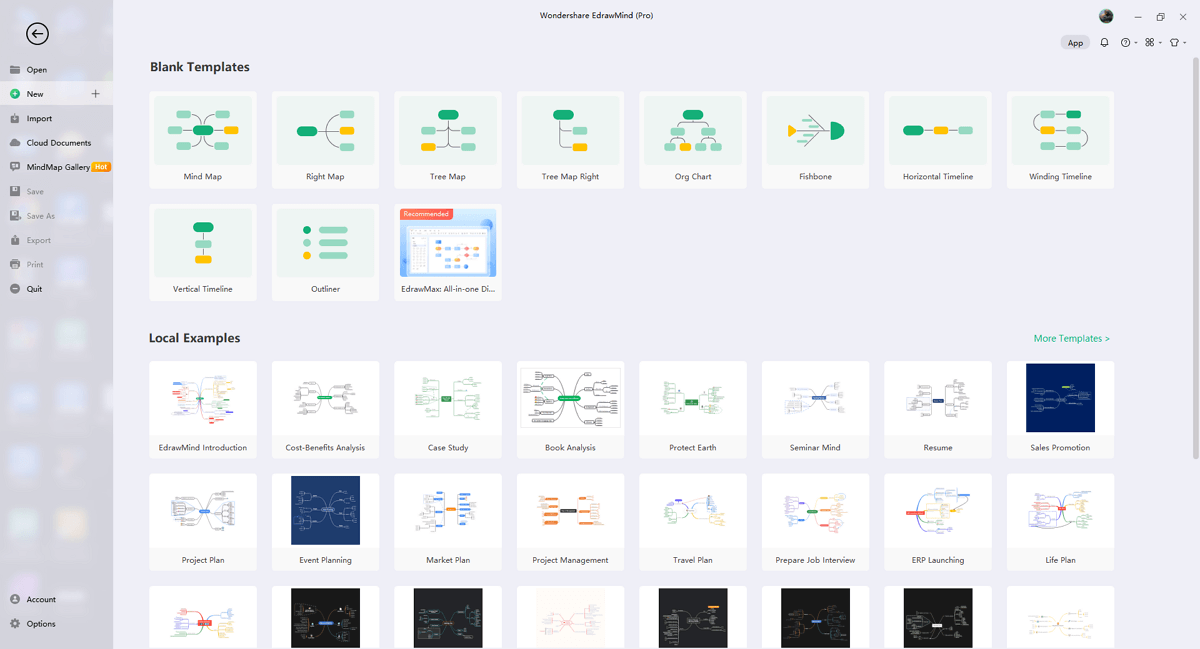 EdrawMind
Full-Featured Mind Mapping Software
33 predefined themes to make your mind map stand out
12 different structures to meet your need
Cross-platforms supported (Windows, Mac, Linux, Web)
Brainstorming mode and presentation mode
Group & real-time collaboration
Security Verified |
Switch to Mac >>
Security Verified |
Switch to Linux >>
Security Verified |
Switch to Windows >>
Part 3: Benefits of Using a Mind Map Template
There are a lot of benefits of using the mind map diagram to illustrate your points. Some of the benefits are listed below.
Human Psychology: A human is perfect for understanding from the pictures. He never gets bored by doing so. It happens in mind mapping. You write the main concepts with the help of branching them using colors, pictures, short phrases, etc. You understand everything quickly, and this is the main advantage of mind mapping.
Only Short Description:When you go through the points after learning them, it becomes a headache for you to revise the whole paragraphs, it gives you exhaustion, and you end up giving up. Well, this is not the case in mind mapping. When you learn by making a mind map, the concepts become very short instead of the whole pages or paragraphs, and you can quickly revise them later.
Make your Mind More Creative: When you illustrate something using images, colors, phrases, etc., your mind starts working very fast, making you produce more ideas about the concepts. It helps you to elaborate your concepts more and makes you understand every bit of them.
Easy to Make: The mind map is easy to make. You don't have to follow a specific idea to make it. You do it according to your feasibility. You don't follow any steps to make it. It's your choice that how you will make it. What shape you would choose, what color, how you will link them, you would choose a hierarchy structure or not. It all depends on you.
Mind Map is for Everyone: You can use a mind map for any purpose either you are a student and want to write the lectures, or you are a professional person who wants to make slides for the office work, or you are a teacher who wants to deliver lectures, or you are a housewife wants to make a to-do list for home. This mind map is for everyone.
Making Slides Using a Mind Map: Making presentations using a mind map will save you a lot of time. Instead of making your presentation very lengthy, you can make it easily absorbable by using the mind map.
Part 3: Tips for Making a Mind Map Template
Follow these tips to make a perfect mind map.
Write the main point: The first thing is to find your central point that is very important to know. You have to write in the middle. Write it with appealing fonts, colors.
Add branches: Make some branches that are going out from this central concept. These branches will help you to put the sub-points that are derived from the central concept.
Get more points: Now, move forward in what you are studying, find more points related to the main point and then add them in the branches according to their relation with the main point.
Add images, colors, phrases: To make your mind map what it should look like, add the images. It will make the other person understand what you are trying to say quickly. Not only the opposite person, but it will also help you to go through it later.
Get ideas: To make your main map more perfect, get feedbacks and responses from different people. You can get ideas from the internet. There are thousands of mind maps available on the internet.
Part 4: How to Make a Mind Map Template?
Step 1: Open EdrawMind
Download and install EdrawMind on your PC or use EdrawMind Online instead. When EdrawMind is launched, you will see several types of mind maps and other diagrams. Select one of the templates, or click on the icon to build your mind map from scratch.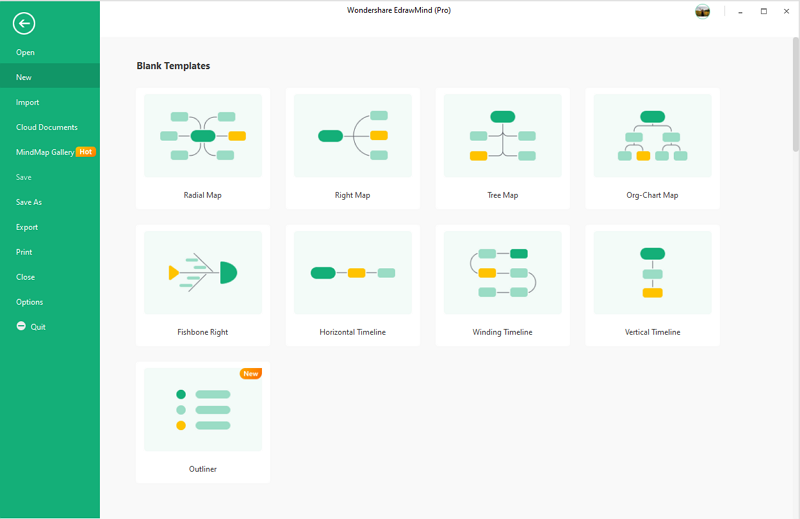 Step 2: Mind Mapping in the Easiest Way
Use the shortkeys or press the floating button to add topics and branches around the main topic. You can add images, change the colors and insert marks into your mind maps that make them look more appealing. Don't forget to try the features of "Branch Free Positioning" and "One-click mind map generation".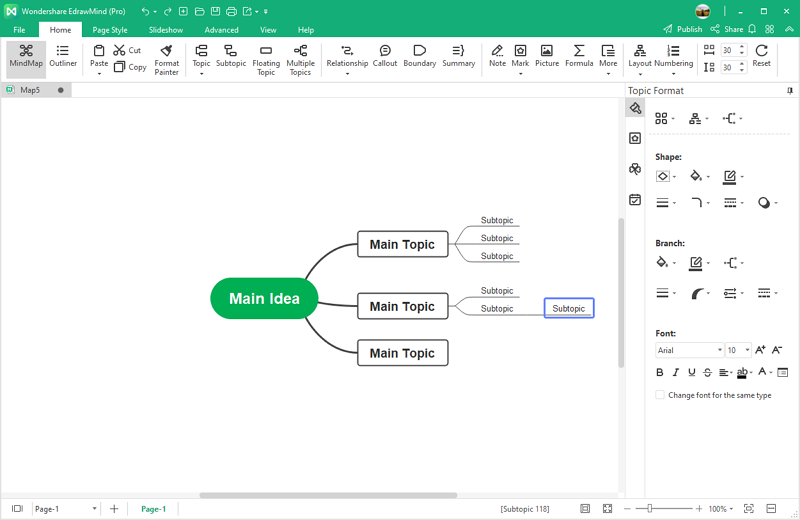 Step 3: Save Your Mind Map as Edraw Template
Once you've finished your mind map, you can download it to save in your computer. In addition, you can click the [Publish] button and share your mind map into Edraw Mind Map Gallery. Then people from the world who like making and using mind maps will have the chance to see your creation.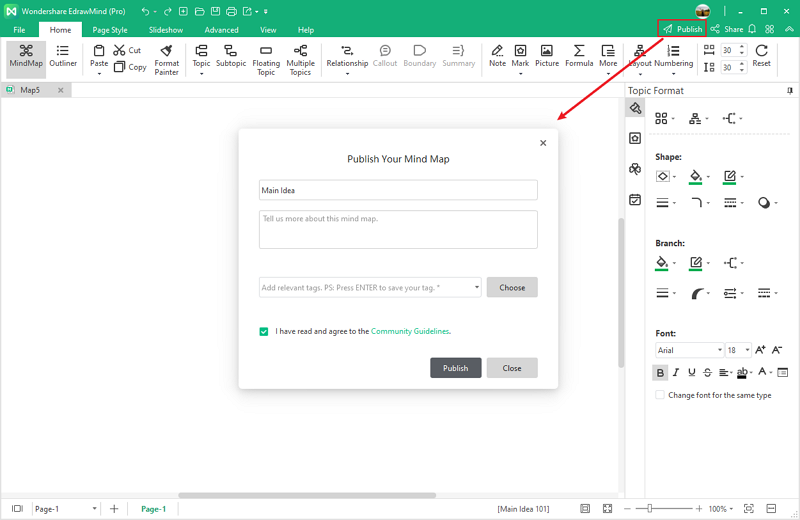 Step 4: Save Your Mind Map Template for Word/Excel/PowerPoint/PDF
When you finish creating your mind map in EdrawMind, one-click on the [Export] button will transfer your drawing into the editable Word/Excel/PowerPoint files or convert your mind map template into the PDF format. Thus, even non-EdrawMind users can read and edit your mind map templates.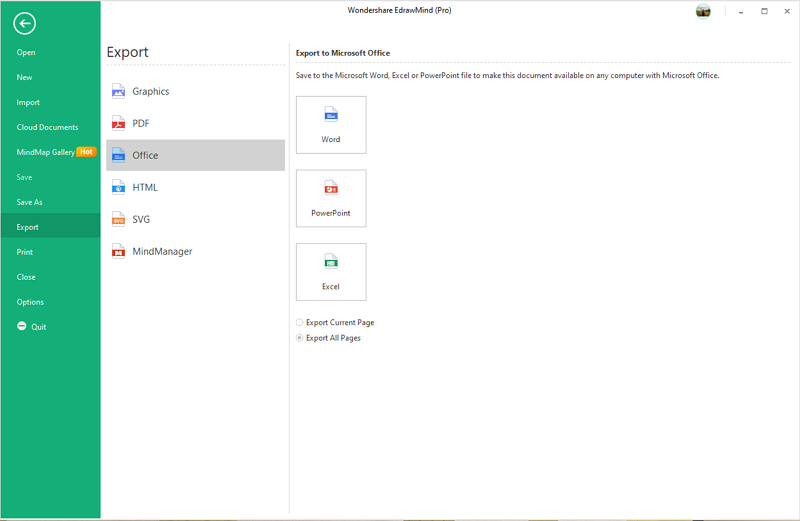 Part 5: A Great Free Mind Mapping Tool
EdrawMind is an excellent mind mapping tool coming with abundant templates and illustrations. It includes incredible features that make it easy to drag topics around, add and connect topics, and set the layout of your mind map by choosing different layout styles. It also supports to insert images and symbols, add hyperlinks and notes. When you finish, you can easily export your map as Word, PPT, HTML, PDF, SVG, and many other formats. Besides, with a group of built-in themes, you can change the style of your mind map within a single click. Go to our Mind Map Gallery and get inspiration for your own mind maps.