What is a Piping and Instrumentation Diagram (P&ID)
>
P&ID Knowledge
>
What is a Piping and Instrumentation Diagram (P&ID)

Piping and instrumentation diagram (P&ID) is not difficult to understand by reading this simple P&ID article with basic concepts and key aspects.
What is a Piping and Instrumentation Diagram (P&ID)?
A piping and instrumentation diagram displays the piping components (for example equipment, valves, reducers and so on) of an actual physical process flow and is often used in the engineering projects, such as setting up steam boilers, heat exchangers, electric boilers and more. To read a piping and instrumentation diagram, simply break down the overall diagram into smaller parts and then trace from a single equipment and follow the pipeline. Piping and instrumentation diagram also has a close relationship with the Process Flow Diagram (PFD). The latter type shows a picture of the separate steps of a process in sequential order.
Main Purpose of using piping and instrumentation diagrams are:
To better understand the design conditions of an engineering project;
To operate, maintain and modify the process system efficiently;
To conveniently layout out and demonstrate the physical sequence of systems with the focus on the control and shutdown schemes, safety and regulatory requirements, and the basic start-up and operational details.
EdrawMax: a swiss knife for all your diagramming need
Effortlessly create over 280 types of diagrams.
Provide various templates & symbols to match your needs.
Drag and drop interface and easy to use.
Customize every detail by using smart and dynamic toolkits.
Compatible with a variety of file formats, such as MS Office, Visio, PDF, etc.
Feel free to export, print, and share your diagrams.
Piping and Instrumentation Diagram Elements
There is no standard form for a piping and instrumentation diagram, but you may see some of the following elements:
Different kinds of equipment including drain, reducers, drains and so on;
Equipment details such as sizes, tag numbers, rating, capacity and more;
Details about the overall diagram including element identification, insulation requirement, flow directions, interconnections reference, quality level, various interfaces, permanent start-up and flush lines;
Symbols including valves;
Piping and Instrumentation Diagram Usages
Piping and instrumentation diagrams have been used in many fields such as metallurgical sector, air conditioning industry, power generator sectors and so on. The key usages of such diagrams are:
For designing a manufacturing process for a physical plant with complex chemical or mechanical steps. This is especially important for a safety check.
For training new workers and contractors before they start work in the plant.
To derive project capital cost estimate and develop project contract specification, for example, the guidelines and standards for facility operations.
P&ID Symbol Legend
The piping and instrumentation diagram symbols, which show the functional relationship between piping, instrumentation, and system equipment units, are very important for users to understand the subject. Unlike floor plan symbols that are dimensionally accurate, piping and instrumentation diagram symbols are mainly used to illustrate the process of a system. All piping and instrumentation diagram symbols can be divided into seven main categories: equipment, piping, vessels, heat exchangers, pumps, instruments and valves.
Equipment
Equipment has unique miscellaneous units that are different from the other piping and instrumentation diagram categories. The equipment category contains facilities and devices such as compressors, conveyors, motors, turbines, vacuums, and more.
Piping and Connection Shapes
Pipes are used to transport fluid substances in industrial diagramming. Piping has a number of different materials, such as metal and plastic, to be used to create various types including multi-line pipes, separators, and so on.
Vessels
Normally, a vessel is a kind of container that is used to store fluid, or change the features of the fluid during storage. The vessels category covers from tanks to columns as you can see below:
Heat Exchangers
A heat exchanger is used to efficiently transfer heat from various kinds of areas or mediums. This category includes many different forms of devices such as boilers, condensers, hose reel and more.
Pumps
Generally, a pump is a kind of device that uses pressure to raise or compress fluids in and out of other industrial facilities. This category covers pumps, fans, ejector, spray and many more.
Instruments
An instrument is used to measure and control quantities including flow, temperature, or pressure. The instruments category includes houses indicators, transmitters, weir meter, controllers and so on.
Valves
A valve is used by engineers to control the flow of a fluid by opening or closing passageways in a piping system. This section includes rotameters, gauge, ball and more.
P&ID Examples
Using examples with colored labels helps a lot to understand the piping and instrumentation diagram. Simply check out the following examples from different industrial fields. Feel free to click on any of these examples to see more.
Water Boiling Process
This example here shows a general process for changing from the liquid phase to a gaseous phase. In this case, the vapor pressure of the liquid has the same level of the atmospheric pressure exerted on the liquid.
Power Generation System
A power generation system, which is also called as a power plant or power generation station, is a set of industrial equipment for generating electric power. You can see different types of facilities such as power supply tanks and LP turbines in the following diagram.
Evaporate Piping and Instrumentation Diagram Example
This diagram here shows an evaporator system with a number of elements and three key evaporators. By following the pipelines in this diagram you can clearly see how water is evaporated.
Air Conditioning System
This piping and instrumentation diagram example here shows the general process of removing heat and moisture from a certain space in order to improve the living environment. The key air conditioner is set at the middle and equipped by a series of pipelines in different directions.
Low Dust SCR System
SCR refers to the Selective Catalytic Reduction, which is an advanced emissions control system. Hit on the diagram below to check out more details, or you can free download it in PDF format.
More Free Piping and Instrumentation Diagram Templates
Here are more piping and instrumentation diagram templates for you to easily understand the field. All of these are editable with a free download piping and instrumentation diagram software. Feel free to click on any of them to see more details.
How to create a P&ID Conveniently?
Generally, there are 4 steps to do so:
Step 1: Add Shapes
Drag and drop built-in standard editable symbols in the library. Alternatively, you can use a preset template to faster your work.
Step 2: Connect Shapes
Connect piping and instrumentation diagram shapes and equipment with pipelines in different directions. Adjust the length and width of a pipeline according to your specific needs. Also, keep in mind that some equipment may require special configuration.
Step 3: Customize Elements
Customize your piping and instrumentation shapes by changing the default color and size. You can further add text to or label each of the equipment.
Step 4: Save, Print and Export
Export to different formats including PDF, SVG, Visio, Graphics etc. You can also save files on built-in personal or team cloud for better communications.
Why Choose Edraw Max for Creating Piping and Instrumentation Diagrams?
Compared to many other diagramming tools in the market, Edraw Max can make your work more efficient based on easy-to-use features. Enjoy the abundant editable shapes and template with the drag-and-drop editor. You can also auto-connect, label, or font your shapes quickly thanks to Edraw Max's great usability and flexibility. Once finished your work, easily export to many different formats including PDF, SVG and Visio to share with your colleagues. Explore more advanced functions by clicking on the free download button at the end of this page right now!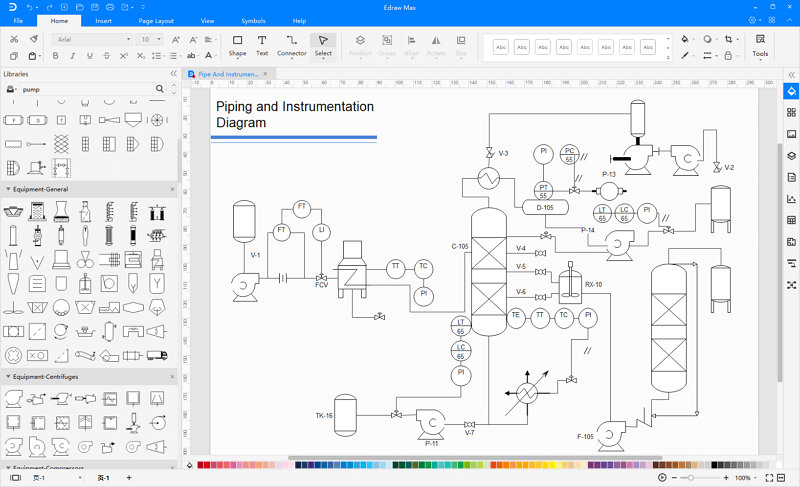 Read More
Video Tutorial - How to Create a P&ID