Electrical Drawing Software

Part 1: What is an Electrical Drawing and How is it Used?
Also known as a wiring diagram, an electrical drawing would include all the technical and electrical components of a structure systematically. The visual representation usually follows standard symbols and sets so that the electric diagram can be understood by all. It can help professionals understand the overall electrical system, how to install it, or repair it.
Although there is no rule of thumb, a standard electric diagram would include the following components:
The overall site plan of the structure with any electrical fittings for the external area
The basic floor plan of the building with the major spots and positions of the electrical components
The wiring diagram would include the entire electrical distribution in the system and its layout.
Apart from the internal layout, it also includes switches, hubs, or any other electric component.
Other things included in a wiring diagram are the main power, lines, line capacity, rating, fuses, grounding, generators, batteries, etc.
Since electrical drawings are pretty resourceful, they can be used in the following way:
It provides the basic electrical layout in any building and is the first step in the process.
Based on the electrical diagram, we can come up with the entire structure and provide a rough estimate to the client.
An electrical drawing would help in the installation of the electrical wires and the set up of the entire system.
Even after installation, a wiring diagram can be used in maintenance and repairing (or to calculate the load for extensions).
Part 2: Electrical Drawing Software - Simple, Superior, Second to None
Here is a superior, powerful, and easy-to-use electrical drawing tool which helps to create professional-looking electrical drawings with no drawing skills required. Check out its user-friendly interface that is similar to MS style.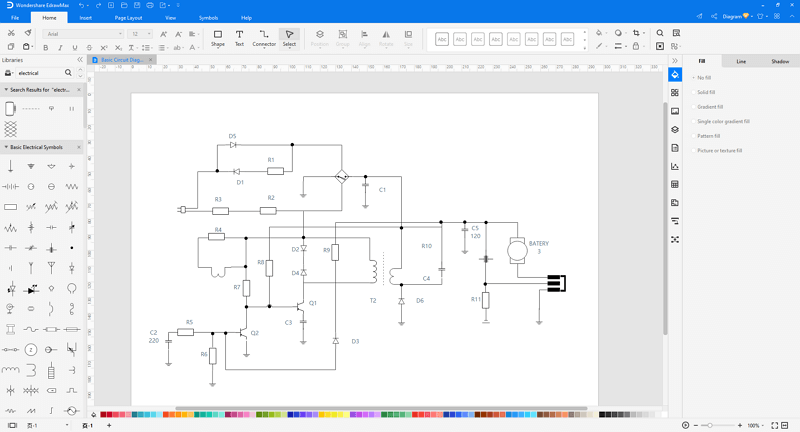 With Our Electrical Drawing Software, It's Ideal to Design:
Basic Electrical Drawings
Electrical Wiring Drawings
Schematic Electrical Drawings
Circuit Drawings
System Requirements
Works on Windows 2000/2003/2008/Vista/7/8/10 (32bit/64 bit)
Works on Mac OS X 10.11 and later
Works on Linux operating system, including Debian, Ubuntu, Fedora, CentOS, OpenSUSE, Mint, Knoppix, RedHat, Gentoo, etc.
Part 3: Create First-Rate Electrical Diagrams with EdrawMax
Our electrical drawing software - EdrawMax - will assist you in drawing your electrical diagrams with minimal effort and makes it very easy for beginners. Built-in electrical symbols and smart connectors help to present your electrical drawings, electrical schematic, wiring diagrams and blueprints in minutes.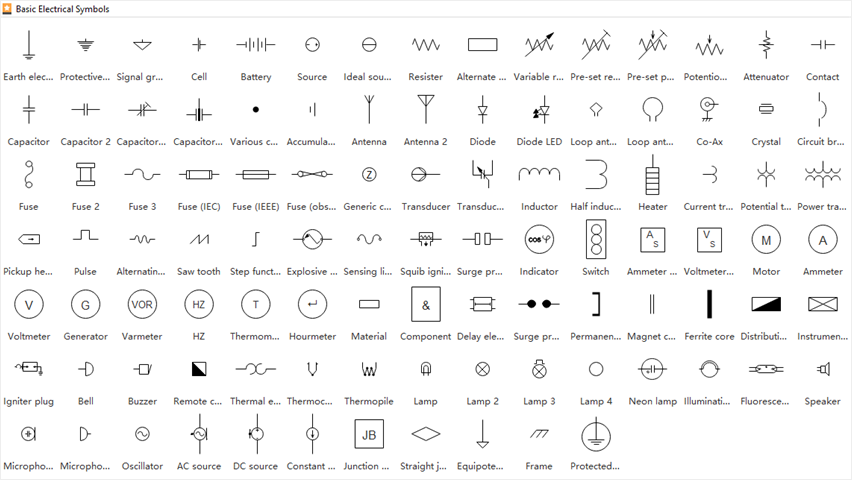 EdrawMax
All-in-One Diagram Software
Create more than 280 types of diagrams effortlessly
Start diagramming with various templates and symbols easily
Superior file compatibility: Import and export drawings to various file formats, such as Visio
Cross-platform supported (Windows, Mac, Linux, Web)
Security Verified |
Switch to Mac >>
Security Verified |
Switch to Linux >>
Security Verified |
Switch to Windows >>
Part 4: Pre-Designed Electrical Diagram Examples to Get You Inspired
Before starting to create a electrical drawing, here are some professinally-designed eletrical diagrams examples that can help you get inspired if you haven't drawn such diagrams before.
Part 5: Exceed Your Expectation with EdrawMax
1) Circuit Diagram Creation - Fast
Electrical diagrams can be created extremely fast owe to the unique drag-and-drop functions. No other diagram software can match this feature! It will help you save tons of time using our tool as your electrical design software.
2) Symbols and Shapes - Endless
It provides more than ten thousand symbols and shapes that cover different fields, not just for electrical drawings. All symbols and shapes are pre-designed by our professional designers, which can help you create not only electrical diagrams but also other commonly-used graphics.
3) Alignment and Arrangement - Automatic
All you have to do is to imagine and draft, Edraw will do the rest hard work for you. Everything will be aligned and laid out perfectly and automatically with the auxiliary lines and snap & glue function.
4) Save and Export - Vector-Based
With a few clicks, you can save docs in your personal cloud, Google Drive and Dropbox without limitation. You won't be forced to buy extra Edraw for another device—everything can be exported as common file formats(PNG, JPEG, Word, Excel, PPT, Visio, HTML, etc).
5) Technical Support - Free
Get a question? Feel free to email us. Our awesome experts are ready to help you solve your problems.
More Related
Integrated Circuit Schematics Software