A floor plan is composed of different types of floor plan symbols. You have to get familiar with these floor plan symbols when you are drawing or reading floor plans. Look at the symbols below and try to make a floor plan of your own.
Floor Plan Software
Edraw floor plan software offers you many special and standard floor plan symbols that you can use in designing floor plans, which include building core shapes, appliances, furniture, elevations, plumbing, HVAC symbols, etc. You can use this floor plan design program to start design your floor plans now!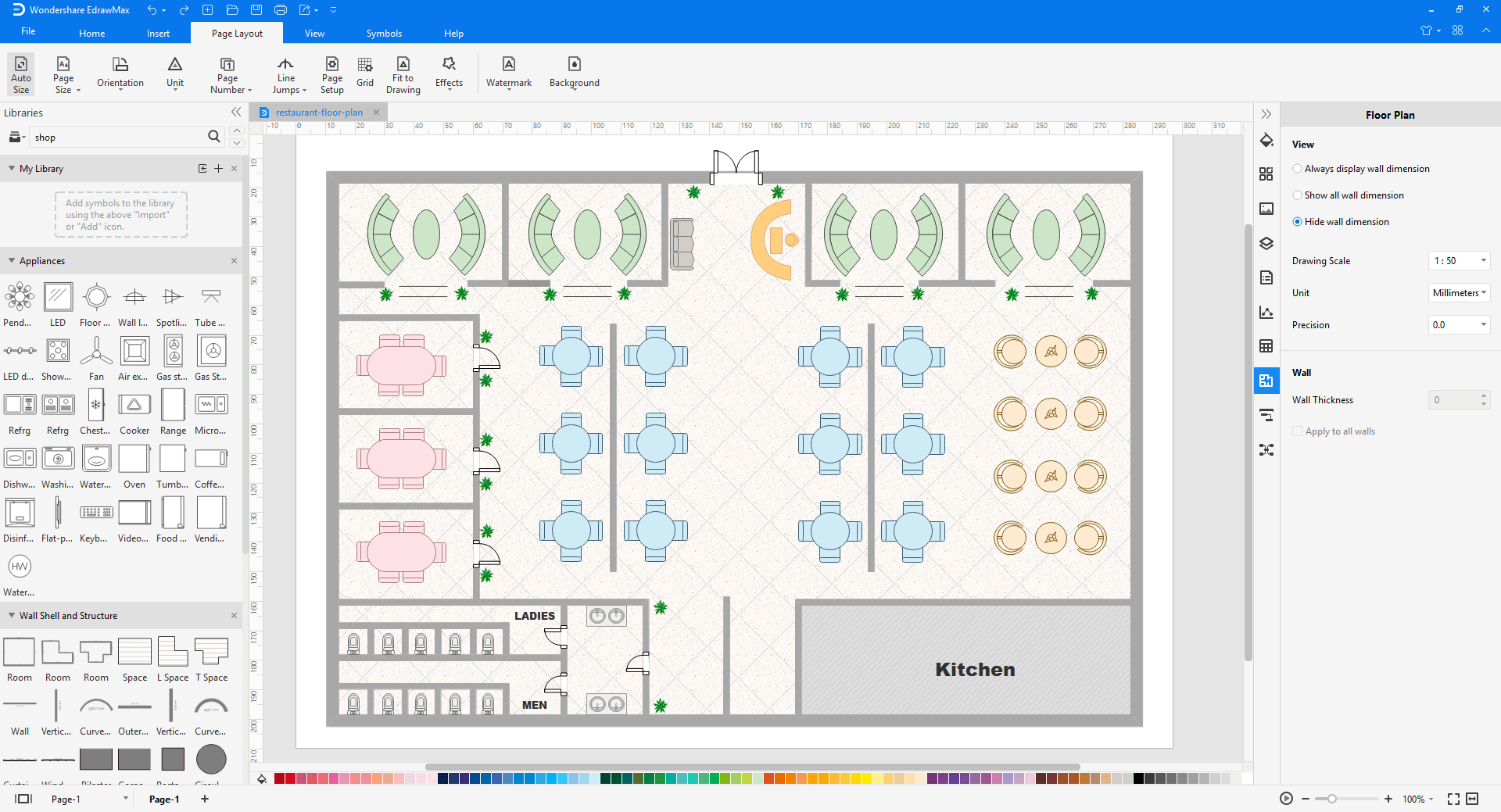 EdrawMax
All-in-One Diagram Software
Create more than 280 types of diagrams effortlessly
Start diagramming with various templates and symbols easily
Superior file compatibility: Import and export drawings to various file formats, such as Visio
Cross-platform supported (Windows, Mac, Linux, Web)
Security Verified |
Switch to Mac >>
Security Verified |
Switch to Linux >>
Security Verified |
Switch to Windows >>
Floor Plan Symbols
Building Core Shapes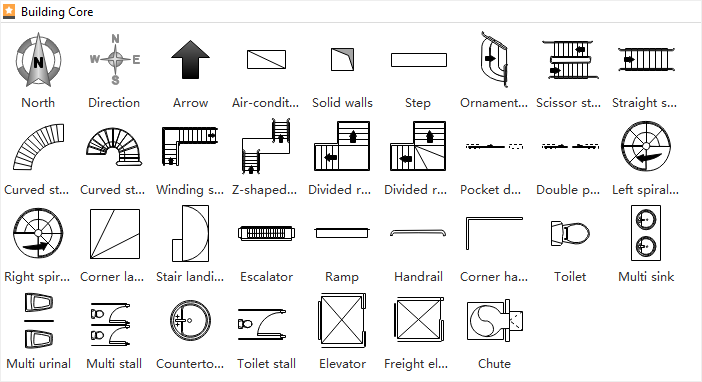 The North is the direction in which a compass needle normally points. In floor plans, the north arrow indicates which side of the floor plan is the north.
The Air-conditioned location is the place where the air conditioning is put.
The solid wall portrays the wall's relative thickness.
The Scissor staircases are generally composed of two main flights of stairs that meet at a landing, forming a U shape when viewed from above.
The Handrail is a rail that is designed for people to grasp by hand so as to provide stability or support when they are walking.
The Toilet is the symbol for toilet.
The Freight Elevator is a transportation device consisting of an endlessly circulating belt of steps driven by an electric motor, which moves people between the floors or levels of a building.
Tables and Chairs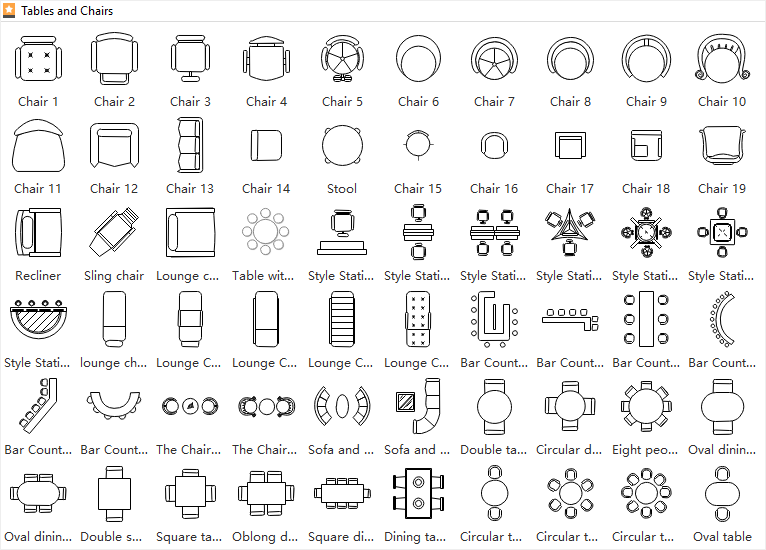 The Table with Chair is a shape with a table in the center and several chairs surrounding the table. It is a smart shape with a floating button that enables flexible modifications to it. The number of chairs can be changed easily.
The Stool is a single seat that is backless and armless and supported by legs.
The Sling chairs are casual chairs that are usually constructed using a simple frame paired with a single sheet of material for the back and seat.
The dining table is a round one for four people, and usually, the rectangular one is for six persons. You can choose to place this symbol on where your dining table should be in the floor plan.
The Couch is a long upholstered piece of furniture for people to sit on and have a rest.
Bedroom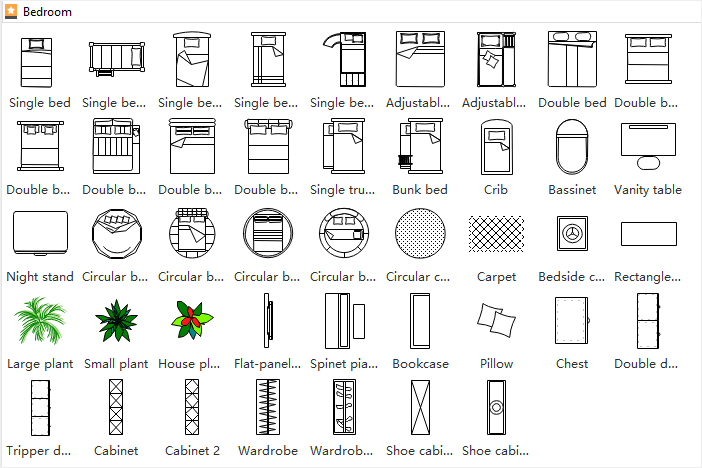 The Adjustable bed is a bed that has a multi-hinged lying surface which can be adjusted to different positions.
The Bookcase is an open cabinet containing shelves on which to keep books.
The Shoe cabinet is a kind of furniture where people put shoes.
The Carpet is a textile floor covering that is usually made from wool or synthetic fibers.
Wall, Door and Structure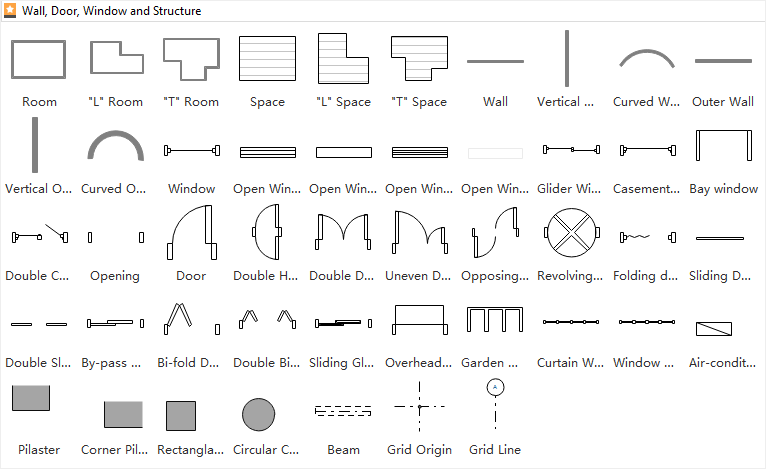 The Room is a rectangle space that can be resized to any size until it fits into your requirements.
The Door is a basic floor plan symbol representing a door, you can adjust the angle of the door opening by dragging the control point.
The Bay window is a window space projecting outward from the main walls of a building and forming a bay in a room.
If you are looking for the best easy floor planning tool and use the above symbols to create your own floor plan whether you are a professional or a novice. After you have read all these floor plan symbols, you can look at the below video and know how to make a floor plan with Edraw Max easily and quickly.
Want to Know More about Floor Plan?