What are Floor Plans?
For every civil engineering project – whether it's as small as a single-story house or as large as a multi-story skyscraper – there are floor plans drafted and designed by architects. But what exactly are floor plans? Floor plans are architectural drawings and diagrams that show the layout of a structure. It allows the engineer to understand where each component of the structure will lie to move onto his structural drawings.
Floor plans illustrate walls, windows, stairs, rooms, bathrooms, doors, bathroom fixtures, furniture, and many more. There are specific symbols that represent each component, and everything is drawn to a scale. For example, a wall is represented by two lines with space in between; the distance represents the wall's thickness.
Since every symbol represents something unique, it gets easier for the engineer to understand and comprehend what the architect intends to design. Here is a look at some of the most common floor plan symbols.
EdrawMax
All-in-One Diagram Software
Create more than 280 types of diagrams effortlessly
Start diagramming with various templates and symbols easily
Superior file compatibility: Import and export drawings to various file formats, such as Visio
Cross-platform supported (Windows, Mac, Linux, Web)
Security Verified |
Switch to Mac >>
Security Verified |
Switch to Linux >>
Security Verified |
Switch to Windows >>
Commonly Used Floor Plan Symbols
Since there are plenty of floor plan symbols, we have categorized them into four groups:
Building Core Shapes
Bedroom
Furniture
Walls, Doors, and Structural Components
Below are some pictures that will help clarify different symbols that fall in each of these categories:
1. Building Core Shapes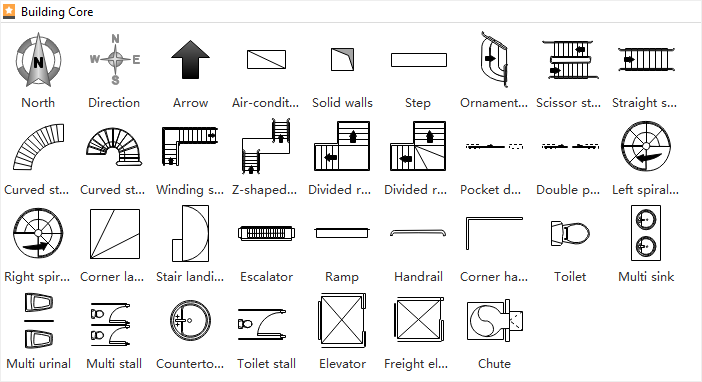 The North is the direction in which a compass needle normally points. In floor plans, the north arrow indicates which side of the floor plan is the north.
The Air-conditioned location is the place where the air conditioning is put.
The solid wall portrays the wall's relative thickness.
The Scissor staircases are generally composed of two main flights of stairs that meet at a landing, forming a U shape when viewed from above.
The Handrail is a rail that is designed for people to grasp by hand so as to provide stability or support when they are walking.
The Toilet is the symbol for toilet.
The Freight Elevator is a transportation device consisting of an endlessly circulating belt of steps driven by an electric motor, which moves people between the floors or levels of a building.
2. Bedroom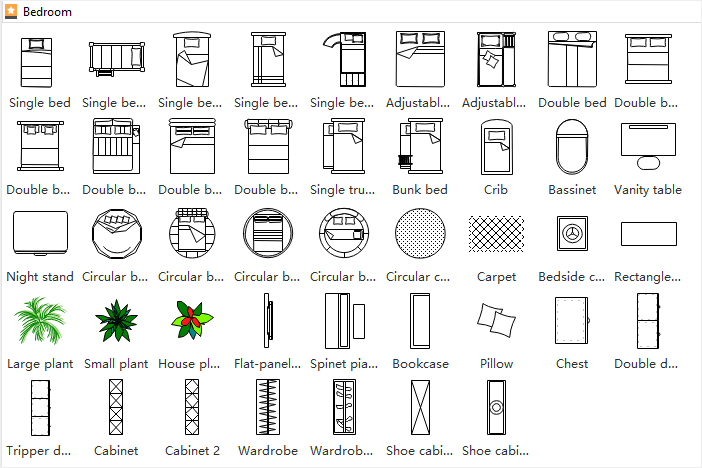 The Adjustable bed is a bed that has a multi-hinged lying surface which can be adjusted to different positions.
The Bookcase is an open cabinet containing shelves on which to keep books.
The Shoe cabinet is a kind of furniture where people put shoes.
The Carpet is a textile floor covering that is usually made from wool or synthetic fibers.
3. Furniture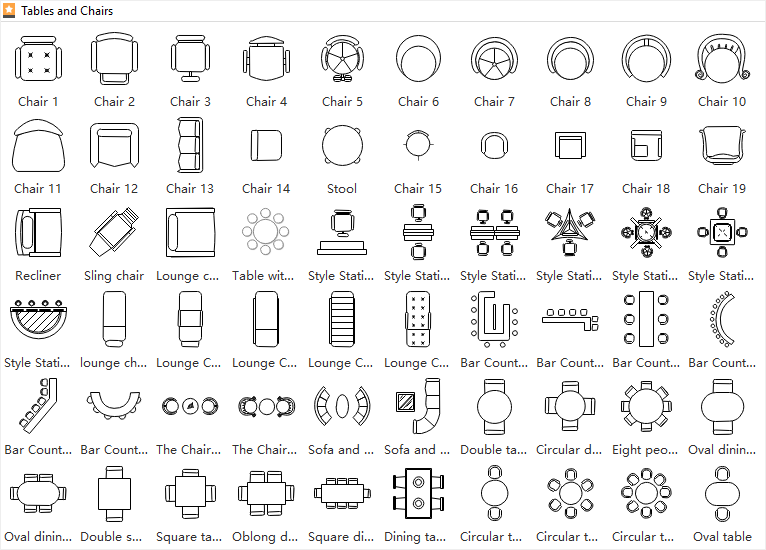 The Adjustable bed is a bed that has a multi-hinged lying surface which can be adjusted to different positions.
The Bookcase is an open cabinet containing shelves on which to keep books.
The Shoe cabinet is a kind of furniture where people put shoes.
The Carpet is a textile floor covering that is usually made from wool or synthetic fibers.
4. Walls, Doors, and Structural Components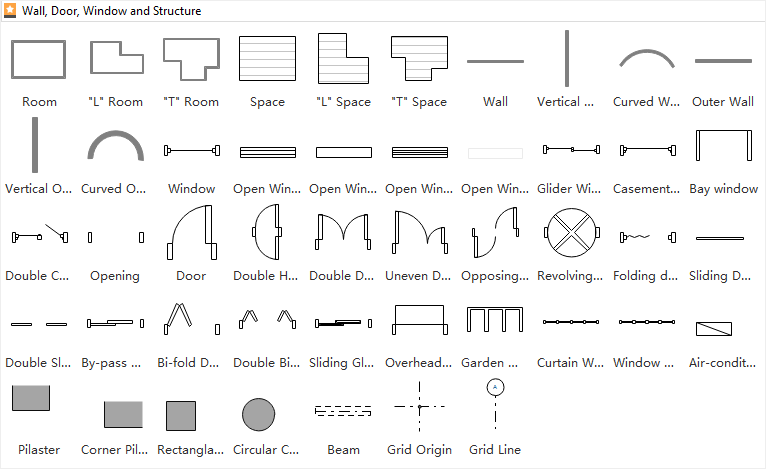 The Room is a rectangle space that can be resized to any size until it fits into your requirements.
The Door is a basic floor plan symbol representing a door, you can adjust the angle of the door opening by dragging the control point.
The Bay window is a window space projecting outward from the main walls of a building and forming a bay in a room.
The above-mentioned floor plan symbols are common in most architectural drawings; however, some additional symbols are used in high-end drawings, like those of skyscrapers used to indicate extra detailing. Here are ten such symbols, their meanings, and illustrations:
1. Compass : A compass lets the engineers and architects know where the north lies. This way, they can effectively design the floor plan and look out to orient certain things. For example, placing a window on the east side of the building will ensure the sunlight enters the building early in the morning.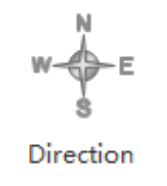 2. Walls : Walls can both illustrate the outer perimeter of a building or the boundaries of rooms within a house. It can vary in thickness according to the situation but is still represented by the same symbol.

3. Doors : Architectural floor plan symbols also include doors that show where every room's entrance would be. These could be single-leaf or even double-leaf doors.

4. Windows : Placing windows at the right places is crucial for an efficient floor plan. The ventilation system of a house largely depends on the placement and orientation of windows. As a floor plan symbol, windows are represented as in the picture below.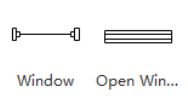 5. Stairs : Stairs let you move up and down the building. Showing where the staircase lies is important in floor plans; they could be classified as general stairs or even as an emergency exit located at the end of the building. Here's how they look like in a floor plan:

6. Bedroom : While it's not necessary to illustrate beds, chairs, and tables in a bedroom on a floor plan, showing how a bedroom could be set allows the viewer to get a general idea of the room's size. You can show a single bed, a double bed, a wardrobe, cribs or bassinets, and a nightstand as well. This is how most of these look like as floor plan symbols:

7. Kitchen : Similarly, a kitchen in a floor plan also shows where the sink would be, the place where you would fit the oven, the place for a microwave, etc.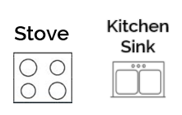 8. Bathroom : Bathrooms have a sink, a toilet, a bathtub, and sometimes a wardrobe. Here's how these common fittings look like in a floor plan: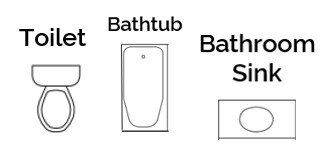 9. Office: Offices have tables, chairs, sofas for visitors, and long conference tables for meetings. All of these are mostly shown in professional floor plans.

10. Plants : Every house looks better with decor, right? To create an aesthetically pleasing floor plan that would attract clients, architects usually add plants as well. These can be both indoor and outdoor plants.

All of the symbols used are drawn to scale – but what does "drawn to scale" actually mean? Let's have a look.
Floor Plans and Scales
Since architects need to fit in the entire building plan on a piece of paper, they need to choose a scale for the drawings. This means that every small measurement on paper will actually represent a larger measurement on the actual site. For example, two lines with a 9-inch thick wall could be represented with a 0.9-inch space between them. Likewise, every other symbol will shrink to ten times its size when drawn on paper. A 4-feet long window will be represented by a 0.4-feet long line on the drawing sheet.
The architect must mention the scale they have used on each page of the drawings. Every page can have a different scale depending on the object drawn. While one page shows all the details of the room, the next page could show the full details of the house. The latter will, of course, have a smaller scale to fit in everything.
Now that you know the various symbols used in drafting floor plans and what each of them represents, here's how to quickly and easily create a floor plan using one of the best software available right now.
How to Make Floor Plans?
To make an efficient floor plan, you need software with all the symbols required to illustrate each component clearly. EdrawMax by Wondershare is one such software that allows you to draw, edit and create new floor plans with all the symbols you may need to use for any type of project. The software is available both online on EdrawMax's website and can be downloaded on your PC as well, as it's compatible with both macOS and Windows.
A unique feature that makes it stand out from the rest is the availability of plenty of templates you can use and edit. Instead of starting from scratch for every floor plan, you can use any one of the pre-drawn templates and then edit them according to your liking. This saves you time and gives you new ideas that could improve the design you had in mind.
EdrawMax also has all the symbols you need to create an aesthetic floor plan; you wouldn't need to import anything from outside. With that being said, let's go over the process of creating a floor plan using this fantastic software.
How To Use Floor Plan Symbols on EdrawMax
To get started on using the right floor plan symbols for your projects, here are the steps you'll need to follow.
Step 1: Go to the EdrawMax website to use the online version or download the app from here.
Step 2: If you already have an account on Wondershare/Edraw, use the details to sign in. If not, you can quickly sign up as well.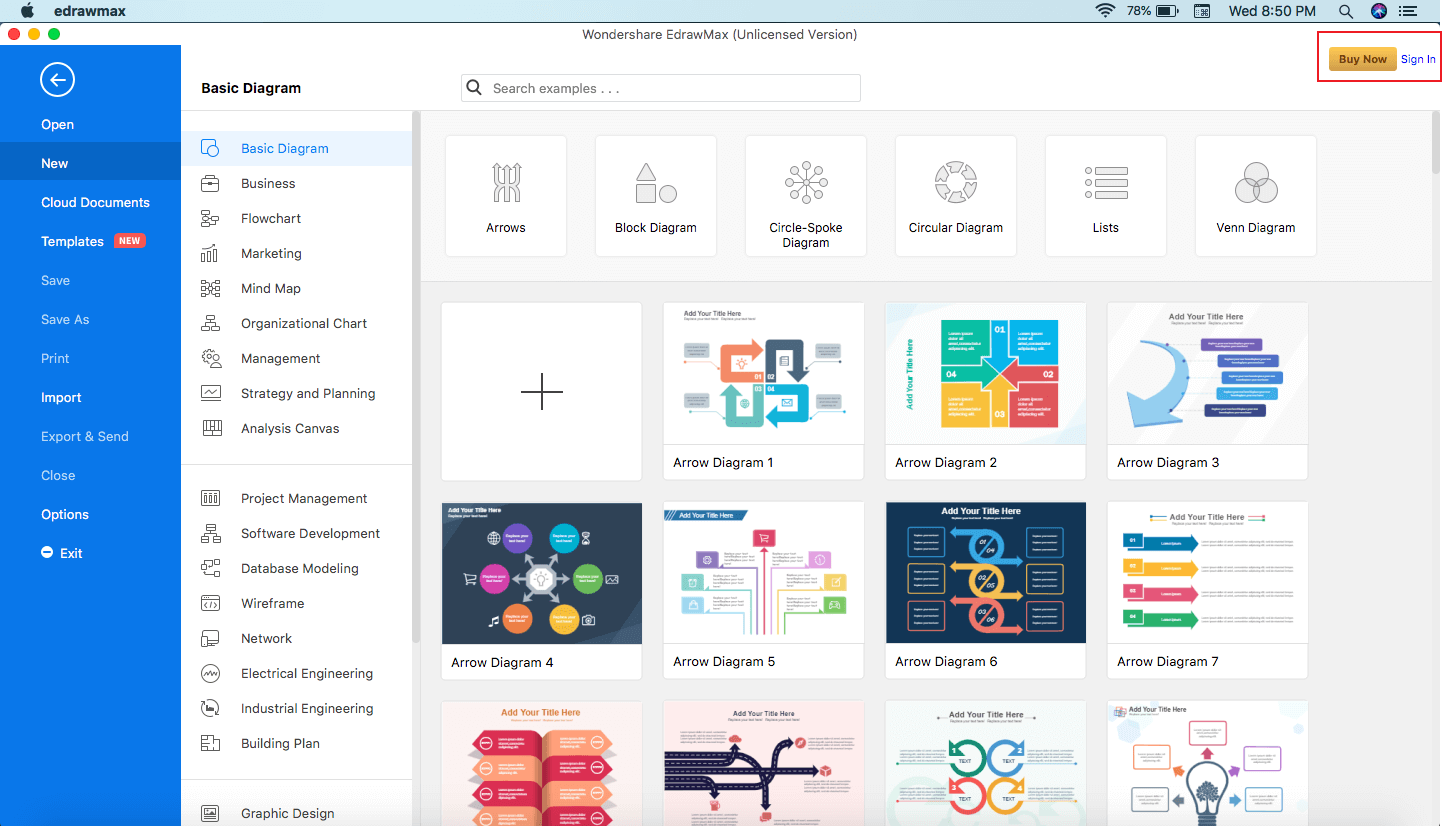 Step 3: To draw a floor plan, click on [New] > [Building Plan]. From there, you'll find plenty of options to choose from. Since we're focusing on floor plans, click on [Floor Plans] or [House Plans] to access their templates.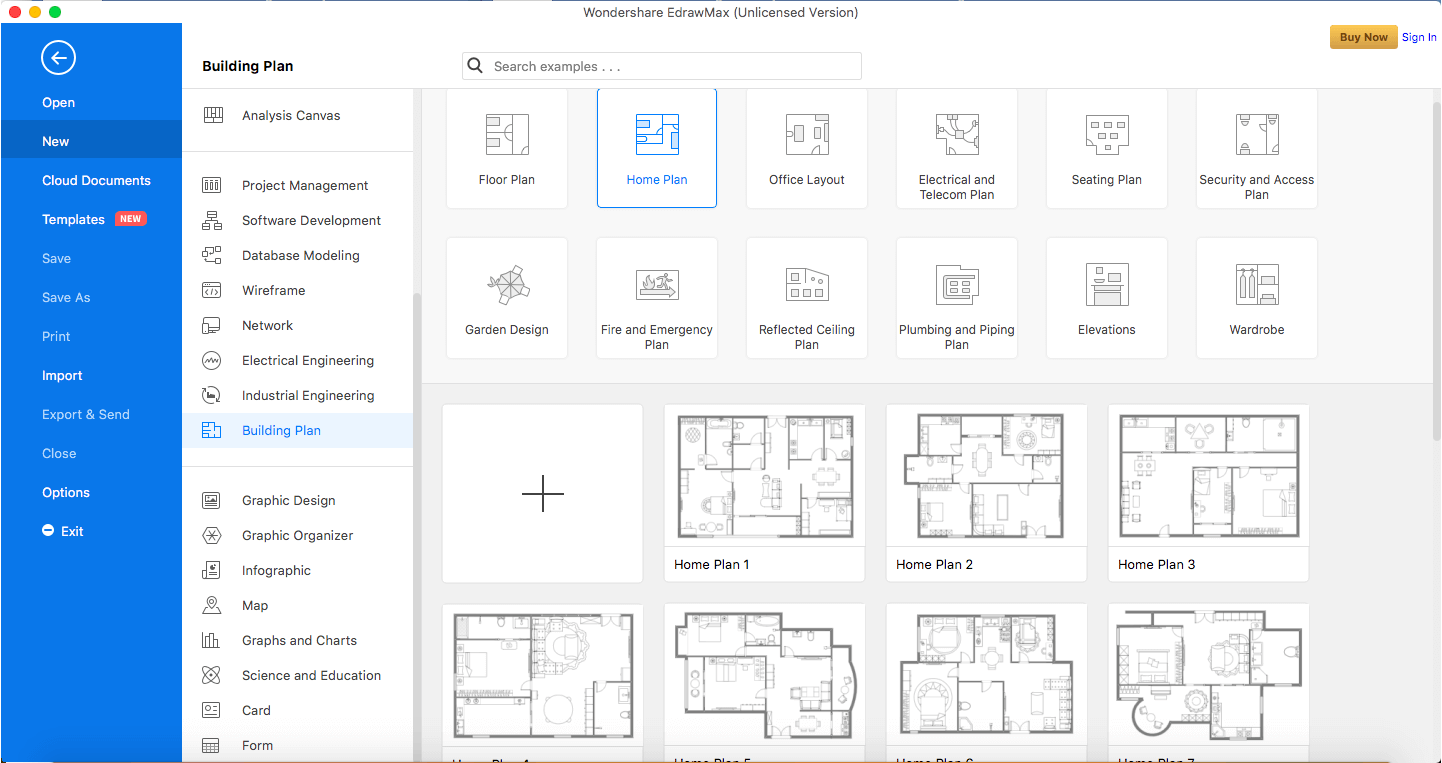 Step 4: If you wish to create a brand new floor plan from scratch, simply press on the "+" icon to open the drawing screen.
Step 5: To use the floor plan symbols on EdrawMax, go to [Symbols] from the drawing screen and click on [Floor Plans]. Next, select all the symbols you think you'll need in your drawing.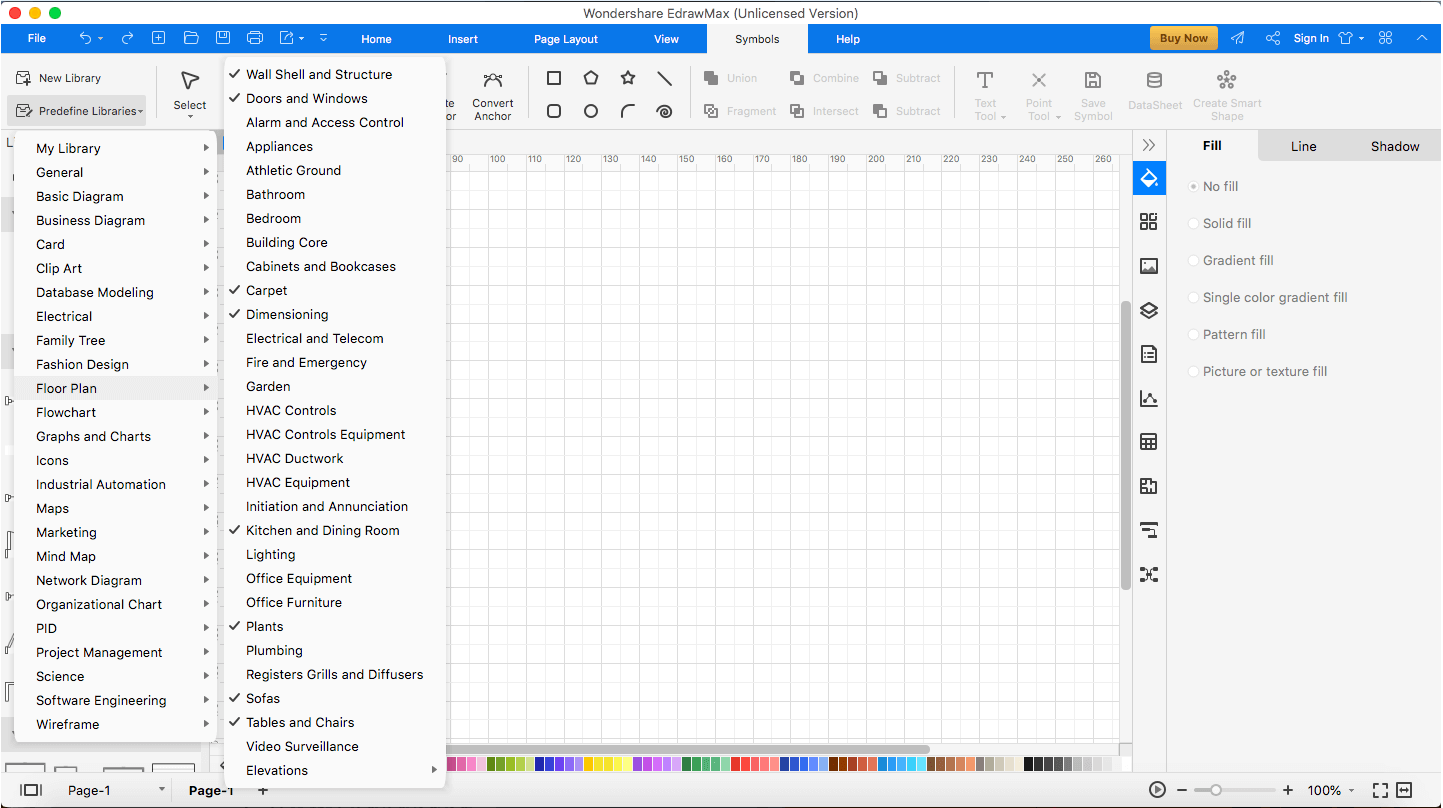 Step 6: Once you've selected everything you need, you'll be able to access these symbols from the left side of the screen.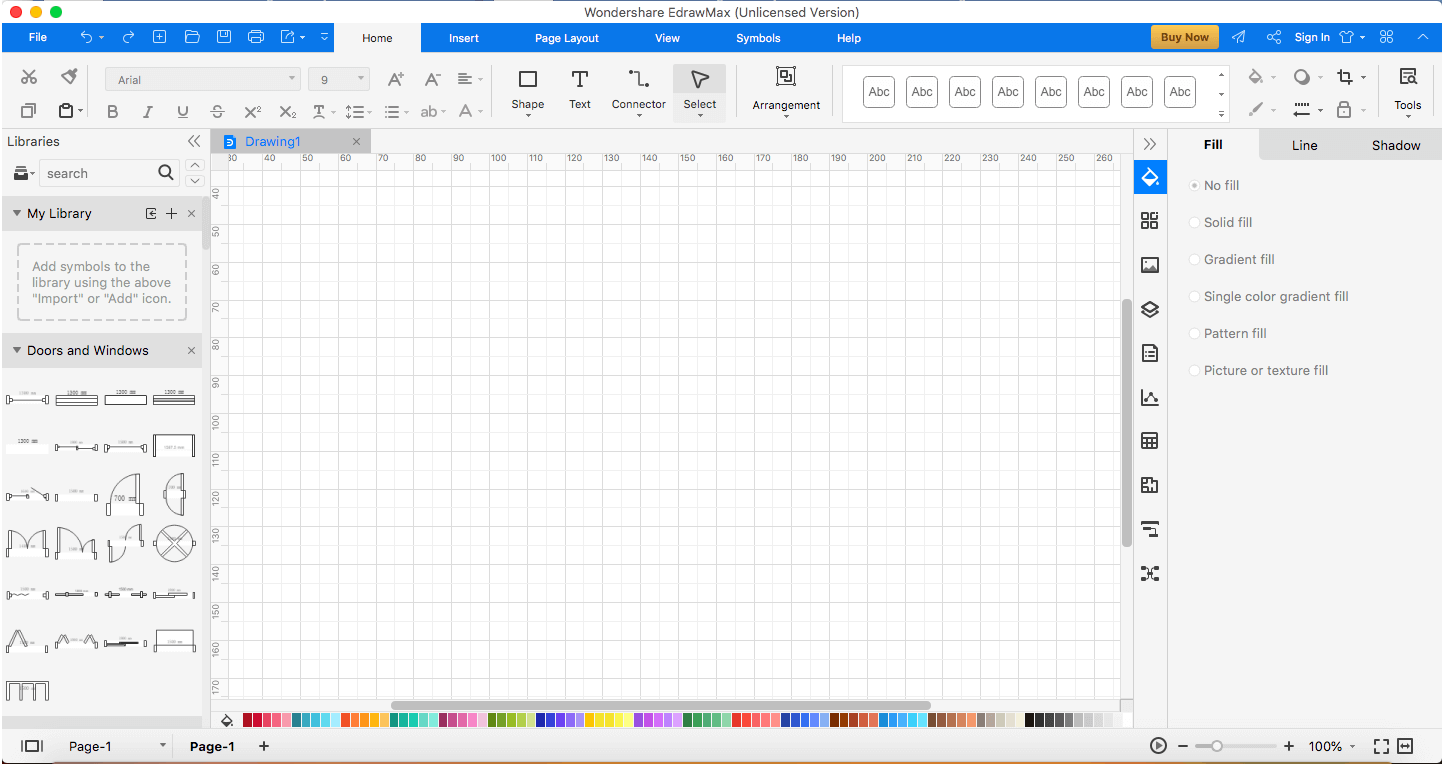 When making floor plans, several symbols are used repeatedly. Instead of going through the hassle of selecting symbols each time from the predefined library, you can create your own custom library. Here's how:
Creating Your Own Symbol Library on EdrawMax
EdrawMax also allows you to add and import customized symbols that you regularly use in your drawings. You can download symbols from any online platform and then import them into your library. This gets you a unique set of symbols that will make your floor plans stand out from the rest of the crowd.
Knowing what symbols to use and what each symbol represents in real life is crucial in designing a detailed floor plan. One simple mistake can change the way construction is done. To avoid this, you need software that is easy to navigate, user-friendly, and highly convenient - software like EdrawMax. Not only does it offer you all the symbols you need and numerous editable templates, but it also saves time and boosts productivity.
Download EdrawMax right now and see yourself drawing floor plans quicker than ever!
More Related