Do You Want to Make Your Floor Plan?
EdrawMax specializes in diagramming and visualizing. Learn from this article to know everything about floor plan symbols, and how to use or create floor plan symbols. Just try it free now!
Any civil engineer needs to draft a floor plan first to implement the construction process. A Floor Plan shows the view of a building interior from above. It demonstrates the structure of a house's map, rooms, space, and arrangements of other elements used for building construction. This plan illustrates the layout of a home or a building. A floor plan is embodied with floor plan symbols.
The placement of elements is done professionally, and all the symbols are used according to the requirements and needs of an architect. These symbols cover all the elements used to complete a floor map. It includes symbols of doors, windows, walls, plumbing, stairs, electricity connections, appliances, interior design, cabinets, bookshelves, tubs, and stoves. In this article, you can learn everything about floor plan symbols.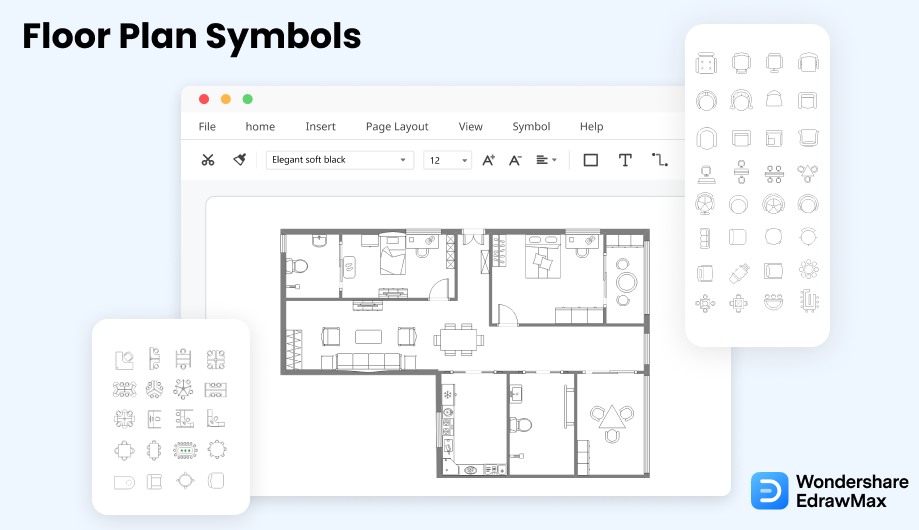 1. What Are the Floor Plan Symbols
A floor plan gives a clear and detailed view of a building or property to give the buyer and construction team an idea about construction and design details. Floor plan symbols denote all the construction elements in a floor plan. Designing a floor plan has become easy and convenient because of EdrawMax. It enables many architects to map floor plans via existing layouts and provides thousands of symbols to add to a floor plan.
The floor plan is a scale diagram of a building and its division into rooms and sections viewed from above. It is used to plan and arrange the furnishings into a required space using suitable floor plan symbols. A floor plan is made for every story and section of a building to visually represent how a door opens and where all the passages go.
Floor Plan Symbols:
Floor plan symbols denote all the construction elements in a floor plan. Designing a floor plan has become easy and convenient because of floor plan symbols.
2. The Types of Floor Plan Symbols
Floor plan is used to plan and arrange the furnishings into a required space using suitable Floor Plan Symbols. In a plan, dimensions are drawn and mentioned between walls to elaborate room size and wall lengths on a floor. It helps prepare construction sites, interior arrangements, estimate budget, and create a building schedule. It represents your working spaces, location, and setup of a bedroom, hallways, kitchen, living room, bedrooms, garden, basement, and garage.
Wall Shell and Structure Symbols
Doors and Windows Symbols
Appliance Symbols
Athletic Ground Symbols
Bathroom Symbols
Bedroom Symbols
Building Core Symbols
Cabinet and Bookcases Symbols
Carpet Symbols
Dimensioning Symbols
Fire and Emergency Symbols
Garden Symbols
HVAC Symbols
Kitchen and Dinning Room Symbols
Office Symbols
Plumbing & Piping Symbols
Reflected Ceiling Plan Symbols
Seating Chart Symbols
Security Plan Symbols
Elevation Symbols
2.1 Wall Shell and Structure Symbols
Wall is the most common and basic and basic element of a building; it is built to protect an area or space. It is used to divide the construction building to form rooms and sections. Walls vary by size, style, and design. There are three types of walls; Building Walls, Exterior Boundary Walls, and Retaining Walls. Learn more details from wall shell symbols guide here.
Wall

Vertical Wall

Curved Wall

Curtain Wall

Space

L-Space

T-Space

Room 1

Room 2

Room 3

Pilaster

Rectangular Column

Circular Column

Beam
Grid Origin

Grid Line

Source: EdrawMax
2.2 Doors and Windows Symbols
A door is a passageway or transition from one place to another. It is a hinged, sliding, revolving barrier to enter or exit the room, building, hall, vehicle, or cupboard framework. There are different types of doors available for variety: hinged door, Dutch door, Pocket door, and French door.
A window is an opening in a wall or roof made for the admission of air and light. These are often arranged for decoration purposes. There are numerous types of windows: fixed window, sliding window, single hung window, double-hung window, bow window, and casement windows. Learn more details about door & window symbols guide here.
Window

Open Window

Open Window 2

Open Window 3

Glider Window

Casement Window

Bay Window

Double Casement Window

Opening

Door

Double Hung Door

Double Door

Uneven Door

Opposing Door

Revolving Door

Folding Door

Sliding Door

Double Sliding Door

By Pass Door
Source: EdrawMax
2.3 Applicance Symbols
Appliances are devices or equipment manufactured and designed to perform any particular task. These appliances run on electricity or gas, and a floor plan shows all the appliances used in a building section or room. These appliances are manufactured for households and offices generally.
Household applicance
Workplace appliance
Pendant Lamp

LED

Floor Lamp

Wall Lamp

Spotlight

Tube Light

LED Downlight

Shower Lamp

Fan

Air Exhaust Fan

Gas Stove 1

Gas Stove 2

Refrg 1

Refrg 2

Chest Freezer

Cooker

Range

Microwave

Dishwasher

Washing Machine

Water Cooler

Oven

Tumble Dryer

Coffee Maker

Disinfection Cabinet

Flat-Panel TV

Keyboard

Video Game

Food Cooler

Vending Machine

Water Heater

Source: EdrawMax
2.4 Athletic Ground Symbols
The athletic ground is a piece of land used for different sports such as cricket, basketball, football, volleyball, baseball, etc. Different sports require different styles, shapes, and sizes of the ground.
That is why a Sports ground needs to be mapped on a Floor Plan. Sports grounds are built outside many buildings, malls, and societies. These are illustrated in building plans because these are a part of the whole project. There are different symbols used to represent athletic grounds.
Athletic Ground 1

Athletic Ground 2

Athletic Ground 3

Athletic Ground 4

Source: EdrawMax
2.5 Bathroom Symbols
A bathroom symbols are the room that has a toilet, shower, washbasin, and bathtub. Many homeowners consider the bathroom a place to get away from stress and anxiety. It is a place where you can relax, take a soothing shower, bathe in hot tub water and be alone. It serves basic hygiene and cleaning functions and is also used to relax, wash, and change clothes.
Sink 1

Sink 2

Sink 3

Sink 4

Sink 5

Sink 6

Sink 7

Sink 8

Sink 9

Sink 10

Sink 11

Sink 12

Countertop Sink

Pedestal Sink

Toilet 1

Toilet 2

Toilet 3

Toilet 4

Toilet 5

Toilet 6

Square WC

Shower

Corner Shower

Corner Bath

Bathroom

Bathtub 1

Bathtub 2
Bathtub 3

Bathtub 4

Bathtub 5

Bathtub 6

Bathtub 7

Bathtub 8

Bathtub 9

Bathtub 10

Bathtub 11

Bathtub 12

Shower Drain

Shower Drain 2

Water Tap 1

Water Tap 2

Water Tap 3

Water Tap 4

Water Tap 5

Dustbin

Toilet Paper

Towel Rack

Towel Rack 2

Light 1

Light 2

Light 3

Light 4

Shower Lamp 1

Shower Lamp 2

Shower Lamp 3
Shower Lamp 4

Shower Lamp 5

Cabinet 1

Cabinet 2

Cabinet 3

Source: EdrawMax
2.6 Bedroom Symbols
A bedroom is where the residents live, rest, and sleep. That is why a bedroom should be pleasantly decorated for your comfort and healthy sleeping. Bedroom symbols usually matched the theme and style. Numerous elements are included in bedding category symbols such as bed set, side drawers, plants, windows, curtains, cabinets, dressing table, carpet, pillow, chest, flat panel.
Single Bed 1

Single Bed 2

Single Bed 3

Single Bed 4

Single Bed 5

Single Bed 6
Single Bed 7

Single Bed 8

Double Bed 1

Double Bed 2

Double Bed 3

Double Bed 4

Double Bed 5

Double Bed 6

Double Bed 7

Double Bed 8
Single Trundle Bed

Bunk Bed

Bunk Bed 2

Crib
Bassinet

Vanity Table

Night Stand

Circular Bed

Circular Bed 2

Circular Bed 3

Circular Bed 4

Circular Carpet

Carpet

Carpet 2

Bedside Cabinet

Rectangle Table

House Plant 1

House Plant 2

House Plant 3

House Plant 4

House Plant 5

Flat-Panel TV

Spinet Piano
Bookcase

Pillow

Chest
Double Dresser

Tripper Dresser

Cabinet 1

Cabinet 2

Wardrobe 1
Wardrobe 2

Shoe Cabinet 1

Shoe Cabinet 2

Source: EdrawMax
2.7 Building Core Symbols
Many designs and layouts are considered while planning for building construction. These construction styles carry some common elements used in almost every business plan. Every company has its own designed floor plan symbols. But some building core symbols are slightly redesigned but serve the same purpose. They can be altered according to shapes, size, dimensions, and uses.
North

Direction

Arrow

Air-Conditioned Location

Solid Walls

Step

Ornamental Stair

Scissor Staircase

Straight Staircase

Curved Staircase 1

Curved Staircase 2

Winding Staircase

Z-Shape Staircase

Divided Staircase

Pocket Door

Double Pocket Door

Left Spiral Staircase

Right Spiral Staircase

Corner Landing

Stair Landing

Escalator

Ramp

Handrail

Corner Handrail

Toilet

Mulit Sink

Mulit Urinal

Mulit Stall

Countertop Sink

Toilet Stall

Elevator

Freight Elevator

Chute

Source: EdrawMax
2.8 Cabinet and Bookcases Symbols
The cabinets are installed in many rooms to store and keep clothing, valuables, and other stuff. It is the main component of a wardrobe. All the clothes and accessories are stored and usually hung in a cabinet. There are numerous symbols for a wardrobe according to its types, size, dimension, and styles. There are three types of cabinets: partial overlay, full overlay, and inset.
A bookcase is a piece of furniture with shelves used to keep and display books. Usually, its design is customized according to the number of books and room space. According to its placement and structure, bookcase symbols are used in a floor plan. There are many bookcase types, i.e., standard, cube, modular, leaning, corner, and barrister. Learn more details about cabinet symbols guide here.
Work Surface

Corner Surface

Corner Surface 2
Corner Surface 3

Corner Surface 4

Island

Corner Counter

Platter Counter

Bevel Counter

Bent Counter

Work Peninsula

Base

Base 2

Base 3

Base 4

Base 5

Base 6

Drawer

Drawer 2

Drawer 3

Drawer 4

Cabinet

Cabinet 2

Cabinet 3

Cabinet 4

Peninsula End-Shelf

Base Peninsula

Base Peninsula 2

Wall End-Shelf
Wall Corner

Wall Angle Cabinet

Track End-Bevel

Track 45 Deg

Track Corner

Tray Track

Locker

Handle

Handle 2

Handle 3

Handle 4

Handle 5

Source: EdrawMax
2.9 Carpet Symbols
Carpet is a floor covering made of thick woven fabric, and it complements the room's look by its color, print, and design. It is used for many reasons, such as preventing feet from getting cold, making the room cozy, and getting a place to sit on the floor. Following symbols are used for carpet representation in a floor plan.
Carpet 1
Carpet 2
Carpet 3
Carpet 4
Carpet 5
Carpet 6
Carpet 7
Carpet 8
Carpet 9
Carpet 10
Carpet 11
Carpet 12
Carpet 13
Carpet 14
Source: EdrawMax
2.10 Dimensioning Symbols
Dimension symbols provide the construction team and management with all the true and exact dimensions, sizes, measurements, and calculations of the tasks and building. These symbols add size information in a drawing to help the construction team understand the building procedures and diagram.
The dimensions on a plan are mentioned to tell if the doors, windows, stairs, pillars, walls, columns, and sections are located correctly. The dimension lines are lighter than wall lines and are generally denoted as a continuous group or string of numbers along a line. Dimensions give definite directions to the construction personnel from beginning to end.
Dimension 1

Dimension 2
Dimension 3

Dimension 4

Dimension 5

Dimension 6

Dimension 7

Dimension 8

Dimension 9

Dimension 10

Dimension 11

Dimension 12

Dimension 13

Dimension 14

Dimension 15

Dimension 16

Dimension 17

Dimension 18

Dimension 19

Dimension 20

Dimension 21

Source: EdrawMax
2.11 Fire and Emergency Symbols
This category includes equipment used in case of a fire emergency. Symbols elaborate all these equipment. Fire and emergency symbols provide health and safety information and warn about hazards. Fire evacuation symbols, fire hose, fire extinguisher, emergency exit, elevator, and fire hydrant. These symbols are as follows:
• Access and Exit Icons
During an emergency, the access and exit icons graphically indicate safe routes, safety exits, and access points that everyone can use. These evacuation plan icons are quite useful because they can be used to indicate all of the entry and exit points in the house or building, as well as how to open various doors, shatter windows and glass during crises, and where disabled persons should depart. People can identify multiple escape routes in an emergency using these symbols. Here are several icons for access and exit.
Slide Door Left
Slide Door Right
Fire Break Glass
Emergency Ambulance
Emergency Access
Emergency Access 2
Emergency Exit
Emergency Exit 2
Use Stairs in Fire
Use Stairs
Fire Ladder
Handicap Accessible
Arrow
Indicating Arrow
Indicating Arrow 2
Indicating Arrow 3
Assembly Point
Refuge Area
Source: EdrawMax
• Fire Evacuation Icons
Fire evacuation icons are ideal for creating a fire escape strategy for your building or home. A fire escape plan usually comprises icons that show at least two emergency exits in a room, a safe departure route, and fire extinguisher locations. These also provide information on the fire alarm and smoke detection systems installed in the building or home. Anyone may determine the location of the emergency phone, sprinklers, and fire hose using a fire evacuation plan. The following are some frequent fire-evacuation icons.
You are Here
Fire Emergency Exit
Fire Emergency Exit 2
Fire Extinguisher
Fire Hydrant
Fire Hydrant 2
Emergency Phone
Emergency Phone 2
Call 911
Fire Extinguisher 2
Fire Alarm Call Point
Fire Hose
Fire Hose 2
Gas Shutoff Valve
Sprinkler Control Valve
Sprinkler Connection
Single Sprinkler Connection
Combined Automatic Sprinkler
Standpipe Connection
Fire Axe
Fire Fighting Equipment
Alarm
Fire Alarm
Manual Activating Device
Electric Panel Shutoff
Child Care Center
Smoke Detector
Fire Sprinkler
Fire Sprinkler 2
Air Conditioning Vent
Vent
Source: EdrawMax
• Emergency Warning Icons
In an evacuation plan, warning symbols describe dangerous things, locations, behaviors, and materials. We utilize these evacuation plan icons to alert individuals to dangers such as radiation, fire hazard, no smoking, and electric current in their environment. Because the law primarily regulates warning symbols, and each symbol has a fixed meaning that you cannot change, they are universal for all organizations. These icons advise individuals about the activities they can't do and the objects they can't touch in an evacuation plan. Here are some cautionary signs.
Not an Exit
Don't Go Back
Don't Use the Elevator
No Fire
No Smoking
No Cooking
Radiation Hazard
Non-ionising Radiation
Explosives
Toxic Gas
Medical Waste
Flammable Material
Comburent
Dangerous Chemical
Corrosive Material
Noise
Be Careful Suffocation
Harmful Goods
Chemical Weapon
Warning Sign
High Voltage Sign
Laser Hazzard Sign
Radiation Danger
Source: EdrawMax
2.12 Garden Symbols
A garden in a house or a building is a place that is most connected to nature and beauty. A garden in a building plan is drawn with the help of several garden symbols. These symbols denote plants, pools, fountains, tables, chairs, benches, pavilions, rocks, ponds, etc. Garden Symbols cover all types of plans as well.
Garden symbols denote plants, pools, fountains, tables, chairs, benches, pavilions, rocks, ponds, etc. But plants among this list carry the most importance. That is why all sorts of plants are symbolized in a garden plan.
• Garden Plant Symbols
Plants are the main element of a garden. They allow a person to breathe in the clean and fresh air, block sunrays, decrease noise pollution, provide a peaceful environment, and lower stress. That is why a garden's idea was first introduced.
Evergreen Tree 1

Evergreen Tree 2

Evergreen Tree 3

Evergreen Tree 4

Evergreen Tree 5

Evergreen Tree 6

Evergreen Tree 7

Evergreen Tree 8

Evergreen Tree 9

Evergreen Tree 10

Deciduous Tree 1

Deciduous Tree 2

Deciduous Tree 3

Deciduous Tree 4

Deciduous Tree 5

Deciduous Tree 6

Deciduous Tree 7

Deciduous Tree 8

Deciduous Tree 9

Deciduous Tree 10

Shrub 1

Shrub 2

Shrub 3

Shrub 4

Shrub 5

Shrub 6

Shrub 7

Shrub 8

Flower 1

Flower 2

Flower 3

Flower 4

Flower 5

Flower 6

Flower 7

Flower 8

Flower 9

Flower 10

Flower 11
Flower 12

Flower 13

Flower 14

Flower 15

Flower 16

Flower 17

Flower 18

Flower 19

Flower 20

Flower 21

Flower 22

Flower 23

Flower 24

Ornamental Grass 1

Ornamental Grass 2

Ornamental Grass 3

Ornamental Grass 4

Ornamental Grass 5

Ornamental Grass 6

Ornamental Grass 7

Ornamental Grass 8

Ornamental Grass 9

Ornamental Grass 10

Source: EdrawMax
• Garden Equipment Symbols
A garden not only needs plants to fulfill its whole look, but it also needs some add-ons to make it look aesthetic. These additions to the garden complete the whole idea by adding minor and major details. Garden symbols represent all these equipment and elements in a map. It may be a bridge installed over a pond or a bench placed on any corner. The infrastructure elements of a garden are bench, chair, pathway and so on.
Stone Table & Chair 1

Stone Table & Chair 2

Stone Table & Chair 3

Wood Table & Chair

Swing Bench

Recliner Bench 1

Recliner Bench 2

Wood Bench 1

Long Bench

Wood Bench 2

Wood Bench 3

Seven Glyph Bench 1

Seven Glyph Bench 2

U-Shaped Bench
Stone Bridge 1
Stone Bridge 2

Timber Bridge 1

Timber Bridge 2

Timber Bridge 3

Wooden Bridge

Bridge

River Bridge

Garden Lamp 1

Garden Lamp 2

Garden Lamp 3

Garden Lamp 4

Stone Road

Cobbled Roadway

Rock Garden

Road Path 1

Road Path 2

Road Path 3
Garden Stone 1

Garden Stone 2

Garden Stone 3

Round Stone

Square Stone

Flagstone

Hexagon Stone

Stone Driveway

Brick Pathway

Patio Pathway

Swimming Pool 1

Swimming Pool 2

Swimming Pool 3

Fountain Pool 1

Fountain Pool 2

Fountain Pool 3

Fountain Pool 4

Fountain Pool 5

Fountain Pool 6

Fountain Pool 7

Fountain Pool 8

Pond 1

Pond 2

Pond 3

Pond 4

Pond 5

Swimming Ring 1

Swimming Ring 2

Umbrella 1

Umbrella 2

Duty Room
Wood Post

Pavilion

Garbage Can 1
Garbage Can 2

Play Ground

Flower Bed

Fitness Equipment 1
Fitness Equipment 2

Fitness Equipment 3

Fitness Equipment 4

Children Play Area

Source: EdrawMax
2.13 HVAC Symbols
We use various HVAC symbols to design schematic wiring and circuit diagrams to depict the layout and working mechanism of HVAC systems. Selecting the symbols to use in the HVAC plan depends on the building or house configurations and the owner's desire. Some of the universal symbols used in all HVAC plans are the ducts, sir-filters, supply fans, electrical devices, and controls. We categorize HVAC symbols into four types based on their purpose, designs, and type of building. Here are the four types of HVAC symbols.
• HVAC Controls Symbols
Temperature
Humidity
Enthalpy
Pressure
Flow
Velocity
Voltage
Current
Rotation
Light
Vibration
Timer
Current
Power
Air quality
Level
End switch
Smoke
Power connection
I/O point
Actuator
Connector line
Label
Source: EdrawMax
• HVAC Equipment Symbols
The HVAC equipment symbols depict the electrical products, devices, and equipment used to connect them with the HVAC system. We use these HVAC symbols to visually represent all the major and minor components and products in an HVAC plan. The equipment includes common devices, such as fans and air filters for better quality airflow. It also includes outer products such as DX units and driers. You need a basic knowledge of these symbols before creating an HVAC plan. Here are some HVAC equipment symbols.
Pump
Rotary pump
Centrifugal pump
Reciprocating pump
Screw pump
Fan
Centrifugal fan
Fan blades
Moisture eliminator
Silencer
Silencer 2
Condenser
Air filter
Drier
Pipe coil
Exhaust hood
Muffler
Air volume control valve
Filter
Regulator
Heater
Surface air cooler
Humidifier
High efficiency filter
Ozone generator
Primary filter
Air compressor
Oxygen-enriched filter
Ozone generator
Membrane clear box
Vacuum pump
Valve
Vacuum Gauge
Steam separator
Pressurizer system
Dehumidifying system
Booster fan
Preheating system
Nozzle
Boiler
Cold water pump
Flow valve
Water tower
Supply air grill
Pipe network
Cooling coil
Return air grill
Pipeline
Zone damper
Outside air duct
Ventilator
Refrigerant receiver
Chiller
Axia fan
Access door
Source: EdrawMax
• HVAC Ductwork Symbols
The HVAC ductwork is an essential part of central HVAC systems. We use ductwork symbols to illustrate the ducts and Vav boxes in an HVAC plan. Most ductwork symbols are mainly represented by one or two lines in a rectangular shape. We use ducts for thermal and acoustic reasons for increasing and decreasing heat or cold.
Straight duct
Miter bend
Miter bend 2
Miter bend 3
Miter bend 4
Variable bend
Variable bend 2
Branch duct
Branch duct 2
Junction bottom
Junction up
3 way junction
Y junction
Beveled junction
Transition
Offset transition
Supply
Return
Flexible connection 1
Flexible connector
Vertical duct
VAV box
Sliding damper
Damper
Source: EdrawMax
• HVAC Controls and Equipment Symbols
HVAC control and equipment symbols depict the devices and systems with control features such as a propeller fan with a speed regulator. These are the common symbols used in all types of HVAC plans. Most of these symbols represent products with fans and controllers.
Duct
Return Duct
Return Duct 2
Supply Duct
Supply Duct 2
2-Fan Sections
3-Fan Sections
4-Fan Sections
VAV Box
DD VAV Box
Fain Coil Housing
Unit Heater
Centrifugal Fan
Propeller Fan
Vane Axial Fan
Damper
Filter
Air Flow Station
Humidifier
Htg/Clg Coil
Pump
Valve
Gate Valve
Water Flow Meter
Chiller
Cooling Tower
Boiler
Equipment
VSD
Start
Side to Side Pipe
Top to Bottom Pipe
Side to Bottom Pipe
Pipe Flow Arrow
Source: EdrawMax
2.14 Kitchen and Dinning Room Symbols
A kitchen is a room or a part of a room used to prepare and cook food, and it is part of a building that gets most of the attention from the buyer or an architect. Kitchen symbols represent refrigerators, crockery, microwave oven, stove, ventilators, dishwashers, steamers, teapots, gas-cookers, etc. The kitchen elevation plan shows how beautiful and manageable your kitchen looks at the end. Today kitchen designing has become a separate discipline in the designing world.
The dining room is where all the meals are served and eaten. A dining room contains many items which are related to mealtimes. The kitchen floor plan symbols include window symbols, bottles symbols, Glass symbols, barrel symbols, dining table symbols, Table and chair set symbols.
Closet 1

Closet 2

Closet 3

Closet 4

Closet 5

Closet 6

Closet 7

Island

Island 2

Square Dining Table

Square Dining Table 2

Round Dining Table

Rectangle Dining Table

Rectangle Dining Table 2

Gas Stove

Gas Stove 2
Gas Stove 3

Gas Stove 4

Gas Stove 5

Gas Stove 6

Range with Grill

Four-Element Gas Range

Six-Element Gas Range

Gas Range

Cooker with Low Oven

Cooker

Range

Flat Electric Range

Slide-in Electric Range

Wall Oven

Microwave

Dishwasher

Washing Machine

Trash Compator

Food Cooler

Sink

Juicer

Bread Machine

Bread Machine 2

Vending Machine

Sink 2

Sink 3
Sink 4

Sink 5

Sink 6

Sink 7

Sink 8

Sink 9

Sink 10

Basin

Double Basin

Pedestal Basin

Countertop Sink

Dispenser

Towel Rack

Circular Dining Table

Circle Table

Dining Table

Oblong Dining Table

Oval Dining Table

Square Table

Ref

Ref 2

Cabinet

Cabinet 2

Cabinet 3

Toaster

Toaster 2

Oven

Electric Barbecue

Sauce Pan

Sauce Pan 2

Slow Cooker
Slow Cooker 2

Induction Cooker

Pan

Dish

Dish 2

Fruit Plate

Fruit Plate 2

Chopping Board

Smoke Machine

Disinfection Cabinet

Refrigerator

Refrigerator 2

Flue

Placement

Chest Freezer

Built-in Refrigerator

Water Cooler

Coffee Maker

Water Heater

Source: EdrawMax
2.15 Office Symbols
It is a room or building used as a place for commercial, professional, or bureaucratic work. It provides a workplace to do administrative and managerial work. Workers and employees work in an office, and they are given their desk, PC, chair, and other office appliances. An office floor plan is designed by using the following symbols, and learn more details from this office symbols guide.
• Office Equipment Symbols
Electronic goods that employees use in the office for communication, work, recording, supplies storage, and data are included in the office equipment symbols. Computers, monitors, laptops, fax machines, printers, scanners, telephones, air conditioners, and any other office items are represented by office equipment symbols.
Desktop PC

PC

Phone

Mobile Phone

Fax

PC Monitor

Keyboard

Tower PC

Mouse

Modem

Scanner

Printer

Xerox

Plotter

Document Shredder
Router

Switch

Wireless Hub

Hub

Office Lamp

Projector

Overhead Projector

Projector Screen

Marker Board

Plasma Panel

Cash Register

POS-Terminal

Paper Tray

Coat Rack

Waste Can

Source: EdrawMax
• Office Furniture Symbols
Electronic goods that employees use in the office for communication, work, recording, supplies storage, and data are included in the office equipment symbols. Computers, monitors, laptops, fax machines, printers, scanners, telephones, air conditioners, and any other office items are represented by office equipment symbols.
Single Cubicle

2 Seats Cubicle

2 Seats Cubicle 2

2 Seats Cubicle 3

Cubicle 1

Cubicle 2

Cubicle 3

Cubicle 4

Cubicle 5

Cubicle 6

Cubicle 7

Straight Workstation

Council Workstation

L Workstation

Table

Round Table

Desk

Racetrack Table

Boat Table

4 Seats Table

6 Seats Table

8 Seats Table

10 Seats Table

10 Seats Table 2

10 Seats Table 3

12 Seats Table

16 Seats Table

Multi-chair Round Table

Corner Table

Round Corner

Work Surface

Conner Surface

Conner Surface 2
Conner Surface 3

Conner Surface 4

Work Peninsula

Book Shelf

Credenza

Pedestal

Cabinet

Cabinet 2

Cabinet 3

Storage Unit

Susp Coat Bar

Susp Open Shelf

Suspended Lateral File

File

Lateral File

Flat File

Swivel Tilt Chair

2 Seat Sofa

3 Seat Sofa

4 Seat Sofa

90 Deg Table

Chair 1

Chair 2

Chair 3

30 Deg Seat

Desk Chair

High Stool

Stool

Panel

2 Panel

3 Panel

4 Panel

Cross Panel

Source: EdrawMax
2.16 Plumbing and Piping Symbols
Plumbing is a system that coveys and directions water/gas through pipelines installed in a house or a building. It involves using pipes, valves, plumbing fixtures, tanks, and other equipment. Piping and connection symbols denote all the pipeline types and connectors. Piping or tubing is usually inserted into fittings to form connections. Pipe connectors are used to attach one pipe to another to increase the length of the pipe or to change the direction of flow of a plumbing system. Learn more details from this plumbing & piping symbols guide.
• Plumbing Symbols
There are listed some common plumbing symbols with relative explanations:
Boiler: is a fuel-burning apparatus or container for heating water.
Heat exchanges: used to transfer heat efficiently from one medium to another.
Heating coil: a special heating device that is shaped in a spiral design.
Pump: a mechanical device using suction or pressure to raise or move liquids, compress gases, or force air into inflatable objects such as tyres.
Heater: a device for warming the air or water.
Bolier
Bolier 2

Heat Exchanges

Heating / Cooling Coil

Heating / Cooling Coil

Pump

Pump 2

Heater / Cooler

Heater / Cooler Horizontal

Radiator

Convector

Radiant Panel

Radiant Panel 2

Open Tank

Closed Tank

Water Surface

Pipe Coil

Sink

Basin

Toilet

Bath

Basin (Side)

Toilet (Side)

Bath (Side)

End View

Shower Head

Towel Rail

Source: EdrawMax
• Piping Symbols
There are listed some common plumbing symbols with relative explanations:
Major pipeline: a long major pipe, typically underground, for conveying fluid or gas over long distances.
Battery limit line: the line which shows the battery limit.
Electronic serial: the serial for the electronic devices.
Heat trace: a kind of system used to maintain or raise the temperature of pipes and vessels.
Electric signal: an electric current or electromagnetic field used to convey data from one place to another.
Major Pipeline

Connect Pipeline

Major Straight Pipeline

Straight Line Pipe

Process Connection

Future Line

Battery Limit Line

Side by Side

Top-Bottom

One-to-Many
Traced Line

Multi-Lines

Mid Arrow

Multi-Lines Elbow
Top to Top

Electrical Signal

Sonic Signal

Nuclear

Pneumatic Control

Pneumatic Binary Signal Line

Electric Signal Line

Electric Binary Signal Line

Electric Binary Signal Line 2

Hydraulic Signal Line

Sleeve Joint

General Joint

Butt Weld

Welded Connection

Mecanical Link

Soldered / Solvent

Double Containment

Flange

End Caps

End Caps 2

Breather

Drip Pan Elbow

Flange

Union

Socked Weld
Screwed Connection

Orifice Plate

Flanged Dummy Cover

Electrical Bounded

Slope Requirement Line

Reducer

Electrically Insulated

In-Line Mixer

Seperator

Bursting Disc

Flame Arrester

Drain Silencer

Exhaust Silencer

Strainer

Exhaust Head
Triangle Seperator

Triangle Seperator 2

Tundish

Open Vent
Syphon Drain

Hyrant

Swivel Joint

Expansion Joint

Hose

Flexible Hose

Flow Indicator
Bell Mouse
Removable Spool

Basket Strainer

Breather

Damper

Breakthrough

Orifice

Clamped Flange Coupling

Compensate

Coupling

Y-Type Strainer

Y-Strainer

Diverter Valve

Blind Disc

Spectacle Blind

Interchangeable Blind

Open Disc

Orifice Plate

Pulsation Dampener

Duplex Strainer

Vent Silencer

Basket Strainer

Cone Strainer

Detonation Arrestor

Flame Arrestor

In-line Silencer

Stream Trap

Desupherheater

Eductor

Exhaust Head

Rotary Valve

Expansion Joint 2

Bursting Disc

Electrical Insulated

Flame Arrestor

Explosion-Profe Flame Arrestor

Detonation-Profe Flame Arrestor

Fire-Resistant Flame Arrestor

Fire-Resistant Flame Arrestor 2

Pilot Operated Relief

Valve Manifold

Source: EdrawMax
2.17 Reflected Ceiling Plan Symbols
A good lighting design creates depth and height, highlights cozy spots, and diverts attention to your desired areas. Lighting symbols are used where lighting lamps and appliances are installed, such as; the living room, drawing room, bedroom, kitchen, etc.
• Reflected Lighting Symbols
In an RCP, RCP lighting symbols represent the position of ceiling lights. Emergency light, basic light, modular florescent, downlight, light bar, multi-light bar, and more RCP lighting symbols are included. Before drafting a reflected ceiling plan, you must first establish the components of the ceiling.
Luminaire Ceiling Mount

End Ceiling Lum

Wall Light

Downlight

Outdoor Lighting

Multi-Light Bar

Batten Fluores

Modular Fluores

Emerg Light

Emerg Sign

Light

Ceiling Light Outlet

Recessed Ceiling Light

Ceiling Fan

Ceiling Fan

Weatherproof Light

Ceiling Light 2

Emergency Battery Unit

Spotlight

Exit Sign

Light

Roadway Light

Twin Lights

Light 2

Lights

Integrated Light

Night Light

Louvers

Source: EdrawMax
• Electrical & Telecom Symbols
Electrical & telecom symbols are also included in an RCP. These symbols represent the ceiling fan outlets, receptacle outlets, and pull switches. The electrical switch symbols in the ceiling govern the on and off states of stationary devices.
Electrical Switchbox

Single Pole Switch
Three-Way Switch

1P Switch

2P Switch

4P Switch

10P Switch

20P Switch

Water Tap

Lum. Ceiling Mount

End Ceiling Lum

Wall Light

Circuit Breaker

Multi-Light Bar

Light Bar

Downlight

Outdoor Lighting

Singleaplex Receptacle

Duplex Receptacle

Dishwasher Outlet

Triplex Receptacle Outlet

Fourlex Receptacle

Range Outlet

Dryer Outlet

Waterproof Receptacle Outlet
Switch and Convenience Outlet

Split Wired Duplex Outlet

Split Wired Triplex Outlet

Duplex Special Purpose Outlet

Dishwasher Outlet

Drop Cord

Fan Outlet

Junction Box

Lamp Holder

Lamp Holder 2

Pull Switch

Vapor Discharge

Exit Light Outlet

Clock Outlet

Blanked Outlet

TV Outlet

Exhaust Fan

Water Heater

Telephone Jack

Electrical Panel

Battery

Batten Fluores

Distribution Box

Modular Fluores

Office Fluores
Pull-Cord Switch

Emerg. Light

Emerg. Sign

Switches

Dimmer Switch

Socket Outlet

Socket Outlet 2
Telephone Outlet

Stereo Outlet

Ceiling Fan

Ceiling Fan 2

Combination Fan

Service Panels

Thermostat

Air Conditioning

Open Hold Unit

Detector

Fire Alarm

Monitor

Alarm

Doorbell

Smoke Detector

Household Circuit Breaker Box

Call

Tel

Main Control

Ground

Line

Wire

Cut Line

Cut Line 2

Source: EdrawMax
2.18 Seating Chart Symbols
Seating chairs and tea tables are the most commonly used furniture in any seating chart. Both of these are small and comfortable for all guests. In a social event, you can arrange multiple chairs around a small table where you can serve tea and dessert to the guests.
With these seating chair icons, you can create a schematic representation of how the afternoon tea and food are served at a party or gathering. Teachers use these icons to determine the seating plan of their students in a class. They use sling chairs with a simple design to depict the students' seats and use other symbols to represent windows and walls in the room. Here are a few seating chairs and table icons.
• Table & Chair Symbols
A table is a piece of furniture with a flat top part supporting one or more legs. It is used to write, eat, place things, or do office work. A sofa is a long, foamed seat with a back and arms. Usually, two or three people can sit on a sofa. A chair is a separate seat for only one person, and it usually has a back and four legs. A chair is manufactured in many materials such as wood, iron, and plastic. You can learn more details from table & chair symbols guide here.
Chair 1

Chair 2

Chair 3

Chair 4

Chair 5

Chair 6

Chair 7

Chair 8

Chair 9

Chair 10

Chair 11

Chair 12

Chair 13

Chair 14

Chair 15

Chair 16

Chair 17

Chair 18

Chair 19

Chair 20

Recliner

Sling Chair

Lounge Chair
Table with Chairs

Style Station 1

Style Station 2

Style Station 3

Style Station 4

Style Station 5

Style Station 6

Style Station 7

Longue Chair 1

Longue Chair 2

Longue Chair 3

Longue Chair 4

Longue Chair 5

Bar Counter 1

Bar Counter 2

Bar Counter 3

Bar Counter 4

Bar Counter 5

Bar Counter 6

The Chair & Table 1

The Chair & Table 2

Sofa & Sofa Table 1

Sofa & Sofa Table 2

Dining Table 1

Dining Table 2

Dining Table 3

Dining Table 4

Dining Table 5

Dining Table 6

Dining Table 7

Dining Table 8

Dining Table 9

Dining Table 10

Cicle Table & Chair 1

Cicle Table & Chair 2

Cicle Table & Chair 3

Cicle Table & Chair 4

Cicle Table & Chair 5

Cicle Table & Chair 6

Cicle Table & Chair 7

Cicle Table

Oval Table

Conference Table 1

Conference Table 2

Conference Table 3
Rectangle Table

Diamond Table 1

Diamond Table 2

Corner Table

Semicircle Table

Fan Table

Ping Pong Table

Desk Table 1

Desk Table 2

Desk Table 3

Desk Table 4

Dressing Table

Source: EdrawMax
• Sofa Symbols
Sofa symbols are mainly used to create seating charts for in-house events and living room furniture arrangements. You can maximize the space in your living room by using various types of sofa arrangements with small coffee tables. You get an endless furniture arrangement idea for your living room and outdoor events using seating sofas. When you arrange sofas, make sure they face the most prominent feature of your room, which can be a flat-screen.
Sofa 1

Sofa 2

Sofa 3

Sofa 4

Sofa 5

Sofa 6

Sofa 7
Sofa 8

Sofa 9

Sofa 10

Sofa 11

Sofa 12

Sofa 13

Sofa 14

Sofa 15

Sofa 16

Sofa 17

Sofa 18

Sofa 19

Sofa 20

Sofa 21

Sofa 22

Sofa 23

Sofa 24

Sofa 25

Sofa 26

Sofa 27
Sofa 28

Sofa 29

Sofa 30
Sofa 31
Sofa 32

Sofa 33

Sofa 34

Sofa 35

Sofa 36

Sofa 37

Sofa 38

Sofa 39

Tea Table 1

Tea Table 2

Tea Table 3

Tea Table 4

Tea Table 5

Tea Table 6

Tea Table 7

Tea Table 8

Tea Table 9

Tea Table 10

Tea Table 11

Tea Table 12

Sofa Table 1

Sofa Table 2

Sofa Table 3

Sofa Table 4

Sofa Table 5

Source: EdrawMax
2.19 Security Plan Symbols
The security access symbols assist the user in visualizing how they wish to design and manage the security and access system of any building or home. Making a security access plan before building a house or a residential building saves time and work.
• Security Camera Symbols
Security managers and IT experts can use the security camera symbols to design a precise layout and wiring diagram for all security cameras in a business or home. Bullet cameras, CCTV cameras, and dome cameras are among the icons. These symbols are intended to assist users in determining which security camera has the least amount of blindsight. Owners may connect these cameras to their phones and monitor security footage while working. It assists the owner and security staff in keeping an eye on the property or building for safety.
Card Access

Biometric Access

Keypad Device

Card Reader with Keypad

Card Reader with Time

Smoke Detector

Gas Detector

Heat Detector

Turnstile

Revolving Door

Traffic Arm

Vehicle Loop Detector

Electronic Lock

Exit Device
Camera with Keypad

Camera with Intercom

Camera with Card Reader

Security Window Screen

Dome Camera

Dome Camera 2

Dome Camera 3

Bullet Camera

Bullet Camera 2

Bullet Camera 3

Bullet Camera 4

Bullet Camera 5

CCTV Camera 1

CCTV Camera 2

CCTV Camera 3

CCTV Camera 4

CCTV Camera 5

CCTV Camera 6

CCTV Camera 7

CCTV Camera 8

Emergency Battery

Strobe

Source: EdrawMax
• Video Surveillance Symbols
The video surveillance symbols are the basic elements for drawing the security plan, there are listed some representative symbols:
Motion detector: is a device that detects moving objects, particularly people.
Glass break sensor: is used in electronic burglar alarms that detects if a pane of glass is shattered or broken.
Screening device: is a portable measuring instrument that a police officer can use to gather evidence related to blood alcohol content.
Monitor: is a device used for observing, checking, or keeping a continuous record of something.
Recorder: is an apparatus for recording sound, pictures, or data.
Camera

Motion Detector

Glass Break Sensor

Screening Device

Monitor

Camera P/T/Z

Video Multiplexer

Push Button

Recorder

Switch Manual

Switch Automatic

Video Keyboard

Bi-static Beam Sensor

Security Window Screen

Video Motion Detector

Wire Connector
Source: EdrawMax
2.20 Elevation Symbols
A front and clear view of a structure or a house is depicted in an elevation plan, which shows how a construction plan will look after all the details are completed. Elevation plans contain a variety of elevation symbols that are simple to grasp and read by anyone who holds them. The ability to demonstrate the interior and exterior elements of a structure is critical because it allows a designer to adjust and change concepts before the project is done.
• Basic Elevation Symbols
Frame: a rigid structure that surrounds something such as a picture, door, or windowpane.
Divider: something that divides a whole into parts.
Drawer: a box-like storage compartment without a lid, made to slide horizontally in and out of a desk, chest, or other piece of furniture.
Lattice: a structure consisting of strips of wood or metal crossed and fastened together with square or diamond-shaped spaces left between, used as a screen or fence or as a support for climbing plants.
Hooks: pieces of metal or other hard materials curved or bent back at an angle, for catching hold of or hanging things on.
Frame

Frame 2

Divider-H

Divider-V

Divider-H 2

Divider-v 2

Divider 2

Rect
Door Left

Door Right

Door Double

Bedside Cabinet

Sofa

Washbasin

Plant

Fireplace

Painting

Wall

Flue

Table Facet

L Table Facet

Drainage Pipe

Outlet

Intake

Source: EdrawMax
• Kitchen Elevation Symbols
Refrigerator: a large container which is kept cool inside, usually by electricity, so that the food and drink in it stays fresh.
Range hood: a device containing a mechanical fan that hangs above the stove or cooktop in the kitchen.
Gas cooker: a range with gas rings and an oven for cooking with gas.
Refrigerator 1

Refrigerator 2

Refrigerator 3

Refrigerator 4

Refrigerator 5

Refrigerator 6

Refrigerator 7

Refrigerator 8

Two-Door Refrigerator

Kitchen Ventilator 1

Kitchen Ventilator 2

Kitchen Ventilator 3

Kitchen Ventilator 4

Microwave Oven 1

Microwave Oven 2

Turner 1

Turner 2

Soup Ladle

Kitchen Ware

Teapot

Teacup 1

Teacup 2

Teacup 3

Kettle

Steamer

Frying Pan

Chafing Dish

Sauce Pan

Gas Cooker

Disinfection Machine

Disinfection Machine 2

Range Hood

Washer 1

Washer 2

Detergent 1

Detergent 2

Detergent 3

Shampoo

Shower Cream

Source: EdrawMax
• Wardrobe Elevation Symbols
A wardrobe is a cabinet where clothes are stored. It's a big cabinet where you may keep your clothing and other fashion items. It is a well-organized area in a room that resembles a systemized cabinet or series of cabinets for hanging clothing, storing shoes, make-up, bedding enhancements, and other fashion accessories.
In the context of fashion, a wardrobe is a collection of clothes, handbags, shoes, and accessories designed to meet all of one's fashion and style requirements. That is why wardrobe enhancement is so crucial today. Drawers, chests, towels, hangers, boxes, jackets, caps, and quilts are all represented by various symbols. Learn more details from this wardrobe plan symbols guide here.
Cabinet Dimension

Chest

Horizontal Board

Vertical Board

Clapboard with Size

Horizontal Clapboard

Vertical Clapboard

Top Box

Top Box (Right)

Drawer 1

Drawer 2

Drawer 3

Drawer 4

Drawer 5

Drawer 6

Drawer 7

Basket

Suitcase

Suitcase 2

Lattice

Clothes Hanger

Trouser Hanger

Suitcase 3

Box

Towel

Towel 2

Pillow

Quilt 1

Quilt 2

Quilt 3

Hat

Hanger

Photo Frame

Clothes

Pants

Hooks

Closet Framework

Horizontal Clapboard 2

Vertical Clapboard 2

Clothes Hanger

Drawer 4

Drawer 5

Suitcase 2

Hanger 2

Towel 3

Towel 4

Towel 5

Quilt 2

Pillow 2

Hat 2

Blue Dress

Red Dress

T-Shirt

Shirt

Toy

Photo Frame 2

Cabinet Light

Droplight

Ceiling Light

Desk Lamp

Source: EdrawMax
3. Where to Find Floor Plan Symbols
It would help if you had proper floor plan symbols to create an accurate floor plan with details and a clear representation of each component. You can easily find floor plan symbols in the symbol library of EdrawMax.
You can easily find floor plan symbols in the symbol library of EdrawMax. EdrawMax gives you more than 26000 symbols that you can use to create a floor plan or any other diagram. You can go and search for the symbols you want in EdrawMax and click on the floor plan. Go to the floor plan category and use a simple drag and drop to add any symbol you want.
EdrawMax Floor Plan Symbols:
EdrawMax is the best resources for floor plan symbols, you can find hundreds of floor plan symbols here. Just drag and drop, you can create floor plan easily.
4. How to Use Floor Plan Symbols
Follow these instructions to learn how to use floor plan symbols and easily create more floor plan symbols with EdrawMax.
4.1 How to Use Floor Plan Symbols in EdrawMax
Instead of wasting time drawing the floor plan symbols or icons on paper, you should look for a way to design a floor plan easily. EdrawMax is well equipped to design a floor plan.
Step1
Login EdrawMax
If you are new here, you should use your Email to register EdrawMax, but if you're already the EdrawMax's user, you just need to login EdrawMax for free. Open EdrawMax select "Engineering", and find "Building Plan", and click "Floor Plan", then open a new canvas or just open a built-in template.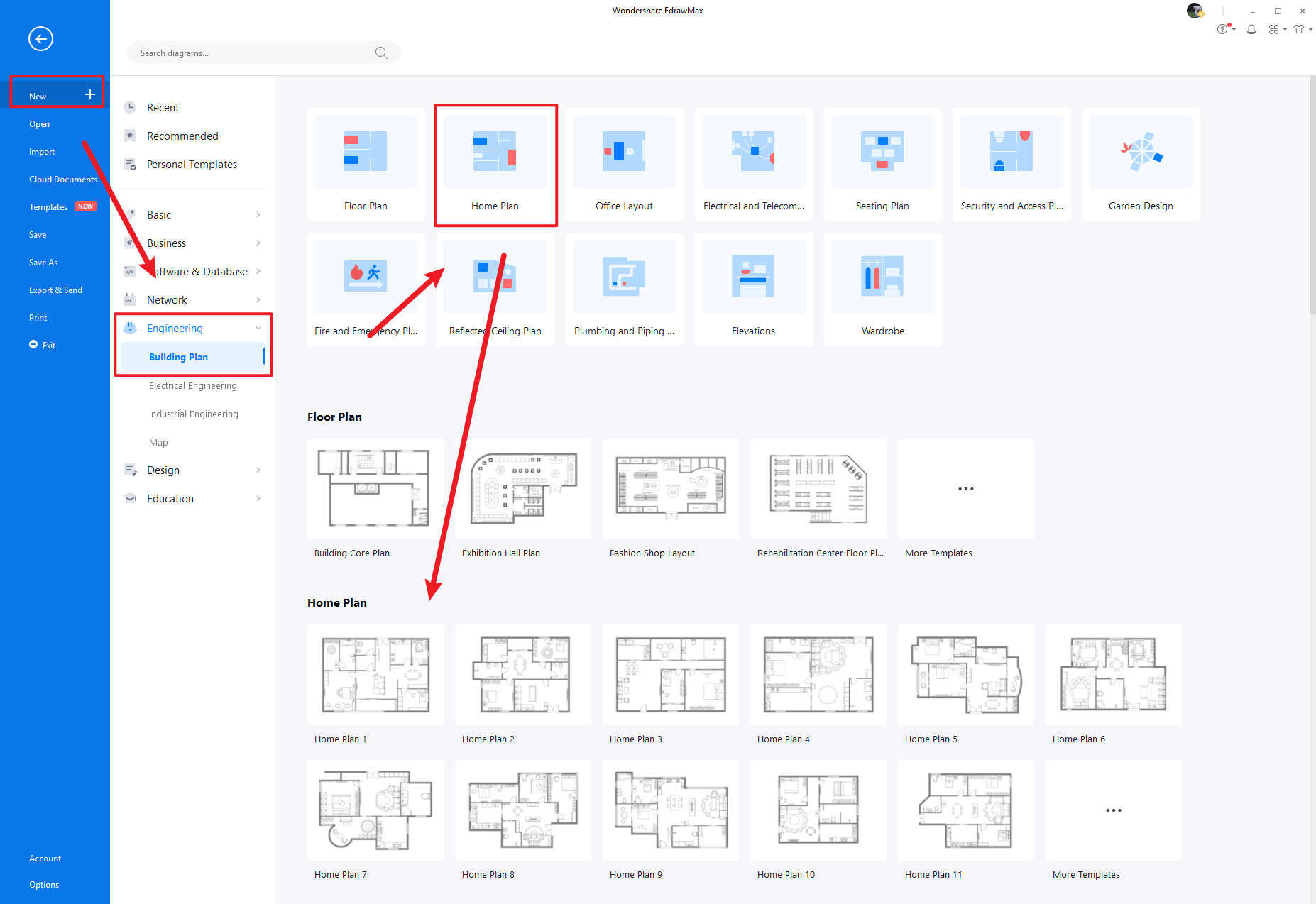 Step2
Select Office Layout Symbols
Unlike physical drawing, EdrawMax helps to create a floor plan easily. In the symbol section of EdrawMax, you will find over 260,000 vector-based symbols that you can use in your designs. In EdrawMax, you can find floor plan symbols in Symbol Libraries on the left toolbar. You can click on the "+" option to open a new canvas to make your floor plan. On the left side of the canvas, you will see a symbol library with many floor plan symbols. You can search for specific symbols in the search bar.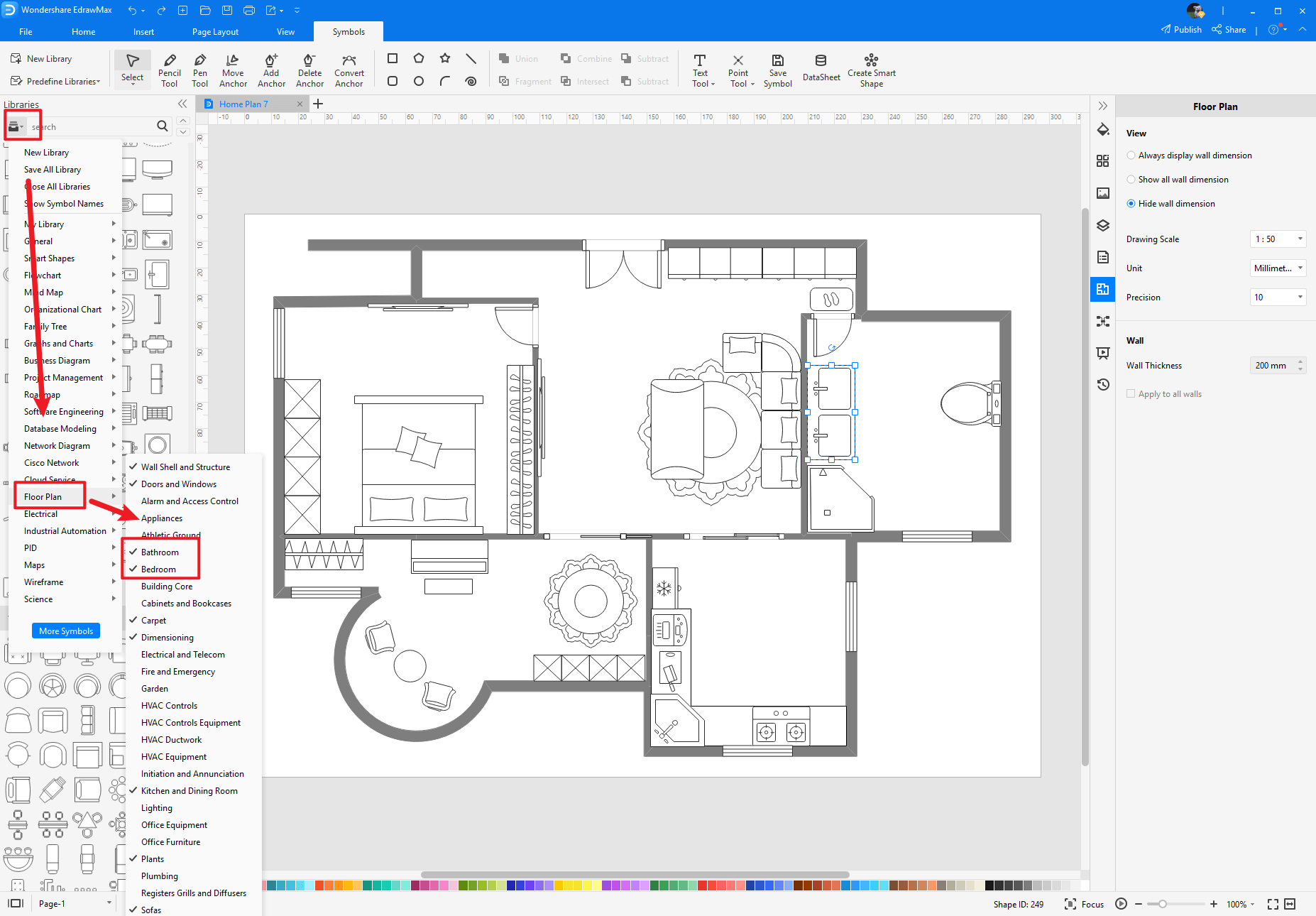 Step3
Drag and Drop
Once you find the proper floor plan symbols you want, just drag and drop the symbols to the canvas easily. Keep customizing by choosing the right symbols, proper scale or dimensions, and adding more details, like color, font, and etc. When completed your floor plan, you can export your file or share your design effortlessly. Learn more floor plan guide here if necessary.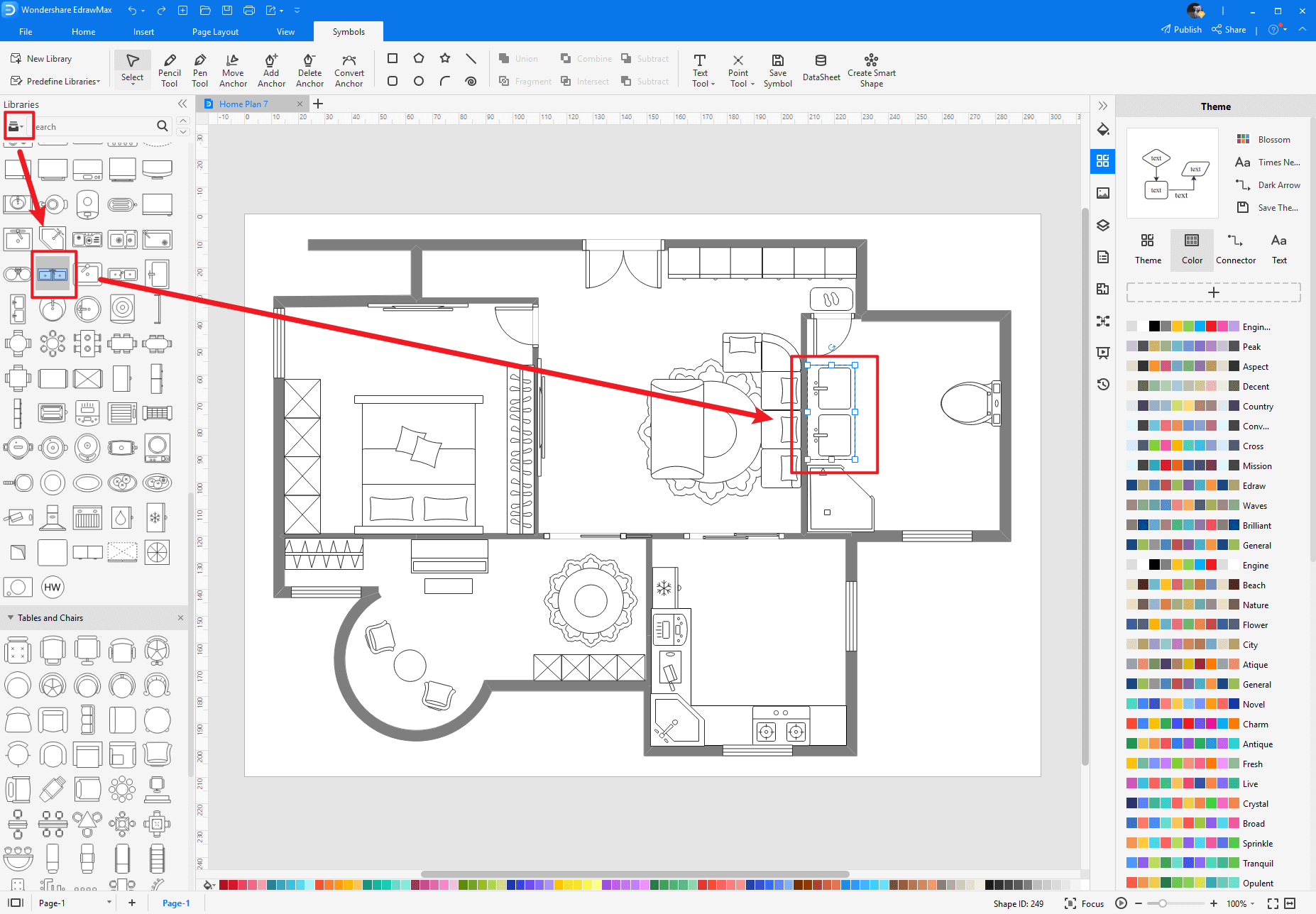 4.2 How to Create More Floor Plan Symbols in EdrawMax
EdrawMax provides you with thousands of symbols to create your diagram. Sometimes you want to use unique or personalized symbols in your diagram that are not in the library. EdrawMax gives you a simple solution to this problem. Follow these steps when you don't find the floor plan symbols you want or you wish to create your symbols to make your diagram.
Step1
Find Symbol Tool
If you can't find any symbol similar to the one you want, you can use the pencil tool, pen tool, and anchor tool to draw your personalized floor plan symbols. It is much easier to draw the symbol you want on EdrawMax instead of searching for the one that suits your requirements. You can also save your symbol in the library for later use.
Select "Symbols" on the upper Toolbar;
Use "Pencil Tool", "Pen Tool", "Anchor Tool" to create garden symbol from very beginning;
Choose "Union", "Combine", "Subtract", "Fragment", "Intersect", "Smart Shape" to make your symbols.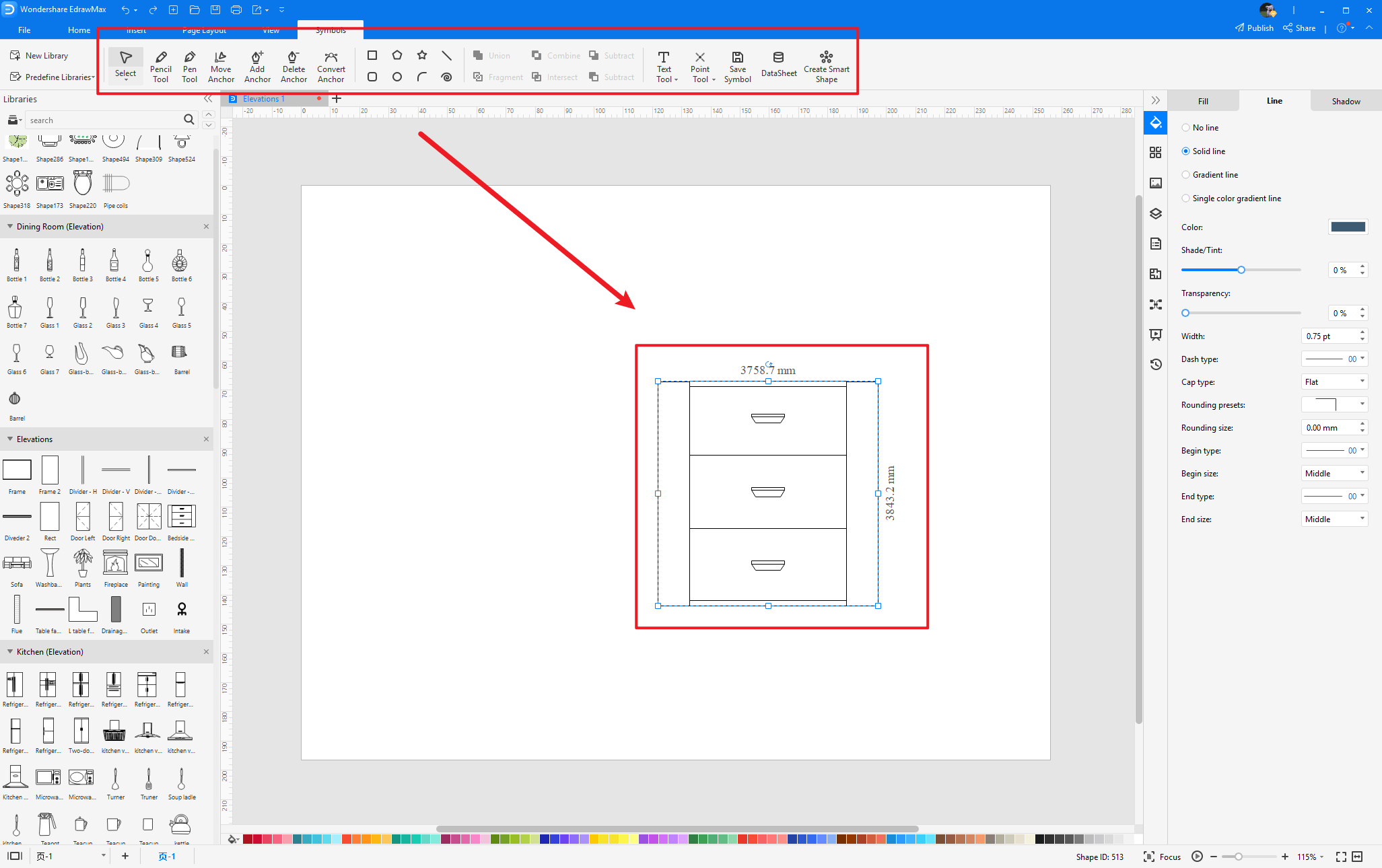 Step2
Create Floor Plan Symbols
When you create a floor plan, make sure that the size, design, and other attributes of your icon go along with other floor plan symbols. Follow these steps to draw perfect floor plan symbols.
Draw a rectangle.
Using the ruler to draw a diagonal line moving inwards to the door.
Start from corner on the right side of the frame.
Add more details to make it more like a door icon.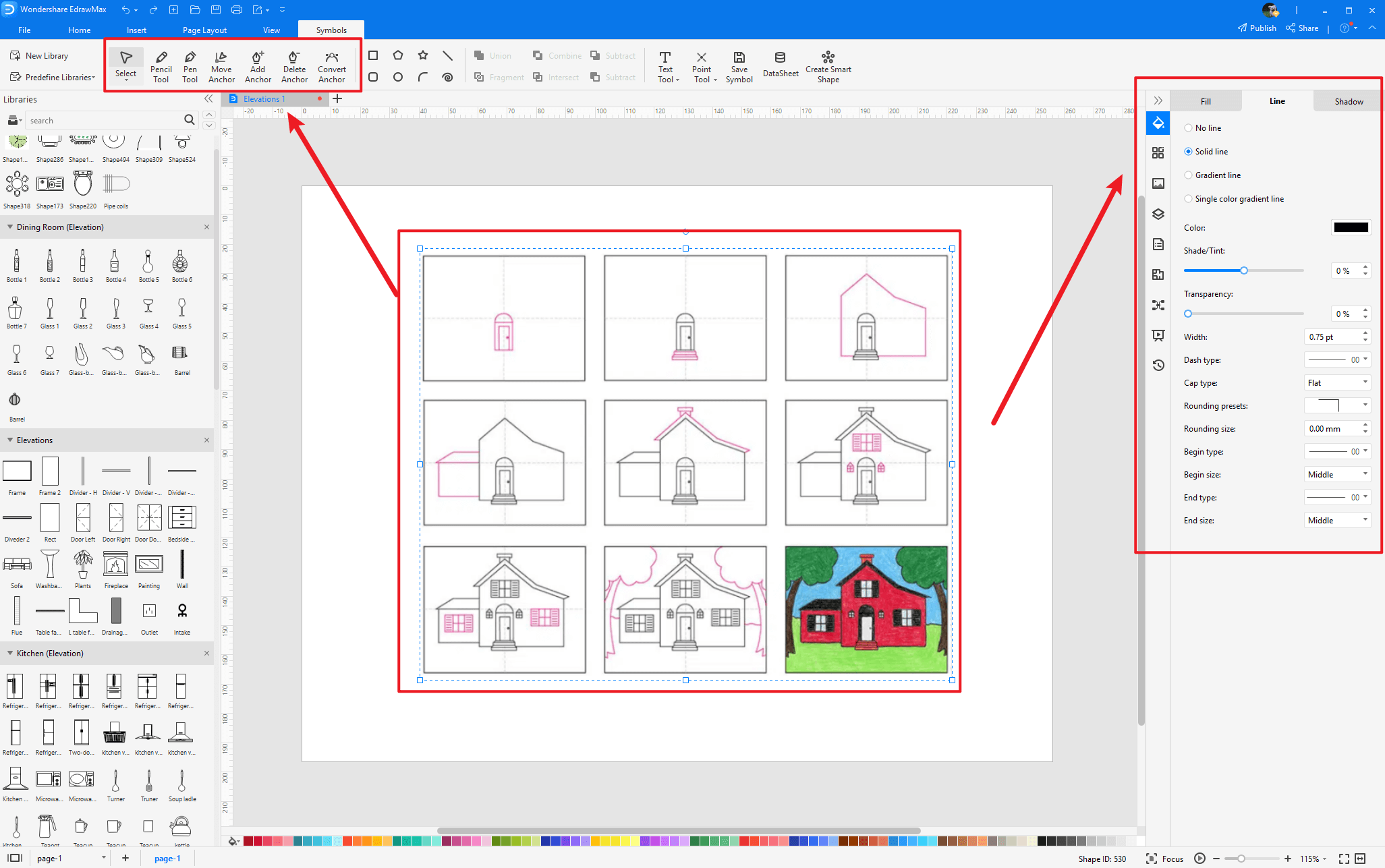 Step3
Import Floor Plan Symbols
Except for creating new floor plan symbols in EdrawMax, you can import floor plan symbols from your end. Find "Insert" on the top navigate toolbar, and import images to turn into symbols. Or click the thrid option of the right toolbar to insert images faster.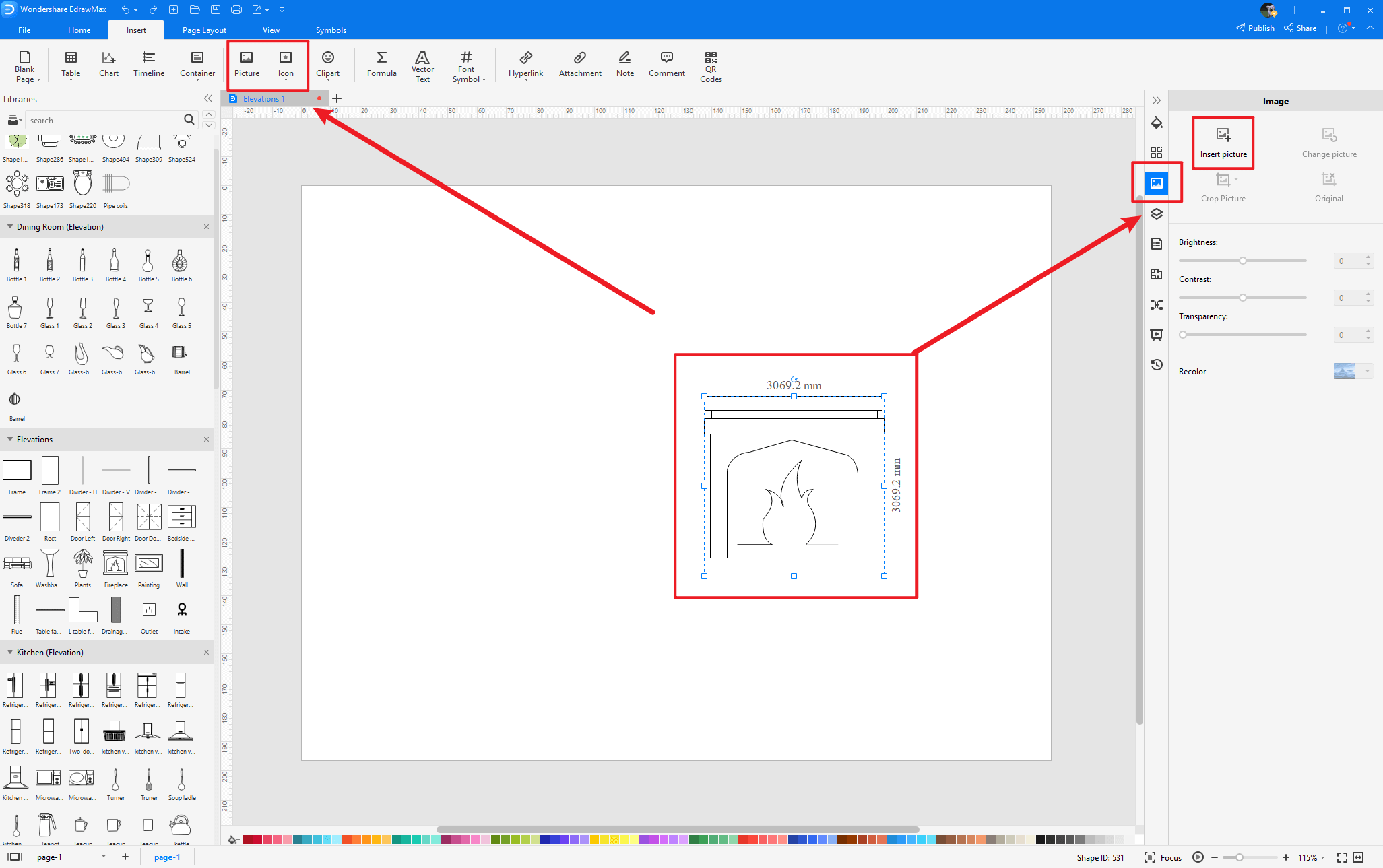 Step4
Save to Your Symbol Libraries
Once you completed your floor plan symbols design or import your symbol images, you should still click "Symbols" on top, and choose "Save Symbol" to your symbol Libraries. Or you can click "+" in My Library on the left toolbar. Learn more about how to draw a floor plan or design a floor plan from this floor plan guide here.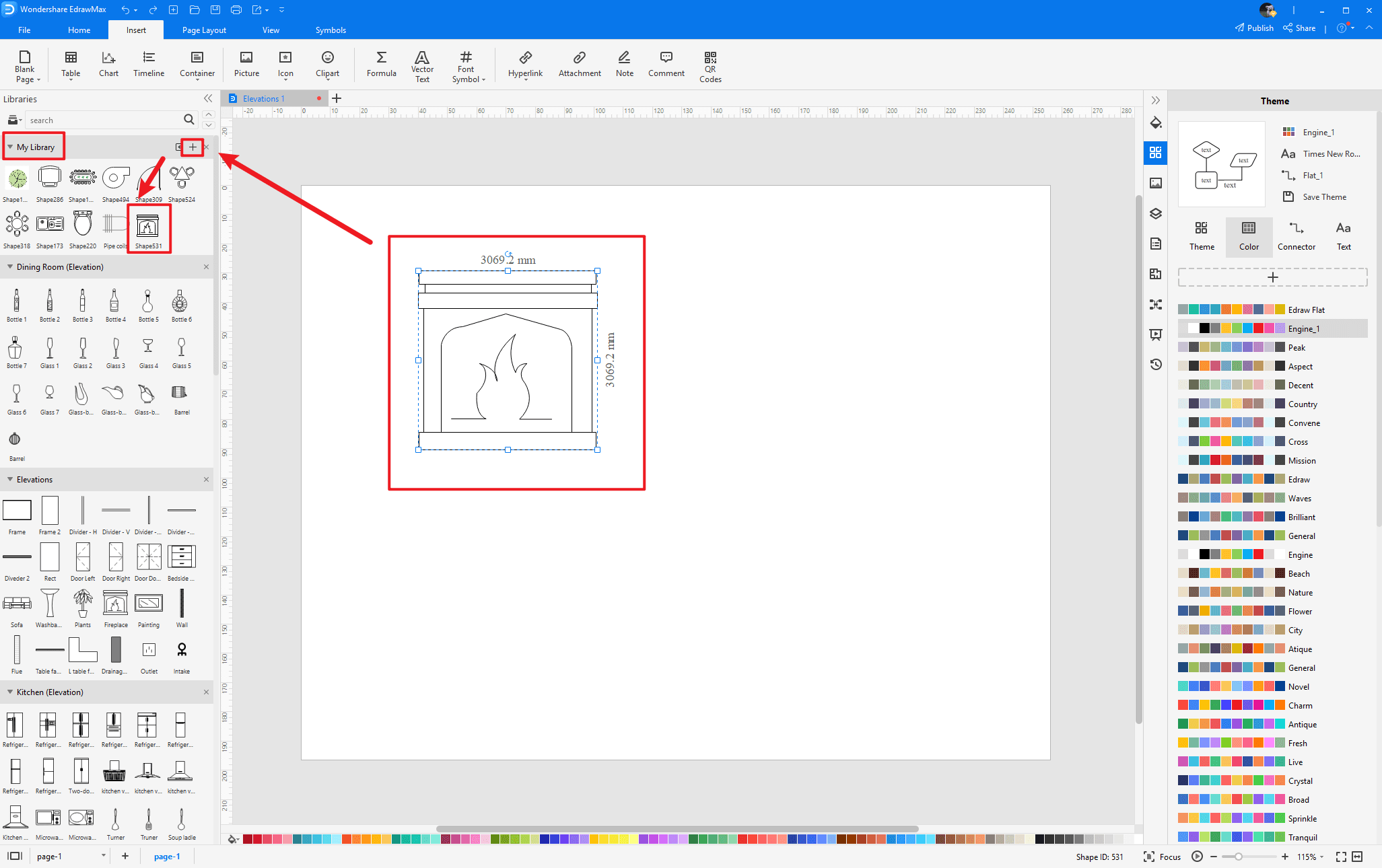 5. Free Floor Plan Creator
Creating a floor plan is much easier with free floor plan software, such as EdrawMax, instead of drawing it from scratch. With EdrawMax, you get a comprehensive symbol library with thousands of floor plan symbols that you can use to make your diagram. It also gives you free editable templates that you can customize in a few minutes and complete your diagram. EdrawMax is an excellent tool for team collaboration, and its easy-to-use interface makes it the first choice for everyone. These features make EdrawMax the best free floor plan creator.
Key Features of EdrawMax:
EdrawMax comes with free floor plan examples & templates that are 100 percent customizable;
The built-in vector symbols let you easily add floor plan components to your design;
You can easily share the floor plans with your team and see the live revisions made by your team;
EdrawMax lets you export the file in multiple formats, including MS Docs, PPTX, JPEG, PNG, PDF, and more;
EdrawMax has a strong community of 25 million users who update the template community with their creative projects;
EdrawMax is considered the best tool for beginners and professionals because of the user-friendly dashboard and easy drag-and-drop feature.
EdrawMax Desktop
Create over 280 types of diagrams
Windows, Mac, Linux (runs in all environments)
Professional inbuilt resources and templates
On-premises software for business
Enterprise-level data security
EdrawMax Online
Create over 280 types of diagrams online
Access diagrams anywhere, anytime
Team management and collaboration
Personal Cloud and Dropbox Integration
6. Final Thoughts
An engineer or an architect designs a Floor Plan to have a detailed and elaborated view of a room or sections of a building from above. In this process, a floor plan is prepared using floor plan symbols which cover all the elements and equipment used and arranged in a building. It enables a Property owner to explain all the details, budget, scale, and placements for construction. A floor plan makes it easy for the designer to understand if the place is suitable for work or not.
EdrawMax is the best floor plan software with free templates and a large collection of symbols and icons. Professionals and beginners prefer EdrawMax because of its simple interface and fast diagramming tools. You can also import symbols from the web and download or share your diagram in any format you want using EdrawMax.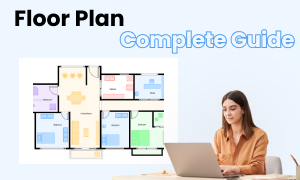 Floor Plan Complete Guide
Check this complete guide to know everything about floor plan, like floor plan types, floor plan symbols, and how to make a floor plan.