If you are planning to create a process flowchart that covers various departments, then Swimlane Diagram is the proper process flowchart to go with. This is simply because, with the Swimlane diagram, you can distinguish duties, responsibilities, and channels according to a specific set of objectives, workgroups, or departments within an organization.
With it, you can organize the responsibilities in various directions while, while focusing on each department and clearly distinguishing their roles. Swim lanes are easy to create, and more importantly, anyone within a specified business process will easily understand it, thanks to its simplifying design.
To learn more about how to create swim lane diagrams, their purpose, and benefits, as well as essential tips for creating a professional diagram, then keep reading!
First, let define what the Swimlane diagram is!
What is Swimlane Diagram
A Swimlane diagram is a type of process flowchart that defines who does what within multi-departmental processes. It is used to simplify illustration diagrams that would otherwise be very complex, this being considered an elegant type of flowchart.
Swim lanes are also known as Rummler-Brache diagrams, Multi-Column Charts, or Functional Bands. This diagram distinguishes responsibilities by splitting business processes accordingly into distinct channels using the metaphorical lanes' design similar to actual pool lanes.
Purpose and benefit of Swimlane Diagram
With multiple departments or workgroups existing in our current organization, a Swimlane diagram can, therefore, help in several ways, including:
Clear picture: Swimlane offers clearer communication and illustration like other flowchart diagrams by arranging responsibilities according to each department or workgroup.
Process Integration: Using a second swim lane diagram, you can account for the occurring changes within an organization or model a better process structure. Furthermore, it helps create a cleaner and flowless process offering a better to integrate processes between departments or teams.
Inefficiencies Elimination: A swim lane can help identify and possibly solve redundancies, bottlenecks, waste, and other inefficiencies within the process or between different lanes.
Transparency: To define sub-processes or process steps in the organization as well as showing which duties are allocated to which department and to specify which particular actor.
What to do before creating Swimlane Diagram
Before creating a swim, lane there are several things you need to accomplish first. These things are essential to have a professional and comprehensive Swimlane diagram. Generally, this part is specially set for researching purposes only, which involves the following key tips:
Define your Goal: What is your goal? Or what are your expectations? Start by determining your goal since it is always the core or base of any project. After that, define what process or processes should be followed to achieve the defined goal. This will involve brainstorming the amount and level of details needed
Fragmentation: With clearly broken-down work, you will have manageable pieces to will be used to complete a process. It is essential since it helps create clear boundaries of the processes to be followed as well as allowing you to see it and potentially improve it.
Set up the swim lanes:This involves splitting an organization based on departments, workgroups, or employees.
Research the process steps: For an existing process, you will need to research and highlight process steps in use. Create respective swim lanes based on "who" and "what" and determine the relationships and interconnection between those lanes.
List the process step: This step is only for the new processes where you will be expected to highlight the effective process steps to be utilized by the organization. These process steps have to reduce costs and delays and or improve quality and efficiency.
How to make Swimlane Diagram in EdrawMax
Create a Swimlane Diagram in EdrawMax by following the steps bellow
Step 1:Sign in or create an account with EdrawMax.
Step 2:After signing in, click on "Get started" if you are on the homepage to open a new page. You will see a blue navigation pane on the left side of that page; click "New" and then "Flowchart" and let it load. ve a close look. You need to be able to tell the differences before applying them;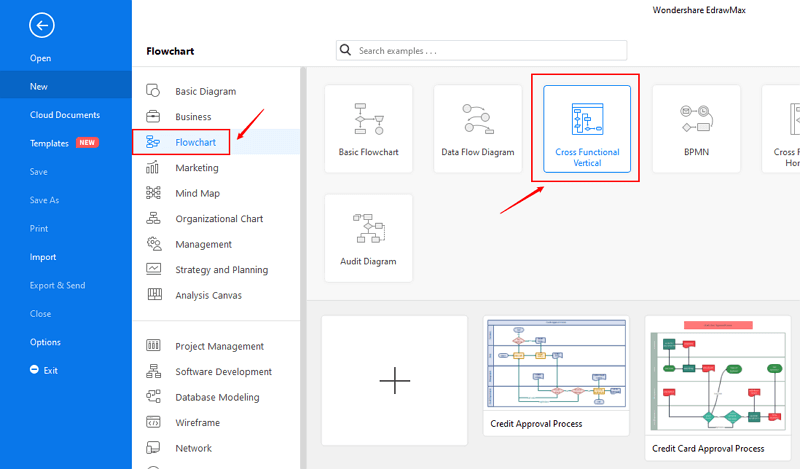 Step 3:After it's done, click on "Cross-Functional Vertical or Cross-Functional Horizontal" from the upper tile/pane. You will notice several templates that you can choose from and modify to meet your requirements on the next page. But if you want to create a new Swim lane from scratch, click the "+" sign.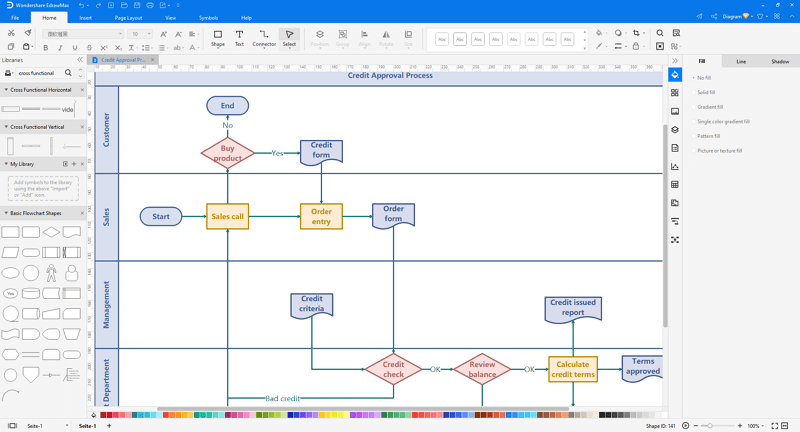 Step 4:Browse through the template and select the one you like by clicking it. A new page will load with the pre-designed template you choose in it as well as a work area with different shapes and designing tools. Drag and drop shape, adjust size, shape, or text to create your new swim lane diagram.
Step 5:Save or export the diagram when you're done and satisfied with your design. To save, click "File" at the top right corner, then "Save As," and to export, click "Export" instead of Save as.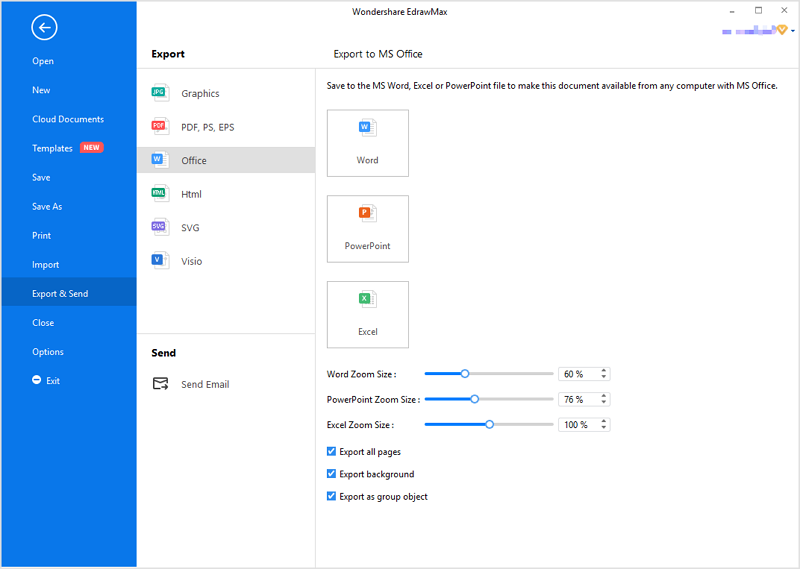 EdrawMax
All-in-One Diagram Software
Create more than 280 types of diagrams effortlessly
Start diagramming with various templates and symbols easily
Superior file compatibility: Import and export drawings to various file formats, such as Visio
Cross-platform supported (Windows, Mac, Linux, Web)
Security Verified |
Switch to Mac >>
Security Verified |
Switch to Linux >>
Security Verified |
Switch to Windows >>
Essential Tips for making Swimlane Diagram
To create a quality and professional swim lane diagram that is practical, you will need a decent amount of planning. These plans are going to be the blueprint of key steps to follow when designing a swim lane diagram. And so, to effectively do this, there are some key points that you need to keep in mind before and while designing a Swimlane Diagram, which comprises of:
Study its Symbols and Elements
One of the most important tips is that before starting any panning and designing process, you should first get well familiar with swim lane symbols, elements, and rules that govern its design.
Process and sub-processes
When creating lanes in your diagram, ensure that you clearly define which processes or sub-processes falls on which departments.
Reviewing
Reviewing your complete Swimlane diagram blueprint is an essential step, not only here but also when diagraming any project management diagram. So, invest your time after designing to review if your diagrams meet your expectations and goals.
Swimlane Diagram Example
This diagram example is an excellent example of how useful a swim lane diagram can be to an organization. Let's discuss the notable key points in this diagram for easy understanding:
Departments:In this diagram, we can notice a clear classification of departments into different lanes, including Customer, sales, Credit & invoicing, etc.
Interconnections: Within the diagram, we can also see different interconnection within the same department as well as between different departments. For example, for an order to be entered, the first credit has to be ok. And for a credit to be ok, it has to be checked, and when it is "yes," it's ok or "no," not ok. If not ok, the credit problem has to be addressed; if "yes," then credit is ok; if the answer is "No," then the order is topped.
The diagram clearly shows the chronological steps to be followed when a consumer places an order. The diagram also covers different scenarios that may occur before the product is packed and shipped.