Edraw Support Center
Get quick answers and step-by-step instructions in our support center.
Create Slides
In the Slideshow tab, you can create and manage a set of slides for a chart. This can help viewers focus on the specific part of your chart or present the whole chart with different branches.
Once you have created slides, you can display, print, or export these slides to Microsoft PowerPoint.
Create Slides from Chart Automatically
OrgCharting lets you create a set of slides based on the chart branches. All slides can be automatically generated from your chart branches.
Go to the Slideshow tab and click the Auto Create button.
When the slides are created, you can see the thumbnails of the auto-created slides on the Slide Preview panel. The first slide is the top management and the rest of the slides are the branches at lower levels.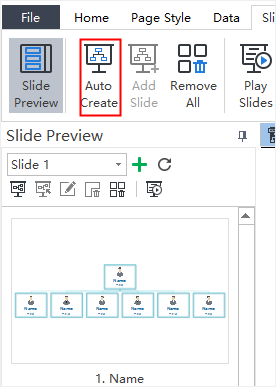 Create Slides Manually
If you don't want auto-created slides, you can create them manually and choose which branch or box you want to add into the slideshow.
On the Slideshow tab, click the button New Slide Deck.

A pop-up window will show to let you name the new slide deck.

Type the name of your New Slide Deck and click OK.
A new slide deck is created.