Edraw Support Center
Get quick answers and step-by-step instructions in our support center.
Background
To set a chart background, you can use a background color or a background image. You can also apply the watermark on your background. The buttons and options of background formatting could be found under the Style section on the Right Side Panel or on the Page Style tab on the ribbon.

Background Colors
Click the background color button to fill the background with single color.
Background Images
OrgCharting has a wide range of predefined background images to enhance the look of your org charts. You can add these premade background images or upload your own background images from local files.
Add a Background from the Library
Click the Background Pictures button.
From the pull-down list, choose your preferred background image.
Add a Background from Local File
You can insert your own image as background.
Click the Background Pictures button.
Click Browse from file and navigate to the image file.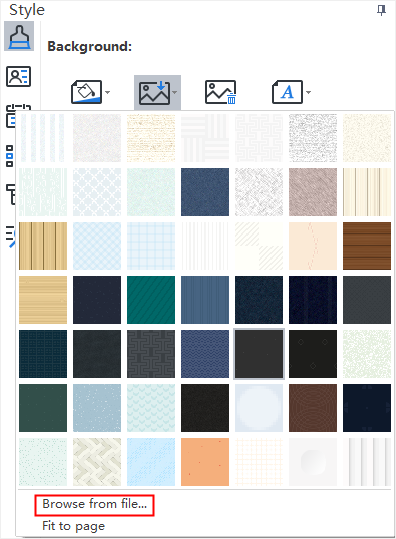 Add a Background Watermark
This function lets you print over every page of a document with certain text, which is useful for security or content identification.
You can add a watermark to your org chart via the following steps:
Click the Background Watermark button in the Page Style tab or under the Style section on the right sidebar.
Choose a pre-made watermark from the thumbnails in the drop-down menu.
If you do not need the pre-made ones, you can click Customize Watermark to create your own one.
From the Custom Watermark pop-up window, you can adjust the text, font, size, color or layout of your watermark
Click Remove Watermark when you don't need it.
Remove Background
To remove the background, click the button Remove Background

.