In this article
What is a Cat5 Cable?

How does Cat 5 Wiring Work?
Part I. What is a Cat5 Cable?
Cat5 Cable or Category 5 Cable is the type of networking cable made by twisting the internal wires. That is why it is also known as Twisted pair networking cable. The most commonly used form of Cat5 cable is Cat5e cable which supports the network bandwidth of up to 100MHz. The cable transfers data with the speed of 1000 BASE-T, i.e., gigabit ethernet speed.
These are the cables commonly used in large data centers, computer networking offices, and homes.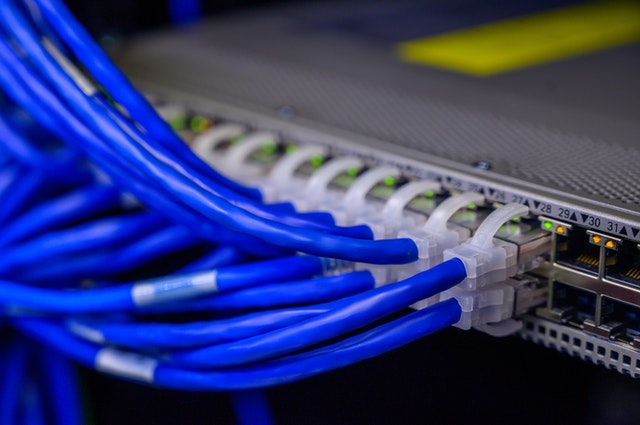 What Is Included in a Cat5 Cable?
The basic structure of the cat5 cable is published below.
As the figure shows, the Cat5 cable includes four twisted pairs of internal cables used for data transmission. These four pairs are wrapped, making a thick wire. The ends of the Cat5 or Cat5e cable should use the RJ45 connectors. You can terminate the Cat5e cable in two ways.
Straight-through termination
Crossover termination
The Colors of the Twisted Pair Wires
The colors include orange, green, red, blue, and white. The arrangement of these wires is different depending on your choice of what termination method you would choose, either crossover and straight-through. In straight-through transmission with T568A pinout, the order of color is white/green, green, white/orange, blue, white/blue, orange, white/brown, and brown.
In the T568B pinout, the order of color is white/orange, orange, green/white, blue, white/blue, green, white/brown, brown. In the crossover transmission, the order of color for the first end is white/orange, orange, white/green, blue, white/blue, green, white/brown, and brown. And in the other end, white/green, green, white/orange, white/brown, brown, orange, blue, and blue/white.
Inside Cat5 or Cat5e cable are twisted pairs of copper wires which transmission data from one node to another using the concept of analog or digital signals. The wiring allows you to share your data at speed up to 100MHz and accommodate both high-speed ethernet and gigabit ethernet.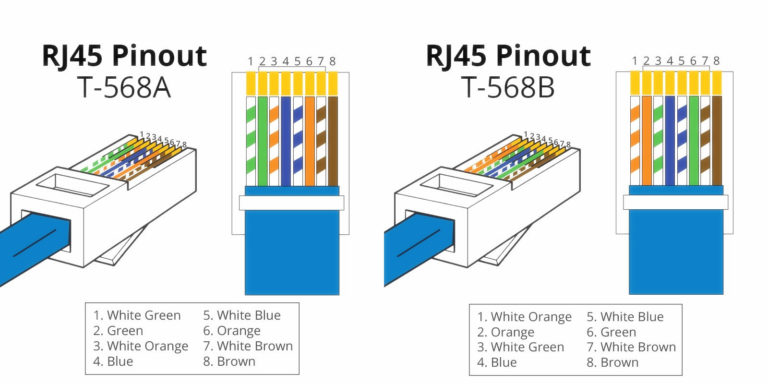 Part II. How Does Cat 5 Wiring Work?
How to wire a Cat5 Cable?
Wiring the Cat5 cable correctly is necessary. Only a computer networking person should be consulted for this purpose, but you should follow the below steps carefully if you want to wire a Cat5 cable for your home purposes.
First, peel off the outer sheath of the Cat5 cable for about 2 inches.
You will see the four twisted pairs, untwist them that they all stand alone.
Now, you have to set them according to your need. If you want crossover transmission, then align them with the help of the diagram below.
And if you want straight-through transmission, then you must align those colored wires using the diagram below.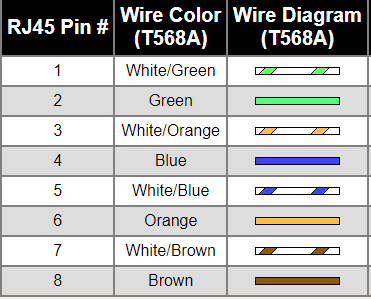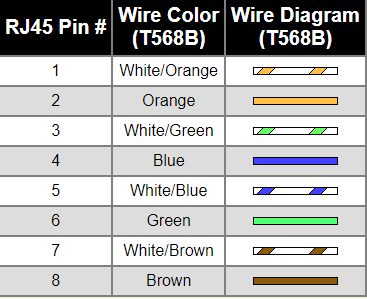 Now, peel off those colored wires that the copper inside them becomes visible, pell them about 1/2" to 3/4".
Now, insert these wires inside the RJ45 plug at its front to ensure that the cable is fully inserted, and the sheath is extending the plug for about ½," and this area will be put inside the crimp tool.
Take the crimper tool and crimp the RJ45 plug.
Now, check if the wires are arranged in the correct order according to the above steps.
When done, cut the cable to this plug. It's a best practice to cut more than you need.
For the second Rj45 plug, follow the above steps.
What Happens if You Wire an Ethernet Cable Wrongly?
Cat5 and Cat5e cables support speeds up to 100Mbps and have four twisted pairs of internal cables. Ethernet cable uses two of the four wires for its function, one for transferring data and the other for receiving data. When these two wires are wired incorrectly, the ethernet is smart enough to use the other two pairs from the four pairs.
The Power Over Ethernet(POE) uses the two unused wires by ethernet to power the device that is receiving data. The Incorrection of the wire will not disturb your transmission until the power and return wires are not crossed.
Part III. Cat5 Wiring Diagrams
What is written above will be understood more when we will see the templates of the wiring diagram.
First, we will see the wiring diagram of straight-through with 568-A and 568-B wiring.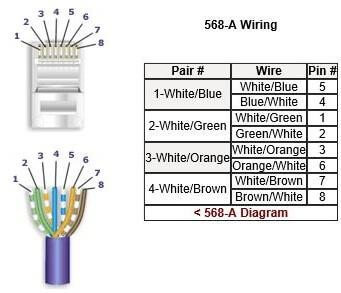 Now, see the wire white and blue they are arranged in white/blue and blue/while order and are put in the pin numbers 5 and 4. White and Orange are ordered in white/orange and orange/white pairs and are put in pins 1 and 2. Wires White/Green and Green/white are put in pins 3 and 6 and white/brown and brown/white in pins 7 and 8.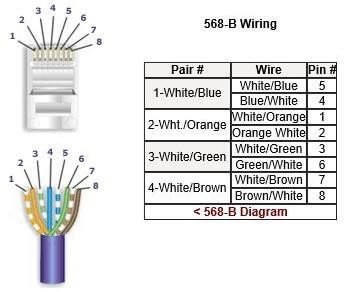 Here, wire white/blue and blue/white are in pins 5 and 4. The wires green/white and white/green are in pins 1 and 2. The orange/white and white/orange wires are in Pins 3 and 6. At the same time, pins white/brown and brown/white are in pins 7 and 8.
Now, we will see the crossover transmission diagram. In crossover transmission, the first end contains the orange/white and orange wires in pins 1 and 2. The wires green/white in pin 3, and in pin 4, there is a blue wire. The blue/white wires are in pin 5, and the green wire is in pin 6. Brown/white and brown wire are in the pin 7 and 8. On the other end, green/white and green wires are in pins 1 and 2. Orange/white and blue wires are in pins 3 and 4. Blue/white and orange in pins 5 and 6. Brown/white and brown wires in pins 7 and 8.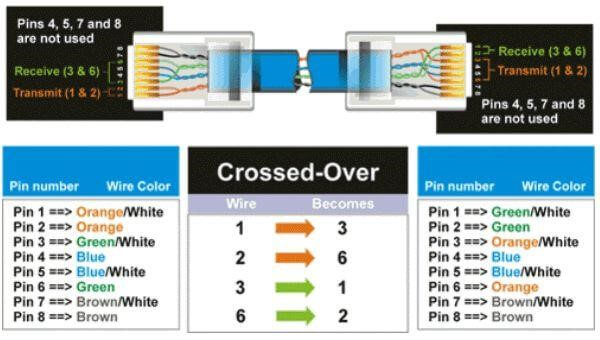 Use EdrawMax for Wiring Diagram Creation
For such wiring and cable diagram making, you can go for EdrawMax software entirely free to use. EdrawMax is a diagram-making software that you can use to make any type of diagram. The software is for everyone, either you are a networking person or an average person with no computer networking background.
The software contains all the critical tools and features which will assist you with your wiring diagrams. You can download your diagram in different formats and can share it on any social media site. The free version of the software allows you to make your diagram, but if you want more advanced features, you have to go for the paid version of the software.

EdrawMax
EdrawMax is a powerful, all-in-one, and yet easy-to-use diagramming tool that enables users to visualize the ideas effortlessly.
Download
Download
EdrawMax provides beginners and pros the cutting-edge functionalities to build professional-looking diagrams easier, faster, and cheaper! It allows you to create more than 280 types of diagrams and should be an excellent Visio alternative.