Edraw Support Center
Get quick answers and step-by-step instructions in our support center.
Find and Replace
(Ctrl + F)
The Find & Replace command helps you check the specific word within the whole Gantt chart, including employee names, titles, notes, comments, departments, salaries, etc.
Go to the Home tab and click the Find & Replacement icon. A pop-up dialogue will show up.
Type content you intend to find in the find column, and click Find Previous or Find Next.
Type content you intend to replace in the replace column, and click Replace or Replace All.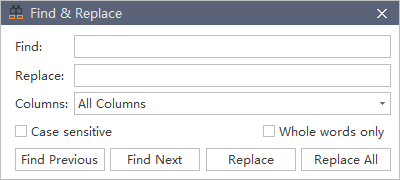 Tips:
If you want to filter capital words only, you can click Case sensitive for precision.
If you want to reduce the scope of finding, please click Whole words only.