Edraw Support Center
Get quick answers and step-by-step instructions in our support center.
System Requirements
Windows 2000, XP, Vista, Windows 7, Windows 8 and Windows 10
Mac OS X 10 and later
Linux (Debian, Ubuntu, Fedora, CentOS, OpenSUSE, Mint, Knoppix, RedHat, Gentoo and More)
At least 1 GB RAM
At least 400 MB free disk space
User Installation
You can download MindMaster installation package from our Download Center.
User Activation
Once successfully installed, you can register the software with your license code to activate it. If you do not have a license code, you can click Buy Now to place an order.
Run Edraw Project software with computer administrator privilege.
Click the Help tab of the ribbon.
Click Activation under the Help tab.
Input your License Name (can be any name) and License Code.
Click Activate to run the Activation Wizard.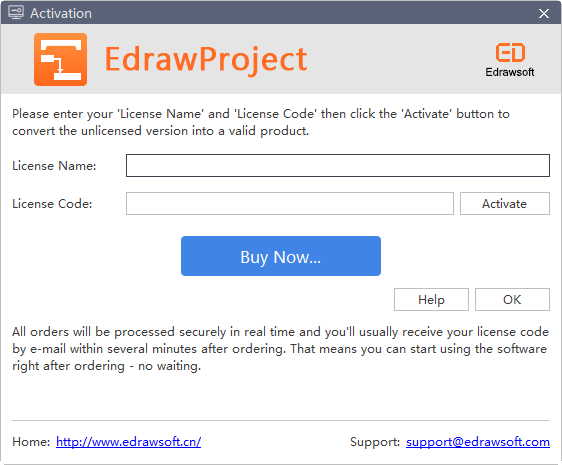 User Deactivation
Deactivation is necessary if you wish to format computer, re-install computer operating system or move Edraw Project from one computer to the other. Please note that deactivation can only be done once every 30 days. The steps to deactivate a license are:

Simply go to the Help tab, and click Deactivation.
Once you have clicked Deactivation, Edraw Project software on your current computer will turn to unlicensed version, so you can activate the software on another device.
Check for Updates
You can click the About button in the Help tab to get the information about the current version.
For Assistance
If you have further problems, please contact support@edrawsoft.com.