Edraw Support Center
Get quick answers and step-by-step instructions in our support center.
Edit Resources
The Resource window is where you can set up and edit resources. You can adjust the width of each box by dragging the right border of it.
To add a new resource, you can:
Click Add Row button.
Press Enter on the keyboard.
After a resource is added, you need to define the following information of a resource in the Resource window.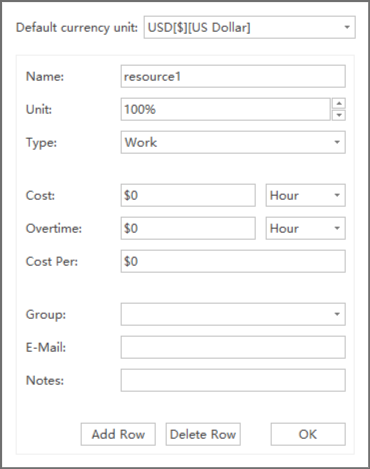 Default Currency Unit
The default currency unit is USD. To change or customize Currency Unit type, you can click the small triangle button and choose the target Currency Unit.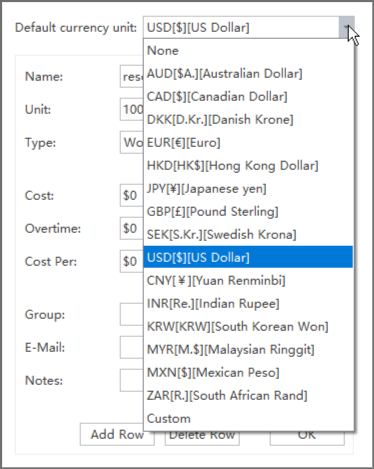 Resource Types
There are 5 types of Resources and they can be divided into two catalogue.
Work Resources: People to complete the tasks, usually with a cost over time.
Non-work Resources: Resources that have a fixed cost per unit, including:
Material: Consumables materials used in project processes like papers which are used to print leaflets.
Cost: Financial cost associated with a task, such as travel expenses, food expenses, etc.
Equipment: Such as a printer.
Company: Company as a unit to complete the tasks.

Resource Name
You can change resource names according to different categories.
| Resource | Example of Resource Name |
| --- | --- |
| Work resource as an identified person. | Cindy, Gwen |
| Work resource as a job function or group | Doctor, Engineer, Teacher |
| Work resource as an equipment | Truck, Water Pipe |
Resource Unit
Only when the resource type is Work Resource can you set the Resource Unit, including Max Unit and Unit.
Unit represents the maximum capacity of a work resource to work on assigned tasks. 100% means that the resource is available full-time on each workday. The work time is set in Project Options before you start adding tasks.
If the resource gets allocated to tasks that would require more than his work hours, then the resource is over allocated and Edraw Project will indicate this in red formatting in the Resource Status report.

If a resource is more capable and has higher efficiency than an average level resource whose Unit is 100%, you can enter larger Unit to represent his competence. A 200% Max Unit indicates that the resource does double work in the same working time.
By default, the Max Unit field is set to 100%.
Resource Cost
You can set Standard Rate and Cost Per Use for work and non-work resources. You can also enter Overtime Rate for work resources.

Standard Rate: Calculated on time unit basis, such as per day, per hour, per week and per month.
Cost Per Use: The cost that accrues every time when a resource is used. It will be added when a work resource unit is assigned to a task and does not vary with the amount of time you use the resource.
Overtime Rate: The pay rate for the overtime work of a resource.
Edraw Project calculates the cost of a project by adding up the cost of resources allocated in all tasks.
Note: Cost Per of non-work resources is calculated only once.
Divide Resources into Groups
Grouping enables you to view rolled-up summary information of resources allocated to a task. Once you have entered a new group, the group name will appear in the drop down menu.