Edraw Support Center
Get quick answers and step-by-step instructions in our support center.
Layers
Layers help you deal with different groups of shapes. Click Layers icon

on the right sidebar to open Layers pane.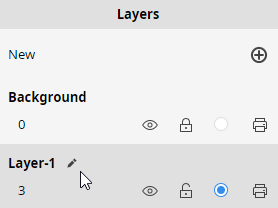 There are some basic options for layer setup:
Click New button on the top of the pane to create a new layer.
Click the eye icon to make it closed so that the shapes in this layer won't be displayed.
Click the lock icon to lock shapes on the layer so that the shapes in this layer can't be selected or operated.
Click the active button and the newly added shapes will be put on the active layer.
Click the print icon , then the ban symbol appears on it so that the shapes on this layer can't be printed.
Click the pen icon to modify the names of layers.
For background layer, you can't edit its name or delete it.