Part 1: What is a Network Diagram?
The network diagram is a schematic depicting the nodes and connections amongst nodes in a computer network or, more generally, any telecommunications network. Network diagrams are often drawn with professional drawing software tools. There are different types of network diagrams provided by EdrawMax and you can get started with it now!
Network diagrams show what the components of a network are and how they work with each other. Physical network diagrams illustrate the relationship between pieces of hardware in a network, while logical network diagrams show the information flow throughout the network. Commonly used symbols in network diagrams include firewall, cloud, server, router, and signal.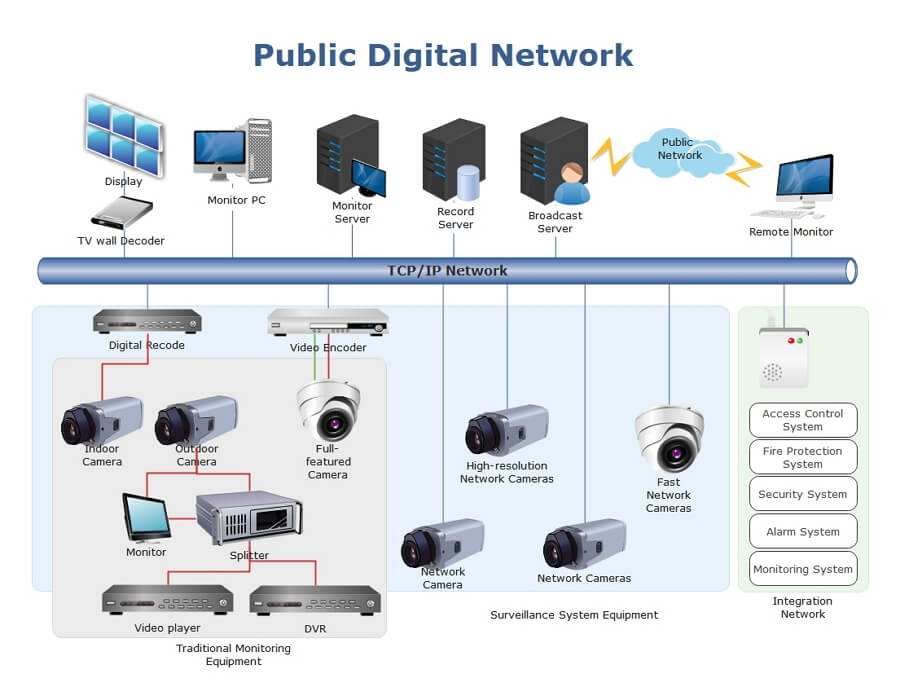 The Usage of Network Diagram
Network professionals need to gather vital information and have it instantly on hand for troubleshooting, maintaining, and reporting on networks. They need detailed visuals to help identify tradeoffs and ensure that proposed systems meet key requirements. The need for accurate information about network assets is more intense than ever, and yet many network design and documentation tools are either highly limited drawing tools or overly complex, costly high-end systems.
Concerning the usage of network diagram, there are some points listed below:
Network solution providers and system integrators who plan and implement IT structures;
IT/IS managers who document networks for effective troubleshooting, planning, and disaster recovery;
Network engineers who manage daily operations and communicate network designs to others;
Windows network administrators who administer network directories;
Pre- and post-sales network service providers and networking services firms;
Help desk staff who need to know the location and details of each piece of equipment.
The Classification of Network Diagram
As for the classification of network diagram, throught different usages and systems, there are mainly 14 types of network diagrams. Due to the diverse usage and platform, there includes AWS, Azure, GCP, basic network diagram, Cisco network topology, Cisco produt icons, Cisco safe icons, detail network diagram, logical network diagram, rack diagram, LDAP, acitive directory, network location diagram, video and audio ports.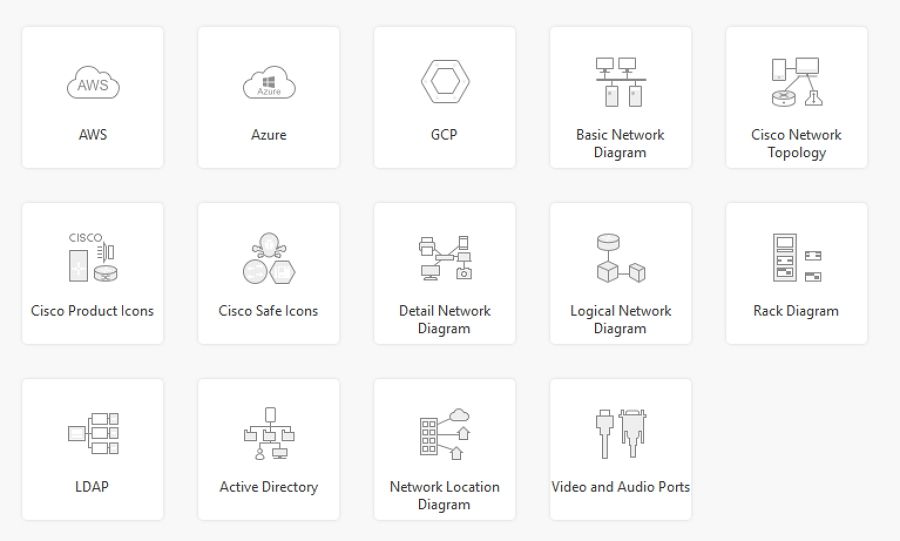 Part 2: Basic Network Diagram Symbols
The diagram symbols are the entities that represent the network components in a network diagram. Without these symbols, a network diagram could not be made. It is good to understand the basic definition of each symbol. In this section, we will know what these basic network diagram symbols are, their usage, and their representation.
Cloud

The cloud is nothing but a virtualized server set on the internet by the vendors who want to sell their services through a cloud. It is a pooled and centralized server recourse.
The cloud can perform various heavy tasks virtually as a standard server does. It also grants you space to upload your data on it. In a network, the cloud is also integrated to establish the virtualized servers and send and upload the network data on it.
Firewall

The firewall is like the shield that protects the network and prevents malicious activity from entering a network from outside the network. So, the firewall usually sits in front of a network.
The firewall can be both the hardware and software. The hardware firewall is used to protect a whole network, while the software-based firewall installed on a particular PC only protects it.
The firewall is separately shown in a network diagram in a network before or after a router. The firewalls are made for protecting different networks.
For example, the web-based firewall protects you from malicious content on the internet. A packet-filtering firewall can save you from both malicious contents on the internet or coming inside from an external network.
Terminal

A terminal is software that provides you the command line interface on the desktops and lets you perform administrative tasks. Moreover, with a terminal, you configure and secure the network components.
The network components like routers, switches, firewalls, hubs, etc., are configured using the command-line interface as there is no Graphical User Interface(GUI) in these components. In a network diagram, the terminal is represented by a desktop.
Switch

The switch is the networking hardware component that works on the second layer of the OSI model. It is a device that contains multiple ports on, and on these ports, the ethernet cable is plugged into that is coming from a particular host.
The switch is a device used to connect the devices in a network forming a Local Area Network(LAN). The switch uses the MAC addresses of the hosts to send and receive the packets of data from one host to another host.
Bridge

The bridge is what its name suggests. It is a networking hardware device through which multiple local area networks communicate. The bridge connects multiple networks forming one extensive network.
This process of connecting or aggregating the network is called network bridging. The bridges also operate on the second layer of the OSI model and hence uses the MAC addresses of hosts to transmit or receive data. It can also connect multiple virtual LANs or VLANs.
Server

The server is a computer that is programmed to perform the tasks that standard computers do not do. The server is made to respond to the requests that are coming from the client-side and let them perform some specific tasks or do the tasks for the client.
In short, the servers are the programs that provide services, resources, and data to other computers that are its clients. The server can be both hardware and software. The communication of client and server communication is called the client-server model.
Router

The router is the networking hardware device that connects multiple networks to the internet, not only the internet, but it can also connect two or more networks based on their subnets and IP addresses.
The router operates on the third layer of the OSI model, where it requires the IP addresses of the networks and hosts to send or receive the data packets. It manages the network traffic between the networks.
Peripheral device
A peripheral device is a computer device that is named a peripheral in computer networking. It can also be a laptop, mobile phone, or printer.
Mainframe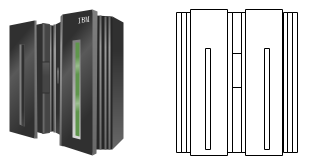 The mainframes computer are more than personal computers capable of doing high memory calculations, executions, transactions, etc. They are also used to do security operations for networks like cryptography, etc.
Hub

The Hub is the networking hardware device used to connect multiple computers forming a Local Area Network. It ran on the physical layers of the OSI model and was used before the switches were made.
Cisco, AWS, GCP, and Azure symbols
Cisco is a well-known networking services provider. It sells networks components all over the world. AWS, Azure, GCP are the cloud platform from Amazon, Microsoft, and Google. You can find all these types of network diagram symbols in EdrawMax!
Switches and Bridges: The switches are the devices used to connect multiple devices forming a local network while the bridges connect these local area networks.
Routers: The router is a device that is used to connect networks and to the internet.
Databases: A database is an organized collection of structured information, or data, typically stored electronically in a computer system.
Part 3: Network Diagram Maker - EdrawMax
One of the most powerful programs that can compete with Microsoft Visio, EdrawMax is yet another diagramming software available for Windows, macOS, and Linux. The tool has several categories for almost all types of industries, and each category further has numerous floor plan templates to choose from, thus saving you a lot of time that you would otherwise waste in structuring a diagram, network diagram for this example, from scratch.
EdrawMax is a powerful but easy-to-use network diagram software that makes it easy to create network diagrams based on pre-formatted network diagram templates and examples - with no drawing required. The smart network diagrams are designed with auto generation, allowing users to add and connect shapes easily.
The Features of EdrawMax
EdrawMax is ideal for network engineers and network designers who need to draw detailed network drawings.
Easy to Use

To create a network diagram with less time, EdrawMax realizes it is important to simplify the process through pre-made shapes and automatic floating buttons. Therefore, you can save time to work efficiently and everything in EdrawMax network diagram maker is simple, smart and intuitive.

Abundant Network Diagram Symbols & Templates

Using standard and polished network diagram symbols will help produce accurate and presentation-quality network diagrams. EdrawMax includes thousands of symbols for network diagram design which are divided into 30 separated libraries. You can load any library as you please and close those you don't need. EdrawMax also offers you tools to personalize the symbols or create custom symbols on your own.

Editable Exported Files

EdrawMax network diagram software is easy and powerful. It is not only capable of exporting the created files to the most common formats. Moreover, those files are editable and sharable. Unlike other network diagram creators only exporting uneditable files, EdrawMax network diagram software makes itself stand out.

Network Diagram Maker on All Platform

EdrawMax is a great AWS Diagram Software.It's used as a powerful, fast and easy-to-use network diagram drawing program, which lets you layout your home network, cisco network, wan network, AWS network and other network graphic visualizations with premade high quality symbols. It's really cheap yet with premium quality. Many users have embraced it as the ultimate network diagram desktop program for Mac, Windows, Linux and Online.
EdrawMax
All-in-One Diagram Software
Create more than 280 types of diagrams effortlessly
Start diagramming with various templates and symbols easily
Superior file compatibility: Import and export drawings to various file formats, such as Visio
Cross-platform supported (Windows, Mac, Linux, Web)
Security Verified |
Switch to Mac >>
Security Verified |
Switch to Linux >>
Security Verified |
Switch to Windows >>
Part 4: How to Create A Network Diagram
How to make a network diagram easily? Using EdrawMax to create your own network diagram.
Step 1: Open EdrawMax desktop software or EdrawMax web-based application.
Step 2: Navigate to [New]>[Network]>[Choose a type of network diagram]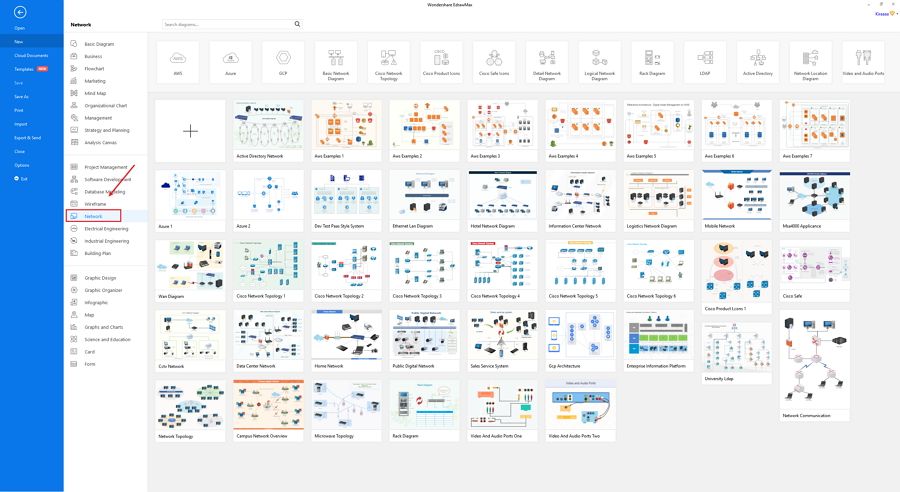 Step 3: Select one network diagram template to edit on it or click the [+] sign to start from scratch. Also, you can use massive network diagram symbols and elements from libraries in left menu to customize your network diagram.
Step 4: Once finished your creation, you can export the file in multiple formats, including Graphics, PDF, editable MS Office file, SVG and Visio vsdx file.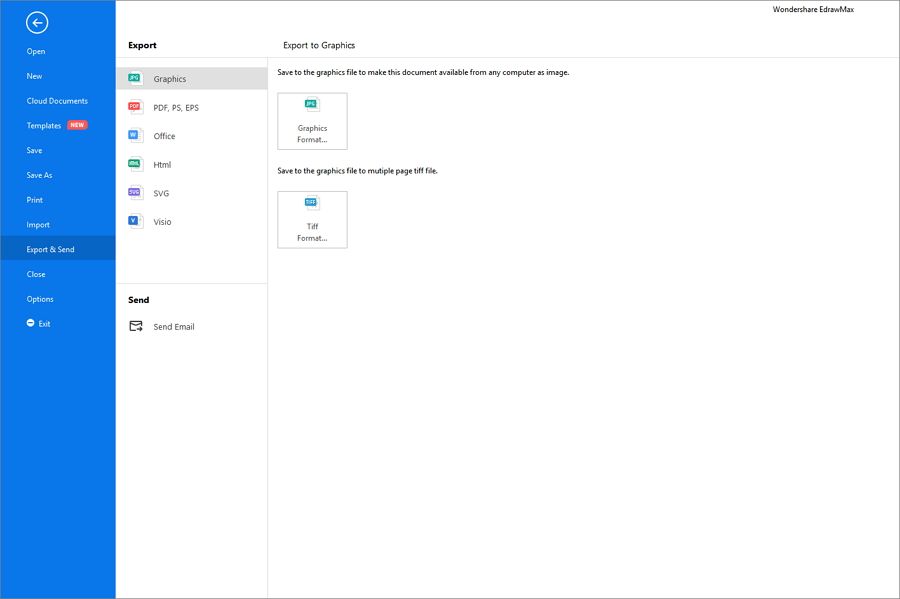 Step 5: Besides, you can share your diagram with others via social media and web page. Or publish your diagram in EdrawMax template gallery to show your work with others.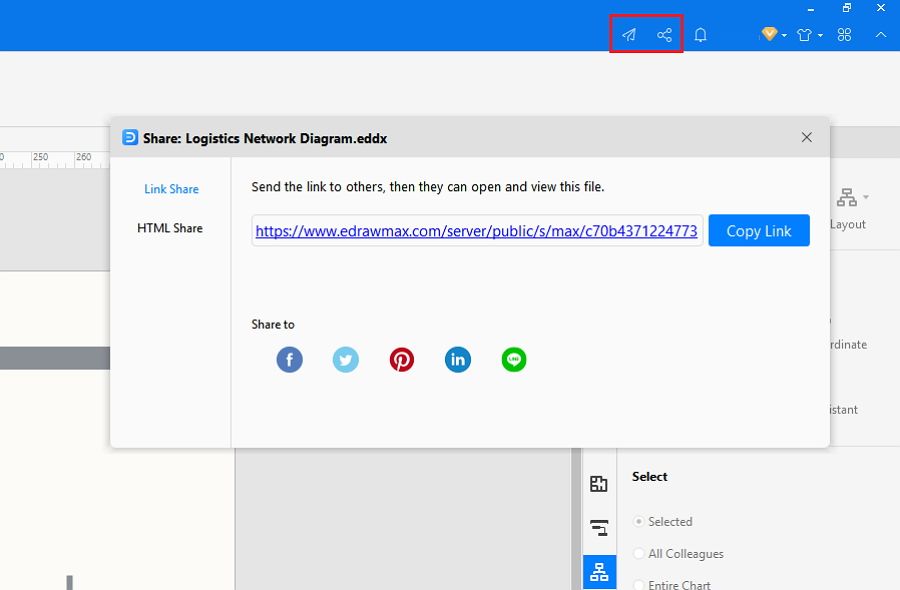 If you are still confused about how to create the network diagrm, here is the video guide to show you how to make the netword diagram in EdrawMax.
Part 5: Network Diagram Terms
Some universally accepted terms are used while making the network diagram. We will see them one by one.
Activity
The Activity has both the end and the starting point. It is a function that is represented by an arrow. The four types of activities are.
The Activity completed before the start of another activity is called the predecessor activity.
That Activity that is not started until the activities before it is not finished is called the successor activity.
The concurrent activities are started at the same time.
The Activity does not use any recourse but shows the dependency is called the dummy activity.
Events
The events are also called the nodes that show the completion and starting of activities. The three types of events are.
In a merge event, one or more activities merge with the event.
When an activity leaves an event, it is called the burst event.
When activities burst and merge concurrently, then it is called merge and burst event.
Sequencing
When it comes to the priority relationships between the devices and activities, then it is sequencing. The three questions of the sequencing are.
What job will be successor and predecessor?
What jobs can run and will run concurrently?
What controls the start and finish?
Part 6: Guidelines to Draw Network Diagrams
Some of the best practices to make your network diagram perfect are.
The Symbols: Use the diagram symbols that are globally standardized and accepted. Try to use ones that are available on the internet.
Crossing lines : Please don't make the connecting lines intersect or cross each other it would make clutter in your diagram.
Label : Always label the symbol with what they are in the networking world. It makes your diagram more understandable and easy to use.
Space between events : Always try to make the events far from each other. For example, make the start event on one page and the finish event on another.
Part 7: Network Diagram Examples
The following are the examples of network diagrams according to the different classifications.
AWS Network Diagram: Physical Network Diagram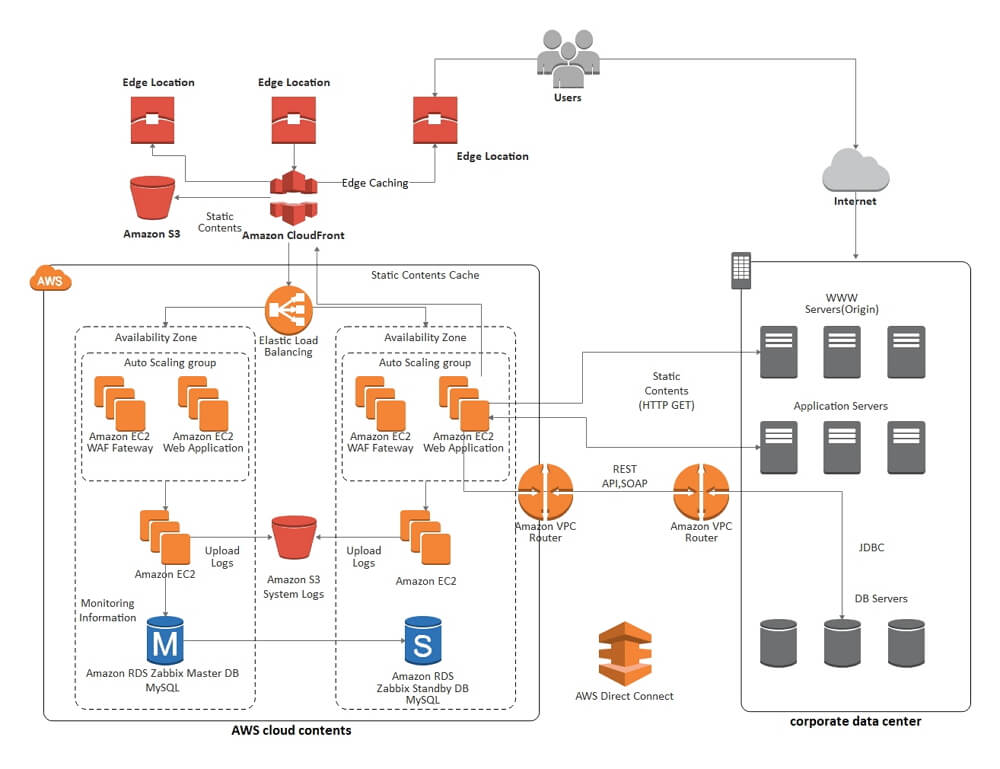 Use this AWS diagram to visualize the way your network is constructed, and how each device interacts with each other. An AWS diagram like this is useful for conceptualizing the architecture of a system, and can be used for troubleshooting purposes, future network improvements, and general network maintenance.
Azure Diagram Example: Linux Virtual Desktop Network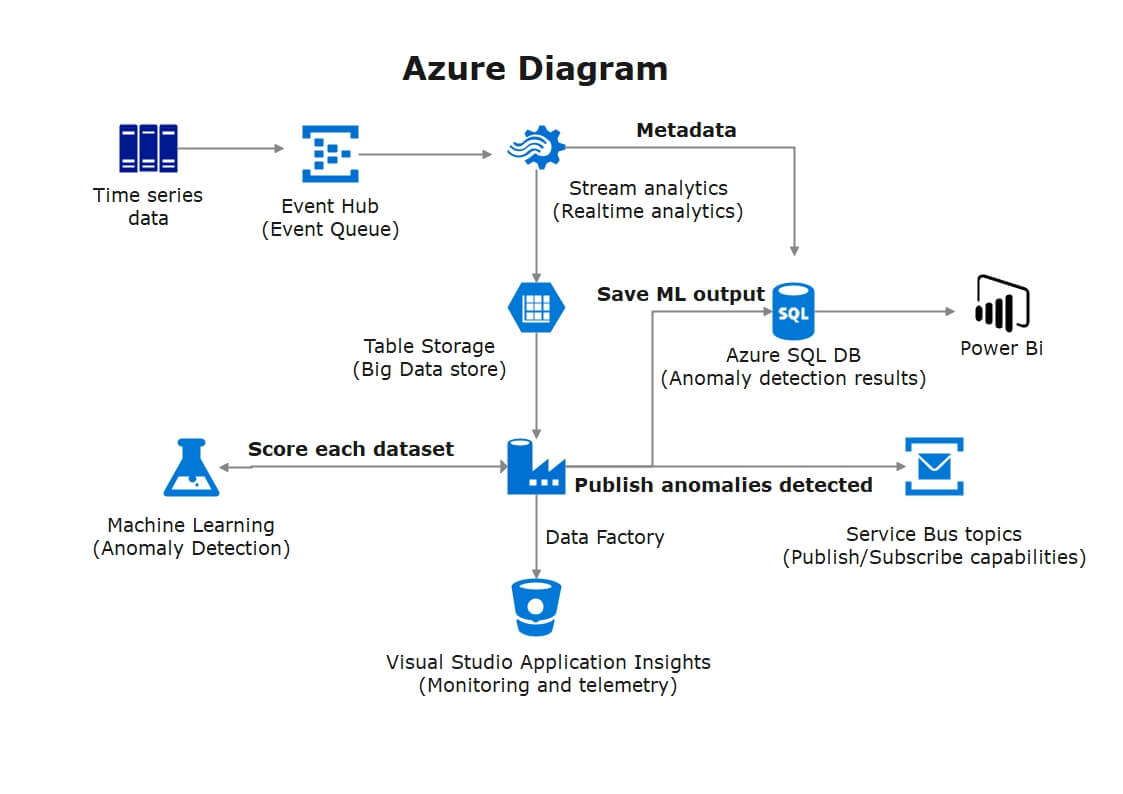 This Azure architecture diagram illustrates what happens when a corporate network is given access to the Linux Virtual Desktops. First, an ExpressRoute is established between Azure and the on-premises environment to enable swift and secure cloud connectivity.
Cisco Network Example: Virtual Private Cisco Network

This Cisco Network diagram is used to illustrate how a Virtual Private Network (VPN) functions. A site-to-site VPN is supported by two routers for incoming traffic into their own LANs. Any VPN traffic will pass through the third router.
Logcial Network Example: Clear L3 Logical Network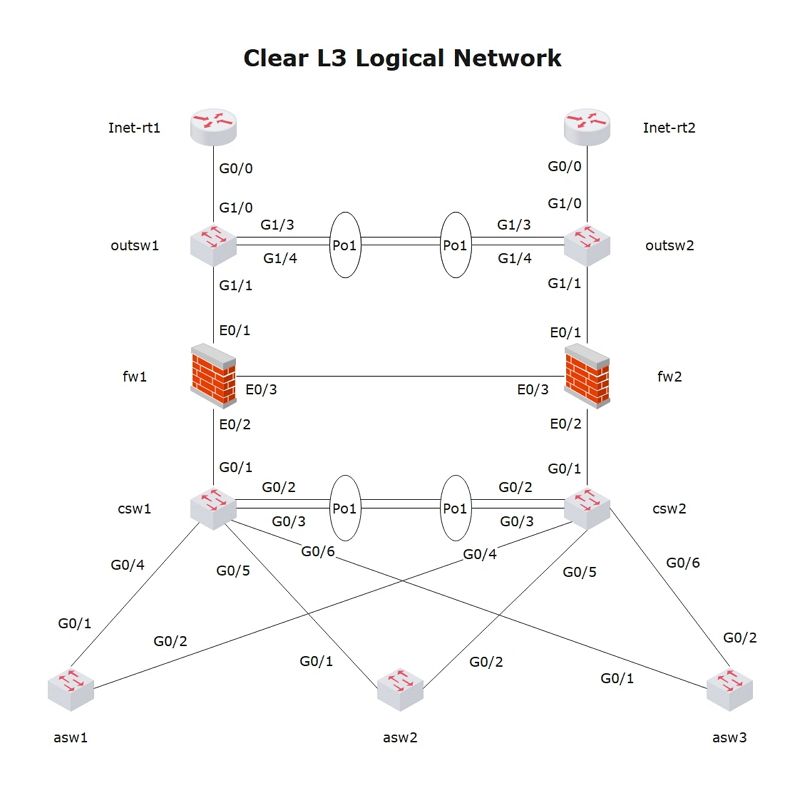 This logical network diagram illustrates a simple network layout. The network includes components including Cisco switches, Juniper Netscreen firewalls, and an L2 network diagram along with configurations for most of its devices.
Rack Diagram Example: Sever Rack Network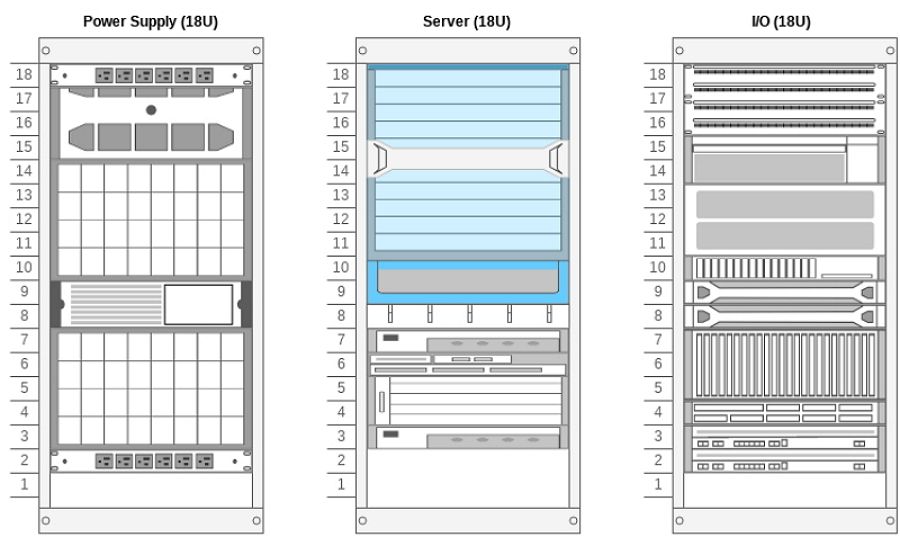 Here are three examples of how an 18U rack setup might look like. Each rack has sections of different sizes; devices can fit into each of these rack sections. By accurately illustrating the rack setup, IT professionals can use this diagram to identify potential network issues quickly.
LDAP Network Example: University LDAP Directory Information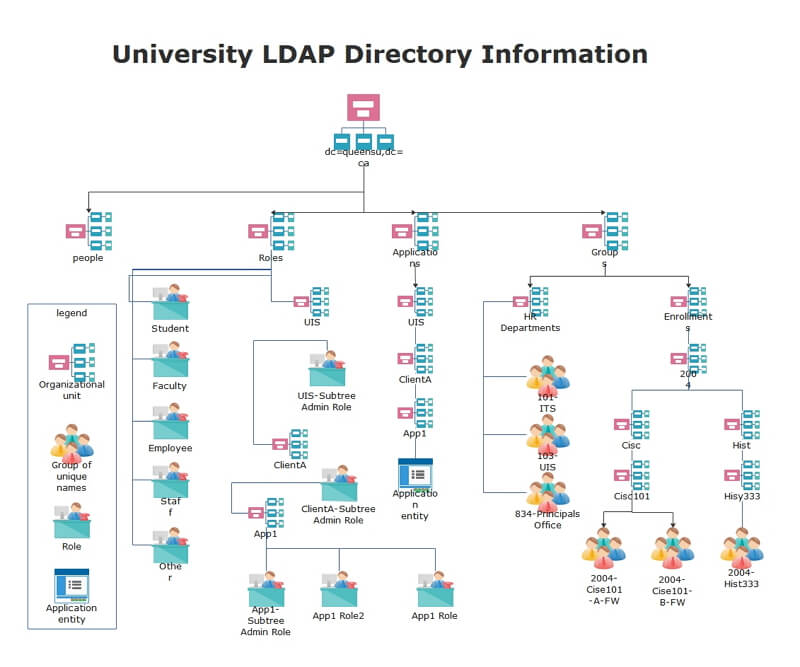 The LDAP template can save many hours in creating great LDAP by using built-in symbols right next to the canvas. You can download and modify this template for your own use.
Network Topology Example: Star-Wired Ring Network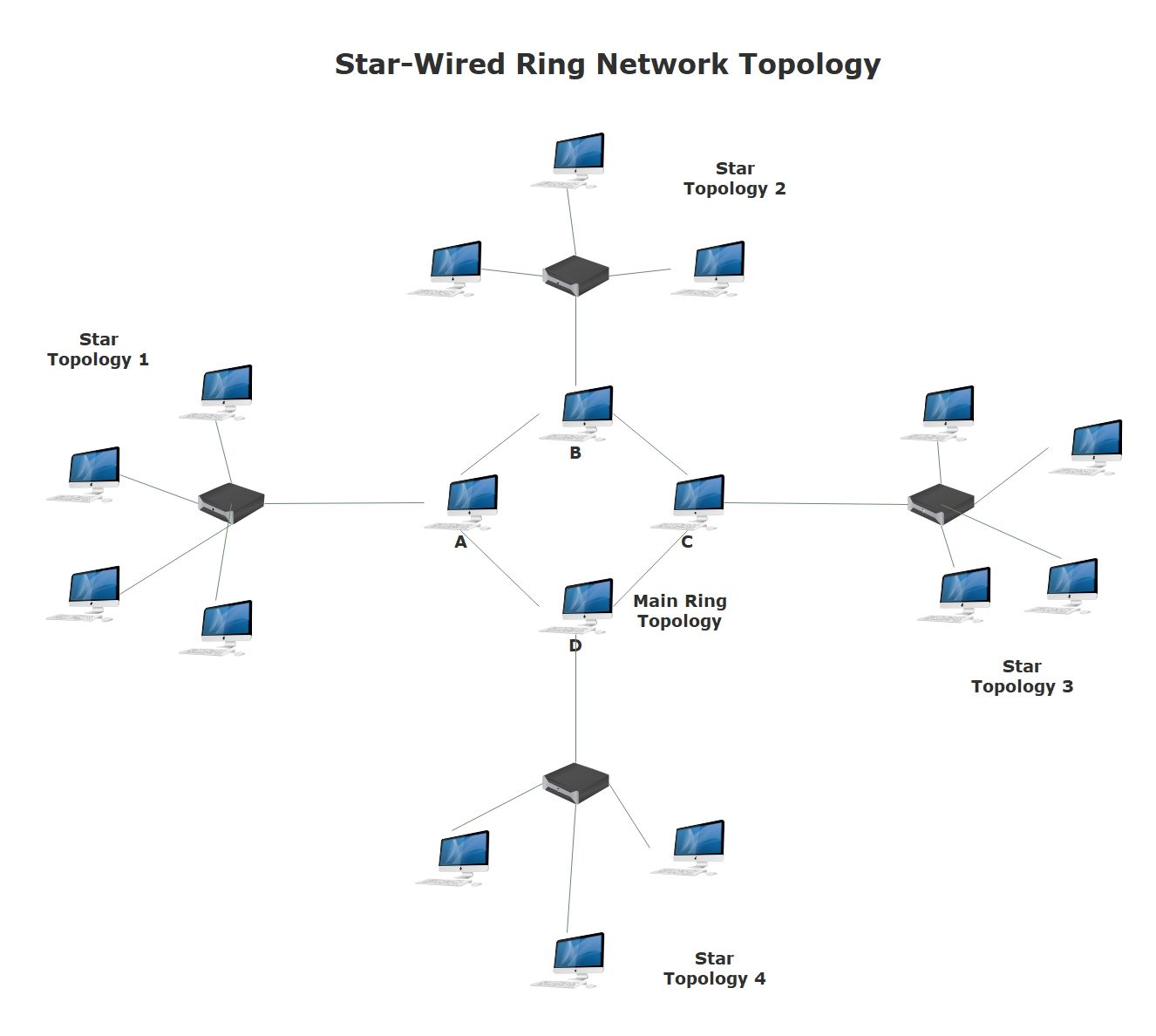 In this example, the network is illustrated using a star-wired ring topology. Each set of star topologies are connected to a central ring topology by a wired connection. For example, in Star Topology 1, a central switch connects all of the individual nodes. When the central switch is turned on, it connects to other star topologies through node A in the main ring topology.
You can use the EdrawMax Templates Gallery to get all types of templates and symbols.
Part 8: The Bottom Line
According to this article, there are mainly four parts to illustrate what is the network diagram, to tell you the symbols of network diagram, and to show you how easy and helpful EdrawMax network diagram tool is, then shows some network diagram templates and examples. Creating a perfect network diagram with EdrawMax is an effective way to design.
EdrawMax is an easiest all-in-one diagramming tool, you can create network diagrams and any other type diagrams with ease! With substantial network diagram symbols and cliparts, making network diagrams could be as simple as possible. Also, it supports to export your work in multiple formats and share your work with others. Get started to create your network diagrams now!
Related articles