AWS or Amazon web services is a suite of services that supports application providers to host their applications on Amazon's application hosting platform. It allows you to choose the operating system, web application platform, programming language, database, and other services. It creates a virtual environment to create and host your application without investing in infrastructure. Amazon also has a set of AWS icons to help you plan, design, audit, and analyze your solutions.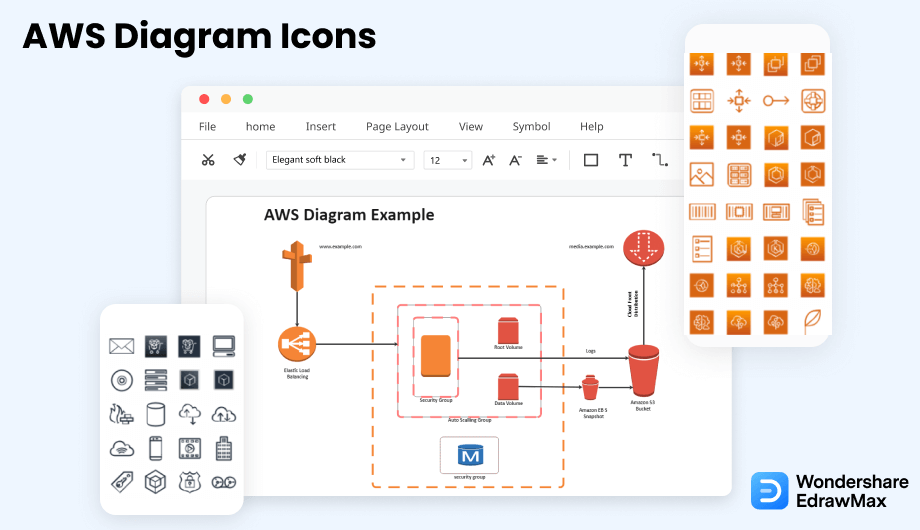 AWS icons are a set of visual representations of containers, components, connections, and relationships in an AWS architecture. You can create these diagrams on different levels of detail. AWS icons support high-level diagrams and even the most detailed representation of your system.
Since AWS encompasses a wide range of services and infrastructure, it helps classify the AWS icons by functionality. So, the types of AWS icons are analytics, application integration, AWS S3 icons, database, containers, business applications, and many more. We will discuss all types in detail in the following section.
The types of AWS Icons are below:
2.1 AWS Analytics Icons
AWS analytics is a purpose-built service for data insights for optimized performance, scaling, and cost for your solutions. AWS icons for analytics are Athena, Kinesis, Amazon CloudSearch, AWS glue, Amazon quickSight, etc.

Source: EdrawMax
2.2 AWS Application Integration Icons
AWS Application integration suite includes all services related to communication between decoupled components within microservices, distributed systems, and serverless applications. These icons are AppSync, EventBridge, AmazonMQ, SNS, SQS, MobileApp, and Express Workflows.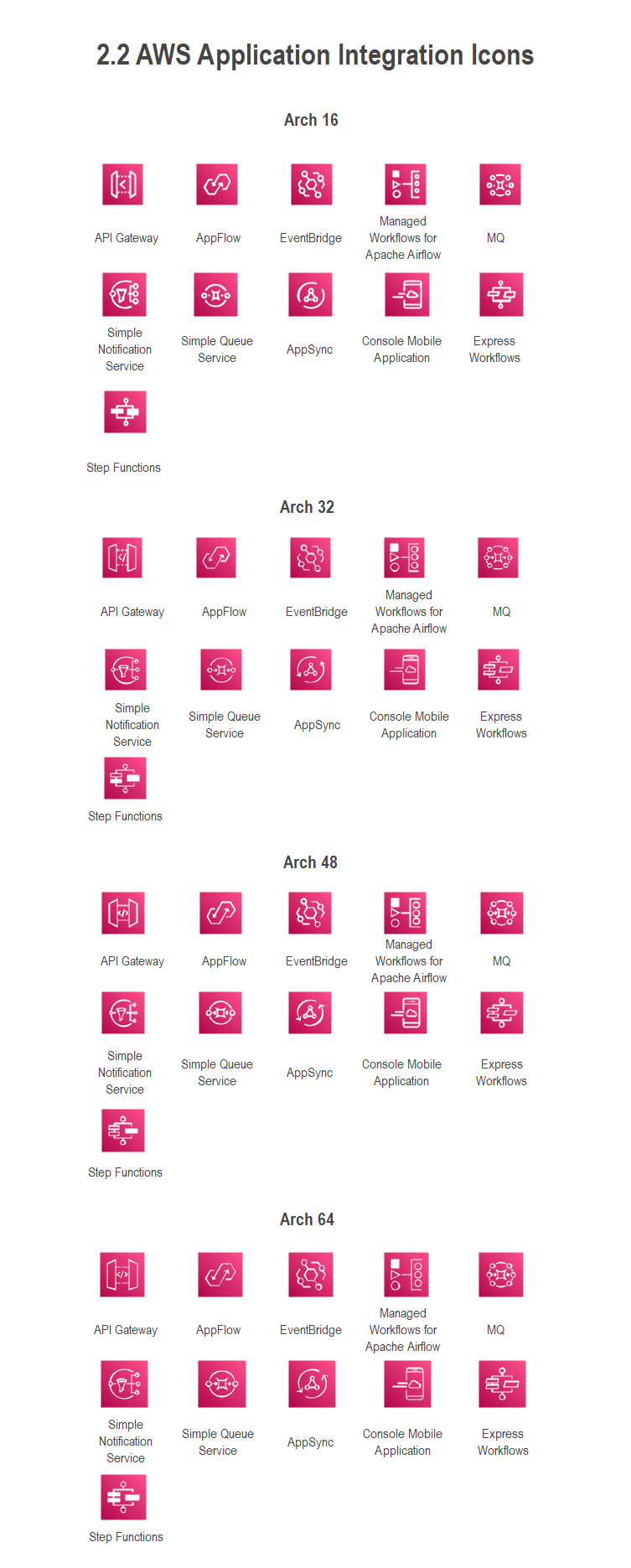 Source: EdrawMax
2.3 AWS Blockchain Icons
AWS Blockchain service supports you in joining public networks and creating scalable private networks. The frameworks for creating and managing networks are Hyperledger Fabric and Ethereum. AWS Blockchain supports building applications in which multiple parties can make transactions but without the need for a trusted, central authority.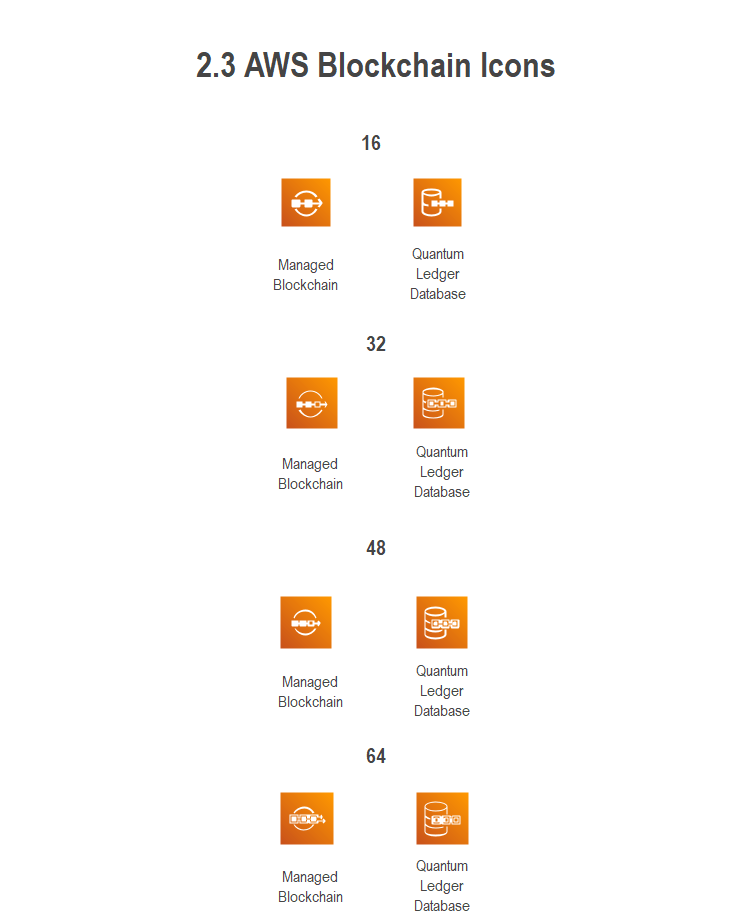 Source: EdrawMax
2.4 AWS Business Applications Icons
Business applications AWS icons include WorkMail, Chime, and Alexa for Business. These applications and tools are targeted for centralized problem-solving, cost-effective cloud, and AI-powered solutions.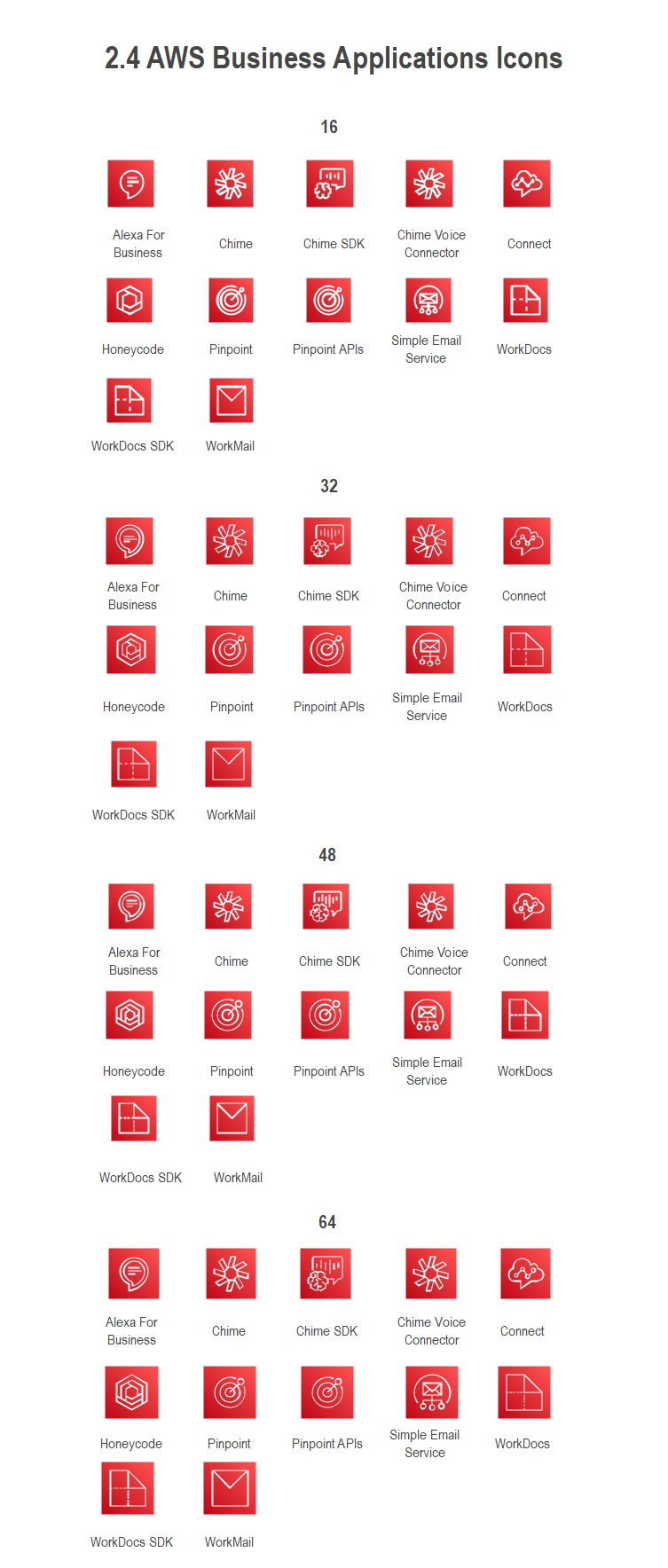 Source: EdrawMax
2.5 AWS Cloud Financial Management Icons
AWS icons set for cloud financial management have tools for visualizing and analyzing cost and usage data to charge back to appropriate entities accurately. This data provides real-time cost data for engineering, application, and business teams. These tools are AWS budget, cost, usage report, Savings plans, application cost profiler, etc.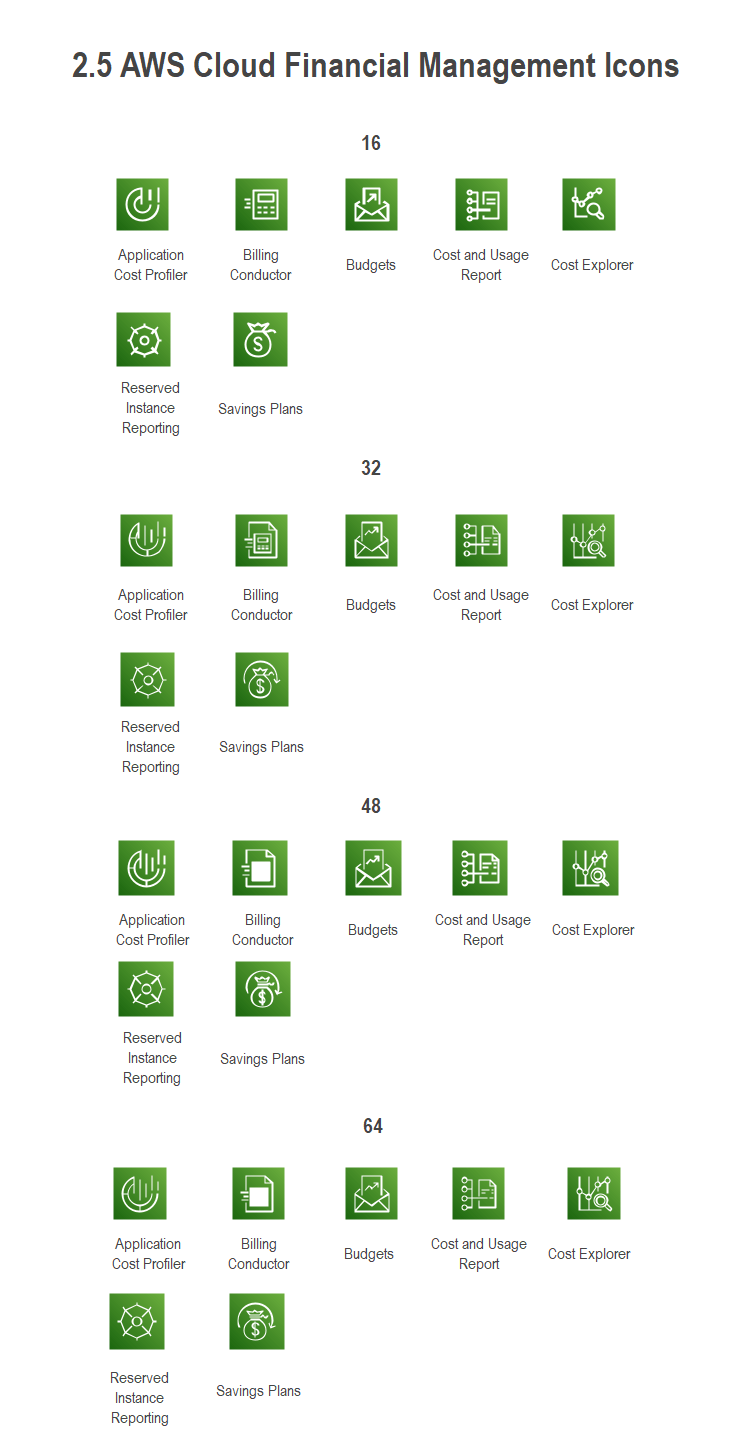 Source: EdrawMax
2.6 AWS Compute Icons
AWS has a consistent set of cloud services using AWS infrastructure, services, APIs, and tools for any facility. It gives you control for managing your infrastructure with the right decisions for processors, storage, and networking but without the added cost of hardware.

Source: EdrawMax
2.7 AWS Containers Icons
AWS containers allow you to manage your infrastructure and support strong security isolation with the latest security updates. Containers enable the development of microservices, batch processing, and application migration.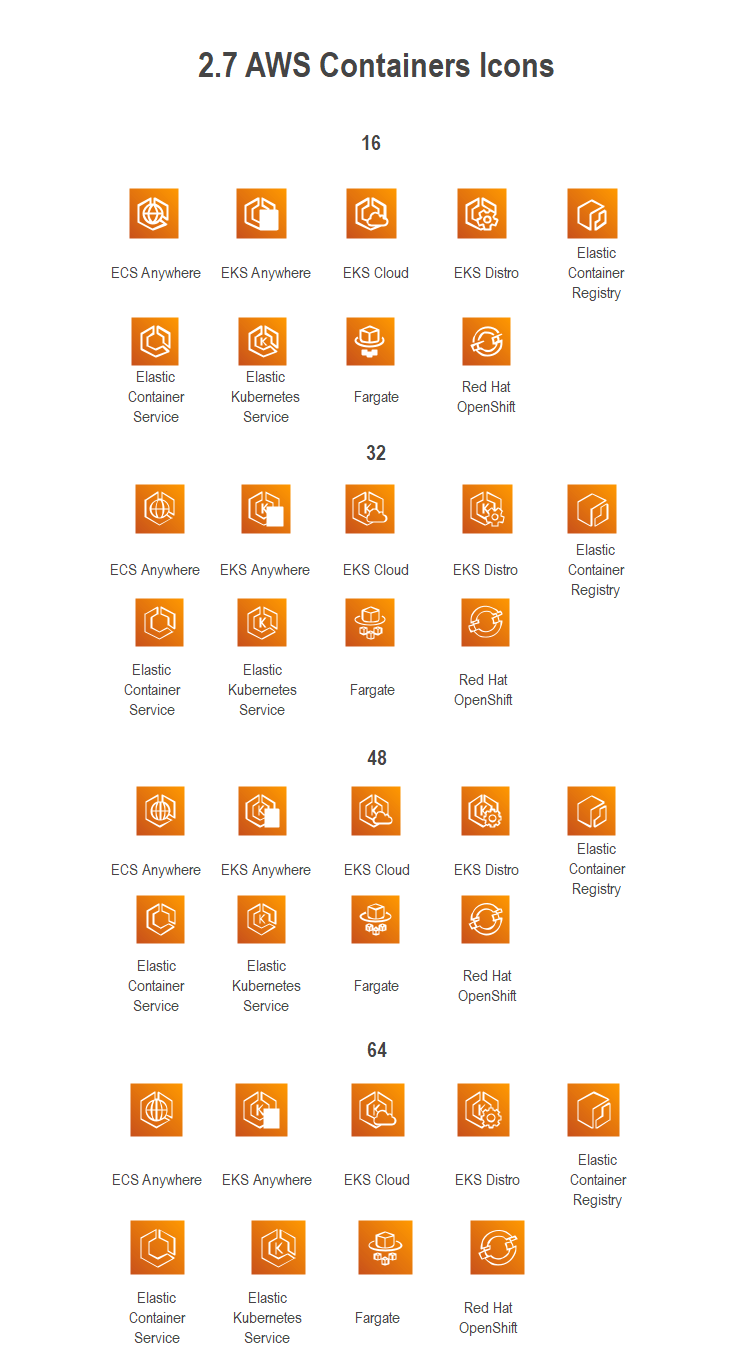 Source: EdrawMax
2.8 AWS Customer Enablement Icons
AWS icons for Customer Enablement services help you deliver your projects faster, build high-performing applications quickly, and optimize costs. Consequently, your project moves quickly and is successful with AWS. These AWS icons are IQ, AWS Managed Services, Professional Services, and AWS Training and Certification.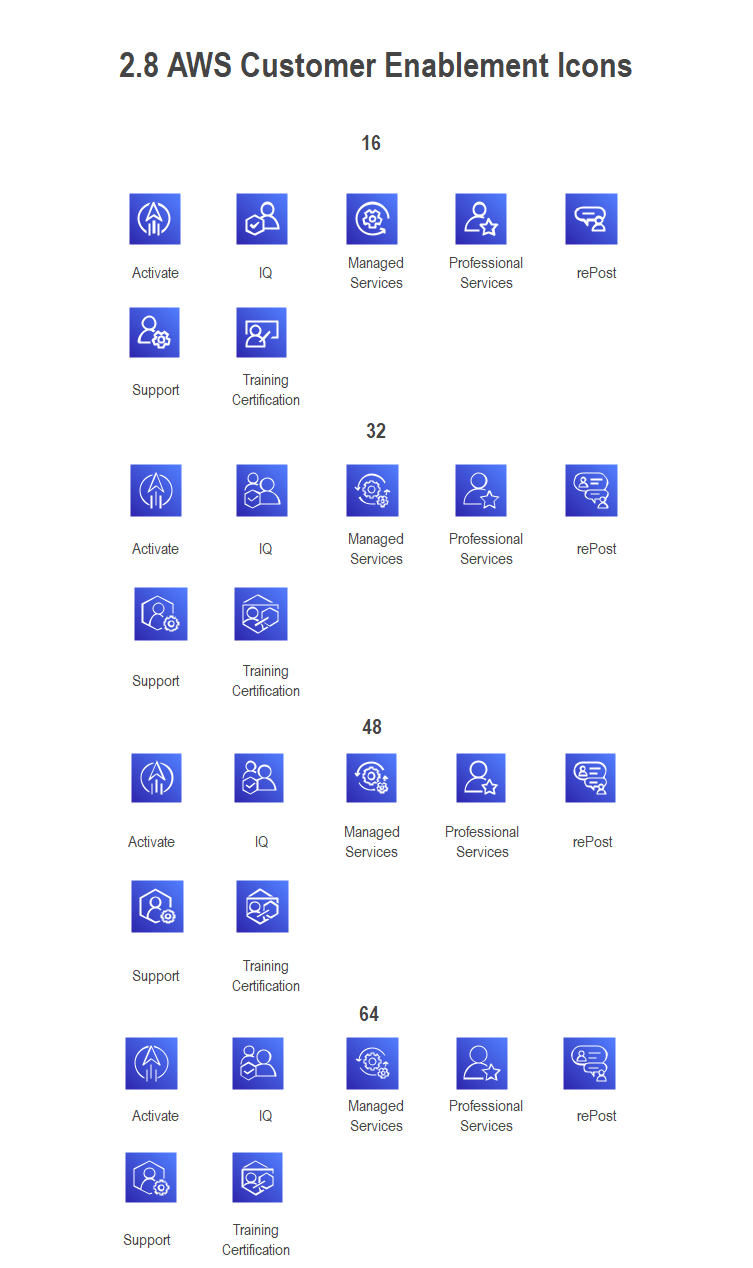 Source: EdrawMax
2.9 AWS Database Icons
AWS database icons include DMS, Redshift, RDS, Neptune, DocumentDB, DynamoDB, Aurora, etc. DynamoDB is a key-value and document database for mobile, web, IoT, gaming, ad tech, and other applications that need low-latency data access. RDS is a managed, relational database service.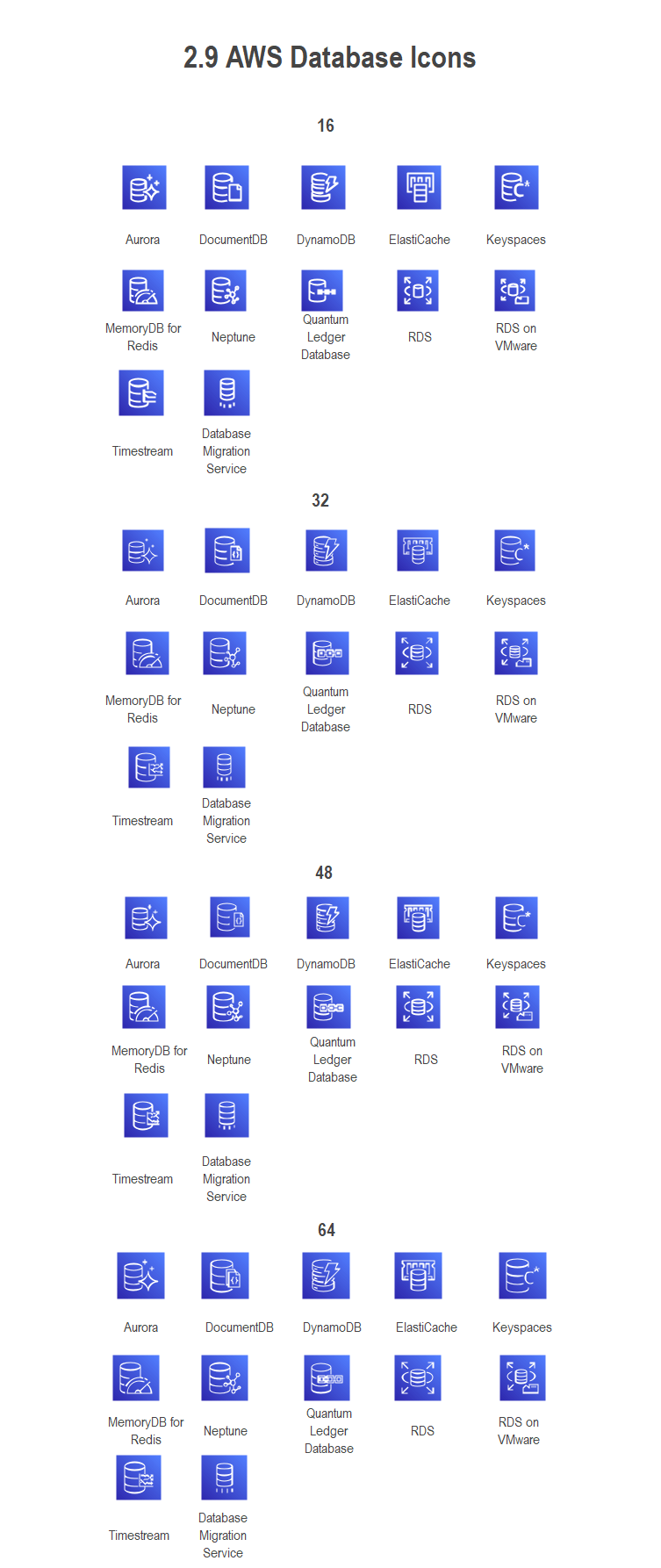 Source: EdrawMax
2.10 AWS Developer Tools Icons
The AWS Developer Tools include CDK, Cloud9, CodeDeploy, CodeStar, CU, SDK, X-Ray, etc. These all represent services to enable developers and IT operations professionals to rapidly and safely deliver software. Also, developers can build, test, and deploy their applications to AWS or their environment.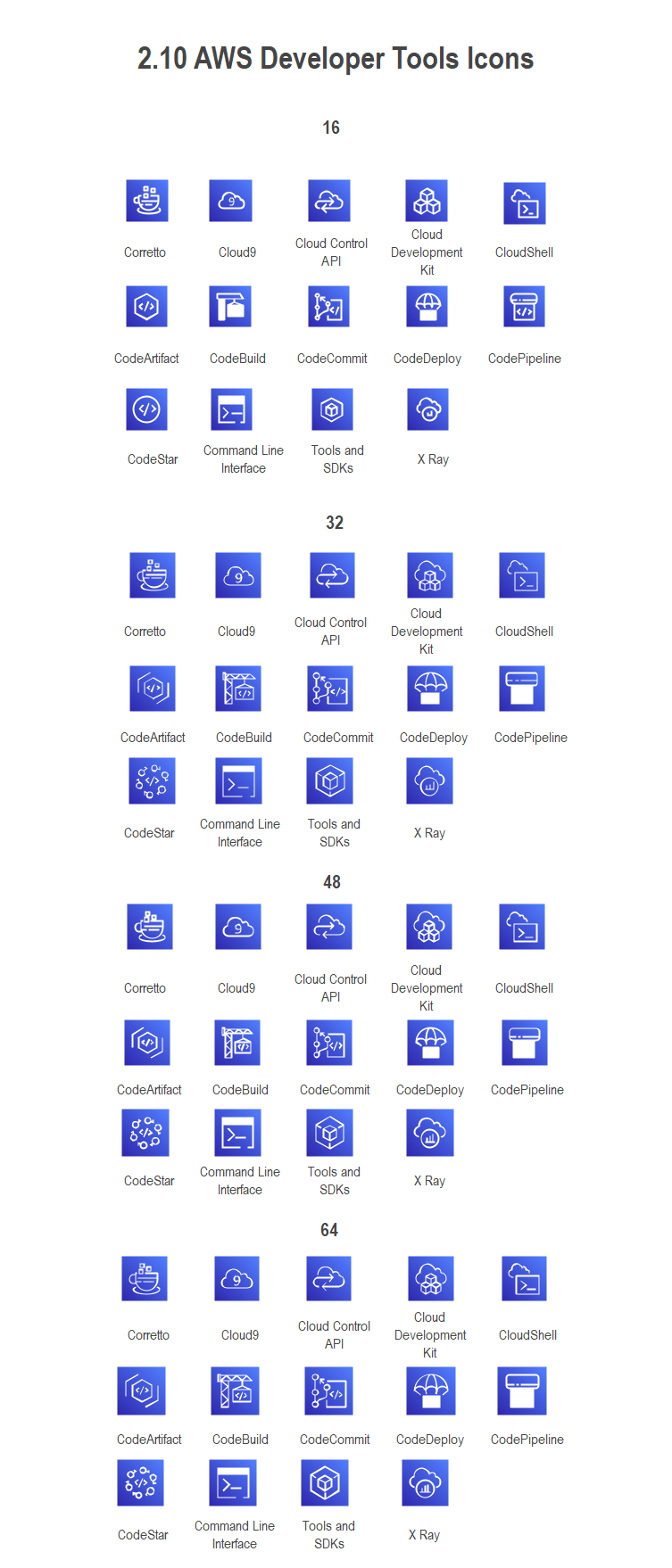 Source: EdrawMax
2.11 AWS End User Computing Icons
AWS End User Computing services include Workspace, Appstream, WorkDocs, and Worklink. These services support the users to be productive by improving IT agility and organizational security.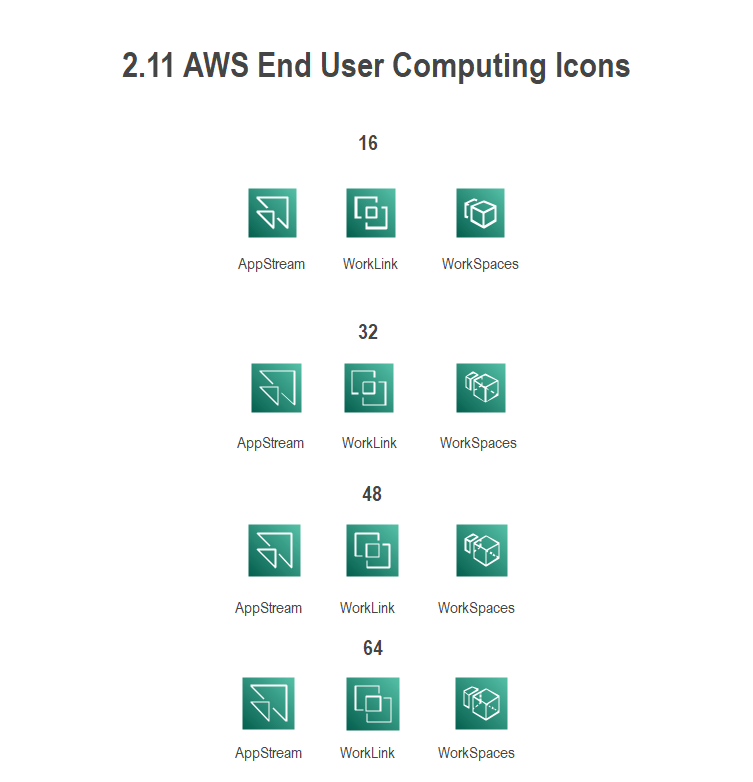 Source: EdrawMax
2.12 AWS Front End Web Mobile Icons
AWS front-end web mobile services include tools and services to support development workflows for iOS and Android and React Native and JavaScript. AWS icons include AWS Amplify, Device farm, and Amazon location services.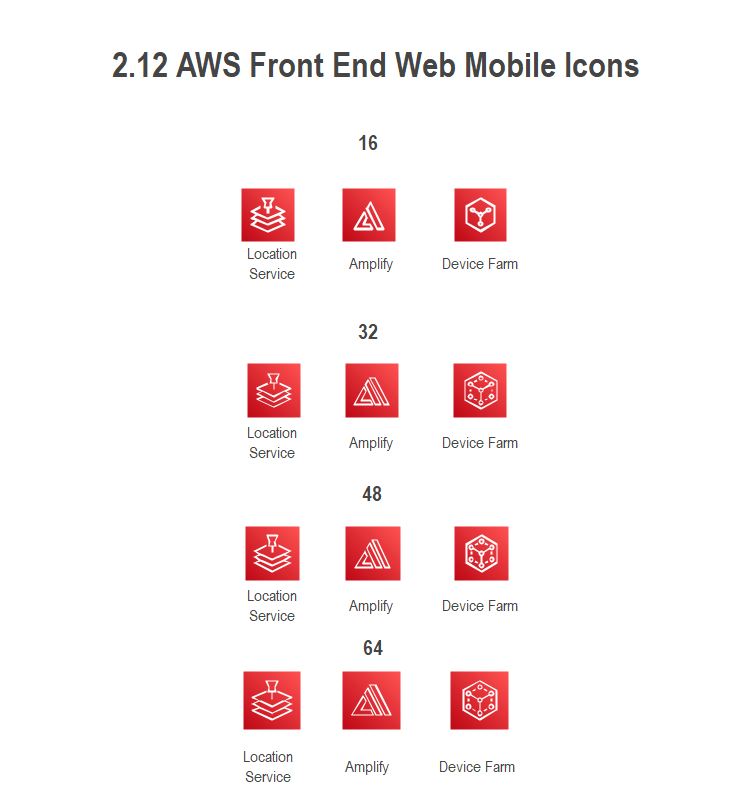 Source: EdrawMax
2.13 AWS Game Tech Icons
Amazon Game Tech gives you tools and services for every stage in the game development lifecycle. It supports connected games, dedicated servers, and all other devices.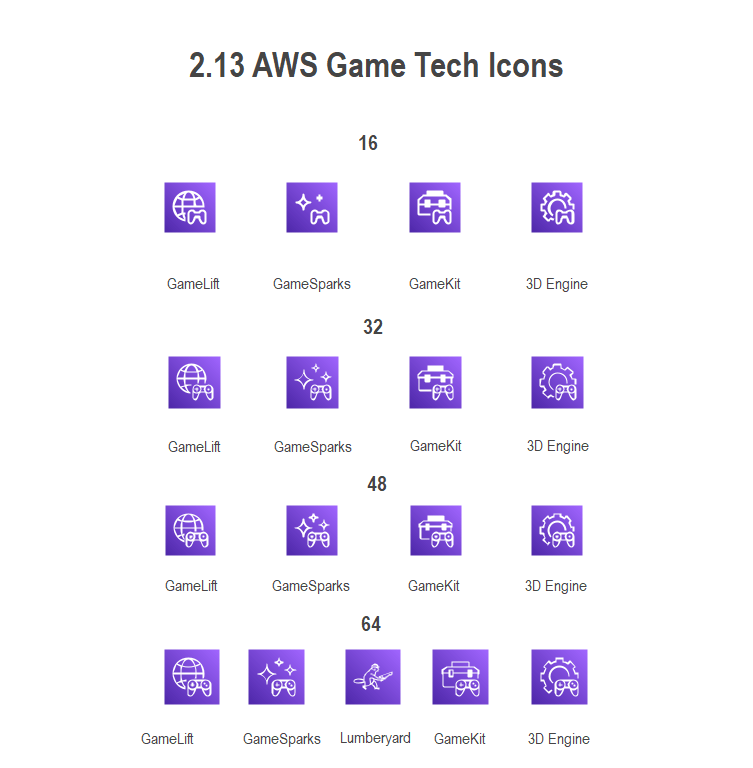 Source: EdrawMax
2.14 AWS Internet of Things Icons
AWS Internet of things icons include AWS icons for ioT analytics, Core, ioT graph, etc. AWS IoT services and solutions can collect, store, and analyze data for industrial, consumer, commercial, and automotive workloads.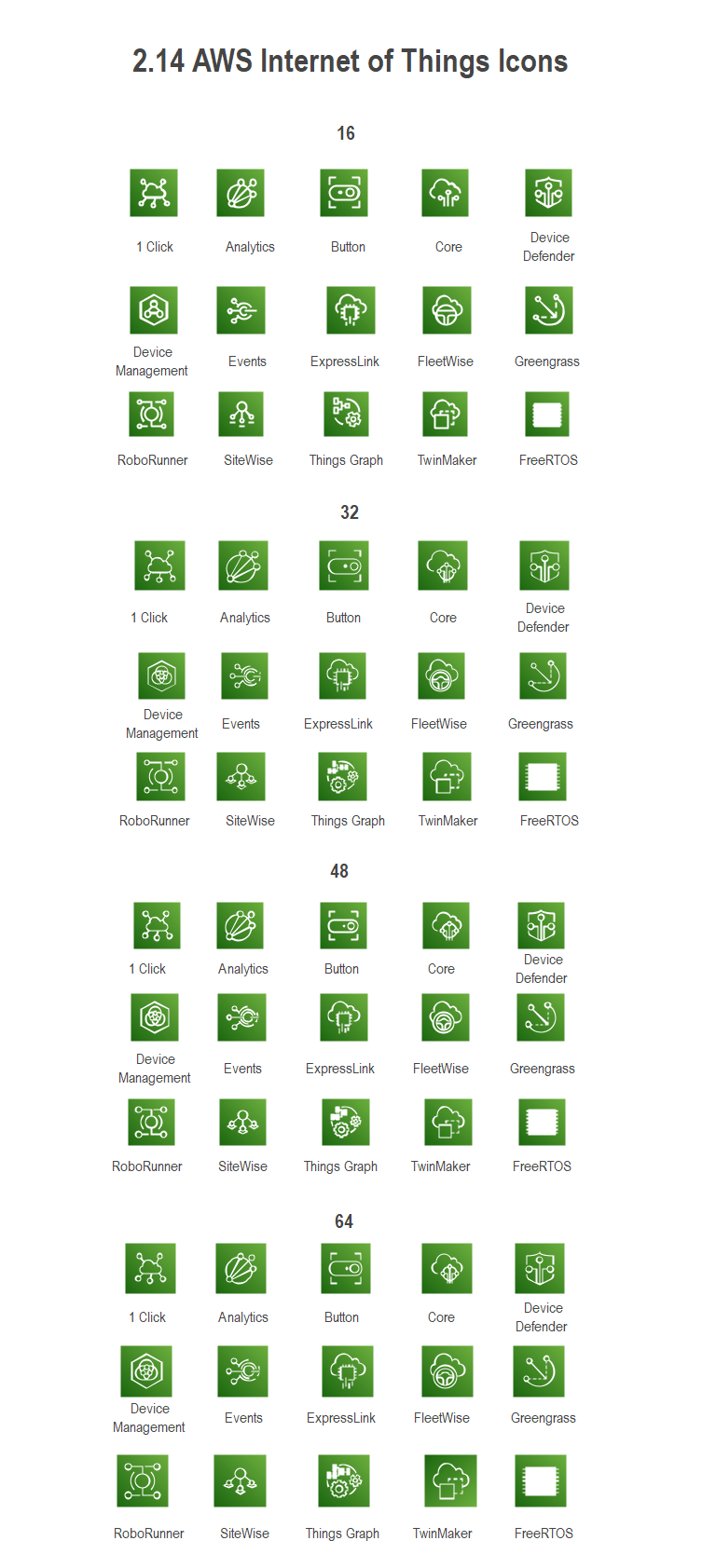 Source: EdrawMax
2.15 AWS Machine Learning Icons
AWS machine learning icons include all tools and services for AI and machine learning based on the AWS platform. These AWS icons include Elastic inference, SafeMaker, Polly, and Kendra.

Source: EdrawMax
2.16 AWS Management Governance Icons
AWS Management and Governance services to build and manage dynamic cloud resources at a grand scale. These tools help you reduce the complexity of management through a single control plan for customers.

Source: EdrawMax
2.17 AWS Media Services Icons
AWS icons for media include all services, software, and appliances for creating, transforming, and delivering digital media fast and efficiently. These services include Elastic Transcoder, Kinesis video stream, MediaCOnnect, MediaConver, Media Live, MediaPackage, MediaStore, MediaTailor, and ElementalServer.

Source: EdrawMax
2.18 AWS Migration Transfer Icons
AWS migration transfer services include database migration, application migration, data migration, and reduced infrastructure costs. These icons include Application discovery service, DMS, DataSync, Migration Hub, SMS, Snowball, Snowball Edge, and CloudEndure.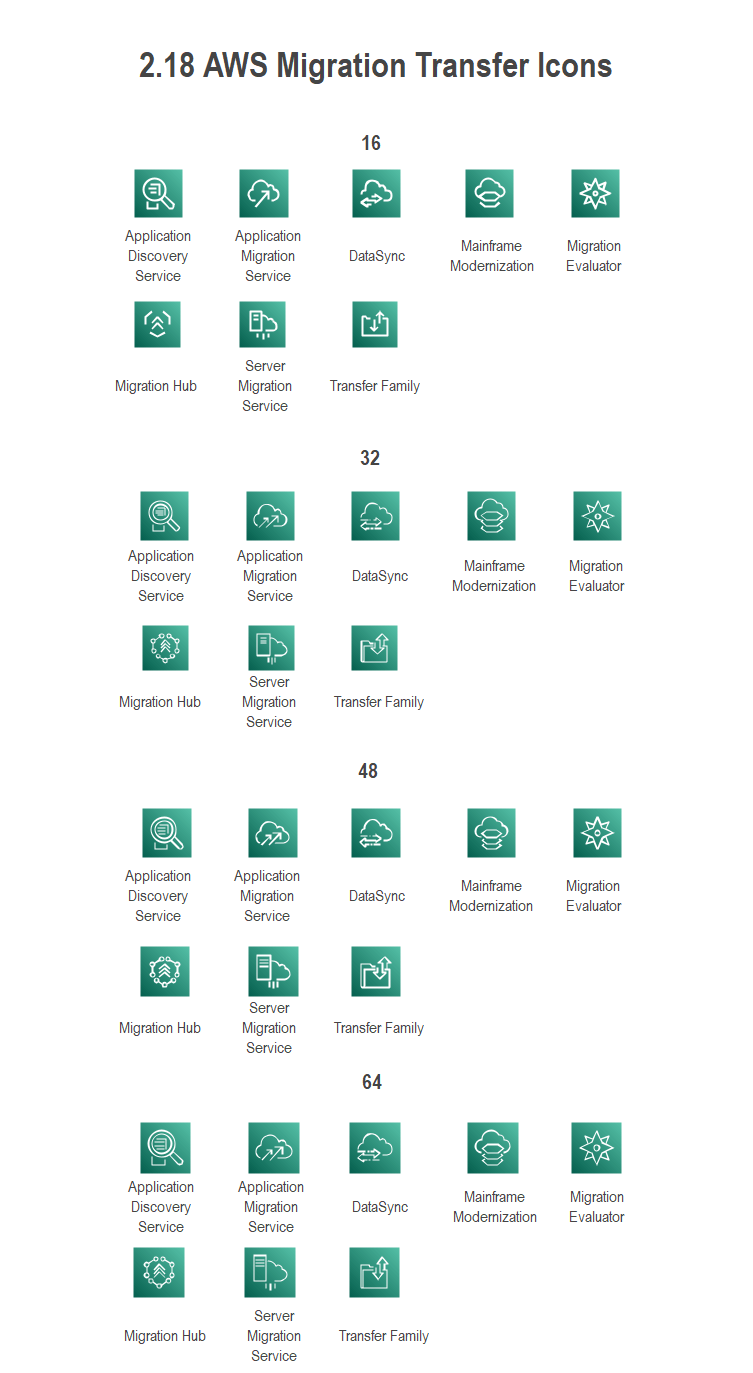 Source: EdrawMax
2.19 AWS Networking Content Delivery Icons
AWS networking content delivery icons include ELB, TransitDateway, 525 VPN, PrivateLink, Global Accelerator, Direct Connect, CloudMap, Client VPN, App Mesh, VPC, Route 53, CloudFront, and API gateway.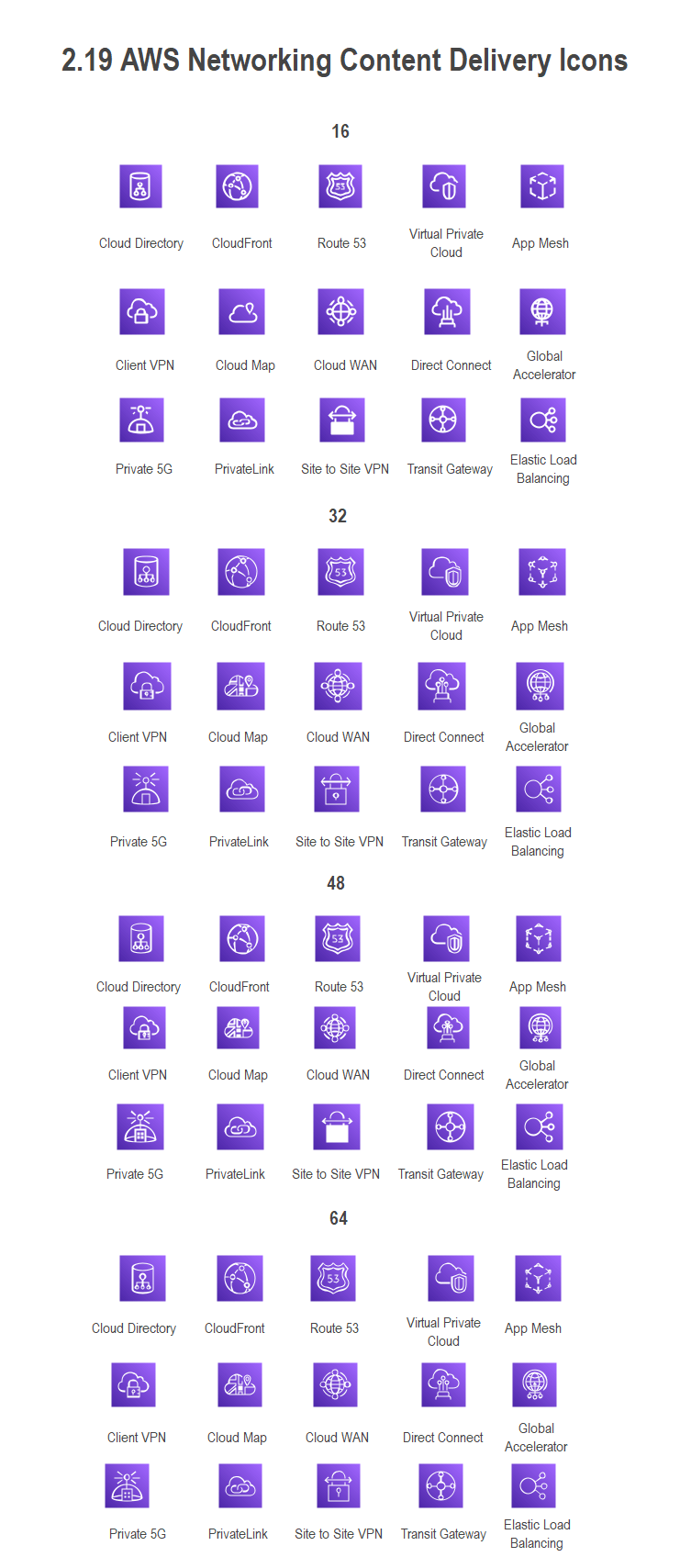 Source: EdrawMax
2.20 AWS Quantum Technologies Icons
AWS quantum technologies are based on Braket, which provides a development environment for exploration and building quantum algorithms. Then, you can test them on quantum circuit simulators and execute them on different quantum hardware technologies.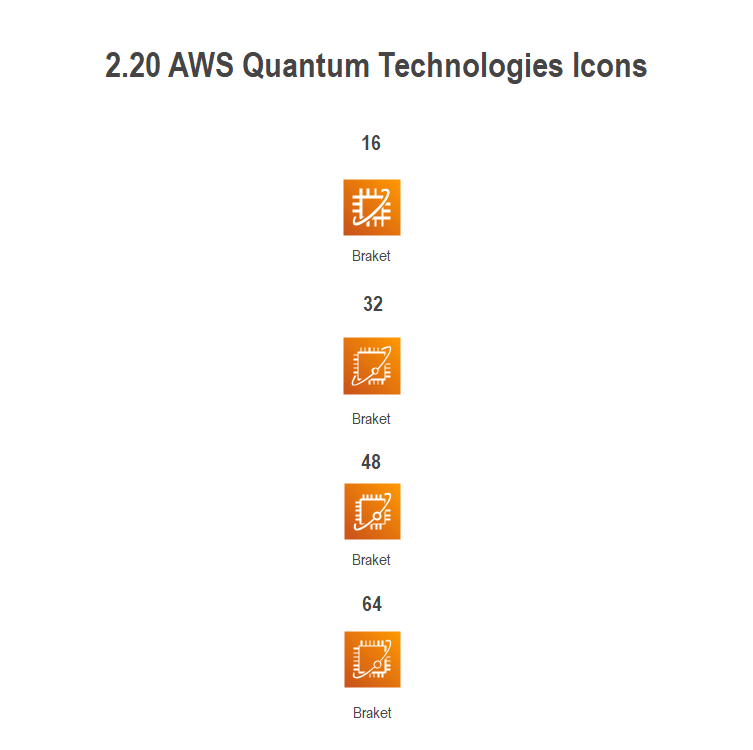 Source: EdrawMax
2.21 AWS Robotics Icons
AWS icon for robotics has the RoboMaker, a service that supports the development, testing, and deployment of intelligent robotics applications.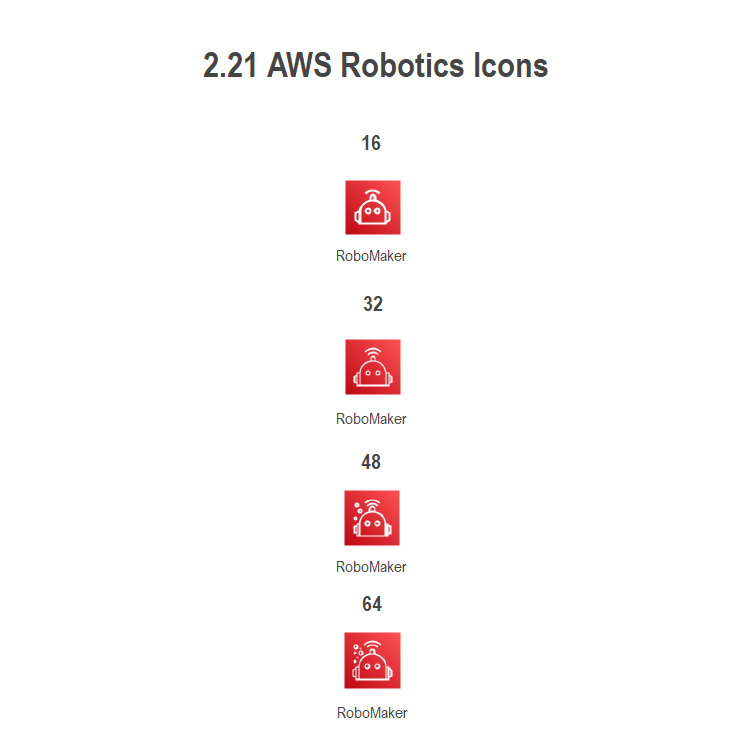 Source: EdrawMax
2.22 AWS Satellite Icons
The AWS satellite icon is Ground Station. It is a fully managed service to control satellite communications, process data, and operations. It can be used for weather forecasting, surface imaging, communications, and video broadcasts.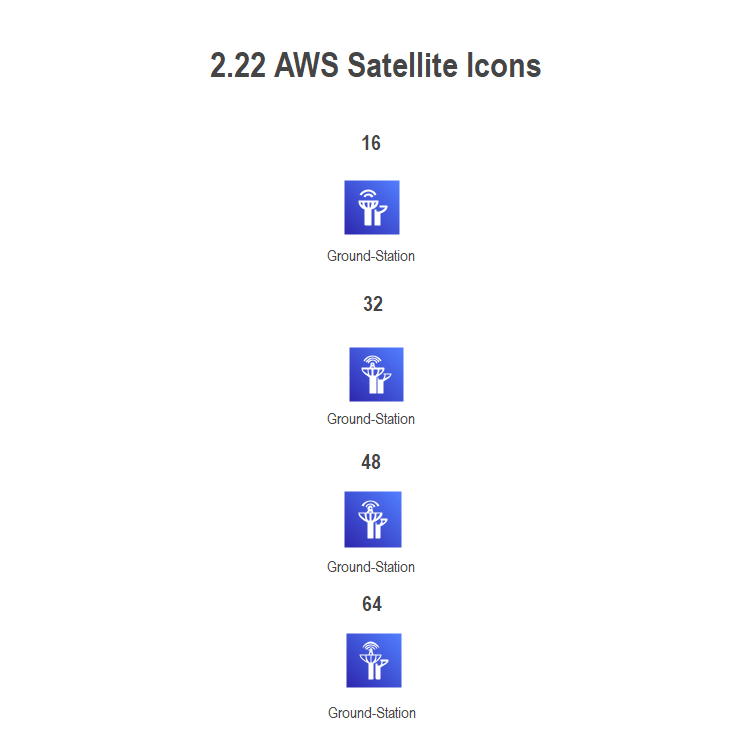 Source: EdrawMax
2.23 AWS Security Identity Compliance Icons
AWS security, identity, and compliance services are Inspector, Artifact, Certificate Manager, CloudHSM, Directory Service, Firewall Manager, Shield, Single Sign-On, WAF, etc.

Source: EdrawMax
2.24 AWS Storage Icons
AWS storage services icons are EBS, EFS, FSx, Glacier, S3, Backup, Snowball, Snowball Edge, SnowballMobile, and Storage Gateways. These services support fully managed and cost-effective file storage.

Source: EdrawMax
2.25 AWS VR & AR Icons
AWS VR and AR services are dependent on Sumerian, which helps you create and run virtual reality (VR), augmented reality (AR), and 3D applications.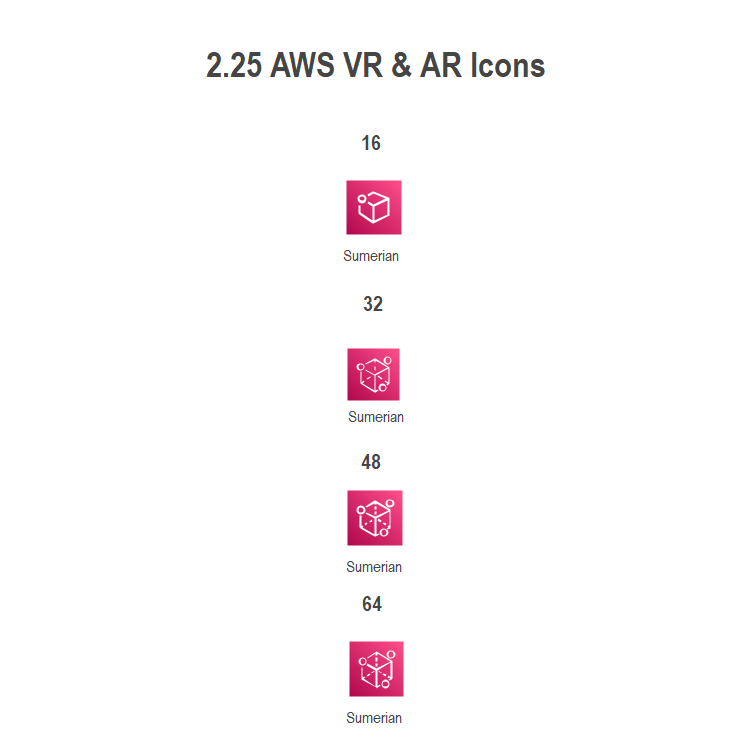 Source: EdrawMax
An AWS diagram is a visual representation of your Amazon Web Services architecture. You will need specialized standard icons, containers, and lines that show connections. Consequently, an AWS developer, user, and administrator must have dedicated drawing software with well-stocked AWS icons libraries.
EdrawMax is a perfect solution for all popular cloud services with dedicated AWS, Azure, and GPS libraries. It also has a set of templates to give you a quick start and an introduction to the best practices from the professionals.
EdrawMax is a complete diagramming solution for many diagrams, including teaching resources, industrial diagrams, architectural diagrams, garden designs, reading and writing worksheets, and many others. Using EdrawMax is very simple, and we can line it up in a few steps.
4.1 How to Use AWS Icons in EdrawMax
Step1
Launch and Sign in to EdrawMax
If you already have an account with EdrawMax, sign in to move on. Otherwise, you can create an account using the registration link and choose the relevant options. After logging in, you have two options. You can either use a template for building your diagram or start with a clean canvas. Navigate to New and choose a blank diagram. For templates, navigate to Templates and search for AWS.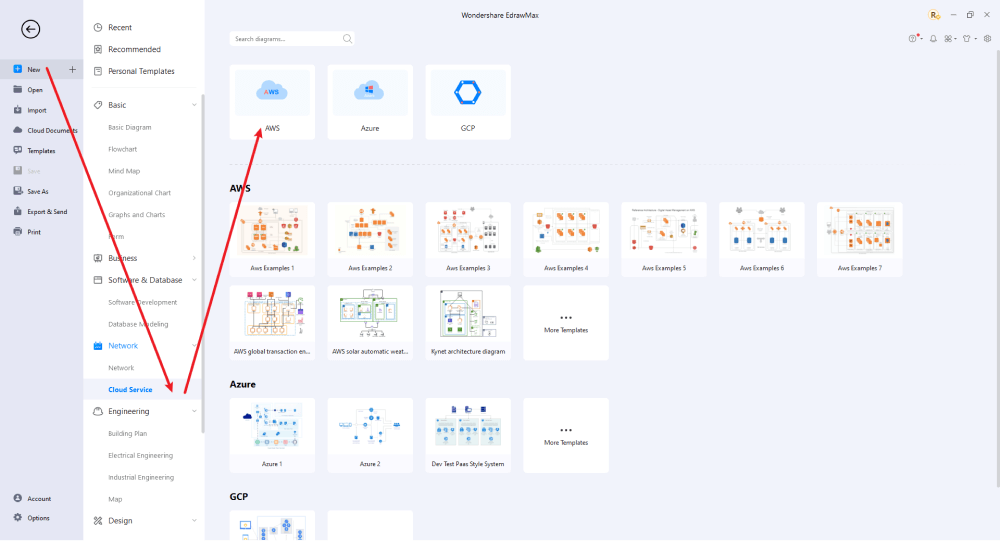 Step2
Select AWS Symbols
Unlike physical drawing, EdrawMax helps to create an AWS diagram easily. In the symbol section of EdrawMax, you will find over 260,000 vector-based symbols that you can use in your designs. In EdrawMax, you can find AWS symbols in Symbol Libraries on the left toolbar. You can click on the "+" option to open a new canvas to make your AWS diagram. On the left side of the canvas, you will see a symbol library with many AWS symbols. You can search for specific symbols in the search bar.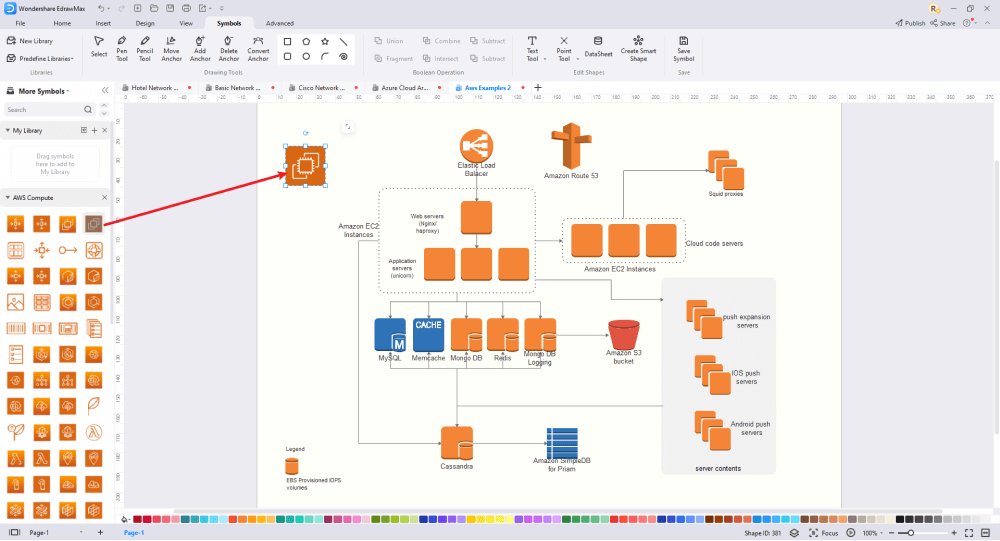 Step3
Drag and Drop
Once you find the proper AWS symbols you want, just drag and drop the symbols to the canvas easily. Keep customizing by choosing the right symbols, proper scale or dimensions, and adding more details, like color, font, etc. When completed your AWS diagram, you can export your file or share your design effortlessly. Learn more AWS Diagram Guide here if necessary.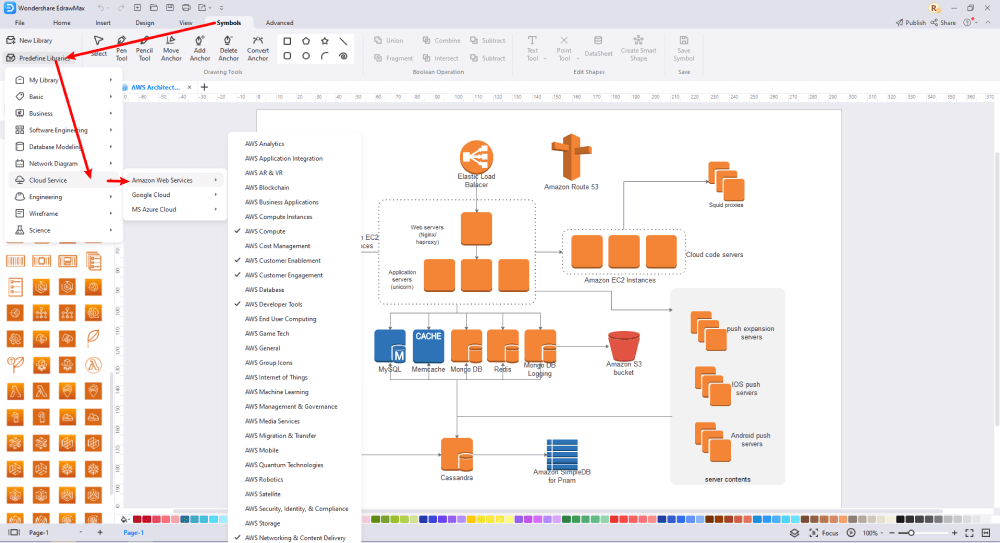 Step4
Save and Export
Save your completed diagram and download it. You can also export your diagram in more portable formats, e.g., image formats, pdf, ppt, JPEG, etc. These options are available in the Export link from the File menu.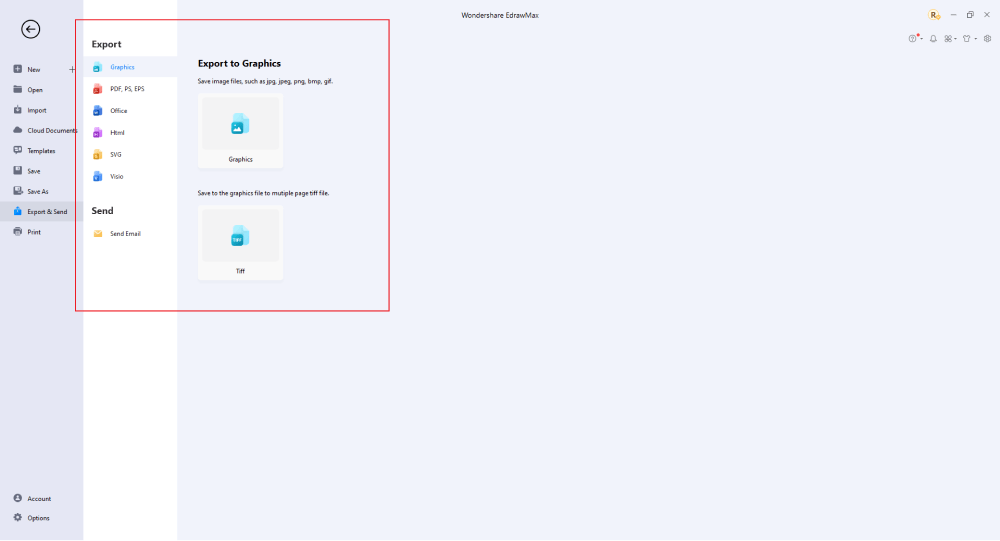 4.2 How to Import and Create More AWS Symbols in EdrawMax
EdrawMax believes in community contribution and continuous improvement. Hence, it also has the option to extend your symbol library by importing and creating more AWS icons. Different ways to extend your library include creating a new library and creating your symbols. Click New Library in the menu under the Libraries link. There will be a new blank library on the left library pane that you can rename according to your choice.
Step1
Find Symbol Tool
If you can't find any symbol similar to the one you want, you can use the pencil tool, pen tool, and anchor tool to draw your personalized AWS symbols. It is much easier to draw the symbol you want on EdrawMax instead of searching for the one that suits your requirements. You can also save your symbol in the library for later use.
Select "Symbols" on the upper Toolbar;
Use "Pencil Tool", "Pen Tool", "Anchor Tool" to create garden symbol from very beginning;
Choose "Union", "Combine", "Subtract", "Fragment", "Intersect", "Smart Shape" to make your symbols.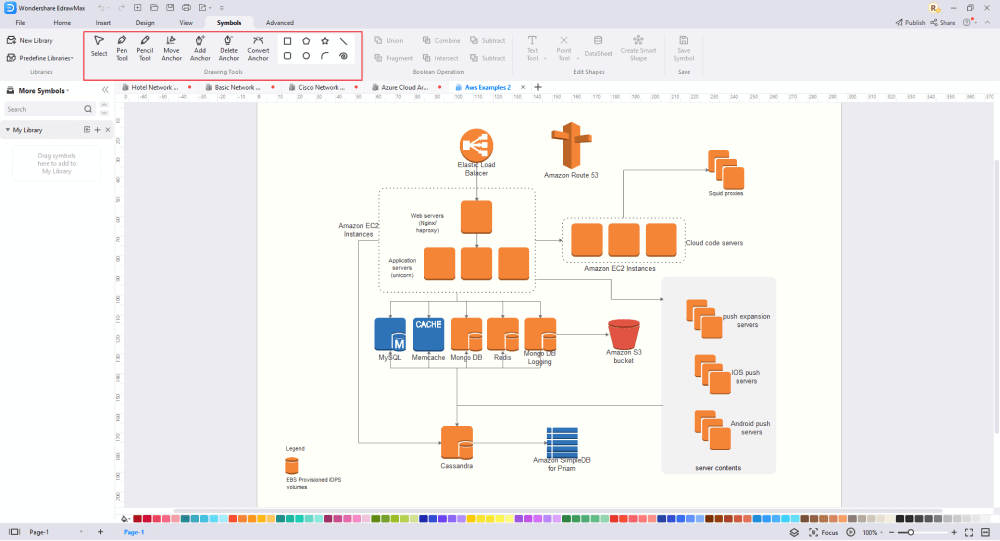 Step2
Create AWS Symbols
Creating your AWS icons in EdrawMax is like making another diagram, as we described above. On the canvas, draw your symbols by using the shapes in the left pane and then modifying them using the 'Symbols' menu in the toolbar. You can use the Pencil tool, Pen tool, etc. Use Symbols> Symbols Tools, including Union, Intersection, and more.
You can use various pen styles to make different parts of your symbol.
Make sure that the illustration inside the shape does not overlap it.
When making an icon, use the right color to represent the icon.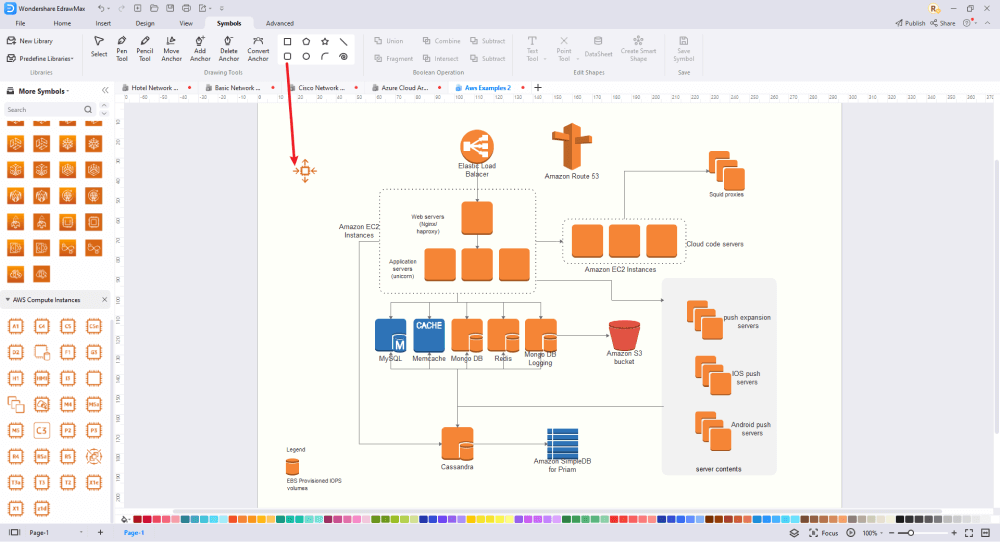 Step3
Import Symbols
Along with the 'My Library' title, you can see an import symbol option; clicking on this link opens the Import dialog. In the Import Symbols dialog, you can import Images, SVG, and VSSX. Importing EDT/EDL files option is for adding the library that you have already built.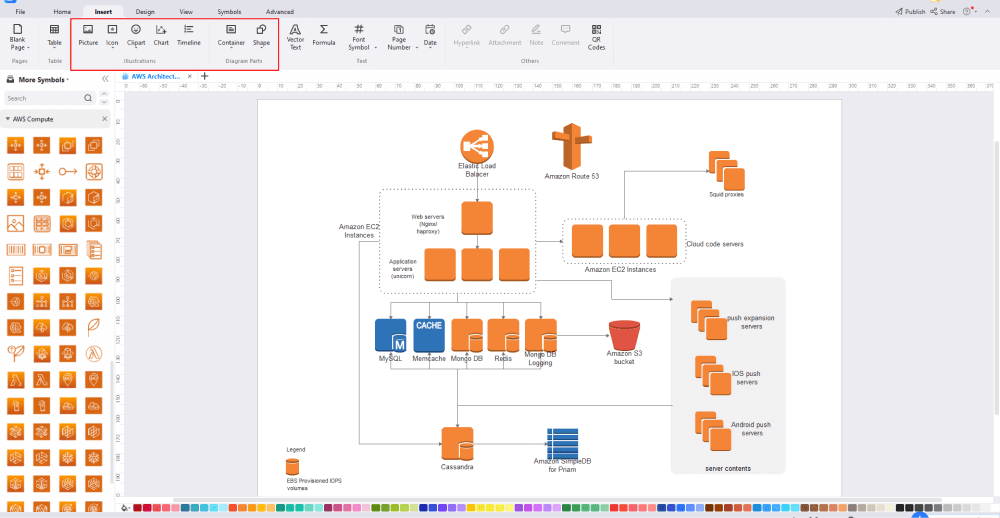 Step4
Save to Your Symbol Libraries
Once you completed your AWS symbols design or import your symbol images, you should still click "Symbols" on top, and choose "Save Symbol" to your symbol Libraries. Or you can click "+" in My Library on the left toolbar. Learn more about how to draw AWS diagrams or design an AWS diagram from this AWS Diagram Guide here.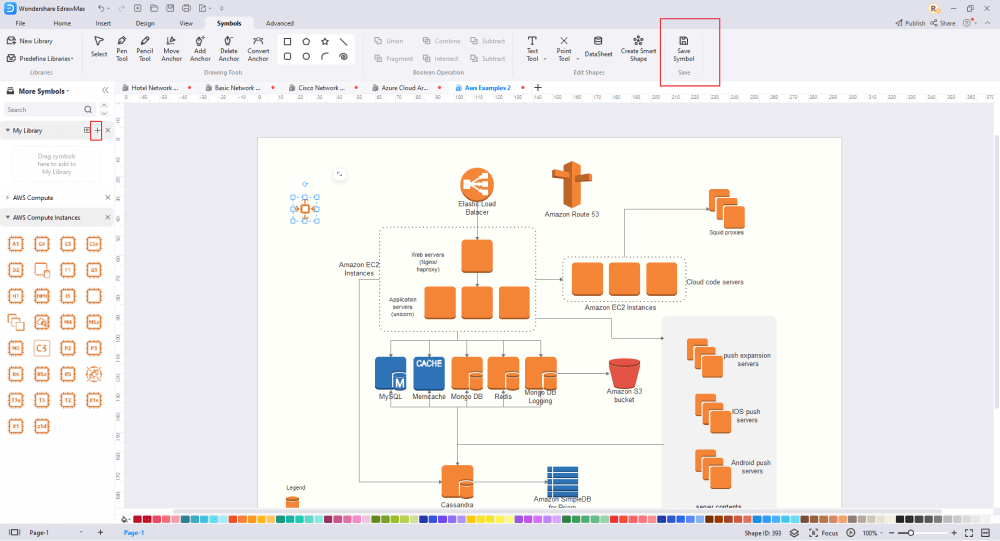 EdrawMax is an AWS architecture diagram tool that offers around 280+ types of diagrams. It has organized libraries for all diagrams. The salient features of EdrawMax are:
Key Features of EdrawMax:
EdrawMax gives you a quick start with pre-designed templates created by the industry's top professionals. You can download and use these templates for free.
It has an Intuitive layout with drag and drops features and well-placed toolbars, symbol library, and customization tools.
EdrawMax is a dedicated drawing software for professional diagram making, which is a great shift from simple drawing software. You can find icons for all available diagram types and can also import your icons.
It has a smooth learning curve and does not require any training or technical background.
You can test all features in the trial version before investing in a paid package.
Cloud services are becoming immensely popular because users can use state-of-the-art hardware and software without high investments. So, developers and administrators can only manage their code while leaving infrastructure and hardware issues to AWS. AWS offers a very large range of services, including web apps, mobile apps, security, networking, AI, etc. AWS icons are a set of symbols and icons introduced by Amazon to visually represent the solutions and infrastructure.
EdrawMax is an AWS architecture diagram tool that allows you to create detailed diagrams of AWS solutions with a fully stocked AWS icons library. You can also use other libraries to add more description and detail to your diagrams. Also, the Templates Community supports you a great deal for a quick start.