Network Diagram Examples & Templates
Any network related to this digital world can be represented through a virtual or physical image. That virtual or physical image is known as network diagram. All components of a network can be shown in these diagrams depending on their type, size, and purpose. Components like routers, devices, sources, computers, receivers, firewalls, hubs, and databases together unite to make a successful network. A Network diagram can show even the complex network arrangements through mapping and graphing, making it easier to understand people. A Network image consists of a lot of details, points, and joints. Any company, agency, or organization can't stand without such networking figures. Networks are broadly divided into Physical Networks and Logical Networks.
You can go through several network diagram examples, which tell how a good network arrangement can build a successful company. If you have a loose or weak network system, then definitely, you are going to face issues in daily life. In this article, you will see different benefits of network diagrams, which will make you understand the importance of a good network. Further, in this article, you will learn to create a well-labeled network diagram by using the EdrawMax application. There are various customization and management tools to create a perfect network image. Some examples regarding different types of Networks will help you to decide on the best network according to your needs.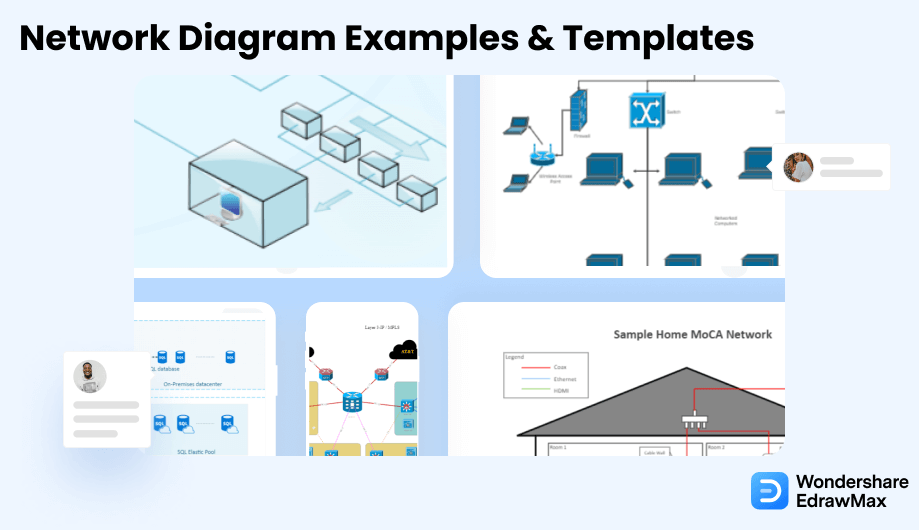 A network diagram example is a visualization of a wide network that shows how each activity is linked with each other through different meeting points. It tells the types of networks being used, time consumed by an activity, and involvement of various tasks in a packed system.
Different Network diagrams involve the use of specific symbols, graphs, lines, and mappings. An icon denotes the representation of a device being used in that network diagram. Some represent the actual devices, whereas some of them represent the connection between devices. These examples help in allocating various resources so that anyone can analyze the status, progress, evaluation, and depletion of a certain data or project. An example showing a visual network must have clear markings, identifiable components, completion points, different interrelationships, and an estimated time calculator to be the best guide for others.
1. Network Topology Diagram
2. Logical Network Diagram
3. Physical Network Diagram
4. Rack Diagram
5. LAN Diagram
6. WAN Diagram
7. MAN Network Diagram
8. Cisco Network Diagram
9. AWS Network Diagram
10. Azure Network Diagram
11. GCP Network Diagram
12. Computer Network Diagram
13. Firewall Diagram
14. DMZ Network Diagram
15. Network Switch Diagram
Example 1: Network Topology Diagram
A network is comprised of nodes and several connecting lines between a sender and a distant receiver. This arrangement is known as Network Topology. Network topology is nothing but how the network components are arranged. The network topology can be illuminated both physically and logically. With different types of network topologies, the flow of data between the devices in a network also varies. It causes many pros and cons within different network topologies. The physical topology shows us how the network hardware components are arranged, while the logical topology depicts how the data flows between the devices in the network.
Example 2: Logical Network Diagram
Logical networks represent the flow of information in a particular network. The components of the Logical network shown in the above example are subnets like IP addresses, masks, and VLAN Id, routers, firewalls, internet protocols, routing domains, traffic flow, segments, and voice gateways including many other network objects. It is known for easy management of networks by sharing information, capacity planning, eliminating redundant activities, and identifying troubleshooting problems.
Example 3: Physical Network Diagram
Physical Network is the second type of Network topology. It reflects the actual image of a network topology showing all its components and connections within them. They show all the physical features like cables, servers, ports, racks, hubs, and many more. You can imagine a physical network as a server diagram, cabling diagram, combination of diagrams, or rack diagram. It is responsible for reflecting all physical components of an entire topology. These components can be connections, labels, diagram legends, and switch stacks.
Example 4: Rack Diagram
The rack diagram is also illustrated in form of rack elevation. It virtually represents various IT equipment of an organization inside a specific server rack. It is usually used to monitor and manage different assets of a data center. Server Racks are placed to ensure security within a system. You can easily find them in central data hubs, or even in small computers. One should plan properly before installing these server racks, as they can create problems like insufficient space.
Example 5: LAN Diagram
LAN is known as a Local Area Network that connects local regions or places like schools, houses, offices, laboratories, and private buildings. It is a device that is linked with a domain server of a particular locality. This helps in sharing a particular printer or a disk with hundreds of customers. It is made up of several wires and connecting cables, which are linked on the base of a previous network diagram. It reflects the communication schemes, physical structure, and network arrangements in local areas. They are mostly used by IT professionals to monitor networking in a particular area.
Example 6: WAN Diagram
WAN is known as Wide Area Network, which is a collection of local area networks. It is distributed geographically and is connected to the main network by using several services offered by local carriers. WAN networks are mostly used in enterprising environments, which have their offices in various states, countries, and cities. In old times, WAN was a limited network within T1 lines, switching services, modems, and other low-bandwidth devices. They mostly connect with ISDN, but now there are other options available too. Now, WAN can be used by low as well as high bandwidth services and connects through VPNs.
Example 7: MAN Network Diagram
MAN is known as Metropolitan Area Networks, which is of greater size than local area networks, but has a smaller size than Wide Area networks. It is mostly used to connect networks in a specific city. MAN Network has a size range starting from 5 km to an end range of 50 km. You can compare it to the size of buildings located on a particular campus, or the size of a complete city. Data rates are usually found to be higher than moderate rates. MAN network is usually owned by different user groups and network providers. They offer services to every single user located in their range and share local resources within them. They work as an uplink to connect the internet, LANs, and WANs to each other.
Example 8: Cisco Network Diagram
Cisco Network is the world's famous networking leader in the computing sector. It helps to transform connections and collaborations in people of different-sized companies. This network manufactures various networking equipment starting from routers, bridge switches, frames, and servers, to managing software. It is considered the most intelligent architecture of various network types, which is used by higher organizations for secure connections. Cloud, WAN, and LAN, all three networks use Cisco as their networking system based on the internet. Cisco routers have advanced analytics, optimized applications, and integrated security for providing secure and verified solutions.
Example 9: AWS Network Diagram
The example is one of the best AWS network diagram examples in terms of cloud platforms. It reflects the architecture diagram of a cloud computing platform offered by Amazon. This diagram contains various segments, lines, specialized icons, symbols, containers, and connections. Amazon Web Services (AWS) diagram is used to illustrate to people the basic networking design adopted by Amazon. It can be used to plan projects, design architectures, and audit blueprints. You can also use this diagram to connect and conspire with other teammates. Creating these diagrams is quite easy by following some simple steps and keeping important points in mind. EdrawMax is a perfect application for creating such designs and applications.
Example 10: Azure Network Diagram
The azure diagram is another cloud computing architecture diagram led by Microsoft. It helps in designing various applications and solutions in the Microsoft cloud. We know that Azure is based on a cloud network that analyzes, stores, computes and represents virtual graphics and infrastructure. Azure Network topology allows you to visualize all resources involved in a network virtually. Azure Portals, power shells, and Azure CLIs are different options to visualize a topology. It's a mapping that shows how the infrastructure is arranged and managed as compared to an architectural size.
Example 11: GCP Network Diagram
The visual representation of a cloud networking platform by Google is called as GCP Network Diagram. Google Cloud Platform is a wide network, and therefore, it needs a clear diagram to get captured by others. GCP network diagram works like an infrastructure design and offers each basic and necessary aspect of the program. GCP network diagram users to get access to a wide network and execute that in their respective projects and databases. Normally, people find it hard to understand such cloud platforms because they don't know how it works. So, Google Cloud Platform serves as the simplest and easiest networking platform to work with clear connections through its networking diagram.
Example 12: Computer Network Diagram
A system that combines various independent computers into the main network that shares information, resources, and services is known as Computer Network Diagram. This works as an integrated network within different computers to ease the communication between various users. Different computers unite and get linked together to form a successful computer networking system. This system can be wireless as well as cabled, depending upon the users' needs. Servers, hardware, software, browsers, PCs, and other hosts are reflected as different nodes involved in this system's example. Different hosts and IP addresses are used to locate a specific device in a computer network.
Example 13: Firewall Diagram
A firewall acts as a barrier between LAN and unprotected internet. It keeps the internal storage aside from incoming data and packages. It keeps each database confidential to the authorizer and hence, eliminates the risk of hacking and tampering. We can say it is responsible for controlling network traffic from both directions. The above example represents a firewall that distinguishes between local networks and unrecognized internet. The point where both are connected is known as the vulnerability joint. You can use hardware as well as software for this joint to filter unsafe content.
Example 14: DMZ Network Diagram
DMZ is known as a Demilitarized zone, which is used to secure and attach one more layer to the security zone of LAN from unverified sources. A usual DMZ works as a connection between private and public networks. DMZ filters the untrusted traffic from unknown sources and allows it to enter the system when found safe. It restricts all data that is found to be unsafe for the system's security. DMZ stores different resources, external services, DNS (Domain Named System), mails, VoIP, FTP (File Transfer Protocols), proxies, and various web servers inside it. It limits access to any local area networking system to ensure the safety of the internal data. DMZ acts as a rivalry to hackers, as it makes the files and systems harder to get hacked and tampered with.
Example 15: Network Switch Diagram
The above example is a virtual representation of a network switch, also known as a bridging hub or a switching hub. It uses packet switching for connecting devices in a computer network system. It acts as a multiport that works on MAC addresses for forwarding the data to the second layer of the OSI blueprint. Switches that transfer data to the third layer by routing services are known as layer-3 switches.
EdrawMax is vector-based software that provides various templates for your network diagram. It provides an easily understandable interface for its users to draw efficiently and helps users edit existing templates and layouts and make their designs or template. It also provides network diagram symbols to illustrate your network diagram. There are two methods for creating a network diagram by using Network diagram examples:
2.1 Make Network Diagram from Desktop
Step1
Install EdrawMax
You can edit the templates directly from this page. First of all, when your mouse click to the templates on this page, you can download the EdrawMax easily, or you can download EdrawMax here.
Step2
Download the Template
After installing EdrawMax, you can go and download the template by clicking on the bottom right corner or look for a template in the EdrawMax library without going online in desktop.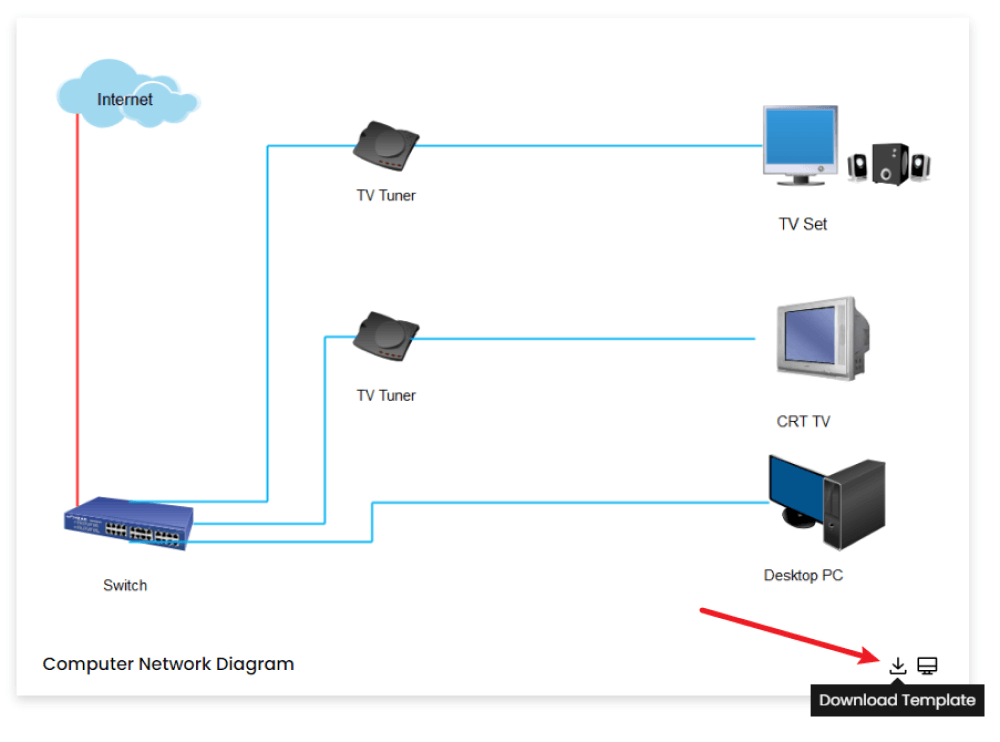 Step3
Open the Template
After downloading the template, you can double click to open it in EdrawMax diagramming software, or you can open EdrawMax beforehand and navigate to the template to open it.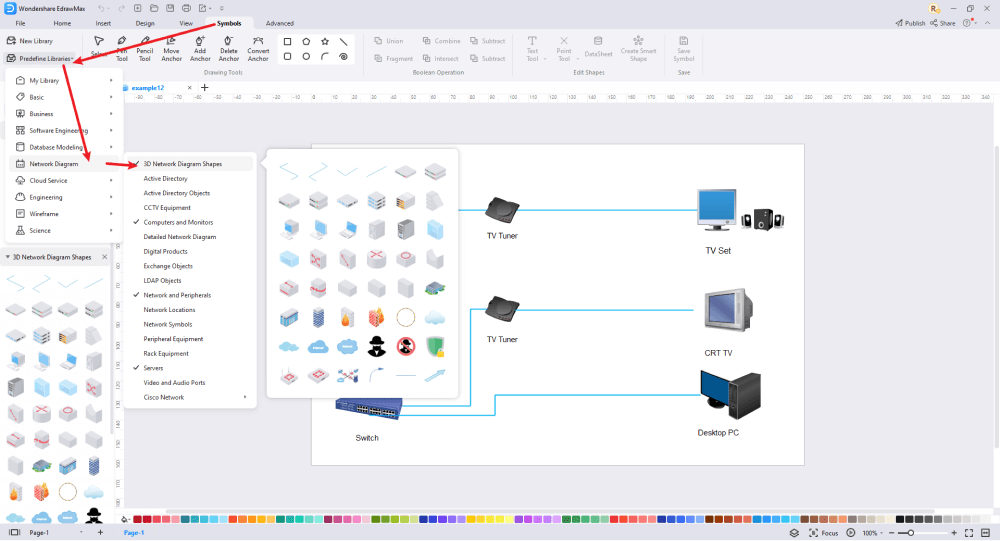 Step4
Customize the Network Diagram Example
After opening it, the next step is to customize and edit the network diagram example. EdrawMax gives you various unique diagramming tools that help you edit the template any way you want. You can change the color and the font liner of the template. EdrawMax features a comprehensive library with 26000+ professional symbols that you can use for free with an easy drag and drop.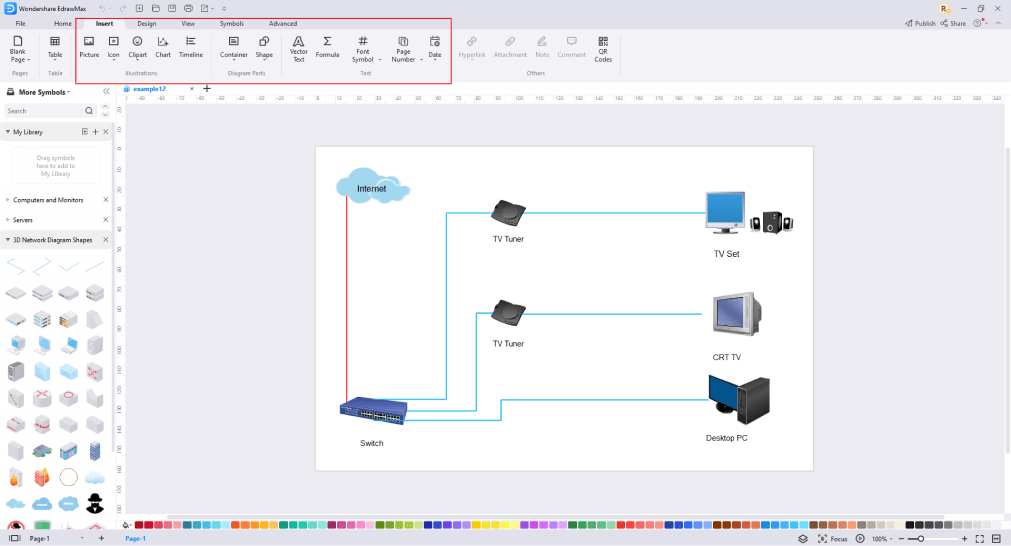 Step5
Save or Export
After you customize the network diagram example, the next step is to save or export your drawing. EdrawMax supports various document formats, which means you can export your drawing in any format you want, such as Microsoft Office, pdf, graphics, HTML, Visio, and many others. Export your drawing by going to the 'File' option in the top menu bar and clicking on 'export'. After that, select the document format and click 'ok'. You can also share your drawing on social media or print it directly from EdrawMax. EdrawMax also gives you a presentation mode that you can use to show your drawing to others or your team members.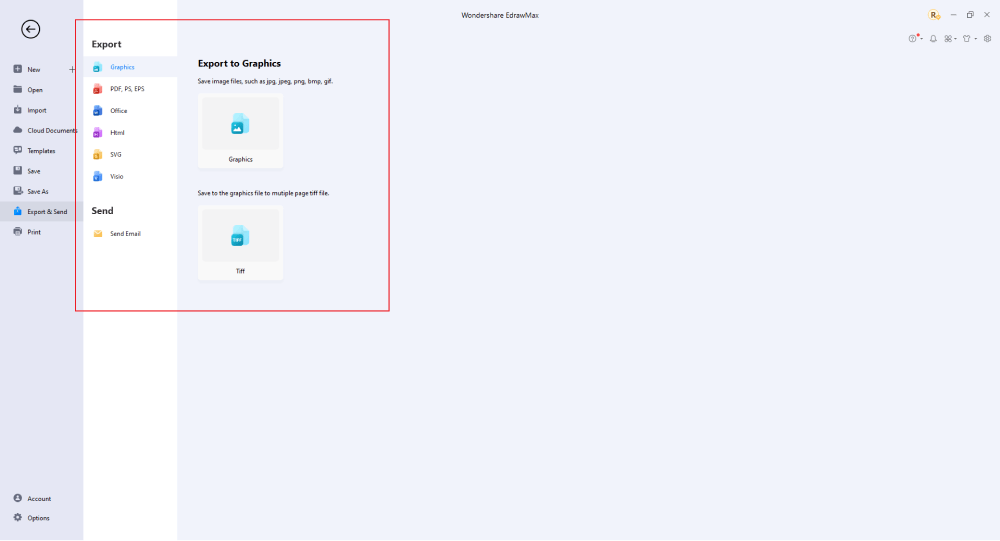 2.2 Make Network Diagram Online
The above process was for the downloaded application. Here are the steps that you can follow to do the same thing with the online app instead. EdrawMax Online gives you free templates to select and customize and share without downloading. It also provides you with all the drawing tools in the EdrawMax software.
Step1
Click to Duplicate Online
Just click the right bottom corner to choose 'duplicate' template online, then you can go to the online EdrawMax template community. You can head to the network diagram page, and learn more or use directly.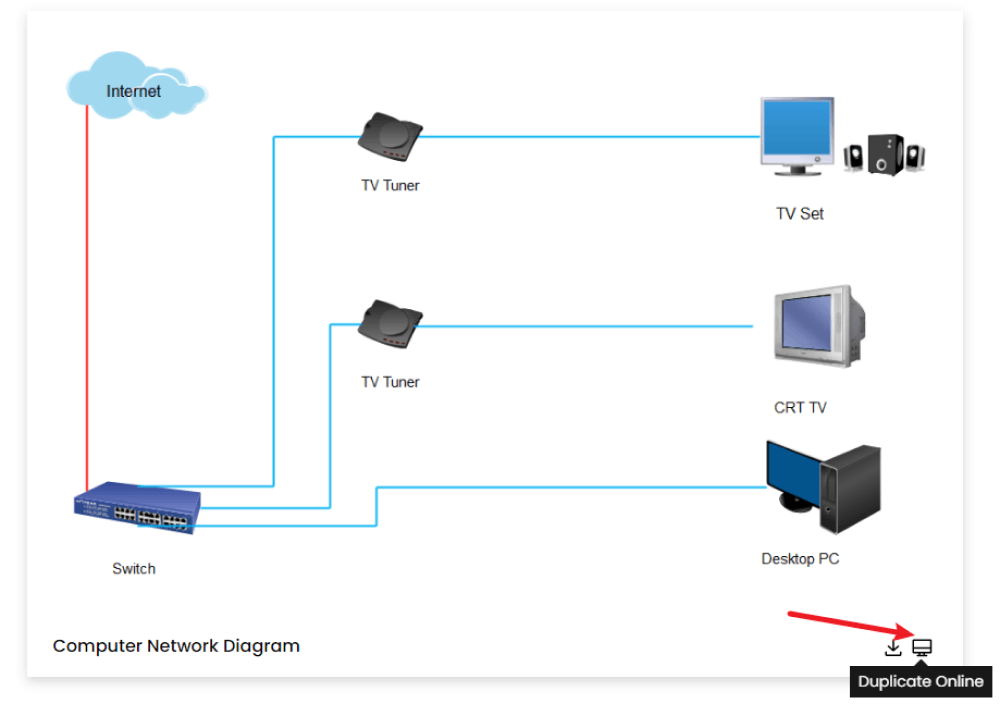 Step2
Search for More Templates
To search for more templates, go to the EdrawMax template community and search for the template you want. You can scroll down or search with the full name of the network diagram template to get it quickly.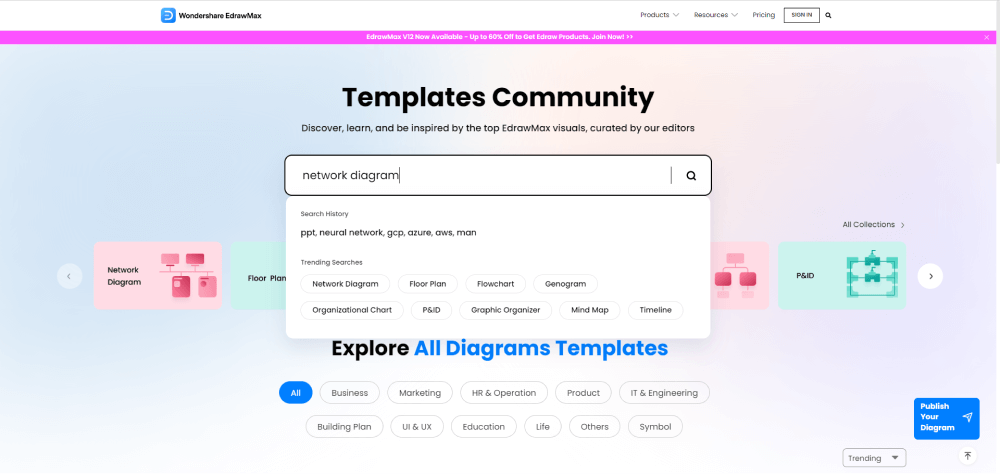 Step3
Open the Template
Open the template you want to customize and click on the 'duplicate' option. After clicking, the template will open with EdrawMax Online.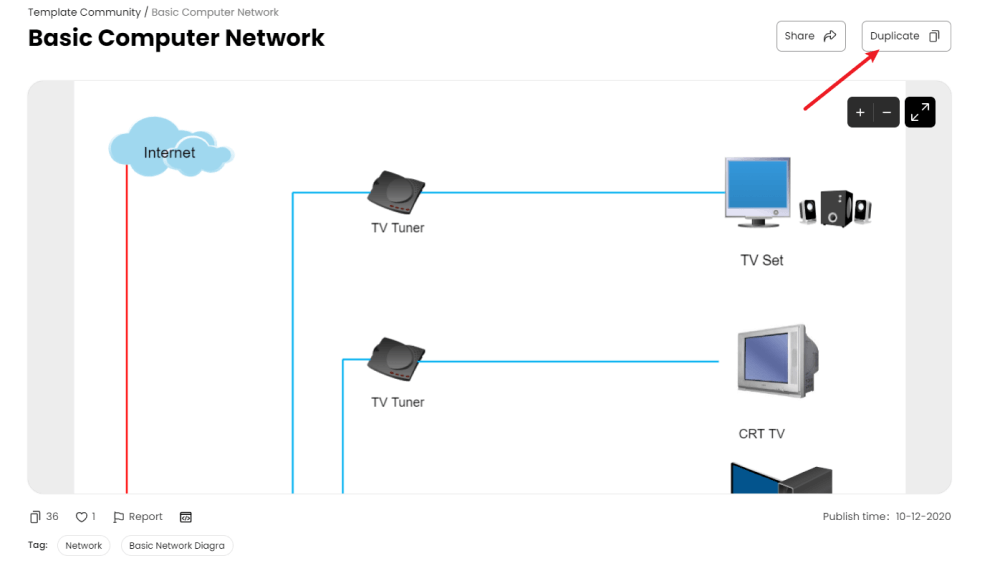 Step4
Customize the template
Customize and edit the network diagram example after clicking on the duplicate option and getting the drawing canvas with the template you selected. EdrawMax features unique diagramming tools that help you customize the template and make whatever changes you want. You can change the color and the font liner of the template. EdrawMax also features a comprehensive library with 26000+ professional symbols that you can use for free with an easy drag and drop.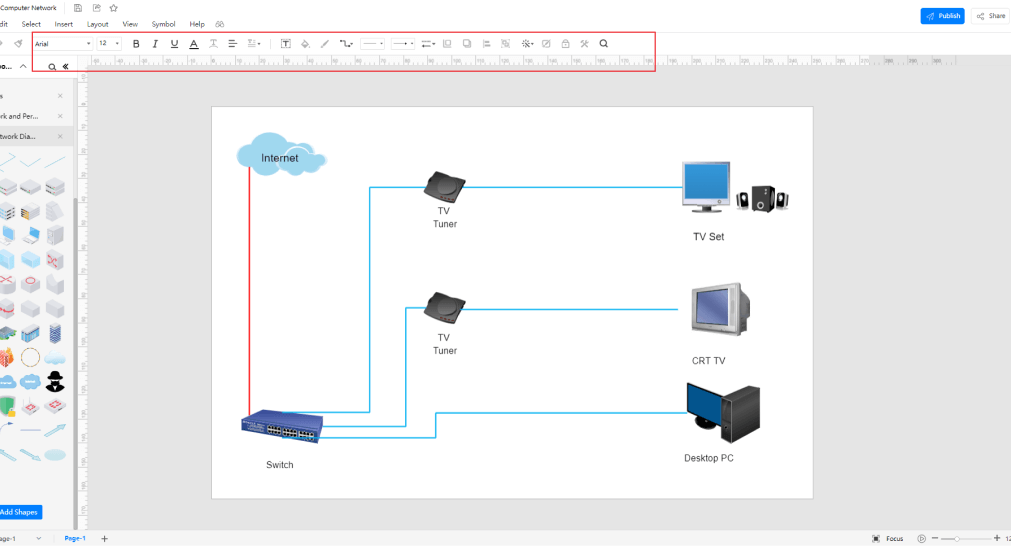 Step5
Save or export
After your network diagram is complete, the next step is to save or export your drawing. EdrawMax gives you the same features as the EdrawMax diagramming software. It also supports multiple document formats so that you can export your drawing in any format. You can save and share your document in pdf, graphics, HTML, Visio, Microsoft Excel, and other popular formats. Click on the 'file' menu and go to 'export'. Click the format you want and enter. EdrawMax features a presentation mode and allows you to share your drawing on social media. Or you can "Publish" your network diagram in the template community.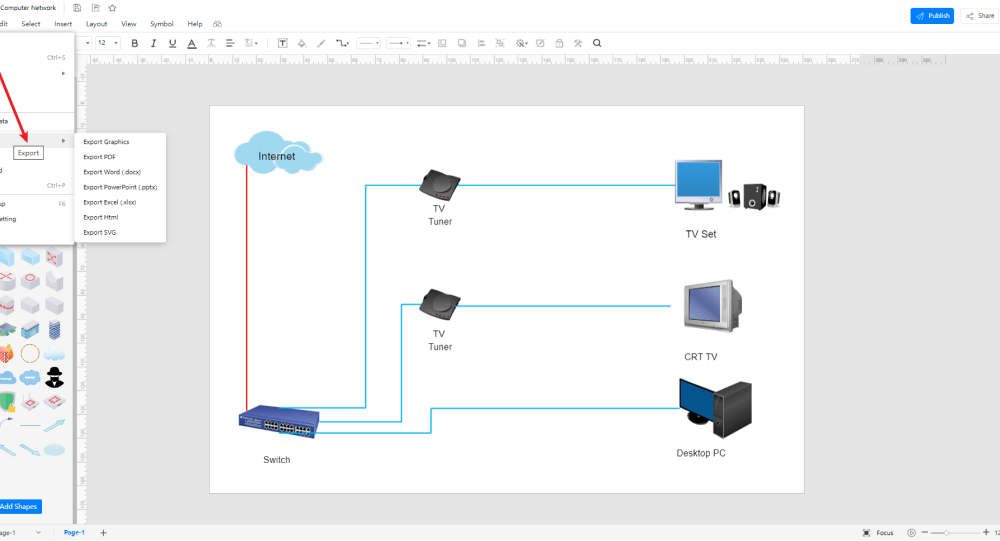 If you are designing an art, then it must catch the attention of viewers and make them fascinated. A Network Diagram Software allows you to design a perfect visual representation of various networks, which are used by different employers and developers to guide new employees. Other than all software, EdrawMax stands unique by allowing you to sketch a diagram with different lines, textures, graphics, fonts, colors, highlighters, and images as well. Here are some key features of the EdrawMax application that will make you believe in it completely:
Charting and collaborating tools
Wide variety of network diagrams
Easy visualization of designs ad graphics
Easy exchange of files within users
Modern features and regular updates
Safe and protected environment to work
Network diagram examples are very important in this digital world. Any company, organization, or agency can't be operated without such network diagrams. It makes a complex Network diagram easy to understand and capture. Beginners can also create these types of designs, posters, flyers, mappings, or networks by accessing the EdrawMax beginner account. A premium account is also offered by EdrawMax to get all the updated features on time.
EdrawMax is the best network diagram software with its hundreds of free templates and creative drawing tools that helps you customize templates and create a diagram in minutes. EdrawMax supports multiple documents formats and is the first choice of professionals for its fast drawing, data automation, and symbol import features.