Google Cloud Icons & Symbols
Do You Want to Make Your Google Cloud Diagram?
EdrawMax specializes in diagramming and visualizing. Learn from this article to know everything about Google Cloud symbols, and how to use Google Cloud symbols. Just try it free now!
Google Cloud is a suite of cloud computing services introduced by Google. It includes online hosted services for computing, cloud storage, and application development. Software developers, administrators, and professionals use these services to take advantage of high-performance hardware provided by Google through online access.
Google Cloud allows quick collaboration, and many stakeholders can access and manage projects and data on the cloud. Google cloud icons help you create diagrams that give a graphical representation of the system and its structure. GCP architecture diagrams use standardized Google cloud icons to support across-the-board understanding and team collaboration.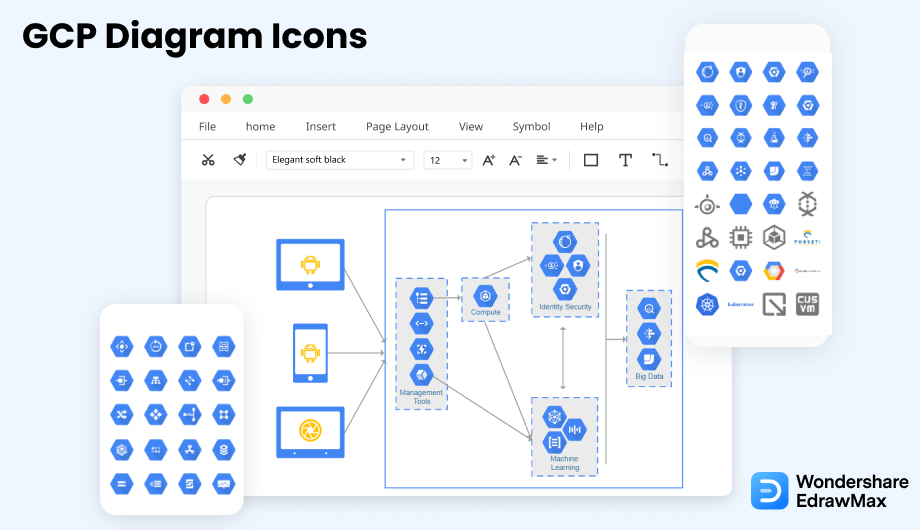 1. What Are the Google Cloud Icons
Google cloud architecture encompasses a variety of services and cloud storage solutions, including big data, security, cloud storage, computing, and much more. Google cloud icons graphically represent the actors, use cases, functions, and devices involved in a Google cloud solution created for an organization. These Google cloud architecture diagrams serve many purposes, including;
1. A comprehensive understanding of the architecture's structure, working, and the process is achieved using standardized google cloud icons.
2. Task delegation and team collaboration become simple as a reference for the system are available. Everybody knows how things work in the system.
3. Troubleshooting and performance evaluation is efficient and effective. Since the whole system can be reviewed at a glance, the bottlenecks can be identified easily.
Google Cloud Icons:
Google cloud icons graphically represent the actors, use cases, functions, and devices involved in a Google cloud solution created for an organization.
2. The Types of Google Cloud Icons
We can easily classify Google Cloud icons into different categories based on the functionality and usage of these icons. Classification helps in quickly locating the icons and using them accurately. Let us visit different types of icons one by one.
2.1 GCP Big Data Icons
Google's Big data services have made their mark in the industry with an integrated end-to-end solution. These services allow you to capture, analyze, process, and store your data on the iconic Google hardware. Since the primary maintenance of the infrastructure is taken care of at Google's end, you can focus on data alone. You can run even open-source tools on this data to gain insights and analytics.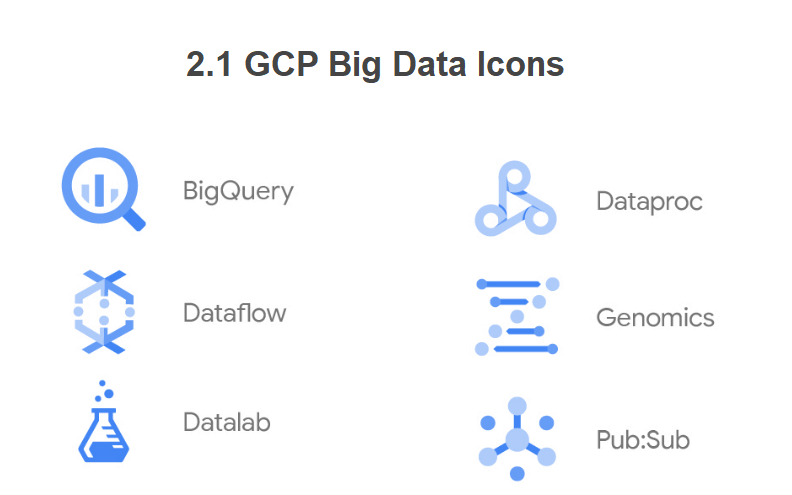 2.2 GCP Compute Icons
Google Compute is another service component of GCP infrastructure. It is built upon the same global infrastructure that runs the iconic Google search engine and other related Google services. GCP compute includes virtual machines, custom images, etc.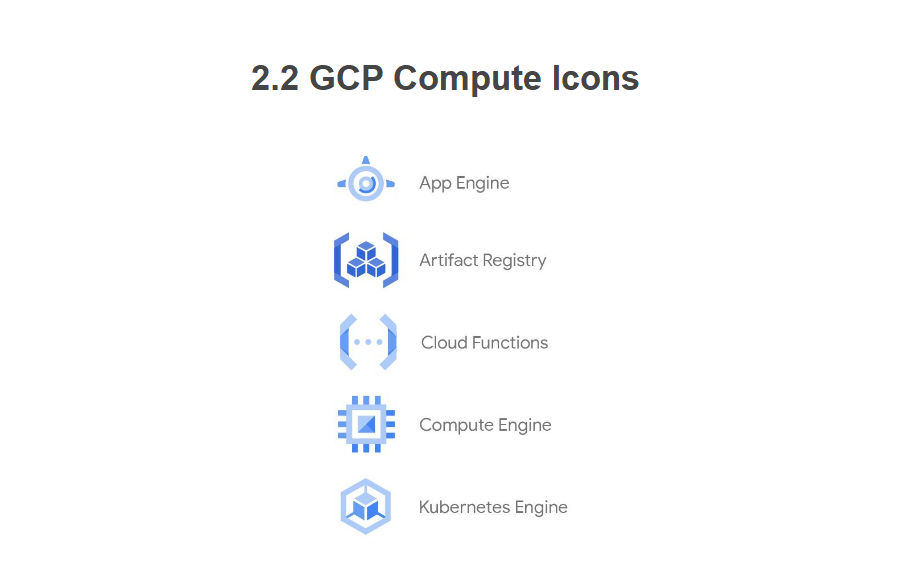 2.3 GCP Developer Tools Icons
GCP developer tools icons include three Google cloud icons related to GCP architecture. The developer tools include tools and libraries to support developers in creating applications. These tools and services are command-line access, debugging, backend APIs, etc.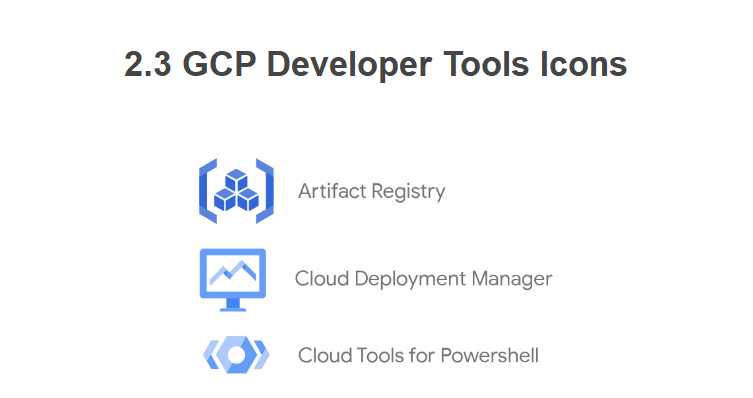 2.4 GCP Extras Icons
GCP extras include services that do not fall into any particular category and serve all aspects of Google cloud infrastructure.

2.5 GCP Identity & Security Icons
There are several Google cloud icons included in the "Identity and Security" icon library like Cloud Identity & Access Management, Data Loss Prevention API (DLP API), Cloud Identity-Aware Proxy (Cloud IAP), Cloud Key Management Service, Cloud Resource Manager, Security Key Enforcement, Cloud Security Scanner, etc.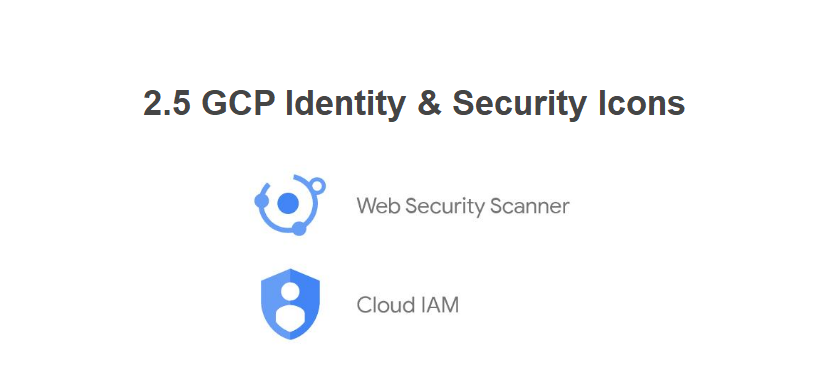 2.6 GCP Machine Learning Icons
GCP machine learning modules include pre-trained models and a service to create your customized models. GCP machine learning uses high-performance hardware and storage at the Google servers to provide better training performance and increased accuracy.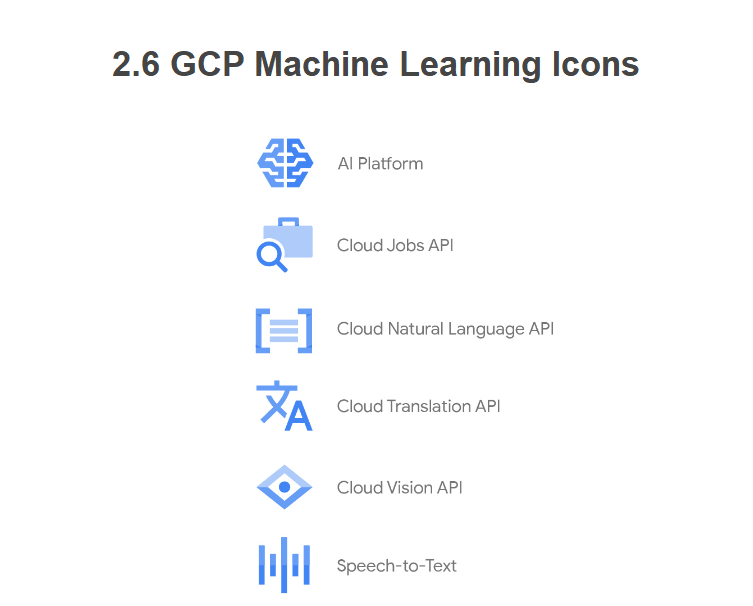 2.7 GCP Management Tools Icons
GCP Management Tools include professional and advanced cloud services such as integrated diagnostics tools, full-stack systems, real-time log management, detailed performance insights and analytics, mobile applications management, etc.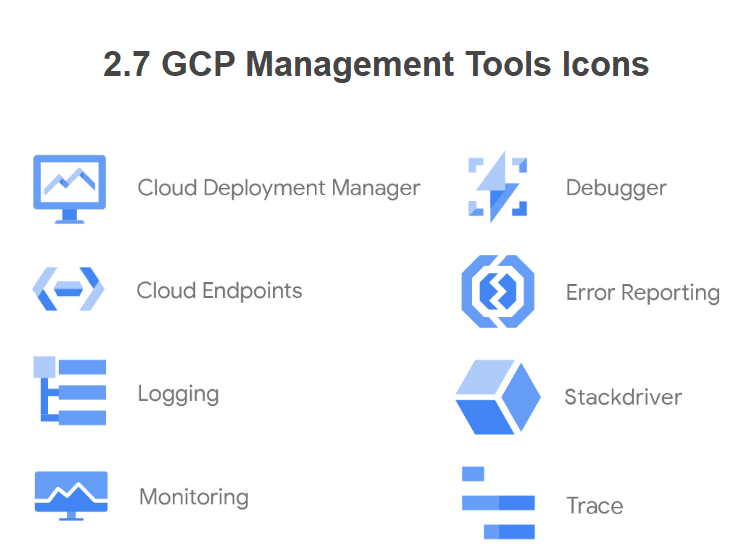 2.8 GCP Networking Icons
As with any other cloud service, the Google cloud icon cannot function without networking. These network icons represent services for distributed systems, including auto-scaling data and interconnecting with other users.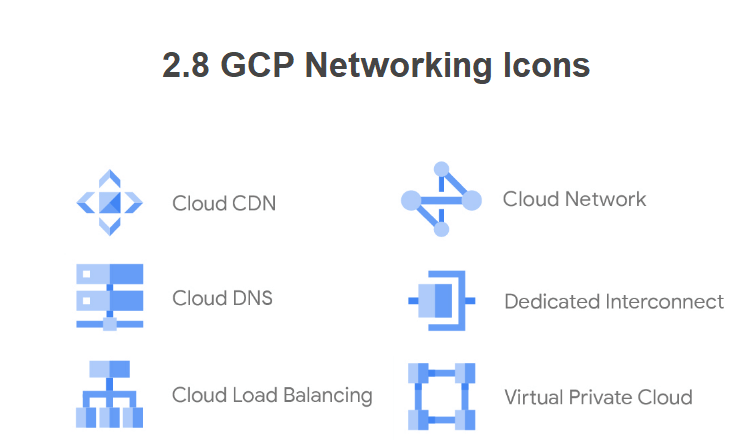 2.9 GCP Storage and Databases Icons
GCP Storage and Database services are cloud SQL, cloud datastore, Cloud Bigtable, Cloud storage, persistent disk, firebase, and restore and instant backups.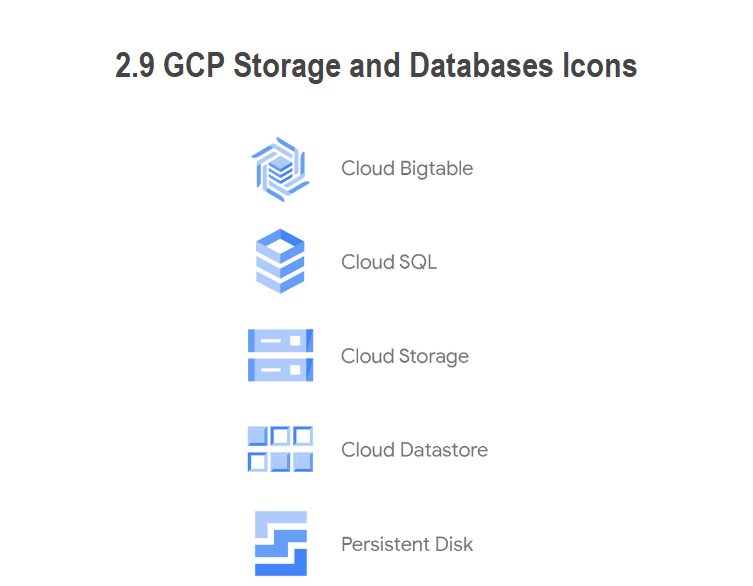 3. Where to Find Google Cloud Icons
Google cloud icons are a collection of standardized icons and symbols representing the services, tools, applications, and actors in a GCP architecture. These icons allow architects and managers to plan, manage and execute the GCP architecture models in their systems. An up-to-date document repository allows for proper maintenance, evaluation, performance improvement, and efficient troubleshooting. EdrawMax is a powerful software with a symbols library for Google cloud icons. You can use the ready-made icons in the library or create them as you want. Want to know more details about how to use Google Cloud icons and symbols in EdrawMax? Keep reading.
You can easily find Google Cloud symbols in the symbol library of EdrawMax. EdrawMax gives you more than 26000 symbols that you can use to create a Google Cloud or any other diagram. You can go and search for the symbols you want in EdrawMax and click on the Google Cloud. Go to the Google Cloud category and use a simple drag and drop to add any symbol you want.
EdrawMax Google Cloud Symbols:
EdrawMax is the best resources for Google Cloud symbols, you can find hundreds of Google Cloud symbols here. Just drag and drop, you can create a Google Cloud diagram easily.
4. How to Use Google Cloud Icons
EdrawMax is a free drawing software providing complete support for drawing cloud storage diagrams for general purposes and many different platforms, including iCloud, Google cloud platform, Azure clouds, etc. So, let us see how we can draw Google cloud architecture diagrams.
4.1 How to Use Google Cloud Icons in EdrawMax
Instead of wasting time drawing the Google Cloud symbols or icons on paper, you should look for a way to design a Google Cloud diagram easily. EdrawMax is well equipped to design a Google Cloud diagram.
Step1
Launch and Sign in to EdrawMax
If you already have an account with EdrawMax, sign in to move on. Otherwise, you can create an account using the registration link and choose the relevant options. After logging in, you have two options. You can either use a template for building your diagram or start with a clean canvas. Navigate to New and choose a blank diagram. For templates, navigate to Templates and search for Google Cloud.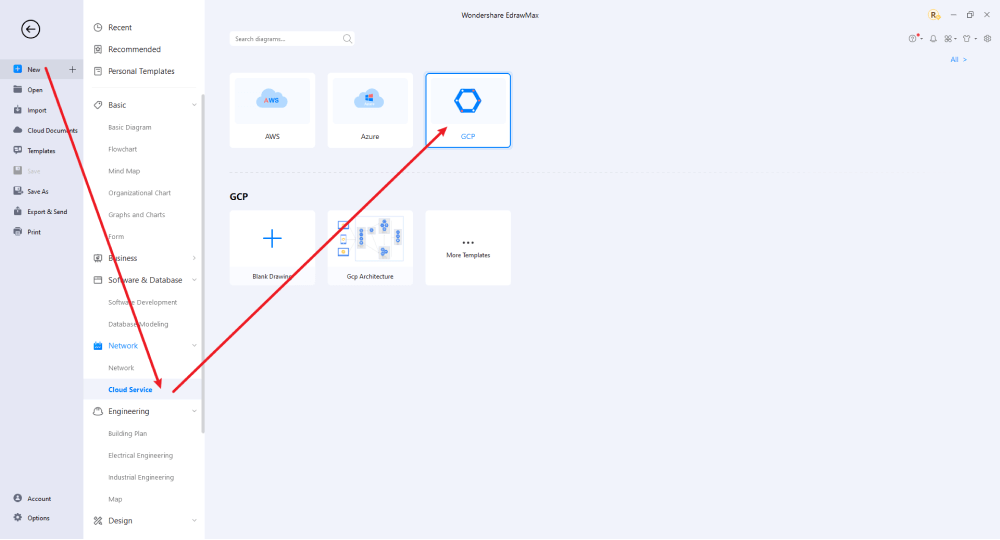 Step2
Select Google Cloud Symbols
Unlike physical drawing, EdrawMax helps to create a Google Cloud diagram easily. In the symbol section of EdrawMax, you will find over 260,000 vector-based symbols that you can use in your designs. In EdrawMax, you can find Google Cloud symbols in Symbol Libraries on the left toolbar. You can click on the "+" option to open a new canvas to make your Google Cloud diagram. On the left side of the canvas, you will see a symbol library with many Google Cloud symbols. You can search for specific symbols in the search bar.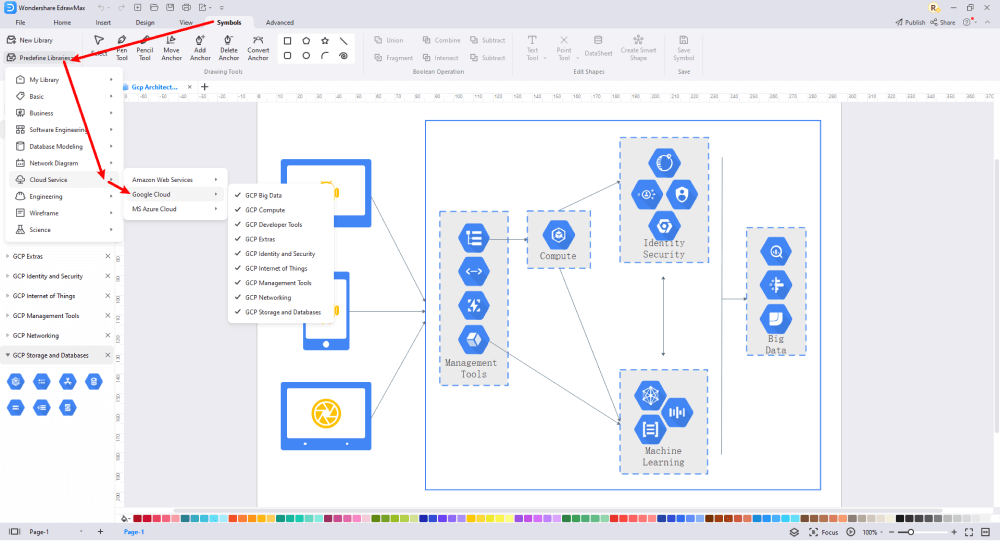 Step3
Drag and Drop
Once you find the proper Google Cloud symbols you want, just drag and drop the symbols to the canvas easily. Keep customizing by choosing the right symbols, proper scale or dimensions, and adding more details, like color, font, and etc. When completed your Google Cloud diagram, you can export your file or share your design effortlessly. Learn more Google Cloud Guide here if necessary.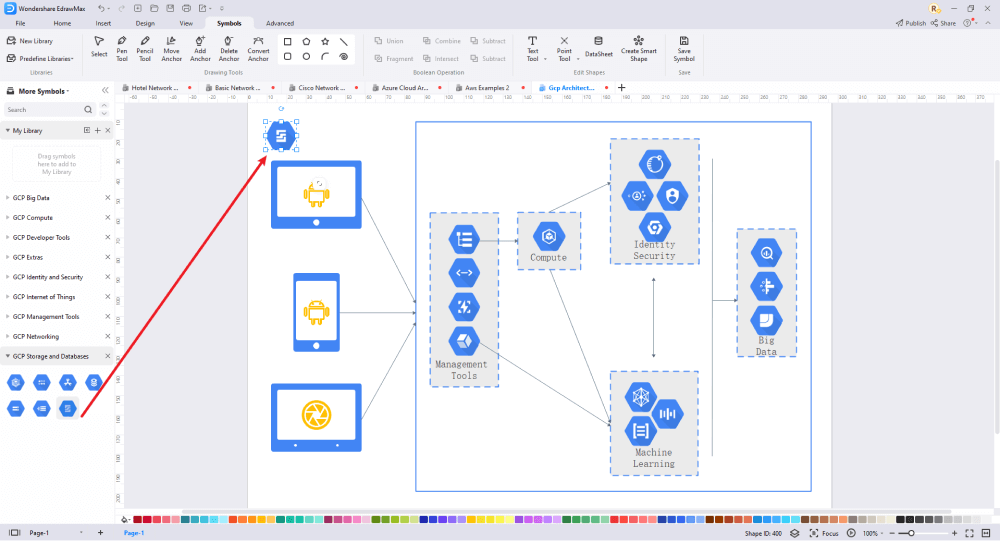 Step4
Save and Export
Save your completed diagram and download it. You can also export your diagram in more portable formats, e.g., image formats, pdf, ppt, JPEG, etc. These options are available in the Export link from the File menu.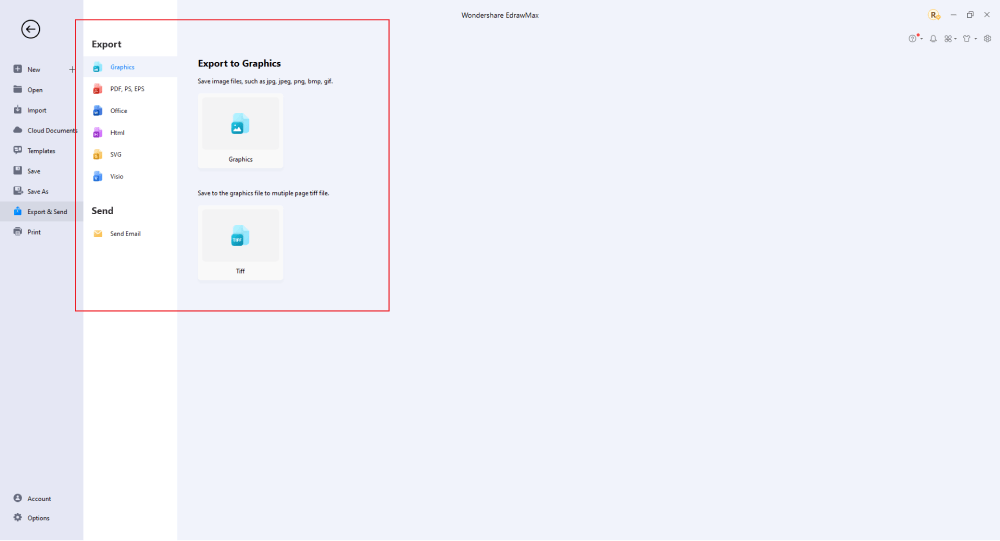 4.2 How to Import and Create More Google Cloud Symbols in EdrawMax
EdrawMax believes in community contribution and continuous improvement. Hence, it also has the option to extend your symbol library by importing and creating more Google Cloud icons. Different ways to extend your library include creating a new library and creating your symbols. Click New Library in the menu under the Libraries link. There will be a new blank library on the left library pane that you can rename according to your choice.
Step1
Find Symbol Tool
If you can't find any symbol similar to the one you want, you can use the pencil tool, pen tool, and anchor tool to draw your personalized Google Cloud symbols. It is much easier to draw the symbol you want on EdrawMax instead of searching for the one that suits your requirements. You can also save your symbol in the library for later use.
Select "Symbols" on the upper Toolbar;
Use "Pencil Tool", "Pen Tool", "Anchor Tool" to create garden symbol from very beginning;
Choose "Union", "Combine", "Subtract", "Fragment", "Intersect", "Smart Shape" to make your symbols.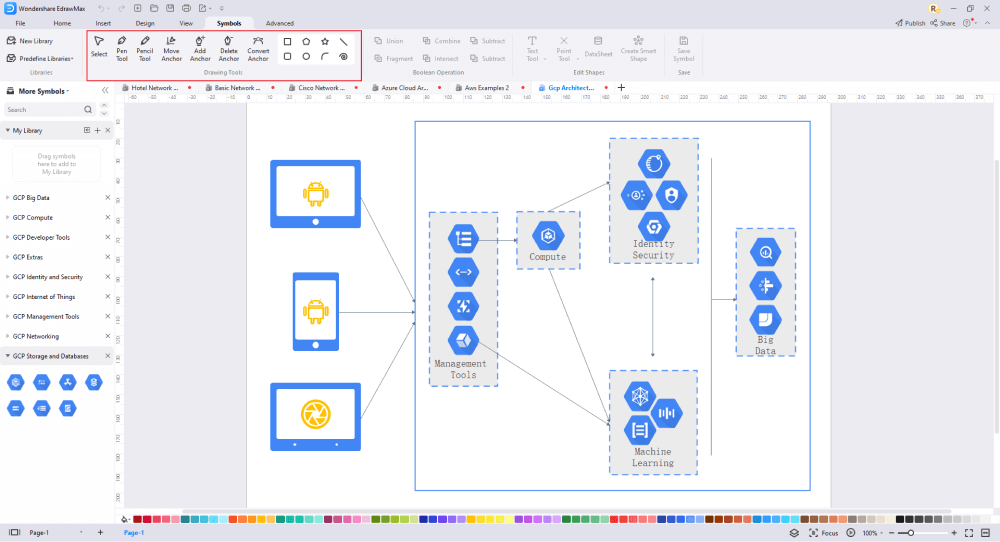 Step2
Create Google Cloud Symbols
Creating your Google Cloud icons in EdrawMax is like making another diagram, as we described above. On the canvas, draw your symbols by using the shapes in the left pane and then modifying them using the 'Symbols' menu in the toolbar. You can use the Pencil tool, Pen tool, etc. Use Symbols> Symbols Tools, including Union, Intersection, and more.
You can use various pen styles to make different parts of your symbol.
Make sure that the illustration inside the shape does not overlap it.
When making an icon, use the right color to represent the icon.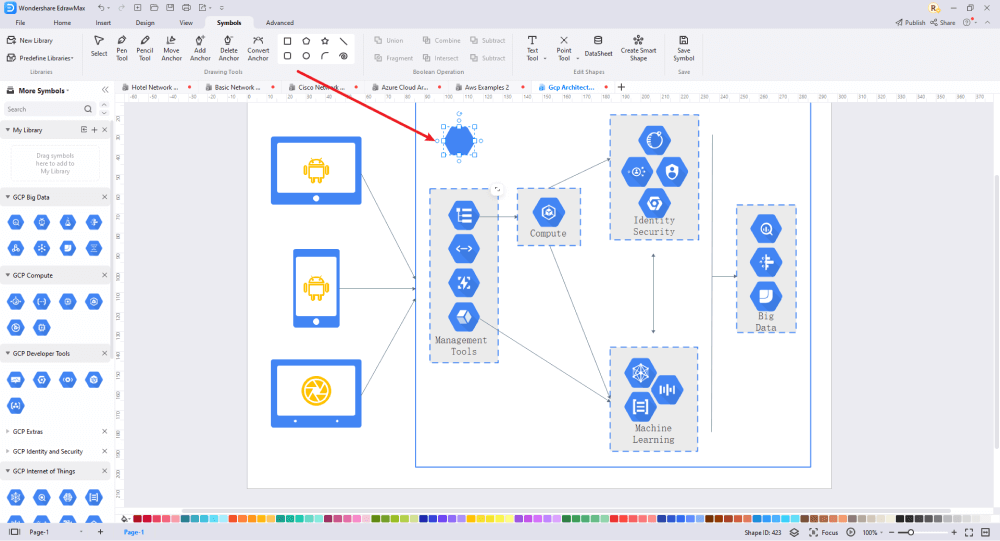 Step3
Import Symbols
Along with the 'My Library' title, you can see an import symbol option; clicking on this link opens the Import dialog. In the Import Symbols dialog, you can import Images, SVG, and VSSX. Importing EDT/EDL files option is for adding the library that you have already built.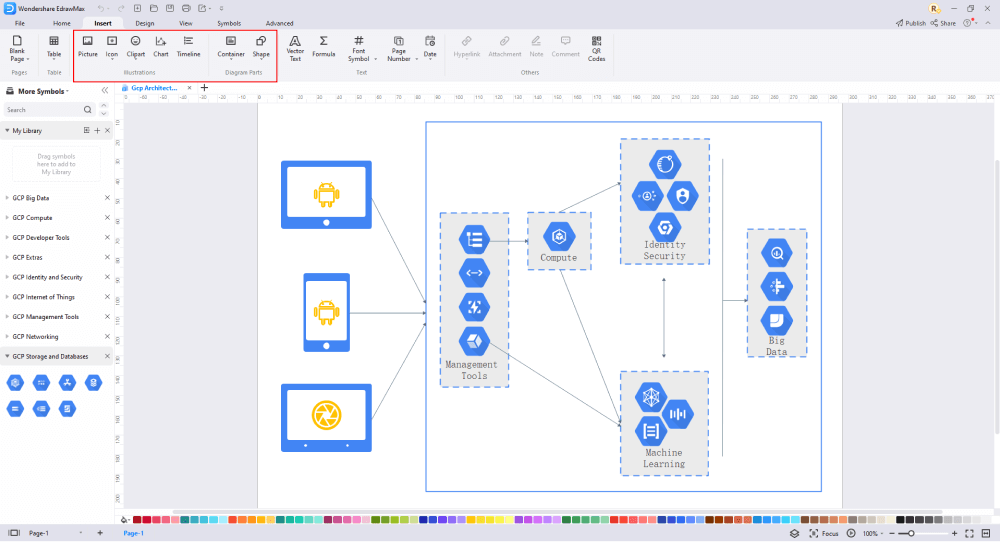 Step4
Save to Your Symbol Libraries
Once you completed your Google Cloud symbols design or import your symbol images, you should still click "Symbols" on top, and choose "Save Symbol" to your symbol Libraries. Or you can click "+" in My Library on the left toolbar. Learn more about how to draw Google Cloud diagrams or design a Google Cloud diagram from this Google Cloud Guide here.
5. Free GCP Architecture Diagram Tool
EdrawMax is a free GCP architecture diagram tool that supports all types of diagrams using the exhaustive GCP icon library available in the software. EdrawMax is unique and comprehensive software because of its great features.
Key Features of EdrawMax:
The free trial version is fully featured software that you can use for all types of diagrams and drawings.
A comprehensive range of diagrams, flowcharts, infographics, and cloud services. It supports 260+ types of drawing types with 26,000 plus symbols and icons. The diagram types include architecture, computing, network, cloud, Education, planner, garden designs, maps, etc.
An intuitive layout with a drag and drop feature allows efficient and effective drawing activity. Well-placed toolbars, menu items, and tools allow users to quickly locate the required features.
The simple learning curve is to start working right away without any training or technical background.
EdrawMax Desktop
Create over 280 types of diagrams
Windows, Mac, Linux (runs in all environments)
Professional inbuilt resources and templates
On-premises software for business
Enterprise-level data security
EdrawMax Online
Create over 280 types of diagrams online
Access diagrams anywhere, anytime
Team management and collaboration
Personal Cloud and Dropbox Integration
6. Final Thoughts
Cloud computing allows using the high technology available at servers from your local computer. Google cloud platform delivers several products, services, and storage for the clients. Since it is an elaborate platform and many diverse forms of systems are configured using it, authentic and detailed documentation using visual tools is critical for the optimized performance of the system. It is highly recommended to use the standardized google cloud icons to create your system visualizations and plans to improve the performance of your system. EdrawMax is a comprehensive tool for creating Google cloud architecture diagrams.
EdrawMax is the best GCP tool with free Templates Community and a large collection of symbols and icons. Professionals and beginners prefer EdrawMax because of its simple interface and fast diagramming tools. You can also import symbols from the web and download or share your diagram in any format you want using EdrawMax.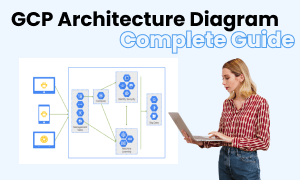 GCP Diagram Complete Guide
Check this complete guide to know everything about GCP, like GCP types, GCP symbols, and how to make a GCP diagram.