Do You Want to Make Your Cisco Diagram?
EdrawMax specializes in diagramming and visualizing. Learn from this article to know everything about Cisco symbols, and how to use Cisco symbols. Just try it free now!
Cisco is a global company known for its network management applications and devices. Network administrators use Cisco applications for configuring, administering, monitoring and troubleshooting Cisco-based networks. They can effectively manage small, medium, and even large-scale networks and eliminate redundant tasks needed for individual network devices. This is why it is important to draw and maintain network diagrams using standardized Cisco icons to achieve a coherent and integrated system approach. Cisco icon diagrams support faster business decisions, control security threats, and manage updating scales of devices and services without performance decline. Let us review these icons in detail.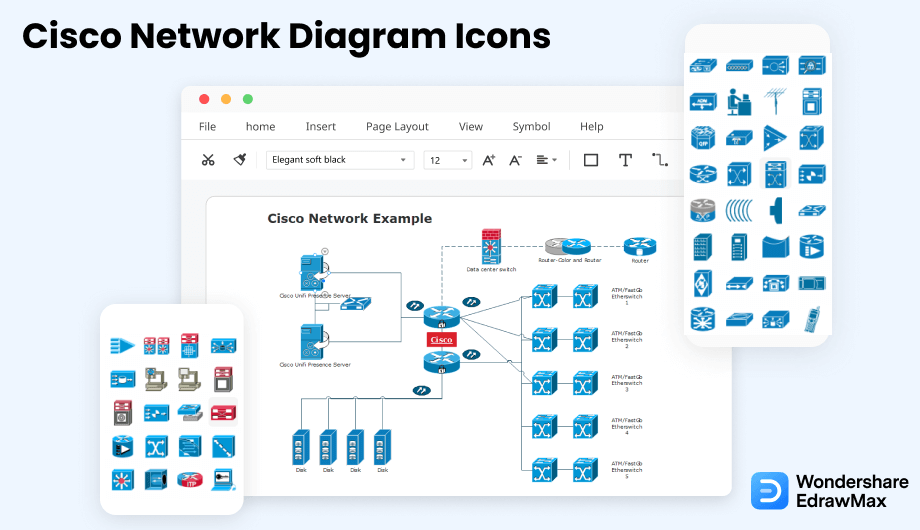 1. What Are the Cisco Icons
Cisco icons are globally recognized and standardized symbols for network icon topologies. They are used in the graphical representation of Cisco-based networks. Why are Cisco icons important? Let us see.
1. A comprehensive set of libraries with authentic and industry-standard Cisco icons and symbols represent all system components, including servers, hubs, switches, wireless connections, routers, etc.
2. There are particular symbols for users interacting with and within the Network
3. Cisco network diagrams with standard Cisco icons help administrators to see the whole Network at a glance and identify risk factors and bottlenecks for performance evaluation and efficient management of the Network.
4. Troubleshooting is quick and accurate.
5. Delegation of work is easier to manage as the new administrators can easily study the dynamics of the Network from visual documentation.
2. The Types of Cisco Icons
Cisco network icons are divided into different categories based on their uses and place in the Network. We can see this classification in drawing softwares such as Cisco Visio stencils, EdrawMax libraries, etc. let's see what the types of Cisco icons are and how they work.
2.1 Cisco Network Topology Icons
Cisco network topology icons include Cisco switch icon, Cisco router icons, MAU, PAD, UPS, modem, firewall, router building, and many more. You can use these icons to create fully explained and thorough network diagrams showing all connections and topology settings.

Source: EdrawMax
2.2 Cisco Wireless Icons
Cisco wireless icons are spread in many libraries according to their functionality. For example, the network topology library has a wireless router; the product icons library has wireless products, and so on.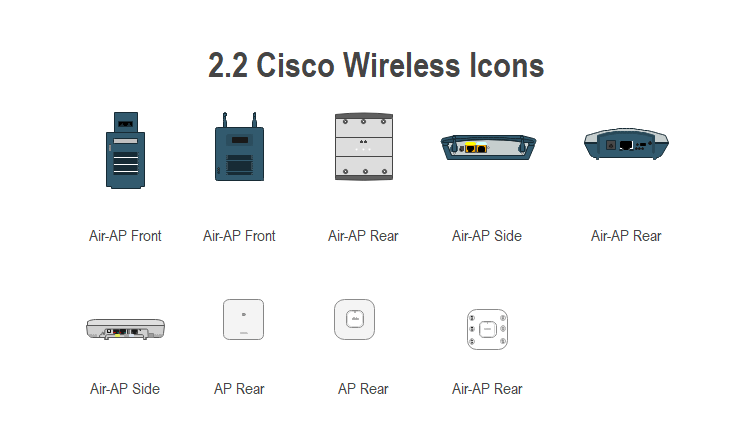 Source: EdrawMax
2.3 Cisco Product Icons
The Cisco Product icons are a vast library of over 200 standard Cisco shapes representing various shapes of Cisco products. These icons include AAAKPI, Appliance General, Cisco Centri-Firewall, Cluster Controller, Disc Subsystem, ASIC Processor, Fibre Channel, Event Manager, Fax Phone, etc.

Source: EdrawMax
2.4 Cisco Safe Architectural Icons
Cisco SAFE architectural icons are a model to organize a Cisco network into logical parts known as places in the Network (PINs). Each PIN represents common business use cases and covers the common security requirements. Cisco safe architecture is also represented in dedicated libraries like safe capability, safe design, etc.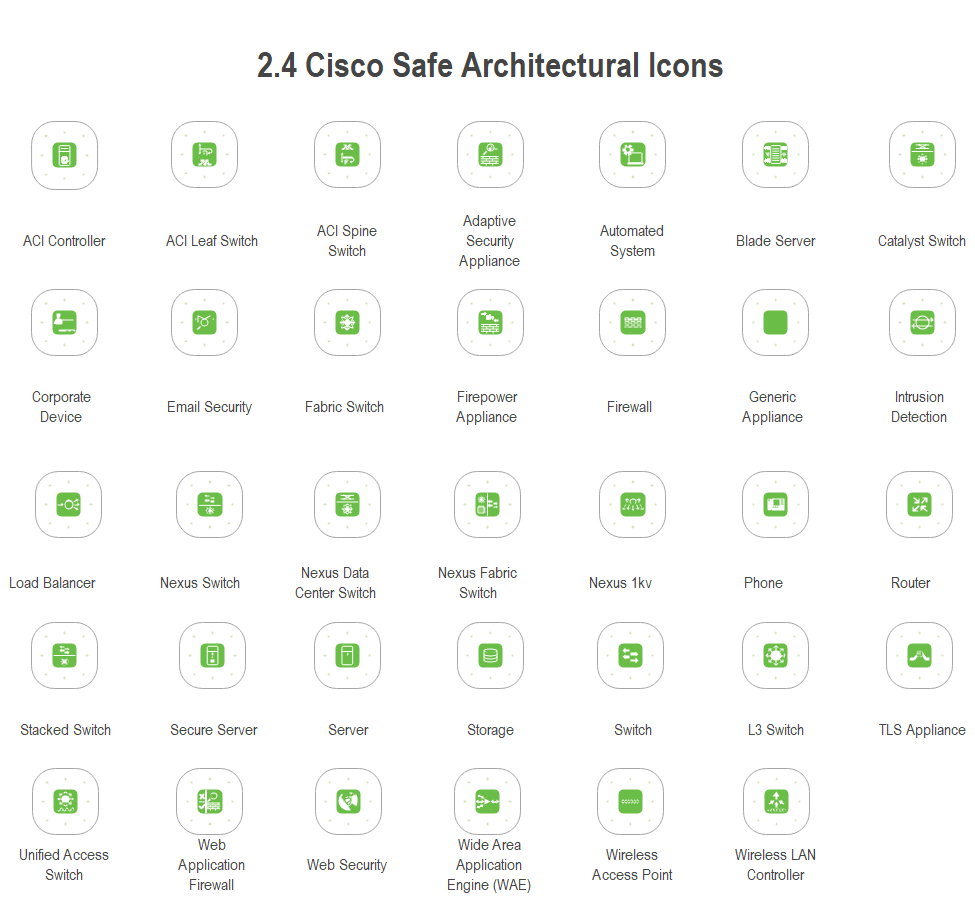 Source: EdrawMax
2.5 Cisco Safe Capability Icons
Cisco SAFE capability icons set has all Cisco network icons for showing the capability of the Network to control and mitigate the threat posed to the system. This icon set includes Web security, Flow analysis, Vulnerability, access control, analysis, etc.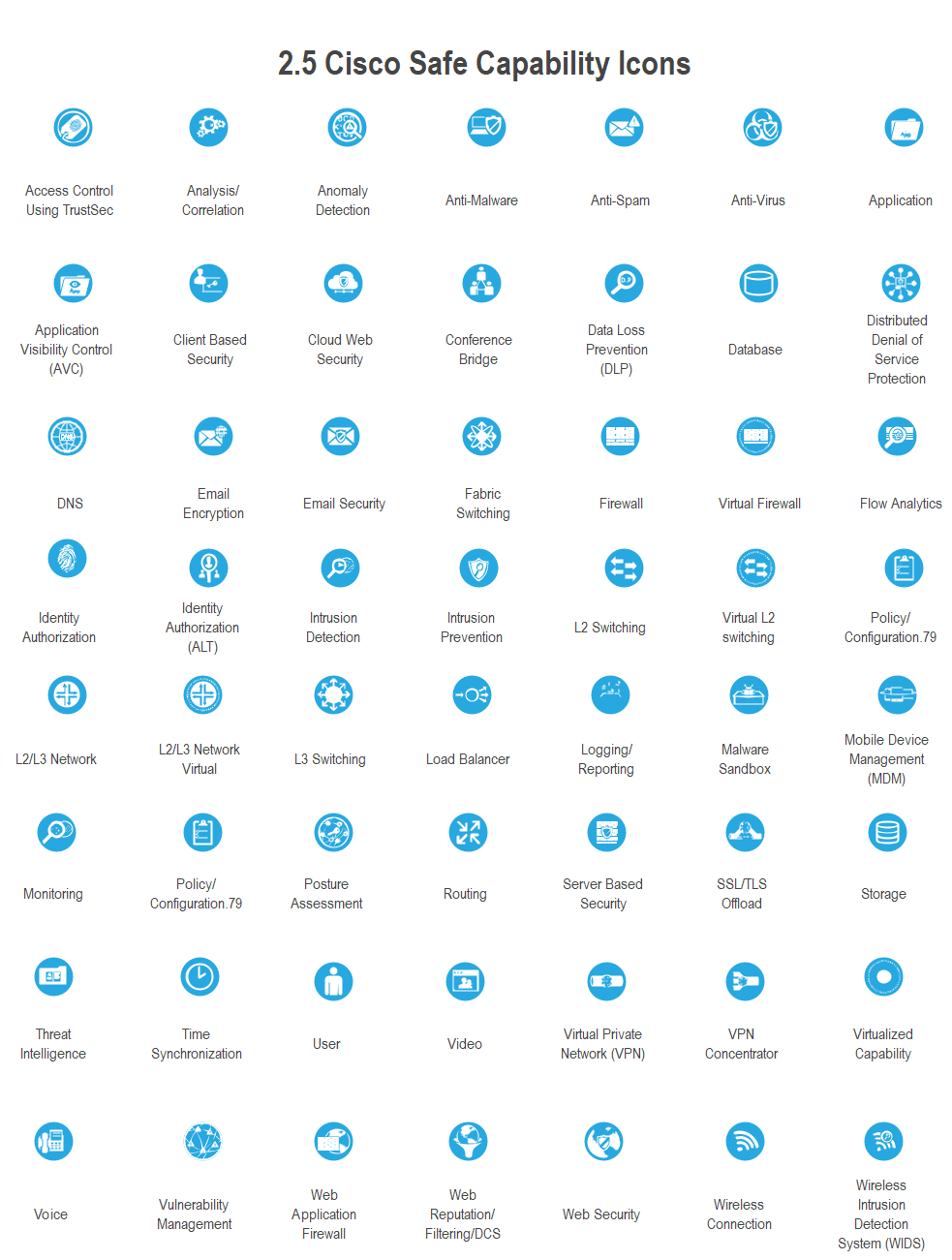 Source: EdrawMax
2.6 Cisco Safe Design Icons
Cisco safe design icons is a library including icons for users, actors, servers, web security, firewall, email security, and others to draw diagrams and representations for SAFE architecture.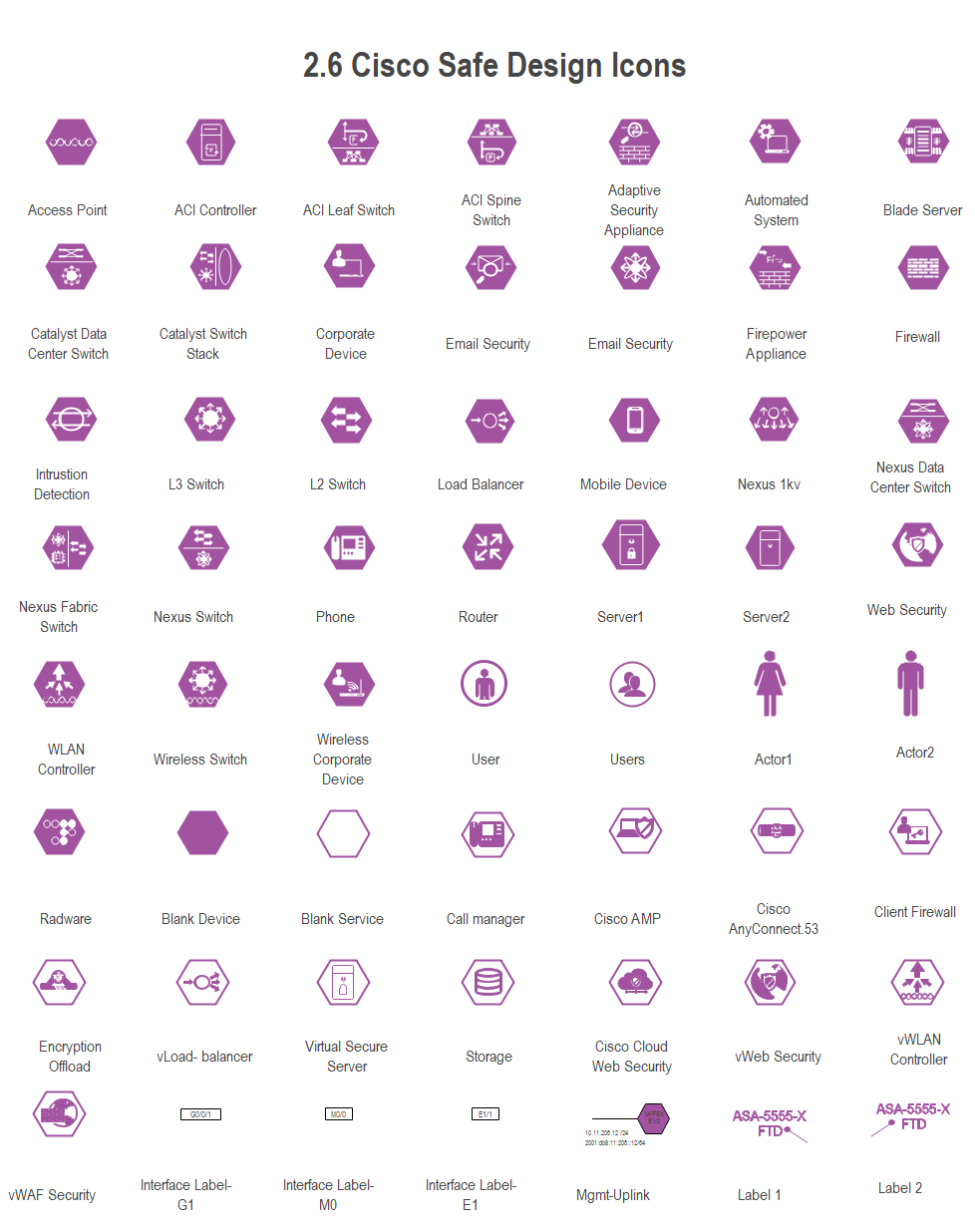 Source: EdrawMax
2.7 Cisco Safe Threat Icons
Cisco safe threat icons are the Cisco network icons that represent potential threats and active threats posed to the Network. Each icon is represented with a threat code for easy identification.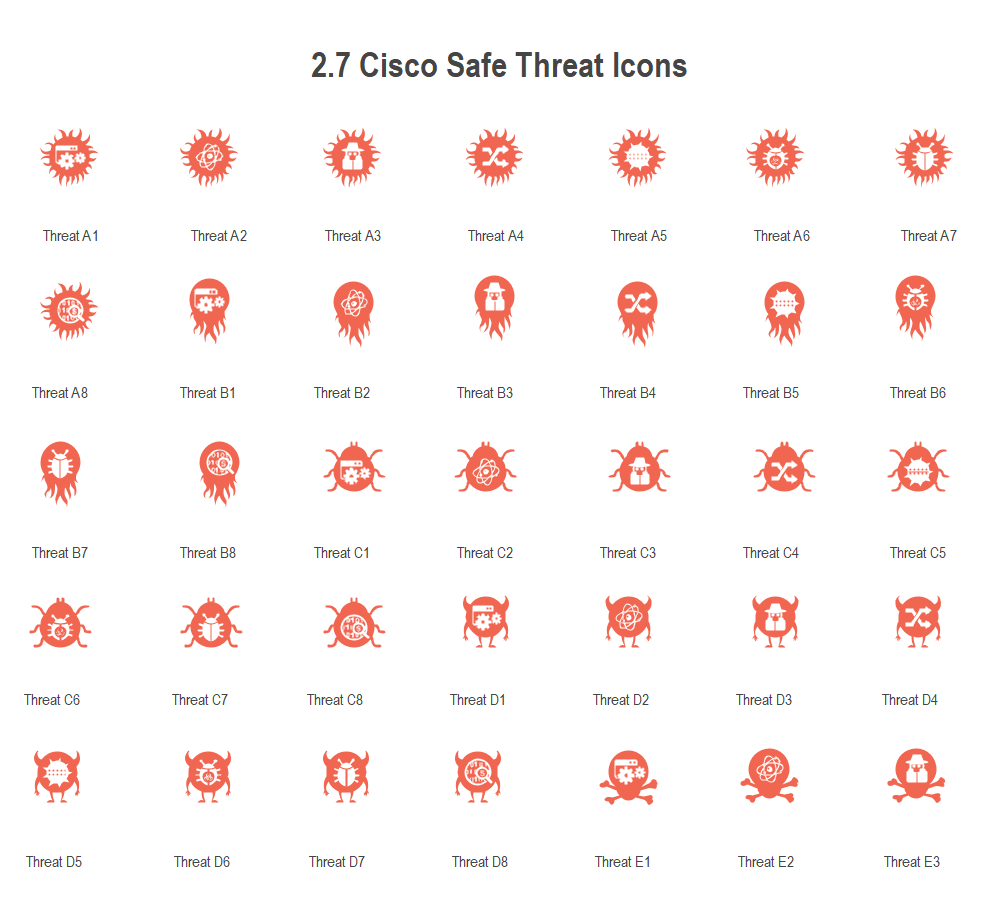 Source: EdrawMax
2.8 Cisco Telepresence Icons
Cisco telepresence systems aim to remove geographic barriers to enable in-person collaboration simply and robustly. Cisco network icons for telepresence include CTS-100, CTS-200, CTS-300, CTS codec primary, CTS codec secondary, MCU, TP MCU, and Cisco telepresence manager.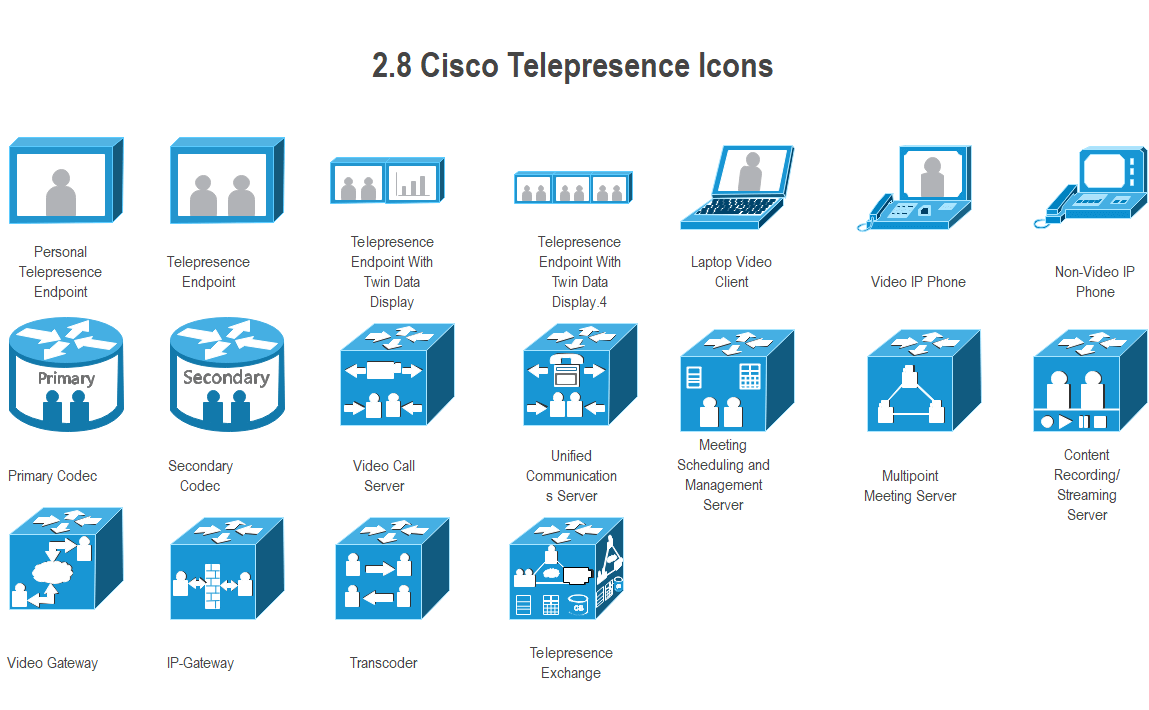 Source: EdrawMax
2.9 Cisco Security Stealthwatch Icons
Cisco security stealthwatch helps you to identify and combat any security threat before it starts posing its dangers. You can outsmart the threats by acting fast and securing data, network architecture, and resources.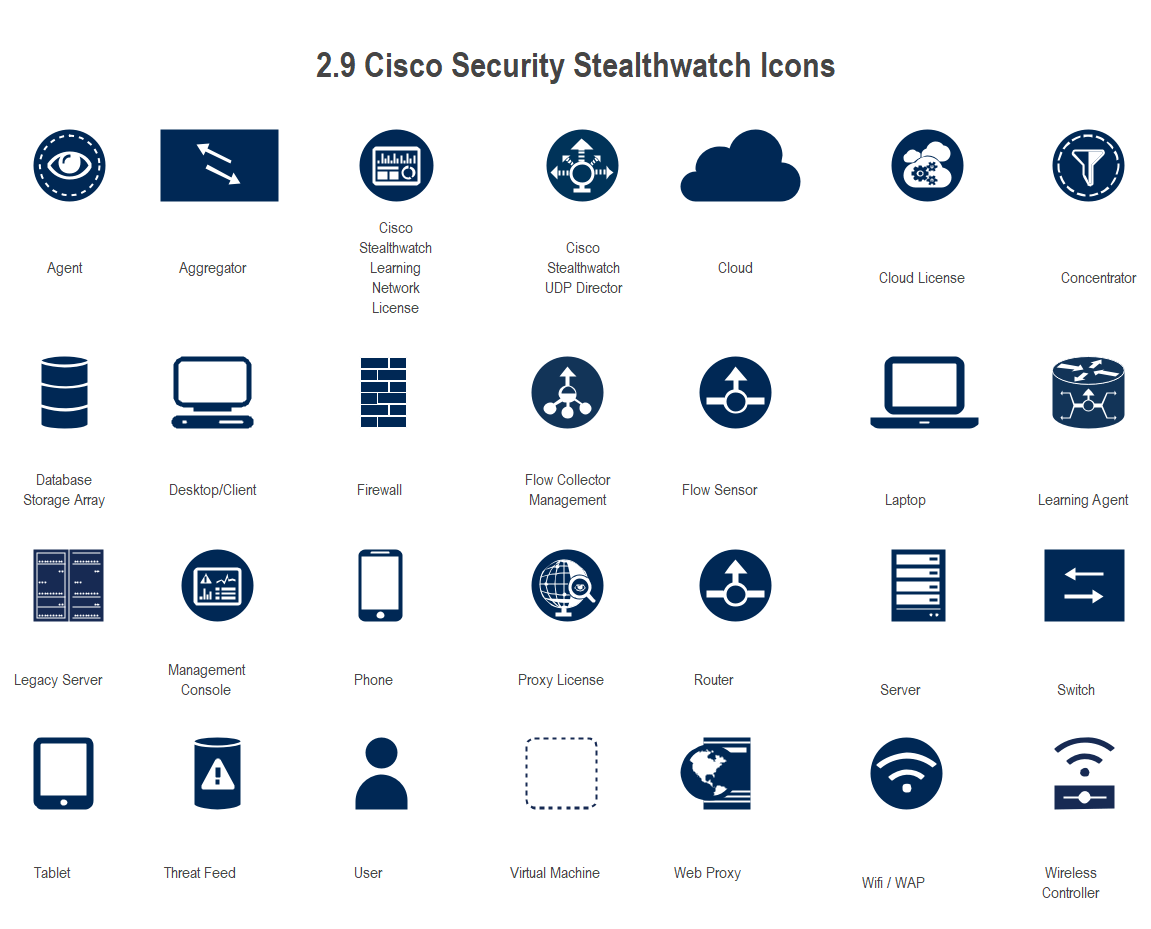 Source: EdrawMax
3. Where to Find Cisco Icons
Cisco icon libraries are released by Cisco and available as libraries within the free diagram software EdrawMax. You can find numerous Cisco libraries in this software divided into sub-libraries based on functionality and the type of icons used. EdrawMax is a comprehensive drawing software that supports all types of network diagrams with well-stocked symbols libraries and sample diagrams available in the templates libraries. The next section will introduce how to use EdrawMax to create accurate and functional diagrams using Cisco icons.
4. How to Use Cisco Icons
EdrawMax is a complete diagramming solution for all types of network and cloud diagrams. It has dedicated libraries for AWS icons and Cisco icons. GCP icons and many more. Let us go through the complete process of making Cisco network diagrams in EdrawMax.
4.1 How to Use Cisco Icons in EdrawMax
Step1
Launch and Sign in to EdrawMax
If you are a new user, start by registering an account with the official website of EdrawMax. Sign to your account and start building your active directory diagrams. You can start with a clean canvas and go about your way. Alternatively, if you want to save time and effort, you can easily use a pre-made template from the template library and tweak it according to your requirements.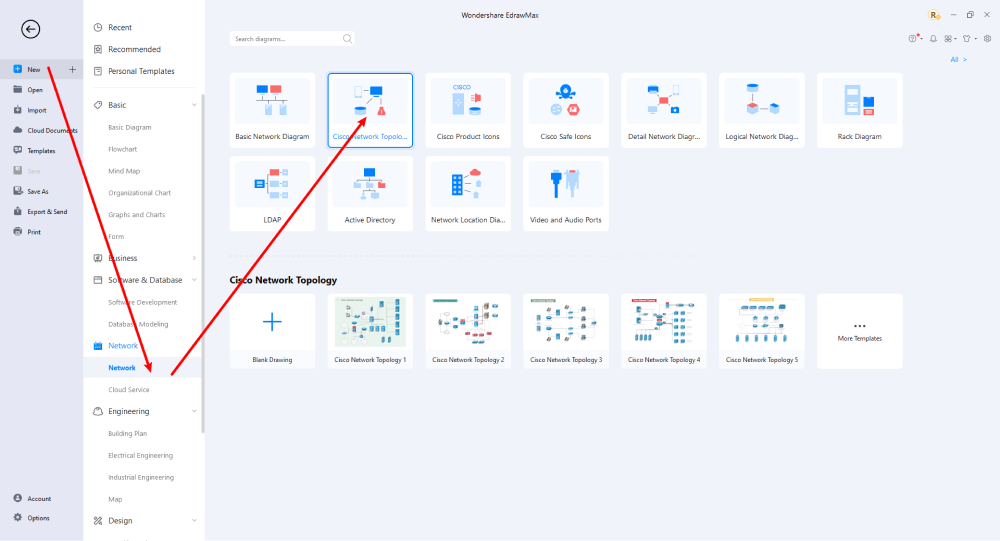 Step2
Select Cisco Network Icons
Unlike physical drawing, EdrawMax helps to create a Cisco diagram easily. In the symbol section of EdrawMax, you will find over 260,000 vector-based symbols that you can use in your designs. In EdrawMax, you can find Cisco symbols in Symbol Libraries on the left toolbar. You can click on the "+" option to open a new canvas to make your Cisco diagram. On the left side of the canvas, you will see a symbol library with many Cisco symbols. You can search for specific symbols in the search bar.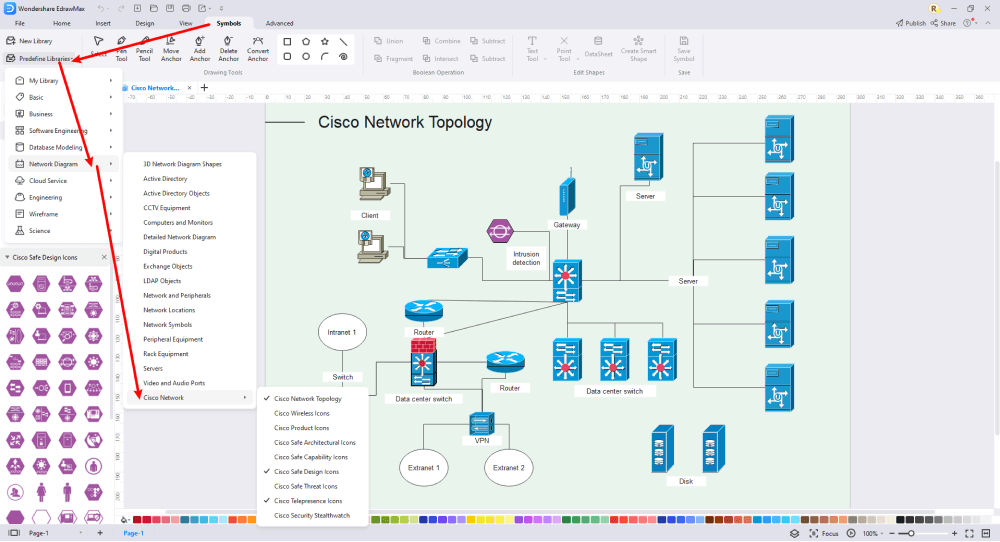 Step3
Drag and Drop
Once you find the proper Cisco symbols you want, just drag and drop the symbols to the canvas easily. Keep customizing by choosing the right symbols, proper scale or dimensions, and adding more details, like color, font, and etc. When completed your Cisco diagram, you can export your file or share your design effortlessly. Learn more Cisco Network Diagram Guide here if necessary.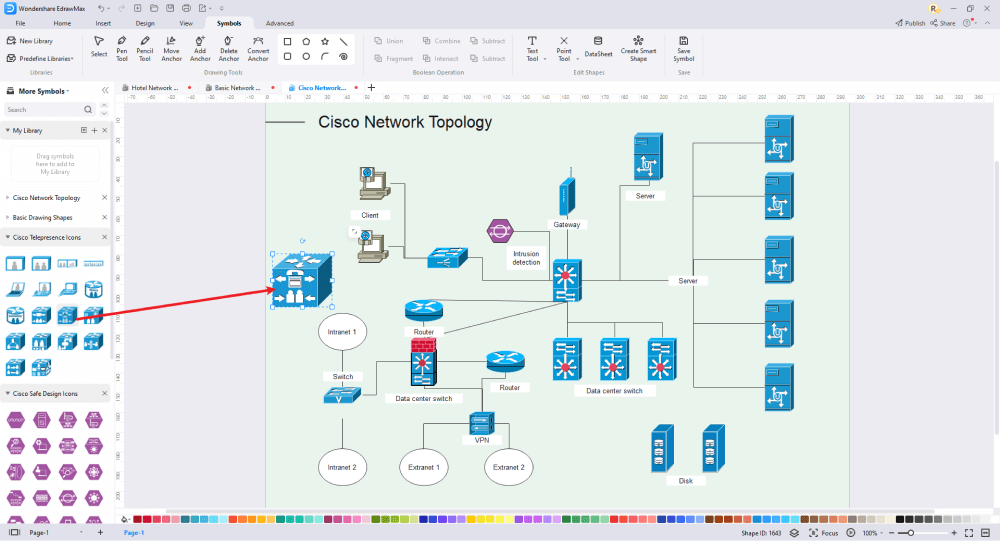 Step4
Save and Export
Save your completed diagram and download it. You can also export your diagram in more portable formats, e.g., image formats, pdf, ppt, JPEG, etc. These options are available in the Export link from the File menu.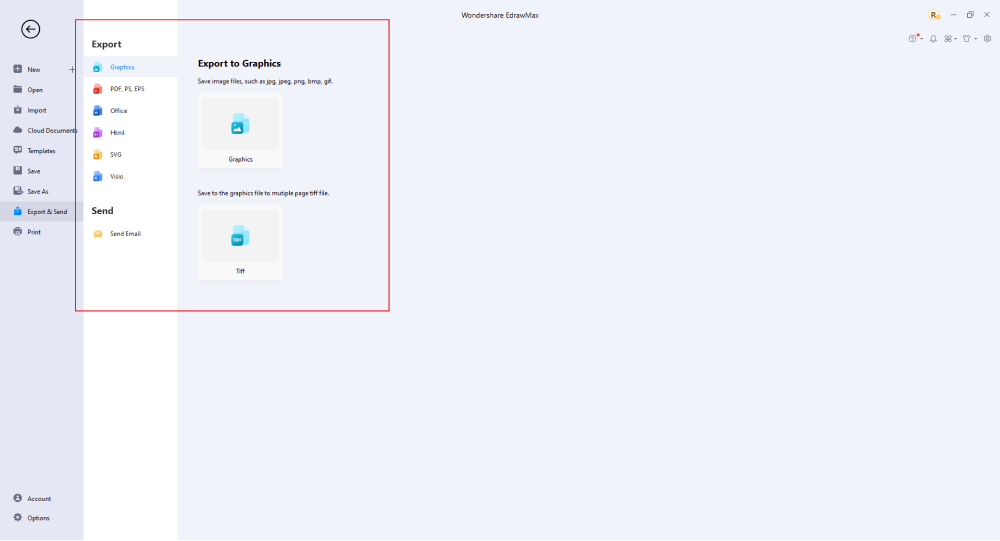 4.2 How to Import and Create More Cisco Symbols in EdrawMax
Add more customized icons and symbols by drawing your icons in EdrawMax, or you can also import libraries from your computer storage. Click the New Library link in the menu under the Libraries link. Rename the library according to your requirement and add symbols.
Step1
Find Symbol Tool
If you can't find any symbol similar to the one you want, you can use the pencil tool, pen tool, and anchor tool to draw your personalized Cisco symbols. It is much easier to draw the symbol you want on EdrawMax instead of searching for the one that suits your requirements. You can also save your symbol in the library for later use.
Select "Symbols" on the upper Toolbar;
Use "Pencil Tool", "Pen Tool", "Anchor Tool" to create garden symbol from very beginning;
Choose "Union", "Combine", "Subtract", "Fragment", "Intersect", "Smart Shape" to make your symbols.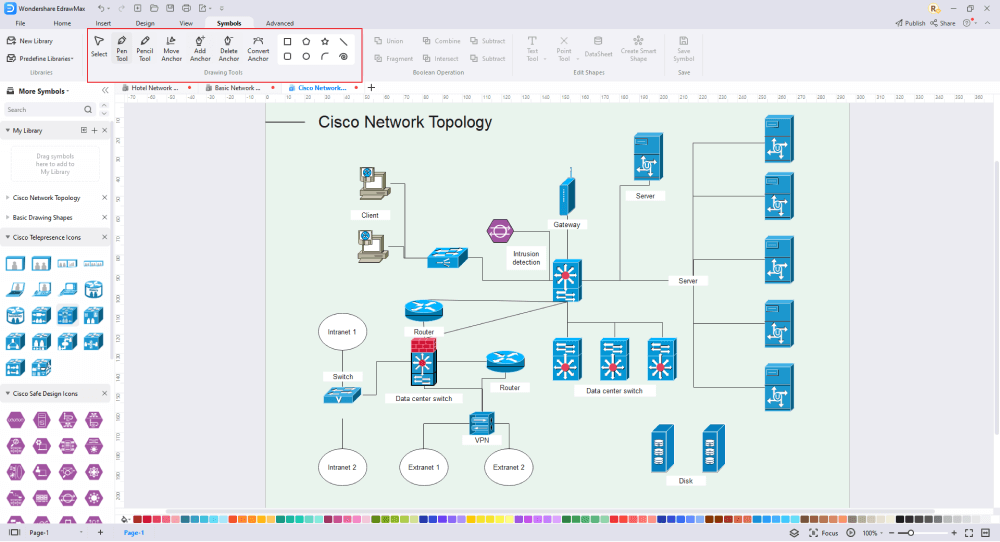 Step2
Create Cisco Symbols
Creating your Cisco icons in EdrawMax is like making another diagram, as we described above. On the canvas, draw your symbols by using the shapes in the left pane and then modifying them using the 'Symbols' menu in the toolbar. You can use the Pencil tool, Pen tool, etc. Use Symbols> Symbols Tools, including Union, Intersection, and more.
You can use various pen styles to make different parts of your symbol.
Make sure that the illustration inside the shape does not overlap it.
When making an icon, use the right color to represent the icon.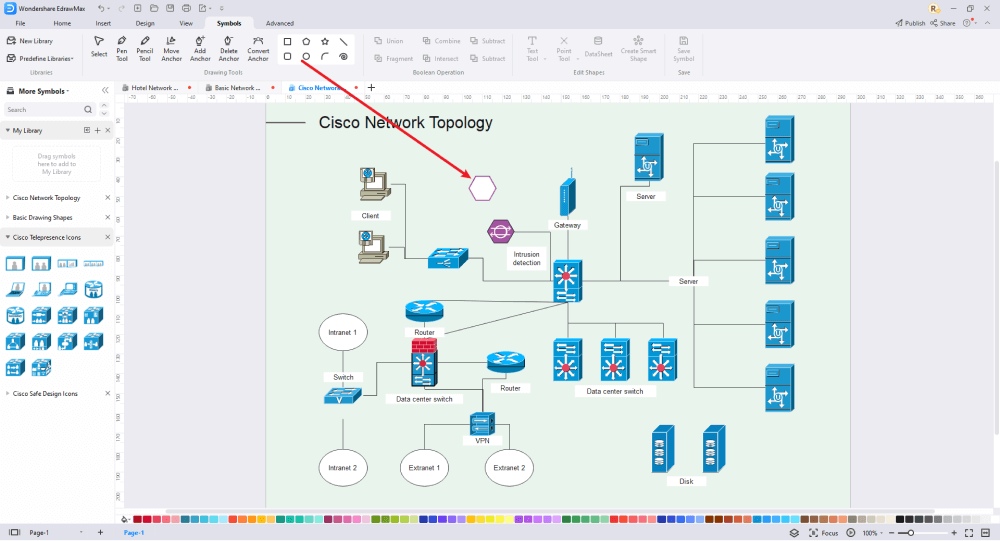 Step3
Import Symbols
Along with the 'My Library' title, you can see an import symbol option; clicking on this link opens the Import dialog. In the Import Symbols dialog, you can import Images, SVG, and VSSX. Importing EDT/EDL files option is for adding the library that you have already built.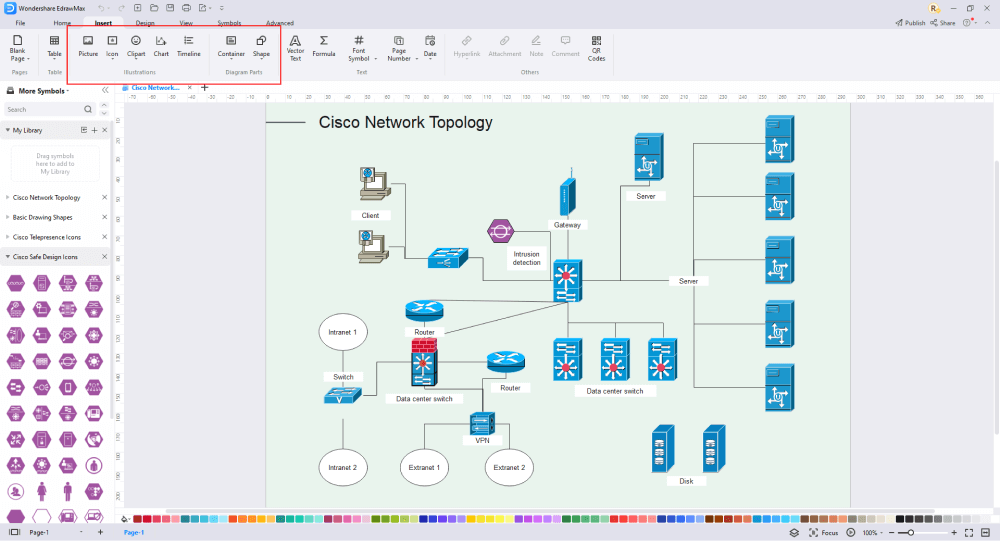 Step4
Save to Your Symbol Libraries
Once you completed your Cisco symbols design or import your symbol images, you should still click "Symbols" on top, and choose "Save Symbol" to your symbol Libraries. Or you can click "+" in My Library on the left toolbar. Learn more about how to draw Cisco diagrams or design a Cisco diagram from this Cisco Network Diagram Guide here.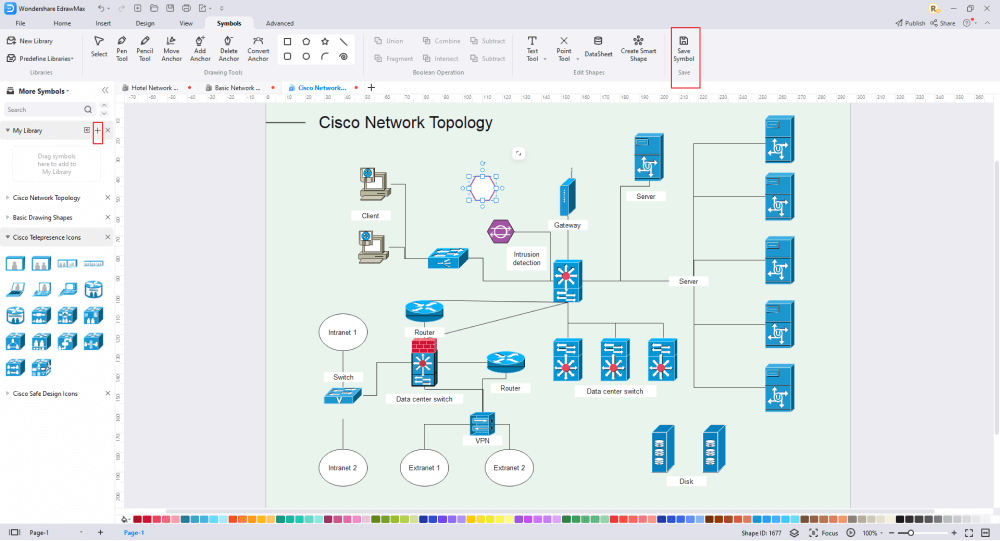 5. Free Cisco Network Diagram Software
EdrawMax has the edge over other Cisco network diagram software because even its free version supports all Cisco icons and other fully stocked libraries. You can also use the Templates Community to learn and use professionally designed samples of diagrams to save time and effort. Its intuitive layout and simple learning curve allow even non-technical users to take full advantage of all the features. It is a must-have tool for businesses, students, teachers, management teams, administrators, etc. They can create all types of diagrams, infographics, worksheets, flowcharts, plans, etc. The best way is to get a feel of the software and then invest in a paid plan for more features.
Key Features of EdrawMax:
Free Cisco network diagram templates and Cisco icons which you can customize by yourself
Share your work and collaborate with your team in file formats including Office, PDF, Visio, Html, SVG, Graphics in one click
Both web and desktop platforms are available for you to create your Cisco icons seamlessly
User-friendly interface with detailed tutorials for beginners
EdrawMax Desktop
Create over 280 types of diagrams
Windows, Mac, Linux (runs in all environments)
Professional inbuilt resources and templates
On-premises software for business
Enterprise-level data security
EdrawMax Online
Create over 280 types of diagrams online
Access diagrams anywhere, anytime
Team management and collaboration
Personal Cloud and Dropbox Integration
6. Final Thoughts
A noticeable number of all networks worldwide use Cisco equipment; therefore, it is important to create your network diagrams using standard Cisco icons so that your diagrams are clear and everyone understands what is represented here. The best option to create fully formatted and standardized diagrams is using drawing software like EdrawMax with all tools and icon libraries.
EdrawMax is a Cisco network diagram tool that allows you to create detailed diagrams of Cisco solutions with a fully stocked Cisco icons library. You can also use other libraries to add more description and detail to your diagrams. Also, the Templates Community supports you a great deal for a quick start.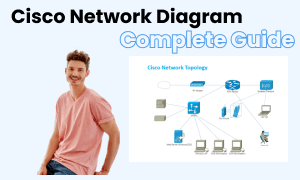 Cisco Network Diagram Complete Guide
Check this complete guide to know everything about the Cisco diagram, like Cisco types, Cisco symbols, and how to make a Cisco network diagram.