Cisco Network Diagram Symbols

Pre-drawn Cisco network diagram symbols like wireless router, workgroup switch, access server and more help create accurate diagrams and documentation.
Edraw software offers you lots of special Cisco basic shapes, router-generic, router-broadband, router-with firewall, wireless router, workgroup switch, ATM switch, ISDN switch, multiplayer switch, protocol translator, access server, transpath, etc.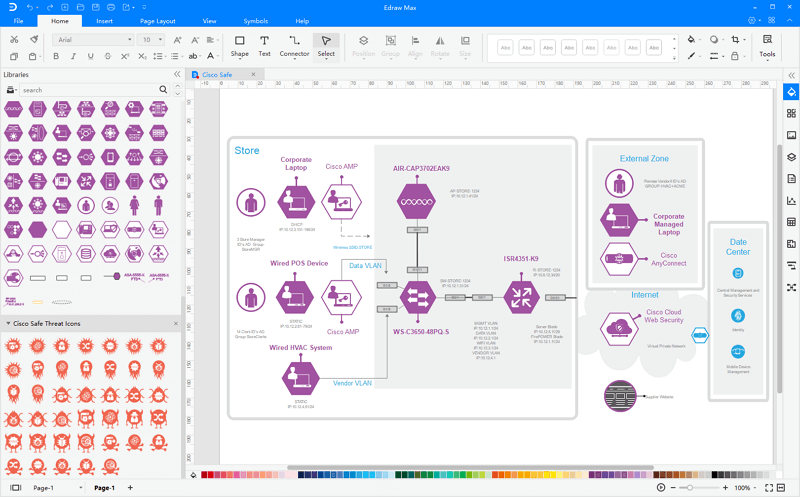 EdrawMax
All-in-One Diagram Software
Create more than 280 types of diagrams effortlessly
Start diagramming with various templates and symbols easily
Superior file compatibility: Import and export drawings to various file formats, such as Visio
Cross-platform supported (Windows, Mac, Linux, Web)
Security Verified |
Switch to Mac >>
Security Verified |
Switch to Linux >>
Security Verified |
Switch to Windows >>
Cisco Network Diagram Symbols
Cisco Network Diagram Shapes
Wireless router is a device that performs the functions of a router but also includes the functions of a wireless access point.
ATM switch takes care of daily clearing, settlement processing as well.
ISDN switch provides access to packet switched networks, designed to allow digital transmission of voice and data over ordinary telephone copper wires.
Access server is a computer server that enables an independent service provider (ISP) to provide connected customers with Internet access.
Terminal server enables organizations to connect devices with an RS-232, RS-422 or RS-485 serial interface to a local area network.
BBSM is short for Bulletin Board System Mailbox.
IP address is an identifier for devices on a TCP/IP network.
ADM is short for add/drop multiplexing. The goal of ADM is to add and drop signals without disrupting the onward transmission of other signals.
Server is a computer or computer program which manages access to a centralized resource or service in a network.
DSLAM (Digital Subscriber Line Access Multiplexer) is a network device that receives signals from multiple customer Digital Subscriber Line (DSL) connections and puts the signals on a high-speed backbone line using multiplexing techniques.
Gateway is a device used to connect two different networks, especially a connection to the Internet.
Modem is a combined device for modulation and demodulation.
Host is a computer or other device connected to a computer network.
Mobile router is a category of broadband routers designed to help people connect their mobile devices.
Wavelength Router architecture intelligently networks the point-to-point long-haul optical pipes created by dense wave-division multiplexing (DWDM).
Cisco catalyst is the brand name for a variety of network switches sold by Cisco Systems.
Virtual switch is a software program that allows one virtual machine (VM) to communicate with another.
Need fresh looking Cisco network diagram symbols for your design? These Cisco network diagram symbols are a cinch to pop in. And their crisp, fine detail will make spectacular, easy-to-understand Cisco network diagrams and presentations to your customers.
Updated Cisco Network Topology Icons
After the launching of Edraw Max Version 9.0, Cisco Network Topology library is updated with more comprehensive resources. Here are all icons from Cisco Network Topology icon liabrary for your references. For details of update, you can have a trial of Edraw Max 9.0 to experience.
Cisco Network Topology library - 1
Cisco Network Topology library - 2
Cisco Network Topology library - 3
Look at the video below, and you will knnow how to create a Cisco network diagram in Edraw Max with these inbuilt diagram symbols.
Relative Resources:
Full Set of Standard Cisco Safety Icons
Logical and Physical Network Diagram Templates