Cisco Network Diagram Complete Guide
Do You Want to Make Your Cisco Network Diagram?
EdrawMax specializes in diagramming and visualizing. Learn from this Cisco network diagram complete guide to know everything about the Cisco network diagram. Just try it free now!
Networking courses are not an easy thing for many people. However, with several companies offering networking certification, Cisco is a prominent name that resounds with many. It is among the leading producers of networking items such as routers, bridges, network management software, routers, ATM switches, dial-up servers, frame switches, and network management software.
Understanding the concept of networking is vital if you want to learn how to draw cisco network diagrams. Visually representing relationships between different network devices can help print a better picture for your team and colleagues. If you want to embark on Cisco CCNA certification, then this article is what you need to prep yourself. This article is a complete guide on a cisco network diagram. You will also learn how to use EdrawMax software to create amazing cisco network diagrams for your team. Furthermore, you will learn to use templates to design your network diagrams.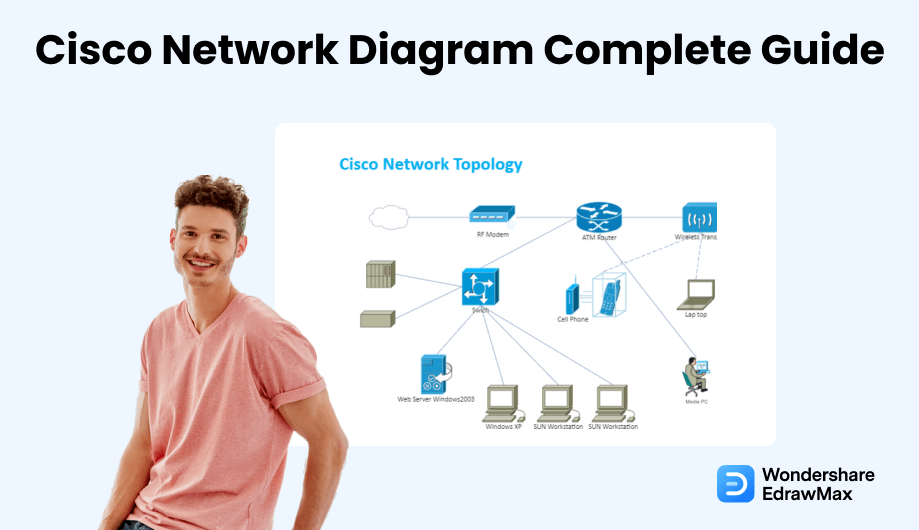 1. What is a Cisco Network Diagram
Cisco is a renowned technology company known for its unique networking products. The company develops, manufactures, and sells several telecoms equipment and networking hardware and offers other IT services and products. Sandy Lerner and Leonard Bosack founded Cisco in 1984. They were the first to pioneer the concept of Local Area Network in connecting computers through large distances via a multiprotocol router system. This company leveraged the rise of the internet in the 1990s and outlasted most companies during the dot.com bubble.
Undoubtedly, Cisco is a universal leader in the networking industry. It is the networking bedrock for service providers, enterprise customers, and small to medium businesses. These enterprise customers include utilities, government agencies, educational institutions, and corporations.
The Cisco networking solution connects computer networks, devices, and people. In addition, it enables people to transfer or access information notwithstanding differences in place, time, or computer system.
Cisco Network Diagram:
A cisco network diagram describes the logical and physical structure of a network. It maps distinct nodes on a computer network, including routers, switches, etc. Besides this, it also illustrates how networks are placed and connected, including the data flows within the network.
Benefits of Using Cisco Networks
The omnipresence: Cisco is indeed a colossus. Its corporate services and goods cover a broad spectrum of industries. It is difficult to find a firm that does not employ anything from Cisco. Nevertheless, a firm's scale and range alone do not make it exceptional. What counts most is the value of what it provides. And Cisco is always excellent. With keys to firewalls, Cisco's extensiveness mixed with superior efficiency is difficult to match. It demonstrates Cisco's competitive edge and provides a compelling argument to engage in becoming a Cisco professional.
The security factors: Privacy must be a high concern nowadays, regardless of your IT position. Cisco networks are fantastic because you never have to question their safety at any degree. Cisco's commitment to safety is woven into anything and everything they make, from routers and switches to certification pathways. Cisco has extensive expertise dealing with even the most difficult security issues; for instance, security was priority in their network solution for the Rio Olympics. They have complete authority over admission to your networks.
The accessibility: For one as an IT professional, you understand how important network uptime is to employee efficiency. If availability and reliability are priority for your IT group and broader business needs - and they most definitely are - Cisco is the way to go. Uptime must be ensured and get the most out of the IT expenditure (and to keep your coworkers happy). Cisco provides you with device-level as well as networking technologies and procedures to make sure that there is reliability. In even the most complicated networks, significant downtime can be prevented with Cisco on your side.
The wide scalability: We've already discussed Cisco's superiority in enterprise-level products, but it is worth emphasizing that you really can start simple with Cisco and expand, measure, and grow large. There are not too many organizations that provide both a $40 home network and solutions to multimillion-dollar global enterprises. This demonstrates that regardless of wherever you begin as an IT professional or business entrepreneur, Cisco's networking technologies and services can expand with you as your job or company expands.
Advanced automation: When it relates to automated processes, Cisco recognizes corporate and IT demands and could set the foundation for future progress. Cisco has introduced innovative solutions and enhanced current products to fulfill the company's requirements for automated and virtualized options as systems become more resilient and complicated. Cisco's Cloud and Systems Management products, as well as their Integrated Automation Systems also does wonders.
The customer satisfaction: Although customer satisfaction is not a technical advantage of Cisco Systems, it is a key component of Cisco's roaring success and a primary factor why many organizations and users stay committed to Cisco. Cisco offers a wide range of applications and tools to guarantee the effectiveness of its clients, from certification courses to Cisco Online to support groups. All these factors add up a huge advantage to the company or the firm as well as the customers that get satisfied with the service. Not just that, Cisco management also incorporates AI-powered technology to further evaluate customer queries and provide even more efficient solutions.
2. Preparations before Starting Cisco Networking
To acquire the Cisco Certified Network Associate (CCNA) as your latest certification, you must plan carefully. Before sitting down for this important certification, there are certain things to do, especially if you want to come out successful. These seven-step processes will help you prepare before starting your cisco networking:
Step #1 Undertake a Beginner's Networking Course
The first step is to build networking knowledge for those starting in cybersecurity or IT without any fundamental knowledge or experience in the field. Most people want to rush things and jumpstart the process without acquiring any networking network. It is always to get basic networking before jumping into any CCNA content. While the CCNA curriculum offers fundamentals on networking, getting yourself ready and equipped before that time can go a long way. Furthermore, you will benefit from this massively, especially if you take the course yourself without any instructor.
Step #2 Undertake the CompTIA Network+ Course
Although CompTIA Network+ and Cisco CCNA have similarities, but if you decide which to take first, the CompTIA Network+ will offer more benefits to you. However, this is for individual who wants to get both certifications. Unlike the Cisco CCNA, the CompTIA Network+ exam does not require much preparation, hands-on experience, and study time. In addition, it is easier to acquire CompTIA Network+ than the CCNA and widely accepted by several employers.
Step #3 Download Packet Tracer
While several organizations offer Cisco CCNA certification courses, one benefit of taking the official course with an instructor is the opportunity to download packet tracer. In addition, the instructor might have worked with Cisco's Packet Tracer software to complete related labs on the course. However, if you are doing self-study without access to actual equipment, you might want to download the Packet Tracer software and practice working under virtual equipment. The Packet tracer is a proprietary network simulation program that allows CCNA students to work through labs. The tracer is available to everyone and is accessible on its website (netacad.com). Despite the limitations of using a packet tracer, it still serves as an effective way to practice using the Cisco configuration and commands you might see during your exam. Furthermore, it offers a quick way to try out configuration and network topology without requiring physical equipment.
Step #4 Configuring a Wi-Fi Network
During your planning stage, you can also take some time to learn how to configure a Wi-Fi network. You can practice with a small office or home wireless network. Nowadays, modern wireless routers are cheap and with several networking protocols. For instance, most wireless devices come with NAT, routing, switch ports, VLANs, encryption, firewall, and other features. Therefore, working with any of these devices helps reinforce your learning process in your CCNA preparation.
Step #5 Completing Labs
Following the previous steps above, you have downloaded the packet tracer and practiced with physical Wi-Fi equipment. With the downloaded Packet Tracer, you can navigate through Labs. However, peradventure, you are undertaking the actual CCNA course; you must have come across several step-by-step labs. For those not taking the CCNA course, you can find several CCNA-related labs online. In this stage of the preparation process, you need actual labs as it will increase your experience and ability to withstand anything during the exam. Ensure you complete every course and video since it is the best way to strengthen your networking knowledge.
Step #6 Get Actual Equipment Experience
After covering the basics with a Wi-Fi router, you can take the opportunity to work with actual equipment. While this aspect is easier said than done, you can buy the necessary equipment. However, you do not have to purchase the equipment to scale through the exam because some people do pass the CCNA without having physical networking equipment. Notwithstanding, if you have the resources, you can invest in Cisco networking equipment. This will help build your confidence during the exam. Remember, simulation software cannot provide the same experience as a real-life situation.
Step #7 Watch Configuration Videos
Our last step in preparations before starting Cisco Networking is to spend time watching CCNA configuration videos online. Today, you have access to hundreds of videos where professionals configure networks. Besides this, you can also watch videos on anything listed on CCNA objectives and curriculum. Watching video is the fastest shortcut to understanding cisco networking. You shorten the learning process and leverage other people's experiences. You can also find books on Cisco networking that offer relevant CCNA certification info. The video is the best option for seeing things yourself and practicing whatever you watch.
3. How to Draw a Cisco Network Diagram in EdrawMax
A Cisco network diagram represents a network topology's elements, structure, and activities. It depicts how each activity connects to the system. In this example of drawing a Cisco network diagram in EdrawMax, we will utilize the cisco networking diagram to illustrate the sequence of actions. When drawing a network diagram, you must understand network topography. That understanding can help you adhere to the steps below. So let us get started with the steps to using any cisco icon and creating a network diagram. You can use EdrawMax, a free online network diagram software, and its template to get a jumpstart on your Cisco network diagramming career. You do not have to be an expert to do this. With a Cisco network example, you are good to go.
Step1
Open EdrawMax and Login
The very first step that you need to follow is to install EdrawMax in your system. Go to EdrawMax Download and download the network diagram software depending upon your operating system. If you need remote collaboration with your office team, head to EdrawMax Online and log in using your registered email address.
You must visualize what your diagram will look like and what you intend to achieve. This enables you to have a mental picture of the diagram and aids you when starting from nothing. You can also decide to use any template of your choice. Without mapping the base of your drawing, it is impossible to start the next step.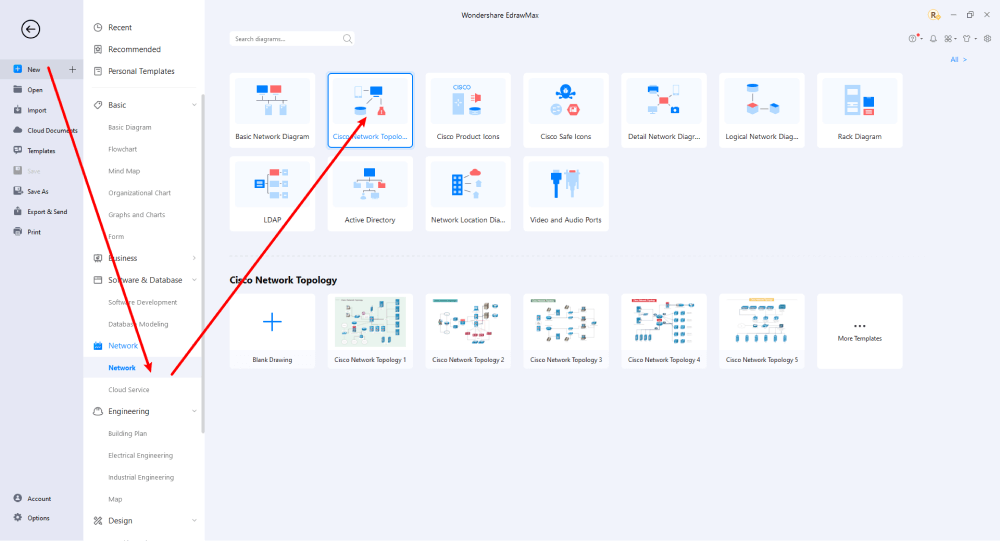 Step2
Select a Template
After launching, the Home screen opens by default. Head to the Template bar and search for Network Diagrams in the search box. In-built templates specific to your search will appear on the screen. EdrawMax features a large library of templates. We have more than 25 million registered users who have produced thorough Templates Community for each design. Select the template you like and click Use Immediately to open it in a new window for customization. Using any EdrawMax templates allows you to adjust the placement of different components. The only thing required is to drag the components from the library. However, since you are using a networking diagram, you can add details to it without having any complications. In addition, the texts will not be complicated for anyone to read. Remember, you only must add the necessary components to keep your diagram simple.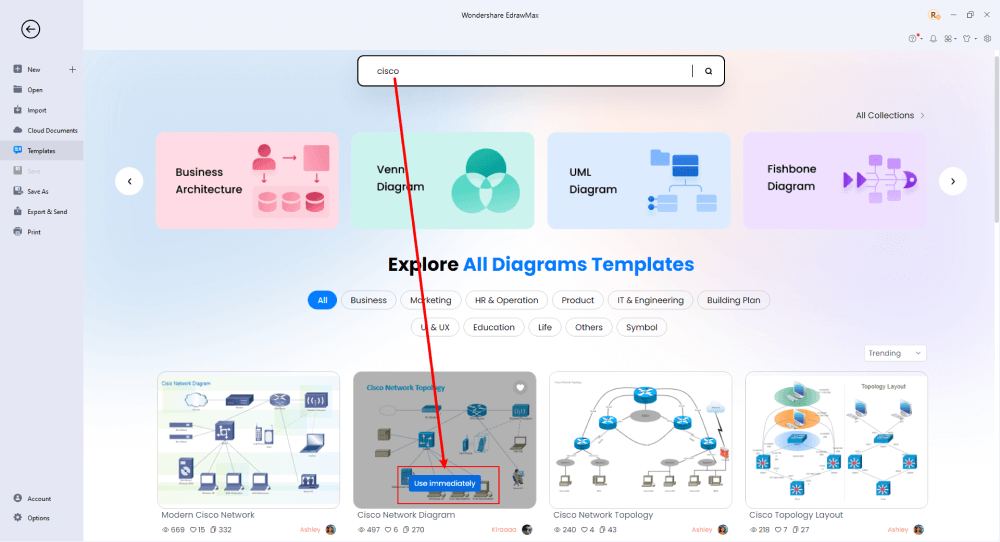 Step3
Create From Scratch
From the EdrawMax homepage, you will find the '+' sign that takes you right to the canvas board, from where you can start designing the network diagram from scratch. Coupled with your technical expertise, you can use a wide range of symbols to draw a detailed Cisco network diagram.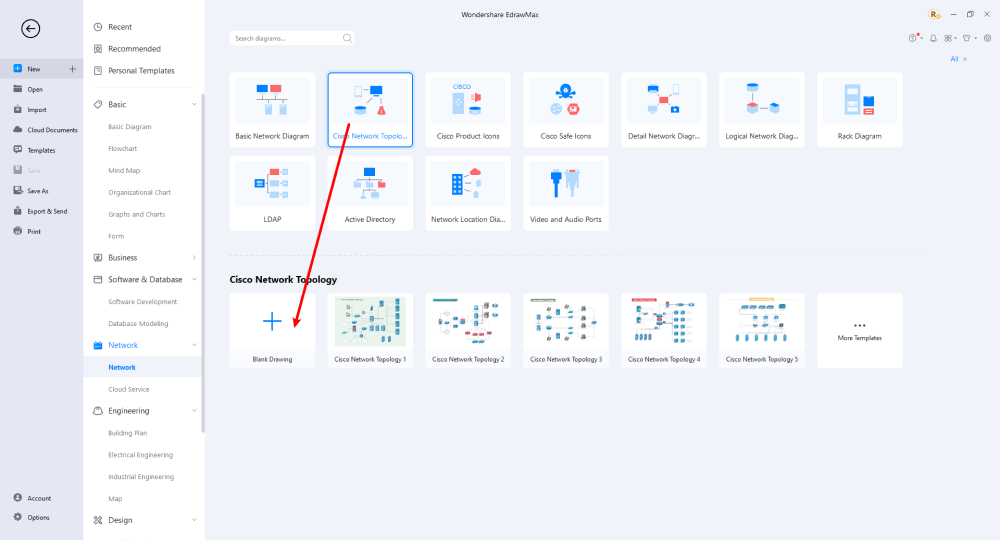 Step4
Select Symbols
EdrawMax includes a large number of symbol libraries. You may quickly build any type of diagram with over 26,000 vector-enabled symbols. If you can't locate the symbols you need, you can easily import some images/icons or build your own shape and save it as a symbol for later use. Simply go to the 'Symbols' part of EdrawMax and select the 'Predefined Symbol' section from the top toolbar. Hundreds of symbol categories are accessible for you to utilize and incorporate into your Cisco network diagram.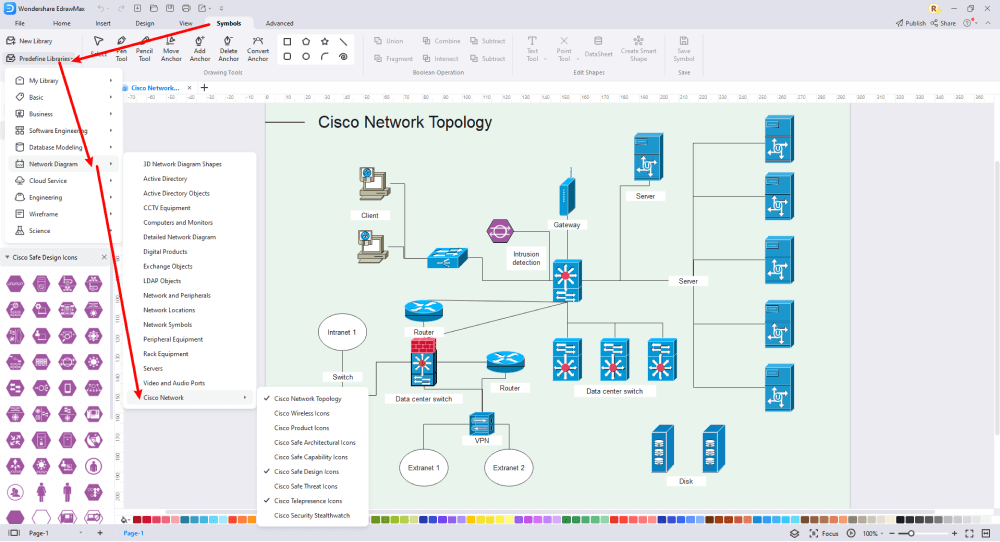 Step5
Add Components
After you have sketched out the basic pieces, you may customize the typefaces, colors, and other details by selecting the right or top menu to make your Cisco network design more visually appealing. Also, feel free to draw ideas from other layouts on Templates Community and transfer some of the photos or features that you think would go well with your Cisco network design. Typically, a cisco network diagram will showcase the relationship of every element as well as the information flow within the system to explain different actions. One vital connection to use is lines, as they depict the order and relationships of the actions in the system.
Once you add connections to the diagram, you need to label the cisco icons, devices, and symbols. This is to make your diagram simple and easy to understand. Furthermore, you can use several symbols since you can label everyone. When tagging the diagram, there is not any need to include their names if it is not required. Instead, you can mark the diagrams using numbers while providing a few notes that explain the elements.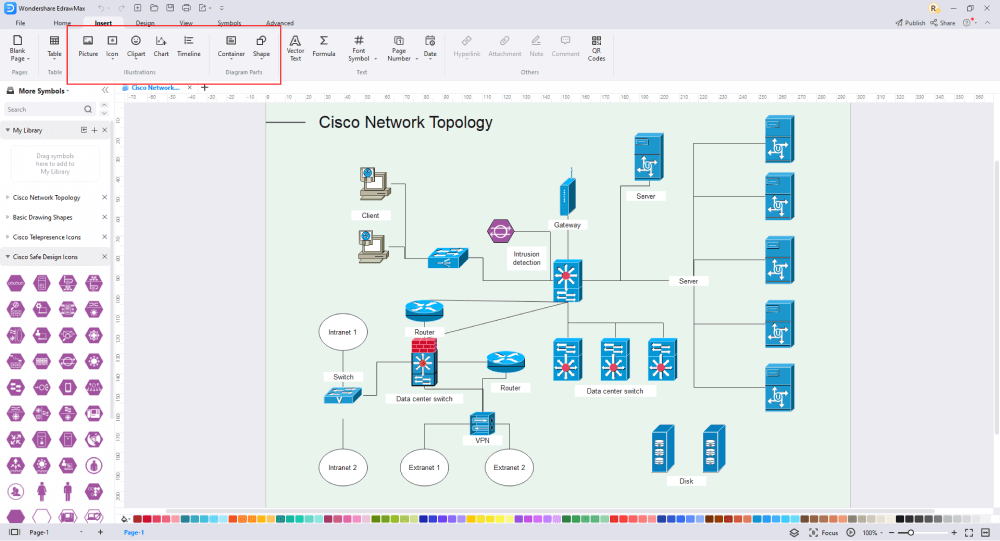 Step6
Finalizing the Plan
Once your Cisco network diagram is ready, you can collaborate with your team to consider their opinion using the Cloud-base files. EdrawMax allows up to 100M free cloud storage. It supports files in several formats, including HTML, PDF, Graphics, Visio, Microsoft Office, etc. Furthermore, you can share on famous social media platforms like LinkedIn, Twitter, or Facebook. It is not a complicated process to create a Cisco network diagram in EdrawMax. You can take a template and continue customizing it to suit whatever design you want. EdrawMax has several templates with fantastic designs for a Cisco network diagram for your organization.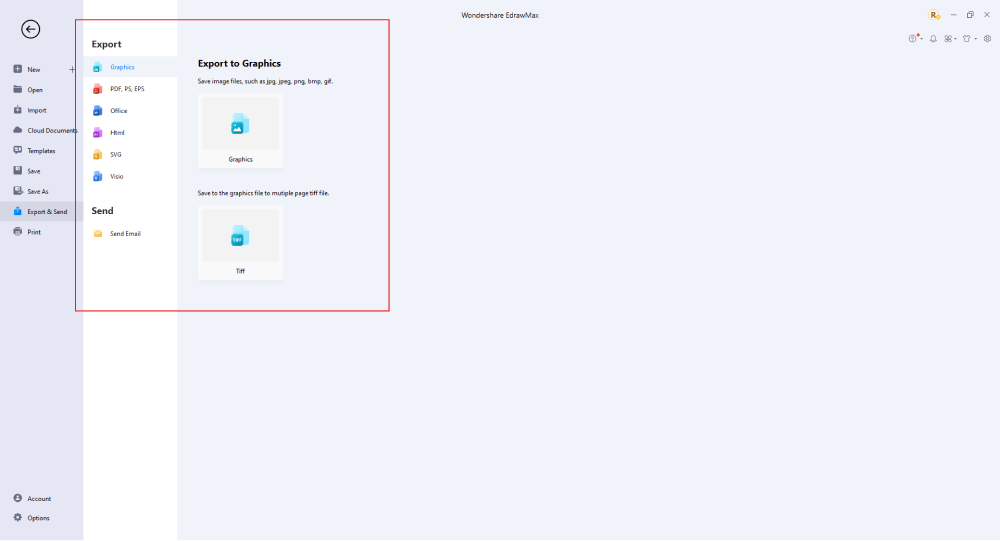 Basically, it is simple to create a Cisco network diagram in EdrawMax, just grab a template and keep customizing, drag and drop professinal Cisco symbols to make your plan better. If you are still confusing about how to make a Cisco network diagram in EdrawMax, you can find more tutorial videos from our Youtube
4. Cisco Network Examples & Templates
You now know how to use a blank template to create a basic Cisco network diagram from scratch. It is also possible to construct more professional network diagrams using free templates from EdrawMax. Just click the image to download EdrawMax, and download the templates accordingly. Then double click to open the templates and customize as your prefer. Or open the templates from EdrawMax Online , and duplicate the templates.
Example 1: Cisco Network Diagram
Cisco network topology diagrams depict the structure and layout of telecommunication and computer networks. Network and system administrators, as well as IT professionals and corporate IT departments, utilize them to visually document the topology of Cisco computer networks.
Example 2: Cisco Network Topology Diagram
Here is a Cisco network topology, from which you can see the devices' relationships in general. Cisco Network Topology Diagrams visualize the telecommunication and computer network topology and layout. They are used by IT professionals and corporate IT departments, network, and system administrators to visually document the topology of Cisco computer networks. Learn more details from this diagram, or try to make yours with ease now!
Example 3: Cisco Switch Diagram
Cisco Network Diagrams are used by System administrators and IT professionals to design and showcase network infrastructures. With Cisco's network diagram tools, one can create their own diagrams representing the network's organizational structures in minutes. As shown in the Cisco network diagram, switches, routers, and wireless access points perform very different functions in a network.
5. Free Cisco Network Diagram Software
EdrawMax is an all-in-one Cisco network diagram software that can be used for network topology, Cisco switch diagram, firewall network diagram, AWS network diagram, neural network diagram, and rack diagram, etc. EdrawMax supports drawing over 280 different kinds of diagrams, including flowcharts, mind maps, Gantt chart, org charts and circuit diagrams. You may combine different diagrams and give context to them visually using text and symbols. Besides this, it contains thousands of professionally designed templates. The software allows everyone to import and export files to PDF, HTML, Word, Visio, and PowerPoint. Additionally, you can convert to image formats such as PNG and JPEG. Every form of cisco network diagram comes with built-in libraries. While all diagrams must follow specific guidelines, the symbols can be easily customized by changing their line styles and colors. You can clone existing templates from other collections if you do not want to start from nothing.
Below are EdrawMax's comprehensive features that will offer you an excellent drawing experience:
EdrawMax is a cloud-based storage program that allows multiple people to work on the same project simultaneously.
EdrawMax comes with an extensive library of network diagrams with uniform colorful components.
With the enterprise scale and security feature, all Cisco network diagrams and files are encrypted with SSL encryption.
With Smart Layout, all you must do is move your cursor, and the shape of the diagram will change to match.
You can drag and drop things from the panel, toolbar, or libraries into the canvas with EdrawMax.
The interface of EdrawMax is so easy to use that even a new user will not have any trouble getting around.
EdrawMax Desktop
Create over 280 types of diagrams
Windows, Mac, Linux (runs in all environments)
Professional inbuilt resources and templates
On-premises software for business
Enterprise-level data security
EdrawMax Online
Create over 280 types of diagrams online
Access diagrams anywhere, anytime
Team management and collaboration
Personal Cloud and Dropbox Integration
6. Final Thoughts
Cisco is recognized in the networking industry as a producer of quality devices. However, for organizations, creating network diagrams for their team is critical. Understanding the relationships between assorted designs and network plays a vital role.
Although you might find several cisco network diagram software online, none beats EdrawMax. The moment you start using EdrawMax , you will realize that the tool comes with several amazing features that ease your efforts in creating the Cisco network diagram and help you share the designs using the easy sharing option. With EdrawMax, you can export your file into multiple formats, and share your works on different social media platforms, like Facebook, Twitter, LinkedIn, and Pinterest. All in all, EdrawMax is a wonderful tool that caters to all of your designing and drawing needs.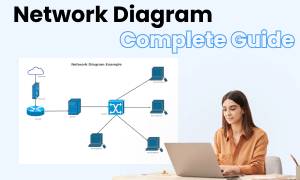 Network Diagram Complete Guide
Check this complete guide to know everything about the network diagram, like network diagram types, network diagram symbols, and how to make a network diagram.