Do You Want to Make Your Azure Diagram?
EdrawMax specializes in diagramming and visualizing. Learn from this article to know everything about Azure symbols, and how to use Azure symbols. Just try it free now!
Azure is Microsoft's public cloud computing platform that provides cloud services for analytics, storage, and networking. It supports virtual machines, web apps, mobile apps, virtual networking, DNS, CDN, etc. As we can see, the system made in the Microsoft Azure network may range from simple to complex; it is important to create a visual representation of systems using standard Azure icons to keep all stakeholders on the same page. Azure architecture diagrams communicate design decisions, components in the system, and the relationships between components.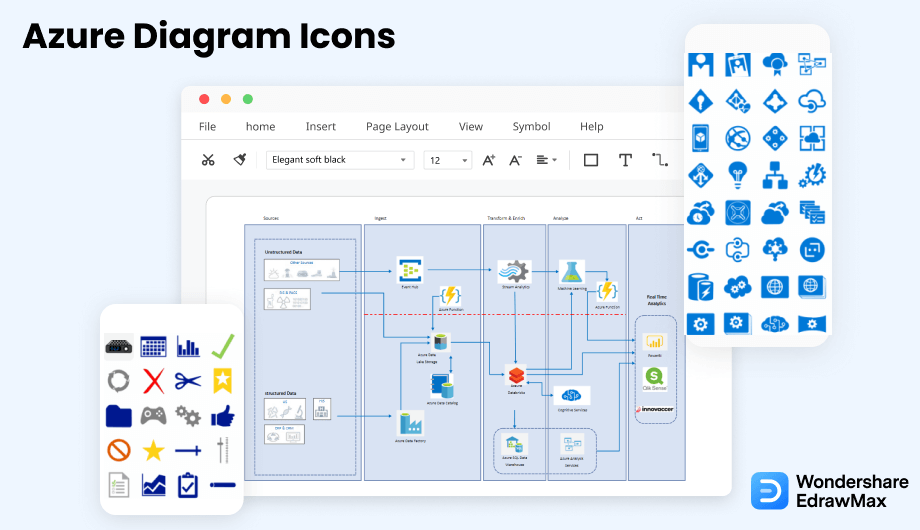 1. What Are the Azure Icons
Azure icon sets are pre-drawn standard symbols for creating detailed diagrams representing the current Azure setups, proposed solutions, presentations, and documentation. These icons are categorized mainly as cloud, deprecated, enterprise, MS Product, system center, general symbols, intune, VMs, etc.
2. The Types of Azure Icons
2.1 Azure AI + Machine Learning Icons
Azure gives you access to high-quality vision, speech, decision making, and language models to build custom-made models and programs. These architectural models use Azure AI through simple AI calls and state-of-the-art tools like Jupyter Notebooks and Visual Studio Code. Azure AI and machine learning icons help you create visual maps and algorithm models for building these systems. Using these icons, you can make flowcharts, proposed systems, user view diagrams, and much more.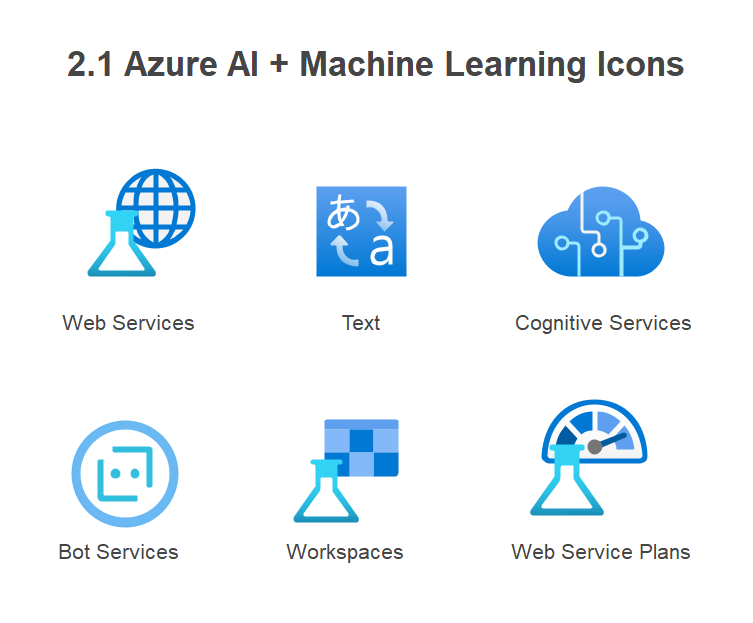 Source: EdrawMax
2.2 Azure Analytics Icons
Microsoft Azure Analytics offers solutions to store and analyze data sets accurately to provide business and data insights. To create your insights, you can use tools like Azure Databricks, Azure Stream Analytics, Azure Synapse Analytics, Data Lake Analytics, Data Factory, etc. Similarly, Azure analytics icons help you to plan your analytics models visually.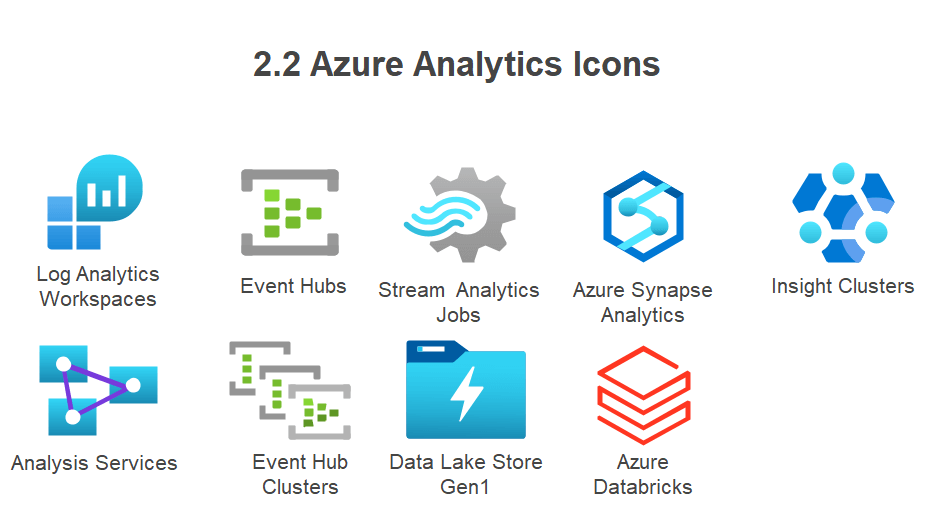 Source: EdrawMax
2.3 Azure App Services Icons
Azure app services are fully managed web hosting service that helps you to build web apps, services, and RESTful APIs. It is a Platform as a Service (PaaS) model, which means you will only manage your application and data. While network, infrastructure, hardware, operating system, and all other details are taken care of by Azure. The Azure icons set related to Azure app services includes icons that you can use to define how your service calls the API and connects with the Azure server.
Source: EdrawMax
2.4 Azure Stack Icons
Build your Azure stack solutions with Azure icons designed and distributed by Microsoft. It helps create a common understanding of the system because there are many players in the solution. Azure Stack uses to bring Azure cloud technology into your data center. So, the hardware is managed by vendors, and Azure manages the software.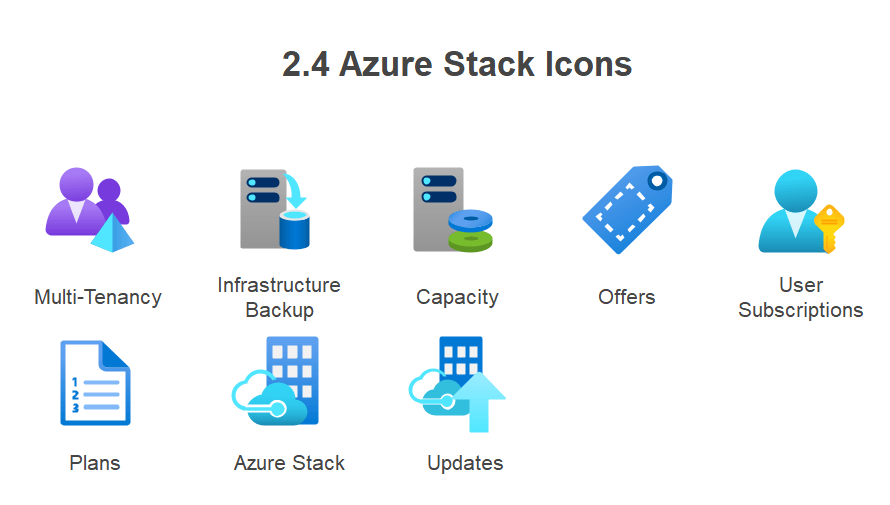 Source: EdrawMax
2.5 Azure VMware Solution Icons
Azure VMware Solution (AVS) brings a win-win situation for high-invest Vmware consumers. They can keep using their Vmware infrastructure and still take advantage of the high performance achieved through Azure. We can visualize how the existing Vmware will connect to Azure services using the Azure icons. These icons include cosmos, AAD, SQL, Data lake, etc., as services and Vmware icons show vSphere, vSAN, NSX, etc.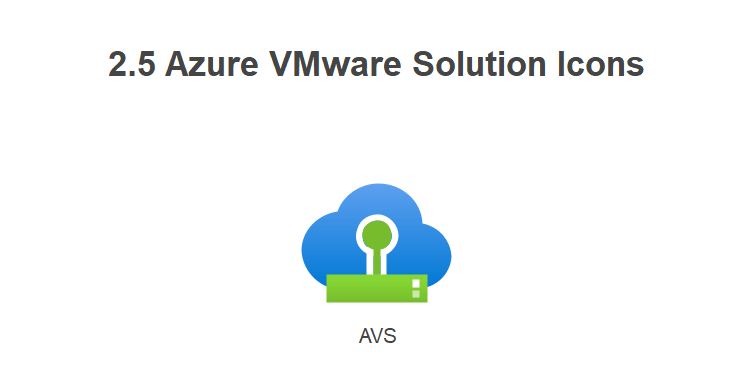 Source: EdrawMax
2.6 Azure Blockchain Icons
Azure Blockchain icons library gives you all icons to visually design a Blockchain solution using the Azure platform. Developers may start with simple solutions with pre-defined APIs and then move to more advanced levels using validation and iteration.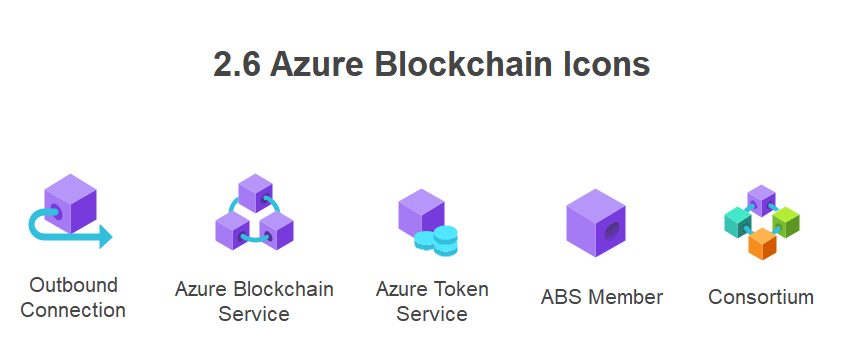 Source: EdrawMax
2.7 Azure Compute Icons
Azure compute allows you to use computing resources on Azure infrastructure. It includes multi-core processors and supercomputers that customers use through virtual machines and containers. Azure compute icons set has symbols and connections that you use to depict serverless computing and infrastructure setup or configuration.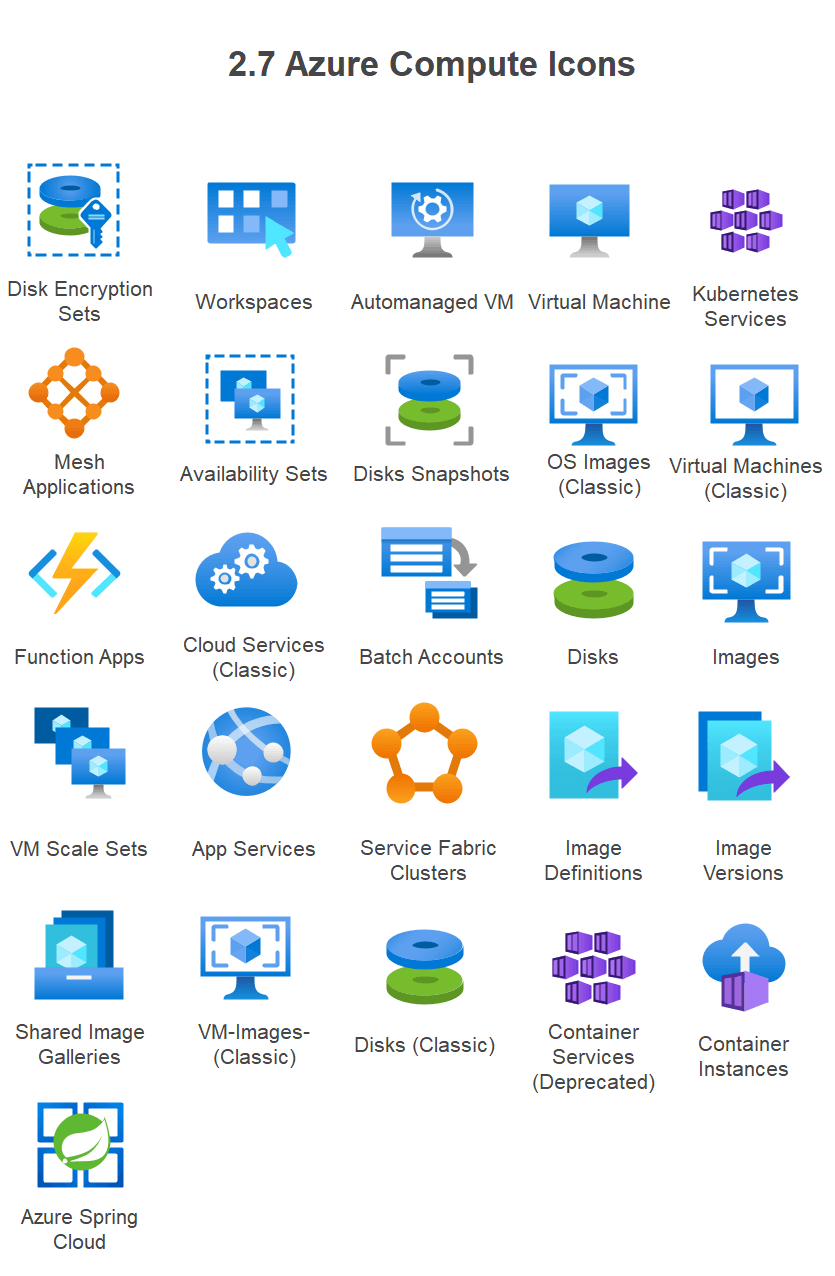 Source: EdrawMax
2.8 Azure Containers Icons
Azure Containers help users run a batch of tasks without managing an environment and dependencies. It results in efficient source data ingestion, process, and durable storage. Azure container icons include azure container registries, Azure container instances, etc.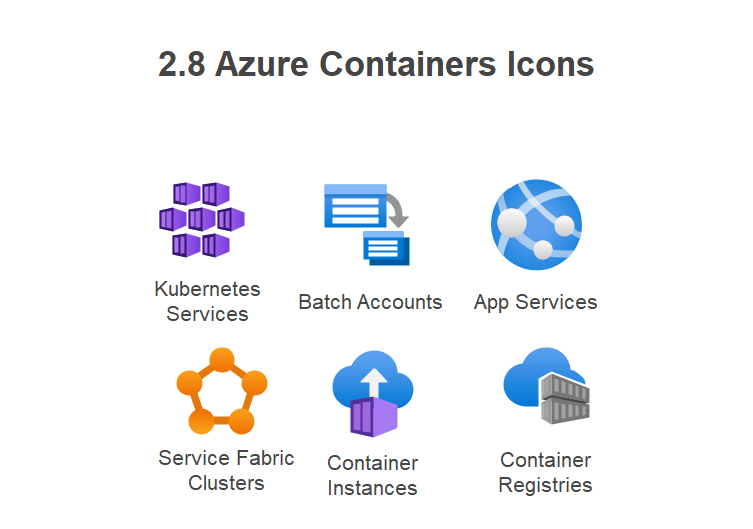 Source: EdrawMax
2.9 Azure Databases Icons
Azure SQL Database helps you create high-performance, fully managed data storage for your applications. It is a platform as a service (PaaS) database engine for upgrading, patching, backup data, and monitoring databases.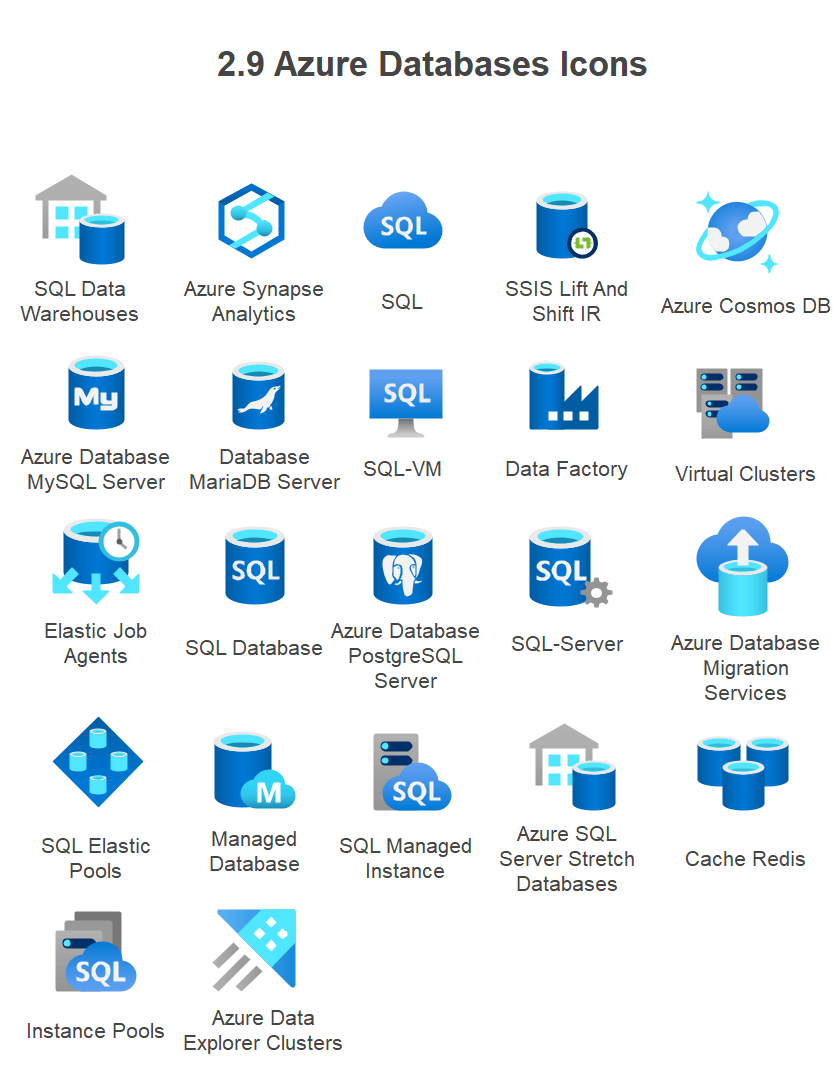 Source: EdrawMax
2.10 Azure DevOps Icons
Azure DevOps offers services for developer teams to plan, collaborate and build applications while using a common platform. It results in better collaboration for an efficient workplace, better product features, and more robust deliverables. Azure icon set for DevOps includes Application insights, Azure Dev Test Labs, Test plans, Repos, etc.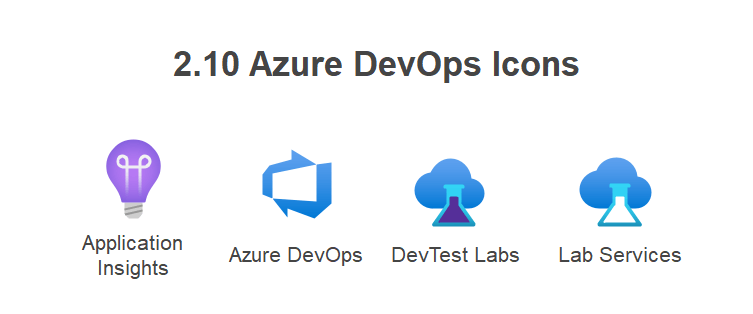 Source: EdrawMax
2.11 Azure General Icons
Azure available icons have all the icons that you will commonly use in many different types of Azure visual plans, charts, and diagrams. They include What's new, users, user privacy, recent, tag, etc.

Source: EdrawMax
2.12 Azure Identity Icons
The Azure identity supports building applications where users can sign in with their Microsoft or social accounts to provide authorized access to your customized APIs or Microsoft APIs.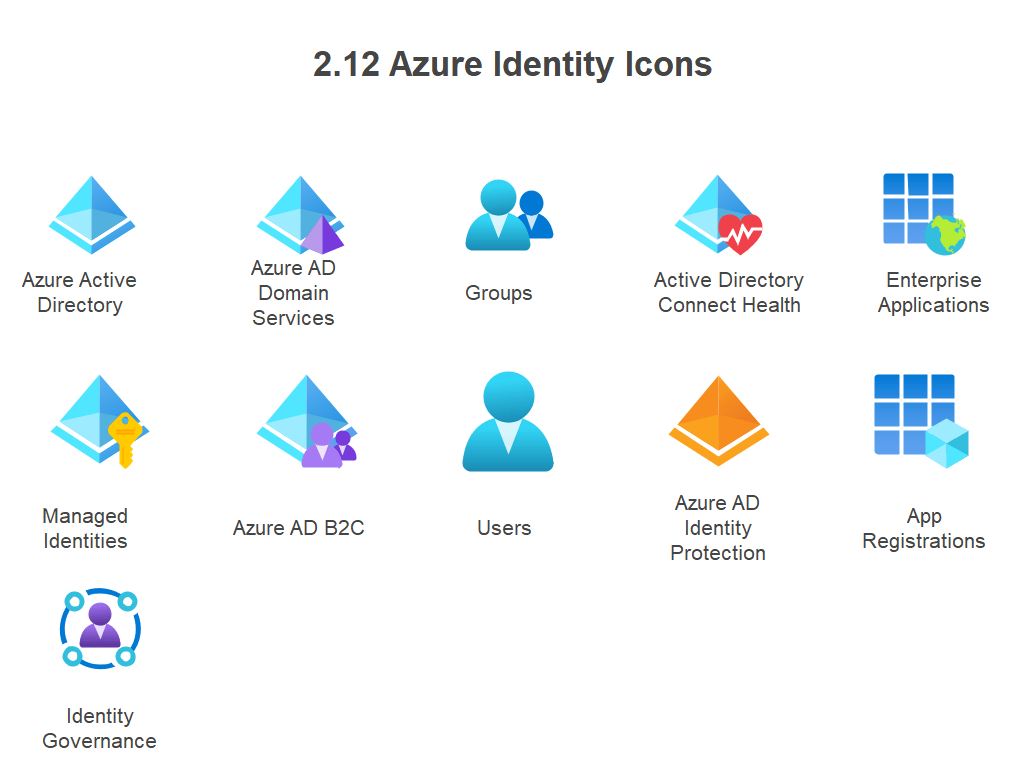 Source: EdrawMax
2.13 Azure Integration Icons
Azure integration is a platform that supports connecting various independent systems in a complex way. In such complex solutions, accurate and authentic documentation, diagrams, and flowcharts help keep the integrity and border understanding of the system intact. Azure integration icons provide icons for a visual representation of such systems. These icons include SaaS, API management, service bus, etc.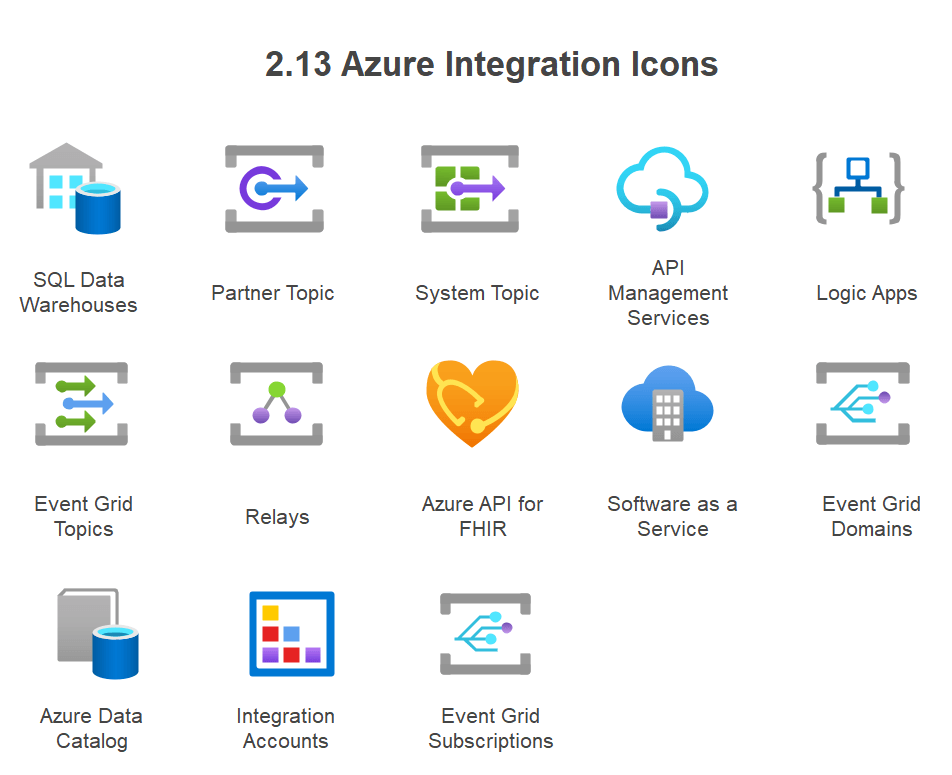 Source: EdrawMax
2.14 Azure Internet of Things Icons
The Azure Internet of Things (IoT) are services that help you connect, monitor, and control IoT assets that communicate with back-end services hosted in the Azure cloud platform.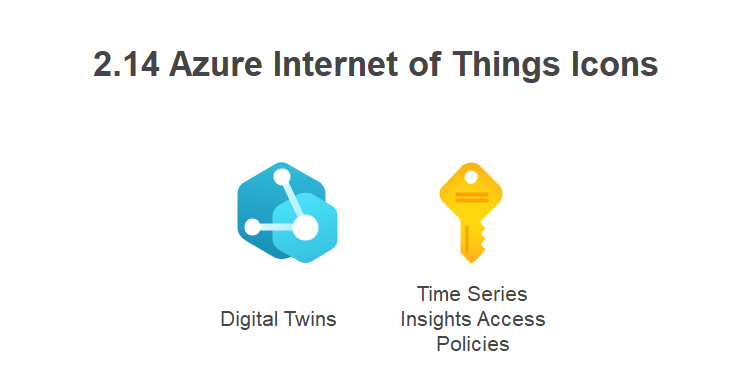 Source: EdrawMax
2.15 Azure Intune Icons
Azure Intune is a cloud-based service focusing on mobile device management (MDM) and mobile application management (MAM). It allows you to control the use of mobile phones, tablets, and laptops. Azure icons include VSCode, Microsoft Stream, Microsoft Word, etc.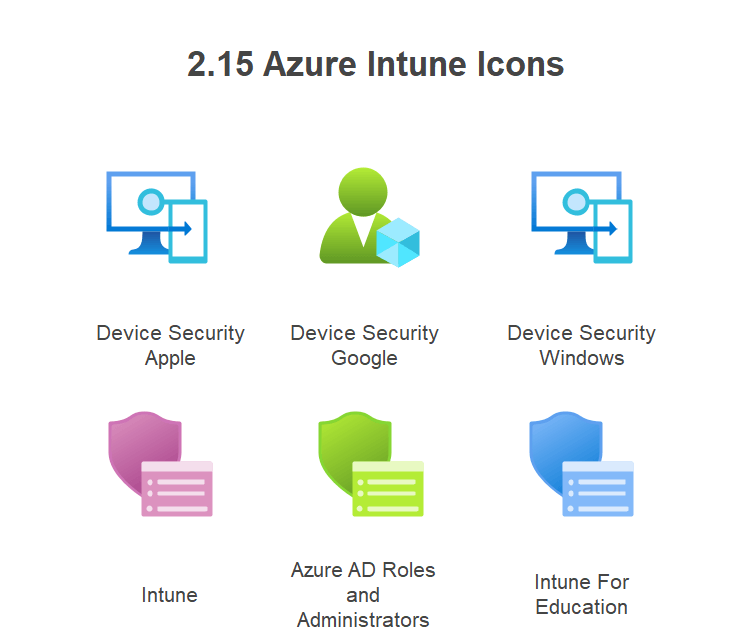 Source: EdrawMax
2.16 Azure Management + Governance Icons
Azure management and governance provide a solution for data protection and built-in management. Azure icons included in this set are diagnostic settings, policy, solutions, scheduler job collection, etc. You will use these icons to show how you use this platform to provide management and governance solutions.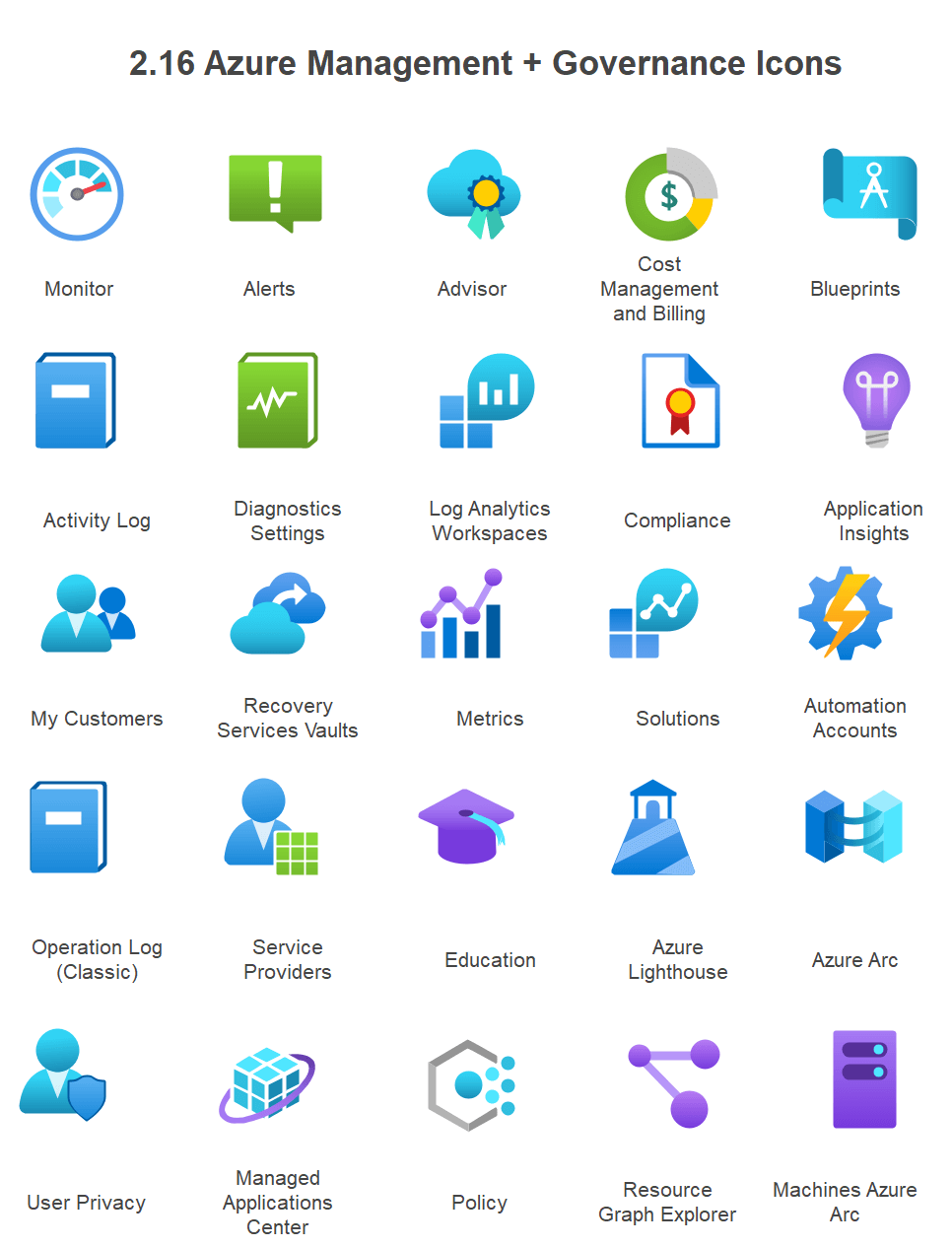 Source: EdrawMax
2.17 Azure Migrate Icons
Azure Migrate is a cloud-based solution to plan cloud migration that supports you in assessing on-premises workloads performance and cost. This icon set includes three icons, including Azure database migration service, migration projects, and recovery services vaults.

Source: EdrawMax
2.18 Azure Mixed Reality Icons
Azure Mixed reality icons help you integrate spatial awareness into your projects. It is useful when creating 3D applications for training, design reviews, and predictive equipment maintenance.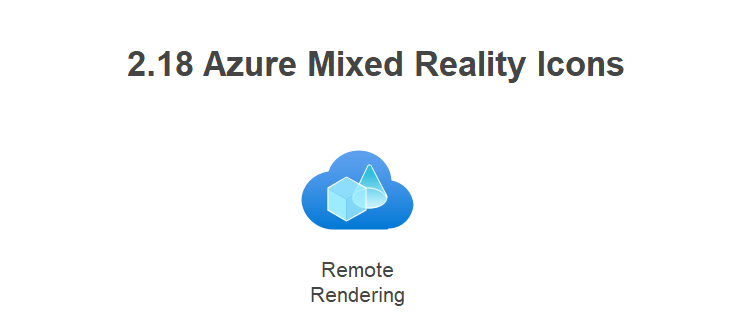 Source: EdrawMax
2.19 Azure Monitor Icons
You will be using the monitor Azure icon and metrics, logs, and traces icons to show the Azure monitoring process in any visualization. Azure monitor services allow you to monitor your Azure solution's availability, efficiency, performance, and usage.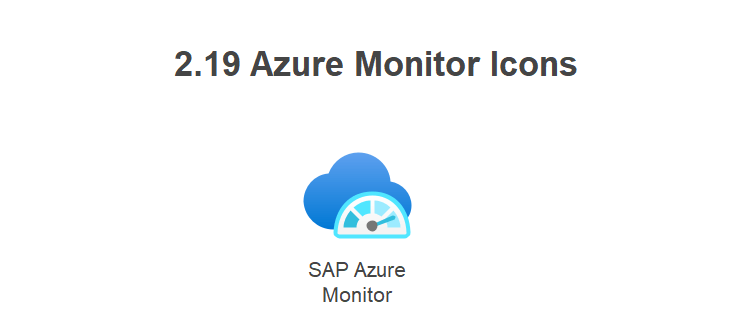 Source: EdrawMax
2.20 Azure Networking Icons
Azure Networking supports connecting multiple resources through the Internet. Azure icons for networking include Application gateway, connections, Local network gateways, etc.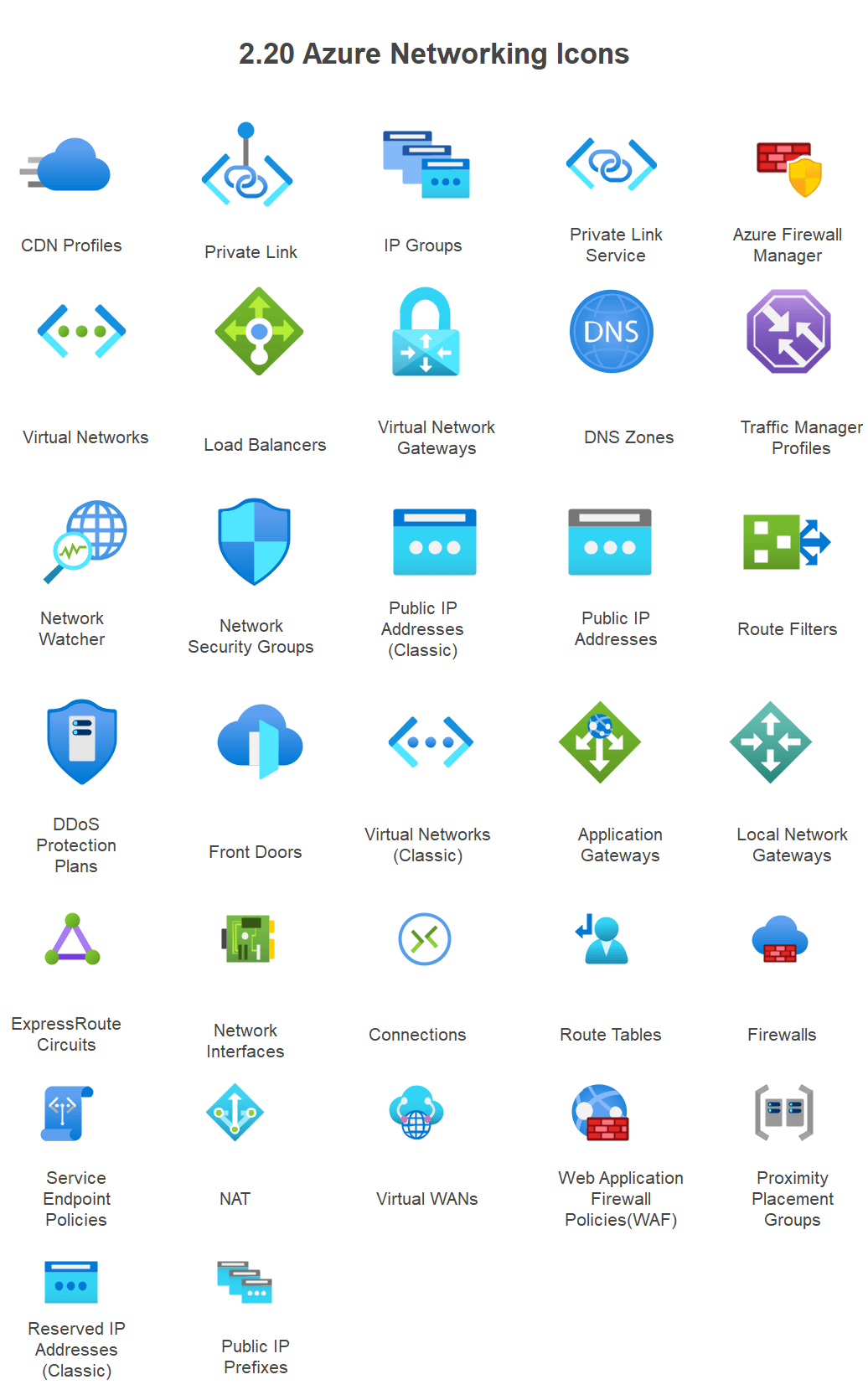 Source: EdrawMax
2.21 Azure Preview Icons
Azure offers two types of previews, including public Preview and private Preview. Private Preview means that it is available only to specific users to evaluate the performance and features of the product. In comparison, the public Preview is for all Azure customers. You can use all Azure icons to create use cases and test plans for previews.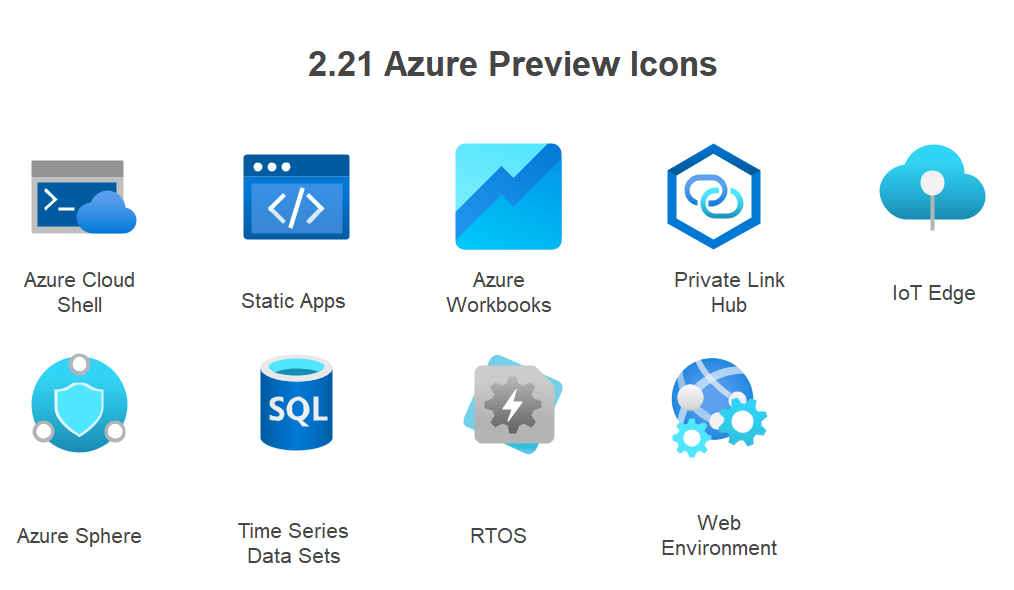 Source: EdrawMax
2.22 Azure Security Icons
Azure security icons set includes Azure sentinel, key vaults, and security center. Azure Security encompasses security tools and capabilities for the Azure cloud platform.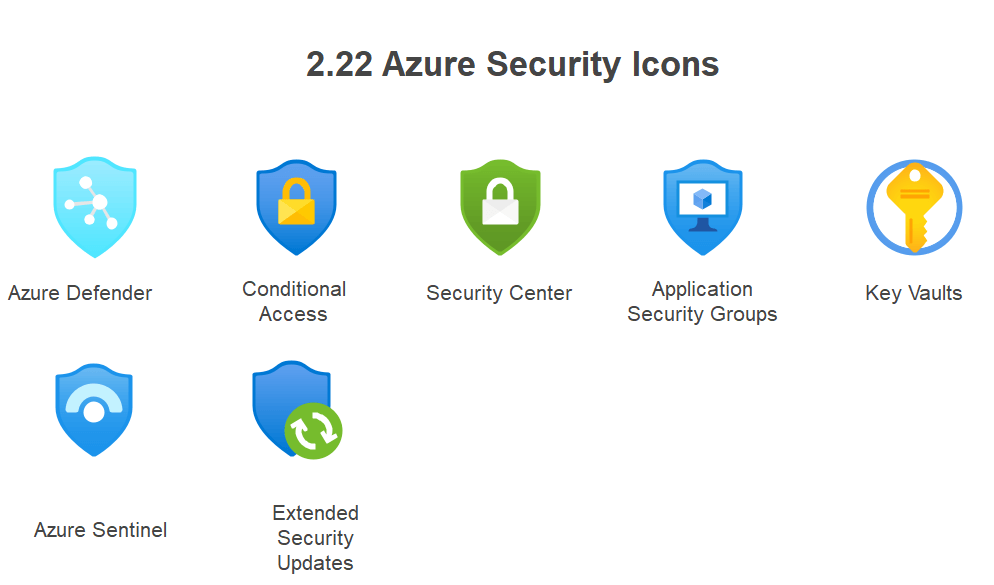 Source: EdrawMax
2.23 Azure Web Icons
Azure web icons are App service plans, App services, media services, API connections, App service environment, Azure search, etc. You can use these icons to plan and manage Azure-based web applications.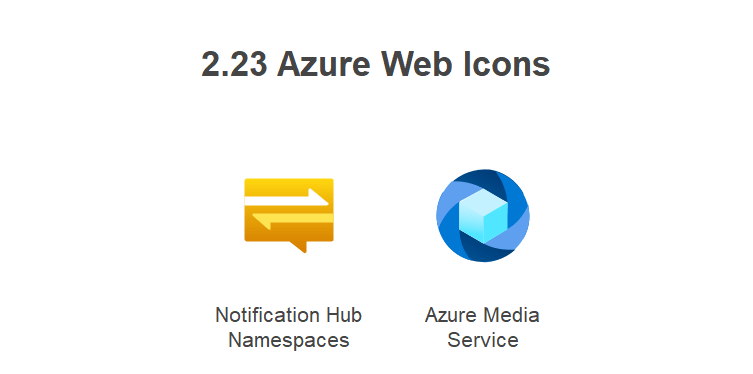 Source: EdrawMax
2.24 Azure Other Icons
This set of Azure icons includes symbols that show various functions that you will use in various applications and solutions based on the Azure cloud platform. It includes resource explorer, shared image galleries, education, image definitions, image versions, etc.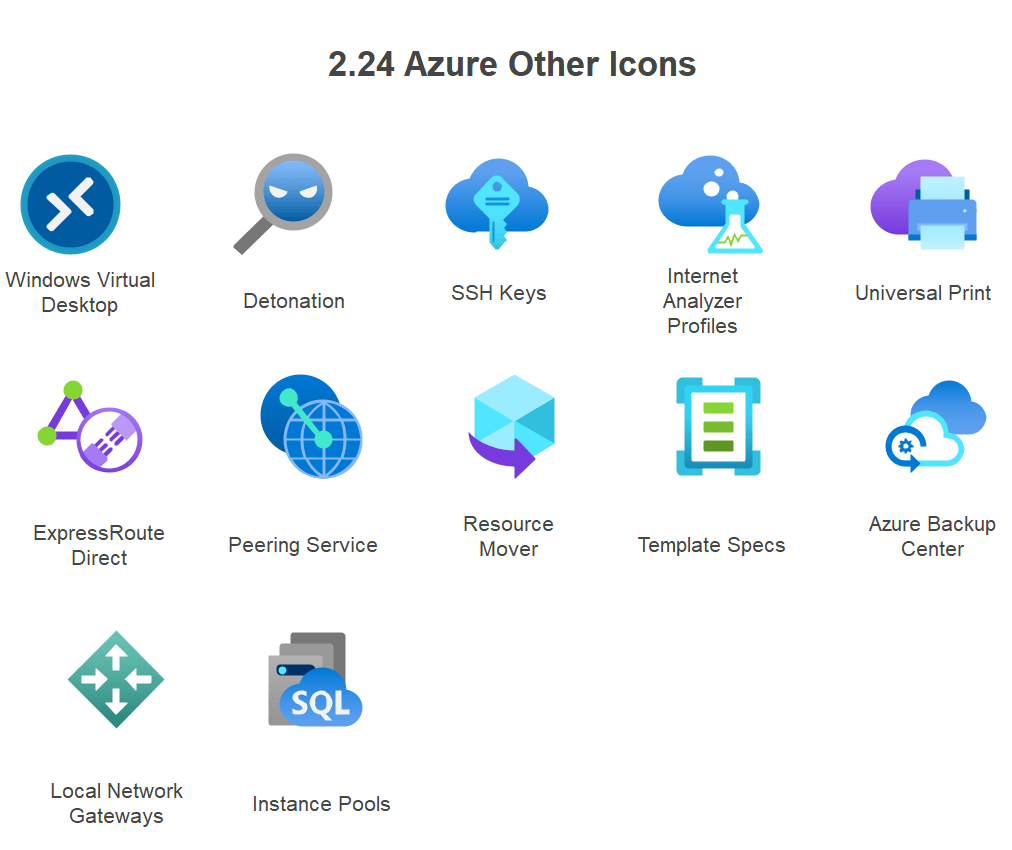 Source: EdrawMax
3. Where to Find Azure Icons
The best way to create professional-looking and well-formatted Azure architecture diagrams is to use dedicated diagram maker software. EdrawMax is a free online diagram maker that is platform-independent, easy to use, and reliable. Edraw has a complete set of Azure icons, making it the perfect choice for making Azure architecture diagrams and plans.
You can easily find Azure symbols in the symbol library of EdrawMax. EdrawMax gives you more than 26000 symbols that you can use to create a Azure or any other diagram. You can go and search for the symbols you want in EdrawMax and click on the Azure. Go to the Azure category and use a simple drag and drop to add any symbol you want.
4. How to Use Azure Icons
EdrawMax is a complete diagramming solution for all cloud system diagrams, including AWS, Azure, and Apple cloud. Let us go through the complete process of making Azure network diagrams in EdrawMax.
4.1 How to Use Azure Icons in EdrawMax
Step1
Launch and Sign in to EdrawMax
If you already have an account with EdrawMax, sign in to move on. Otherwise, you can create an account using the registration link and choose the relevant options. After logging in, you have two options. You can either use a template for building your diagram or start with a clean canvas. Navigate to New and choose a blank diagram. For templates, navigate to Templates and search for Azure.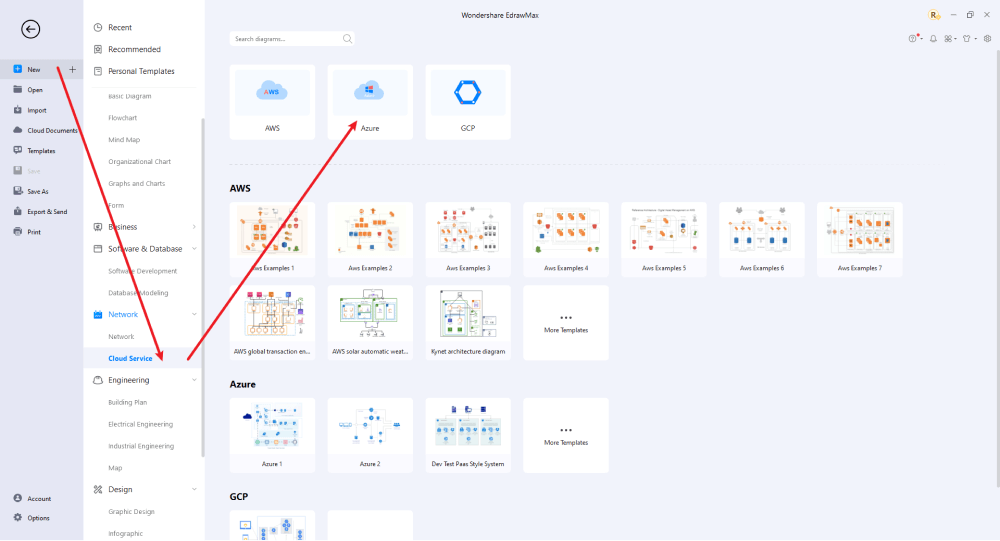 Step2
Select Azure Symbols
Unlike physical drawing, EdrawMax helps to create an Azure diagram easily. In the symbol section of EdrawMax, you will find over 260,000 vector-based symbols that you can use in your designs. In EdrawMax, you can find Azure symbols in Symbol Libraries on the left toolbar. You can click on the "+" option to open a new canvas to make your Azure diagram. On the left side of the canvas, you will see a symbol library with many Azure symbols. You can search for specific symbols in the search bar.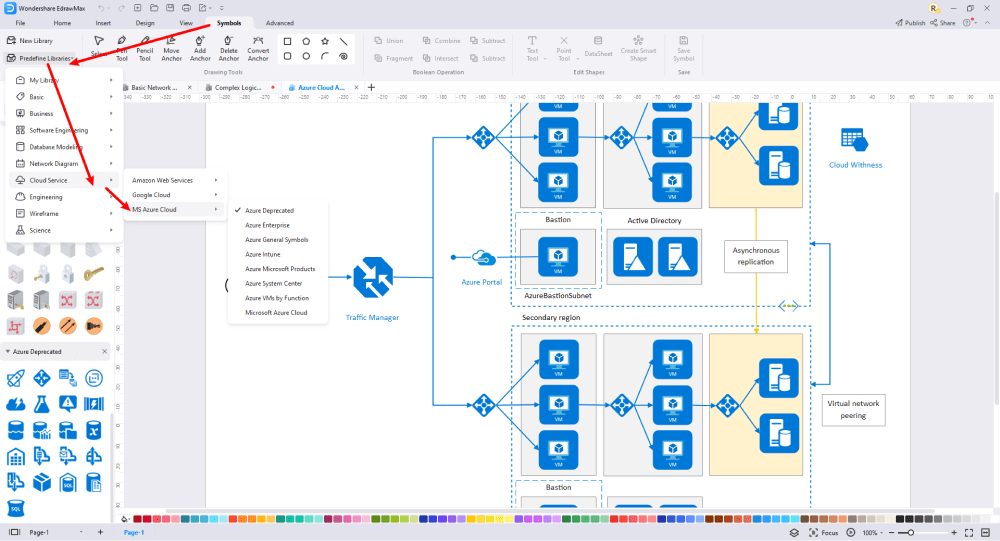 Step3
Drag and Drop
Once you find the proper Azure symbols you want, just drag and drop the symbols to the canvas easily. Keep customizing by choosing the right symbols, proper scale or dimensions, and adding more details, like color, font, and etc. When completed your Azure diagram, you can export your file or share your design effortlessly. Learn more Azure Diagram Guide here if necessary.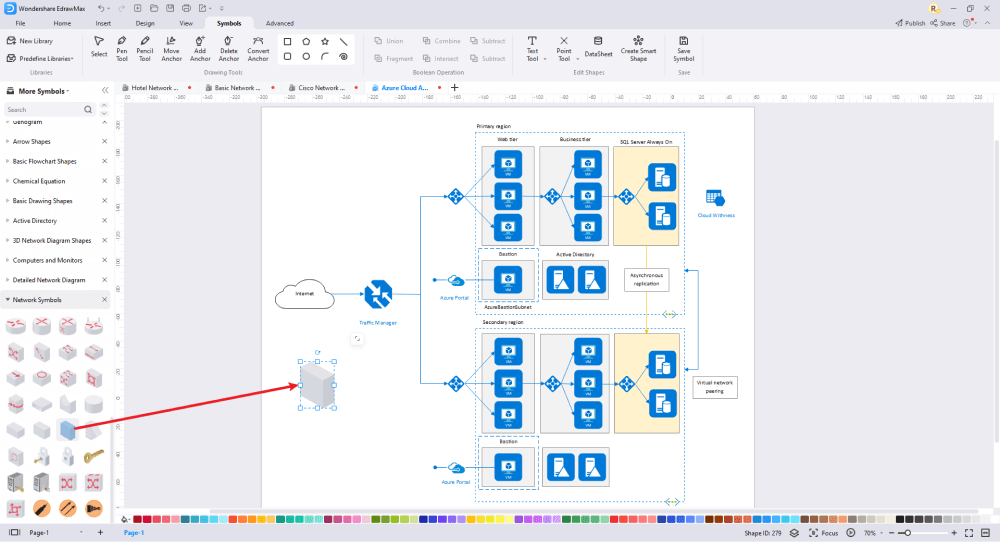 Step4
Save and Export
Save your completed diagram and download it. You can also export your diagram in more portable formats, e.g., image formats, pdf, ppt, JPEG, etc. These options are available in the Export link from the File menu.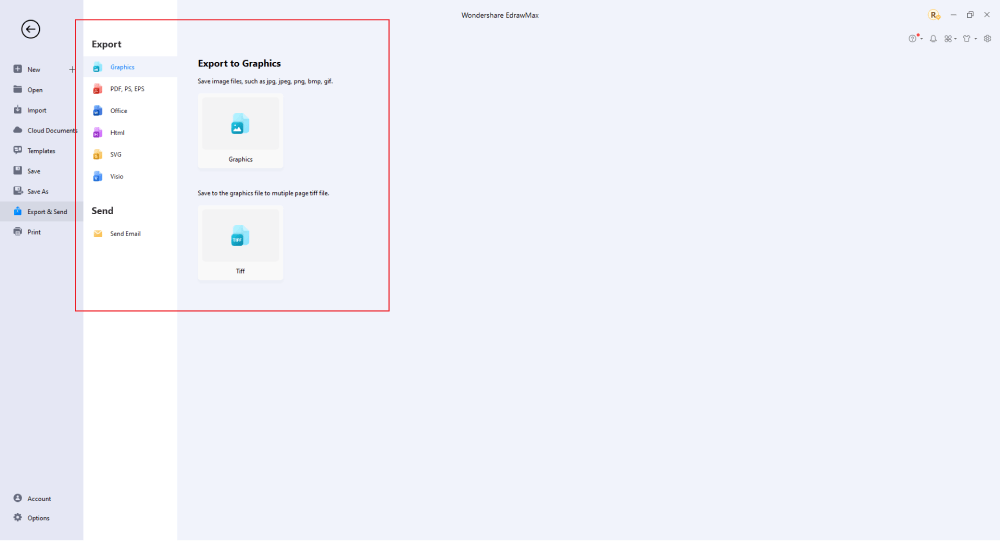 4.2 How to Import and Create More Azure Symbols in EdrawMax
EdrawMax believes in community contribution and continuous improvement. Hence, it also has the option to extend your symbol library by importing and creating more Azure icons. Different ways to extend your library include creating a new library and creating your symbols. Click New Library in the menu under the Libraries link. There will be a new blank library on the left library pane that you can rename according to your choice.
Step1
Find Symbol Tool
If you can't find any symbol similar to the one you want, you can use the pencil tool, pen tool, and anchor tool to draw your personalized Azure symbols. It is much easier to draw the symbol you want on EdrawMax instead of searching for the one that suits your requirements. You can also save your symbol in the library for later use.
Select "Symbols" on the upper Toolbar;
Use "Pencil Tool", "Pen Tool", "Anchor Tool" to create garden symbol from very beginning;
Choose "Union", "Combine", "Subtract", "Fragment", "Intersect", "Smart Shape" to make your symbols.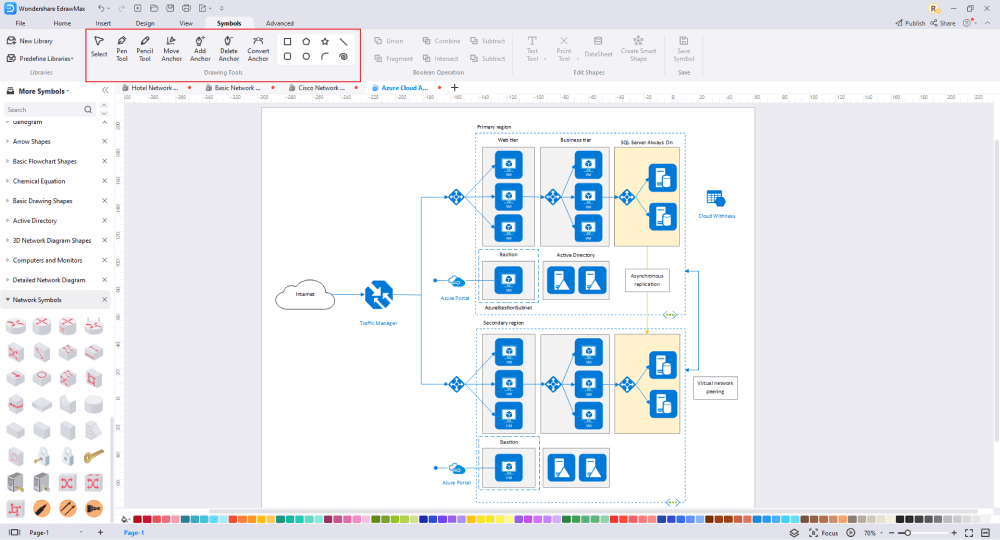 Step2
Create Azure Symbols
Creating your Azure icons in EdrawMax is like making another diagram, as we described above. On the canvas, draw your symbols by using the shapes in the left pane and then modifying them using the 'Symbols' menu in the toolbar. You can use the Pencil tool, Pen tool, etc. Use Symbols> Symbols Tools, including Union, Intersection, and more.
You can use various pen styles to make different parts of your symbol.
Make sure that the illustration inside the shape does not overlap it.
When making an icon, use the right color to represent the icon.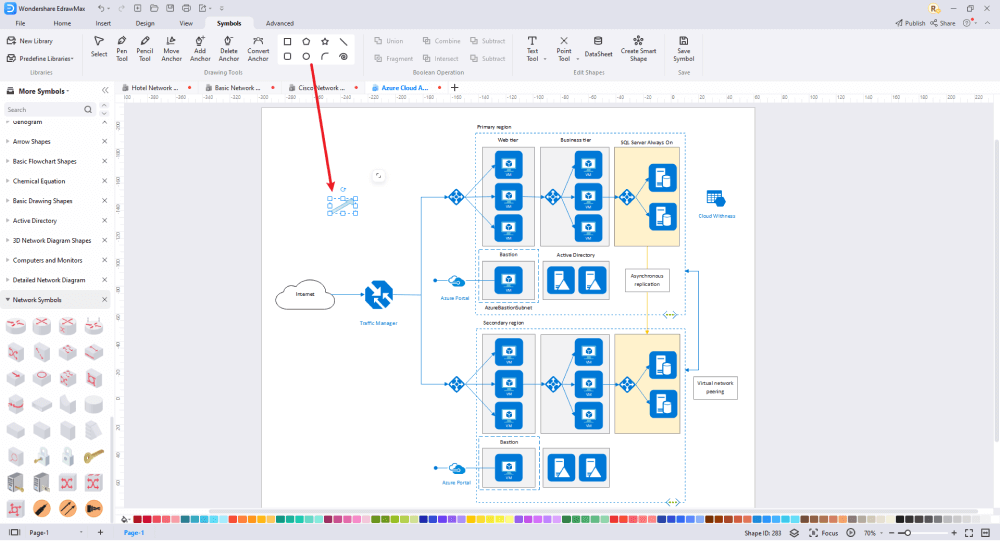 Step3
Import Symbols
Along with the 'My Library' title, you can see an import symbol option; clicking on this link opens the Import dialog. In the Import Symbols dialog, you can import Images, SVG, and VSSX. Importing EDT/EDL files option is for adding the library that you have already built.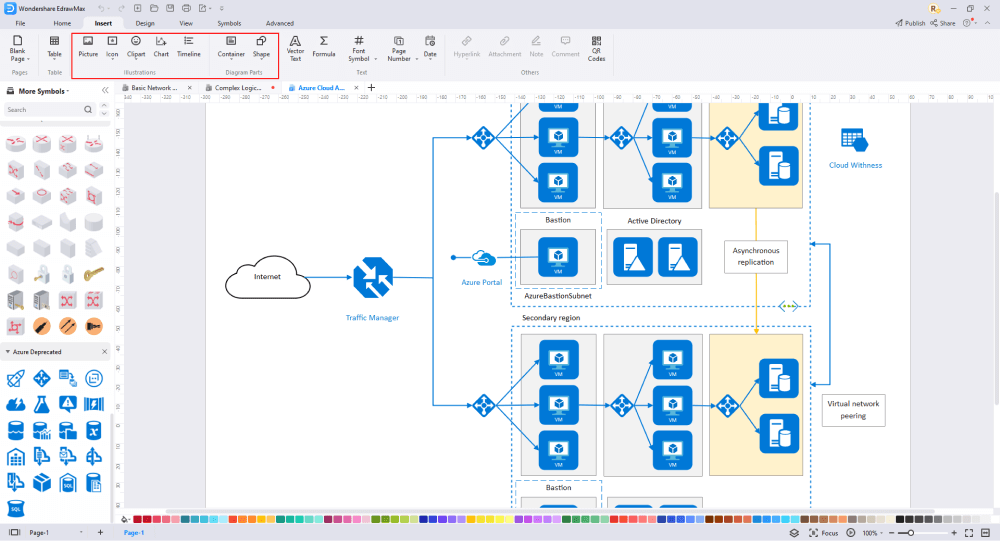 Step4
Save to Your Symbol Libraries
Once you completed your Azure symbols design or import your symbol images, you should still click "Symbols" on top, and choose "Save Symbol" to your symbol Libraries. Or you can click "+" in My Library on the left toolbar. Learn more about how to draw Azure diagrams or design an Azure diagram from this Azure Diagram Guide here.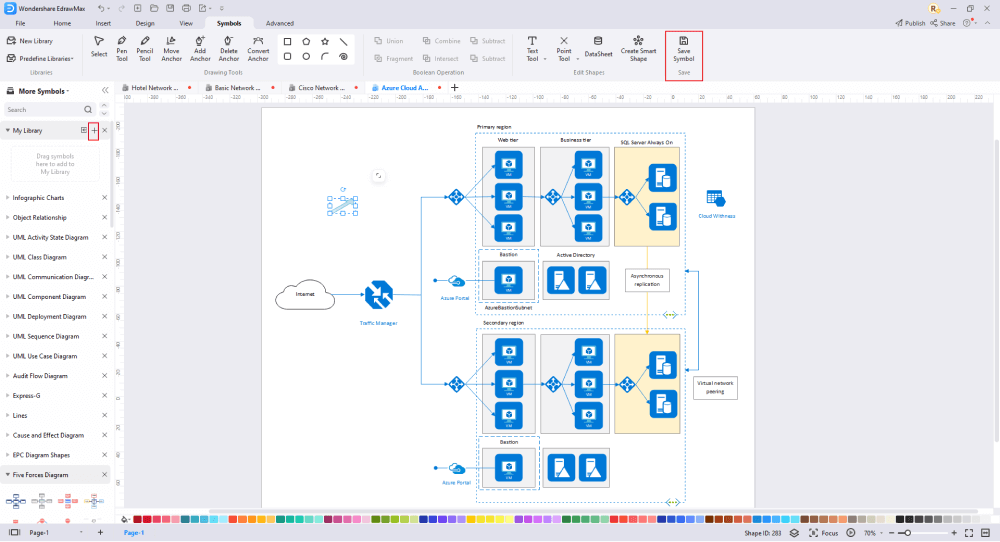 5. Free Azure Architecture Diagram Tool
EdrawMax is a fully-featured Azure diagram software that supports many diagram types and a well-stocked symbols library. EdrawMax has unique features that make it stand out from other drawing softwares.
Key Features of EdrawMax:
It is a drawing software with specific diagram types and their symbols. So, if you are looking for Azure icons, you do not have to import them or draw them yourself. They are available in libraries, and you can drag and drop them on the canvas. EdrawMax supports 260+ types of diagrams with dedicated symbol libraries.
EdrawMax offers a Templates Community with pre-designed samples of all types of diagrams. These samples are a source of inspiration and help you save your time and effort. You can learn the industry's best practices and download and use them for your designs.
The intuitive layout with drag and drop, well-placed toolbars, symbol library on the left pane, and customization tools on the right allows quick and easy drafting.
The smooth learning curve is another specialty of EdrawMax. Anyone can start working on it without any training or technical background.
The full-featured trial version lets you try all features before investing in a paid package.
EdrawMax Desktop
Create over 280 types of diagrams
Windows, Mac, Linux (runs in all environments)
Professional inbuilt resources and templates
On-premises software for business
Enterprise-level data security
EdrawMax Online
Create over 280 types of diagrams online
Access diagrams anywhere, anytime
Team management and collaboration
Personal Cloud and Dropbox Integration
6. Final Thoughts
Cloud services are the present and future of technological applications. They offer state-of-the-art hardware and software support without high investments. Since the users have to manage their side of application, code, and infrastructure, they can focus on their work without worrying about hosted infrastructure. Azure is Microsoft's cloud service and has many modules and services that help you create and host various types of services, including web apps, mobile apps, security, networking, AI, and many more. Azure diagrams are an important part of system infrastructure because detailed documentation supports integrity and a common understanding of the system for all stakeholders. EdrawMax has a dedicated library of Azure icons that allow you to create standard Azure solutions diagrams for professional use.
EdrawMax is the best Azure tool with free templates and a large collection of symbols and icons. Professionals and beginners prefer EdrawMax because of its simple interface and fast diagramming tools. You can also import symbols from the web and download or share your diagram in any format you want using EdrawMax.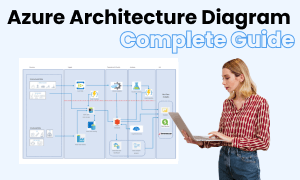 Azure Diagram Complete Guide
Check this complete guide to know everything about the Azure diagram, like Azure types, Azure symbols, and how to make an Azure diagram.