Reflected Ceiling Plan Symbols

Pre-drawn reflected ceiling plan symbols include lighting, switch, outlet, diffuser, grille, etc. These symbols will be of great help in creating accurate floor reflected ceiling plans.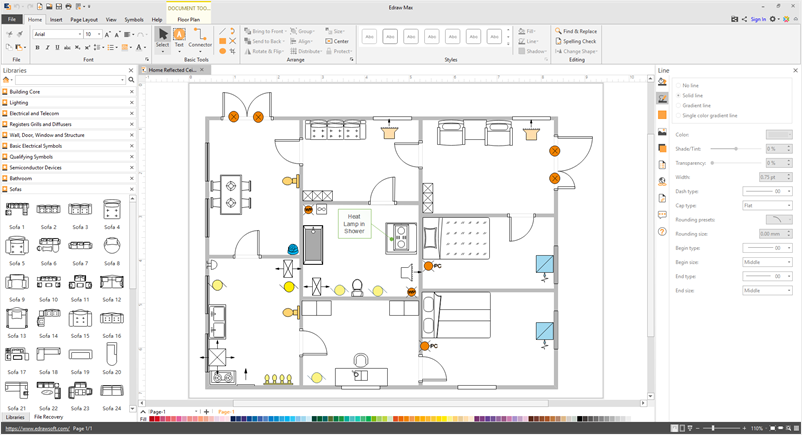 Edraw reflected ceiling plan software will offer you plenty of special shapes used in drawing reflected ceiling plan like luminaire ceiling, encl ceiling, wall light, downlight, light, ceiling fan, exit sign, light, water tap, circuit breaker, multi-light bar, outdoor lighting, light bar, switches, night light, alarm, wire, etc.
EdrawMax: a swiss knife for all your diagramming need
Effortlessly create over 280 types of diagrams.
Provide various templates & symbols to match your needs.
Drag and drop interface and easy to use.
Customize every detail by using smart and dynamic toolkits.
Compatible with a variety of file formats, such as MS Office, Visio, PDF, etc.
Feel free to export, print, and share your diagrams.
Reflected Ceiling Plan Symbols
Lighting Symbols

Luminaire ceiling is kind of light put on the ceiling.
Wall light is a kind of light put on the wall.
Downlight is a light placed or designed so as to throw illumination downwards.
Outdoor lighting is the light for private outdoor gardens or public landscapes.
Multi-light bar is the light bar that has several lights on it.
Roadway light is also called street light.
Night light is a lamp or candle providing a dim light during the night.
Louvers are each of a set of angled slats fixed or hung at regular intervals in a door, shutter, or screen to allow air or light to pass through.
Electrical and Telecom Symbols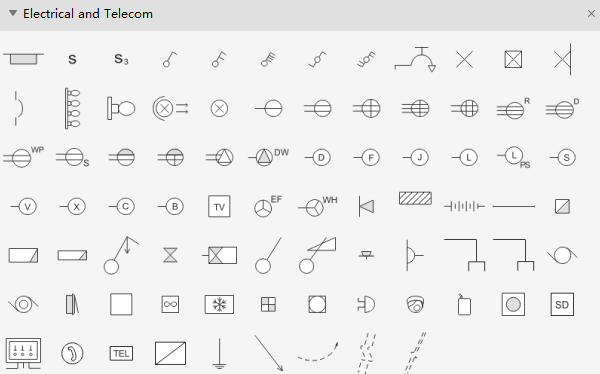 Water tap is a valve controlling release of water.
Office fluores is the fluores for office lighting.
Switches are devices for making and breaking the connection in electric circuits.
Socket outlet is a socket for an electric plug that is fixed to a wall and connected to an electricity supply.
Telephone outlet is a telephone wiring inside a building, establishing a connection to a telephone network.
Ceiling fan is a mechanical fan, usually electrically powered, suspended from the ceiling of a room, that uses hub-mounted rotating paddles to circulate air.
Fire alarm is a device making a loud noise that gives warning of a fire.
Registers Grills Diffusers Symbols

Supply diffuser is the mechanical device that is designed to control the characteristics of a fluid at the entrance to a thermodynamic open system.

Return diffuser is a kind of mechanical device.
Grille diffuser is a type of diffusers.
Troffer diffuser is a special type of diffusers.
Grille is a grating or screen of metal bars or wires, placed in front of something as protection or to allow ventilation or discreet observation.
Edraw provides you abundant pre-made reflected ceiling plan symbols and templates, which will significantly facilitate your drawing of reflected ceiling plans. Just drag and drop the reflected ceiling plan shapes you need on the drawing page and rearrange their location as you like, then a reflected ceiling plan is finished with just and a few clicks. Believe it or not, the whole process will give you so much sense of success.