Do You Want to Design Your Building Plan?
EdrawMax specializes in diagramming and visualizing. Learn from this article to know everything about building plan legends, and how to use or create building plan legends. Just try it free now!
The first step to start building construction is to draw a building plan. Professional engineers and architects draw this plan, and this plan is made for proposal submission and to submit the final constructed building drawing.
A building plan consists of building plan legends, and these symbols illustrate the mechanics, lighting, electrical connections, plan, and elevation of a building. A building's drawing is a sophisticated drawing that is not easily understandable, so drawing techniques should be keenly followed according to building types such as house, office, mall, school, or hospital.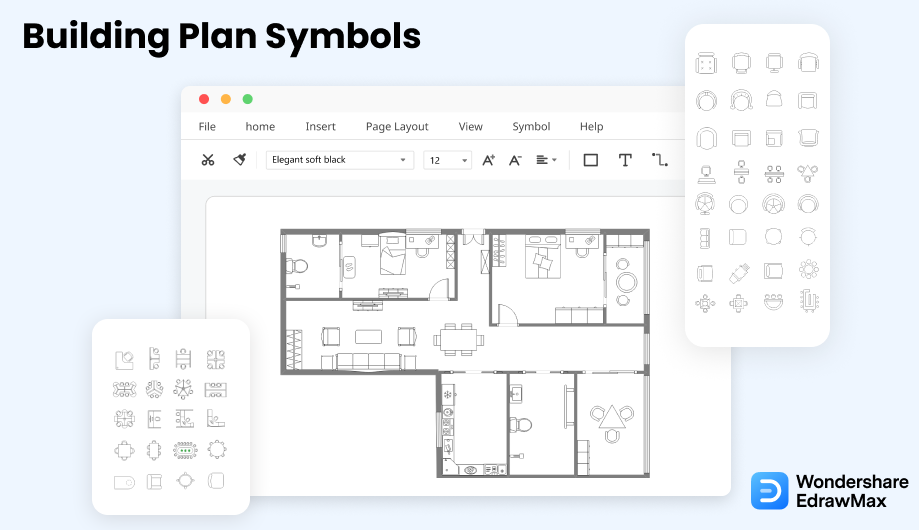 1. What Are the Building Plan Legends
A building plan includes a site plan, design development plan, other design drawings for the project, building elevation, and exterior building materials. Building Plan Symbols are used in a building plan to describe the functions and purposes of elements such as services symbols, lighting symbols, electrical symbols, elevation symbols, and section symbols.
Drawing a building plan might be a difficult task, but with EdrawMax, it has become easy because it is vector-based building plan software that provides already designed templates and symbols for use.
Use of building plan symbols:
A plan helps an architect to increase productivity and enables them to work more effectively by following a definite layout.
It enables a person to design and construct a complex building in a cleaner and more sophisticated way.
It ensures reliability for construction planning because more planning means fewer chances of mistakes.
Allows an architect to track the performance of a construction team.
It allows buyers to understand the essence of property, spaces, outlook, and construction flow.
Building Plan Legends:
Building plan legends illustrate building elements, floors, levels, and sections. These symbols are added in a plan by demonstrating all the functions of building equipment, and different colors represent different functions.
2. The Types of Building Plan Legends
A building plan geographically represents a complete layout and infrastructure of a building before starting construction. These plans are made for all kinds of buildings, and it also enables a contractor to analyze costs and prepare a budget for construction. Building Plan Symbols illustrate building elements, floors, levels, and sections. These symbols are added in a plan by demonstrating all the functions of building equipment, and different colors represent different functions of the tools.
Building Core Symbols
Dimensions Symbols
Wall Shell & Structure Symbols
Doors and Windows Symbols
Athletic Ground Symbols
Garden Symbols
Table and Chair Symbols
Sofa Symbols
2.1 Building Core Symbols
A building is constructed according to different ideas and designs. All these construction styles carry some common elements. These elements are used in almost every business plan. But these vary from building to building. Not the same symbols can be used, but they can be changed according to shapes, size, dimensions, and uses.
Building core symbols are a category that includes commonly used building symbols. These are not very complicated graphics, and almost every company's building plan includes these symbols based on slight differences. There are more than 80 symbols in the Building Core Symbols category, and they cover all types and styles of commonly used building elements.
North

Direction

Arrow

Air-Conditioned Location

Solid Walls

Step

Ornamental Stair

Scissor Staircase

Straight Staircase

Curved Staircase 1

Curved Staircase 2

Winding Staircase

Z-Shape Staircase

Divided Staircase

Pocket Door

Double Pocket Door

Left Spiral Staircase

Right Spiral Staircase

Corner Landing

Stair Landing

Escalator

Ramp

Handrail

Corner Handrail

Toilet

Mulit Sink

Mulit Urinal

Mulit Stall

Countertop Sink

Toilet Stall

Elevator

Freight Elevator

Chute

Source: EdrawMax
2.2 Dimensions Symbols
The dimensions on a plan are mentioned to tell if the doors, windows, stairs, pillars, walls, columns, and sections are located correctly. These dimensioning symbols provide the exact location of the studs, columns, and beams. The dimension lines are lighter than wall lines and are generally done as a continuous group or string of numbers along a line. Dimensions give definite directions to the construction personnel from beginning to end.
Dimension symbols provide the construction team and management with all the true and exact dimensions, sizes, measurements, and calculations of the tasks and building. These symbols add size information in a drawing to help the construction team understand the building procedures and diagram.
Dimension 1

Dimension 2
Dimension 3

Dimension 4

Dimension 5

Dimension 6

Dimension 7

Dimension 8

Dimension 9

Dimension 10

Dimension 11

Dimension 12

Dimension 13

Dimension 14

Dimension 15

Dimension 16

Dimension 17

Dimension 18

Dimension 19

Dimension 20

Dimension 21

Source: EdrawMax
2.3 Wall Shell Structure Symbols
Wall is the most common and basic part of a building; it is built to protect an area. It is used to divide the construction building to form rooms and sections. Walls are of different sizes, styles, and designs. In this category, the thin line describes the interior wall, and the thick line describes the exterior walls.
There are three types of walls; Building Walls, Exterior Boundary Walls, and Retaining Walls. Walls symbols denote different types of walls according to their placement and functions. Learn more details about wall shell symbols here.
Wall

Vertical Wall

Curved Wall

Curtain Wall

Space

L-Space

T-Space

Room 1

Room 2

Room 3

Pilaster

Rectangular Column

Circular Column

Beam
Grid Origin

Grid Line

Source: EdrawMax
2.4 Doors and Windows Symbols
A door is a hinged, sliding, revolving barrier to enter or exit the room, building, hall, vehicle, or cupboard framework. It is a passageway or transition from one place to another. There are numerous types of doors, such as; hinged door, Dutch door, Pocket door, Roller door, Bifold door, Pivot door, and French door. All these symbols are added to a building plan according to the placement and location of doors.
A window is an opening in a wall or roof of a building to admit air and light. There are several types of windows: single hung window, double-hung window, arched window, awning window, bay window, bow window, and casement windows. Different window symbols are used in a diagram to represent various types and categories of windows. Learn more details about doors and windows symbols here.
Window

Open Window

Open Window 2

Open Window 3

Glider Window

Casement Window

Bay Window

Double Casement Window

Opening

Door

Double Hung Door

Double Door

Uneven Door

Opposing Door

Revolving Door

Folding Door

Sliding Door

Double Sliding Door

By Pass Door
Bi Fold Door
Double Bi Fold Door

Sliding Glass Door

Overhead Door

Garden Window

Source: EdrawMax
2.5 Athletic Ground Symbols
The athletic ground is a piece of land used for different sports such as cricket, basketball, football, volleyball, baseball, etc. Sports grounds are built outside many buildings, malls, and societies. These are illustrated in building plans because these are a part of the whole project. There are different symbols used to represent athletic grounds.
Athletic Ground 1

Athletic Ground 2

Athletic Ground 3

Athletic Ground 4

Source: EdrawMax
2.6 Garden Symbols
A garden in a house or a building is a place that is most connected to nature and beauty. People sit in a garden to enjoy long conversations, relax, and many recreational activities. So decorating and designing a garden play an important role while planning for constructing a building. Garden planning includes many details and arrangements using numerous equipment and plants.
A garden in a building plan is drawn with the help of several garden symbols. These symbols denote plants, pools, fountains, tables, chairs, benches, pavilions, rocks, ponds, etc. But plants among this list carry the most importance. That is why all sorts of plants can be symbolized in a garden plan.
• Garden Plant Symbols
Plants are the main element of a garden. They allow a person to breathe in the clean and fresh air, block sunrays, decrease noise pollution, provide a peaceful environment, and lower stress. That is why a garden's idea was first introduced.
Evergreen Tree 1

Evergreen Tree 2

Evergreen Tree 3

Evergreen Tree 4

Evergreen Tree 5

Evergreen Tree 6

Evergreen Tree 7

Evergreen Tree 8

Evergreen Tree 9

Evergreen Tree 10

Deciduous Tree 1

Deciduous Tree 2

Deciduous Tree 3

Deciduous Tree 4

Deciduous Tree 5

Deciduous Tree 6

Deciduous Tree 7

Deciduous Tree 8

Deciduous Tree 9

Deciduous Tree 10

Shrub 1

Shrub 2

Shrub 3

Shrub 4

Shrub 5

Shrub 6

Shrub 7

Shrub 8

Flower 1

Flower 2

Flower 3

Flower 4

Flower 5

Flower 6

Flower 7

Flower 8

Flower 9

Flower 10

Flower 11
Flower 12

Flower 13

Flower 14

Flower 15

Flower 16

Flower 17

Flower 18

Flower 19

Flower 20

Flower 21

Flower 22

Flower 23

Flower 24

Ornamental Grass 1

Ornamental Grass 2

Ornamental Grass 3

Ornamental Grass 4

Ornamental Grass 5

Ornamental Grass 6

Ornamental Grass 7

Ornamental Grass 8

Ornamental Grass 9

Ornamental Grass 10

Source: EdrawMax
• Garden Equipment Symbols
A garden not only needs plants to fulfill its whole look, but it also needs some add-ons to make it look aesthetic. These additions to the garden complete the whole idea by adding minor and major details. Garden symbols represent all these equipment and elements in a map. It may be a bridge installed over a pond or a bench placed on any corner. The infrastructure elements of a garden are bench, chair, pathway and so on.
Stone Table & Chair 1

Stone Table & Chair 2

Stone Table & Chair 3

Wood Table & Chair

Swing Bench

Recliner Bench 1

Recliner Bench 2

Wood Bench 1

Long Bench

Wood Bench 2

Wood Bench 3

Seven Glyph Bench 1

Seven Glyph Bench 2

U-Shaped Bench
Stone Bridge 1
Stone Bridge 2

Timber Bridge 1

Timber Bridge 2

Timber Bridge 3

Wooden Bridge

Bridge

River Bridge

Garden Lamp 1

Garden Lamp 2

Garden Lamp 3

Garden Lamp 4

Stone Road

Cobbled Roadway

Rock Garden

Road Path 1

Road Path 2

Road Path 3
Garden Stone 1

Garden Stone 2

Garden Stone 3

Round Stone

Square Stone

Flagstone

Hexagon Stone

Stone Driveway

Brick Pathway

Patio Pathway

Swimming Pool 1

Swimming Pool 2

Swimming Pool 3

Fountain Pool 1

Fountain Pool 2

Fountain Pool 3

Fountain Pool 4

Fountain Pool 5

Fountain Pool 6

Fountain Pool 7

Fountain Pool 8

Pond 1

Pond 2

Pond 3

Pond 4

Pond 5

Swimming Ring 1

Swimming Ring 2

Umbrella 1

Umbrella 2

Duty Room
Wood Post

Pavilion

Garbage Can 1
Garbage Can 2

Play Ground

Flower Bed

Fitness Equipment 1
Fitness Equipment 2

Fitness Equipment 3

Fitness Equipment 4

Children Play Area

Source: EdrawMax
2.7 Table and Chair Symbols
A table is a piece of furniture with a flat top part supporting one or more legs. It is used to write, eat, place things, or do office work. Tables have many types, for example (side table, dining table, coffee table, console table, round table, drink table, and end table).
The chair is a separate seat for only one person, and it usually has a back and four legs. A chair is manufactured in many materials such as wood, iron, and plastic. It is categorized into many types: Sofa, Park bench, Upholstered bench, Armchair, Cantilever chair, Wing chair, Deck chair, and Desk chair. Learn more details from this table & chair symbols here.
Chair 1

Chair 2

Chair 3

Chair 4

Chair 5

Chair 6

Chair 7

Chair 8

Chair 9

Chair 10

Chair 11

Chair 12

Chair 13

Chair 14

Chair 15

Chair 16

Chair 17

Chair 18

Chair 19

Chair 20

Recliner

Sling Chair

Lounge Chair
Table with Chairs

Style Station 1

Style Station 2

Style Station 3

Style Station 4

Style Station 5

Style Station 6

Style Station 7

Longue Chair 1

Longue Chair 2

Longue Chair 3

Longue Chair 4

Longue Chair 5

Bar Counter 1

Bar Counter 2

Bar Counter 3

Bar Counter 4

Bar Counter 5

Bar Counter 6

The Chair & Table 1

The Chair & Table 2

Sofa & Sofa Table 1

Sofa & Sofa Table 2

Dining Table 1

Dining Table 2

Dining Table 3

Dining Table 4

Dining Table 5

Dining Table 6

Dining Table 7

Dining Table 8

Dining Table 9

Dining Table 10

Cicle Table & Chair 1

Cicle Table & Chair 2

Cicle Table & Chair 3

Cicle Table & Chair 4

Cicle Table & Chair 5

Cicle Table & Chair 6

Cicle Table & Chair 7

Cicle Table

Oval Table

Conference Table 1

Conference Table 2

Conference Table 3
Rectangle Table

Diamond Table 1

Diamond Table 2

Corner Table

Semicircle Table

Fan Table

Ping Pong Table

Desk Table 1

Desk Table 2

Desk Table 3

Desk Table 4

Dressing Table

Source: EdrawMax
2.8 Sofa Symbols
Sofa is a long, foamed seat with a back and arms. Usually, two or three people can sit on a sofa. But now a day sofa is manufactured for more than three people to sit. There are seven main types of sofas: fabric sofas, leatherettes sofas, genuine leather sofa, wooden sofa, corner sofa, lounger sofa, and sofa cum bed. Learn more details from this sofa symbols here.
Sofa 1

Sofa 2

Sofa 3

Sofa 4

Sofa 5

Sofa 6

Sofa 7
Sofa 8

Sofa 9

Sofa 10

Sofa 11

Sofa 12

Sofa 13

Sofa 14

Sofa 15

Sofa 16

Sofa 17

Sofa 18

Sofa 19

Sofa 20

Sofa 21

Sofa 22

Sofa 23

Sofa 24

Sofa 25

Sofa 26

Sofa 27
Sofa 28

Sofa 29

Sofa 30
Sofa 31
Sofa 32

Sofa 33

Sofa 34

Sofa 35

Sofa 36

Sofa 37

Sofa 38

Sofa 39

Tea Table 1

Tea Table 2

Tea Table 3

Tea Table 4

Tea Table 5

Tea Table 6

Tea Table 7

Tea Table 8

Tea Table 9

Tea Table 10

Tea Table 11

Tea Table 12

Sofa Table 1

Sofa Table 2

Sofa Table 3

Sofa Table 4

Sofa Table 5

Source: EdrawMax
3. Where to Find Building Plan Legends
A building plan is drawn to illustrate the structure and details. It is made with the help of many building plan symbols, which express the functions of all the building elements and equipment.
You can easily find building plan symbols in the legend library of EdrawMax. EdrawMax gives you more than 26000 symbols that you can use to create a building plan or any other diagram. You can go and search for the symbols you want in EdrawMax and click on the building plan. Go to the building plan category and use a simple drag and drop to add any legend you want.
EdrawMax Building Plan Legends:
EdrawMax is the best resources for building plan symbols, you can find hundreds of building plan symbols here. Just drag and drop, you can create building plan easily.
4. How to Use Building Plan Legends
Follow these instructions to learn how to use building plan legends and easily create more building plan legends with EdrawMax.
4.1 How to Use Building Plan Legends in EdrawMax
Instead of wasting time drawing the building plan symbols or icons on paper, you should look for a way to design a building plan easily. EdrawMax is well equipped to design a building plan.
Step1
Login EdrawMax
If you are new here, you should use your Email to register EdrawMax, but if you're already the EdrawMax's user, you just need to login EdrawMax for free. Open EdrawMax select "Engineering", and find "Building Plan", and click "Building Plan", then open a new canvas or just open a built-in template.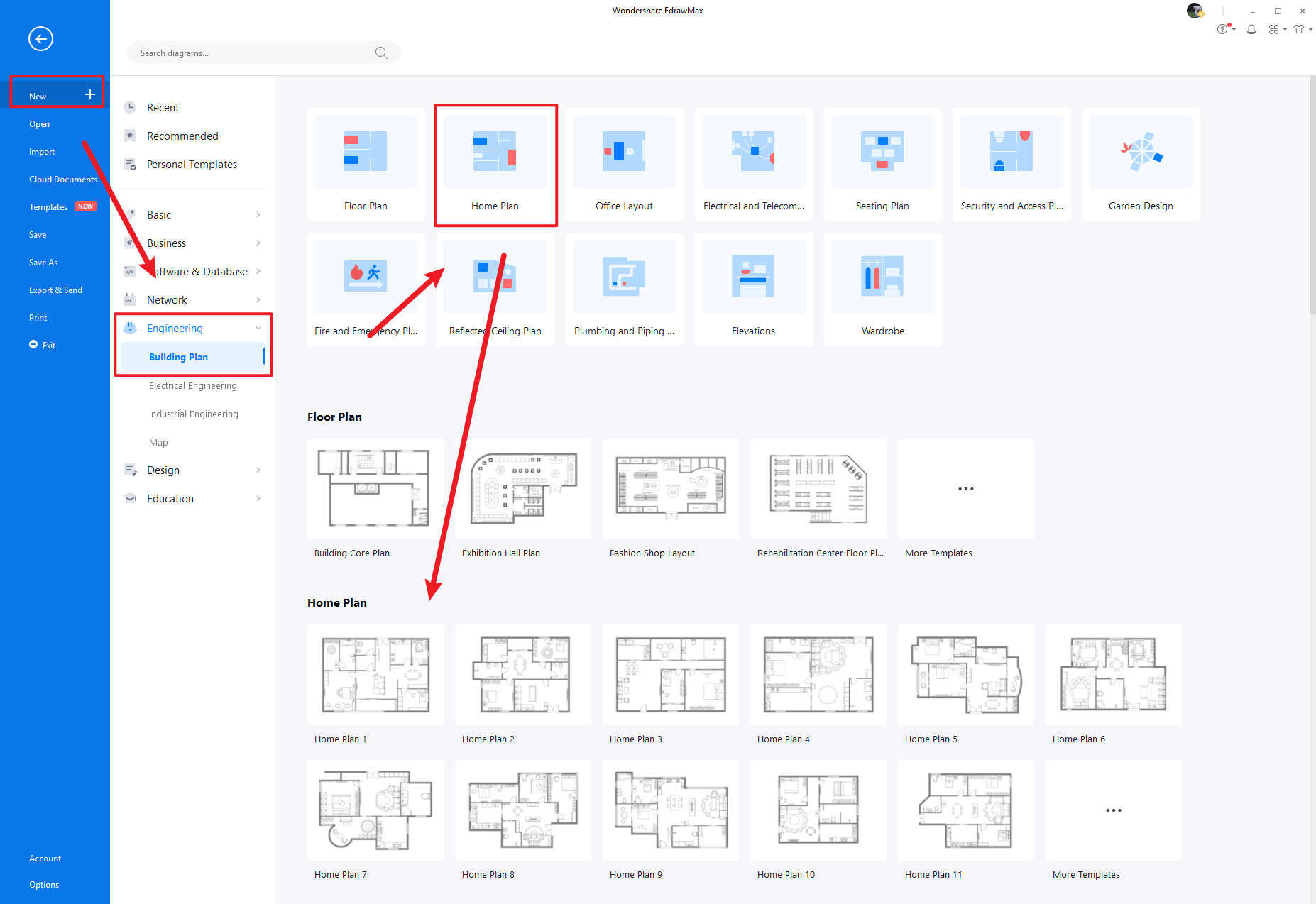 Step2
Select Building Plan Symbols
Unlike physical drawing, EdrawMax helps to create a building plan easily. In the legend section of EdrawMax, you will find over 260,000 vector-based symbols that you can use in your designs. In EdrawMax, you can find building plan symbols in legend Libraries on the left toolbar. You can click on the "+" option to open a new canvas to make your building plan. On the left side of the canvas, you will see a legend library with many building plan symbols. You can search for specific symbols in the search bar.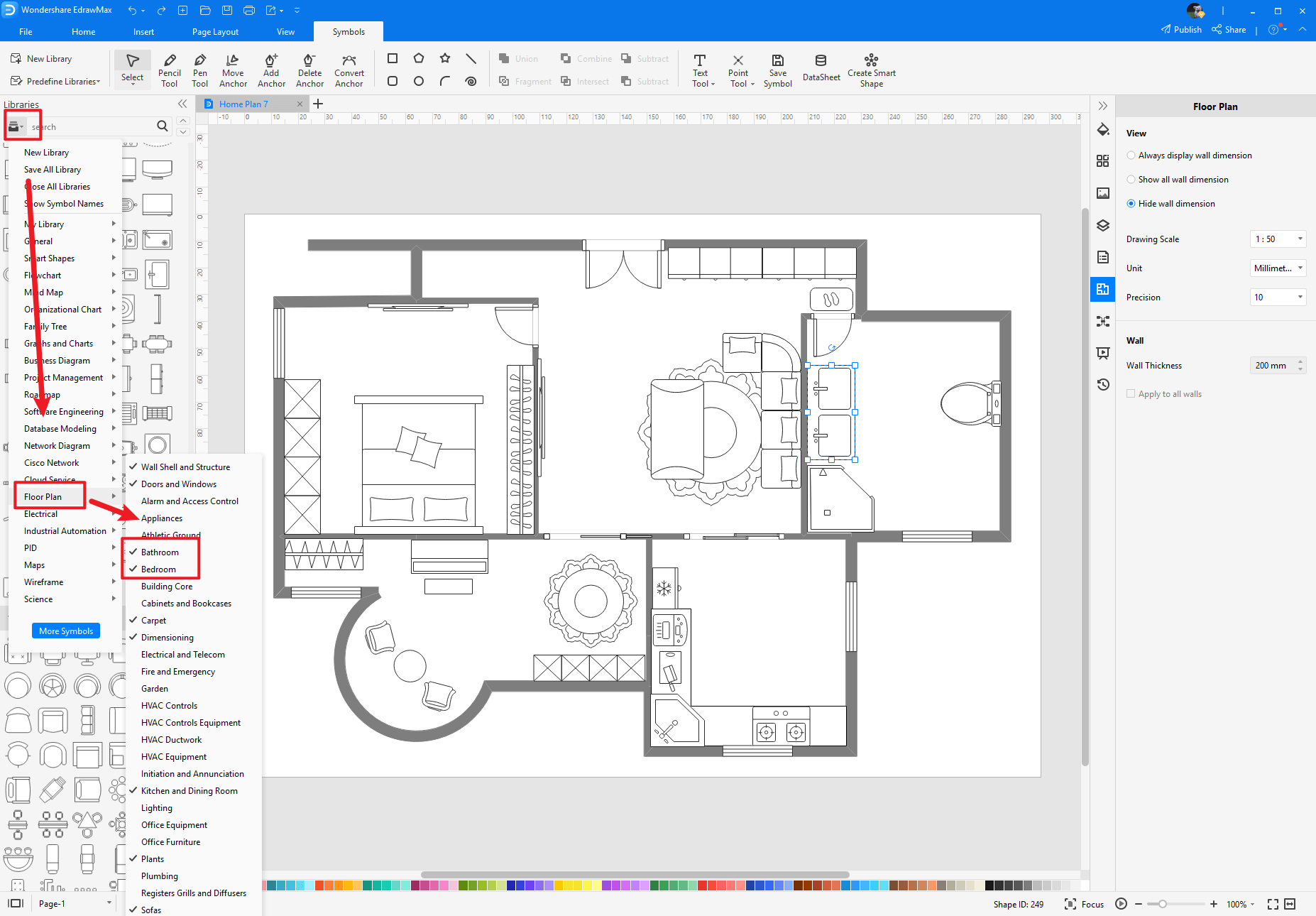 Step3
Drag and Drop
Once you find the proper building plan symbols you want, just drag and drop the symbols to the canvas easily. Keep customizing by choosing the right symbols, proper scale or dimensions, and adding more details, like color, font, and etc. When completed your building plan, you can export your file or share your design effortlessly. Learn more building plan guide here if necessary.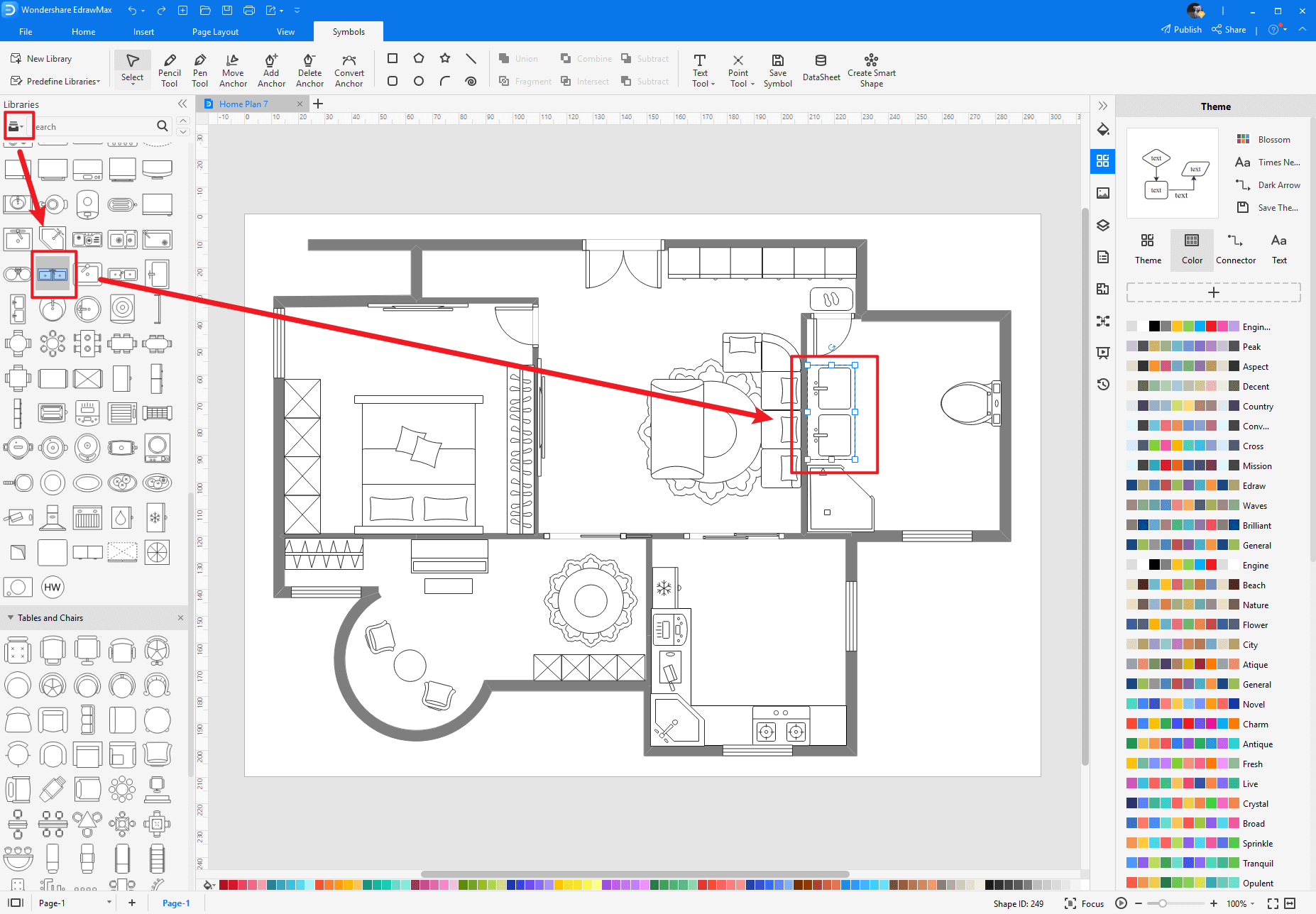 4.2 How to Create More Buidling Plan Legends in EdrawMax
EdrawMax provides you with thousands of symbols to create your diagram. Sometimes you want to use unique or personalized symbols in your diagram that are not in the library. EdrawMax gives you a simple solution to this problem. Follow these steps when you don't find the building plan symbols you want or you wish to create your symbols to make your diagram.
Step1
Find legend Tool
If you can't find any legend similar to the one you want, you can use the pencil tool, pen tool, and anchor tool to draw your personalized building plan symbols. It is much easier to draw the legend you want on EdrawMax instead of searching for the one that suits your requirements. You can also save your legend in the library for later use.
Select "Symbols" on the upper Toolbar;
Use "Pencil Tool", "Pen Tool", "Anchor Tool" to create garden legend from very beginning;
Choose "Union", "Combine", "Subtract", "Fragment", "Intersect", "Smart Shape" to make your symbols.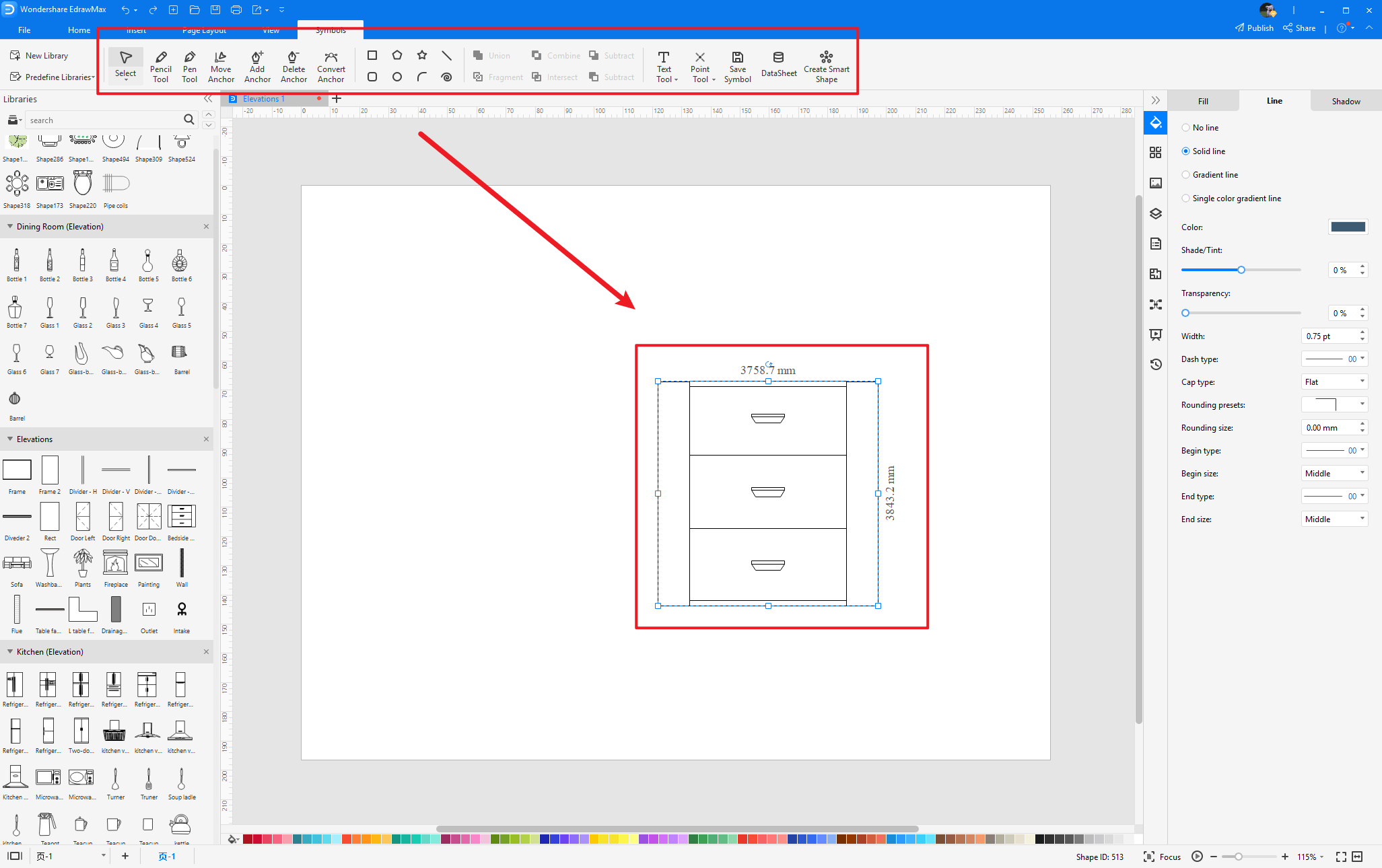 Step2
Create Building Plan Symbols
When you create a building plan legend, make sure that the size, design, and other attributes of your icon go along with other building plan icons. Follow these steps to draw perfect symbols.
Draw a rectangle.
Using the ruler to draw a diagonal line moving inwards to the door.
Start from corner on the right side of the frame.
Add more details to make it more like a door icon.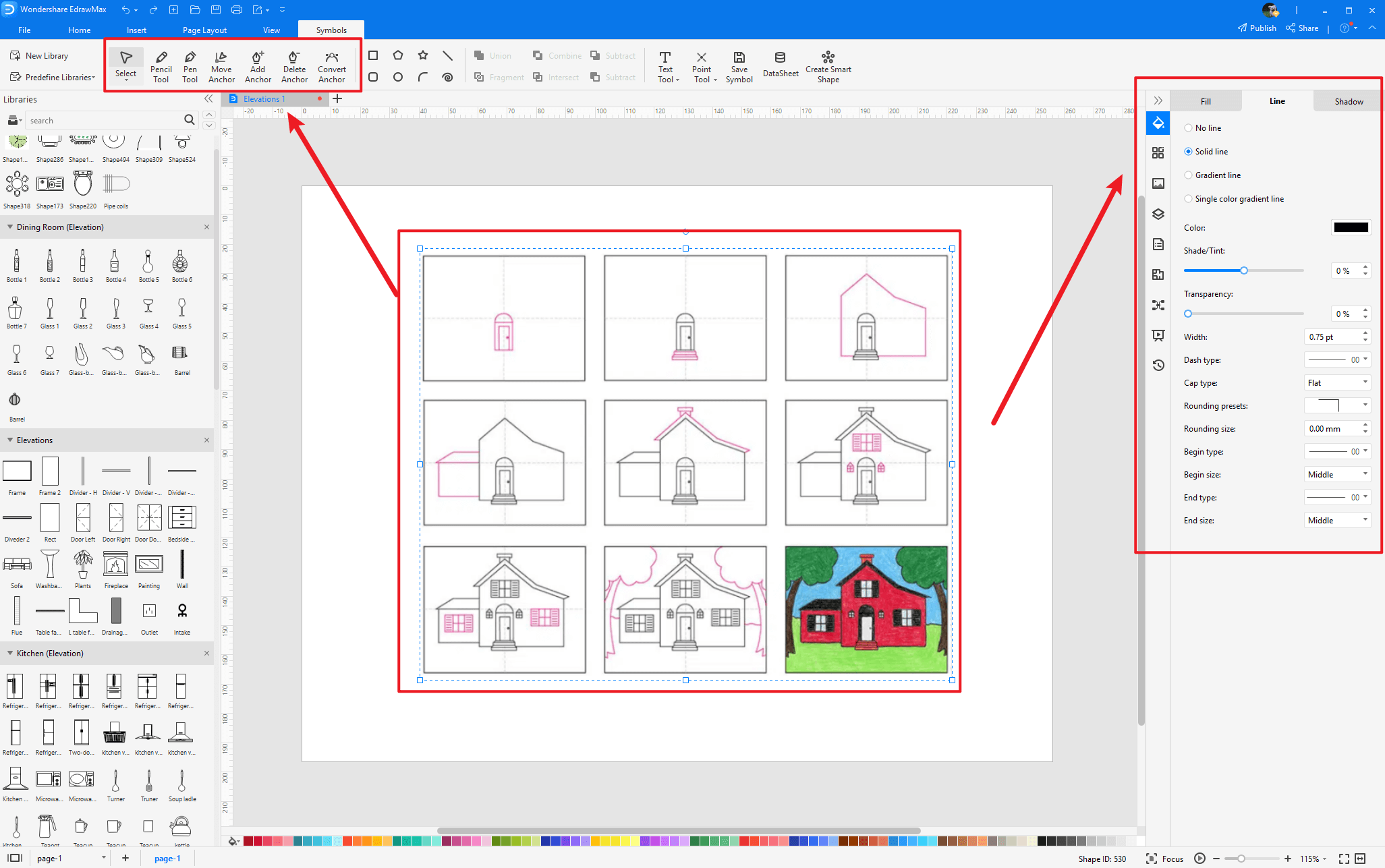 Step3
Import Building Plan Legends
Except for creating new building plan symbols in EdrawMax, you can import building plan symbols from your end. Find "Insert" on the top navigate toolbar, and import images to turn into symbols. Or click the thrid option of the right toolbar to insert images faster.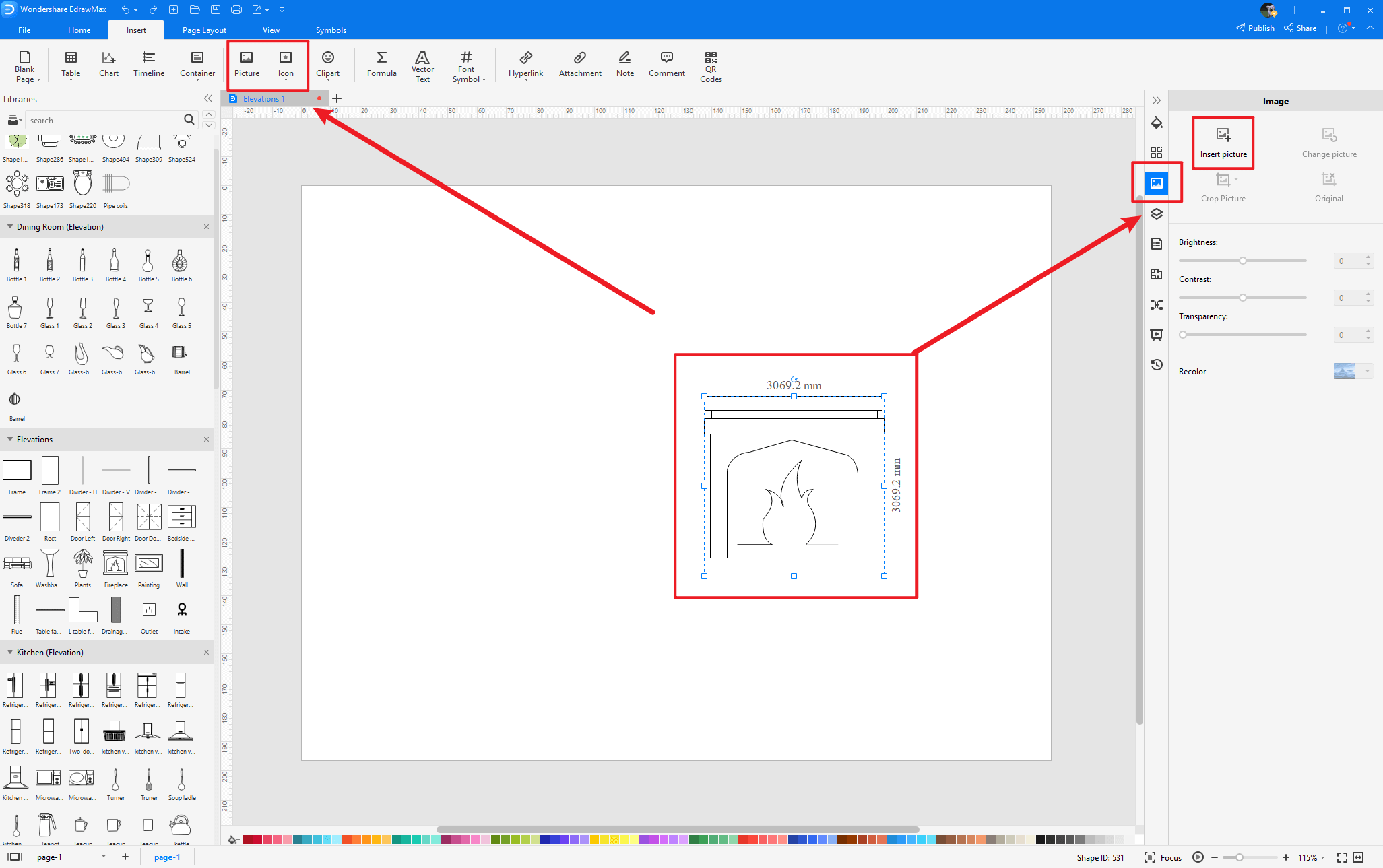 Step4
Save to Your Legend Libraries
Once you completed your building plan symbols design or import your legend images, you should still click "Symbols" on top, and choose "Save legend" to your legend Libraries. Or you can click "+" in My Library on the left toolbar. Learn more about how to draw a building plan or design a building from this building plan guide here.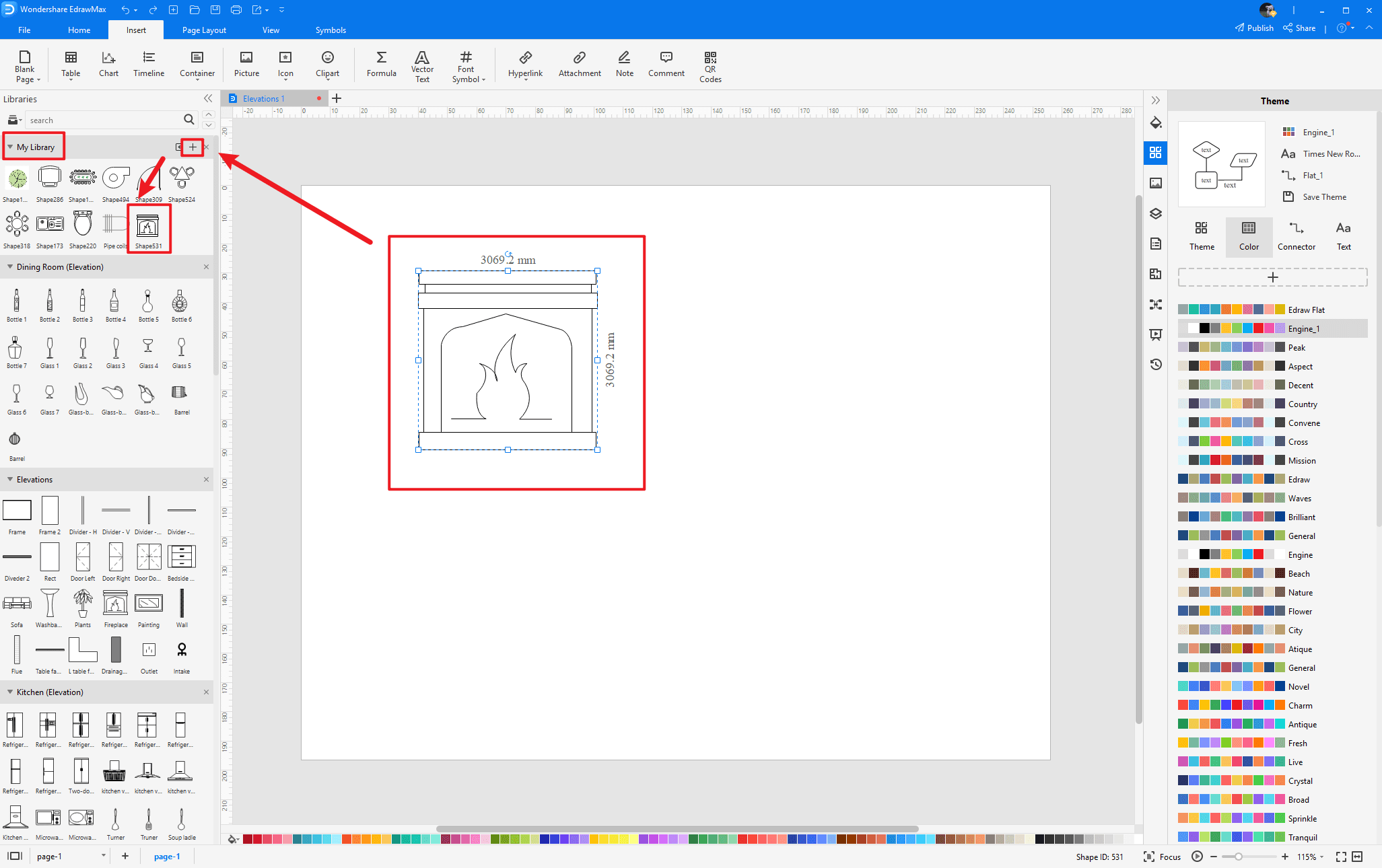 5. Free Building Plan Software
Instead of drawing it from scratch, it is much easier to create a building plan with free building plan software, such as EdrawMax. With EdrawMax, you get a comprehensive legend library with thousands of building plan symbols that you can use to make your diagram. It also gives you free editable templates that you can customize in a few minutes and complete your building plan. EdrawMax is an excellent tool for team collaboration, and its easy-to-use interface makes it the first choice for everyone.
Key Features of EdrawMax:
EdrawMax comes with free building plan examples & templates that are 100 percent customizable;
The built-in vector symbols let you easily add building plan components to your design;
You can easily share the building plan with your team and see the live revisions made by your team;
EdrawMax lets you export the file in multiple formats, including MS Docs, PPTX, JPEG, PNG, PDF, and more;
EdrawMax has a strong community of 25 million users who update the template community with their creative projects;
EdrawMax is considered the best tool for beginners and professionals because of the user-friendly dashboard and easy drag-and-drop feature.
EdrawMax Desktop
Create over 280 types of diagrams
Windows, Mac, Linux (runs in all environments)
Professional inbuilt resources and templates
On-premises software for business
Enterprise-level data security
EdrawMax Online
Create over 280 types of diagrams online
Access diagrams anywhere, anytime
Team management and collaboration
Personal Cloud and Dropbox Integration
6. Final Thoughts
A building plan is made to provide an outline of a constructing building, and this plan is usually made for proposal to seek approval from authorities. So aligning a building plan with optimal usage of building plan legends is very important. These symbols sometimes vary from company to company. That is why EdrawMax allows you to use different templates and layouts for your building plan by adding a variety of symbols to it. It also enables a designer to put customized symbols into his building plan.
EdrawMax is the best free building plan maker that gives you free symbols and templates to make your building plan. Its fast drawing and easy legend import feature make it the prime choice for beginners and professionals.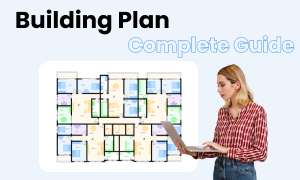 Building Plan Complete Guide
Check this complete guide to know everything about home plan, like building plan types, building plan symbols, and how to make a building plan.