Standard HVAC (Heating, Ventilation, and Air Conditioning) symbols include pump, duct, pipe, VAV box, air filter, propeller fan, etc. These symbols help create accurate HVAC plans if you are designing your home.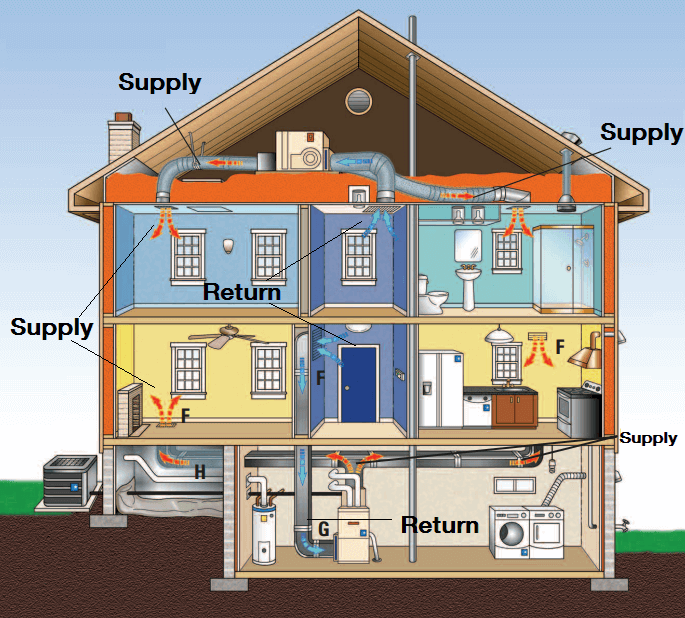 image source: https://energyeducation.ca/encyclopedia/HVAC
HVAC Equipment Symbols
The following HVAC equipment symbols contain Pump, Fan, Moisture Eliminator, Filter, Silencer, Valve, Compressor, Muffler, etc.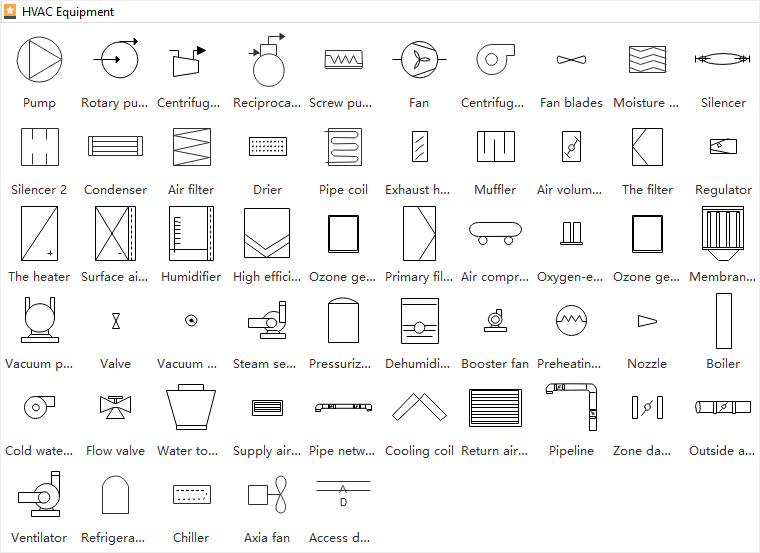 The Pump is a mechanical device using suction or pressure to raise or move liquids, compress gases, or force air into inflatable objects such as tires.
The Silencer is a device fixed to the exhaust of a motor vehicle to reduce engine noise.
The Condenser is an apparatus or container for condensing vapor into liquid. It is also known as heat transfer.
The Drier is a kind of substance or device to accelerate the drying or extract moisture.
The Muffler is a device used to reduce the noise of an engine or deaden the instrument's sound.
The Filter is a porous device for removing impurities or solid particles from a liquid or gas that passes through it.
The Nozzle is a cylindrical or round spout at the end of a pipe, hose, or tube used to control the direction, or the velocity of a gas or liquid flow.
The Pipeline is a long pipe, typically underground, for transporting oil, gas, etc.
The Chiller is a machine for removing heat from a liquid through a circle of vapor compression, absorption, and refrigeration.
HVAC Ductwork Symbols
The following HVAC ductwork symbols show the different ductworks and junctions: straight duct, miter bend, miter bend, 3-way junction, Y junction, and transition.

The Bend is a curve part in a road, river, path, or racing circuit.
The Y junction generally has 2 arms of equal size.
The Transition is the process or a period of changing from one state or condition to another.
The VAV box is short for Variable Air Volume box, which is a type of HVAC system.
HVAC Controls Symbols
The following HVAC controls symbols include commonly used shapes that represent for measuring temperature, flow, velocity, voltage, current, light, timer, power, and more.

The Temperature shape shows a kind of device to measure temperature.
The Humidity shape shows a kind of device to measure humidity.
The Timer shape shows a device to count time.
The Air quality is a device to detecting air qulity.
HVAC Control Equipment Symbols
The following HVAC control equipment symbols include duct, sections, pipe, VAV box, heater, damper, boiler and more.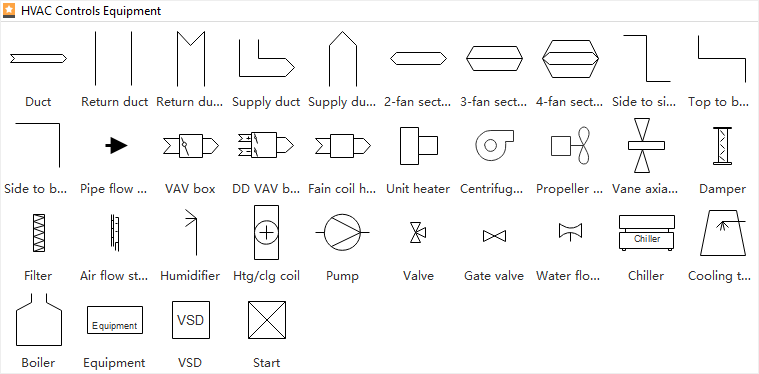 The Duct is a tube or passageway in a building or machine for air, liquid, cables, etc.
The Damper is a kind of device that has a subduing or inhibiting effect.
The VSD is a hole in the wall separating the two lower chambers of the heart.
HVAC Plan Software
Edraw HVAC plan software will offer you plenty of useful HVAC symbols and efficient drawing tools to make precise HVAC plans. It's essential to examine your blueprints with the HVAC arrangements if you are in the process of designing a building. Don't miss out on free HVAC symbols and floor plan software.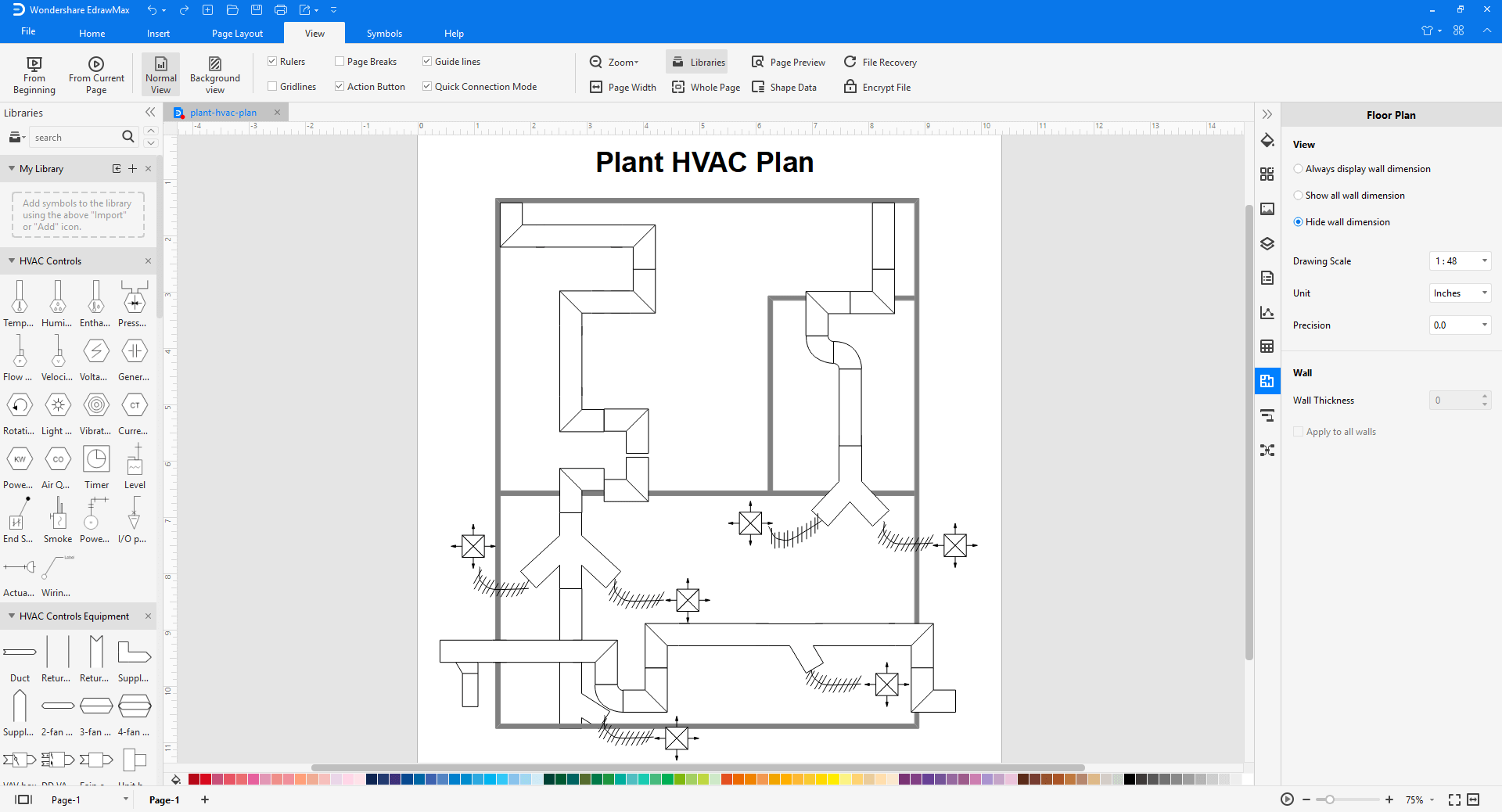 EdrawMax: a swiss knife for all your diagramming need
Effortlessly create over 280 types of diagrams.
Provide various templates & symbols to match your needs.
Drag and drop interface and easy to use.
Customize every detail by using smart and dynamic toolkits.
Compatible with a variety of file formats, such as MS Office, Visio, PDF, etc.
Feel free to export, print, and share your diagrams.
All these HVAC symbols are free for use with Edraw HVAC maker. You can easily drag and drop any symbols on the canvas to make an HVAC plan. Once finished, the drawing can be saved and exported into standard formats in Edraw Max, including Word, Excel, PPT, SVG, JPG, TIFF, PNG, HTML, etc.
In addition, you can learn the HVAC plan design guide here. The picture below shows an HVAC plan example that is made by Edraw Max.