Do You Want to Make Your HVAC Plan?
EdrawMax specializes in diagramming and visualizing. Learn from this article to know everything about HVAC symbols, and how to use HVAC symbols. Just try it free now!
The HVAC plan illustrates the layout and functioning of various units and equipment for heating, ventilation, and air-conditioning in a building, house, or any other establishment. We use HVAC symbols to represent the equipment and machines in the HVAC plan. Here, you will learn the various types and benefits of HVAC symbols. Learn how to use and find these symbols to create an HVAC plan. We will also talk about the features of EdrawMax and how you can draw personalized HVAC symbols.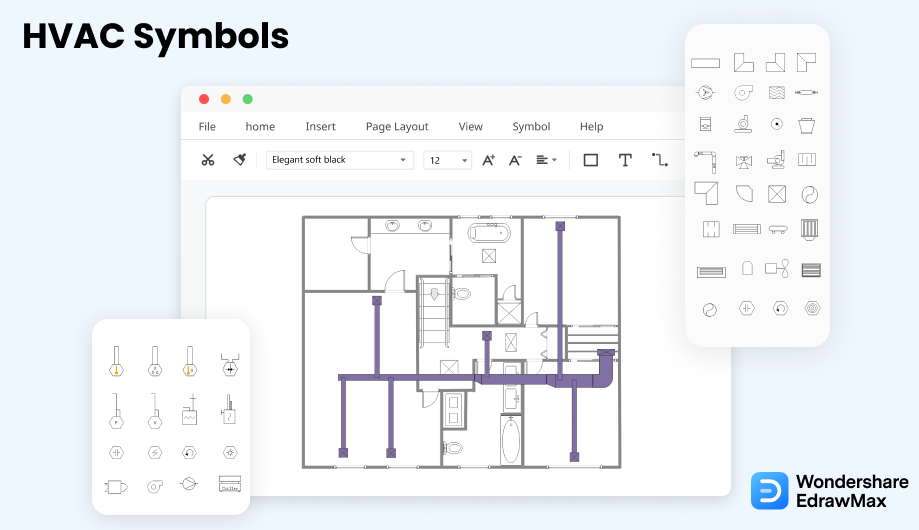 1. What Are the HVAC Symbols
The acronym HVAC stands for heating, ventilation, air-conditioning. The HVAC plan is a schematic diagram that visually represents the structure and components of mechanical systems installed in buildings, houses, and other establishments for thermal comfort, air-conditioning, and better air quality. We use HAVC symbols to depict the layout of devices, ventilation network, and other components of a HVAC system. HVAC systems are mainly used in corporate and residential buildings and industries.
The purpose of using HAVC symbols is to design an accurate HVAC plan that will satisfy the environmental requirements of comfort by adjusting the outdoor air conditions. There are two common types of HVAC plans. We use the central HVAC plan when we want to locate the system away from the residence or building. It uses delivery ductwork to deliver the conditioned air. The local HVAC systems are normally positioned near or inside the conditioned zone with ductwork requirements.
There are various advantages of using HAVC symbols to create a plan before designing the mechanical system. With HVAC symbols, you can illustrate the size, position, and type of each more efficient component. A proper HVAC plan will help you lower your electricity bills and create a better ventilation system for temperature variability. You can also get cleaner air and remote access for using HVAC plans.
HVAC Symbols:
HVAC symbols depict the layout of devices, ventilation network, and other components of a HVAC system.
2. The Types of HVAC Symbols
We use various HVAC symbols to design schematic wiring and circuit diagrams to depict the layout and working mechanism of HVAC systems. Selecting the symbols to use in the HVAC plan depends on the building or house configurations and the owner's desire. Some of the universal symbols used in all HVAC plans are the ducts, sir-filters, supply fans, electrical devices, and controls. We categorize HVAC symbols into four types based on their purpose, designs, and type of building. Here are the four types of HVAC symbols.
2.1 HVAC Controls Symbols
HVAC control symbols illustrate the components and devices that control the HVAC heating, ventilation, and air-conditioning mechanism with power connections and regulators. We use these symbols to show the pressure of gas and water or to represent the variable control on the HVAC system to adjust the speed and torque of the motor. Some of these symbols are mainly used in circuit diagrams to represent the control fluid flow and the electric module that runs the system. Here are some HVAC control symbols.
Temperature: Show the present temperature of the system or the room.
Humidity: Show a kind of device to measure humidity.
Pressure: Measure the current pressure in the system and displays its value.
Voltage: Measure the voltage in the system.
Current: Measure the electric current in the system.
Timer: Placed wherever we need to put a timer or perform a countdown.
Temperature
Humidity
Enthalpy
Pressure
Flow
Velocity
Voltage
Current
Rotation
Light
Vibration
Timer
Current
Power
Air quality
Level
End switch
Smoke
Power connection
I/O point
Actuator
Connector line
Label
Source: EdrawMax
2.2 HVAC Equipment Symbols
The HVAC equipment symbols depict the electrical products, devices, and equipment used to connect them with the HVAC system. We use these HVAC symbols to visually represent all the major and minor components and products in an HVAC plan. The equipment includes common devices, such as fans and air filters for better quality airflow. It also includes outer products such as DX units and driers. You need a basic knowledge of these symbols before creating an HVAC plan. Here are some HVAC equipment symbols.
Fan blades: Mostly drawn wherever a fan or exhaust would be placed in the HVAC plan.
Silencer: Mostly placed at the motor to reduce noise production.
Condenser: A vital part of any HVAC plan; it is a heat transfer equipment that can condense vapor into liquid.
Drier: A vital part of any HVAC plan; it is a heat transfer equipment that can condense vapor into liquid.
Muffler: An advanced form of a silencer that can be included in any device to inhibit its noise.
Filter: A porous device for removing impurities or solid particles from a liquid or gas that passes through it.
Pump
Rotary pump
Centrifugal pump
Reciprocating pump
Screw pump
Fan
Centrifugal fan
Fan blades
Moisture eliminator
Silencer
Silencer 2
Condenser
Air filter
Drier
Pipe coil
Exhaust hood
Muffler
Air volume control valve
Filter
Regulator
Heater
Surface air cooler
Humidifier
High efficiency filter
Ozone generator
Primary filter
Air compressor
Oxygen-enriched filter
Ozone generator
Membrane clear box
Vacuum pump
Valve
Vacuum Gauge
Steam separator
Pressurizer system
Dehumidifying system
Booster fan
Preheating system
Nozzle
Boiler
Cold water pump
Flow valve
Water tower
Supply air grill
Pipe network
Cooling coil
Return air grill
Pipeline
Zone damper
Outside air duct
Ventilator
Refrigerant receiver
Chiller
Axia fan
Access door
Source: EdrawMax
2.3 HVAC Ductwork Symbols
The HVAC ductwork is an essential part of central HVAC systems. We use ductwork symbols to illustrate the ducts and Vav boxes in an HVAC plan. Most ductwork symbols are mainly represented by one or two lines in a rectangular shape. We use ducts for thermal and acoustic reasons for increasing and decreasing heat or cold. When we make HVAC plans, we make various changes that include adding or removing ducts in the system. There are also various types of ducts, such as the one used to reduce vibrations or for seismic breaks. Here are some HVAC ductwork symbols.
Straight duct: I-shaped straight pipe that is installed in the ducting.
Miter bend: A curve part in a road, river, path, or racing circuit. It is a L-shaped and is installed at the bending points.
3 way junction: Installed when a single input is divided into three segments.
Y junction: Have 2 arms of equal size.
Transition : The process or a period of changing from one state or condition to another. The equipment is placed where one state in the pipe is changed to another.
Supply: Placed at the supply of the ducting system.
Straight duct
Miter bend
Miter bend 2
Miter bend 3
Miter bend 4
Variable bend
Variable bend 2
Branch duct
Branch duct 2
Junction bottom
Junction up
3 way junction
Y junction
Beveled junction
Transition
Offset transition
Supply
Return
Flexible connection 1
Flexible connector
Vertical duct
VAV box
Sliding damper
Damper
Source: EdrawMax
2.4 HVAC Controls and Equipment Symbols
HVAC control and equipment symbols depict the devices and systems with control features such as a propeller fan with a speed regulator. These are the common symbols used in all types of HVAC plans. Most of these symbols represent products with fans and controllers. Many devices come with controllers in an HVAC system because the outdoor and indoor environment of a building or a house regularly changes, and we have to adjust the system for better comfort. Here are some HVAC control and equipment symbol.
Unit Heater: Placed at specific places (units) to provide heating.
Propeller Fan: The part of the ventilator system to pass through air.
Damper: A kind of device that has a subduing or inhibiting effect. The device has inhibiting effects that regulate and redirect the airflow.
Valve: Placed anywhere in the HVAC plan that would turn on/off the flow in the pipeline.
VSD: A hole in the wall separating the two lower chambers of the heart. It stands for a Variable Speed Device that separates two chambers and regulates the speed of flow.
Pipe Flow Arrow: Show the direction in which any liquid or gas flows in a pipeline.
Duct
Return Duct
Return Duct 2
Supply Duct
Supply Duct 2
2-Fan Sections
3-Fan Sections
4-Fan Sections
VAV Box
DD VAV Box
Fain Coil Housing
Unit Heater
Centrifugal Fan
Propeller Fan
Vane Axial Fan
Damper
Filter
Air Flow Station
Humidifier
Htg/Clg Coil
Pump
Valve
Gate Valve
Water Flow Meter
Chiller
Cooling Tower
Boiler
Equipment
VSD
Start
Side to Side Pipe
Top to Bottom Pipe
Side to Bottom Pipe
Pipe Flow Arrow
Source: EdrawMax
2.5 HVAC Wall Shell Symbols
The most typical parts of an office layout are walls. Exterior walls are represented by thicker lines, whereas internal walls are represented by thinner lines. There is sometimes no discernible difference between them. Instead of a single, solid line, outside walls can be represented by a black outline or double lines.
Wall

Vertical Wall

Curved Wall

Curtain Wall

Space

L-Space

T-Space

Room 1

Room 2

Room 3

Pilaster

Rectangular Column

Circular Column

Beam
Grid Origin

Grid Line

Source: EdrawMax
2.6 HVAC Door & Window Symbols
Doors resemble larger spaces between walls, with a curving line indicating which way the door will swing and providing clearance. Depending on their design and function, they may appear differently on floor plans.
The windows are portrayed as if they were part of the walls.
Three parallel lines separate regular sliding-glass windows from solid walls.
Casement windows have arcs that look like doors and demonstrate how they open outward.
The bay windows are tilted like the edge of a stop sign, interrupting the wall's straight line trajectory.
Window

Open Window

Open Window 2

Open Window 3

Glider Window

Casement Window

Bay Window

Double Casement Window

Opening

Door

Double Hung Door

Double Door

Uneven Door

Opposing Door

Revolving Door

Folding Door

Sliding Door

Double Sliding Door

By Pass Door
Bi Fold Door
Double Bi Fold Door

Sliding Glass Door

Overhead Door

Garden Window

Source: EdrawMax
3. Where to Find HVAC Symbols
It would help if you had proper HVAC symbols to create an accurate HVAC plan with details and a clear representation of each component. You can easily find HVAC symbols in the symbol library of EdrawMax.
You can easily find HVAC symbols in the symbol library of EdrawMax. EdrawMax gives you more than 26000 symbols that you can use to create a HVAC or any other diagram. You can go and search for the symbols you want in EdrawMax and click on the HVAC plan. Go to the HVAC category and use a simple drag and drop to add any symbol you want.
EdrawMax HVAC Symbols:
EdrawMax is the best resources for HVAC symbols, you can find hundreds of HVAC symbols here. Just drag and drop, you can create HVAC plan easily.
4. How to Use HVAC Symbols
Follow these instructions to learn how to use HVAC symbols and easily create more HVAC symbols with EdrawMax.
4.1 How to Use HVAC Symbols in EdrawMax
Instead of wasting time drawing the HVAC symbols or icons on paper, you should look for a way to design a HVAC plan easily. EdrawMax is well equipped to design a HVAC plan.
Step1
Login EdrawMax
If you are new here, you should use your Email to register EdrawMax, but if you're already the EdrawMax's user, you just need to login EdrawMax for free. Open EdrawMax select "Engineering", and find "Building Plan", and click "HVAC Plan", then open a new canvas or just open a built-in template.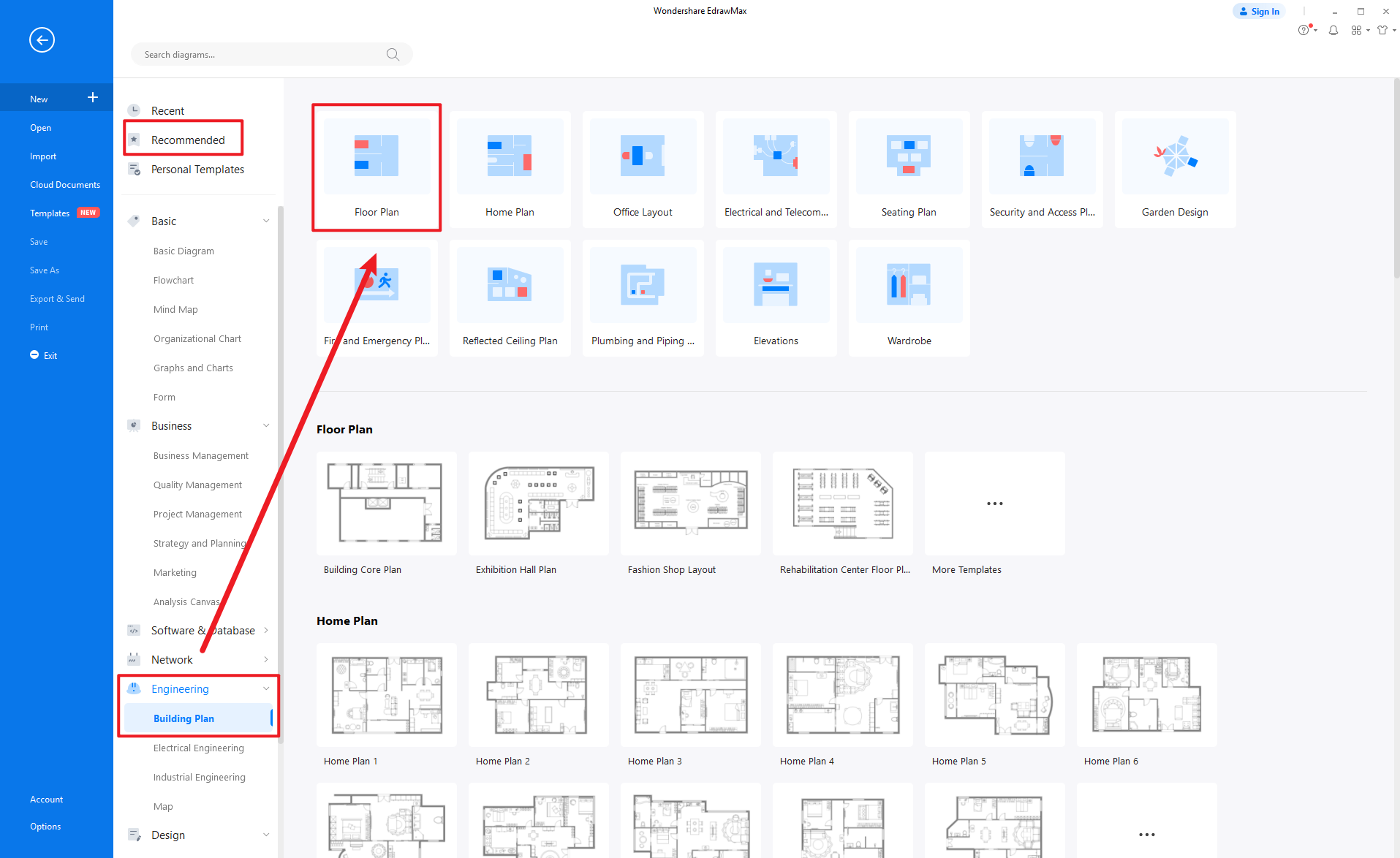 Step2
Select Office Layout Symbols
Unlike physical drawing, EdrawMax helps to create a HVAC easily. In the symbol section of EdrawMax, you will find over 260,000 vector-based symbols that you can use in your designs. In EdrawMax, you can find HVAC symbols in Symbol Libraries on the left toolbar. You can click on the "+" option to open a new canvas to make your HVAC. On the left side of the canvas, you will see a symbol library with many HVAC symbols. You can search for specific symbols in the search bar.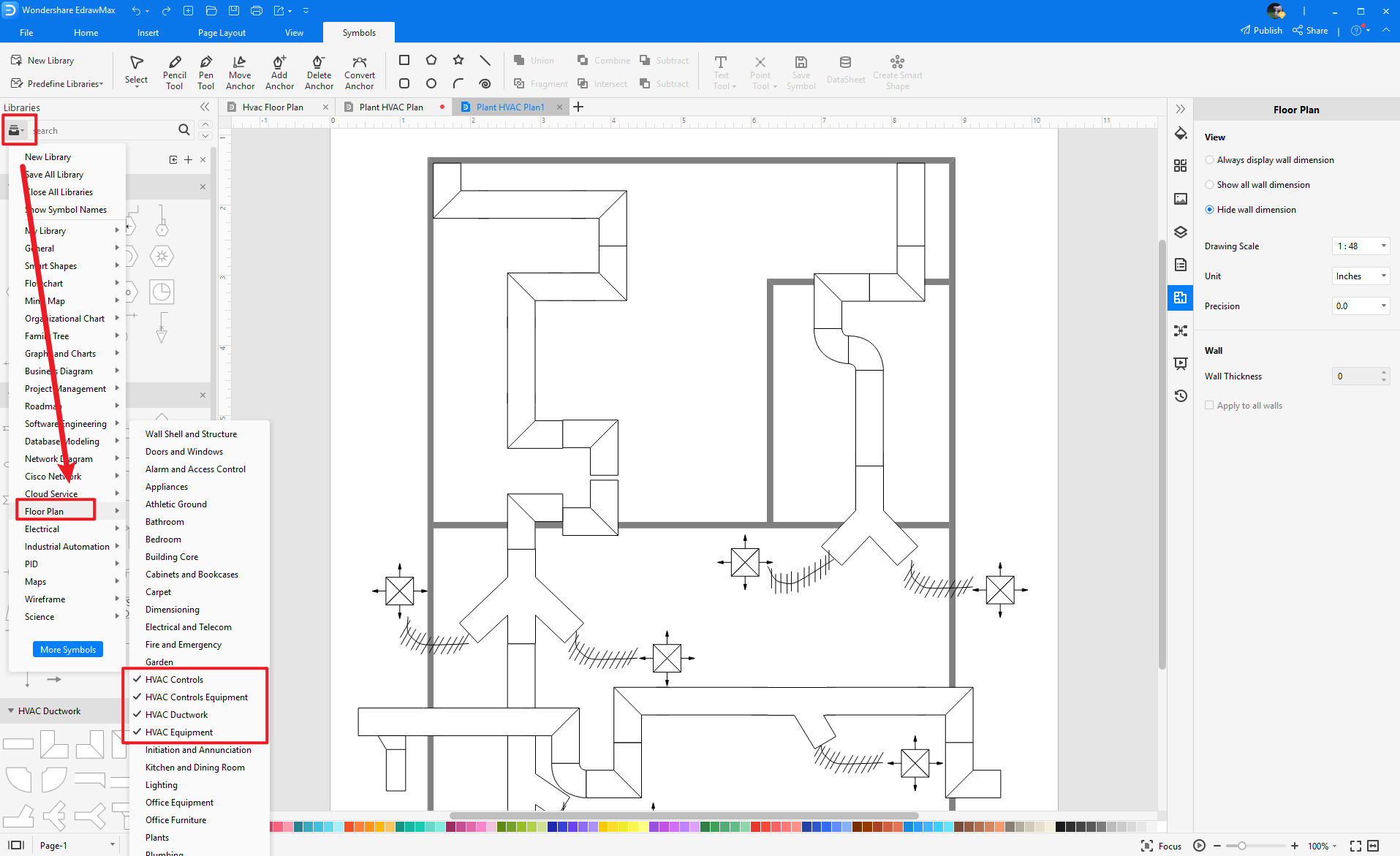 Step3
Drag and Drop
Once you find the proper HVAC symbols you want, just drag and drop the symbols to the canvas easily. Keep customizing by choosing the right symbols, proper scale or dimensions, and adding more details, like color, font, and etc. When completed your HVAC, you can export your file or share your design effortlessly. Learn more HVAC plan guide here if necessary.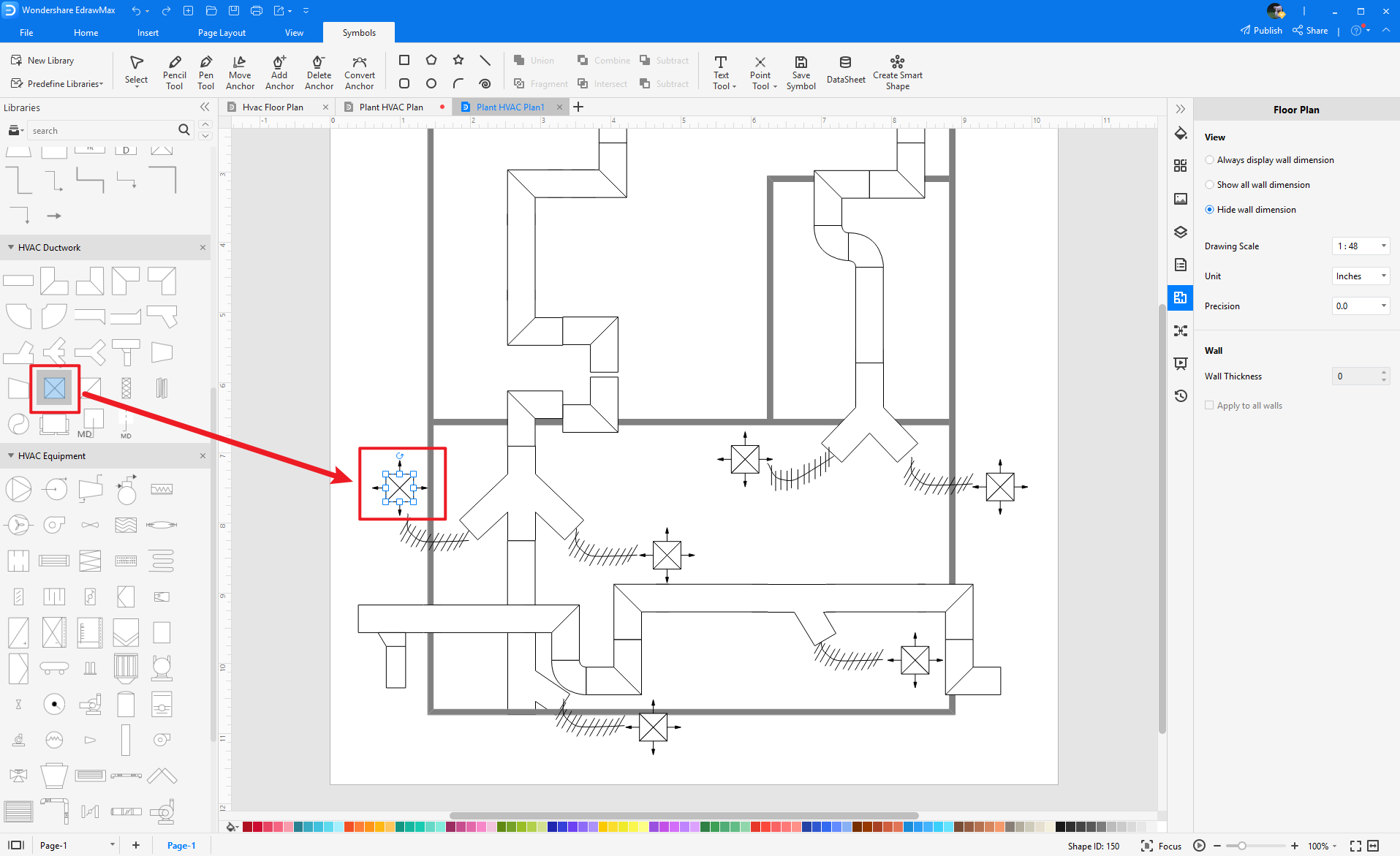 4.2 How to Create More HVAC Symbols in EdrawMax
EdrawMax provides you with thousands of symbols to create your diagram. Sometimes you want to use unique or personalized symbols in your diagram that are not in the library. EdrawMax gives you a simple solution to this problem. Follow these steps when you don't find the HVAC symbols you want or you wish to create your symbols to make your diagram.
Step1
Find Symbol Tool
If you can't find any symbol similar to the one you want, you can use the pencil tool, pen tool, and anchor tool to draw your personalized HVAC symbols. It is much easier to draw the symbol you want on EdrawMax instead of searching for the one that suits your requirements. You can also save your symbol in the library for later use.
Select "Symbols" on the upper Toolbar;
Use "Pencil Tool", "Pen Tool", "Anchor Tool" to create garden symbol from very beginning;
Choose "Union", "Combine", "Subtract", "Fragment", "Intersect", "Smart Shape" to make your symbols.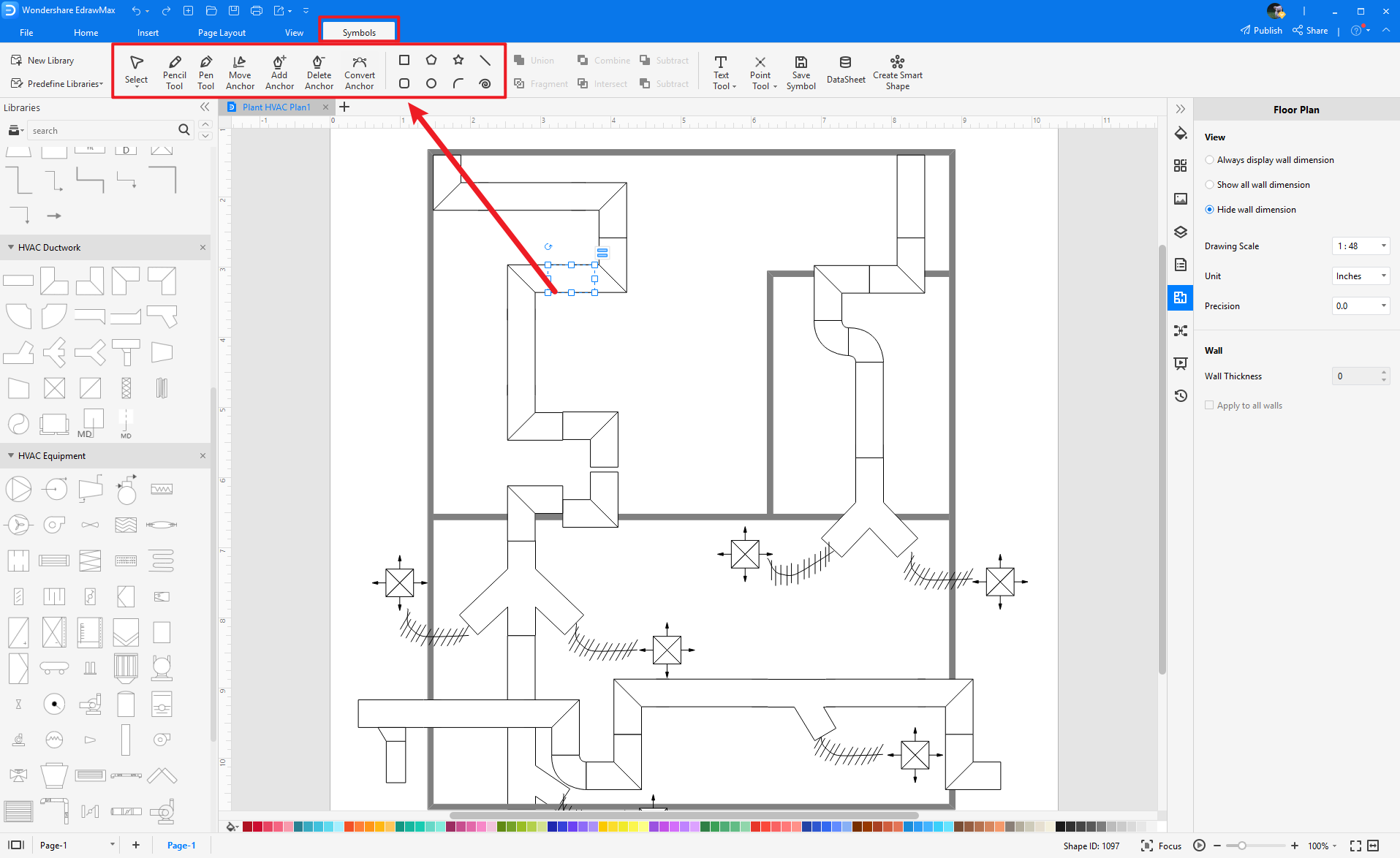 Step2
Create HVAC Symbols
When you create an office layout, make sure that the size, design, and other attributes of your icon go along with other office layout symbols. Follow these steps to draw perfect office layout symbols.
Make your fire escape and infrastructure icon square and warning or hazardous symbol in a circular shape.
You can use various pen styles to make different parts of your symbol.
Make sure that the illustration inside the shape does not overlap it.
When making an icon, use the right color to represent the icon, such as red for fire, yellow and white for warning and green for access and exit points.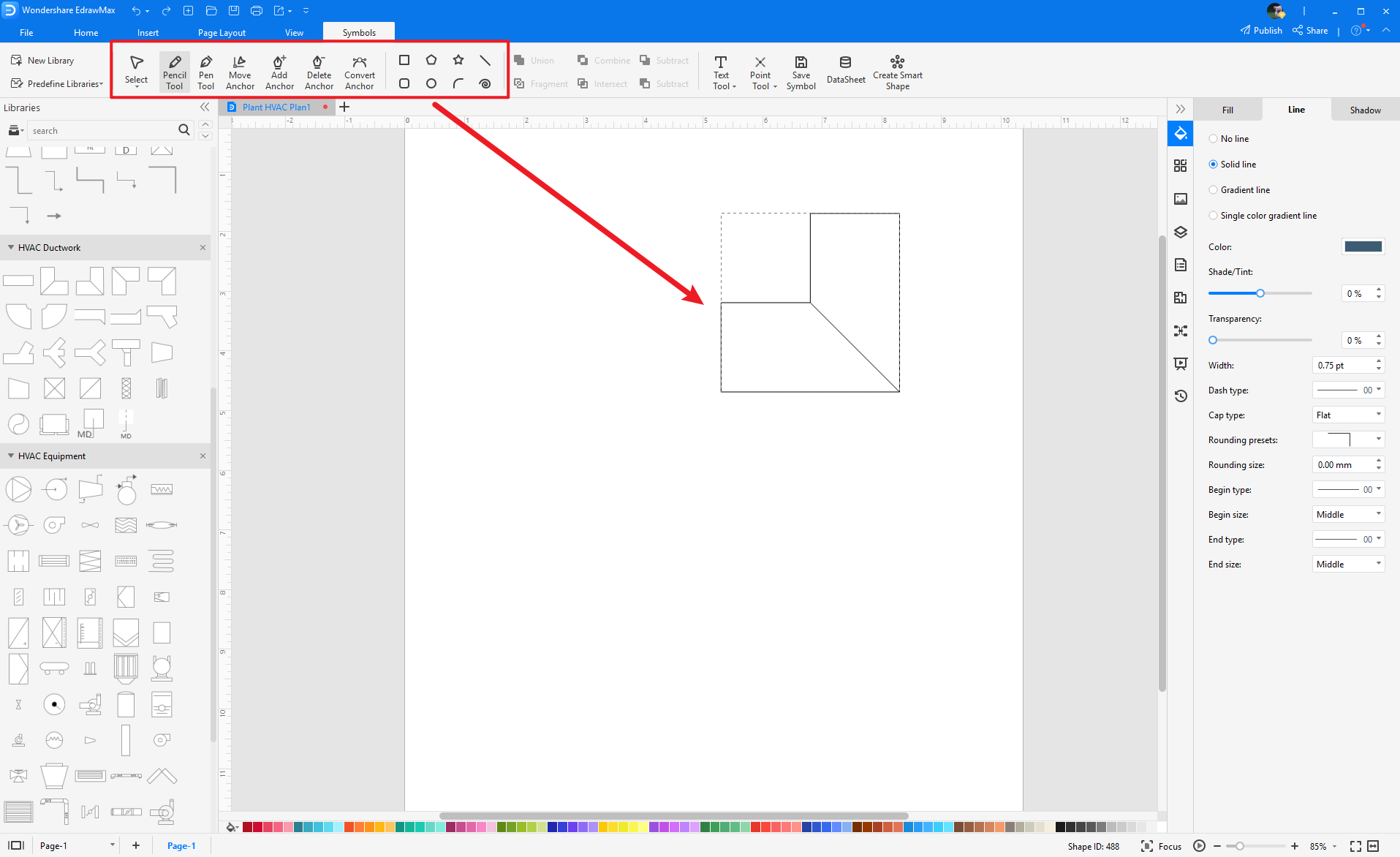 Step3
Import HVAC Symbols
Except for creating new HVAC symbols in EdrawMax, you can import HVAC symbols from your end. Find "Insert" on the top navigate toolbar, and import images to turn into symbols. Or click the thrid option of the right toolbar to insert images faster.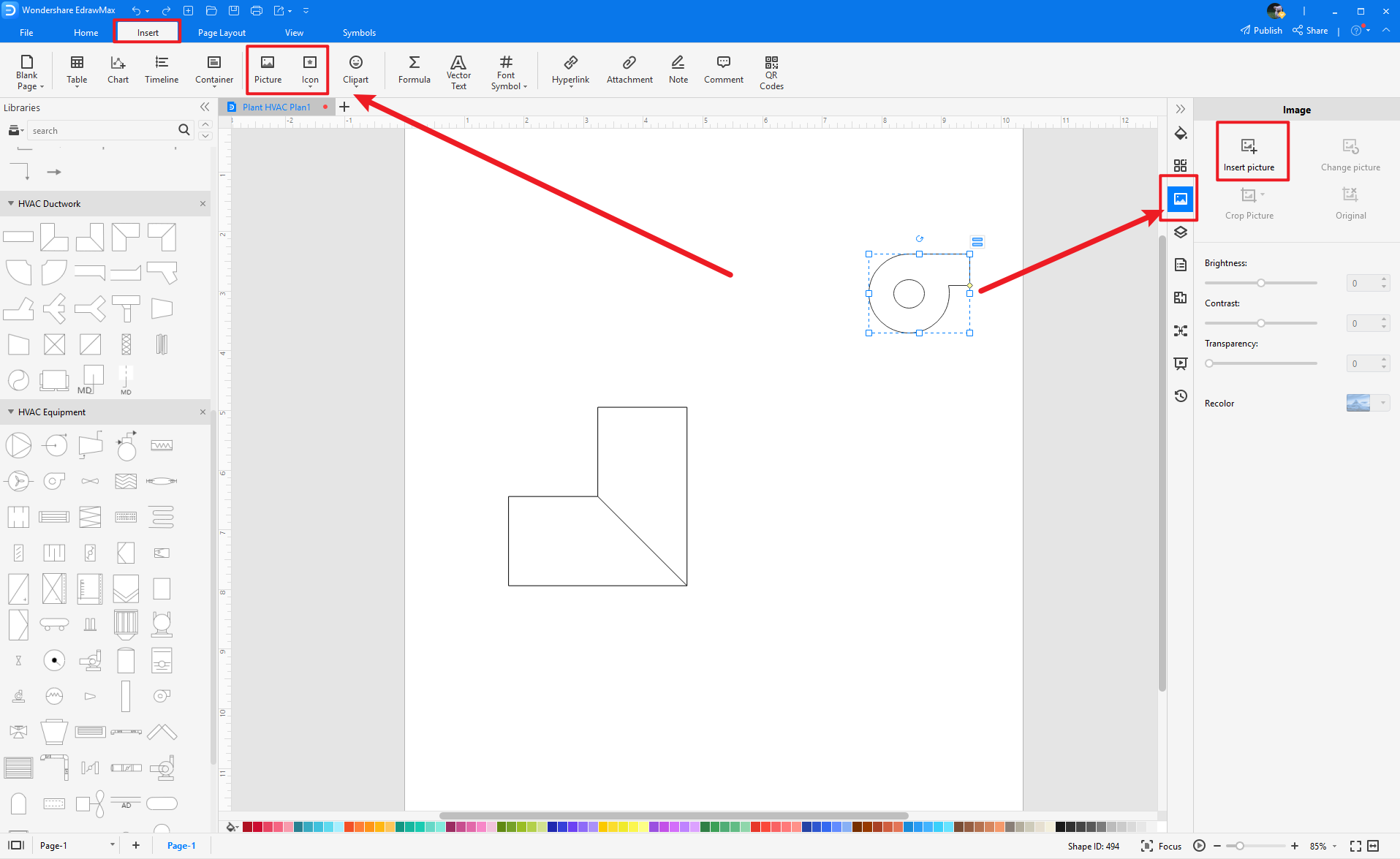 Step4
Save to Your Symbol Libraries
Once you completed your HVAC symbols design or import your symbol images, you should still click "Symbols" on top, and choose "Save Symbol" to your symbol Libraries. Or you can click "+" in My Library on the left toolbar. Learn more about how to draw a HVAC plan or design a HVAC from this HVAC plan guide here.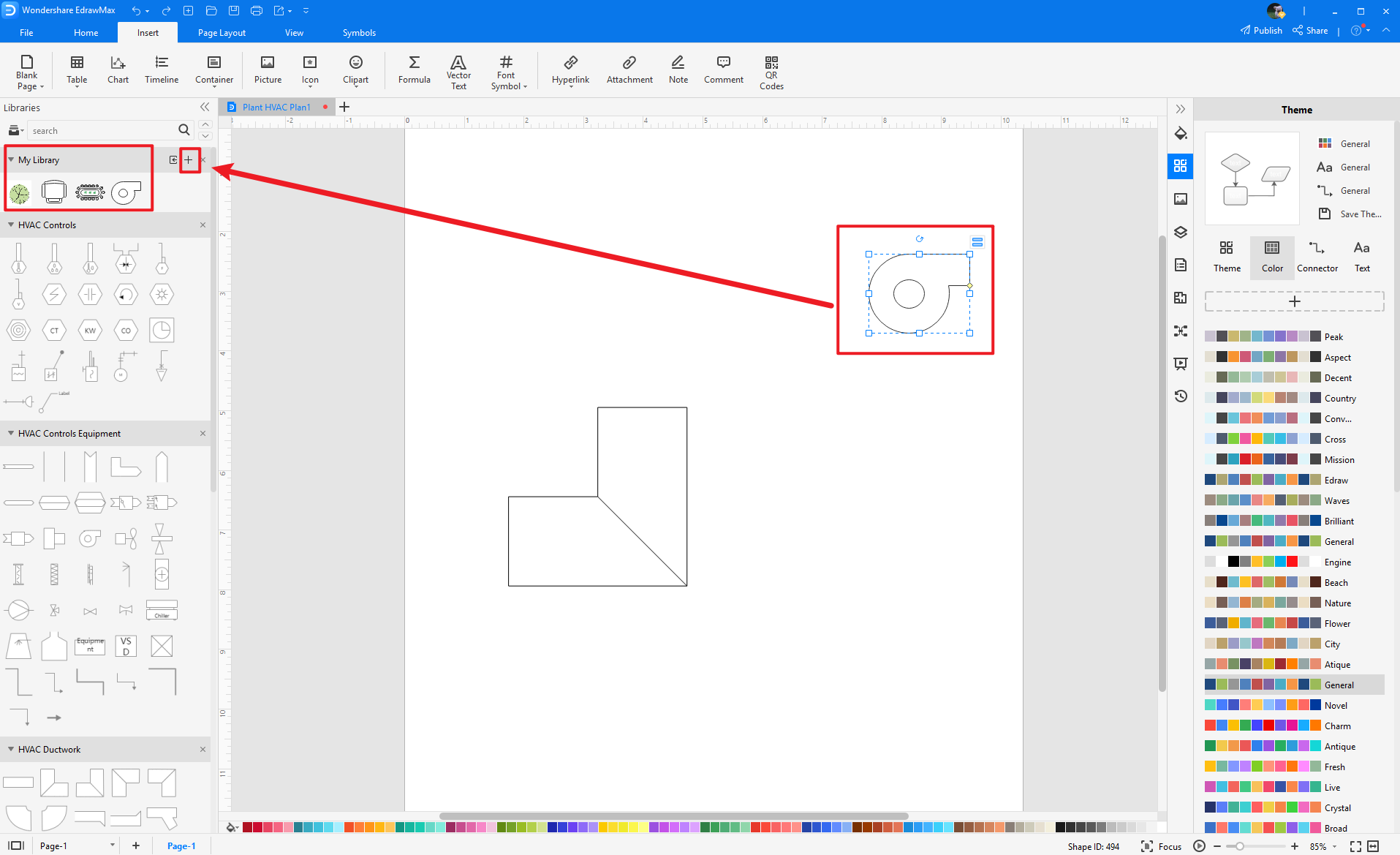 5. Free HVAC Drawing Software
Creating a HVAC plan is much easier with free HVAC software, such as EdrawMax, instead of drawing it from scratch. With EdrawMax, you get a comprehensive symbol library with thousands of HVAC symbols that you can use to make your diagram. It also gives you free editable templates that you can customize in a few minutes and complete your diagram. EdrawMax is an excellent tool for team collaboration, and its easy-to-use interface makes it the first choice for everyone. These features make EdrawMax the best free HVAC drawing software.
Key Features of EdrawMax:
EdrawMax comes with free HVAC plan examples & templates that are 100 percent customizable;
The built-in vector symbols let you easily add HVAC components to your design;
You can easily share the HVAC design with your team and see the live revisions made by your team;
EdrawMax lets you export the file in multiple formats, including MS Docs, PPTX, JPEG, PNG, PDF, and more;
EdrawMax has a strong community of 25 million users who update the template community with their creative projects;
EdrawMax is considered the best tool for beginners and professionals because of the user-friendly dashboard and easy drag-and-drop feature.
EdrawMax Desktop
Create over 280 types of diagrams
Windows, Mac, Linux (runs in all environments)
Professional inbuilt resources and templates
On-premises software for business
Enterprise-level data security
EdrawMax Online
Create over 280 types of diagrams online
Access diagrams anywhere, anytime
Team management and collaboration
Personal Cloud and Dropbox Integration
6. Final Thoughts
We use HVAC symbols to create schematic diagrams to provide thermal comfort and improve the indoor air quality inside a house, building, or an industry with good ventilation and filtration of air. When you create an HVAC plan, make sure to add safety controls, operating controls, relay contacts, and symbols for switches.
EdrawMax is the best HVAC software with free templates and a large collection of symbols and icons. Professionals and beginners prefer EdrawMax because of its simple interface and fast diagramming tools. You can also import symbols from the web and download or share your diagram in any format you want using EdrawMax.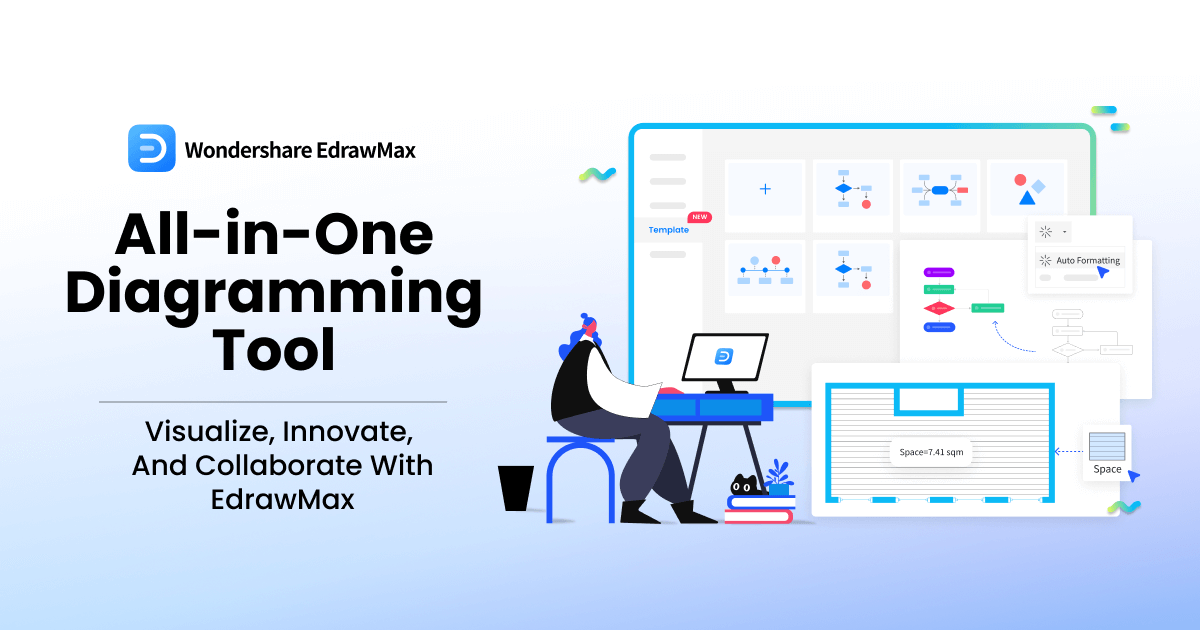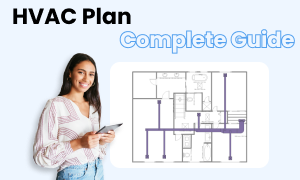 HVAC Plan Complete Guide
Check this complete guide to know everything about HVAC plan, like HVAC types, HVAC symbols, and how to make a HVAC plan.