What are HVAC Plans?
HVAC (heating, ventilation, and air conditioning) plans refer to the drawings made by specialized engineers that include all the details needed to create, set up, and maintain the heating and cooling system in a building.
The HVAC plans are quite important and are developed once the building's floor plans have been completed. The engineers use their expertise to develop the most effective and efficient system – a system that requires minimal wiring and cost but still caters to the needs of the building's inhabitants.
But how do the engineers create an HVAC plan? Just like coding, HVAC plans include special symbols to indicate the equipment for heating, ventilation, and air conditioning. What are these symbols, and how are they categorized? Let's have a look.
What are HVAC Plans used for?
Since HVAC plans would provide the overall floor plan related to heating, cooling, and ventilation, they can be used in different ways.
It acts as a first step in setting the air conditioning or the thermal system in any building
After coming up with an HVAC plan, you can tell your clients about the overall budgeting and deadlines.
An HVAC plan would help you decide the cost of other tools and equipment that should be installed in the structure.
Apart from being a vital tool for construction and engineering, it can also help in maintaining and planning the system.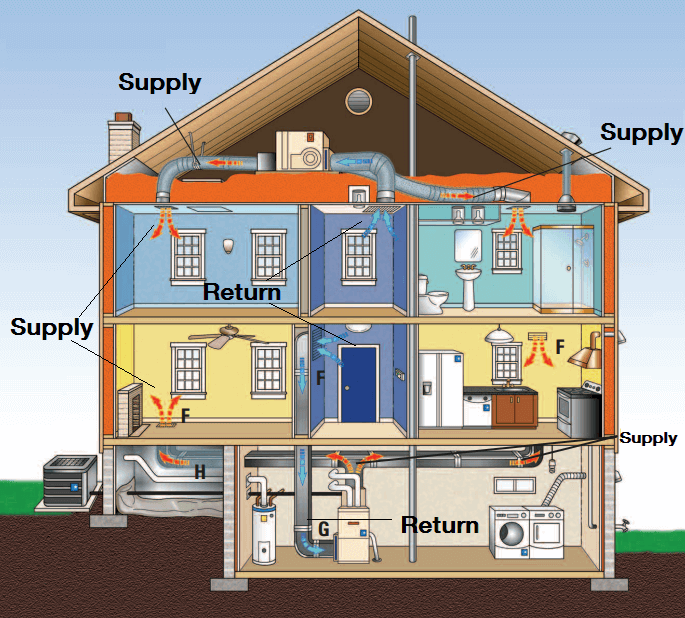 image source: energyeducation.ca
EdrawMax
All-in-One Diagram Software
Create more than 280 types of diagrams effortlessly
Start diagramming with various templates and symbols easily
Superior file compatibility: Import and export drawings to various file formats, such as Visio
Cross-platform supported (Windows, Mac, Linux, Web)
Security Verified |
Switch to Mac >>
Security Verified |
Switch to Linux >>
Security Verified |
Switch to Windows >>
HVAC Plan Symbols
HVAC drawings consist of various symbols, each representing a component such as pumps, fans, silencers, air filters, regulators heaters, and surface air coolers. The symbols used in the drawings of HVAC plans in almost every building – whether it be a factory, an office building, or a residential one – can be categorized into four groups.
HVAC Controls
HVAC Equipment
HVAC Ductwork
HVAC Controls Equipment
For your better understanding, we have added illustrations of the symbols from each of these categories.
HVAC Controls
Level
End switch
Smoke
Power connection
I/O point
Actuator
Connector line
Label
HVAC Equipment
Rotary pump
Centrifugal pump
Reciprocating pump
Screw pump
Fan
Centrifugal fan
Moisture eliminator
Surface air cooler
High efficiency filter
Ozone generator
Primary filter、 Mid-effect filter
Oxygen-enriched filter
Ozone generator
Membrane Clear Box
Vacuum pump
Valve
Vacuum Gauge
Steam separator
Pressurizer system
Cold water pump
Flow valve
Water tower
Supply air grill
Pipe network
Cooling coil
Return air grill
Zone damper
Outside air duct
Refrigerant receiver
Axia fan
Access door
HVAC Ductwork
Miter bend 2
Miter bend 3
Miter bend 4
Variable bend
Variable bend 2
Branch duct
Branch duct 2
Junction bottom
Junction up
Beveled junction
Offset transition
Return
Flexible connection 1
Flexible connector
Vertical duct
Sliding damper
Damper
HVAC Controls Equipment
Return Duct
Return Duct 2
Supply Duct
Supply Duct 2
2-Fan Sections
3-Fan Sections
4-Fan Sections
VAV Box
DD VAV Box
Fain Coil Housing
Centrifugal Fan
Vane Axial Fan
Filter
Air Flow Station
Humidifier
Htg/Clg Coil
Pump
Gate Valve
Water Flow Meter
Chiller
Cooling Tower
Boiler
Equipment
Start
Side to Side Pipe
Top to Bottom Pipe
Side to Bottom Pipe
How to Make a HVAC Plan Quickly?
The best way to draw HVAC plans is by using user-friendly software. Our recommendation is EdrawMax because it provides you with all the HVAC symbols, pre-drawn templates, and video tutorials for each step. Moreover, if you're just entering the drawing and designing niche of HVAC systems, using EdrawMax may be the perfect choice because of its simple, straightforward user-interface.
The software has a free version that offers limited features, but if you want to access premium features and high-end templates, we recommend an upgrade to the premium version. Not only will it save you hours in designing HVAC systems. But it will unlock some additional HVAC symbols that you may need.
One of EdrawMax 's best features is that you can access it through a browser or by downloading the application. If you're short on space on your PC, this might just be the option you are looking for.
Steps to Create an HVAC Plan Using EdrawMax
Making HVAC plans using EdrawMax is a very straightforward process. Here's a step-by-step tutorial to guide you through it:
Step 1: Download the EdrawMax app or use it online.
Step 2: Sign in to your Wondershare/Edraw account or create a new one if you're not registered.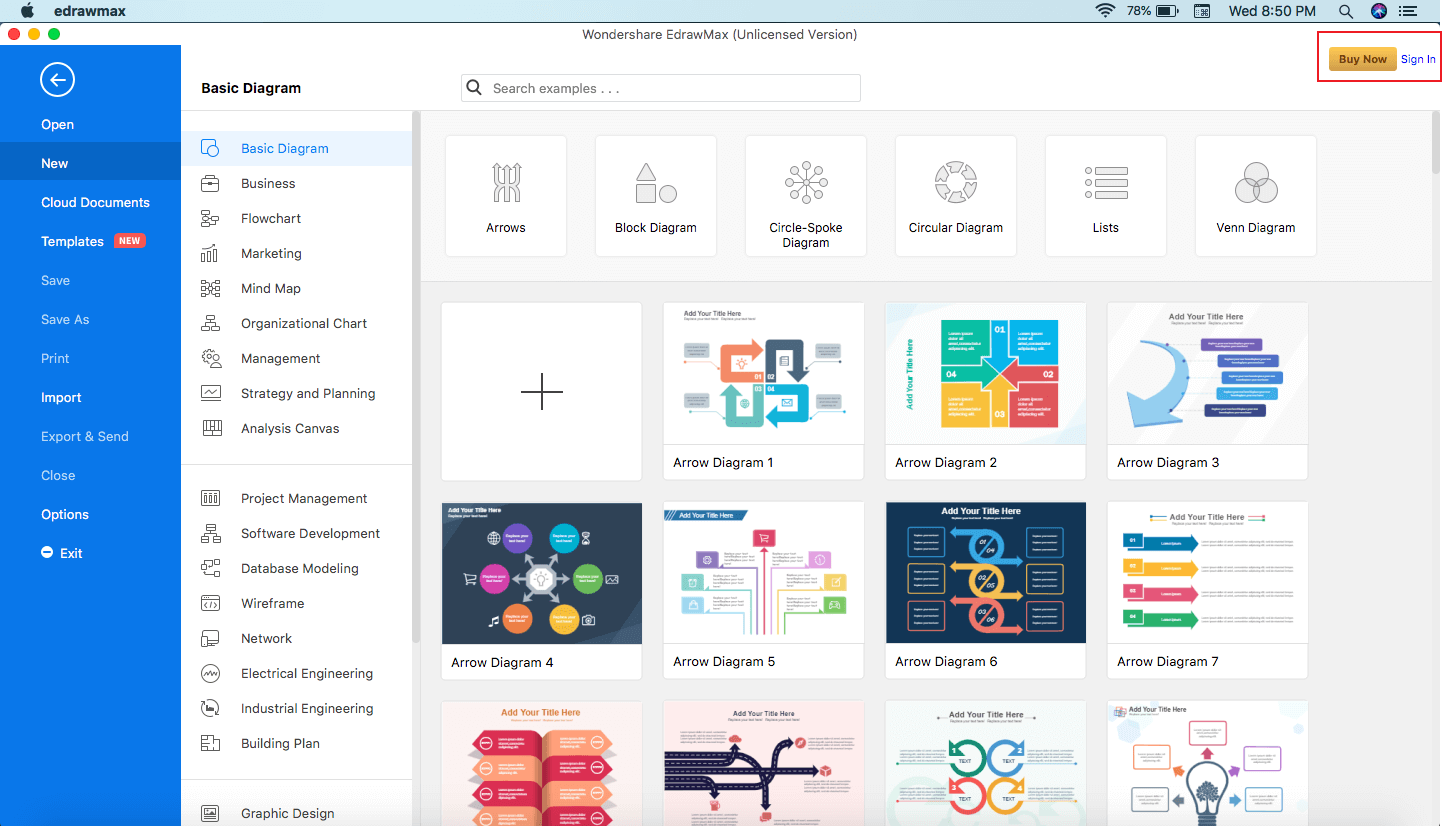 Step 3: To create an HVAC plan from scratch, click [New] from the menu on the left side of the screen. Next, click on [Building Plan] > [Plumbing and Piping Plan] from the list of options.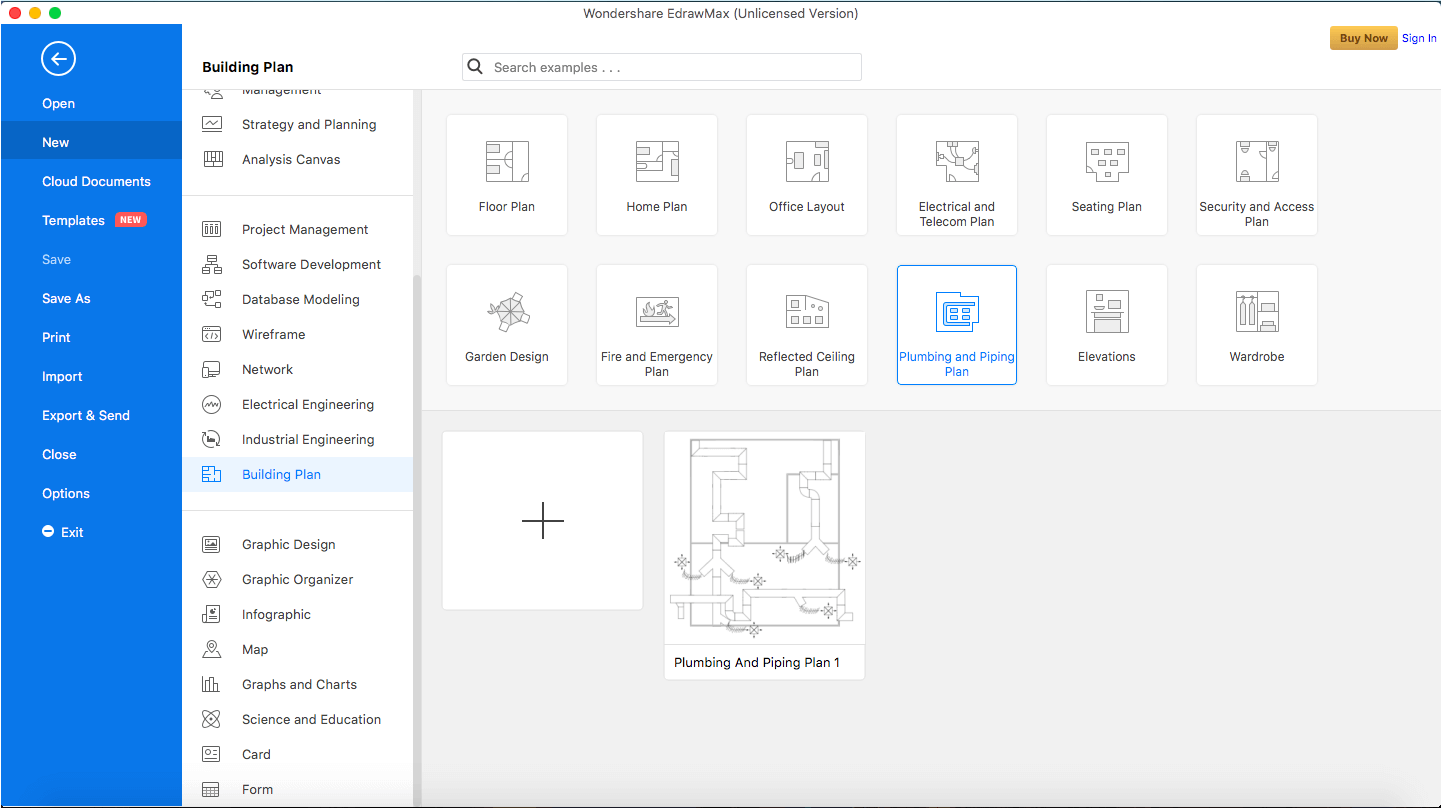 Step 4: Click on "+" to create a blank new file to start from scratch.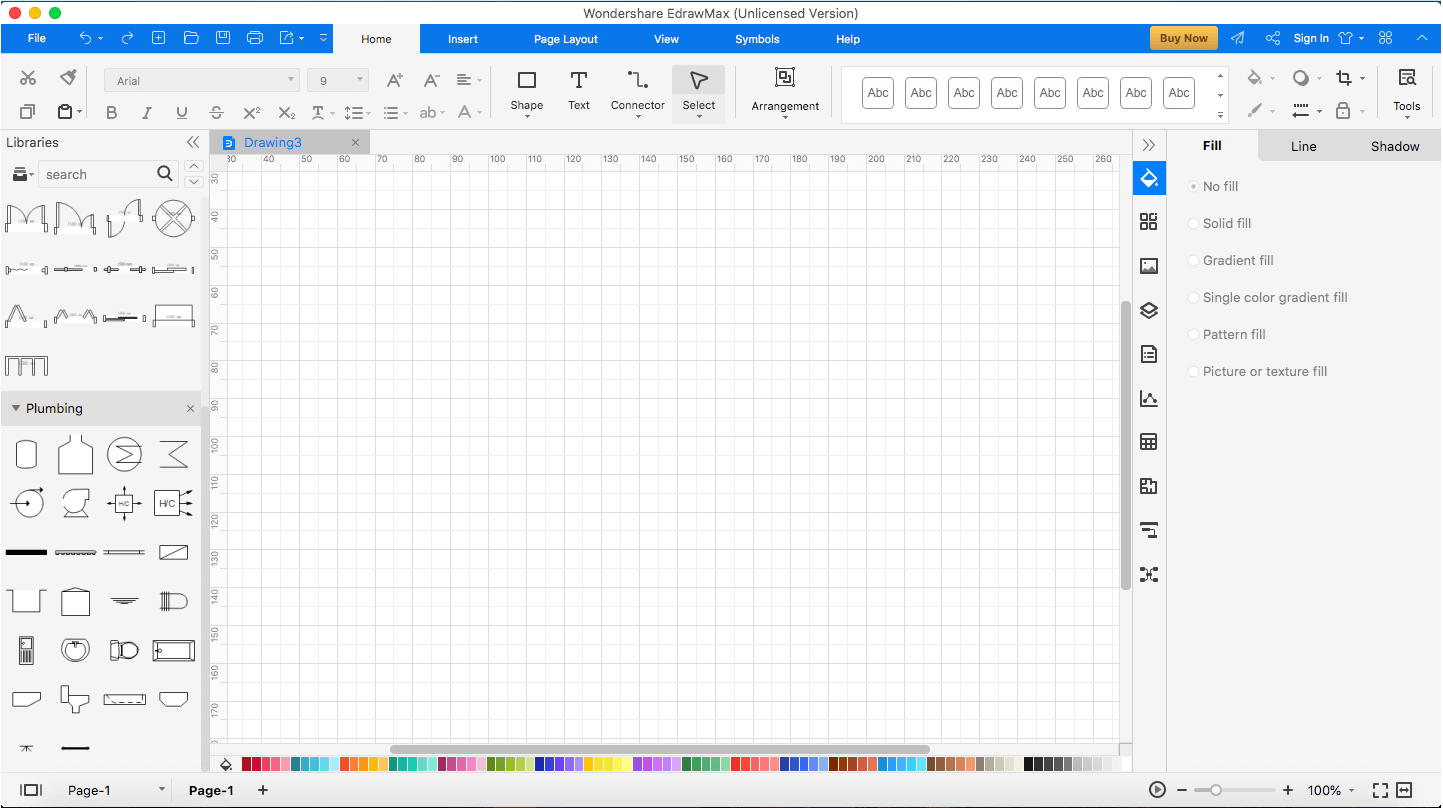 Step 5: Additionally, to save time, you can edit a pre-drawn template already on EdrawMax. Click on "Templates" from the menu on the left. Next, click on [Building Plan] > [HVAC Plan] from the sub-menu as shown below.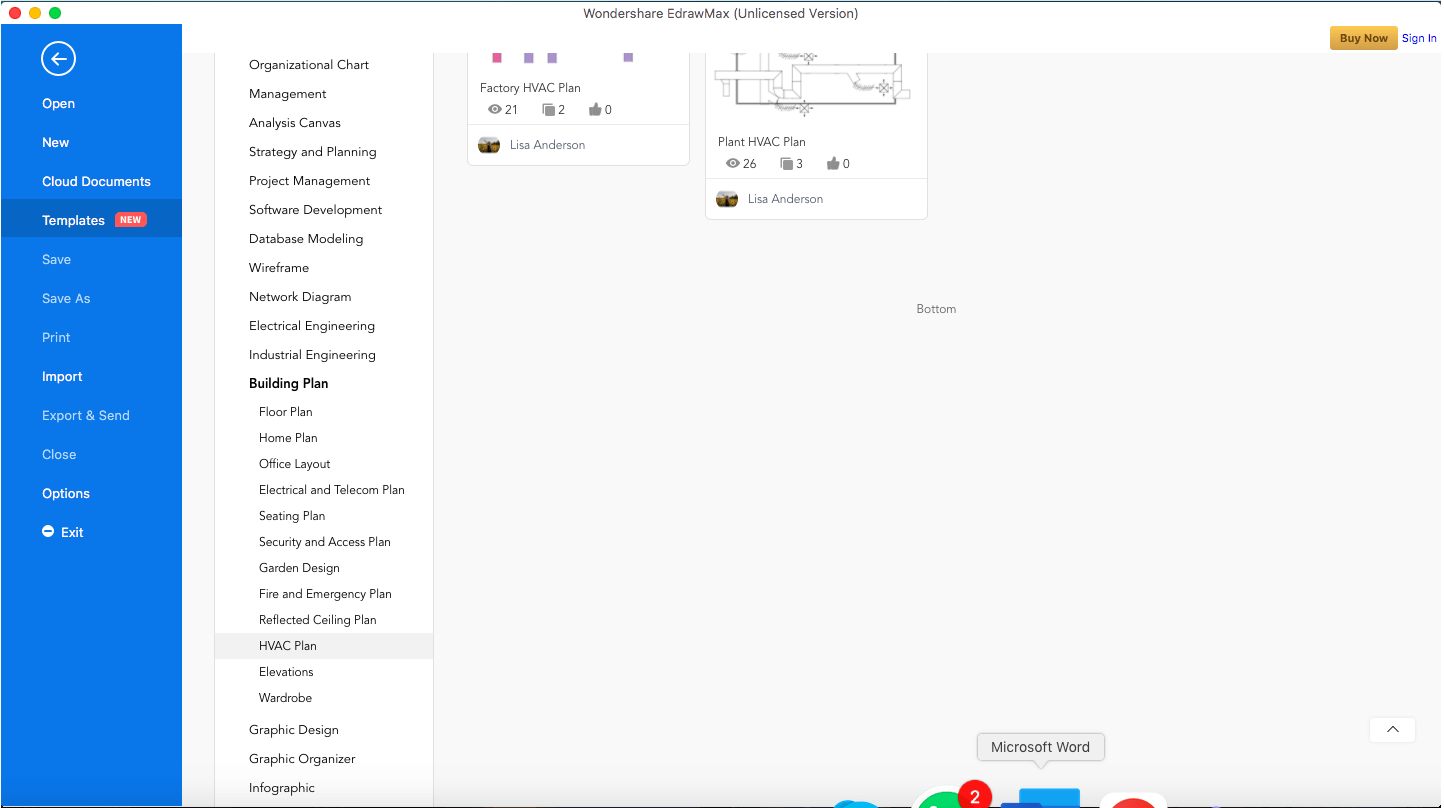 Step 6: Choose from the list of templates that seem closest to what you have in mind. With a few tweaks here and there in the diagram and moving around the HVAC symbols, you'll have a plan ready to execute much faster than starting from scratch.
Step 7: To use the 4 types of symbols discussed previously in this article, you will need to select the "Symbols" tab on the drawing screen. From there, click on "Predefined Libraries" > Floor Plan" and then select the four categories of HVAC symbols. The picture below will further clarify the steps.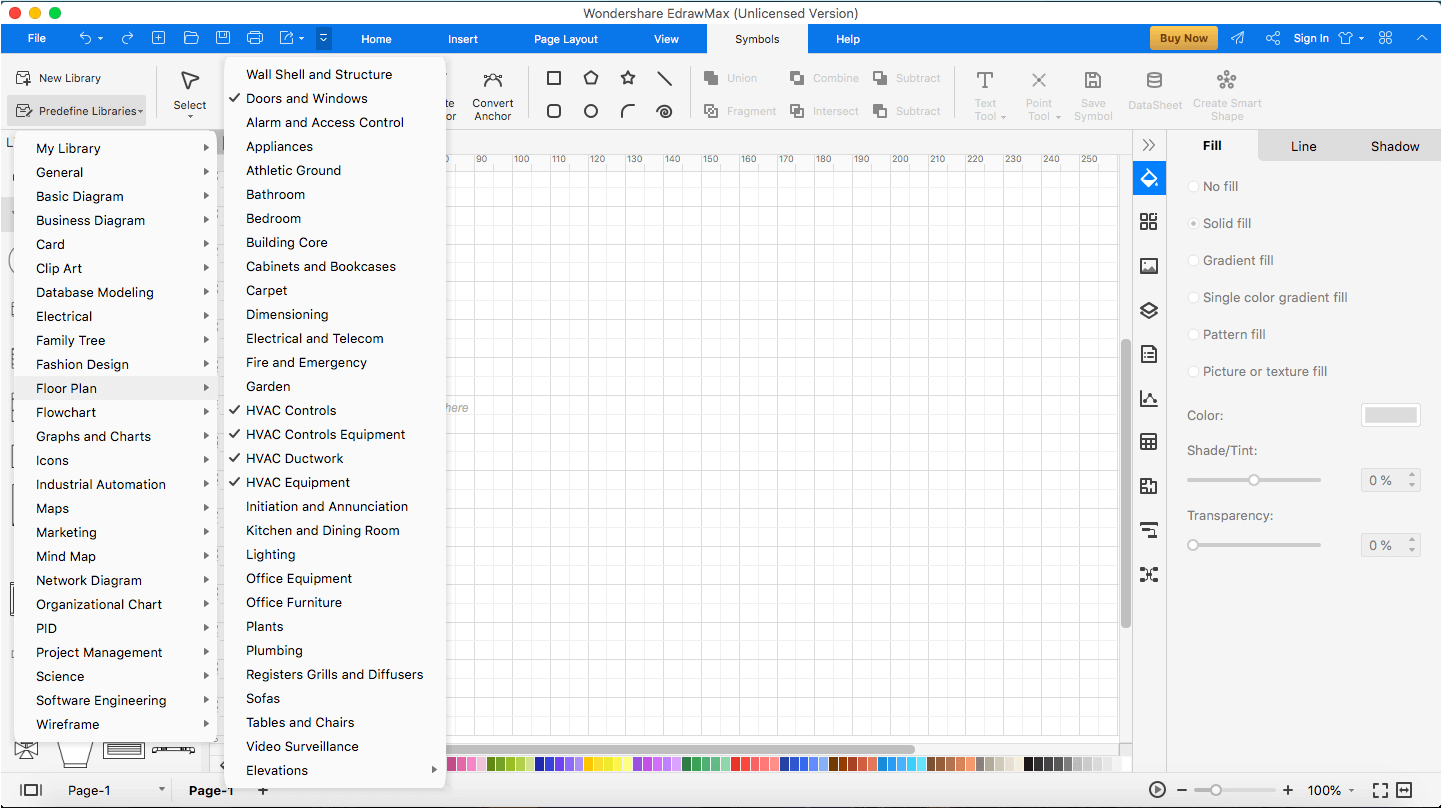 Step 8: From the left side of the drawing screen, you will now be able to access and insert all symbols and shapes of different components to be used in an HVAC plan.
HVAC Plans with EdrawMax - Say Hello to Convenience
Being aware of the various HVAC symbols and their usage is essential for creating an effective HVAC plan and avoiding mess-ups. Therefore, using user-friendly software like EdrawMax can be quite helpful in this regard.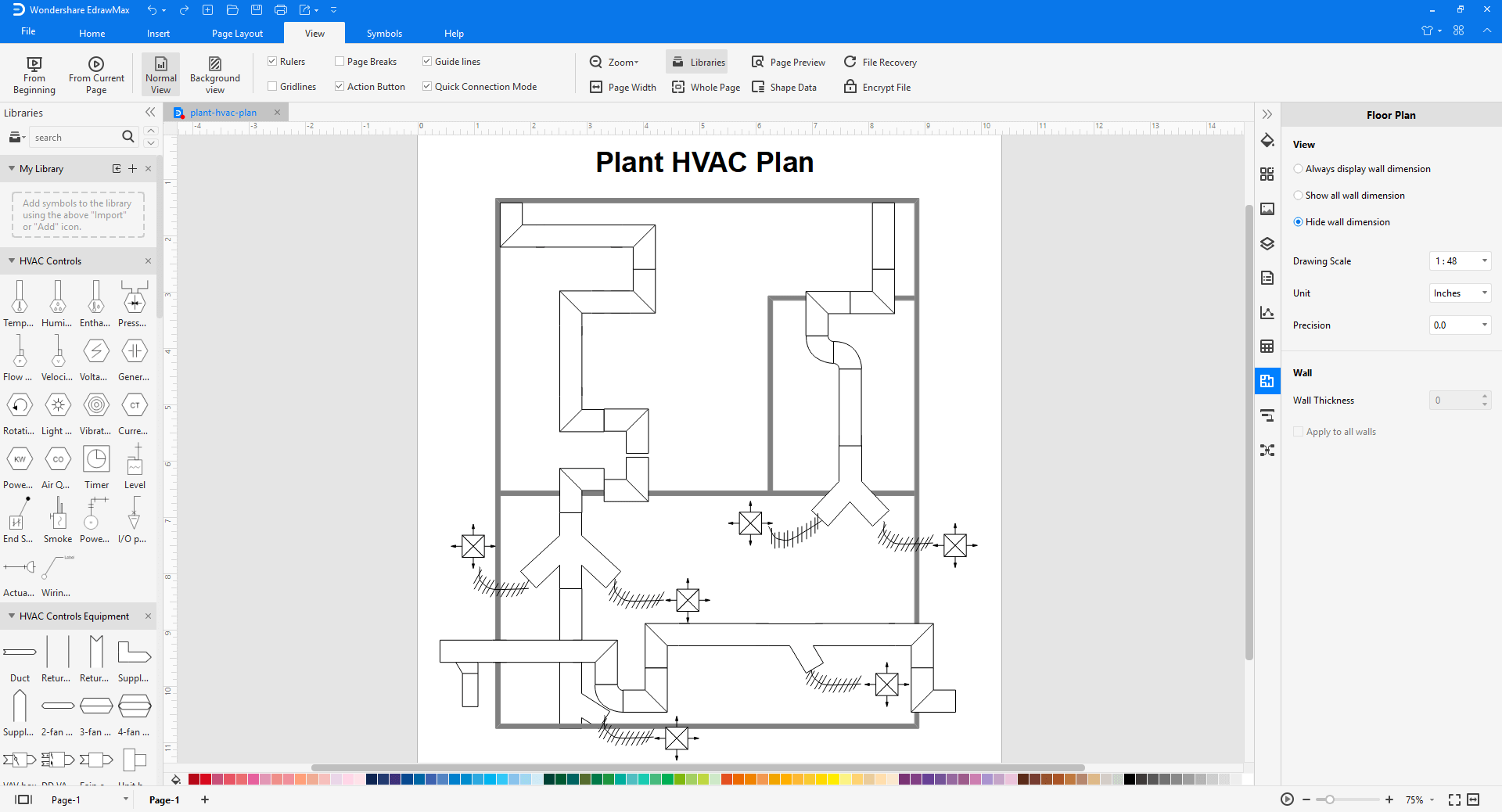 With an easily navigable user interface, all the required symbols, and plenty of pre-drawn templates to choose from, this software certainly helps boost your efficiency when designing a project.
So, download EdrawMax now and start creating! We're sure you won't be disappointed.
More Related