Do You Want to Design Your Elevation Plan?
EdrawMax specializes in diagramming and visualizing. Learn from this article to know everything about elevation symbols, and how to use or create elevation symbols. Just try it free now!
The elevation plan is made to represent a final look of a building. This Diagram illustrates how a building or house will look after all the work and construction. It gives the reader a clear and straight look at the structure and looks of a building.
Many elevation plan symbols illustrate a whole diagram, but there are some commonly used symbols such as; window, door, cabinet, kitchen walls, kitchen ventilator, arched doorway. An elevation diagram demonstrates a constructed product's exterior and interior look. This plan allows an architect to work on dimensions, size, connections, and passages.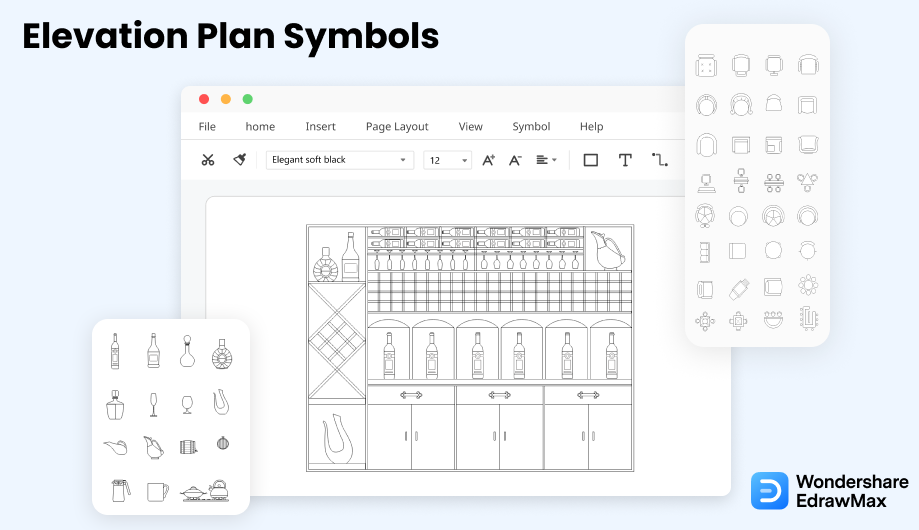 1. What Are the Elevation Symbols
The elevation diagram is drawn to show one side of a house or building. Its purpose is to show a finalized appearance of one dimension of a building or structure. The Elevation is done for the exterior as well as the interior view. The exterior view demonstrates an outside view of a house. The interior view illustrates the kitchen, dining room, wardrobe, make-up room, living room, and windows or doors used in the interior section.
Common symbols are window, door, cabinet, kitchen walls, kitchen ventilator, and arched doorway. Elevation plan symbols cover all the parts used to demonstrate a place, and these symbols are used in an elevation diagram. EdrawMax provides an opportunity for a user to construct his own elevation plan by using various symbols available in the library.
Use of plumbing symbols:
It provides interior and exterior look illustration.
Lets a person modify its construction plan after analyzing its elevation diagram.
It is done for renovation and rebuilding purpose.
Doesn't confuse a reader because it includes a simple design that is easily readable by everyone.
It shows a front view of a building or its sections.
Elevation Symbols:
Elevation Plan Symbols illustrate a whole diagram, but there are some commonly used symbols such as; window, door, cabinet, kitchen walls, kitchen ventilator, arched doorway. They are used to demonstrate a place, and these symbols are used in an elevation diagram.
2. The Types of Elevation Symbols
An elevation plan aims to illustrate a front and clear view of a building or a house, demonstrating how a construction plan will look after all the implementations. Elevation plan comprises various categories of elevation plan symbols, which are easy to understand and readable by any person holding it. Demonstration of interior and exterior sections of a building is an important task as it enables a designer to modify and change ideas rather than waiting for the project to get completed.
2.1 Elevation Basic Symbols
A clear and understandable elevation plan consists of some commonly seen elements. Generally elevations are drawn for four directional views North, South, East, and West. Although elevation symbols are of various categories, some basic and common symbols are used in every other elevation diagram. These symbols are used commonly because these are important and necessary elements for construction.
Frame: a rigid structure that surrounds something such as a picture, door, or windowpane.
Divider: something that divides a whole into parts.
Drawer: a box-like storage compartment without a lid, made to slide horizontally in and out of a desk, chest, or other piece of furniture.
Lattice: a structure consisting of strips of wood or metal crossed and fastened together with square or diamond-shaped spaces left between, used as a screen or fence or as a support for climbing plants.
Hooks: pieces of metal or other hard materials curved or bent back at an angle, for catching hold of or hanging things on.
Frame

Frame 2

Divider-H

Divider-V

Divider-H 2

Divider-v 2

Divider 2

Rect
Door Left

Door Right

Door Double

Bedside Cabinet

Sofa

Washbasin

Plant

Fireplace

Painting

Wall

Flue

Table Facet

L Table Facet

Drainage Pipe

Outlet

Intake

2.2 Kitchen Elevation Symbols
A kitchen is a room or a part of a room used to prepare and cook food. It is part of a building that gets most of the attention from the buyer or an architect. It is where all the cooking is done, and many appliances and equipment are used. Now to place and arrange that equipment is a diplomatic task.
A modern kitchen is usually designed to combine it with a dining room. The kitchen elevation plan shows how beautiful and manageable your kitchen looks at the end. These symbols represent refrigerators, crockery, microwave oven, stove, ventilators, dishwashers, steamers, teapots, gas-cookers, etc. Today kitchen designing has become a separate discipline in the designing world.
Refrigerator: a large container which is kept cool inside, usually by electricity, so that the food and drink in it stays fresh.
Range hood: a device containing a mechanical fan that hangs above the stove or cooktop in the kitchen.
Gas cooker: a range with gas rings and an oven for cooking with gas.
Refrigerator 1

Refrigerator 2

Refrigerator 3

Refrigerator 4

Refrigerator 5

Refrigerator 6

Refrigerator 7

Refrigerator 8

Two-Door Refrigerator

Kitchen Ventilator 1

Kitchen Ventilator 2

Kitchen Ventilator 3

Kitchen Ventilator 4

Microwave Oven 1

Microwave Oven 2

Turner 1

Turner 2

Soup Ladle

Kitchen Ware

Teapot

Teacup 1

Teacup 2

Teacup 3

Kettle

Steamer

Frying Pan

Chafing Dish

Sauce Pan

Gas Cooker

Disinfection Machine

Disinfection Machine 2

Range Hood

Washer 1

Washer 2

Detergent 1

Detergent 2

Detergent 3

Shampoo

Shower Cream

2.3 Dinning Room Elevation Symbols
The dining room is where all the meals are served and eaten. A dining room contains many items which are related to mealtimes. This place now a day demands a very fashionable and professional look as all the guests are entertained here. In the dining room, there are chairs arranged along sides to a long table and other pieces of furniture such as side tables, mirrors, serving trolley, etc.
Dining room symbols include window symbols, bottles symbols, Glass symbols, barrel symbols, dining table symbols, table and chair set symbols.
Bottle 1

Bottle 2

Bottle 3

Bottle 4

Bottle 5

Bottle 6

Bottle 7

Glass 1

Glass 2

Glass 3

Glass 4

Glass 5

Glass 6

Glass 7

Glass Bottle 1

Glass Bottle 2

Glass Bottle 3

Barrel 1

Barrel 2

2.4 Lighting Elevation Symbols
A good lighting design creates depth and height, highlights cozy spots, and diverts attention to your desired areas. Lighting symbols are used where lighting lamps and appliances are used, such as living room, drawing room, bedroom, kitchen, etc. There are many types of decorative lightning appliances such as: halogen, incandescent, LED, and more.
Lighting 1

Lighting 2

Lighting 3

Lighting 4

Lighting 5

Lighting 6

Lighting 7

Lighting 8

Lighting 9

Lighting 10

Lighting 11

Lighting 12

2.5 Fashion Item Elevation Symbols
A handbag is a small purse carried by a woman to keep necessary stuff. But today, handbag has become a fashion symbol, and is worn according to matching design and outfit. Handbag symbols are drawn in wardrobe elevation, and Handbags carry a fashion statement that can make or break a woman's image. That is why numerous types of handbags are manufactured and symbolized.
Handbag 1

Handbag 2

Handbag 3

Handbag 4

Handbag 5

Clothing 1

Clothing 2

Clothing 3

Shoe 1

Shoe 2

Shoe 3

Shoe 4

Shoe 5

Model 1

Model 2

Model 3

Model 4

Model 5

Model 6

Showing Stand

Diamond 1

Diamond 2

Diamond 3

Diamond 4

Diamond 5

Diamond 6

Diamond 7

Diamond 8

Diamond 9

2.6 Wardrobe Elevation Symbols
A wardrobe means a cabinet to keep clothes. It is a large cabinet to stow outfits and other fashion accessories. It is an organized space in a room that impressions a systemized cabinet or set of cabinets to hang clothes, keep shoes, make-up, bedding additions, and many other fashion items.
If we see in fashion sense, then wardrobe is a collection of clothes, handbags, shoes, and accessories to fulfill all fashion and style needs. That is the reason why wardrobe elevation is so important today. It uses many symbols for wardrobe accessories such as drawers, chests, towels, hangers, boxes, jackets, hats, and quilts.
Cabinet Dimension

Chest

Horizontal Board

Vertical Board

Clapboard with Size

Horizontal Clapboard

Vertical Clapboard

Top Box

Top Box (Right)

Drawer 1

Drawer 2

Drawer 3

Drawer 4

Drawer 5

Drawer 6

Drawer 7

Basket

Suitcase

Suitcase 2

Lattice

Clothes Hanger

Trouser Hanger

Suitcase 3

Box

Towel

Towel 2

Pillow

Quilt 1

Quilt 2

Quilt 3

Hat

Hanger

Photo Frame

Clothes

Pants

Hooks

Closet Framework

Horizontal Clapboard 2

Vertical Clapboard 2

Clothes Hanger

Drawer 4

Drawer 5

Suitcase 2

Hanger 2

Towel 3

Towel 4

Towel 5

Quilt 2

Pillow 2

Hat 2

Blue Dress

Red Dress

T-Shirt

Shirt

Toy

Photo Frame 2

Cabinet Light

Droplight

Ceiling Light

Desk Lamp

2.7 Doors & Windows Elevation Symbols
A door is a hinged, sliding, revolving barrier to entering the room, building, hall, vehicle, or cupboard framework. It is a passageway or transition from one place to another. All these symbols are added to a building plan according to the placement and location of doors. There are numerous types of doors, such as hinged door, dutch door, pocket door, and more.
A window is an opening in a wall or roof of a building to admit air and light. Different window symbols are used in a diagram to represent various types and categories of windows. There are several types of windows, like single hung window, double-hung window, arched window, and etc. Learn more details about doors and windows symbols
Window 1

Window 2

Window 3

Window 4

Window 5

Window 6

Window 7

Window 8

Window 9

Window 10

Window 11

Window 12

Window 13

Window 14

Window 15

Window 16

Window 17

Door 1

Door 2

Door 3

Door 4

Door 5

Door 6

Door 7

Arched Doorway

Cabinet 1

Cabinet 2

Cabinet 3

Cabinet 4

Cabinet 5
Cabinet 6

Roof Eaves

Door Handle

3. Where to Find Elevation Symbols
An elevation plan provides an architect with a clear front view of a building. It comprises elements used to complete a final view of a building. Elevation plan symbols represent a variety of accessories according to their placement, arrangement, and styles.
You can easily find elevation plan symbols in the symbol library of EdrawMax. EdrawMax gives you more than 26000 symbols that you can use to create a elevation plan or any other diagram. You can go and search for the symbols you want in EdrawMax and click on the elevation plan. Go to the elevation plan category and use a simple drag and drop to add any symbol you want.
EdrawMax Elevation Symbols:
EdrawMax is the best resources for elevation plan symbols, you can find hundreds of elevation plan symbols here. Just drag and drop, you can create elevation plan easily.
4. How to Use Elevation Plan Symbols
Follow these instructions to learn how to use elevation plan symbols and easily create more elevation plan symbols with EdrawMax.
4.1 How to Use Elevation Symbols in EdrawMax
Instead of wasting time drawing the elevation plan symbols or icons on paper, you should look for a way to design an elevation plan easily. EdrawMax is well equipped to design an elevation plan.
Step1
Login EdrawMax
If you are new here, you should use your Email to register EdrawMax, but if you're already the EdrawMax's user, you just need to login EdrawMax for free. Open EdrawMax select "Engineering", and find "Building Plan", and click "Elevation Plan", then open a new canvas or just open a built-in template.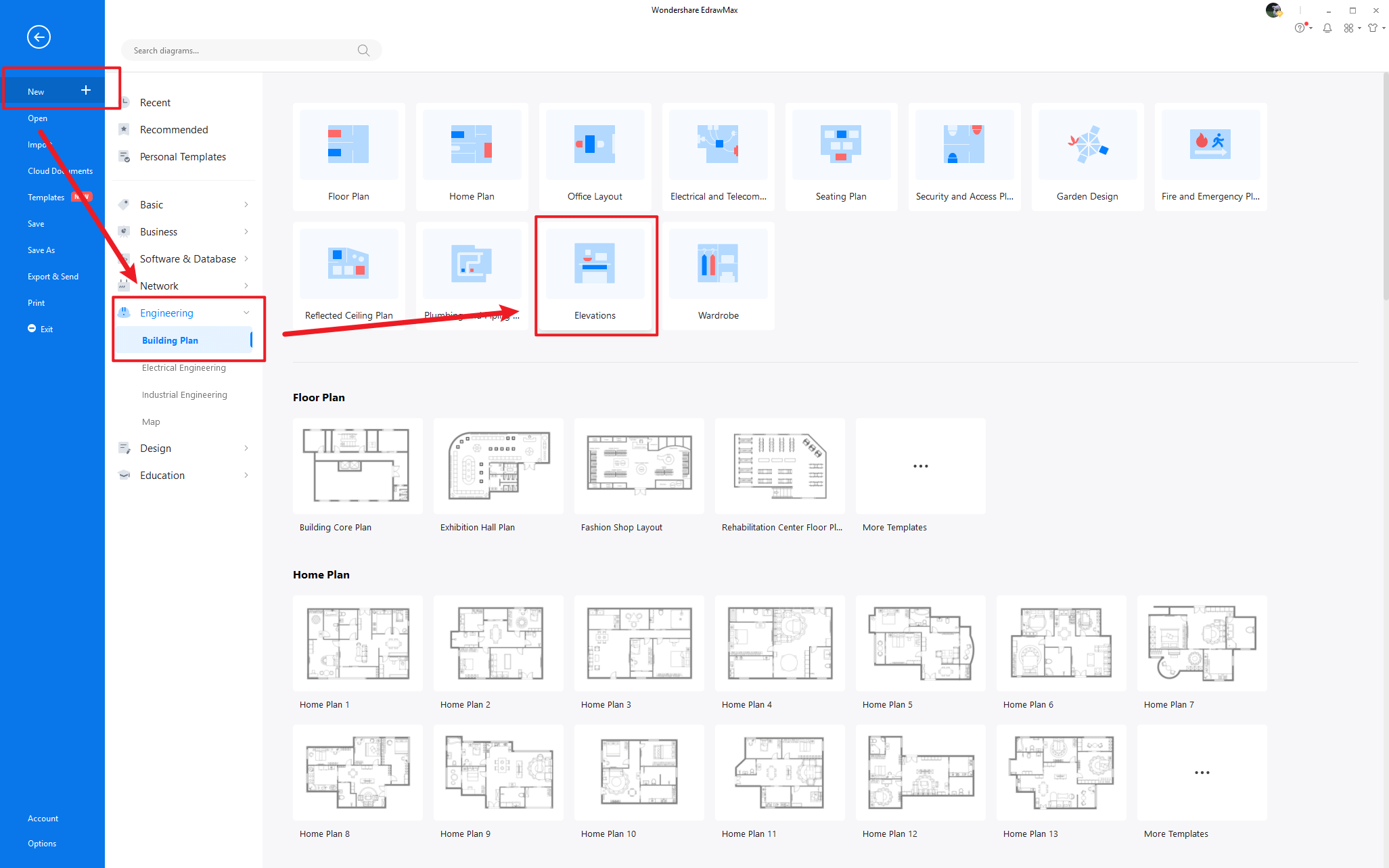 Step2
Select Elevation Plan Symbols
Unlike physical drawing, EdrawMax helps to create a elevation plan easily. In the symbol section of EdrawMax, you will find over 260,000 vector-based symbols that you can use in your designs. In EdrawMax, you can find elevation plan symbols in Symbol Libraries on the left toolbar. You can click on the "+" option to open a new canvas to make your elevation plan. On the left side of the canvas, you will see a symbol library with many elevation plan symbols. You can search for specific symbols in the search bar.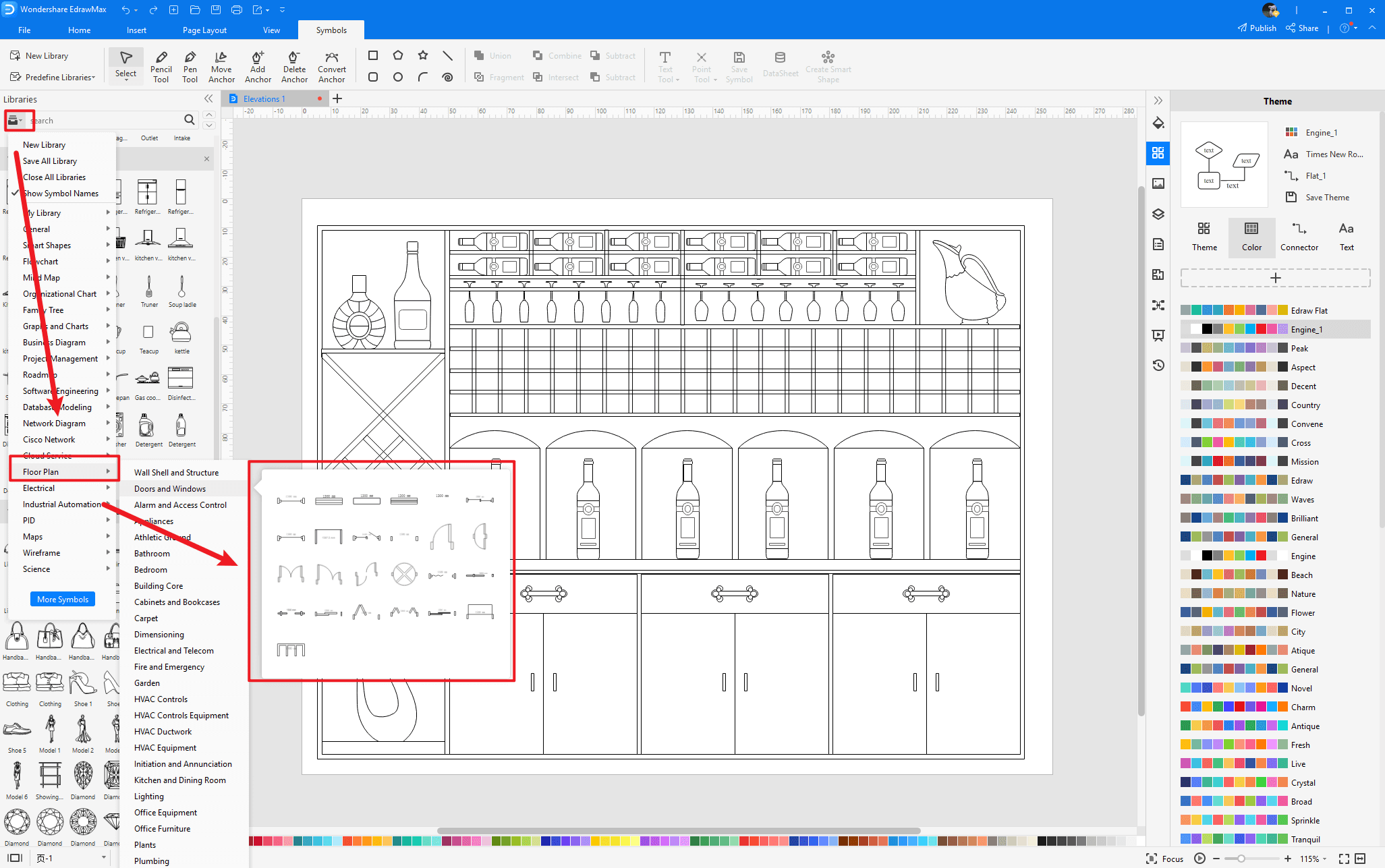 Step3
Drag and Drop
Once you find the proper elevation plan symbols you want, just drag and drop the symbols to the canvas easily. Keep customizing by choosing the right symbols, proper scale or dimensions, and adding more details, like color, font, and etc. When completed your elevation plan, you can export your file or share your design effortlessly. Learn more elevation plan guide here if necessary.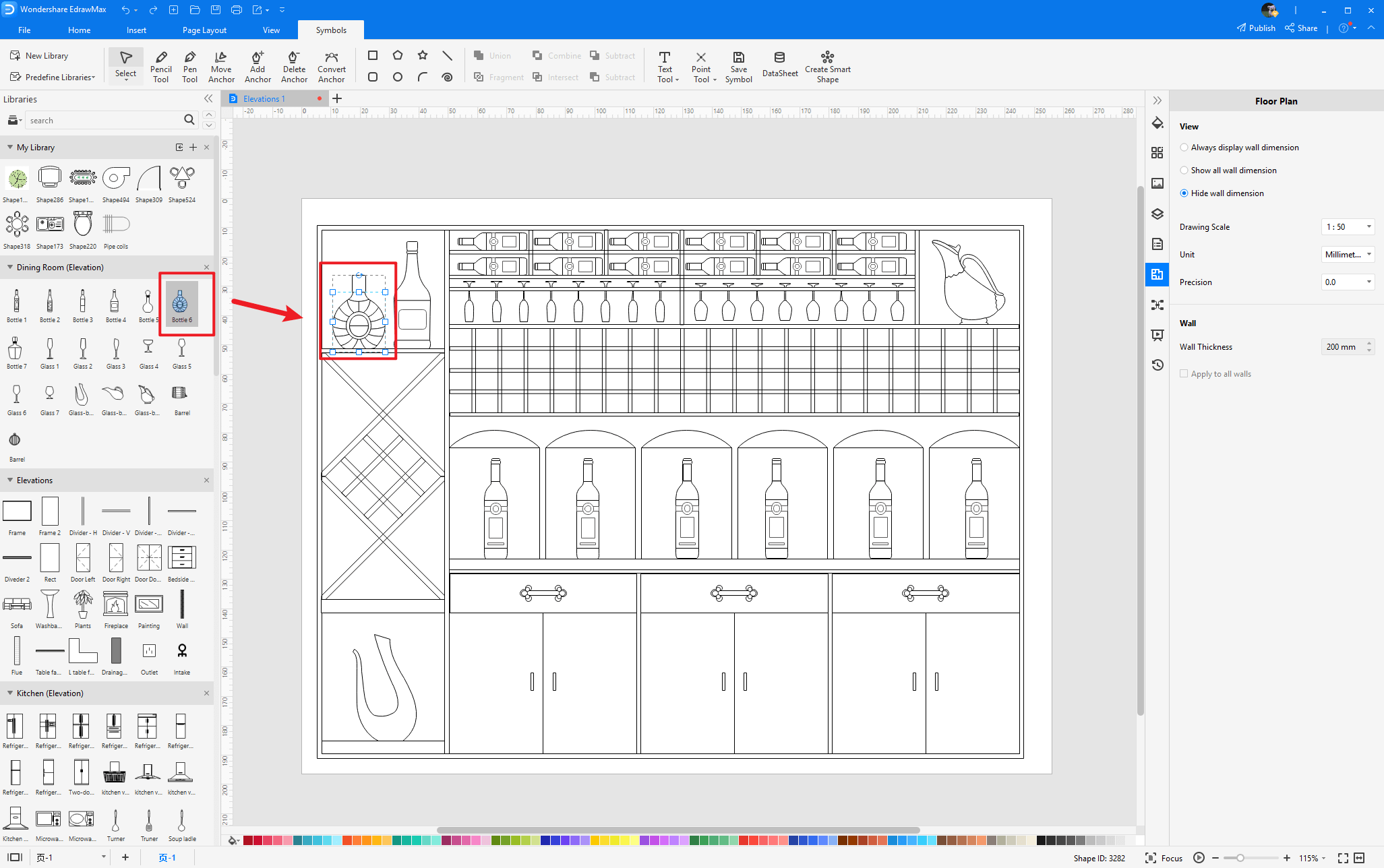 4.2 How to Create More Elevation Symbols in EdrawMax
EdrawMax provides you with thousands of symbols to create your diagram. Sometimes you want to use unique or personalized symbols in your diagram that are not in the library. EdrawMax gives you a simple solution to this problem. Follow these steps when you don't find the elevation plan symbols you want or you wish to create your symbols to make your diagram.
Step1
Find Symbol Tool
If you can't find any symbol similar to the one you want, you can use the pencil tool, pen tool, and anchor tool to draw your personalized elevation plan symbols. It is much easier to draw the symbol you want on EdrawMax instead of searching for the one that suits your requirements. You can also save your symbol in the library for later use.
Select "Symbols" on the upper Toolbar;
Use "Pencil Tool", "Pen Tool", "Anchor Tool" to create garden symbol from very beginning;
Choose "Union", "Combine", "Subtract", "Fragment", "Intersect", "Smart Shape" to make your symbols.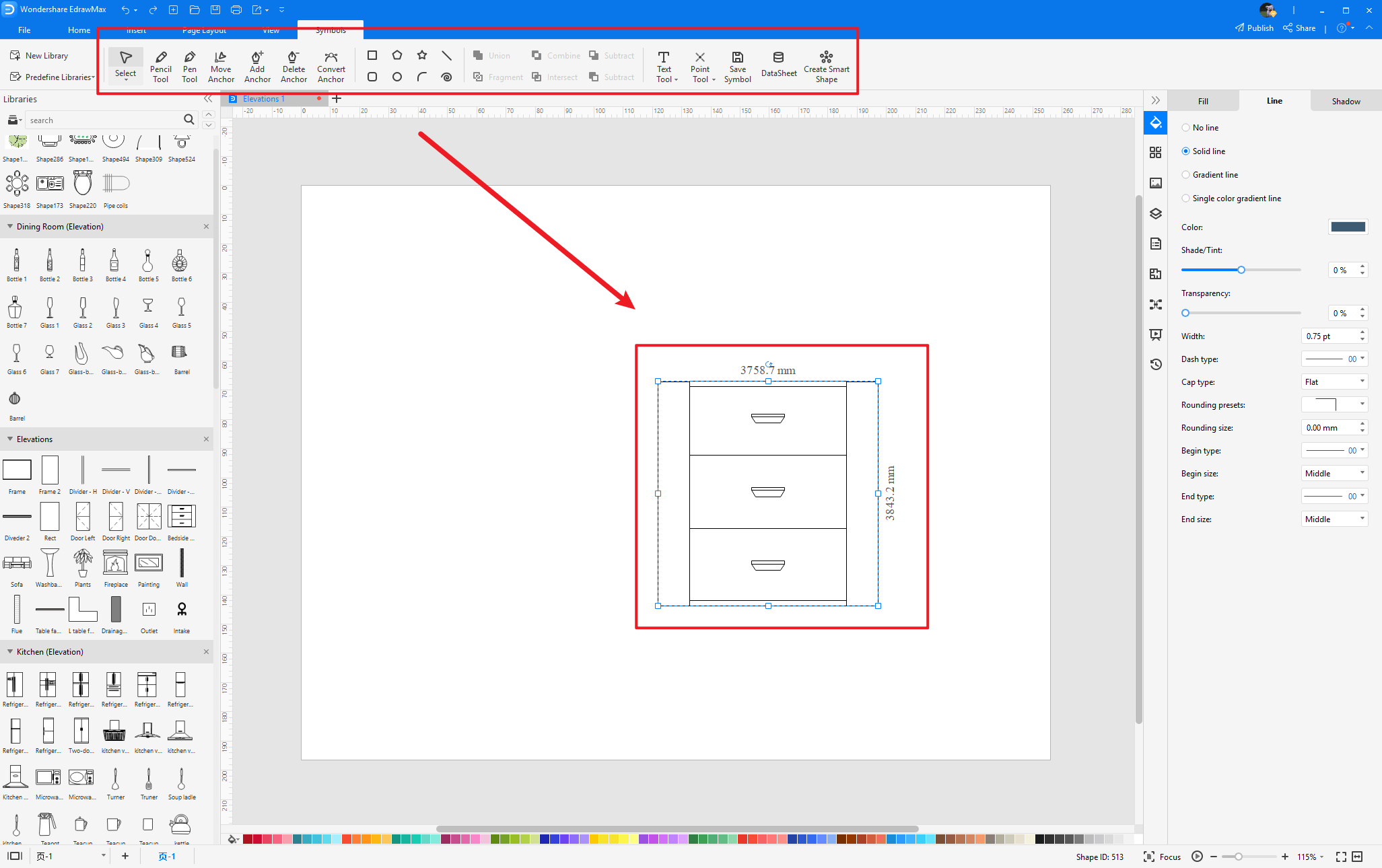 Step2
Create Elevation Plan Symbols
When you create an elevation plan symbol, make sure that the size, design, and other attributes of your icon go along with other elevation plan icons. Follow these steps to draw perfect symbols.
Draw a door and a frame in the center.
Add stairs below.
Draw a symmetrical frame around it.
Add an extension to the left.
Draw the roof edge and chimney.
Add a center window and lamps by the door.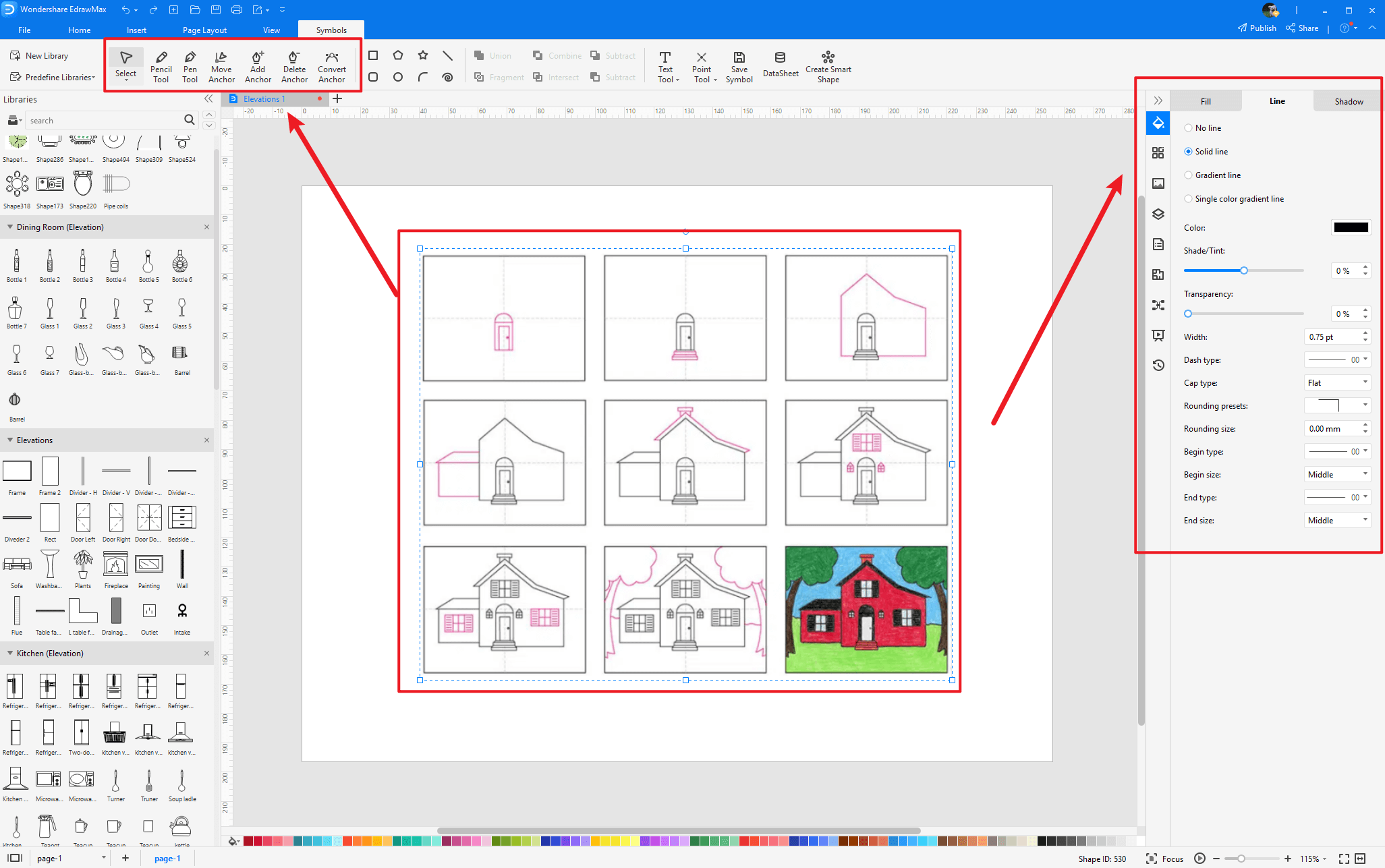 Step3
Import Elevation Plan Symbols
Except for creating new elevation plan symbols in EdrawMax, you can import elevation plan symbols from your end. Find "Insert" on the top navigate toolbar, and import images to turn into symbols. Or click the thrid option of the right toolbar to insert images faster.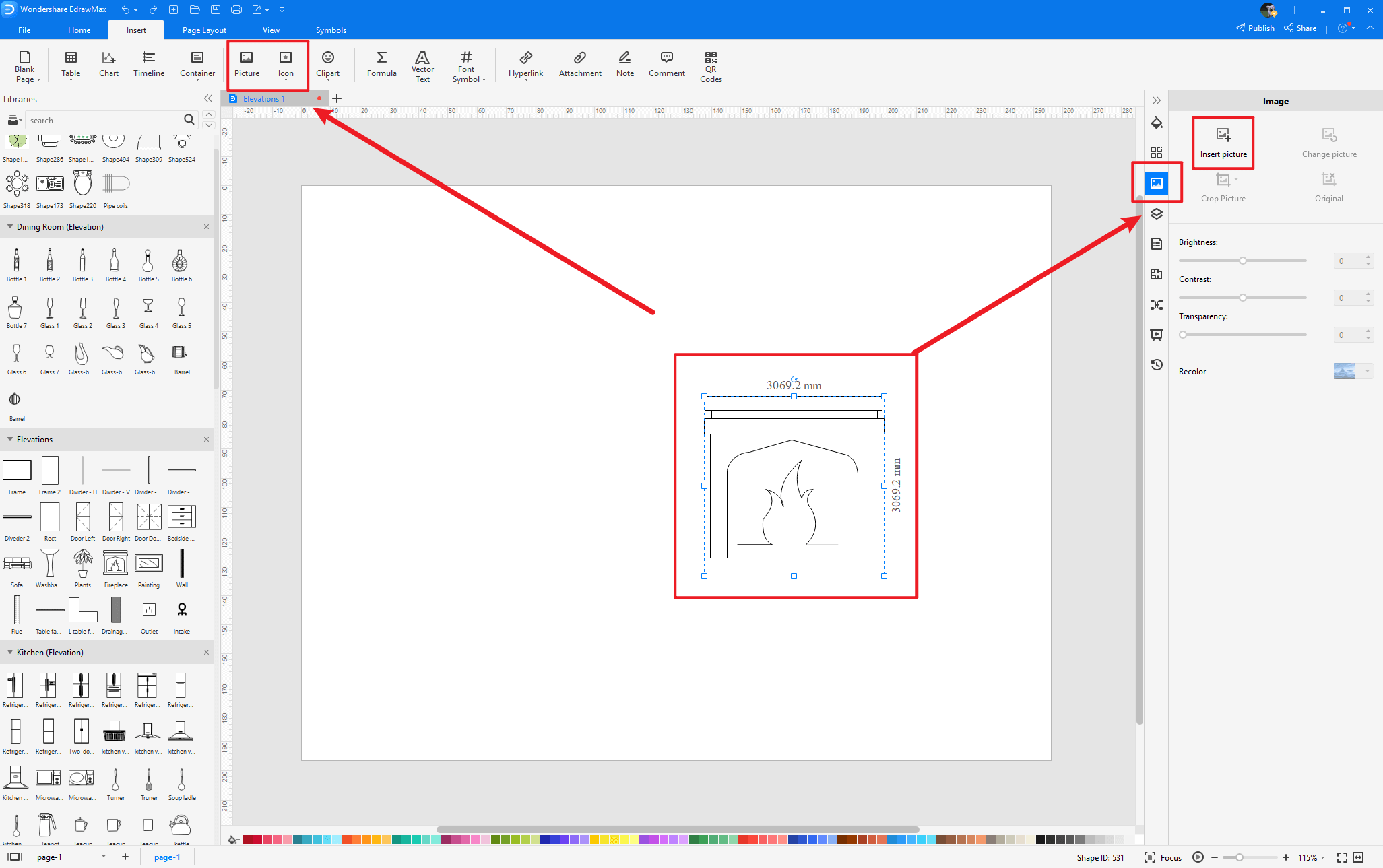 Step4
Save to Your Symbol Libraries
Once you completed your elevation plan symbols design or import your symbol images, you should still click "Symbols" on top, and choose "Save Symbol" to your symbol Libraries. Or you can click "+" in My Library on the left toolbar. Learn more about how to draw an elevation plan or design an elevation from this elevation plan guide here.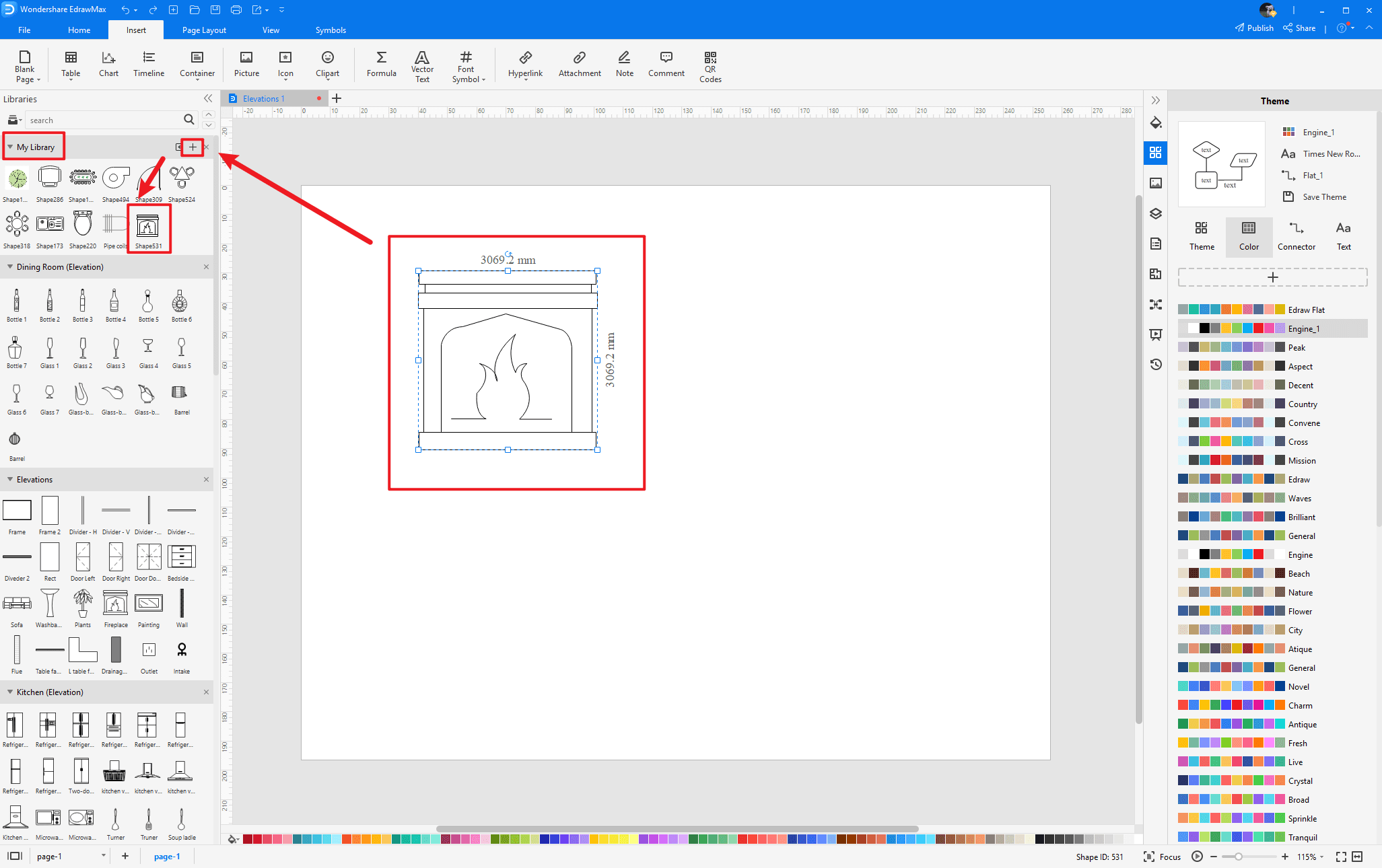 5. Free Elevation Plan Software
Instead of drawing it from scratch, it is much easier to create an elevation plan with free elevation design software, such as EdrawMax. With EdrawMax, you get a comprehensive symbol library with thousands of elevation plan symbols that you can use to make your diagram. It also gives you free editable templates that you can customize in a few minutes and complete your elevation plan. EdrawMax is an excellent tool for team collaboration, and its easy-to-use interface makes it the first choice for everyone.
Key Features of EdrawMax:
EdrawMax comes with free elevation plan examples & templates that are 100 percent customizable;
The built-in vector symbols let you easily add elevation plan components to your design;
You can easily share the elevation plan with your team and see the live revisions made by your team;
EdrawMax lets you export the file in multiple formats, including MS Docs, PPTX, JPEG, PNG, PDF, and more;
EdrawMax has a strong community of 25 million users who update the template community with their creative projects;
EdrawMax is considered the best tool for beginners and professionals because of the user-friendly dashboard and easy drag-and-drop feature.
EdrawMax Desktop
Create over 280 types of diagrams
Windows, Mac, Linux (runs in all environments)
Professional inbuilt resources and templates
On-premises software for business
Enterprise-level data security
EdrawMax Online
Create over 280 types of diagrams online
Access diagrams anywhere, anytime
Team management and collaboration
Personal Cloud and Dropbox Integration
6. Final Thoughts
An elevation plan enables a person to see the front view before implementing and executing the planning. This plan provides an architect with an overview of a constructed floor plan. This is recommended make to avoid any conflicts at the end. Because of an elevation plan, any modifications and changes can be done timely. This plan can be prepared by using many elevation symbols. This diagram is not as complicated as a floor plan because it only includes the front view and symbols.
EdrawMax is the best free elevation plan maker that gives you free symbols and templates to make your elevation drawing plan. Its fast drawing and easy symbol import feature make it the prime choice for beginners and professionals.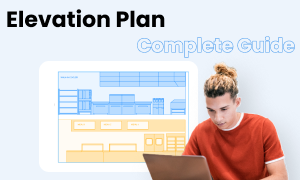 Elevation Plan Complete Guide
Check this complete guide to know everything about home plan, like elevation plan types, elevation plan symbols, and how to make an elevation plan.