Do You Want to Make Your Evacuation Plan?
EdrawMax specializes in diagramming and visualizing. Learn from this article to know everything about evacuation icons, and how to use evacuation icons. Just try it free now!
We use evacuation icons to create foolproof evacuation plans with details and instructions about the actions one must take to safely escape a house or a building in case of an emergency. Evacuation plans also provide guidelines on evacuating due to severe weather conditions and natural disasters.
Here, we will tell you about various types of evacuation icons and how to use them to create a perfect evacuation plan. Learn how to find every evacuation icon on EdrawMax easily and how to create personalized icons for your diagram.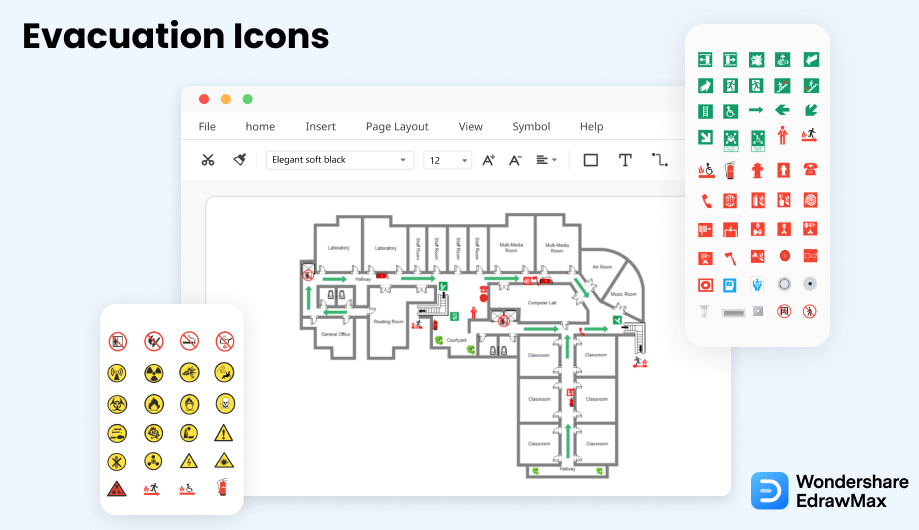 1. What Are the Evacuation Icons
An evacuation plan is a strategic planning tool that visually represents the safe routes you can take to leave your house, building, or residential area during an emergency. The evacuation plan showcases how to evacuate towards safety during a fire, flood, accident, or severe weather. It also provides you with important details about the protocols you must follow to keep yourself and your loved ones safe in case of a natural or accidental disaster using evacuation icons.
Evacuation icons are an essential part of the evacuation plan as they help simply illustrate all details of your plan to make it easier to understand for everyone. Making an evacuation plan is essential for everyone, including those who think they are tough to deal with any situation. During a fire or a flood, just the terror from smoke and water alone can freeze your actions and cloud your judgement.
A proper escape plan with simple evacuation icons will help you stay calm and follow the right safety protocol in an emergency. You can make various evacuation plans to tackle various emergencies. The four commonly used evacuation plans include fire evacuation, city evacuation, campus evacuation, and stay at home evacuation plans.
Evacuation Icons:
Evacuation icons are an essential part of the evacuation plan as they help illustrate all details of evacuation plan to make it easier to understand for everyone.
2. The Types of Evacuation Icons
Emergencies and accidents happen without warning. That is why having evacuation plans to deal with any emergency is necessary. There are fire emergencies that can happen with an accident or someone's negligence. There are also pandemics and natural disasters that might lead to the evacuation of the whole city. City evacuations due to floods and storms are more common than you might assume. You can use the four types of evacuation icons listed here to create all evacuation plans to escape from different emergencies and dangerous situations.
Access and Exit Icons
Fire Evacuation Icons
Evacuation Infrastructure Icons
Warning Symbols
2.1 Access and Exit Icons
The access and exit icons visually represent the safe routes, safety exits, and access points that anyone can use during an emergency. These evacuation plan icons are very helpful as you can use them to list all the access and exit points in the house or the building to represent how to open certain doors, break windows and glass during emergencies, and what exit points are for disabled people. With these symbols, people can identify multiple escape routes in an emergency. Here are some accesses and exit icons.
Slide Door Left
Slide Door Right
Fire Break Glass
Emergency Ambulance
Emergency Access
Emergency Access 2
Emergency Exit
Emergency Exit 2
Use Stairs in Fire
Use Stairs
Fire Ladder
Handicap Accessible
Arrow
Indicating Arrow
Indicating Arrow 2
Indicating Arrow 3
Assembly Point
Refuge Area
Source: EdrawMax
2.2 Fire Evacuation Icons
It would be best to have fire evacuation icons to create a fire escape plan for your building or house. A fire escape plan normally includes icons that indicate at least two emergency exits in a room, a safe route to get out, and the position of fire extinguishers. These also tell you about the building or house's fire alarm and smoke detection devices. With a fire evacuation plan, anyone can determine the emergency phone, sprinklers, and fire hose position. Here are some commonly used fire-evacuation icons.
You are Here
Fire Emergency Exit
Fire Emergency Exit 2
Fire Extinguisher
Fire Hydrant
Fire Hydrant 2
Emergency Phone
Emergency Phone 2
Call 911
Fire Extinguisher 2
Fire Alarm Call Point
Fire Hose
Fire Hose 2
Gas Shutoff Valve
Sprinkler Control Valve
Sprinkler Connection
Single Sprinkler Connection
Combined Automatic Sprinkler
Standpipe Connection
Fire Axe
Fire Fighting Equipment
Alarm
Fire Alarm
Manual Activating Device
Source: EdrawMax
2.3 Evacuation Infrastructure Icons
The Evacuation infrastructure icons provide a base for any type of floor plan, including evacuation plans. Without knowing the structure of the building or property, you can't identify which route is safer to use in case of an emergency and where you can find the emergency phone or other equipment. With infrastructure icons, you can represent rooms, lobbies, and the complete layout of any establishment. You can make a proper evacuation plan after adding other evacuation icons, like fire escape icons and exit points. Here are some infrastructure icons.
• Infrastructure Equipment Icons
Some buildings, such as hotels, hospitals, nursing homes, schools, workplaces, and high-rise structures, are obliged to post an evacuation diagram in addition to exit signs that direct people to safety. The safe evacuation of individuals during an emergency is dependent on these diagrams.
Electric Panel Shutoff
Child Care Center
Smoke Detector
Fire Sprinkler
Fire Sprinkler 2
Air Conditioning Vent
Vent
Source: EdrawMax
• Evacuation Wall Shell Symbols
The most typical parts of a floor plan are walls. Exterior walls are represented by thicker lines, whereas internal walls are represented by thinner lines. There is sometimes no discernible difference between them. Instead of a single, solid line, outside walls can be represented by a black outline or double lines.
Wall

Vertical Wall

Curved Wall

Curtain Wall

Space

L-Space

T-Space

Room 1

Room 2

Room 3

Pilaster

Rectangular Column

Circular Column

Beam
Grid Origin

Grid Line

Source: EdrawMax
• Evacuation Door & Window Symbols
Doors resemble larger spaces between walls, with a curving line indicating which way the door will swing and providing clearance. Depending on their design and function, they may appear differently on floor plans.
The windows are portrayed as if they were part of the walls.
Three parallel lines separate regular sliding-glass windows from solid walls.
Casement windows have arcs that look like doors and demonstrate how they open outward.
The bay windows are tilted like the edge of a stop sign, interrupting the wall's straight line trajectory.
Window

Open Window

Open Window 2

Open Window 3

Glider Window

Casement Window

Bay Window

Double Casement Window

Opening

Door

Double Hung Door

Double Door

Uneven Door

Opposing Door

Revolving Door

Folding Door

Sliding Door

Double Sliding Door

By Pass Door
Bi Fold Door
Double Bi Fold Door

Sliding Glass Door

Overhead Door

Garden Window

Source: EdrawMax
2.4 Warning Symbols
Warning or hazardous symbols depict the dangerous objects, locations, actions, and materials in an evacuation plan. We use these evacuation plan icons to warn people about the danger in their surroundings, such as radioactivity, fire hazard, no smoking, and electric current. Warning symbols are universal for every organization because the law mainly regulates them, and each symbol has a specific meaning that you can't alter. In an evacuation plan, these symbols warn people about the activities they can't do and the materials they can't touch. Here are some warning symbols.
Not an Exit
Don't Go Back
Don't Use the Elevator
No Fire
No Smoking
No Cooking
Radiation Hazard
Non-ionising Radiation
Explosives
Toxic Gas
Medical Waste
Flammable Material
Comburent
Dangerous Chemical
Corrosive Material
Noise
Be Careful Suffocation
Harmful Goods
Chemical Weapon
Warning Sign
High Voltage Sign
Laser Hazzard Sign
Radiation Danger
Source: EdrawMax
3. Where to Find Evaucation Icons
You need proper evacuation plan icons to create a foolproof evacuation plan that is easy to understand and follow in an emergency. Making an evacuation plan is a hard task, and if you are drawing the icons yourself, you are just wasting your time and effort.
You can get all evacuation icons from the comprehensive symbol library of EdrawMax. It is a diagramming software that gives you more than 26000 icons that you can use to create evacuation plans and for hundreds of other diagrams. You need to go to EdrawMax, click on the building plan, and drag and drop any symbol you want from its library.
EdrawMax Evacuation Icons:
EdrawMax is the best resources for evacuation icons, you can find hundreds of evacuation icons here. Just drag and drop, you can create evacuation plan easily.
4. How to Use Evacuation Icons
Follow these instructions to learn how to use evacuation icons and easily create more evacuation icons with EdrawMax.
4.1 How to Use Evacuation Icons in EdrawMax
Instead of wasting time drawing the evacuation plan or evacuation icons on paper, you should look for a way to design an evacuatiuon plan easily. EdrawMax is well equipped to design an evacuation plan.
Step1
Login EdrawMax
If you are new here, you should use your Email to register EdrawMax, but if you're already the EdrawMax's user, you just need to login EdrawMax for free. Open EdrawMax select "Engineering", and find "Building Plan", and click "Fire and Emergency Plan", then open a new canvas or just open a built-in template.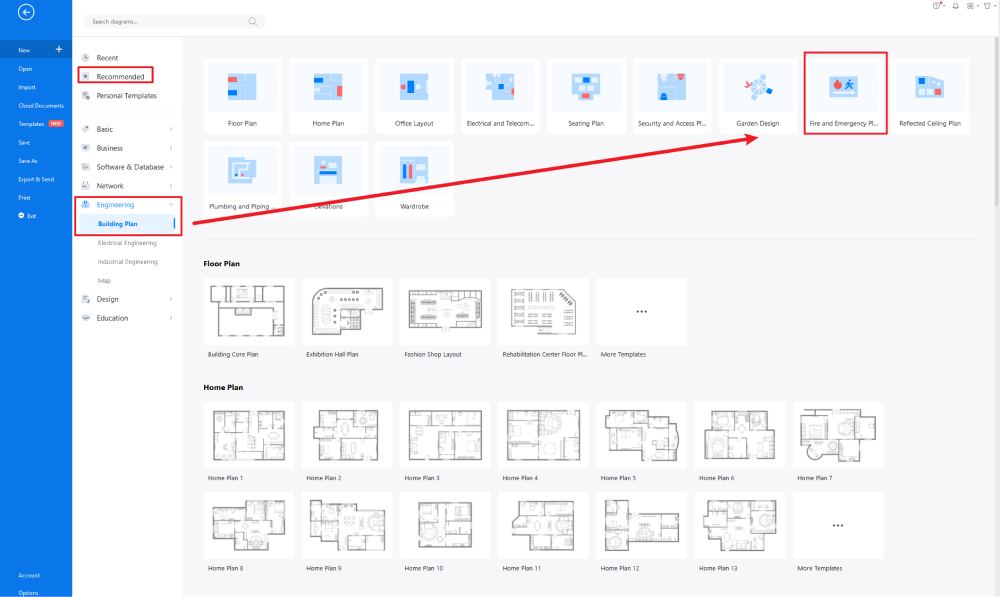 Step2
Select Evacuation Icons
Unlike physical drawing, EdrawMax helps to create an evacuation plan easily. In the symbol section of EdrawMax, you will find over 260,000 vector-based symbols that you can use in your designs. In EdrawMax, you can find evacuation icons in Symbol Libraries on the left toolbar. You can click on the "+" option to open a new canvas to make your evacuation plan. On the left side of the canvas, you will see a symbol library with many evacuation icons. You can search for specific symbols in the search bar.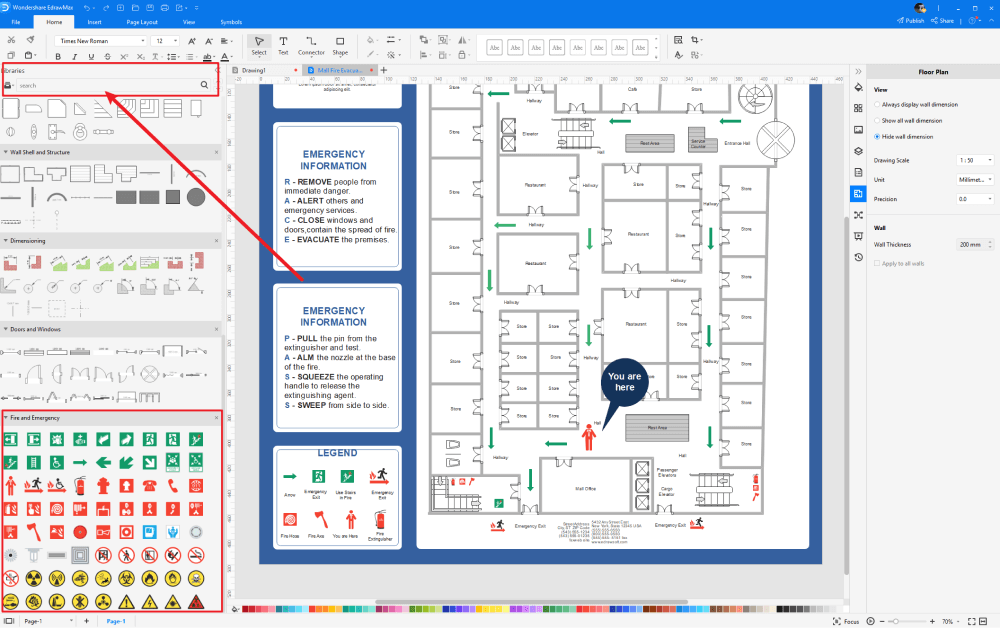 Step3
Drag and Drop
Once you find the proper evacuation icons you want, just drag and drop the symbols to the canvas easily. Keep customizing by choosing the right symbols, proper scale or dimensions, and adding more details, like color, font, and etc. When completed your evacuation plan, you can export your file or share your design effortlessly. Learn more evacuation plan guide here if necessary.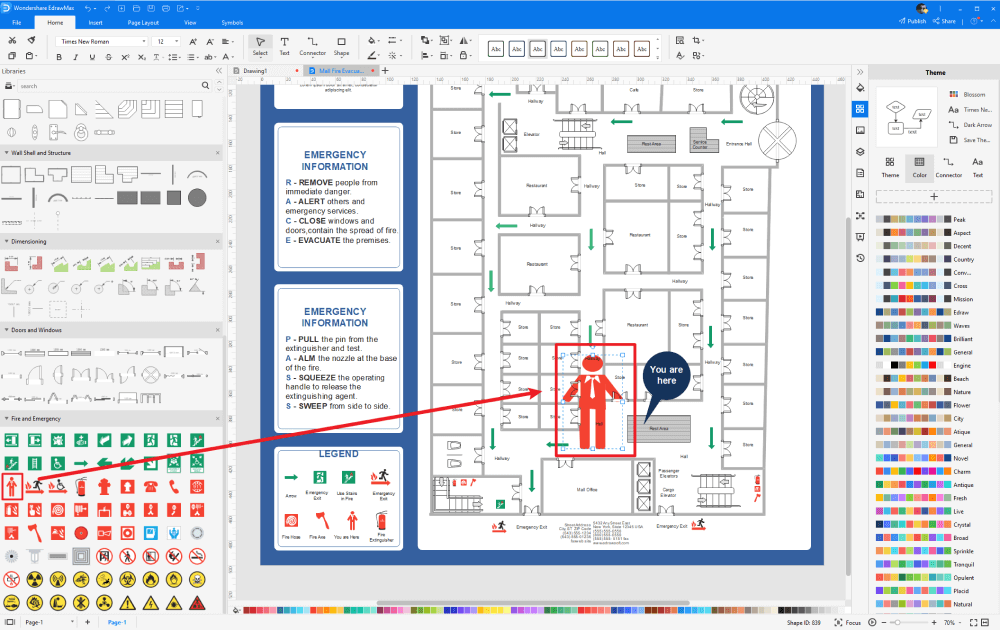 4.2 How to Create More Evacuation Icons in EdrawMax
EdrawMax provides you with thousands of symbols to create your diagram. Sometimes you want to use unique or personalized symbols in your diagram that are not in the library. EdrawMax gives you a simple solution to this problem. Follow these steps when you don't find the landscape symbols you want or you wish to create your symbols to make your diagram.
Step1
Find Symbol Tool
If you can't find any symbol similar to the one you want, you can use the pencil tool, pen tool, and anchor tool to draw your personalized landscape diagram symbol. It is much easier to draw the symbol you want on EdrawMax instead of searching for the one that suits your requirements. You can also save your symbol in the library for later use.
Select "Symbols" on the upper Toolbar;
Use "Pencil Tool", "Pen Tool", "Anchor Tool" to create garden symbol from very beginning;
Choose "Union", "Combine", "Subtract", "Fragment", "Intersect", "Smart Shape" to make your symbols.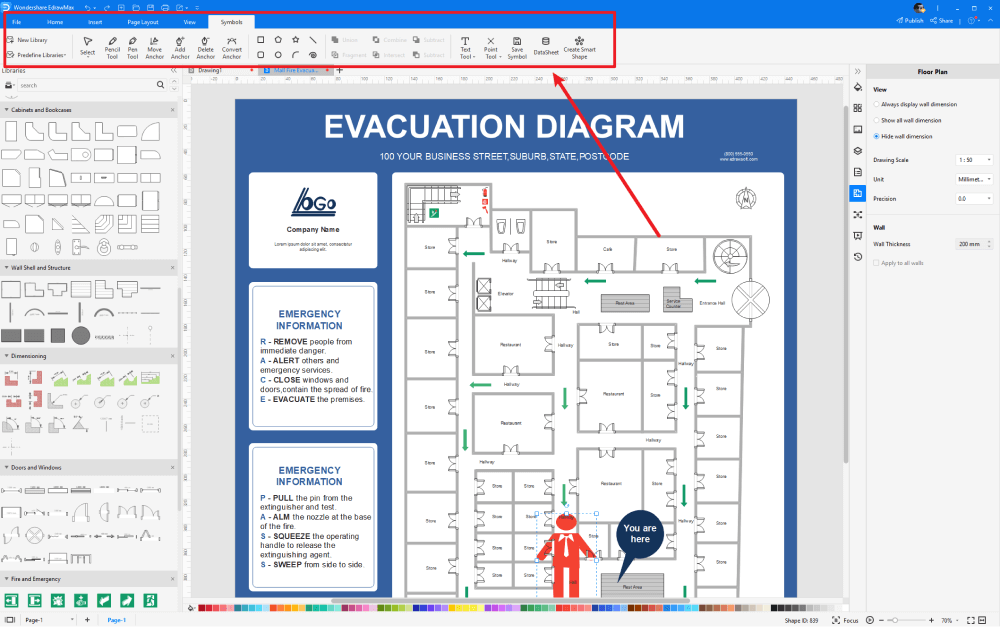 Step2
Create Evacuation Icons
When you create an evacuation icon, make sure that the size, design, and other attributes of your icon go along with other evacuation plan icons. Follow these steps to draw perfect icons.
Make your fire escape and infrastructure icon square and warning or hazardous symbol in a circular shape.
You can use various pen styles to make different parts of your symbol.
Make sure that the illustration inside the shape does not overlap it.
When making an icon, use the right color to represent the icon, such as red for fire, yellow and white for warning and green for access and exit points.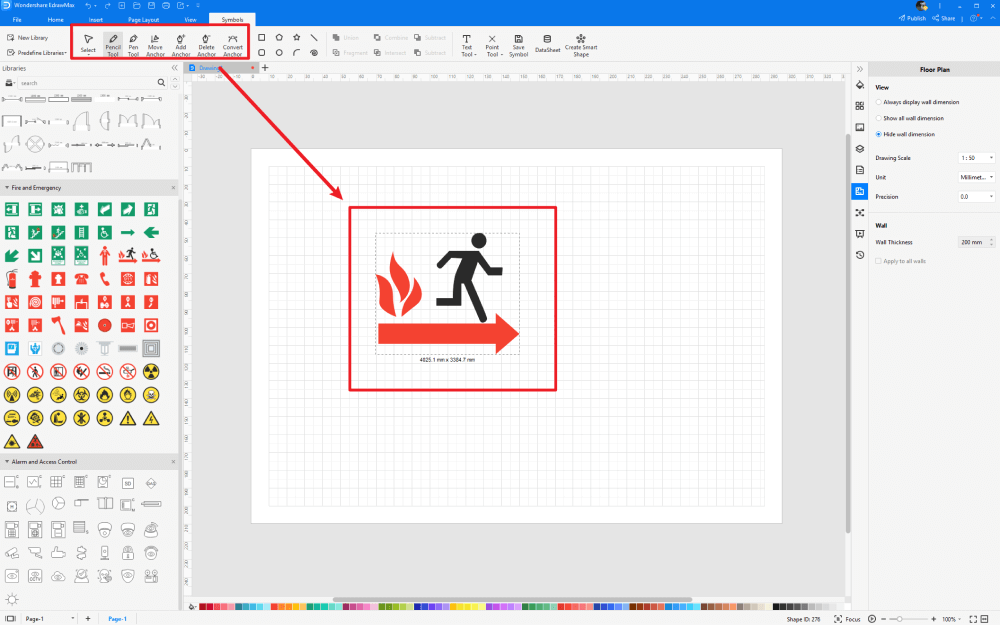 Step3
Import Evacuation Icons
Except for creating new evacuation icons in EdrawMax, you can import evacuation icons from your end. Find "Insert" on the top navigate toolbar, and import images to turn into symbols. Or click the thrid option of the right toolbar to insert images faster.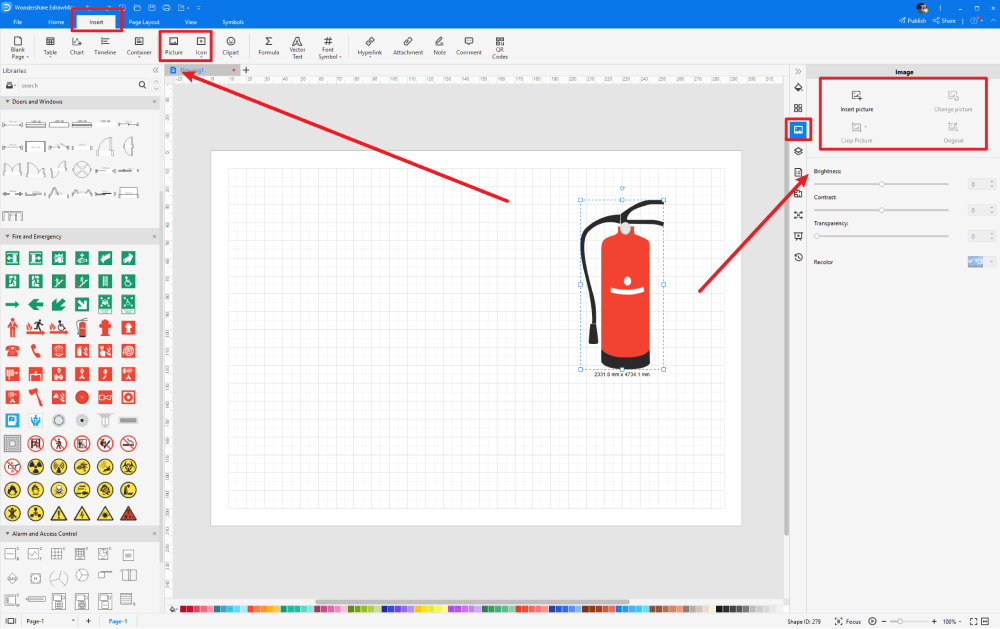 Step4
Save to Your Symbol Libraries
Once you completed your evacuation icons design or import your symbol images, you should still click "Symbols" on top, and choose "Save Symbol" to your symbol Libraries. Or you can click "+" in My Library on the left toolbar. Learn more about how to draw an evacuation plan or plan an evancuation from this evacuation plan guide here.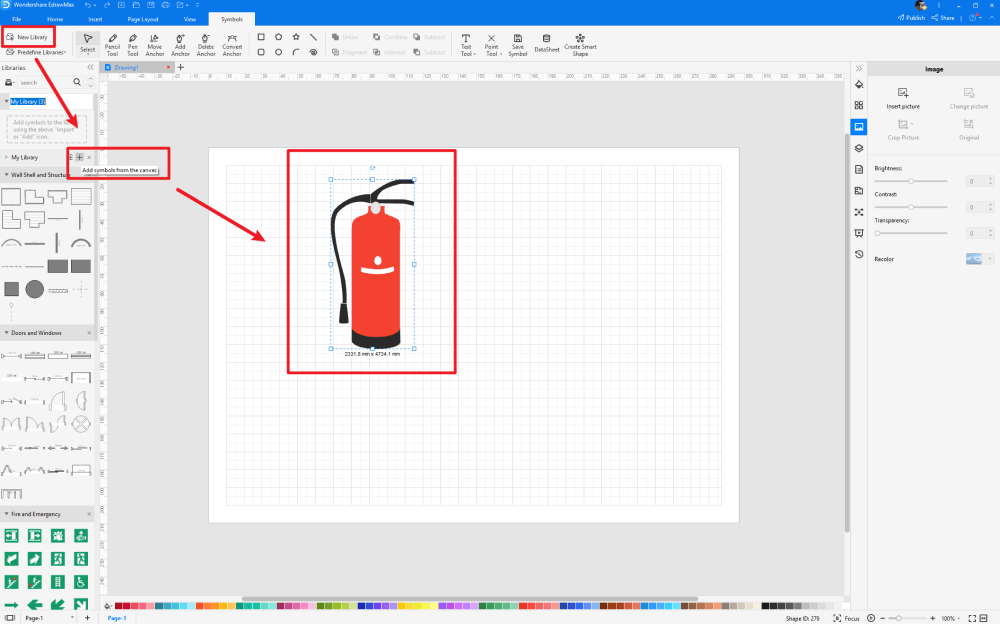 5. Free Evacuation Plan Software
You can create an evacuation plan from scratch that requires time and effort, or you can easily create it on EdrawMax, the best free evacuation plan software. EdrawMax comes with a comprehensive symbol library with thousands of evacuation plan icons that you can use to make your diagram. It also makes your job much easier by giving you free editable templates that you can customize in a few minutes and complete your diagram. EdrawMax is an amazing tool for team collaboration, and it's easy to use interface makes it the first choice for everyone.
key Features of EdrawMax:
EdrawMax comes with free evacuation plan examples & templates that are 100 percent customizable;
The built-in vector symbols let you easily add garden components to your design;
You can easily share the Garden Plan design with your team and see the live revisions made by your team;
EdrawMax lets you export the file in multiple formats, including MS Docs, PPTX, JPEG, PNG, PDF, and more;
EdrawMax has a strong community of 25 million users who update the template community with their creative projects;
EdrawMax is considered the best tool for beginners and professionals because of the user-friendly dashboard and easy drag-and-drop feature.
EdrawMax Desktop
Create over 280 types of diagrams
Windows, Mac, Linux (runs in all environments)
Professional inbuilt resources and templates
On-premises software for business
Enterprise-level data security
EdrawMax Online
Create over 280 types of diagrams online
Access diagrams anywhere, anytime
Team management and collaboration
Personal Cloud and Dropbox Integration
6. Final Thoughts
An evacuation plan graphically represents the structure of your house or building and marks a safe escape route that you can use to evacuate in an emergency using evacuation icons. Use proper evacuation plan icons to make an evacuation plan and share it with everyone in residence.
Conduct evacuation drills at least twice a year and ensure that the emergency doors and equipment are in good condition. EdrawMax is the best evacuation plan software as it gives you free templates and icons to make your diagram. Everyone prefers EdrawMax, as it supports multiple document formats, a simple interface and faster drawing features.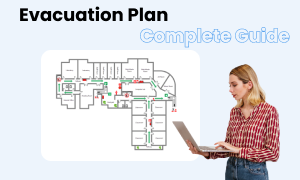 Evacuation Plan Complete Guide
Check this complete guide to know everything about evacuation plan, like evacuation plan types, evacuation symbols, and how to make an evacuation plan.