Plumbing and Piping Plan Symbols

Part 1: Plumbing and Piping Plan Symbols
Piping and Connection Shapes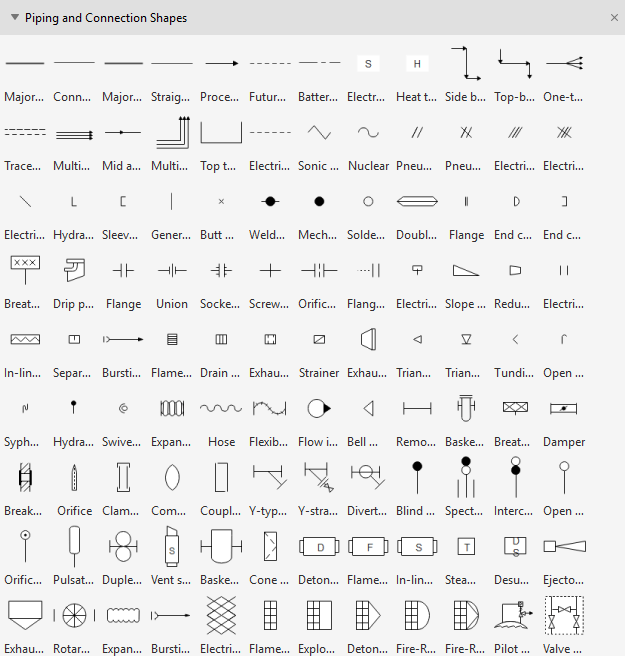 Major pipeline is a long major pipe, typically underground, for conveying fluid or gas over long distances.
Battery limit line is the line which shows the battery limit.
Electronic serial is the serial for the electronic devices.
Heat trace is a kind of system used to maintain or raise the temperature of pipes and vessels.
Electric signal is an electric current or electromagnetic field used to convey data from one place to another.
Sonic signal is the signal of the sound.
Electric signal line is used to show the electric signal.
Sleeve joint is a device for joining the ends of two wires or cables together, constructed by forcing the ends of the wires or cables into both ends of a hollow sleeve.
Butt weld is a welding technique used to connect parts which are nearly parallel and don't overlap.
Soldered / solvent helps maintain good electrical connection.
Screwed connection is widely used for bronze valves and to a lesser extent in iron and steel valves.
Orifice plate is a device used for measuring flow rate, for reducing pressure or for restricting flow.
Electrical bounded is the practice of intentionally electrically connecting all exposed metallic items not designed to carry electricity in a room or building as protection from electric shock.
Reducer is the component in a pipeline that reduces the pipe size from a larger to a smaller bore.
Electrically insulated is the breakdown voltage of an insulator.
Strainer is a device having holes punched in it or made of crossed wires for separating solid matter from a liquid.
Tundish is a broad open container or large funnel with one or more holes at the bottom, used especially in plumbing or metal-founding.
Hydrant is a water pipe, especially one in a street, with a nozzle to which a fire hose can be attached.
Swivel joint is a connection that allows the connected object, such as a gun or chair, to rotate horizontally or vertically.
Expansion joint is a joint that makes allowance for thermal expansion of the parts joined without distortion.
Rotary valve is a type of valve in which the rotation of a passage or passages in a transverse plug regulates the flow of liquid or gas through the attached pipes.
Plumbing Symbols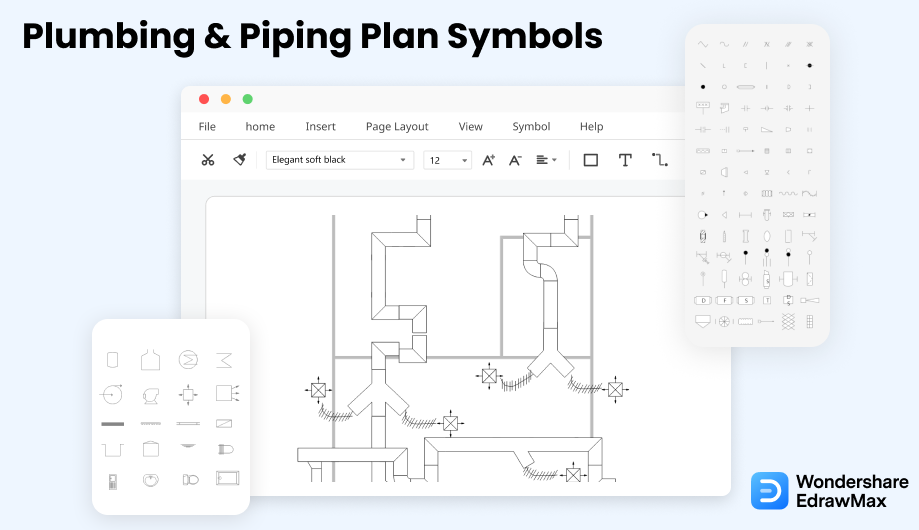 Boiler is a fuel-burning apparatus or container for heating water.
Heat exchanges are used to transfer heat efficiently from one medium to another.
Heating coil is a special heating device that is shaped in a spiral design.
Pump is a mechanical device using suction or pressure to raise or move liquids, compress gases, or force air into inflatable objects such as tyres.
Heater is a device for warming the air or water.
Radiator is a thing that radiates or emits light, heat, or sound.
Convector is a heating appliance that circulates warm air by convection.
Shower head is the apparatus at the end of a water source that disperses water to provide an even flow under which to wash.
Towel rail is a rail, especially one attached to a wall, from which to hang towels.
Need fresh looking plumbing and piping plan symbols for your design? These plumbing and piping plan symbols are a cinch to pop in. They can help you make spectacular, easy-to-understand plumbing and piping plans.
Part 2: How to Make a Plumbing and Piping Plan
Step 1: Launch EdrawMax on your computer. Navigate to Building Plan > Plumbing and Piping Plan. Open a plumbing and piping plan example or a blank drawing page.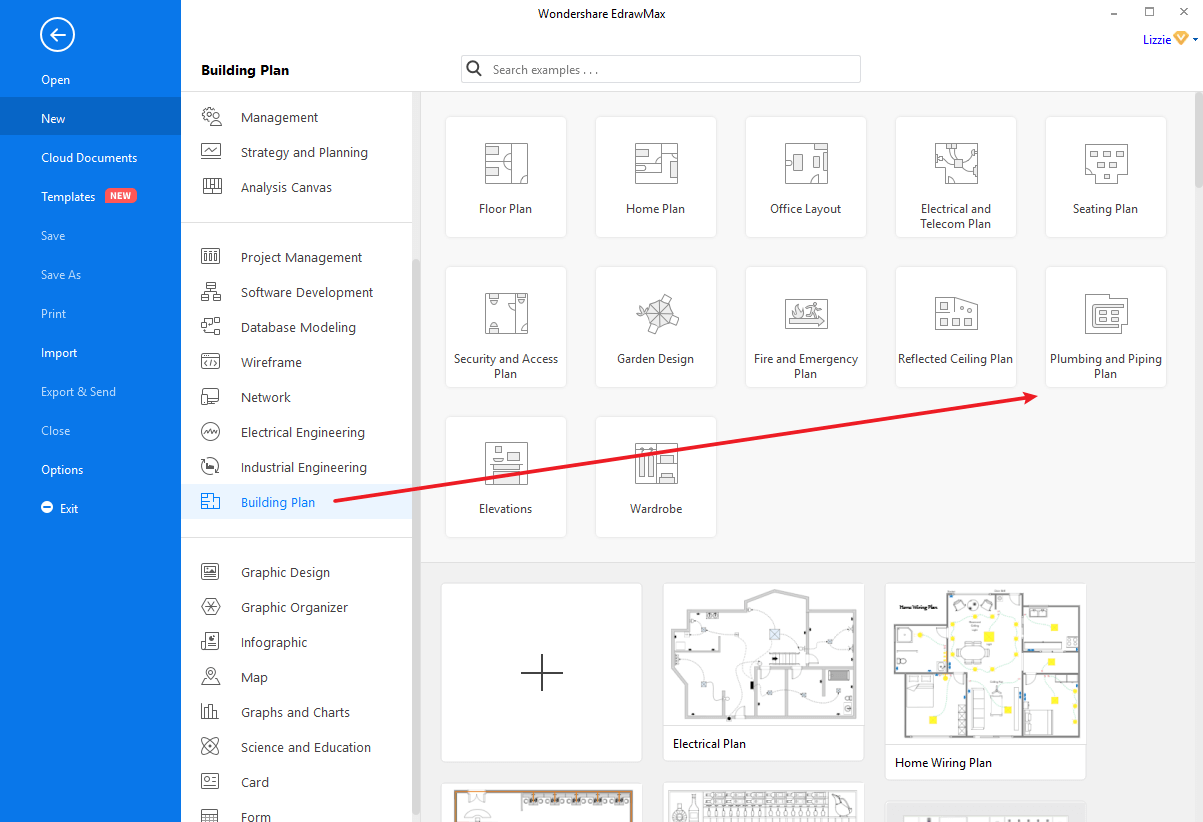 Step 2: As you enter into the workspace of EdrawMax, you can drag and drop the symbols that you need onto the canvas. If you need additional symbols, search them on the left symbol library. What's more, you can show or hide the vanes, open or close the piping ends via the floating menus. Find them in the drawing!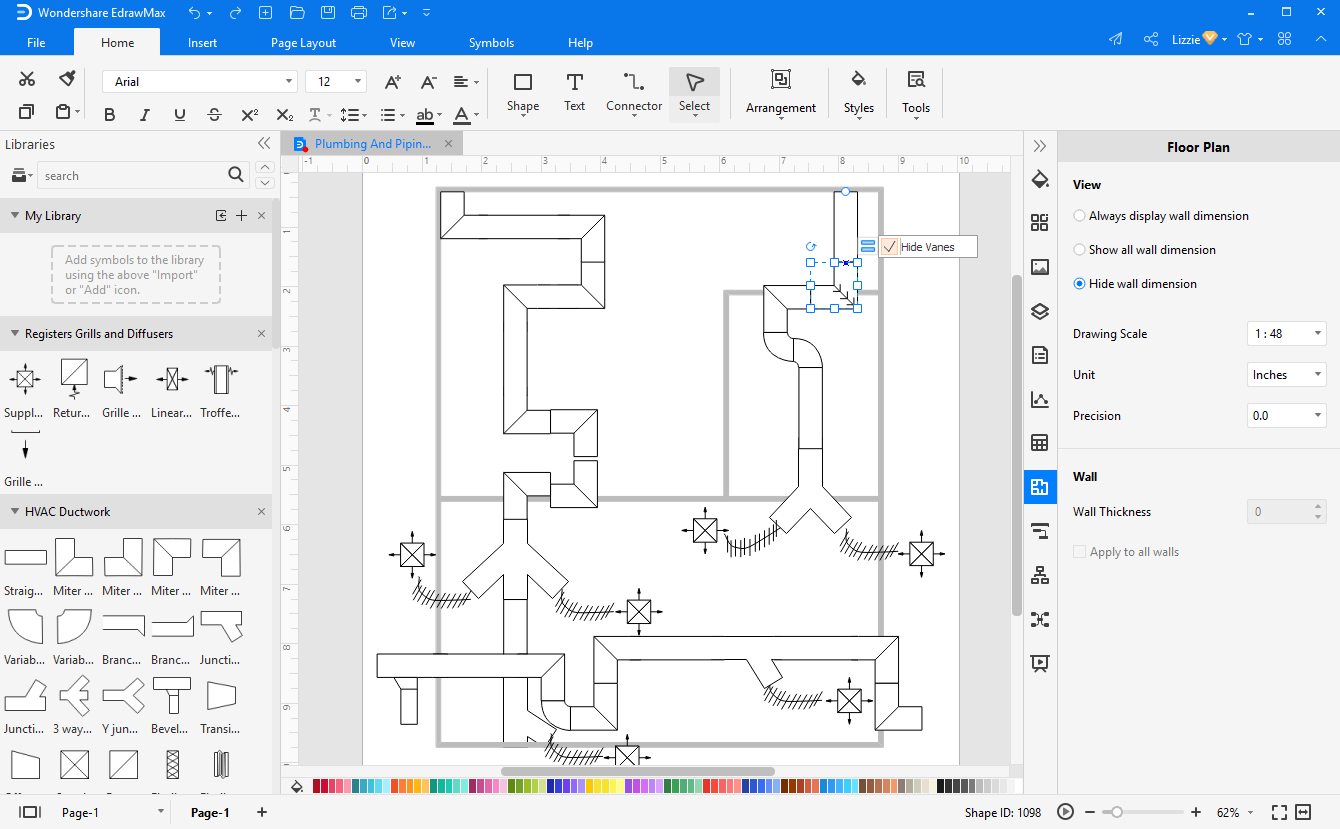 Step 3: When you complete your plumbing and piping plan, you can export it to JPG, PNG, SVG, PDF, Microsoft Word, Excel, PowerPoint, Visio, or HTML file formats. So you can share your drawings with people who don't use EdrawMax and you don't need to worry about converting file formats.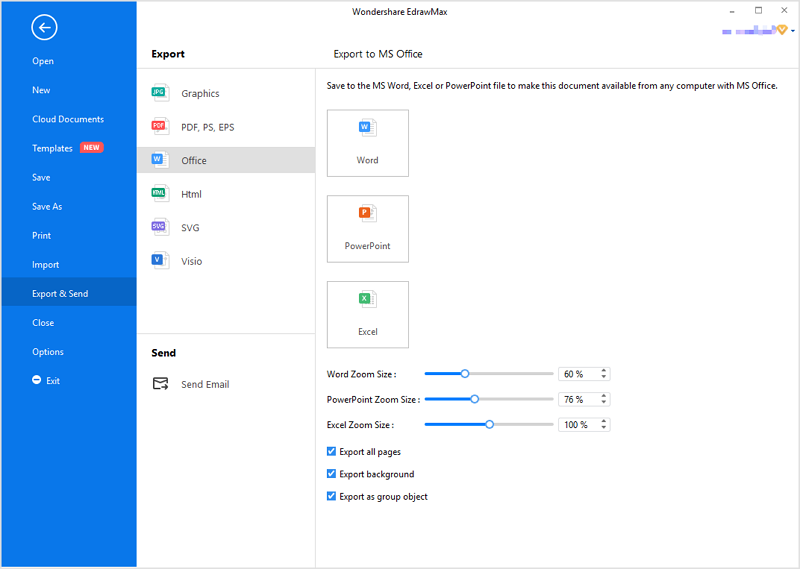 More Related
Plumbing and Piping Plan Solutions
Plumbing and Piping Plan Examples and Templates