Plumbing and Piping Symbols
Want to Design Your Plumbing & Pipping Plan?
EdrawMax specializes in diagramming and visualizing. Learn from this article to know everything about plumbing symbols, and how to use or create plumbing symbols. Just try it free now!
A house's infrastructure is lame without a professional plumbing structure. Plumbing is done to supply water and gas throughout a building. All rooms, kitchen, washrooms, living rooms require a pipeline connection to supply water and gas. A plumbing pipeline connection is installed for supply, the entrance of clean water, and drains out waste.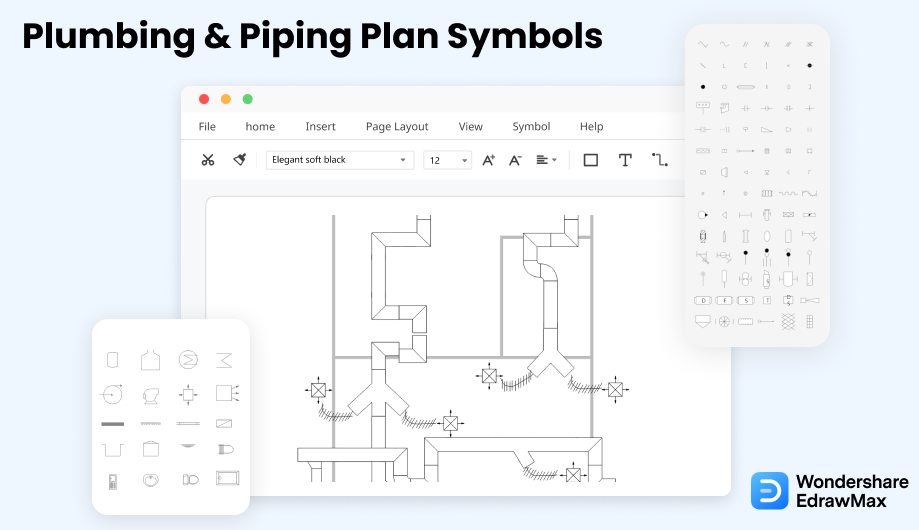 A well-installed connection is considered a cause for good health because it is responsible for water cleanliness. That water is being used in daily routine. For this purpose, a professional plumbing drawing is made, and all the functions are illustrated via plumbing symbols. These symbols cover all sorts of plumbing tools and equipment. Here we are going to know about plumbing designs and plumbing symbols in details.
1. What Are the Plumbing Symbols
Plumbing plan is connecting pipelines in the walls of a building and underground. It is done for the supply of water, provision of drainage passages, and prevention from pipeline destruction. All the rooms need water and gas connection which is only possible after a good plumbing set-up. It shows how freshwater enters and waste goes out. This process is of a very sensitive technical nature and requires a qualified architect.
An architect maps a plumbing design that comprises many plumbing symbols. Making a plumbing plan is now way easier because of EdrawMax. It provides a friendly interface, templates, and thousands of plumbing symbols. Not only this, but it allows customizing a template and symbol.
Use of plumbing symbols:
Size mentioning.
Time tracking by mentioning time on symbols.
Adding various equipment on a map.
Adding extra details.
Entrance and exit of the supply connection.
Show hot or cold water connections separately.
Plumbing Symbols:
Plumbing drawing is connecting pipelines in the walls of a building and underground. It is done for the supply of water, provision of drainage passages, and prevention from pipeline destruction. The plumbing symbols are the basic elements to show the functions.
Use a comprehensive diagram design tool to draw a plumping plan
2. The Types of Plumbing Symbols
The plumbing symbols enable a designer to follow a definite step-by-step plan, preventing him from getting distracted in many unnecessary matters and steps. The plumbing connection requires timely maintenance. A map helps a plumber maintain a connection by locating equipments through Plumbing symbols mentioned on a design. Also, many buildings need plumbing inspection, and this is only possible if the Plumbing Symbols are accurately used in a map. Repairing seems easy and convenient if all the tools are illustrated on a map as Plumbing symbols because a symbol's location is preferred to avoid disconnecting the pipelines..
Plumbing Symbols
Piping and Connection Symbols
Wall Shell and Structure Symbols
Doors and Windows Symbols
2.1 Plumbing Symbols
Plumbing is a system that coveys and directions water through pipelines installed in a house or a building. It involves using pipes, valves, plumbing fixtures, tanks, and other equipment. This equipment is used for heating and cooling, waste removal, potable water delivery. Plumbing symbols denote all the technical tools used for water and gas supply. Tools used for heating, pumping devices to raise liquid pressure, radiators emitting light, heat, or sound.
Boiler: is a fuel-burning apparatus or container for heating water.
Heat exchanges: used to transfer heat efficiently from one medium to another.
Heating coil: a special heating device that is shaped in a spiral design.
Pump: a mechanical device using suction or pressure to raise or move liquids, compress gases, or force air into inflatable objects such as tyres.
Heater: a device for warming the air or water.
Bolier
Bolier 2

Heat Exchanges

Heating / Cooling Coil

Heating / Cooling Coil

Pump

Pump 2

Heater / Cooler

Heater / Cooler Horizontal

Radiator

Convector

Radiant Panel

Radiant Panel 2

Open Tank

Closed Tank

Water Surface

Pipe Coil

Sink

Basin

Toilet

Bath

Basin (Side)

Toilet (Side)

Bath (Side)

End View

Shower Head

Towel Rail

Source: EdrawMax
2.2 Piping and Connection Symbols
Piping and connection symbols denote all the pipeline types and connectors. Piping or tubing is usually inserted into fittings to form connections. Pipe connectors are used to attach one pipe to another to increase the length of the pipe or to change the flow direction of a plumbing system. They divert and reduce the water supply flow and come in various sizes.
They also cover all the electronic devices which are used for connections. Joints are symbolized here, which include "sleeve joints." The piping symbols include different pipelines such as thick or thin, hot water pipeline, and cold water pipeline. But there are two main types of pipeline connections.
Major pipeline: a long major pipe, typically underground, for conveying fluid or gas over long distances.
Battery limit line: the line which shows the battery limit.
Electronic serial: the serial for the electronic devices.
Heat trace: a kind of system used to maintain or raise the temperature of pipes and vessels.
Electric signal: an electric current or electromagnetic field used to convey data from one place to another.
Major Pipeline

Connect Pipeline

Major Straight Pipeline

Straight Line Pipe

Process Connection

Future Line

Battery Limit Line

Side by Side

Top-Bottom

One-to-Many
Traced Line

Multi-Lines

Mid Arrow

Multi-Lines Elbow
Top to Top

Electrical Signal

Sonic Signal

Nuclear

Pneumatic Control

Pneumatic Binary Signal Line

Electric Signal Line

Electric Binary Signal Line

Electric Binary Signal Line 2

Hydraulic Signal Line

Sleeve Joint

General Joint

Butt Weld

Welded Connection

Mecanical Link

Soldered / Solvent

Double Containment

Flange

End Caps

End Caps 2

Breather

Drip Pan Elbow

Flange

Union

Socked Weld
Screwed Connection

Orifice Plate

Flanged Dummy Cover

Electrical Bounded

Slope Requirement Line

Reducer

Electrically Insulated

In-Line Mixer

Seperator

Bursting Disc

Flame Arrester

Drain Silencer

Exhaust Silencer

Strainer

Exhaust Head
Triangle Seperator

Triangle Seperator 2

Tundish

Open Vent
Syphon Drain

Hyrant

Swivel Joint

Expansion Joint

Hose

Flexible Hose

Flow Indicator
Bell Mouse
Removable Spool

Basket Strainer

Breather

Damper

Breakthrough

Orifice

Clamped Flange Coupling

Compensate

Coupling

Y-Type Strainer

Y-Strainer

Diverter Valve

Blind Disc

Spectacle Blind

Interchangeable Blind

Open Disc

Orifice Plate

Pulsation Dampener

Duplex Strainer

Vent Silencer

Basket Strainer

Cone Strainer

Detonation Arrestor

Flame Arrestor

In-line Silencer

Stream Trap

Desupherheater

Eductor

Exhaust Head

Rotary Valve

Expansion Joint 2

Bursting Disc

Electrical Insulated

Flame Arrestor

Explosion-Profe Flame Arrestor

Detonation-Profe Flame Arrestor

Fire-Resistant Flame Arrestor

Fire-Resistant Flame Arrestor 2

Pilot Operated Relief

Valve Manifold

Source: EdrawMax
EdrawMax Plumbing Plan Symbols:
EdrawMax is the best resources for plumbing plan symbols, you can find hundreds of plumbing plan symbols here. Just drag and drop, you can create plumbing plan easily. Download to have a try!!
2.3 Wall Shell & Structure Symbols
Wall is the most common and basic part of a building; it is built to protect an area. It divides the construction building to form rooms and sections. In this category, the thin line describes the interior wall, and the thick line describes the exterior walls. There are three types of walls; Building Walls, Exterior Boundary Walls, and Retaining Walls. Wall symbols illustrate different sizes, lengths, widths, the material of walls. These denote different types of walls according to their placement and functions. There are the following wall symbols used in a building plan.
This category also includes pillars, windows, doors, and stairs. Pillars are of different types and designs like tied, spiral, composite, etc. Windows has various designs and categories such as Double Hung, Casement, bay, and picture window. If you want to know more about wall shell symbols, just check here.
Wall

Vertical Wall

Curved Wall

Curtain Wall

Space

L-Space

T-Space

Room 1

Room 2

Room 3

Pilaster

Rectangular Column

Circular Column

Beam
Grid Origin

Grid Line

Source: EdrawMax
2.4 Doors and Windows Symbols
A door is a hinged, sliding, revolving barrier to entering the room, building, hall, vehicle, or cupboard framework. It is a passageway or transition from one place to another. All these symbols are added to a building plan according to the placement and location of doors.
A window is an opening in a wall or roof of a building to admit air and light; it also allows a passage of some sound. It may be opened or shut. The glass on a window can be transparent, translucent, or opaque. Different window symbols are used in a diagram to represent various types and categories of windows. Doors and windows symbols are the basic elements of any plumbing plans.
The windows are portrayed as if they were part of the walls.
Three parallel lines separate regular sliding-glass windows from solid walls.
Casement windows have arcs that look like doors and demonstrate how they open outward.
The bay windows are tilted like the edge of a stop sign, interrupting the wall's straight line trajectory.
Window

Open Window

Open Window 2

Open Window 3

Glider Window

Casement Window

Bay Window

Double Casement Window

Opening

Door

Double Hung Door

Double Door

Uneven Door

Opposing Door

Revolving Door

Folding Door

Sliding Door

Double Sliding Door

By Pass Door
Bi Fold Door
Double Bi Fold Door

Sliding Glass Door

Overhead Door

Garden Window

Source: EdrawMax
3. Where to Find Plumbing Symbols
You can save time by creating an accurate plumbing plan with details and clearly representing each component using pre-drawn plumbing plan symbols.
You can easily find plumbing plan symbols in the symbol library of EdrawMax. EdrawMax gives you more than 26000 symbols that you can use to create a plumbing plan or any other diagram. You can go and search for the symbols you want in EdrawMax and click on the plumbing plan. Go to the plumbing plan category and use a simple drag and drop to add any symbol you want.
All in one diagram creating tool
EdrawMax
Offer multiple plumbing & piping symbols and pre-made templates
Create more than 280 types of diagrams effortlessly
Superior file compatibility: Import and export drawings to various file formats, such as Visio
Cross-platform supported (Windows, Mac, Linux, Web)
4. How to Use Plumbing Plan Symbols
Follow these instructions to learn how to use plumbing plan symbols and easily create more plumbing plan symbols with EdrawMax.
4.1 How to Use Plumbing Symbols in EdrawMax
Instead of wasting time drawing the plumbing plan symbols or icons on paper, you should look for a way to design a plumbing plan easily. EdrawMax is well equipped to design a plumbing plan.
Step1
Login EdrawMax
If you are new here, you should use your Email to register EdrawMax, but if you're already the EdrawMax's user, you just need to login EdrawMax for free. Open EdrawMax select "Engineering", and find "Building Plan", and click "Plumbing Plan", then open a new canvas or just open a built-in template.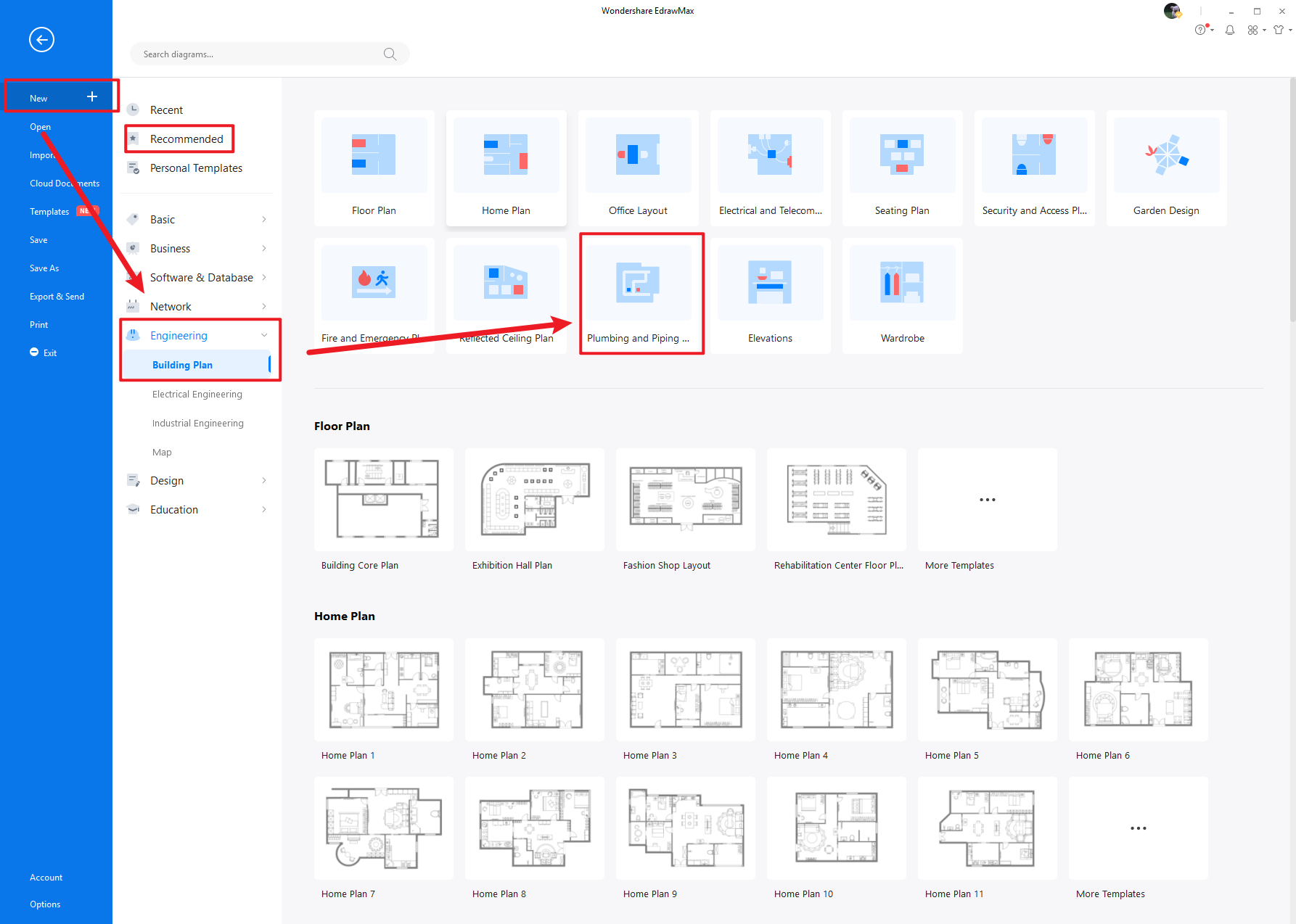 Step2
Select Plumbing Plan Symbols
Unlike physical drawing, EdrawMax helps to create a plumbing plan easily. In the symbol section of EdrawMax, you will find over 260,000 vector-based symbols that you can use in your designs. In EdrawMax, you can find plumbing plan symbols in Symbol Libraries on the left toolbar. You can click on the "+" option to open a new canvas to make your plumbing plan. On the left side of the canvas, you will see a symbol library with many plumbing plan symbols. You can search for specific symbols in the search bar.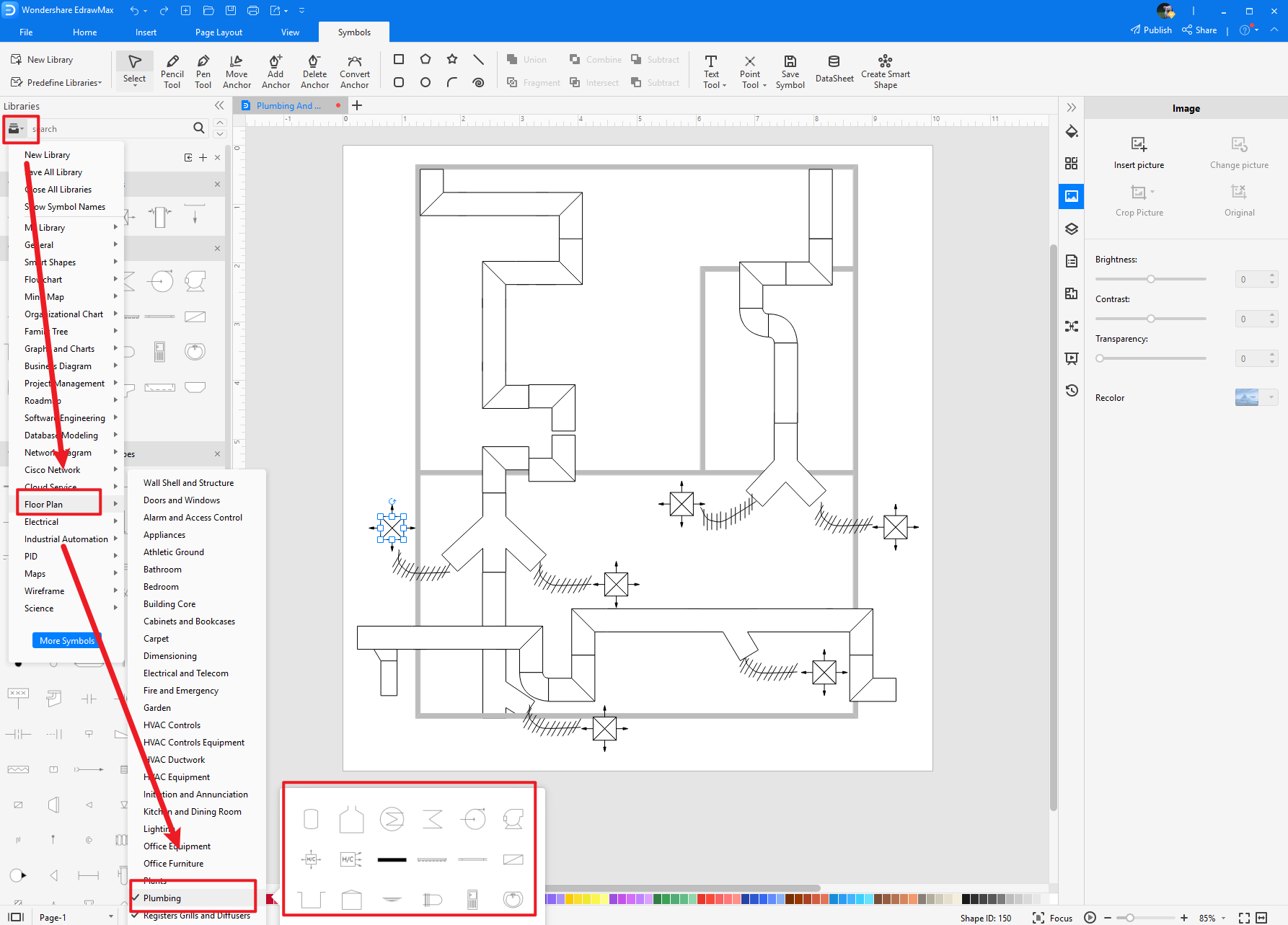 Step3
Drag and Drop
Once you find the proper plumbing plan symbols you want, just drag and drop the symbols to the canvas easily. Keep customizing by choosing the right symbols, proper scale or dimensions, and adding more details, like color, font, and etc. When completed your plumbing plan, you can export your file or share your design effortlessly. Learn more plumbing plan guide here if necessary.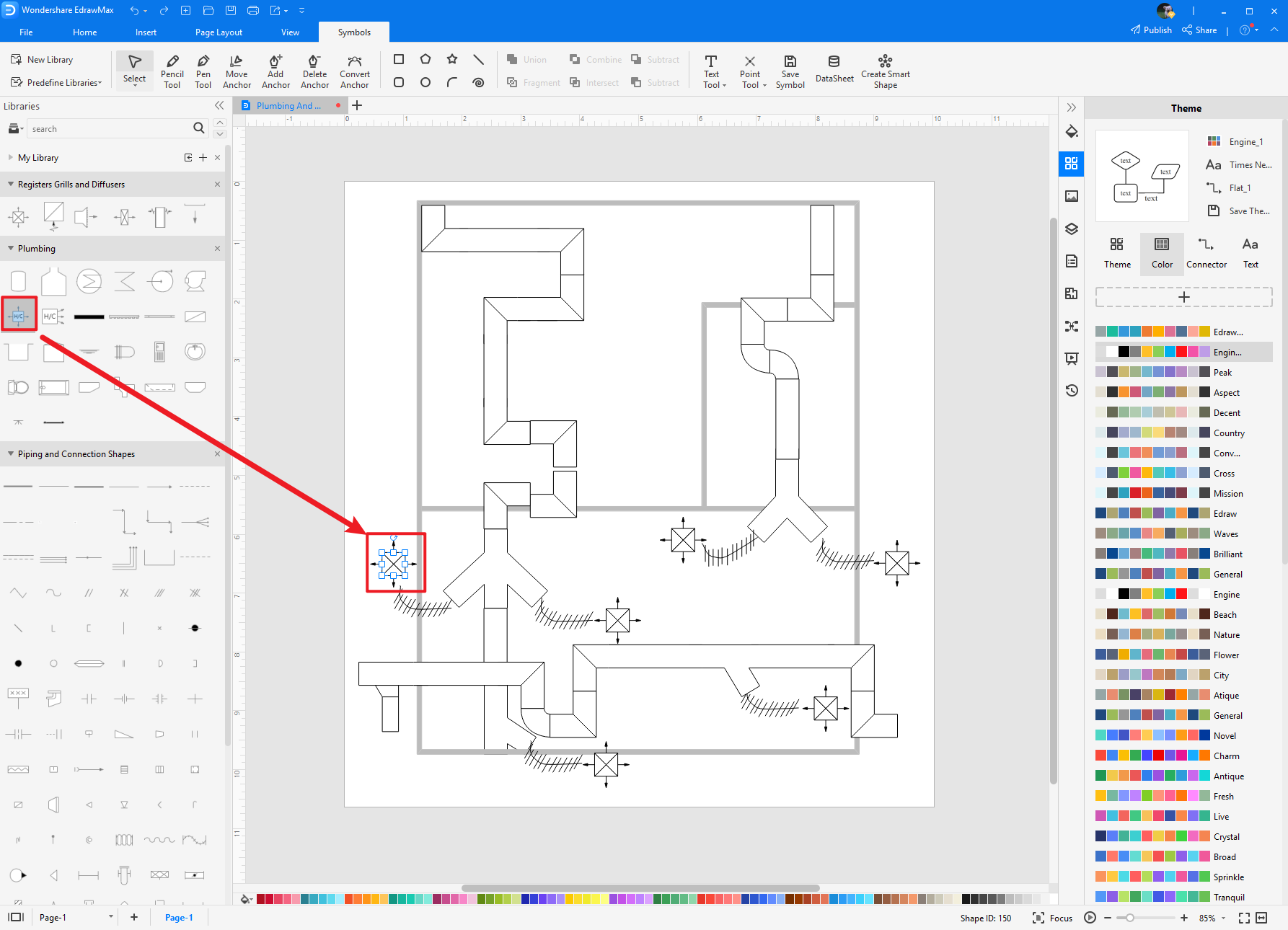 4.2 How to Create More Plumbing Symbols in EdrawMax
EdrawMax Plumbing Plan Maker provides you with thousands of symbols to create your diagram. Sometimes you want to use unique or personalized symbols in your diagram that are not in the library. EdrawMax gives you a simple solution to this problem. Follow these steps when you don't find the plumbing plan symbols you want or you wish to create your symbols to make your diagram.
Step1
Find Symbol Tool
If you can't find any symbol similar to the one you want, you can use the pencil tool, pen tool, and anchor tool to draw your personalized plumbing plan symbols. It is much easier to draw the symbol you want on EdrawMax instead of searching for the one that suits your requirements. You can also save your symbol in the library for later use.
Select "Symbols" on the upper Toolbar;
Use "Pencil Tool", "Pen Tool", "Anchor Tool" to create garden symbol from very beginning;
Choose "Union", "Combine", "Subtract", "Fragment", "Intersect", "Smart Shape" to make your symbols.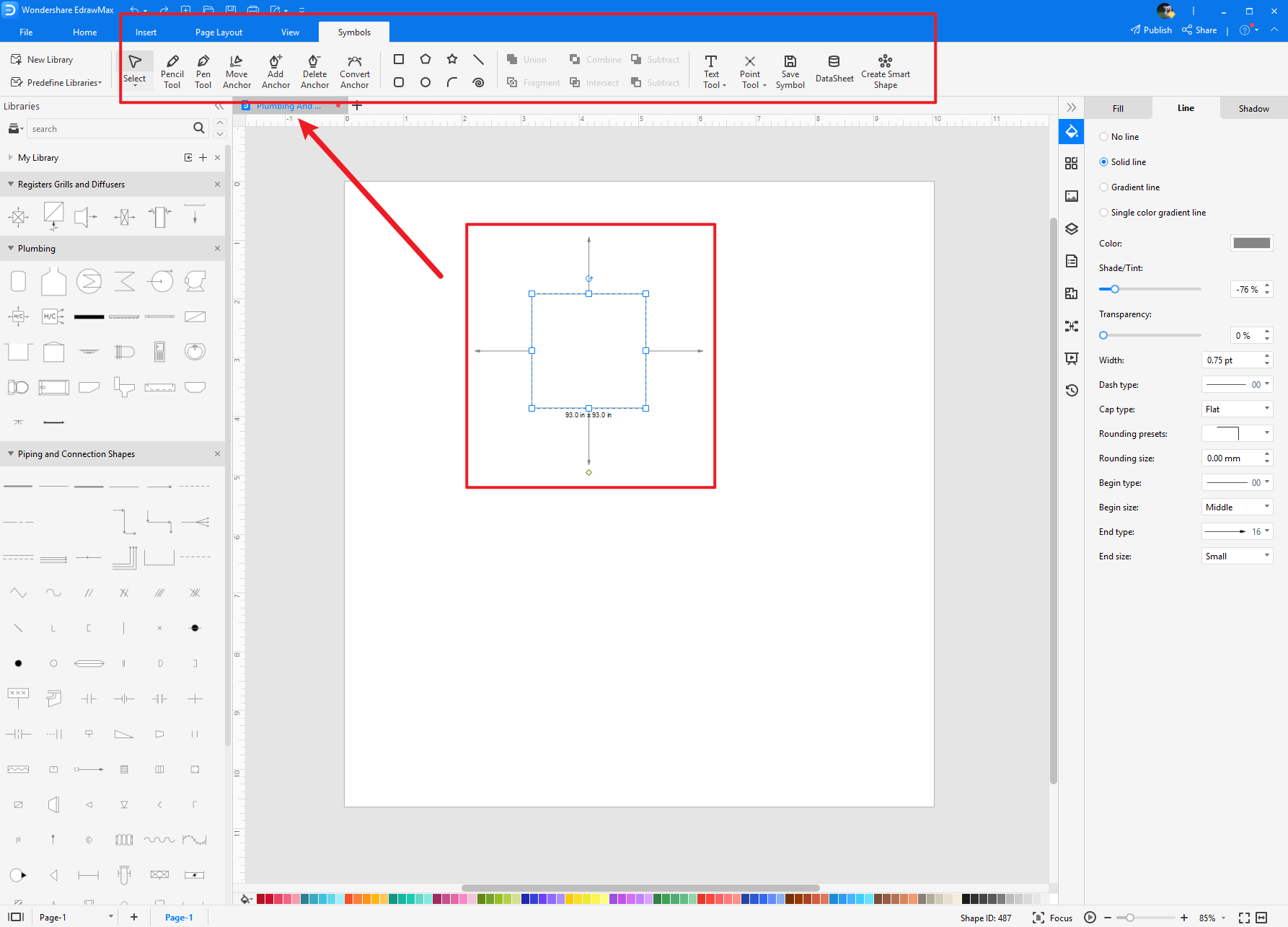 Step2
Create Plumbing Plan Symbols
When you create a plumbing plan symbol, make sure that the size, design, and other attributes of your icon go along with other plumbing plan icons. Follow these steps to draw perfect symbols.
Piping or plumbing drawing includes fittings, pipes, dimensions.
Fisrt of all, draw the default paths for sheet formats and bills of materials.
Draw the tube and pipes by lines.
View the pipe length in notes and custom properties of a piping or plumbing route.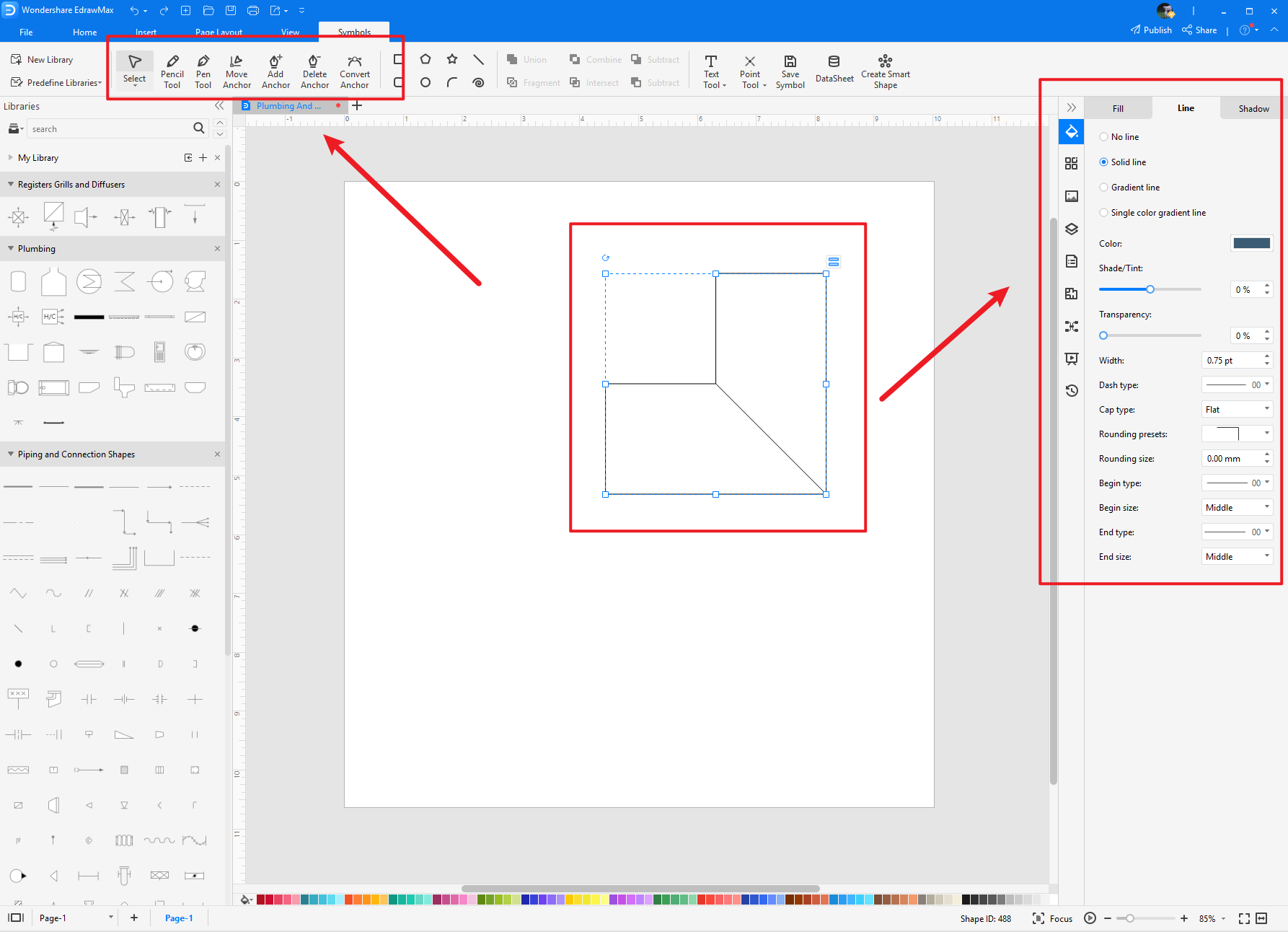 Step3
Import Plumbing Plan Symbols
Except for creating new plumbing plan symbols in EdrawMax, you can import plumbing plan symbols from your end. Find "Insert" on the top navigate toolbar, and import images to turn into symbols. Or click the thrid option of the right toolbar to insert images faster.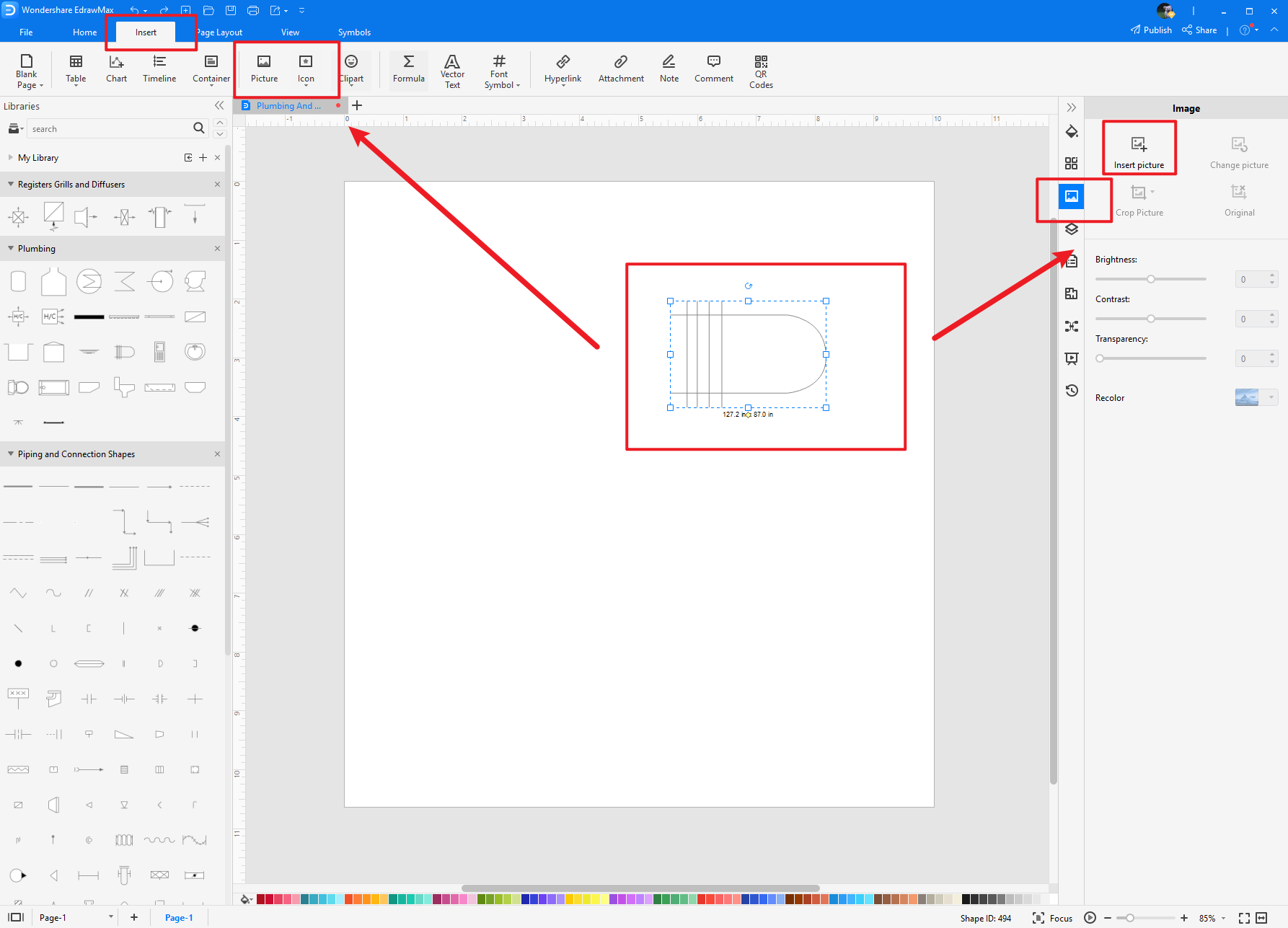 Step4
Save to Your Symbol Libraries
Once you completed your plumbing plan symbols design or import your symbol images, you should still click "Symbols" on top, and choose "Save Symbol" to your symbol Libraries. Or you can click "+" in My Library on the left toolbar. Learn more about how to draw a plumbing plan or design a plumbing from this plumbing plan guide here.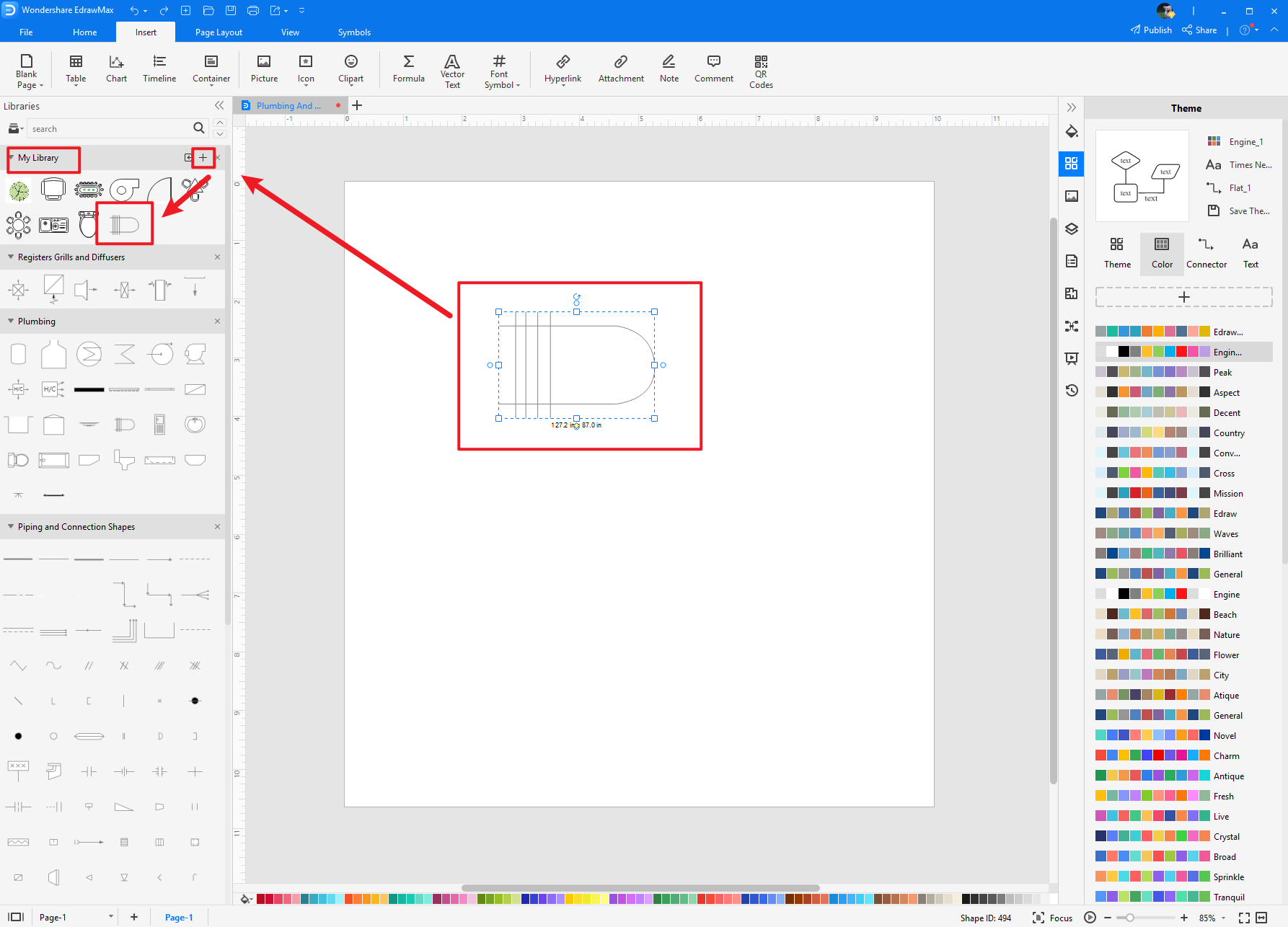 5. Free Plumbing Plan Software
Instead of drawing it from scratch, it is much easier to create a plumbing plan with free plumbing design software, such as EdrawMax. With EdrawMax, you get a comprehensive symbol library with thousands of plumbing plan symbols that you can use to make your diagram. It also gives you free editable templates that you can customize in a few minutes and complete your floor plan. EdrawMax is an excellent tool for team collaboration, and its easy-to-use interface makes it the first choice for everyone.
Key Features of EdrawMax:
EdrawMax comes with free plumbing plan examples & templates that are 100 percent customizable;
The built-in vector symbols let you easily add plumbing plan components to your design;
You can easily share the plumbing plan with your team and see the live revisions made by your team;
EdrawMax lets you export the file in multiple formats, including MS Docs, PPTX, JPEG, PNG, PDF, and more;
EdrawMax has a strong community of 25 million users who update the template community with their creative projects;
EdrawMax is considered the best tool for beginners and professionals because of the user-friendly dashboard and easy drag-and-drop feature.
EdrawMax Desktop
Create over 280 types of diagrams
Windows, Mac, Linux (runs in all environments)
Professional inbuilt resources and templates
On-premises software for business
Enterprise-level data security
EdrawMax Online
Create over 280 types of diagrams online
Access diagrams anywhere, anytime
Team management and collaboration
Personal Cloud and Dropbox Integration
6. Final Thoughts
An effective plumbing plan is a reason behind a successful life of a building. When a building is constructed, a plumbing connection is installed to supply water and gas, drain waste, provide drainage passages, and prevent pipeline destruction. That is why a proper plumbing plan is made during the building's floor mapping and construction mapping. All the plumbing symbols are used according to the functions and purposes of tools, and these help constructors adjust the structure according to all pipelines and fittings accurately and effectively.
EdrawMax is the best free plumbing plan maker that gives you free symbols and templates to make your plumbing drawing plan. Its fast drawing and easy symbol import feature make it the prime choice for beginners and professionals.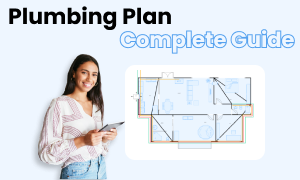 Plumbing Plan Complete Guide
Check this complete guide to know everything about home plan, like plumbing plan types, plumbing plan symbols, and how to make a plumbing plan.