Symbols for Floor Plan - Tables and Chairs

Contain an array of chair and table symbols for floor plan design, including hundreds of tables and chairs that can be applied to seating plan, office layout, kitchen design, salon floor plan and more.
Table and Chair Symbols for Floor Plan
Besides home plan, a lot more architecture layout also need to use chair and table symbols, such as seating plan, kitchen plan, office layout, salon plan, and theater plan. Therefore, tables and chairs have become very essential in the floor plan design suite.
Edraw offers various table and chair symbols to apply for different purposes. You can find single chair, office chair, recliner, sling chair, armchair, lounge chair, desk, square table, circular table, dining table, oblong table, and more.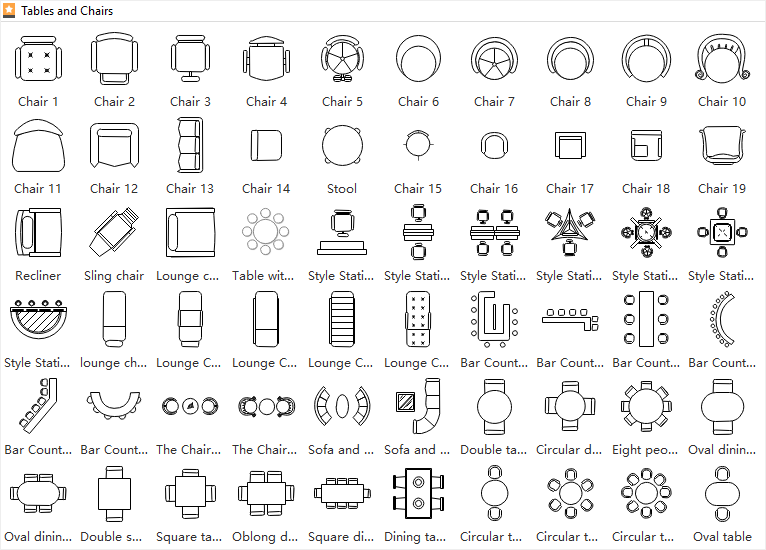 Customize Table and Chair Symbol
The built-in tables and chairs are black and white by default. However, you can add your own color and special effects to fit for your design theme. To apply a style fast, you can choose a theme and use the quick style gallery.
More Built-in Symbols for Floor Plan
Other than tables and chairs, Edraw also includes thousands of floor plan symbols to make outstanding floor plans, including appliances, bath kitchen, building core, cabinets, electrical and telecom, furniture, garden accessories, wall, shell and structure, cubicles, office accessories, office equipment, office furniture, planting, wall, door and window.
EdrawMax: a swiss knife for all your diagramming need
Effortlessly create over 280 types of diagrams.
Provide various templates & symbols to match your needs.
Drag and drop interface and easy to use.
Customize every detail by using smart and dynamic toolkits.
Compatible with a variety of file formats, such as MS Office, Visio, PDF, etc.
Feel free to export, print, and share your diagrams.
Floor Plan Software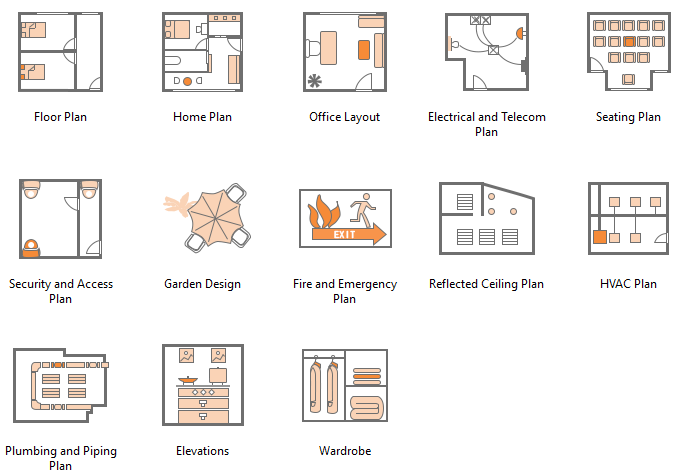 Edraw floor plan software is an all-in-one floor plan program available for commercial floor plans, office layout, fire and emergency plans, garden plans, kitchen and bathroom designs, HVAC plan, plumbing and piping plan, home wiring plan, wardrobe plan, seating plan and more. It help users to draft any architectural layout, construction documents, structural diagrams and facility planning.
Floor Plan Example
To find more floor plan examples, you can visit Edraw Template Center and get any pre-designed floor plan.
More Related
Bathroom Symbols for Floor Plan