Knowledge
Restaurant Floor Plans
Know it All about Restaurant Floor Plans
Something you might want to consider before opening your restaurant is a floor plan. A floor plan enables you to map out space and organize it in the best possible room. The floor plan is essential, especially in the case of the restaurant, where the front end of the restaurant must be well connected to the kitchens. This is crucial to ensure food is fresh when served and the waiters don't have to waste much time moving from one area to another.
You need to have a floor plan for your restaurant to ensure there is enough space to place tables with space in between to move quickly without bumping into anything. A floor plan will help you decide the proper lighting and emergency exits to ensure customer safety and improve their experience.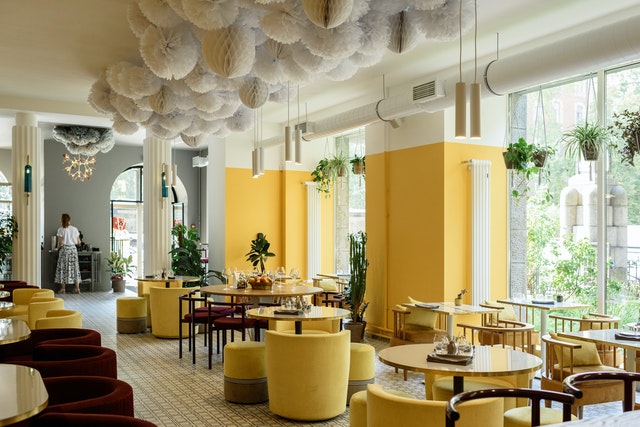 What is a Restaurant Floor Plan?
We already discussed all the reasons why you might need a floor plan for your restaurant. Now let's look at what a restaurant floor plan is.
Definition
A restaurant floor plan provides you with a map of the space available in your restaurant and how you can utilize it for optimal output. The floor plan encompasses all the essential elements like kitchen, waiting area, dining area, storage, etc., and fits them perfectly for a smooth-running business.
When to Design a Restaurant Floor Plan
Ideally, you need a floor plan as soon as you decide on a location to build your restaurant and start construction. However, there might be other instances when you might need to design a floor plan. In case your restaurant design is not efficient enough and is causing you to lose customers.
Another reason you might need a floor plan is that you have a tight budget and want to optimize the performance of your restaurant within that budget. A restaurant floor plan will help maximize opportunities.
It will also prevent overcrowding in the restaurant and adjust the foot traffic all over the area rather than pushing all of them in a single place.
Who designs Restaurant Floor Plans?
Most of the time, it is architects or interior designers who help you design the floor plans. They can use their knowledge to plan the space. The architects better understand the space and help you design the whole structure of the building. Compared to that, interior designers are more focused on the interior and can help rearrange and design the inside of the restaurant.
There is also a third option: you make the floor plan yourself, taking some help from the internet or softwares like EdrawMax. With thousands of available templates, you can modify them and create a floor plan that matches your location and ideas.
EdrawMax
All-in-One Diagram Software
Create more than 280 types of diagrams effortlessly
Start diagramming with various templates and symbols easily
Superior file compatibility: Import and export drawings to various file formats, such as Visio
Cross-platform supported (Windows, Mac, Linux, Web)
Security Verified |
Switch to Mac >>
Security Verified |
Switch to Linux >>
Security Verified |
Switch to Windows >>
Restaurant Floor Plan Considerations
A restaurant floor plan is not something you get up and decide to make. There are multiple considerations to make while designing one. Let's look at some points you need to consider before making a restaurant floor plan.
Number of Tables
Another essential factor to consider is the number of tables your place can hold. Your dining space should be large enough to hold several people enough to generate good profits. Make sure space is not too small so that people don't feel suffocated. Since Covid-19, you should ensure that the tables and chairs are placed at an adequate social distance.
Safety
Safety is very crucial where the staff and customers are concerned. You must ensure no physical hazards like fire and appropriate measures for any emergency exits and fire extinguishers are in place. Moreover, in the light of Covid-19, your restaurant floor plan must consider that tables are distanced adequately so that there is no spread of infection.
Ambiance
Your floor plan must reflect your creativity, and you can even contact an interior decorator to create the perfect environment for your customers. You can manage your restaurant floor plan to make everything highly accessible, and the restaurant doesn't feel too crowded or noisy.
Building Rules
Your restaurant must comply with all the building rules like emergency exits, ventilation, lighting, and occupancy.
Efficiency
Lastly, efficiency is probably one of the most important considerations of a floor plan. Your floor plan must be designed so that the food delivery to the table is quick and not delayed. The staff can quickly move in and out of the kitchen, and inventory is accessible from the storage rooms to the kitchen.
How to Design a Restaurant Floor Plan
Once you have decided to make a restaurant floor plan, the next step is designing it. You must ensure that the floor plan is efficient and functional. A well-designed floor plan will improve the restaurant's productivity and create a welcoming environment for all the customers.
While designing a restaurant floor plan, you must especially pay attention to the public places like the waiting area, dining area, bar, lounge, etc. The primary function of a restaurant is to provide a premium dining experience. If the ambiance is not well planned, your business might not be too profitable. This also provides a good working environment for the staff.
The next goal is to align the floor plan with the budget and space requirements. This will help you utilize the space to its maximum potential. You need to allot a budget and then ensure you don't unnecessarily cut costs because they might lead to renovation and maintenance expenses in the future.
Plan the main areas like the lobby and entrance carefully. The design of the restaurant should depict its values. The entrance usually is the first impression, and it must be captivating enough to lure in customers.
While creating a restaurant floor plan, another constraint to keep in mind is the level of your restaurant and how many customers you wish to accommodate at once. For that, you must have ample dining space along with a big enough kitchen. The kitchen must also be well connected to the pantry and storage, so all the processes are managed fluidly.
Restaurant Floor Plan Templates
If you are not well-versed in creating restaurant floor plans or have no previous experience on that, we recommend you using one of the available templates and modify it according to your needs. There are multiple templates available, each one different from the other and featuring an entirely new design. Let's look at some of the excellent templates available:
1. Seating Floor Plan
This seating plan provides you with a perfect way to arrange your dining areas, especially private dining rooms, bars, and restrooms. You can add round tables, square tables and create the ideal sitting place for two, four, six, or more people. This chart will help you utilize maximum space in the dining area.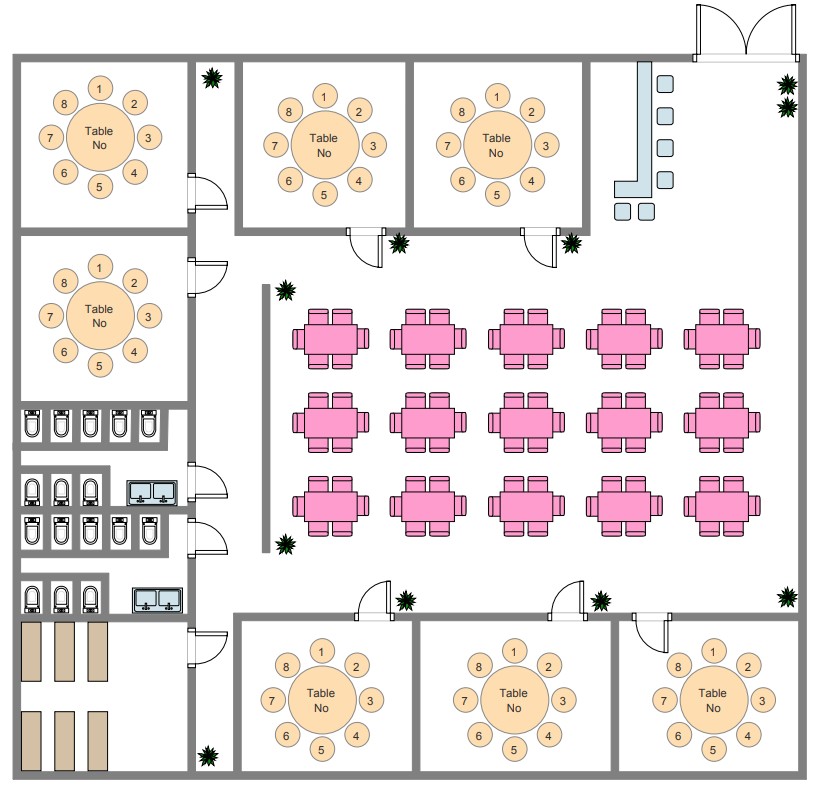 Source: EdrawMax
2. Kitchen Floor Plan
A kitchen floor plan like this will be perfect if you want to optimally use the kitchen space. The waiting staff and cooks can move around fluidly, serving the food right on time with no delays whatsoever. It will also ensure that any raw materials are quickly unloaded into the storage rooms without much hassle.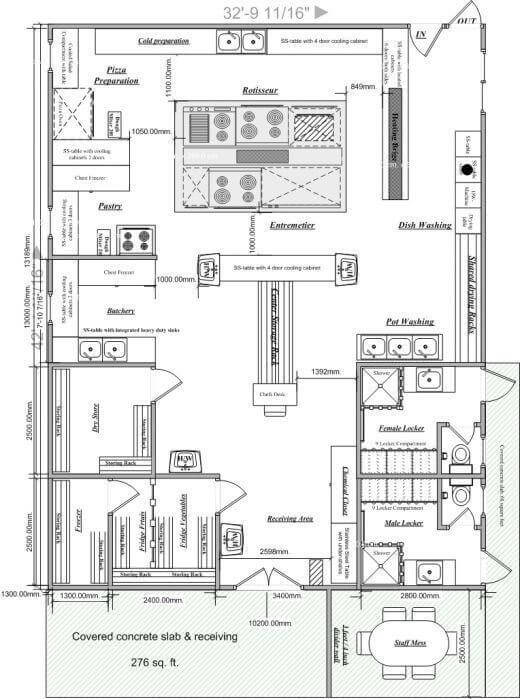 Source: pinterest
3. Bar Floor Plan
Serve your patrons right on time with this bar floor plan. You can design your restaurant with the best locations for your bar where customers can have a good time relaxing. With ample space to move around and socialize, it features a counter and private tables for business talk.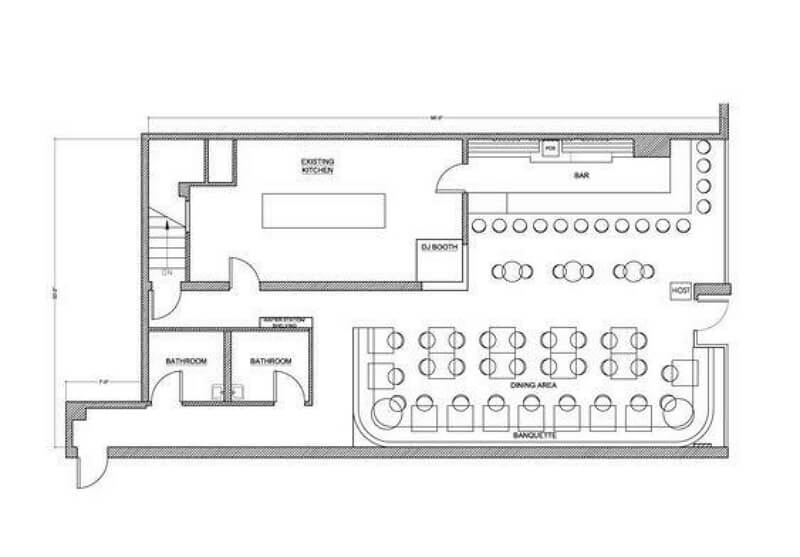 Source: pinterest
4. Restroom Floor Plan
Restrooms are also an essential part of the floor plan. Customers come to restaurants for a whole experience. Stinky and congested restrooms will put a damper on their whole experience. This restroom floor plan is an excellent guide for designing your restrooms that will enhance the customer experience.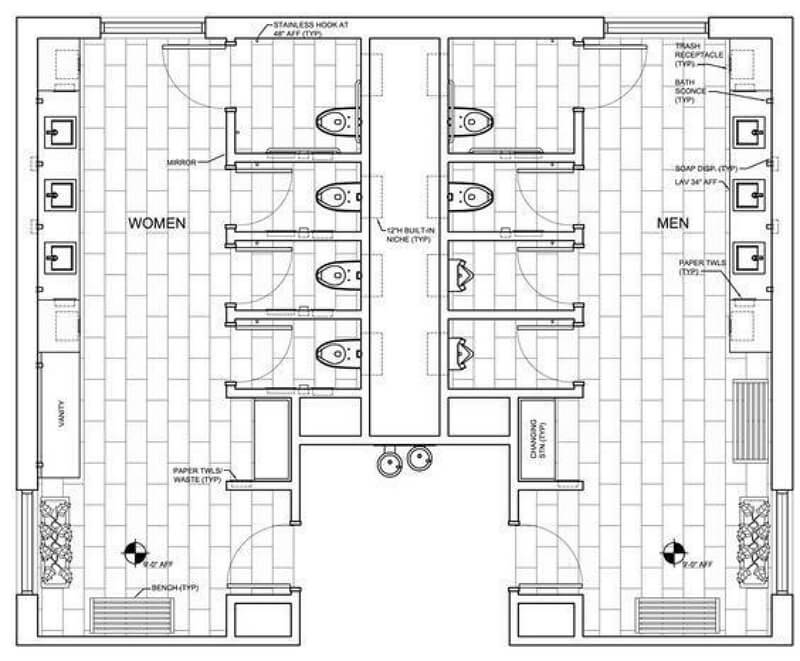 Source: pinterest
5. Payment Station & Pos System Floor Plan
Another important part of your plan must be the payment station. It is usually the last impression on your customer; hence it counts a lot. The payment station must not be crowded and well organized. The safety and this template might help you build a comfortable payment station.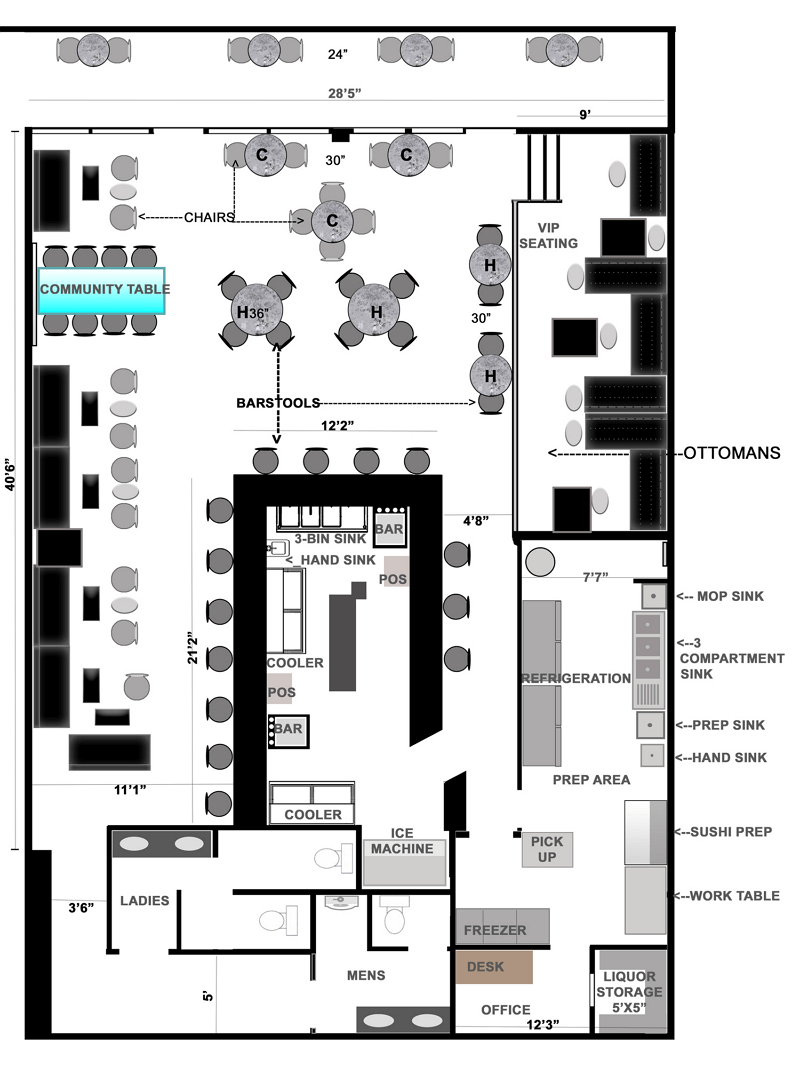 Source: cloudfront.net
6. Emergency Exits Floor Plan
The safety of everyone is a critical factor while designing a floor plan and emergency exit plans are a must. This emergency exit template will help you design a floor plan that ensures quick evacuation in case of any dangerous situations.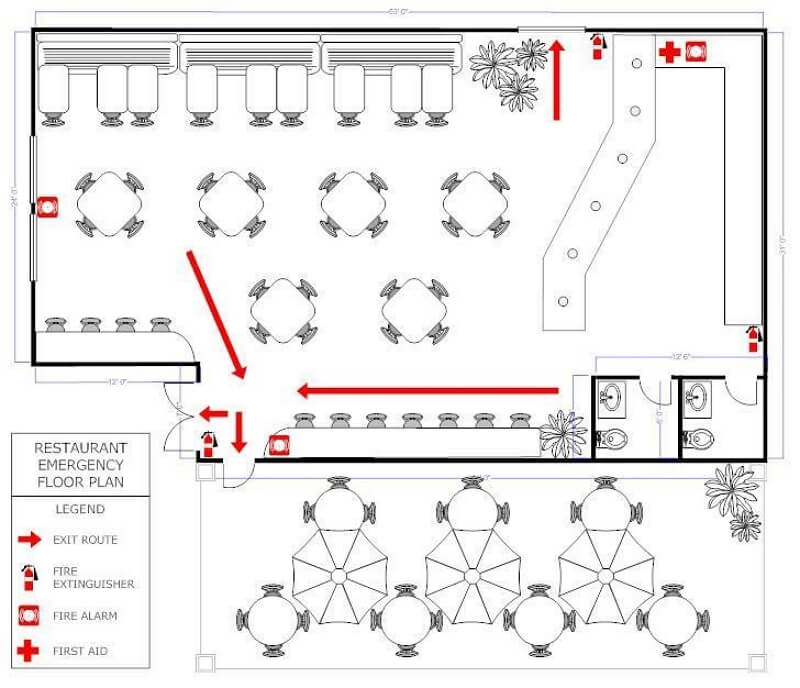 Source: smartdraw.com
Use EdrawMax for Floor Plan Creation
EdrawMax is the perfect tool for anyone to create floor plans, especially restaurant floor plans . If you plan on creating a floor plan for your restaurant, we recommend that you try EdrawMax for yourself. The tool is equally useful for both professionals and beginners. Using EdrawMax, professionals can create their floor plans from scratch, while beginners can choose from the thousands of available templates and modify them as per their preference.
The interface is highly user-friendly, and there is an array of floor plan symbols you can use to create your floor plans. So, in short, before opening a restaurant, make sure you have a floor plan first. And give EdrawMax a try while you're at it.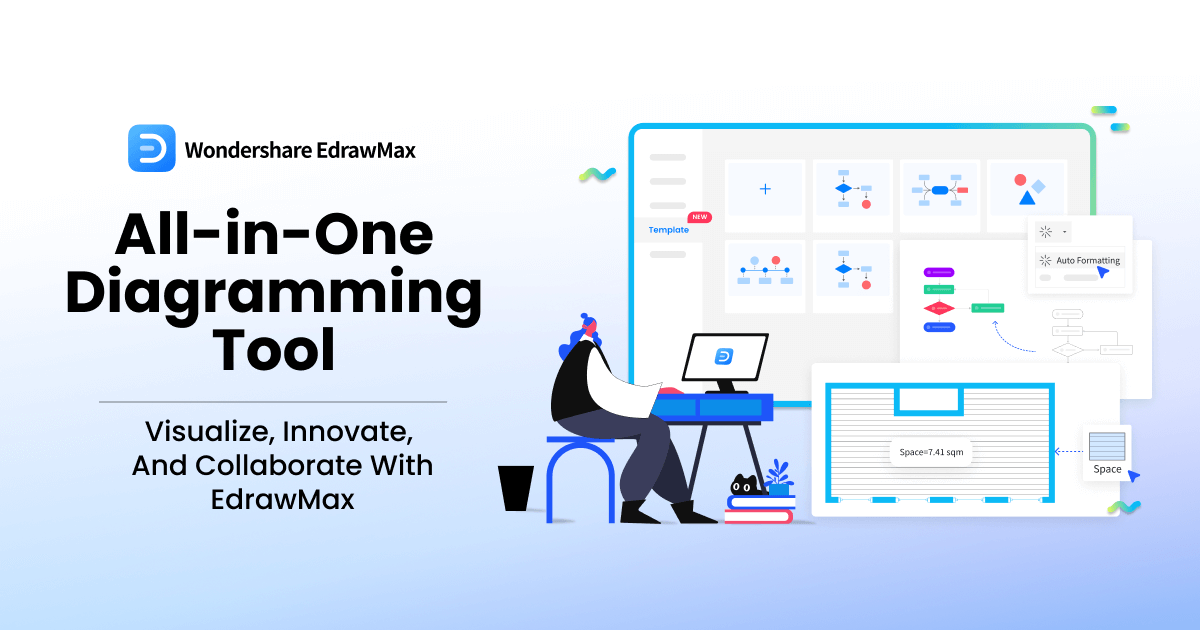 Related Articles
Create a Restaurant Floor Plan with EdrawMax.