Plumbing Piping Plan Examples & Templates
The plumbing system or plumbing diagram in a house or building is responsible for providing fresh water and taking out wastewater. It is installed to supply water and gas throughout the house with the help of distribution pipes, plumbing fixtures, vent pipes, sanitary sewers, and building drains. It requires proper connections to make all these components work accordingly.
All rooms of a building need a perfect plumbing system to avoid future inconveniences such as water leakage, clogging, no hot water, sewer problems, and faulty faucets. A plumbing system is installed by following a Plumbing Plan. This plan illustrates the components, dimensions, size, and orientation of a plumbing system. EdrawMax is a software that provides multiple plumbing plan templates to its users. The users can easily edit an existing plan or make their plumbing plan by using signs and symbols.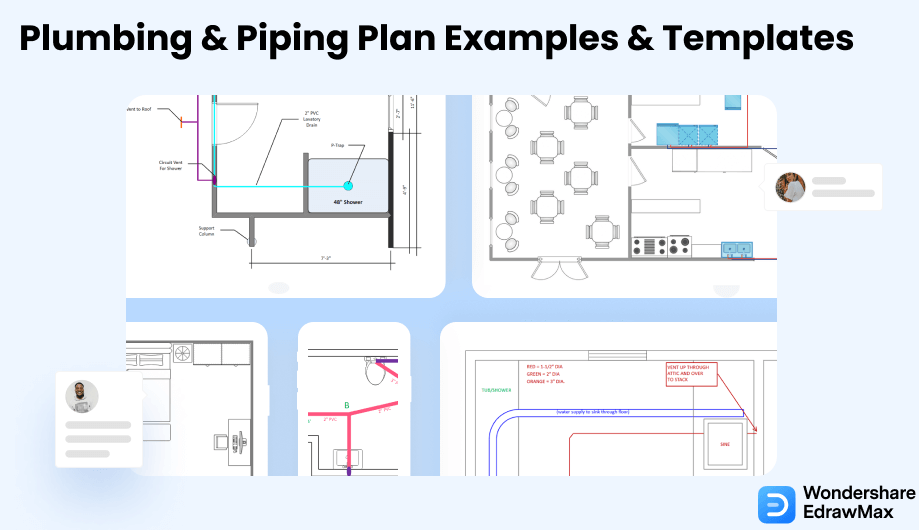 The plumbing system or plumbing diagram main purpose is to provide clean and fresh water and eliminate waste throughout the building. These two tasks are performed side by side, and the regularity for these purposes is only possible after implementing a Plumbing Plan. The Plumbing Plan contains many components serving different purposes and functions, and the plumbing system has sub-systems installed to make a complete plumbing setup. These Plumbing Systems are as follows;
Click the examples you have interests to get more details!
1.1 Water Supply Plumbing System Examples
The water supply system is a system installed in a plumbing process. It is responsible for delivering water to toilets, showers, taps, bathtubs, sprinklers, and many appliances such as washing machines, steamers, and water heaters. For this purpose, different plumbing components such as pipe fittings, water pipes, pipe connectors, service valves, and faucets are oriented. The water pipes are made of different materials, which are plastic, copper, and galvanized iron.
Example 1: Water Supply Plumbing Plan
The water system is installed for the flow of water in different directions. This system varies from building to building depending upon water distribution purposes like drinking, cooking, cleaning, washing, watering plants, watering animals, irrigating gardens or fields. The water is distributed to the kitchen, bathrooms, garden, laundry, garage, and pool areas. So, depending on all these factors, the water supply plumbing system is categorized into four main types:
Dead-end or Tree Distribution system
Gridiron Distribution System
Circular or ring Distribution System
Radial Distribution System
Here is a water supply system plan that illustrates the flow of water from the bottom to the top tank, and then it is distributed in the further sections of the building.
Example 2: House Tap Water Supply plumbing Plan
This house tap water supply plumbing plan shows how to plump your home. The various plumbing pipes are represented by the different colored lines in this drawing. The blue bars represent the freshwater supply coming into the house. Your home's plumbing is divided into two basic systems: one that brings in clean water and another that removes dirty water. Your fixtures, such as sinks, showers, toilets, washing machines, and dishwashers, connect in the middle. Once inside your home, your clean water supply is divided into cold and hot water systems, as illustrated in the House tap water supply plumbing plan.
Example 3: Apartment Plumbing Plan
The apartment's hot and cold water supply system is depicted in the restaurant water supply plumbing plan. A restaurant is a space that prepares and serves food and beverages to customers for a fee. Meals are typically fit and consumed on-site, but many restaurants also provide take-out and food delivery services. Restaurants differ greatly in appearance and offerings, including a wide range of cuisines and service models ranging from low-cost, fast food restaurants and cafeterias to mid-priced family restaurants to high-end luxury establishments. Restaurants are popular places for recreation and the setting for many impressions and memories; therefore, their construction and design necessitate special consideration in this Restaurant water supply plumbing plan.
1.2 Drain Waster Vent Plumbing System Examples
The Drain-Waste-Vent is the most crucial part of the plumbing system, and it is also called the sanitary system. It includes almost all the plumbing systems except for the water supply system. Its purpose is to carry the wastewater from sinks, taps, bathtubs, showers, toilets, and appliances like dishwashers, washing machines, etc., to the septic tanks or public sewers. This system is responsible for the supply and delivery of clean water by disposing of the waste and sewage from the building. The pipes and connections of the DWV plumbing system are hidden from sight because they are installed underground or inside the walls. The DWV system enables air to enter the system to maintain the air pressure to remove the drain waste and greywater from the residence. It has two types of pipes; Drain-Waste pipes and Vent pipes.
Example 4: Drain-Waste-Vent Plumbing System
The Drain-Waste pipes are responsible for taking the actual waste from sinks, toilets, showers, bathtubs, and various appliances to the main sewer or septic tank. The Vent pipes serve two functions; first, ventilate the sewage gases from the house through the exhaust pipe on the roof, and second, provide air to the drain-waste pipes to allow the sewage to drain smoothly and silently.The drain-waste-vent plan below shows the plumbing connection orientation in a bathroom.
Example 5: Drain Water Vent Plumbing
A house that comprises at least one main stack, as shown in the Drain water vent plumbing plan. The stack is a large vertical pipe (often 3 or 4 inches in diameter) that runs from above the roof to the main sewer line. Horizontal drain and vent pipes run into the main stack from the house's various toilets, faucets, tubs, and appliances. As shown in the Drain water vent plumbing plan, horizontal drain pipes must be sloped so that water does not settle in them. Venting can be a complicated process, but the basic idea is simple: A vent pipe allows air to enter behind the drain water, allowing it to flow more smoothly. Drain water can gurgle if not vented, like water coming out of an upturned thin-necked bottle.
Example 6: Drain Water Vent Plumbing System
This drain water vent plumbing plan is a system that allows air to enter the plumbing system to maintain proper air pressure, allowing sewage and greywater to be removed from a dwelling. Water produced by fixtures such as sinks and showers is called a drain, while water from toilets is referred to as waste. As the water drains, proper venting is required to allow water to flow freely and avoid the formation of a vacuum. Air needs to be passed into the waste pipe as the water runs down, either through a roof vent (external) or an internal vent. The drain water vent plumbing plan depicts the system that maintains neutral air pressure in the drains, allowing water and sewage to flow freely down drains and through waste pipes.
1.3 Kitchen Plumbing System Examples
In a kitchen, a proper plumbing system should be installed and tested because if the plumbing system is installed wrongly, there are chances of gas leakage and fire hazard. So, kitchen plumbing layout plays an important role while planning for a perfect kitchen plumbing system. This system commonly comprises the following components; hot and cold water supply lines, waste line for a sink, gas range, and gas supply pipes. Other components usually attached to the sink's plumbing connection are; hookups for dishwasher disposer, ice maker, or instant hot water appliances.
If you install the kitchen plumbing incorrectly, the sink's functioning can stop working, sewer gases can leak, and slip nuts can be damaged. There are some common and basic steps to follow in the kitchen plumbing process;
Example 7: Kitchen Plumbing Diagram
Most kitchens have a very simple Kitchen plumbing diagram system that includes hot and cold water supply lines to the faucets. Nowadays, we can see hookups for a dishwasher, an ice maker, and garbage disposal in kitchens, but these are usually connected to the sink plumbing. As a result, it is critical to comprehend the operation of the kitchen plumbing system. So, if there are any issues with your kitchen's pipes or drains, we will teach you everything that you need to know about the Kitchen plumbing diagram system. The basic kitchen plumbing system consists of water supply lines (hot and cold), a drain trap, fixtures, and drainage. They work together to form a functional kitchen plumbing system.
Hire a plumbing contractor
Install drainage system
Place traps
Install Air Admittance Valves
Install Pipes and connections
Install supply system
Install kitchen sink
Install garbage disposal system
Example 8: Kitchen Plumbing System
A kitchen plumbing diagram depicts a complicated network of water supply pipes, drain pipes, vent pipes, and other components. Because plumbing is a complex system that is one of the most expensive to repair or install in a home, it is important to understand how it works. Understanding the concept of a plumbing system allows you to understand the types of problems better. If you are planning for a remodel or new home, a Kitchen plumbing diagram can help[ you in designing a system that will work properly to pass plumbing codes. In major plumbing work, consider the following: A properly designed system will efficiently deliver water to the various faucets, fixtures, and water-using appliances while also carrying wastewater away without clogging.
Example 9: Kitchen Plumbing Plan
Following finishing work and the installation of kitchen furniture, the plumbing in the kitchen is connected to the water supply and sewerage system, as shown in this Kitchen plumbing plan. Use the flexible piping elements that come with this type of plumbing to connect the dishwasher in the kitchen. As previously stated, the sewer connection is made through a water seal to prevent the formation of unpleasant odors. To avoid gurgling in the sink, connect the dishwasher with a special valve, as shown in this Kitchen plumbing plan. The installation of a water filter is usually done in the kitchen under the sink.
1.4 Bathroom Plumbing System Examples
A bathroom is room to perform basic body cleaning. So water supply and plumbing systems are the main systems installed in a bathroom. The bathroom is where the plumbing system is the most needed. In a bathroom, a plumbing system must handle the delivery of providing clean water and take the waste and sewage out of the dwell. The bathroom plumbing system consists of water supply plumbing and the Drain-Waste-Vent system. The standard size of the sink's pipe is 1.25 inches in diameter.
The standard bathroom plumbing system is normally based on five waterlines:
Cold waterline for toilet
Cold and hot waterline for sinks, showers, and bathtub
Flexible lines for hot and cold waterlines
Example 10: Bathroom Plumbing Diagram
The bathroom plumbing plan demonstrates the plumbing connection in a bathroom where tub shower, tub drain, tub trap, vent stack, closet bend, toilet water supply, air chambers, lavatory water lines, lavatory chains, and cold hot water pipelines. The vent stack is directly connected to the toilet and indirectly to bathtub/shower and is taking the waste out.
Example 11: Bathroom Plumbing Plan
To create a bathroom plumbing plan, draw all fixtures to scale and ensure that they are not too close together. Mark the drain and vent lines for the institutions before adding the supply lines. Create riser drawings that include vertical pipe runs as well. A bathroom plumbing plan depicts the system that will bring water in and remove waste. Water supply lines drain, vent pipes, valves, and fixtures such as toilets and sinks are common components. These plans frequently use a variety of official plumbing symbols to denote different elements, and producing plan views, and riser drawings by hand or on a computer is fairly simple.
Example 12: Bathroom Plumbing System
Installing a bathroom plumbing system typically entails installing a system of pipes, drains, valves, and other fittings for water distribution. The current trend is to have concealed plumbing, so it is critical to avoid any mistakes, as any minor re-do work will require you to break wall tiles. A general understanding of bathroom plumbing will help you know if you're remodeling or redesigning your bathroom. It will be useful when remodeling or updating your toilet, but it is also useful to know if something goes wrong with your bathroom plumbing - you will know what the issue is and possibly how to fix it.
1.5 Basic Plumbing Plan Examples
A plumbing plan or a plumbing drawing is a technical overview of the system that shows the piping for fresh water going into the building and waste coming out. In most architectural projects, you will learn that a plumbing plan includes drawings of the water supply system, drainage system, irrigation system, stormwater system, etc. At the same time, a plumbing plan drawing will differ from building to building. For instance, a residential plumbing layout plan would differ from a general plumbing layout plan or a commercial complex.
Example 13: Plumbing Plan for House
Plumbing and piping plan and fixtures installed in a building for the distribution and use of drinkable water and the removal of waterborne wastes. A plumbing and piping plan is usually distinguished from water and sewage systems that serve a group of buildings. The plumbing and piping plan example shows there are several types of plumbing systems in building construction: single stack system, partially vented single stack system, one-pipe system, and two-pipe system.
Example 14: Plumbing Plan Layout
This plumbing layout plan depicts fixtures, water-supply and waste-disposal lines, equipment, and other sources of supply and disposal. This Plumbing Layout Plan is much easier to understand and is invaluable to those in charge of preparing material estimates and the craftspeople in charge of installing plumbing systems. The first stage of any project is the concept and design. The next step is to create construction drawings when everything is in place. When a floor plan is finished, it is given to the mechanical engineer, who will generate plumbing drawings. The illustrations are added to the construction-drawing set. A set of construction drawings' mechanical division will include, in addition to plumbing plans and details, drawings for any heating, ventilation, and air-conditioning systems that a building may have.
Example 15: Plumbing Plan Example
In core building setups, a well-constructed plumbing plan drawing will depict the housing system that will bring water in and take the wastewater (in liquid and solid form) out of the house. Before you set out to make your own plumbing plan using EdrawMax, you should understand what is included in a plumbing plan drawing.
EdrawMax is a vector-based software that provides various templates for your plumbing Plan. It provides an easily understandable interface for its users to draw efficiently and helps users edit existing templates and layouts and make their designs or template. It also provides 26000+ symbols to illustrate your Plumbing Plan. You should follow some steps to create or get the templates from EdrawMax. You can learn how to make plumbing plan in details from this plumbing plan guide
2.1 Make Plumbing Plan from Desktop
There are two methods of using a plumbing plan template to design a perfect ceiling layout. The first method lets you develop a plumbing plan after downloading the template and the EdrawMax diagramming software on your computer. Following is the guide for the first method on how to use plumbing plan templates.
Step1
Install EdrawMax
You can edit the templates directly from this page. First of all, when your mouse click to the templates on this page, you can download the EdrawMax easily, or you can download EdrawMax here.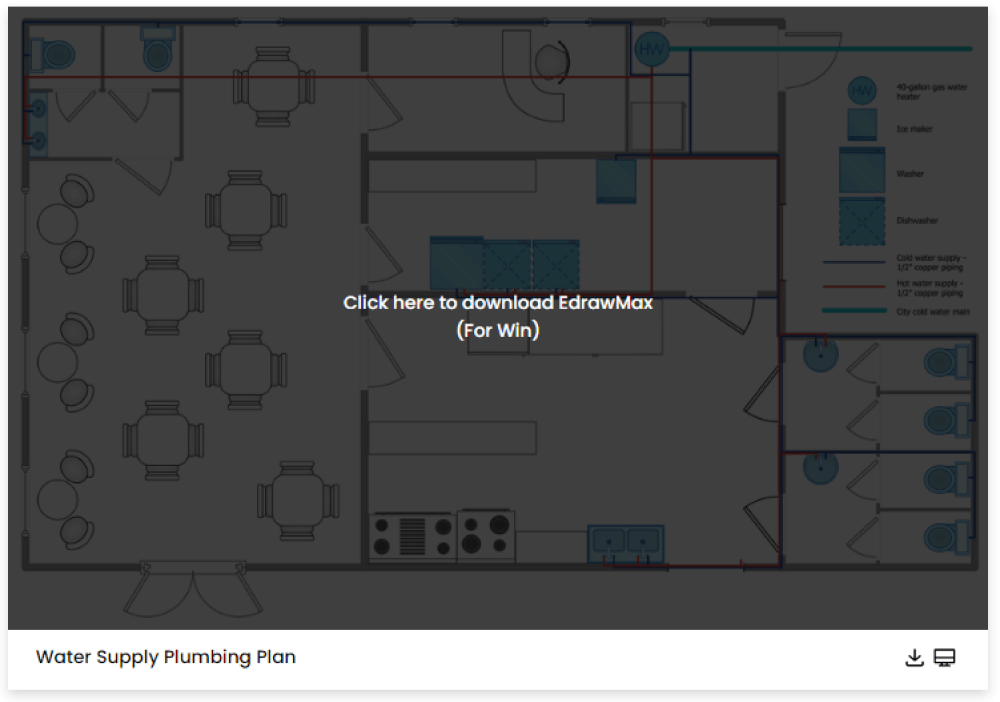 Step2
Download the Template
After installing EdrawMax, you can go and download the template by clicking on the bottom right corner or look for a template in the EdrawMax library without going online in desktop.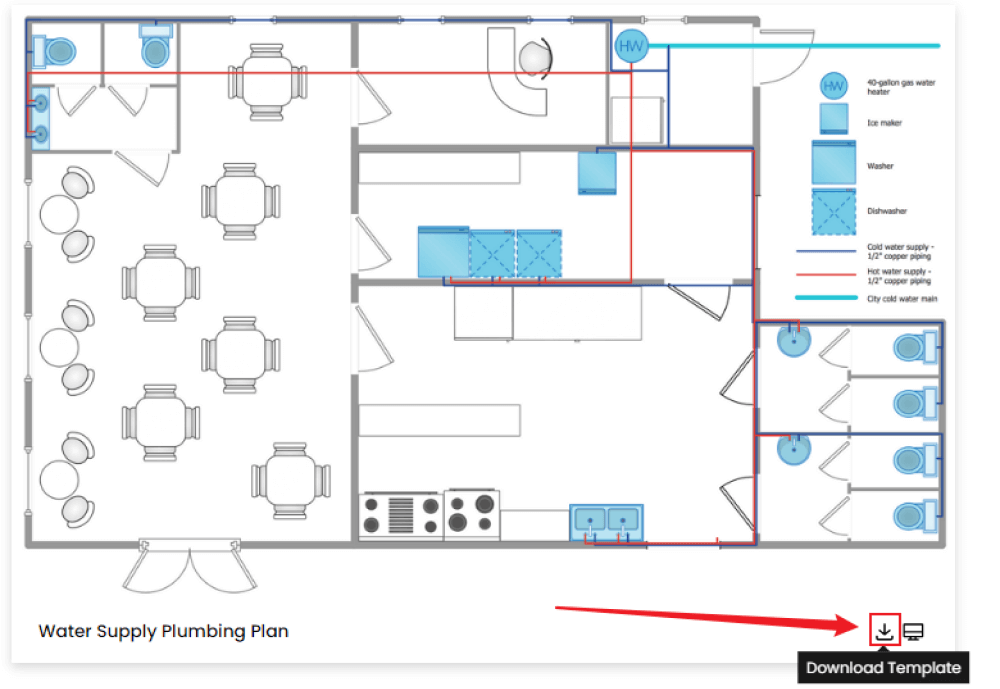 Step3
Open the Template
After downloading the template, you can double click to open it in EdrawMax diagramming software, or you can open EdrawMax beforehand and navigate to the template to open it. Every plumbing plan diagram is incomplete without symbols. Head to the 'Symbols' section and click on the 'plumbing plan' and 'Floor Plan' to import important symbols. Learn more plumbing plan symbols and find symbols you want here.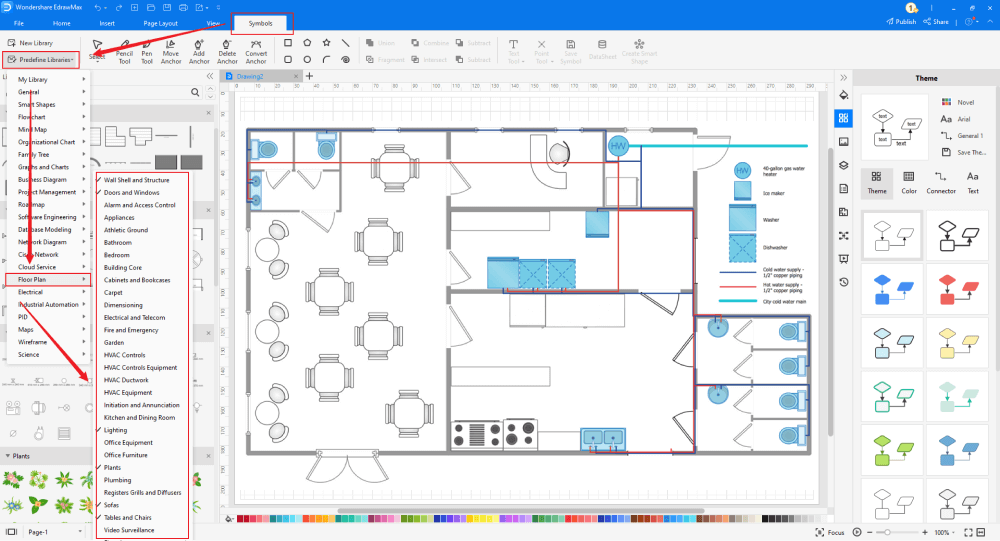 Step4
Customize the Plumbing Plan Template
After opening it, this will take you to the canvas, where you can use multiple tools to create your template. You will see a symbol library in the left corner, where you will find thousands of symbols to use in your template. EdrawMax gives you various unique diagramming tools that help you edit the template any way you want. You can change the color and the font liner of the template. You can edit the layout and include various elements such as decorative features, air vents, lighting, sprinkler system, and air-conditioning using reflected ceiling plan symbols from the EdrawMax symbol library. EdrawMax features a comprehensive library with 26000+ professional symbols that you can use for free with an easy drag and drop.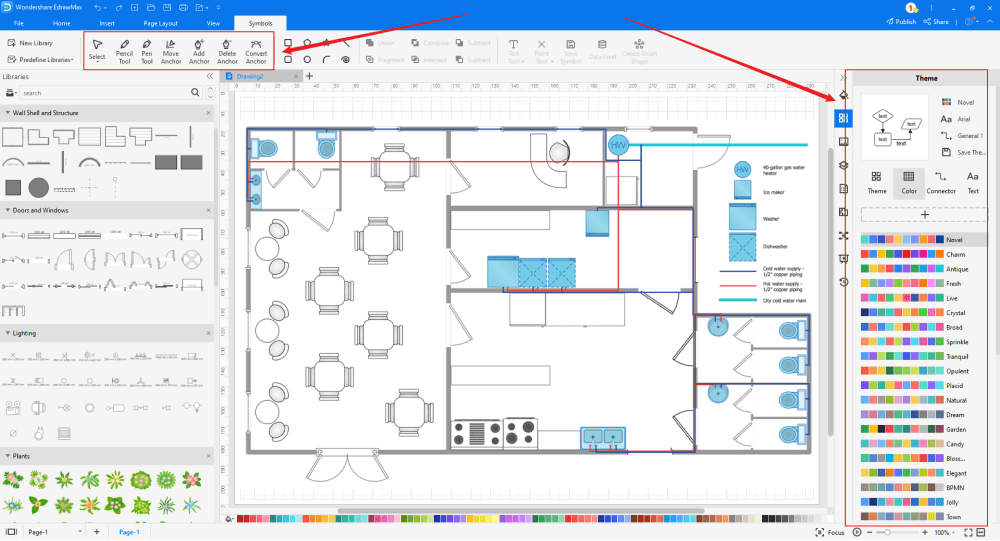 Step5
Save or Export
Once you have done making your template, then you can download it to your device. You can export or import your template in multiple formats such as HTML, graphics, PDF, Microsoft Office, etc. You can share your template on different social media platforms. Next, you can take a printout of it and show that template to others by turning on presentation mode with EdrawMax.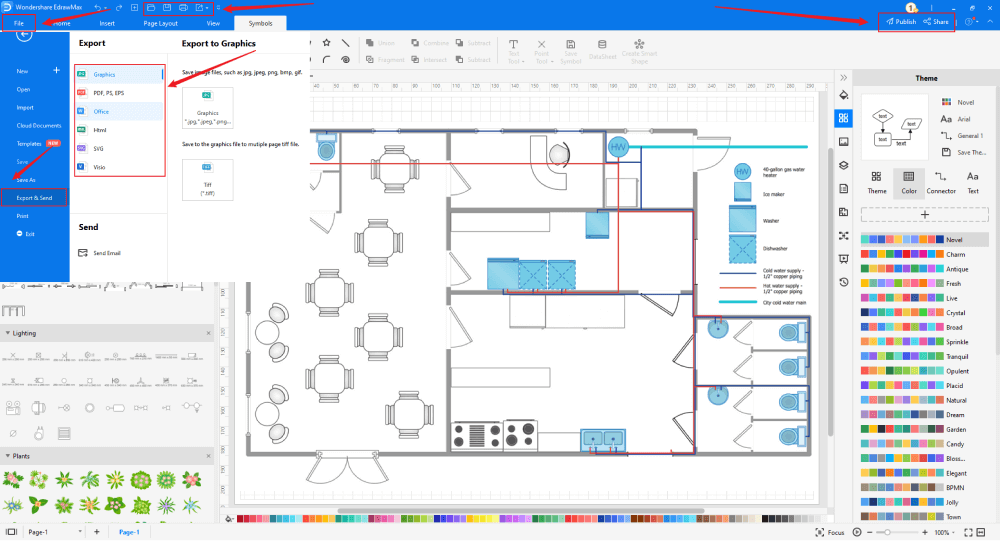 2.2 Make Plumbing Plan Online
You can use the following guide if you want to create your plumbing plan online. EdrawMax gives you free templates to select and customize and share without downloading. It also provides you with all the drawing tools in the EdrawMax software.
Step1
Click to Duplicate Online
Just click the right bottom corner to choose 'duplicate' template online, then you can go to the online EdrawMax template community. You can head to the fire escape plan template page, and learn more or use directly.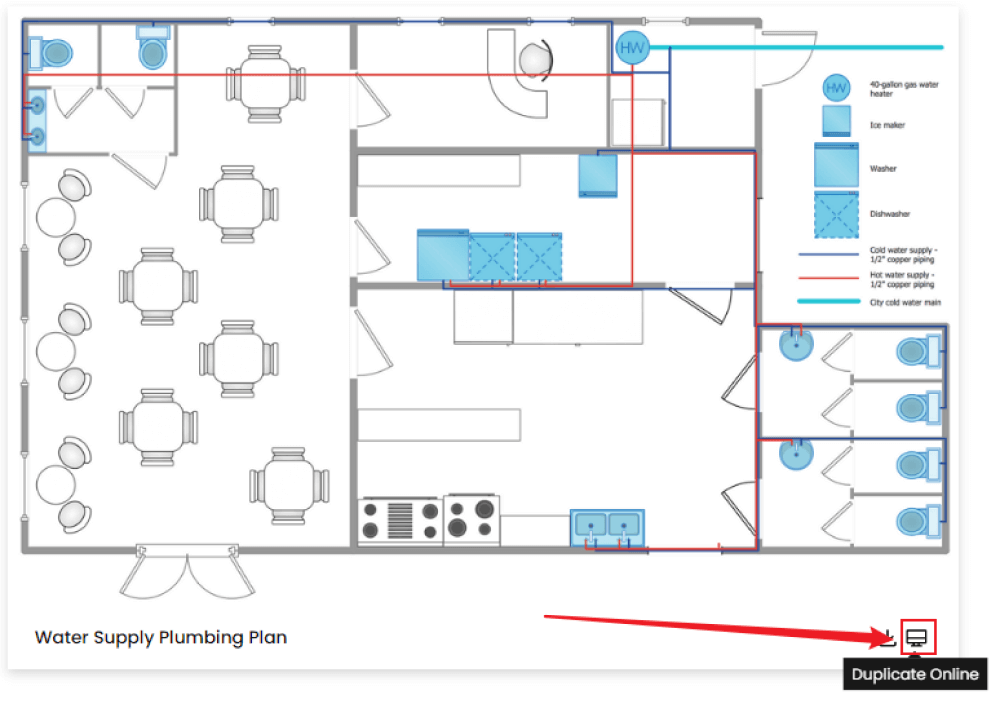 Step2
Search for More Templates
To search for more templates, go to the EdrawMax template community and search for the template you want. You can scroll down or search with the full name of the evacuation plan to get it quickly.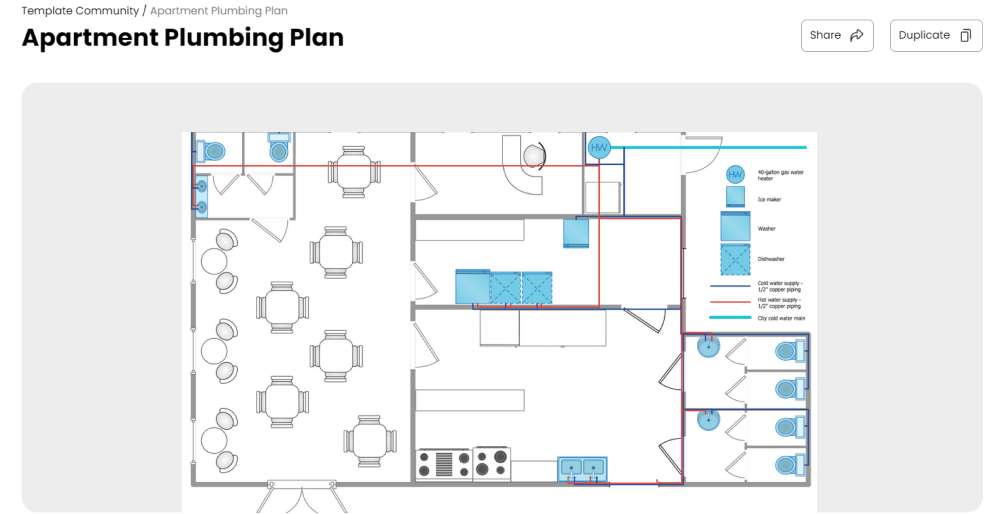 Step3
Open the Template
After searching, click "Use Immediately" on the template. The selected template will be pasted on the canvas now, and you can edit it there. Now you can edit the template according to your requirements. Every plumbing plan diagram is incomplete without symbols. Head to the 'Symbols' section and click on the 'plumbing plan' and 'Floor Plan' to import important symbols. Learn more plumbing plan symbols and find symbols you want here.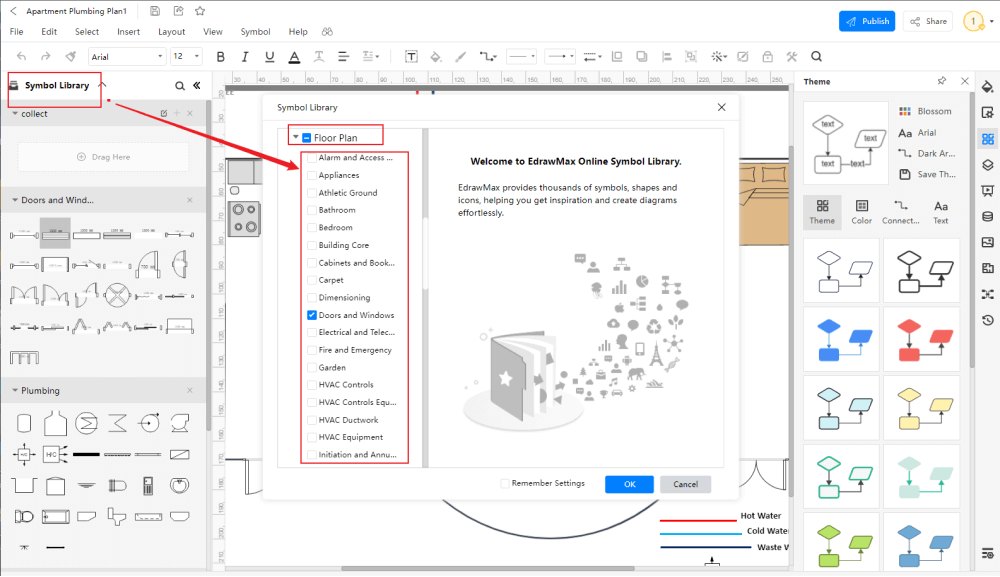 Step4
Customize the Template
Customize and edit the plumbing plan sample after clicking on the duplicate option and getting the drawing canvas with the template you selected. EdrawMax features unique diagramming tools that help you customize the template and make whatever changes you want. You can change the color and the font liner of the template. You can edit the layout and include various elements such as furniture, windows, doors, wall shell, and smoke alarms using bedroom floor plan symbols from the EdrawMax symbol library. EdrawMax also features a comprehensive library with 26000+ professional symbols that you can use for free with an easy drag and drop.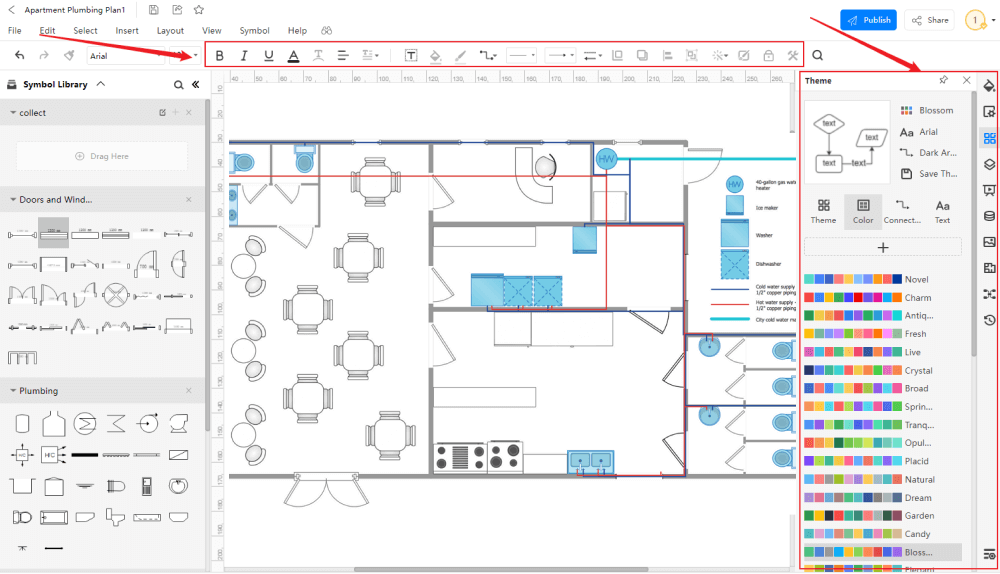 Step5
Save or Export
After drawing the template, you can download it and export it in various formats such as HTML, graphics, PDF, Microsoft Office, etc. You can share your template on different social media platforms. Next, you can take a printout of it and show that template to others by turning on presentation mode on EdrawMax. Or you can "Publish" your plumbing plan in the template community.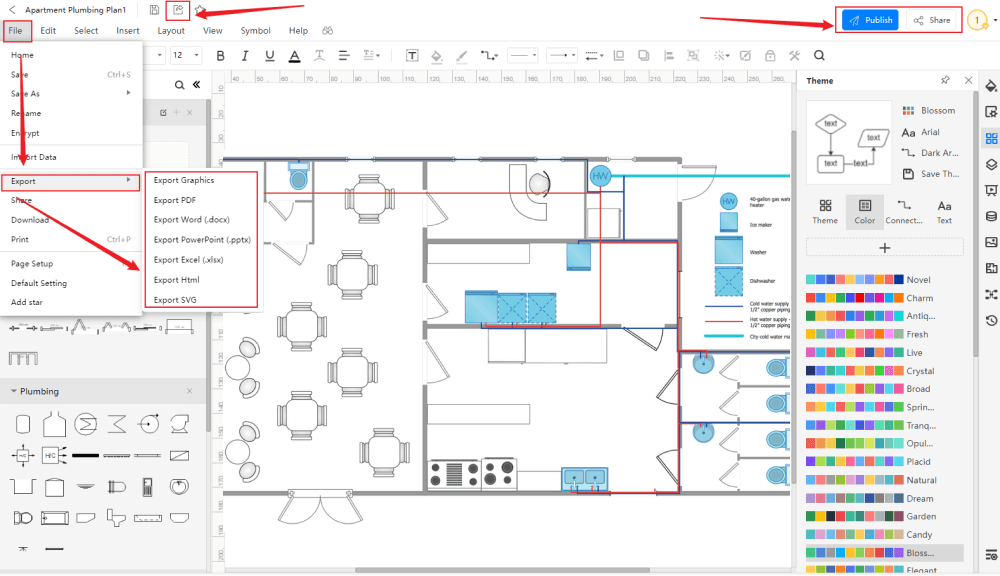 EdrawMax is free plumbing plan software that offers free diagram templates, design symbols, and many more. Through EdrawMax, everyone can visualize their plans and projects, and the ideas can be mapped easily with a few clicks via EdrawMax. There is an online community on EdrawMax which helps other Edrawers with their flowcharts, maps, and diagram templates.
EdrawMax comes with free plumbing plan examples & templates that are 100 percent customizable and editable.
With the present built-in option, you can easily share the plumbing plan with your team and see the live revisions made by your team.
EdrawMax has a strong community of 25 million users who update the template community with their creative projects.
EdrawMax is considered the best free plumbing plan software for beginners and professionals because of the user-friendly dashboard and easy drag-and-drop feature.
It supports to export and import files into multiple formats, including MS Office, Graphics, PDF, HTML, Visio, and more.
All of your plumbing plan designs are encrypted to the highest level of security. So, you do not have to worry about losing your creative designs.
A plumbing system is installed in a building or a house that provides water supply, gas supply, drainage system, and sewerage system. A good plumbing system is responsible for the life of a building and its worth. The architects draw a plumbing plan to follow a definite layout during construction, installation, relocation, or renovation.
It is created by using various plumbing symbols, and these symbols are used according to the functions and purpose of plumbing components and equipment.EdrawMax is a software that enables its users to draw different plumbing plans according to their floor plan. It allows them to use various drawing and editing tools and also enables them to use countless plumbing symbols.
The International Plumbing Code is a plumbing code that provides standards and requirements regarding plumbing. It is published by the International Code Council based in Washington, D.C. These rules and standards are accepted worldwide. It sets out the rules for the implementation of new plumbing technologies. The current version of this code is the 2021 edition. These rules are assembled for the health and safety of all water and waste water-related designs, installation, maintenance, testing, and inspection.