If you are planning to organize a party at your home or are a professional who is working on a similar type of project assigned to an event management company, an efficient seating chart would play a vital role in this. With that being said, here you will learn almost everything about seating charts as in what they are, how to prepare them, what points must be considered while drawing them, and much more.
What is a Seating Chart?
In simple words, a seating chart is a visual illustration of the seating arrangement in a corporate or personal event where people are expected to gather and spend some time. For instance, if there is an official conference that is about to take place, a clearly drawn seating chart would diagrammatically explain where the person holding the highest position will sit, which chairs would be taken by the authorities working under them, and how the general audience will be accommodated. Likewise, in a marriage ceremony, a well-drawn seating chart explains which table is reserved for whom.
Purpose and Benefit
The purpose of having a seating chart is to make sure that the event or party does not face any congestions or otherwise gets mismanaged. A proper seating arrangement ensures that all the guests are able to sit properly and comfortably so that they can witness and enjoy the occasion at the full.
The benefit of a seating chart is that the event or party can be conducted hassle-free and that, even with a limited amount of space, all the invitees have enough room to move about and walk in and out of the room freely, without disturbing the other guests in any way whatsoever.
Symbols of seating chart
The following illustration shows some of the most commonly used symbols while preparing a seating chart: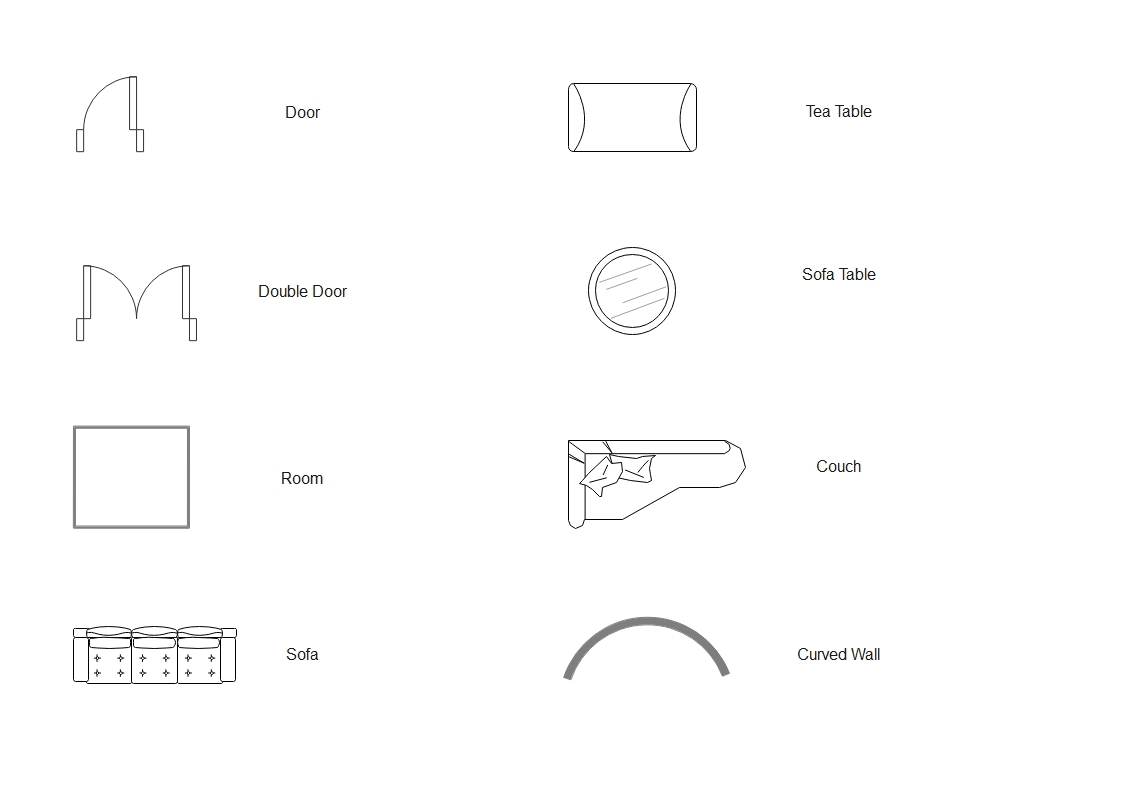 What to Do before Creating Seating Chart?
Before you dive in and start preparing a seating chart, there are a few points worth consideration:
Make sure to check the venue and its capacity to accommodate the guests. If you think that the number of invitees would cause congestion due to limited space, go for a bigger place.
Check if there are a sufficient number of chairs and tables available for all the guests that you are planning to invite. Confirm with the owner/manager of the venue if they can arrange some more if need be.
Make the main person of the event or the leader of the meeting sit separately, probably with their back facing the wall that is opposite the main door. In case the venue is rectangular, the seat of the main person must be arranged farthest from the entrance.
Unless the meeting is highly classified and only the people with certain privileges are allowed to attend it, you would never know how many guests would come along with those you actually invited. Therefore, having a couple of spare chairs and tables would be something worth considering.
Although a seating chart can be drawn on paper, it is advisable to use an efficient diagramming tool such as EdrawMax by Wondershare. This is because Wondershare EdrawMax has a couple of built-in templates that can be used to illustrate the seating arrangements for almost all kinds of scenarios. Further, with the integrated libraries with specific and precise symbols that EdrawMax is equipped with, it would be extremely convenient to come up with an effective seating plan.
How to Make a Seating Chart in EdrawMax?
As discussed earlier, Wondershare EdrawMax has a plethora of built-in symbols and icons that enable you to draw a clean seating chart. You can follow the steps given below to create one according to your requirements:
Step 1: Pick a Suitable Template
After launching Wondershare EdrawMax on your PC, confirm that New is selected in the left pane, click to select Building Plan from the center one, and choose Seating Plan from the top row of the right window. From the available templates in the lower section, click the one that best fits your requirements.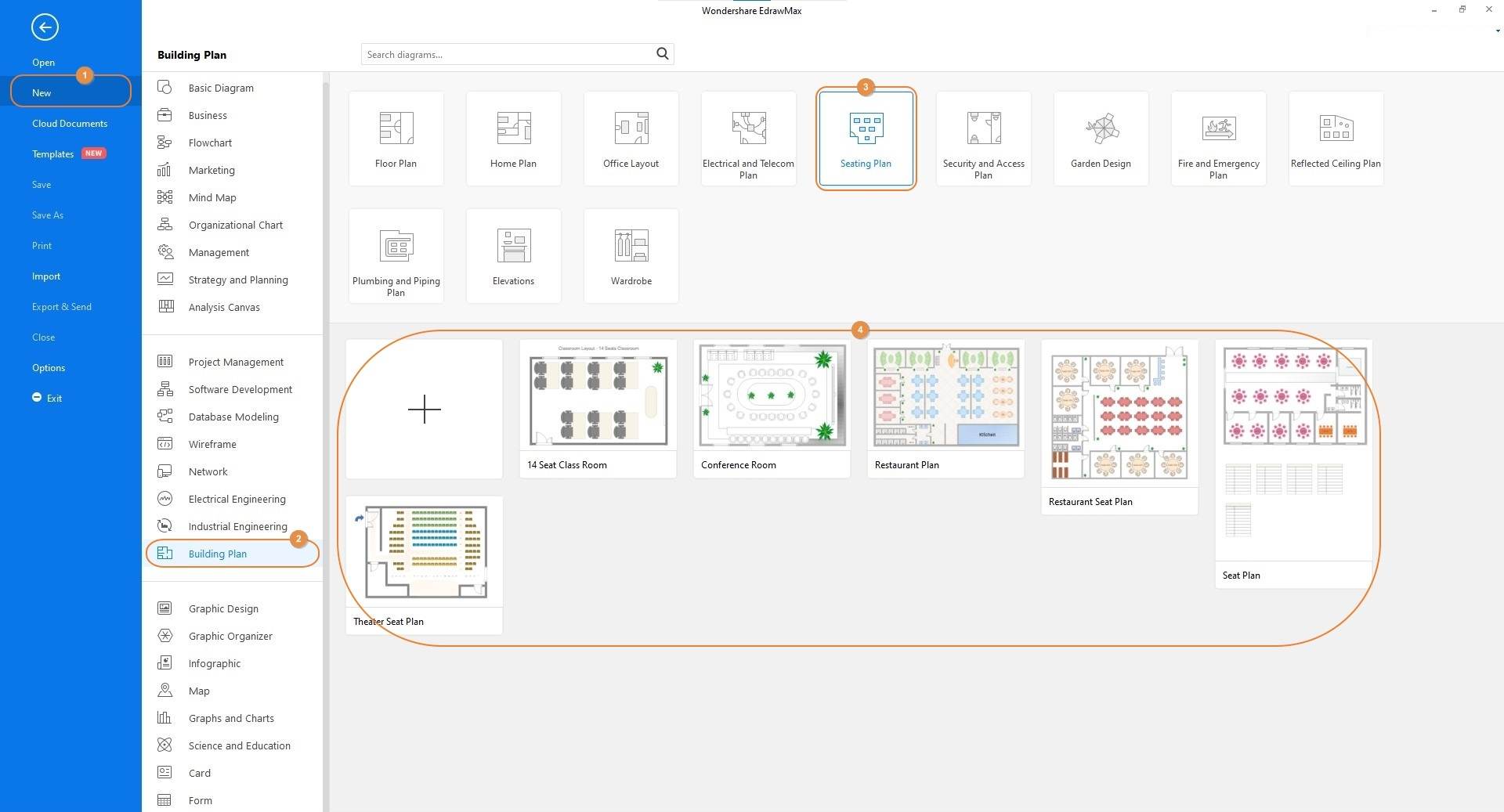 Step 2: Modify the Diagram (If Needed)
Once the template opens up in the Canvas, you can drag more symbols from the library in the left if required, use the tools in the right pane to decorate or color the shapes as needed, and optionally use the Text tool present in the standard toolbar at the top to label the icons according to your preferred arrangement.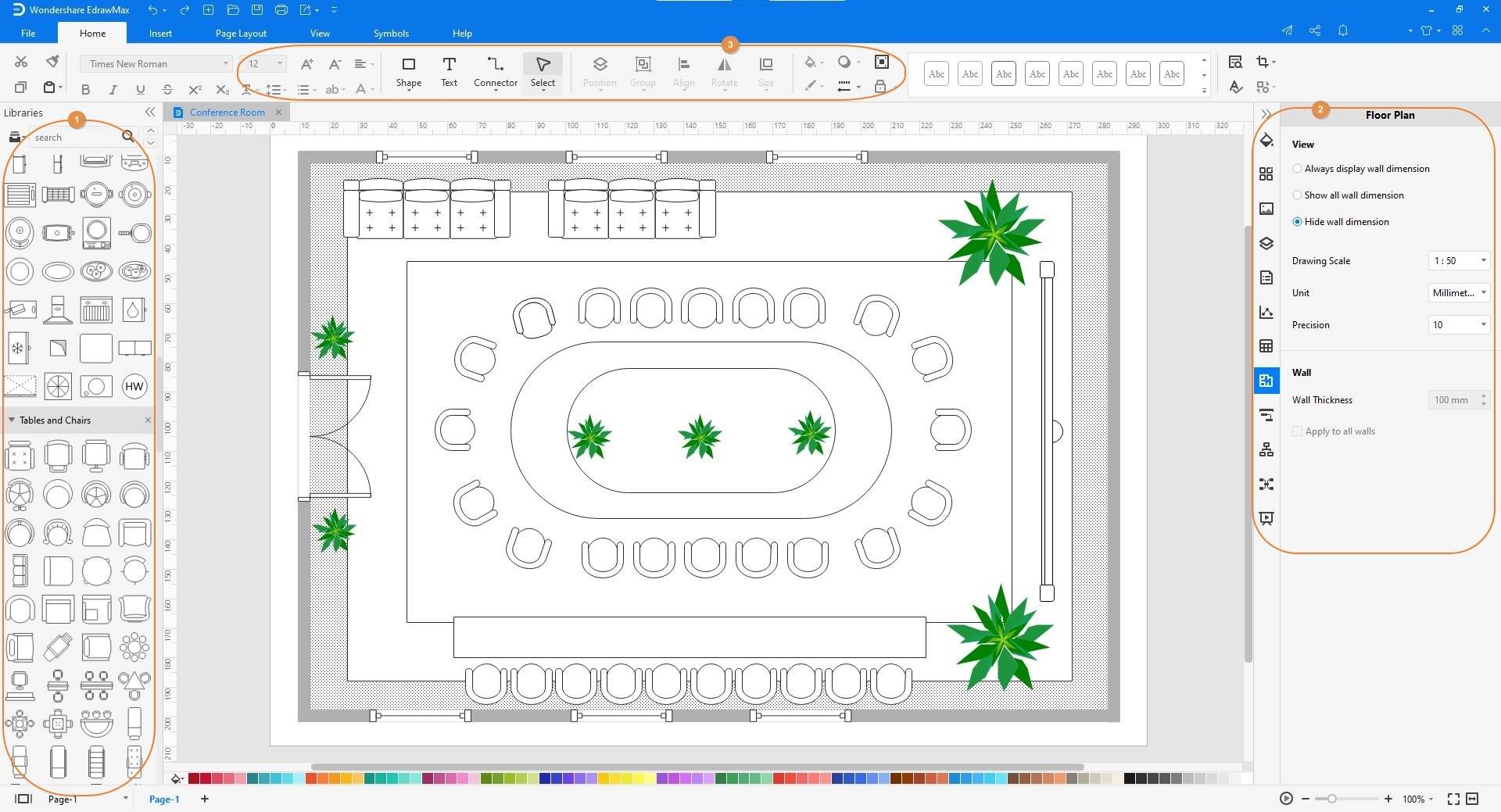 Step 3: Save and Export the Chart
Click the Floppy (Save) icon present at the top-left corner of the interface to save the seating chart. Next, click the More button on the Export icon, choose your preferred format, and then export the plan to your PC.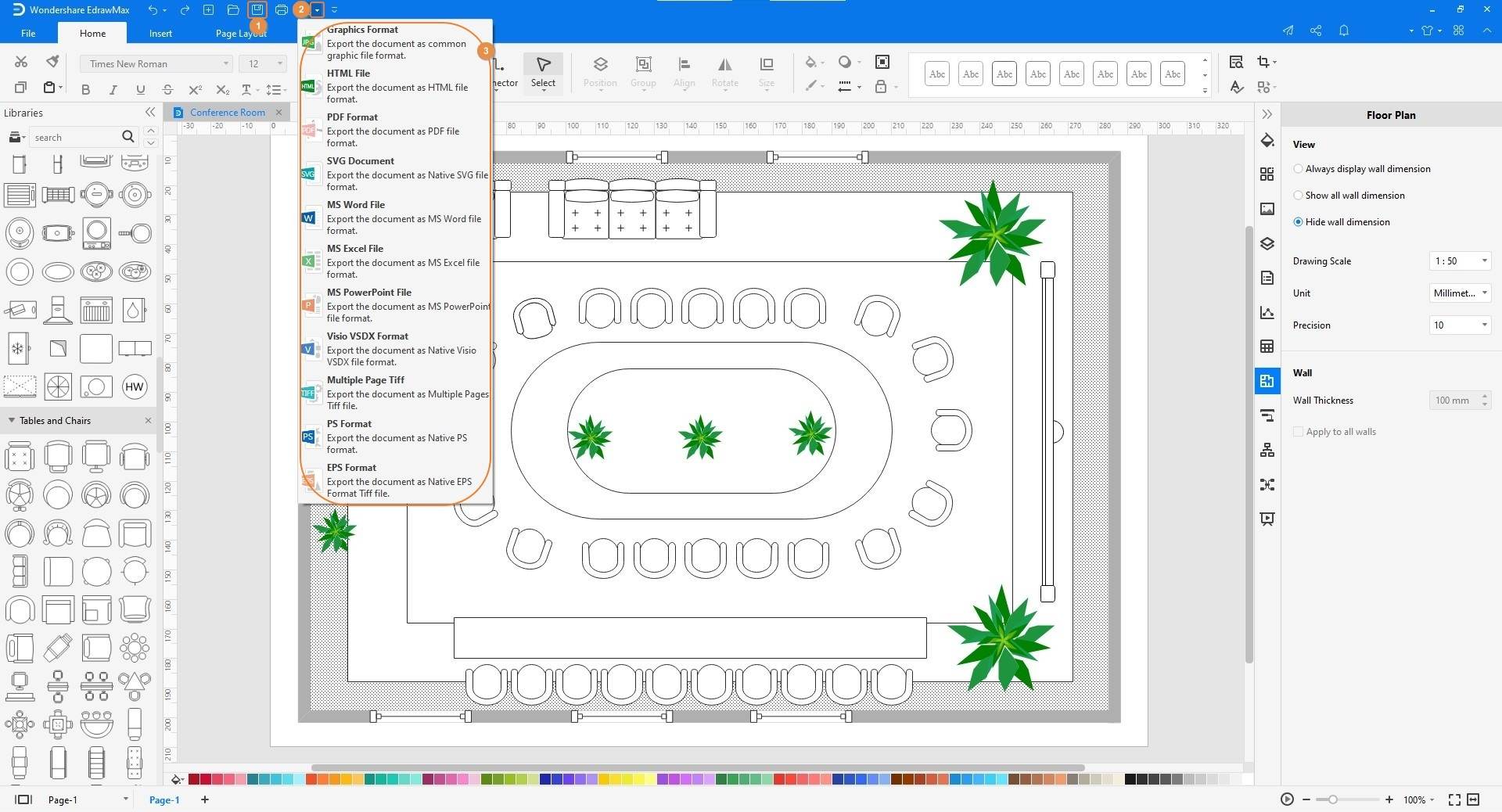 Tips for Making a Seating Chart
The tools and the considerations discussed above are an integral part when it comes to drawing a seating chart. In addition to those, a couple of pro tips that might also come in handy include:
If the invitees are large in number, consider reserving their tables by the names, and make sure that every guest follows the naming arrangement
Consider arranging the tables in some order, such as alphabetically according to the names of the guests they are reserved for, numbers in ascending order, etc.
Align all the chairs at equal distance to ensure consistency
Keep some chairs and tables in spare, so they can be used if some invitees come along with unexpected guests
Seating Chart Examples
Restaurant Seating Plan
This seating chart illustrates how the dining tables could be arranged in a busy restaurant. While the corners of the venue have separate cabins to offer complete privacy to the families, the main hall is open for all types of customers who can order their favorite meal with ease.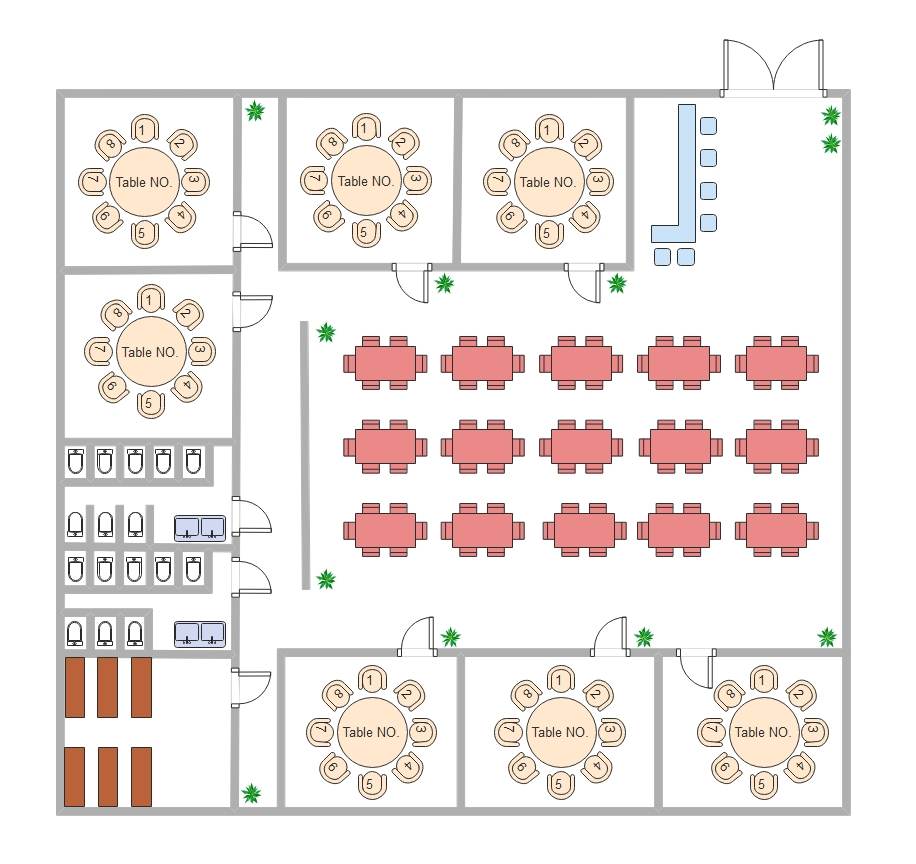 Basic Seating Plan
A useful and flexible seating plan template in vector format is available to you. This template is a basic seating plan and you can customize it in Edraw Max as you like.
Wedding Seating Plan
A wedding seating plan template is ready to use in vector format for your own designs.
Airplane Seating Plan
Here is an airplane seating plan template that you can use and customize in Edraw Max for free.
Cinema Seating Plan
This cinema seating plan can be used when you want to design the inner seating chart of a cinema.
Conclusion
A good seating chart is essential not only for large parties but also for small events with a limited number of guests. Therefore, while preparing a plan, it is imperative to assess the space of the venue, availability of the chairs and tables, and a thorough understanding of object alignment. Considering this, using an efficient diagramming application like Wondershare EdrawMax would enable you to prepare a plan pretty easily and in comparatively less time.