Office Layout | Types and Design Ideas

A well-planned office layout can make a business statement to your clients or prospect. They help create a perfect first impression whenever a client or prospect walks in through the entrance.
Therefore, when establishing an office, a systematic and scientific segmentation is always one of the key essential factors to consider. Office layout ensures maximum benefit from the available space. Furthermore, the office is more than just a place, so be vigilant when designing it. Remember, an office layout cannot only change your employee's work environment but also improve how you present yourself.
That said, let's now define what an office layout is, determine its objectives, importance and learn how to create it.
What is the office layout?
Office layout, also known as office floor plan, "is the systematic arrangement of office furniture, machines and other equipment to provide an amble, efficient and productive workspace for office personnel."
The importance of office layout
Okay! You may be asking yourself, why is the office floor plan essential to my office planning? – Whether your office is large or small, office floor plans have several benefits as well as drawbacks. The benefits of the office floor plans include:
It helps you create a productive and effective workspace.
It helps when planning an office move or searching for a new office location.
It helps when planning an office move or searching for a new office location.
It also helps you determine whether you can fit all employees when designing specific spaces like conference rooms. This is more common when planning for large offices.
Types of office layout
a) Traditional Office Layout
The "Built-in" individual offices that are permanent or semi-permanent are good examples of traditional office layout. This office layout mostly includes a combination of meeting spaces for receiving clients (with a more open reception area layout) and enclosed offices.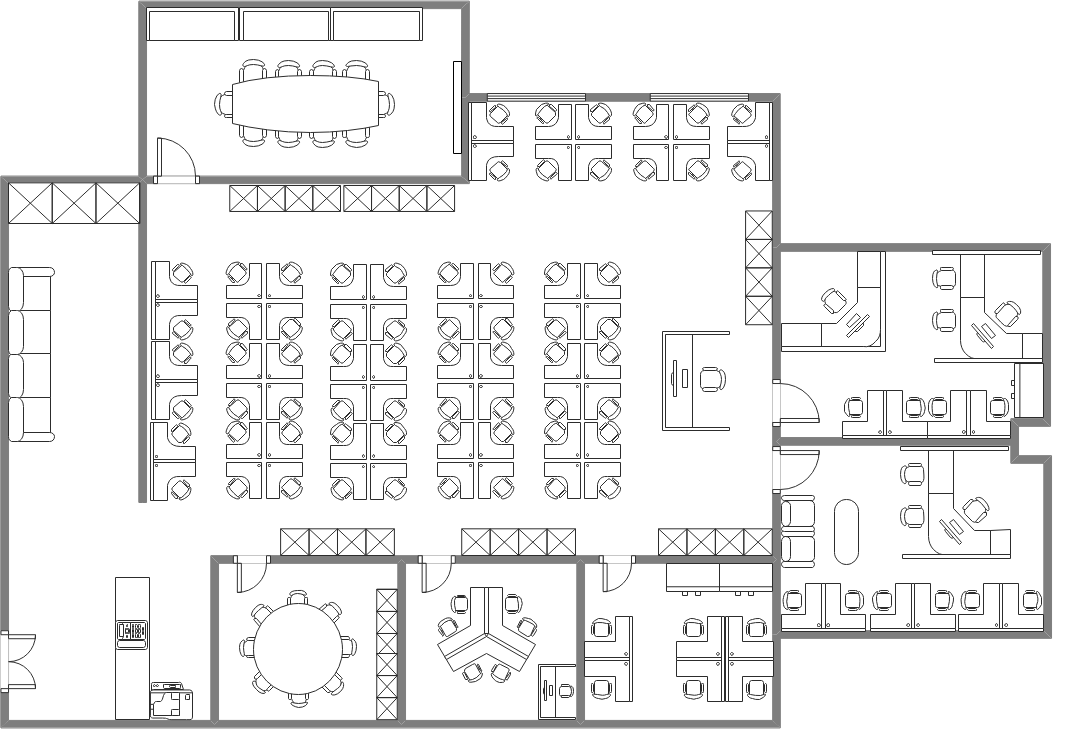 Perfect for:Most government offices or Clinics
Pros:
Uninterrupted concentration.
When working on projects that require time and focus, this office offers more comfort.
For confidential projects and discussion, it allows a lot of privacy.
Cons:
Hinders communication with the rest of the team and subordinates.
It uses a lot of space, thus very uneconomical.
b) Cubicle Office Layout
Cubicle office layout is simply an open plan layout. What makes it different from the open-plan layout is the separation of the workspaces using partitioning walls for cube-shaped workspaces. This office layout is one of the most commonly used in most organizations since it is a cost-efficient layout design.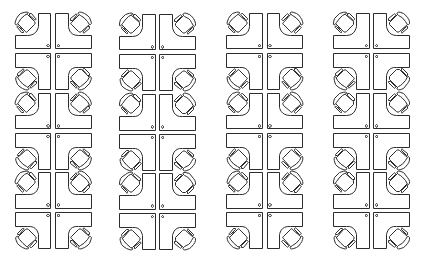 Perfect for:Organizations with many employees that perform almost similar tasks, i.e., Call centers.
Pros:
Allows personalized workspace.
Very cost-efficient.
Provide more private workspace.
Cons:
Due to visual barrier, it is not ideal for supervisors.
Hampers the interactions and commination between employees.
c) Low Partition Office Layout
This type of office layout features a lower partition wall separating workspaces, thus making it a modern version of cubicle office layout. This design aims at allowing more light and interaction between workers. For more private discussion or meetings, this design also features built-in offices and meeting rooms.
Perfect for:Banks and other business that require some interaction between employees
Pros:
Encourages more interaction between workers.
Unlike cubical, it allows more light and air through.
Ver much cost-effective.
Cons:
Not ideal for working on projects that need more time and focus.
May cause distractions at times, mostly to claustrophobic people.
d) Team-based Office Layout
This is another modern style of office layout that is usually designed for both personal and teamwork. Depending on the team and the type of work, the size and space allocated will vary. This space will include both collaboration space and personal workspace, which encourage productivity.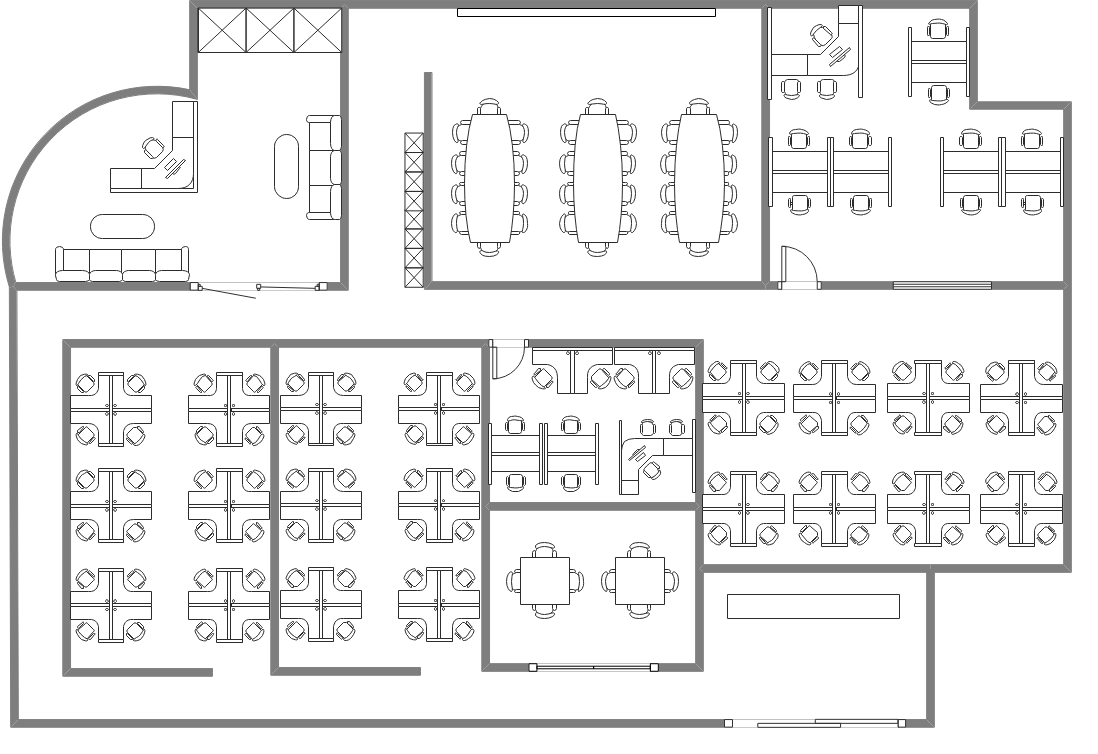 Perfect for:Start-ups, marketers, and Freelancers
Pros:
Reduces the need for meeting rooms.
Improves productivity.
Improves networking prospects.
Cons:
It takes large space and is more expensive to set up.
Too many destructions when doing personal work.
e) Open-plan Office Layout
Open plan office layout consists of works areas with no partition walls and is created and defined using furniture. This layout may feature "benches," which are multiplatform tables or "banks" created by lining up desks side by side. Furthermore, collaboration areas are created using tables and lounges, which may create space for an informal meeting.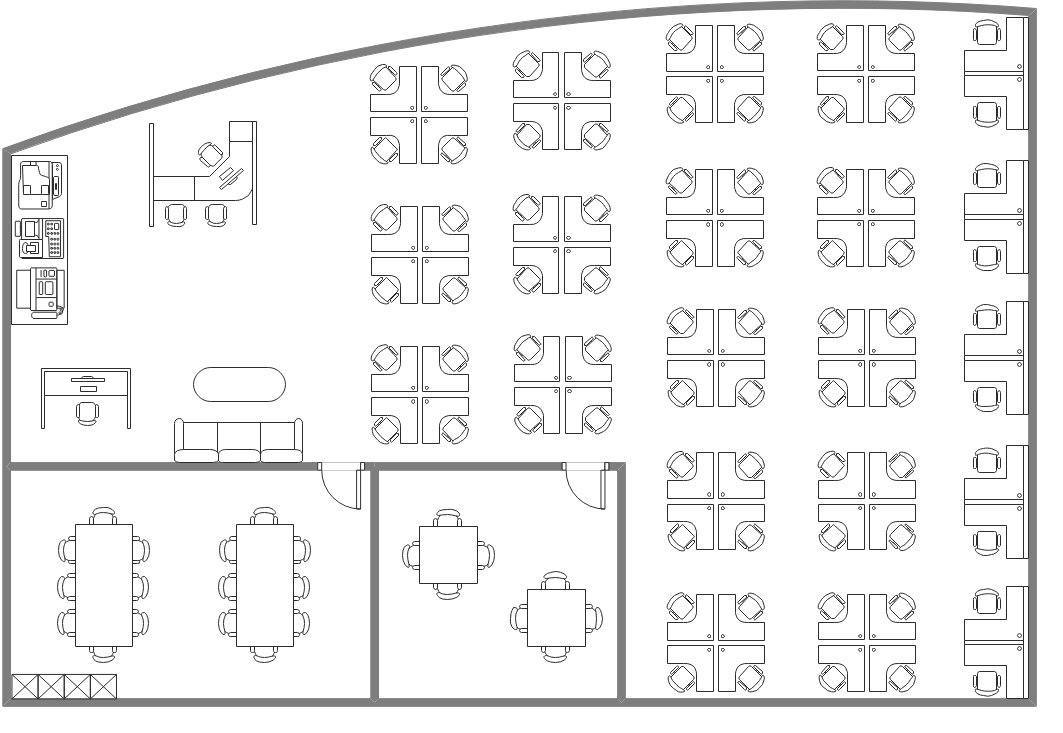 Perfect for:Start-ups and Freelancers
Pros:
This layout design is a very flexible one and can be easily expanded.
Very must cost-effective.
The layout can also be reconfigured with ease.
Encourages collaboration, teamwork, and networking.
Cons:
Too many destructions.
Not suitable for working time-sensitive tasks that need more focus.
f) Hybrid Office Layout
Hybrid office layout is another newest office type. Designing this office layout to combines all of the above layouts into one well-structured design according to company needs. This is one of the most recommended office layouts. It creates a different type of workspaces according to each worker's or group's needs.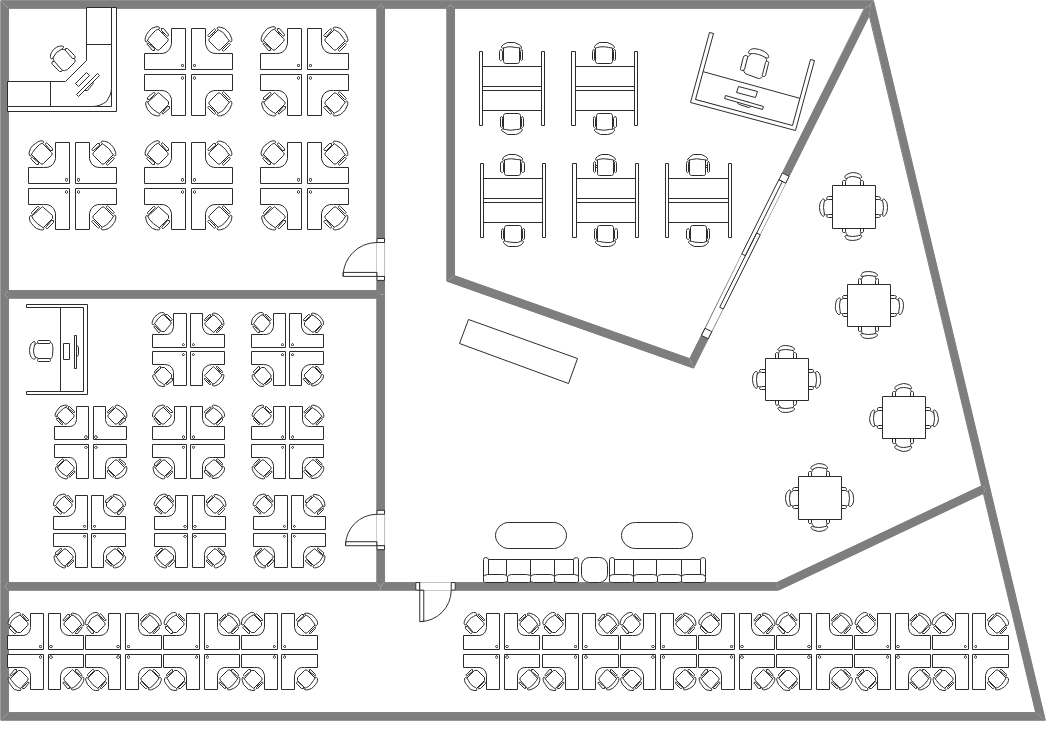 Perfect for:Innovation and product marketing companies
Pros:
Allows you to customize working environments based on your company's needs.
Provides both personalized and collaboration workstations.
Ideal for supervisors.
Cons:
It is every costly office layout.
Require huge space on which the entire layout will be designed on.
g) Co-working Office Layout
Like a hybrid office, a co-working office layout provides a range of modern workstations -from meeting rooms and private offices to open lounge areas. This office layout is considered one of the century's greatest workplace innovations. All these are accessible without the need of you creating them yourself but only through monthly membership at an affordable fee.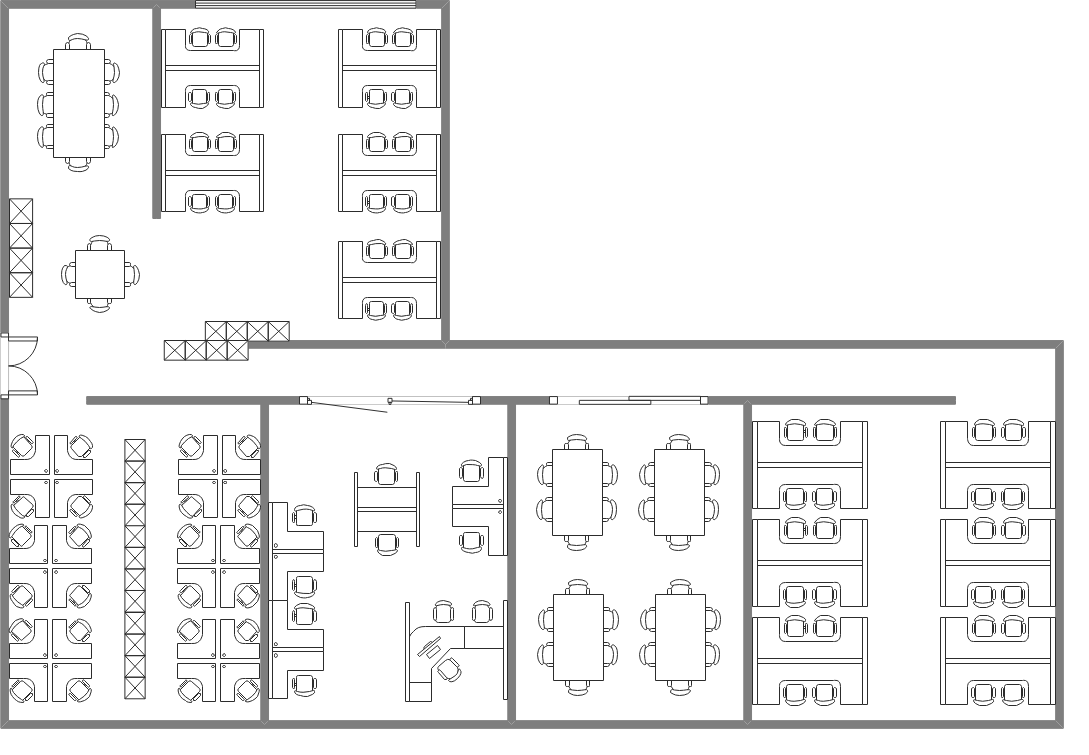 Perfect for:Freelancers
Pros:
Encourages productivity by offering an alternative workstation to your home or work office.
For a business purpose, this layout may provide a really good source of income for you.
Cons:
Expensive to design and construct this type of office.
It may not be a suitable workspace for doing confidential or private work.
For freelancers, it may be costly in the long run due to monthly fees and other related costs that come with choosing it.
h) Home Office Layout
In 2021 working from home and flex-time has now become a new normal, thanks to the pandemic. This resurgence has seen the need for a new and modern home office layout to meet personal and professional levels. Most home office layout design aims to provide an efficient and productive workspace at your home.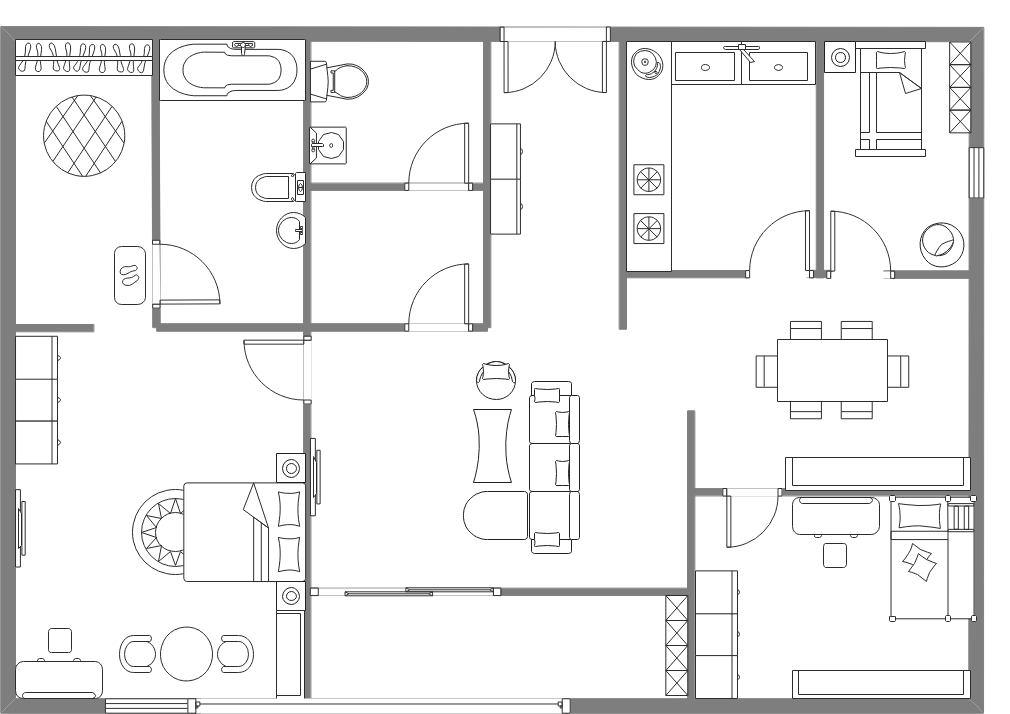 Perfect for: Part-time employees, online tutors, and learner as well as freelancers
Pros:
Provide ample workspace free from distraction at home.
Ensures a high level of productivity and comfort.
Allows personalized designs.
Ver much cost-effective.
Provide more privacy and ideal room to work on a time-sensitive task that needs extra focus.
Cons:
With kids at home, your concentration may be hampered.
Only ideal for virtual meeting.
The objectives of office layout
Every office layout design has to solve or meet specific needs. The following are some of the main objectives of office layout:
To create decent working conditions for each employee while ensuring employee's satisfaction is achieved.
To improve the convenience of office supervision as well as making it easier for supervisors to complete their duties.
Smooth workflow and effective use of available floor space.
For visitors to have easy and convenient access to offices by having reception room near to the entrance or main gate.
To create a free flow of communication among all employees.
Advantages of an Efficient office Layout
Every type of office layout has its merits, but there are always those main or key advantages for all types of office layout. The following are some of these key merits of office layout:
Provide easy and convenient supervision.
Boost efficiency of staff.
Allows an organization to have proper utilization of available floor space.
Ensures that employees have better and convenient use of office equipment and machines.
It limits time and energy wasted by speeding inter-communication amongst employees.
What to do before design an office layout?
Before choosing and designing an office layout, an office manager has to analyze and consider the following factors:
Space available: The available space will always determine whether a specific layout will fit that space and whether it is ideal to choose it. Specific office layouts are ideal for small space, while others require huge space to be effectively useful.
The number of workers: There are specific layouts that are specially designed for a small number of workers, such as traditional office layouts. But when an organization works with a considerable number of employees, then certain layouts are ideal, i.e., cubicle and open plan office layouts.
The work volume: The amount of work is also an essential factor that helps an office manager determine the type of office layout to choose. In most cases, a high volume of work means more workers, hence the need for an ideal layout that will fit a certain number of workers within the available space without affecting their comfort.
Nature of work: Bank and School are two good examples that show the different nature of work. Therefore, the perfect type of office layout for a bank is entirely different from the school office layout. For example, a team-based office layout is ideal for the school staff room, while a hybrid layout is ideal for banks. Furthermore, if you are a freelancer, you can choose to go with either a home office layout or a co-working office layout since they are layouts ideal for you.
The number of workers in designation wise: When there is a specific type of duties that have to be completed in groups, an office manager can choose a team-based office layout.
Types of machine and equipment used: When choosing an office layout, a business manager will always put office equipment and machine under consideration. This is important in that it ensures easy accessibility of these tools to all employees.
The flow of work: A complex office layout may affect the flow of work as well as communication and collaboration between employees. So, it is essential to choose the proper office layout to deliver maximum efficiency for those three factors.
Physical appearance: The physical appearance of an office is essential for the convenience and comfort of employees, but, more importantly, it acts as a business statement for the company.
How to create an office layout
There are several ways to create an office layout, and there are also different online platforms and applications to help with the creation of an office floor plan. EdrawMax is a good example and one of the best online office floor plan creators. But before creating the layout, there are a few things to consider first, such as:
Start by familiarizing yourself with the online designer or application you have chosen. Learn about the symbols, check examples and see how to edit their office layout templates.
Always focus on designing a comfortable and ergonomic design.
Design a free movement of all, and so you should be aware of office furniture arrangement.
Here are steps on how to create an office layout:
Step 1: Sign up with EdrawMax to create your account, but if you already have an account, sign in with your details, then move to the next step.
Step 2: To start designing your office layout, scroll down the immediate left menu, click on "Building Plan," and then choose "Office layout."
Step 3: On that page, click on "+" to create a new office layout from scratch.
Step 4: But if you don't want to create your office floor plan from scratch, scroll through the available templates that are shown there. Click on the one you like and start editing them to meet your specific requirements.
Step 5: When you are done editing or creating your office floor plan, click on "File" then "Save As" to save your design. The remaining process is choosing the name of your diagram and location to save your completed design.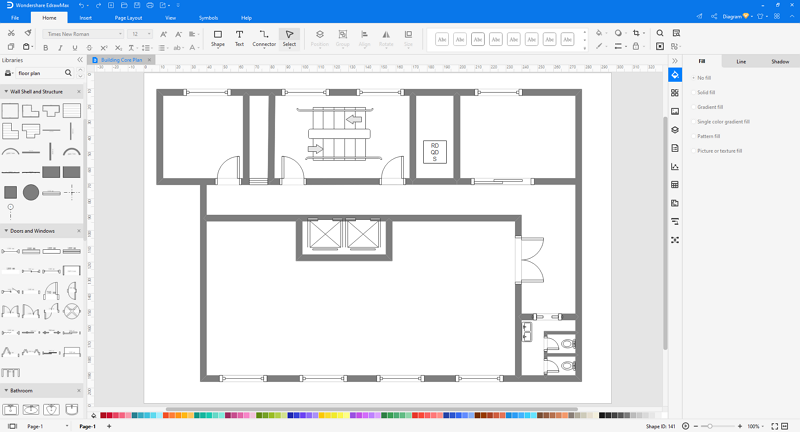 Office layout examples-Office design ideas
Small Office Example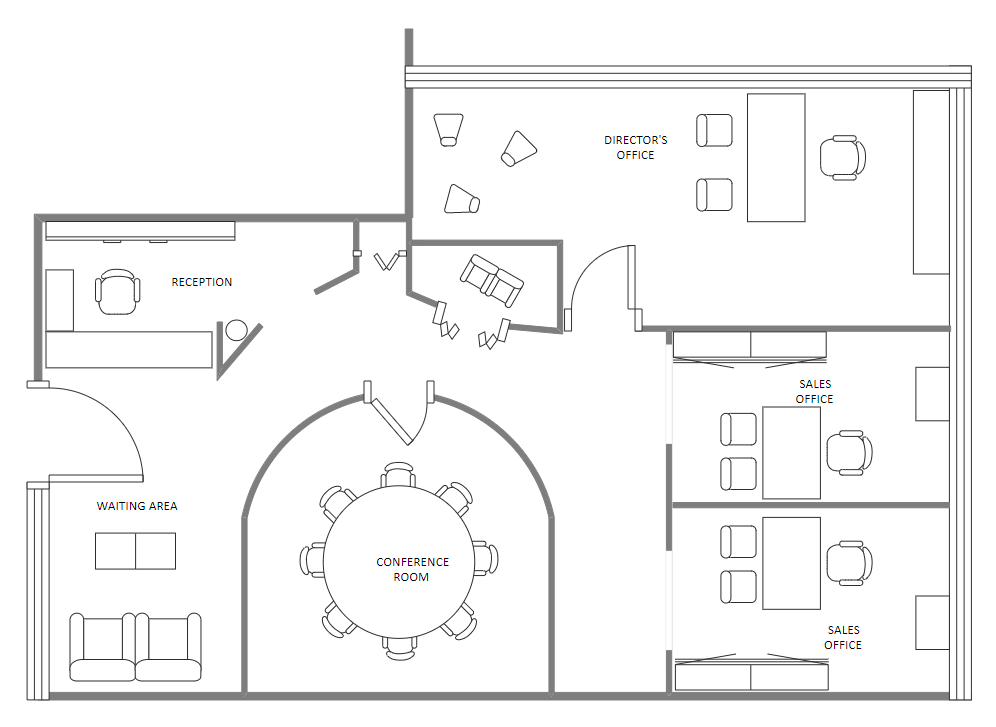 This office layout example showcases how a small organization can design its office. The layout design is semi-hybrid or traditional office layout design since it comprises different types of layouts. This office floor plan features an open-air waiting area, director's office, conference room, and sales office.
This is a basic design that is easy to create and no coloring of different rooms parts.
Colored Office Layout Example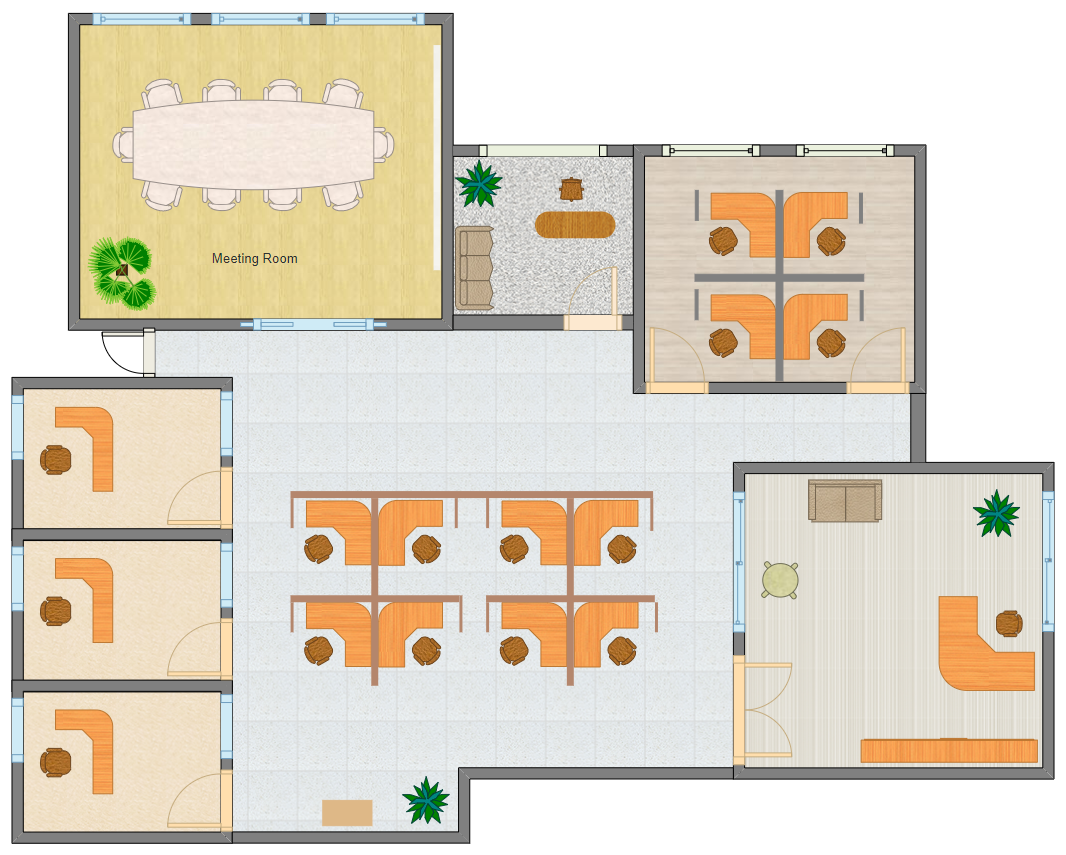 Just like the first example, this design is also easy to create or edit. The office layout is particularly hybrid design since it comprises low partition offices as seen in the central room and cubicles in the right top corner. The design is much easy to comprehend and specifically ideal for this workspace.
Office Layout Software
EdrawMax is an up-to-date online creation software that is all-inclusive to support different types of diagrams. The following are its key features:
EdrawMax an all-in-One online software with a powerful creation tool for a perfect office layout creation.
It comes with built-in decorative symbols to help you decorate your office layout designs.
It has a lot of easy-to-customize office layout templates.
With EdrawMax, you can save your designs in almost any file format you like. The available formats include: PDF, JPG, PNG, Word, Excel, PPT, SVG, Visio, and HTML.
Click here to free download Office Layout Software. Then you can use the built-in office layout symbols and templates to create and present your office layout in minutes. Moreover, check out office floor plan software or floor layout designer here.
EdrawMax
All-in-One Diagram Software
Create more than 280 types of diagrams effortlessly
Start diagramming with various templates and symbols easily
Superior file compatibility: Import and export drawings to various file formats, such as Visio
Cross-platform supported (Windows, Mac, Linux, Web)
Security Verified |
Switch to Mac >>
Security Verified |
Switch to Linux >>
Security Verified |
Switch to Windows >>