Garden Plan Complete Guide
Do You Want to Make Your Garden Plan?
EdrawMax specializes in diagramming and visualizing. Learn from this garden design complete guide to know everything about garden plan. Just try it free now!
Before discussing the garden plan in detail, you should understand that a garden design is very subjective. It depends upon a person's interests, demographic, behavior, and personal or professional needs.In general, creating a garden plan becomes easier once you list out your needs and how much space you currently have at your place. As Gertrude Jekyll said,
"A garden is a grand teacher. It teaches patience and careful watchfulness; it teaches industry and thrift; above all it teaches entire trust."
In modern days, gardening has become one of the most crucial hobbies. As more and more people started to lead healthier lives, gardening has become a part of daily activity. Now, if you are just starting in this field or are planning to move to a new place, you must be wondering how to design a garden and what all you have to consider while creating a great garden plan plan! In this article, we will dive into the garden design in detail. We will cover different types of garden plans, the preparation before garden designing, and how easy it is to design a garden plan using EdrawMax.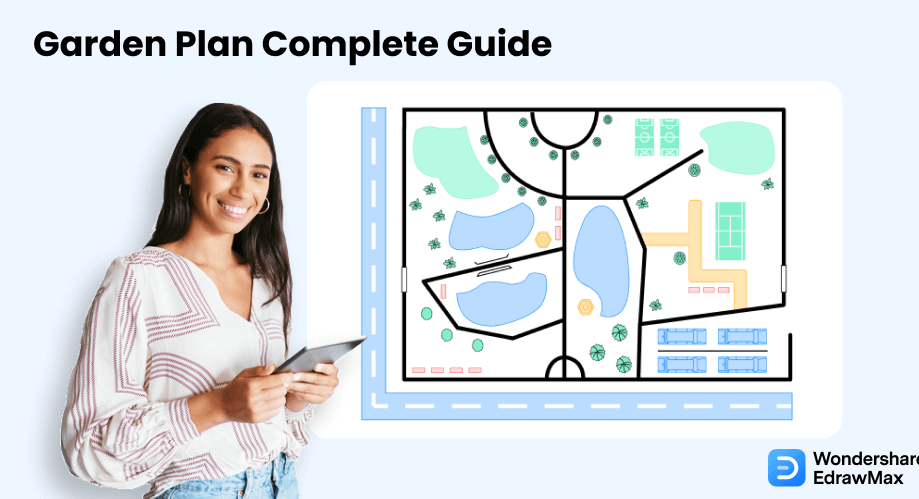 1. What is a Garden Plan
Like any floor plan or house plan, a garden plan is also an architectural design used by architects or builders to layout the area allocated to the garden region. As the name suggests, garden plan proper planning that creates a garden at either your place or at your client's house. Once you start designing a house, you should always give a proper space (either in the backyard or the front or at the roof) to create a garden. As you will see here today, a well-planned garden is easier to care for because it saves time, and in the long run, it becomes extremely productive than an unplanned garden.
As you will learn here today, garden design or garden planning is the process of making plans that will help you design your garden space. Due to its aesthetic value, a good garden plan is considered as an art, and most of the time, clients complain that they did the garden design is not up to their expectations -- so instead of facing such issues, one should always have a clear understanding of the garden plan and how to easily design a garden plan that will meet everyone's expectations.
Garden Plan:
Garden plan is an architectural design used by architects or builders to layout the area allocated to the garden region. A well-planned garden is easier to care for because it saves time, and in the long run, it becomes extremely productive than an unplanned garden.
2. The Types of Garden Plans
As we discuss the garden plan in detail, let us first explore the types of garden plans. According to the University of Florida, there are different types of gardens, like Butterfly Gardens, Container Gardens, Demonstration Gardens, Fruits/Vegetables & Herbs Garden, Organic Gardens, Water Gardens, and more. These different types of garden plans are categorized into two segments: Based on the usage and Based on Shape.
2.1 Garden Plans Based on Usages
According to the usages of garden plans, there are backyard garden plan, shade garden plan, herbal garden plan, organic garden plan, container garden plan, and fruit & berry garden plan.
Backyard Garden Plan

A backyard garden plan refers to a home garden plan located at the back of the house and provides fresh greens and vegetables, and serves as a good place to sit and relax. Always remember to add an arbor or pergola in the backyard garden plan. Also, ensure that you have added a walkway and designed the primary paths to be at least five feet wide. As you see in the backyard garden plan design, always allow at least three feet of open space around patio furniture to ensure good passage space.

Source: Pinterest

Shade Garden Plan

Shade garden plans are Garden Floor Plans designed in areas with little or no direct sunlight. As you can see in the Shade Garden Plans illustrations, always add water bodies or stones, repeat shade plants for unity, choose the right color of the shade, and plan for shade garden gathering spots.

Source: Better Homes

Herbal Garden Plan

Herbal garden plans refers to that garden plan, which is dedicated to growing a specific group of plants with medicinal properties. Special care should be taken while creating a herbal garden plan as a little mistake in water supply or sunlight may destroy the good properties of those plants. It is always advised to consult a botanist before working on a herbal garden design for your place.

Source: Mother Earth Living

Organic Garden Plan

Organic garden plans focus on using only natural products to grow plants. Since organic gardens will be designated to flowers, herbs, or vegetables that have not been subjected to any chemical or synthetics, try not to use any artificial elements, like fountains or walkways, while creating an organic garden plan.

Source: David Rowley Design

Container Garden Plan

As the name suggests, container garden plans refer to those garden plans where one wishes to grow plants in small containers such as pots rather than into the grounds. Such container garden plans come in handy in urban locales where there is no backyard or shade garden space. While working on a container garden plan, ensure that you choose the right pot design because once you finalize the garden plan, the pots will be arranged to fit whenever you choose to set up your garden.

Source: Dave's Garden

Fruits & Berry Garden Plan

Fruits & berry garden plan is for those people who wish to plant several fruits and berry trees in their garden. Most of the time, fruits & berry garden plans are closely related to open garden plans, or backyard garden plans as the fruits and berry trees require enough space to grow and cultivate. Ensure there is a proper space from all the fronts.

Source: Edibal Milwauke
2.2 Garden Plans Based on Shapes
According to the shapes of garden plans, there are formal gardens, 2D & 3D garden plans, and odd-shaped garden plans. Usually the garden layouts are planned by certain garden design software, and they will be designed in multiple shapes and even presented by 3D planner to make people to arrange gardens visually.
Formal Garden Plan

Formal garden plans are those garden designs where features like geometric shapes (mostly right angle) are incorporated. As the right-hand thumb rule, these geometric shapes outline planting areas but sometimes can be used as a part of the hardscape. In the formal garden plans, the conventional route favors classical urns where you can also have giant carved stone fruit or a wirework animal sculpture.

Source: Conceptdraw

2D & 3D Garden Plan

A two-dimensional garden plan generally looks like a square, an elongated rectangle, or a wedge-shaped appendage to the house. Like a floor plan, a 2D garden plan is a top-eye view of the garden floor plan, and the free 2D floor plan maker, like EdrawMax can satisfy all your basic needs for garden design. In addition to this, a three-dimension garden plan shows the garden design from some angle, giving you a perspective of depth. By creating a 3D garden plan, you can see what your actual garden will look like once it is finished.

Source: Rhodamaw

Odd-Shaped Garden Plan

Odd shaped garden plans are those garden Floor Plans where you do not have any specific layout or space to create your Garden. Most architects will agree that Garden orientation techniques work extremely well in an odd-shaped Garden plan design. Just ensure to use maximum space and keep the aesthetics as minimal as possible.

Source: Altadena Heritage
No matter what kind of garden plans you choose, the first thing you need to set is to measure your place, then choose the garden plans that perfect for you. Except the garden plans listed, there are more kinds of garden plan types that you may need to search.
Garden Plans Types:
Garden plans can be classified by the usages, shapes, styles, layouts and more. Check the list below:
Based on Usages: backyard garden plan, front-yard garden plan, shade garden plan, herbal garden plan, organic garden plan, container garden, fruits garden, flower garden, and vegetable garden plan;
Based on Shapes: formal and informal garden plans, 2D & 3D garden plans, odd-shaped garden plan;
Based on Styles: modern garden, Mediterranean garden, English cottage garden, tropical garden, desert garden, eco-friendly garden;
Based on Layouts: rows, four square, square foot, block, vertical, raised bed.
3. Garden Plans vs. Landscape Plans
Before discussing the difference between a garden plan and a landscape plan, let us first understand what a landscape plan means and why it requires architects or experts to create such a plan. garden plans or garden designs is the art of creating 2D or 3D plans for the layout and planting of gardens and landscapes. Unlike landscape designs, which requires professional help, garden designs can be done by the garden owners themselves. In order to design a garden plan, you only require some creativity and vision, and with the right tool, you can easily create and share the garden plan designs with either your architect or your builder.
As the name suggests, landscape design or landscape plan is the arrangement or modification of features in a landscape, garden, or urban area. Unlike normal garden plans, landscape plan involves the planning, designing, and managing open spaces to create an environment well-suited for both urban and rural areas.
Also, landscape design adheres to several elements, like unity, scale, balance, simplicity, variety, emphasis, and sequence. These elements, in turn, apply to the line, form, texture, and color of the landscape design. In addition to this, landscape designs bridge the gap between garden designs and landscape architectures, as it involves horticulture expertise and a brief emphasis on on-site involvement.
Garden Plan
Layout of planting

Designed by garden owner

Need creativity & vision

Choose right design tool
Landscape Plan
Modification in any land, garden, area

Planning, designing, managing

Adheres to several elements

Bridge between garden design and architecture
4. Preparations Before Starting Garden Plan
Starting a garden at your home is one of the most satisfying things you will do that will benefit the environment. Now that you have decided to work on a garden plan and are now on the stage to design one for your place, there are a couple of tips that you should follow before starting designing the garden plans.
Consider What You Intend to Plant

Before you start designing or planning a garden, first consider what you intend to plan. For instance, if you want to grow fruit trees, you require ample space. However, if you just need to grow flowers and small plants, then a simple rooftop garden plan or a backyard garden plan will be sufficient.

Consider the Budget

Gardening is an expensive hobby because it requires constant attention from your end. You will have to dedicate a particular hour to working on it, and it is possible to drain your pocket. So, always consider the budget before designing the Garden Floor plan. For instance, a rooftop garden design will require more work than the Container garden design.

When to Plan Your Garden

You do not want to waste your precious hard work in gardening when the monsoon hits upon your place. In addition to this, too much sun and too much winter season are also not well suited for starting gardening. So, when you plan your garden design, consider the right weather conditions that will help you grow the plants or flowers you require.

Improve Your Soil

It should be noted that residential soil almost always needs a boost, especially in a new construction area. In addition to being low in essential plant nutrients, this soil might have faced extreme sunlight or rain. So, as you go ahead and plan your garden design, send your soil to a local laboratory where they will check and suggest to you the right organic fertilizer that you can add to your black or red soil that will improve the health of your plants.

Start Planting

There are two ways of planting. The first is the easy way, and the other is the right one! So, if you have decided to start gardening and have spent your resources creating a garden plan, you should focus on ways to improve your gardening skills. Learn about plants, as they will only enhance the look and feel of your garden designs. For instance, you cannot add two big trees in the same row because once they start to grow, their roots will clash with each other, causing damage to the property.
Only have a detailed preparation can people to have a good base of garden design. Once have prepared the gardening and some other elements, you may move into next step.
Preparation of Garden Design:
Consider what you intended to plant, or what kind of garden you want;
Consider your budget, which type of garden you may afford;
Consider when to plan your garden, which is the important point for garden design;
Consider your soil quality and start to prepare the planting.
5. How to Design a Garden in General
The approach of designing a garden plan in general ultimately depends on what you want, need, and what your budget is. So, designing a garden plan would be a subjective decision as it will depend upon person-to-person or property-to-property. Many gardens are used as social spaces for relaxing or eating with family regularly.
In order to design a gardenplan in general, you will require a couple of basic things, like a pen, pencil, measuring tape, recording devices, camera, and other similar equipment. There are a couple of steps that will remain common in designing all sorts of garden plans, like:
Step 1: Come up with a general framework
The first step that you need to do in order to design a Garden Plan, in general, is to finalize a general framework. Understand whether it will be an odd-shaped Garden Plan or is going to be a formal Garden Plan. Once you have finalized the framework, take your copy and create the general framework by tracing all the areas.
Step 2: Walk around the property
Before you start planning the layout, you should walk around to understand how it looks and what sort of plants will look good here. You can click pictures with your camera that will come in hand once you start adding the components in your garden plans.
Step 3: Walk around the property
Before you start planning the layout, you should walk around to understand how it looks and what sort of plants will look good here. You can click pictures with your camera that will come in hand once you start adding the components in your garden plans.
Step 4: Put all the different components
Components of a garden is categorized into multiple segments, like:
Softscape will be trees, plants, grass, and mulches;
Hardscape will be sidewalks, walls and fences, paves, rocks, and patios;
The decor would be water features, statuary trees, tree hangers, Pottery, and lighting;
Supporting Features would be birdhouses, beehives, feeders, tree houses, and more.
Once you have walked around your property and analyzed all the space, you can start putting these components on the paper. Since you do not have any concrete shapes, write Trees Walls or Pottery in the desired space.
Step 5: Figure out the layout & marking
Another important step in Gardening Planning is to understand the layout and mark the areas accordingly. Remember that you have limited space on the paper, so mark the components and areas accordingly. After adding components that will go inside the Garden Plan, you should add other components that you might need in the future. By thinking about the future, you can already plan the design in that way which will require little to no modification in the future.
Step 6: Lay it on the ground
Once you have finalized everything on the paper, go to the property and see how your components and marking look. This will give you first-hand experience designing the perfect Garden Plan for your property. When you are on the property, click as many pictures as possible. After adding the components and elements on the paper, click or scan the picture and share it with your team, architect, or builder. Ask them to give you feedback on your design. Once they let you know their feedback, you can revise and share it again.
Step 7: Finalize the design
Once you get approval from everyone about your Garden Floor Plan in general, you can finalize the design and share it with the builder and gardener, who will come and do the actual labor work.
Tips for Designing a Garden:
Decide what you want for your garden: the layout, the style, basic framework;
Access to your garden, and measure the scales;
Make a garden planner to write down your wish list;
Select the right plants for your garden design;
Draw your garden design.
6. How to Design a Garden Plan in EdrawMax
As you must have seen and understood by now, designing a garden plan takes time and effort. However, if you design it on paper or such software that is too clumsy or expensive, you will end up either not going ahead with your Garden Plan or spending way too much on your architect to come up with a garden plan for you.
Instead of wasting time drawing a garden plan on paper, you should look for a way to design a garden plan easily. EdrawMax is well equipped to design a garden plan. There are only a couple of steps that you need to follow in order to easily create it, like:
Step1
Create an outline
If you know your way around architectural designing, then you can plot the position of fixed aspects such as lawn, pool, walkways and set markings on them. If you are not an expert and are designing for the first time, then head to the template section of EdrawMax and look for the built-in garden plan templates that match your vision. Once you complete your outline, you can open EdrawMax and click "New" >> "Engineering" >> "Building Plan", and choose "Garden Design" to start your design.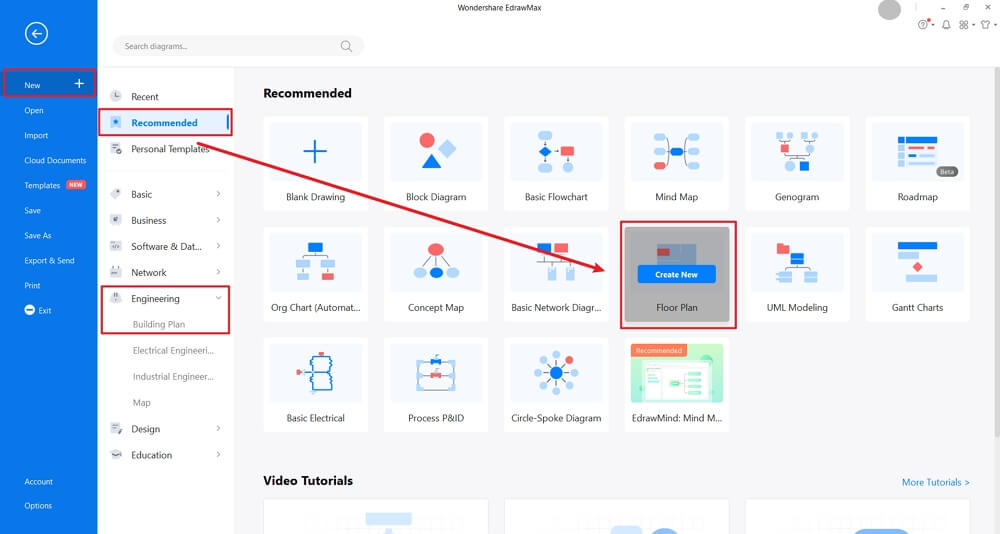 Source: EdrawMax
Step2
Massive Garden Symbols
Unlike physical drawing, EdrawMax helps to create a garden plan easily. In the symbol section of EdrawMax, you will find over 260,000 vector-based symbols that you can use in your designs. In EdrawMax, you can find garden symbols in Symbol Libraries, like the top view of trees, outdoor furniture, plants & architectural elements, fences, sun loungers, and more. Based on your vision, you can use these garden symbols in your Garden design.
Plant 1
Plant 2
Plant 3
Plant 4
Timber Bridge
Stone Bridge
Long Corridor
Long Bridge
Wood Fence
Stone Fence
Chain Link Fence
Basic Fence
Stone Bench
Stone Bench 2
Stone Bench 3
Woden Table
Stone Road
Cobblestone Road
Rock Garden
Stone Path
Swimming Pool
Swimming Pool 2
Swimming Pool 3
Fountain Pool
Know more about garden symbols, and try to drag and drop the symbols you want to customize your garden plans.
Step3
Add Hardscape to Garden
No Garden design is complete without adding the right garden hardscapes. For most purposes, hardscaping refers to all the nonliving elements in landscaping or garden design. Once you have the framework ready with you, use EdrawMax's library feature to drag and drop hardscapes or import several hardscapes, like a stone wall, a brick patio, or a wooden arbor.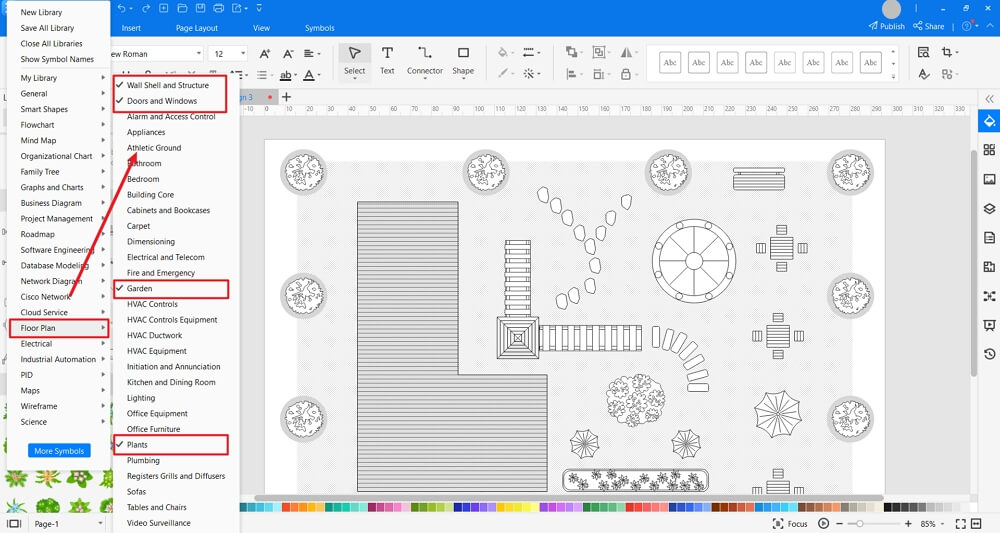 Source: EdrawMax
Step4
Make Your Design More Stunning
After mapping out the basic elements, you may change the fonts, colors, and more details by clicking the right or top toolbar to make your garden design more stunning. Also, feel free to take inspiration from other designs from Tempaltes Community and import some of the images or elements that you find suitable for your garden planning design.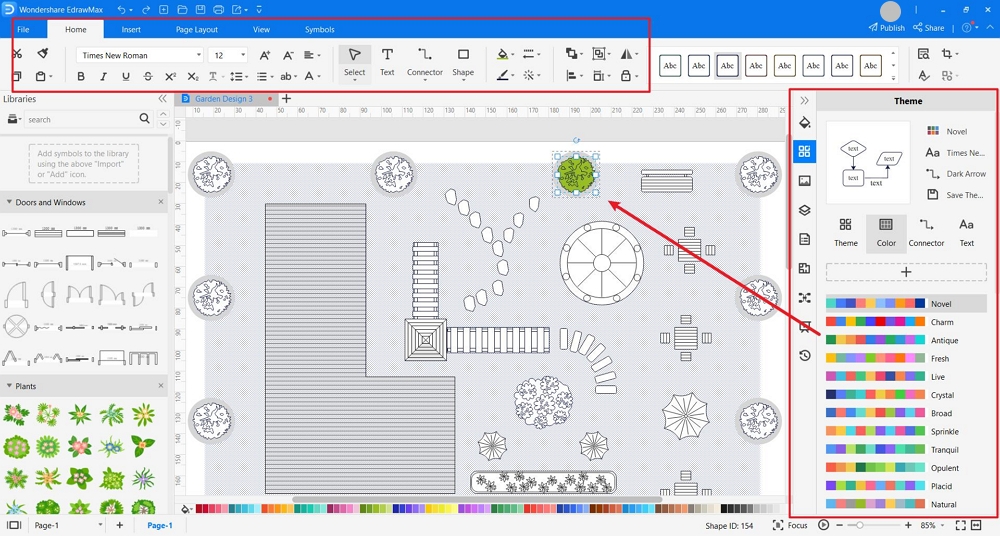 Source: EdrawMax
Step5
Visualize Final Plan
Once all the garden plan design is ready, you can collaborate with your remote team to take their opinion by using our Cloud-base files, for one thing everyone can enjoy free 100M cloud storage. EdrawMax supoorts to export files into multiple formats, that you can export the files you want, like Microsoft Office, Graphics, PDF, HTML, Visio, and more. Or you can choose to share on social media or Email. Even print it, or show your design in front of others by using "Presentation Mode".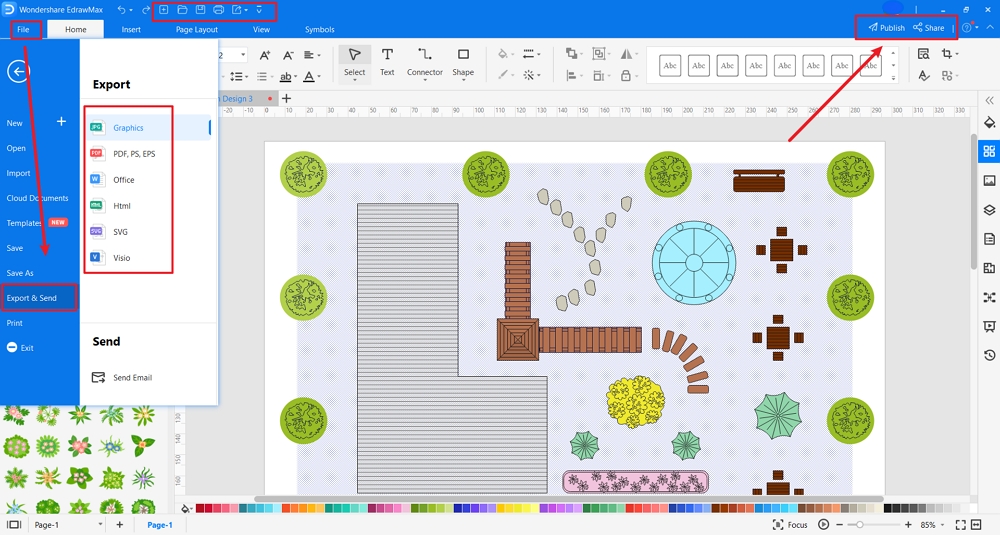 Source: EdrawMax
Basically, it is simple to create a garden plan in EdrawMax, just grab a template and keep customizing, drag and drop professinal garden symbols to make your plan better. If you are still confusing about how to make a garden design or garden plan in EdrawMax, just check this garden design guide, or check the video below.
Source: Edraw Youtube
7. The Garden Plan Examples & Templates
There are 4 examples of garden plans that you can refer or use immediately. Just click the image to download EdrawMax, and download the templates accordingly. Then double click to open the templates and customize as your prefer. Or open the templates from EdrawMax Online , and duplicate the templates. Click this garden plan examples to get more inspirations.
Example 1: Front Garden Plan
A front garden design plays an important role in enhancing the beauty of your house. As per the illustration below, the front Garden is the portion of land between the street and the front of the house or behind the house that you select to plant some flower plants or fruit plants. As you can see in the front garden design here, one of the most simple front yard garden design plans is to plant a flower bed around the border of your residence, with a grove all around it. As you can see here, front gardens are perfect for pots, and those pots can bring color to every season. You can easily create and customize such front garden plan in EdrawMax.
Example 2: Backyard Garden Plan
Following is a backyard garden plan design created in EdrawMax. Always remember that a well-planned backyard adds beauty, functionality, and value to your property. Your backyard can be a place for entertaining, fun with the kids, sports, hobbies such as gardening or cooking, and so much more. As you see here, a backyard garden plan starts with figuring out your goals and brainstorming ideas. Remember to discuss your backyard garden plan idea with your architect before building the house. Once you have an idea about the framework, you can start adding the garden components to see how it looks.
Example 3: Formal Garden Plan
A formal garden plan design shows how formal gardens are geometrical, symmetrical, impeccable, and majestic. It should be noted here that formal gardens are ideal for a small plant, and since the plantings are limited in variety, formal gardens can easily be maintained in ideal cultural conditions. When you start designing a formal garden, you should first understand that you need to prepare the land by your resources and the layout you have imagined. Once you have finalized the land, you should prepare the perimeter.
8. Free Garden Design Software
Instead of designing a garden plan on paper or on tools that are way too complex, it is recommended to use EdrawMax, which is a free garden design software. Unlike other tools that require expertise, EdrawMax comes with several easy-to-understand online resources. It is considered the all-in-one diagramming tool, well equipped with garden design symbols. These garden symbols are in vector format, which is scalable and flexible. With EdrawMax, the garden plans can easily be resized, recolored, and rotated.
key Features of EdrawMax:
EdrawMax comes with free Garden Plan templates that are 100 percent customizable;
The built-in vector symbols let you easily add garden components to your design;
You can easily share the Garden Plan design with your team and see the live revisions made by your team;
EdrawMax lets you export the file in multiple formats, including MS Docs, PPTX, JPEG, PNG, PDF, and more;
EdrawMax has a strong community of 25 million users who update the template community with their creative projects;
EdrawMax is considered the best tool for beginners and professionals because of the user-friendly dashboard and easy drag-and-drop feature.
EdrawMax Desktop
Create over 280 types of diagrams
Windows, Mac, Linux (runs in all environments)
Professional inbuilt resources and templates
On-premises software for business
Enterprise-level data security
EdrawMax Online
Create over 280 types of diagrams online
Access diagrams anywhere, anytime
Team management and collaboration
Personal Cloud and Dropbox Integration
9. Final Thoughts
When you start designing a garden Plan for your house, ensure you have developed a detailed and workable plan. At the same time, always ensure that you have prepared an all-inclusive plan that will help you and your architect. According to market research, several individuals spend a lot of money decorating their home gardens. A beautiful garden adds value to your property and has several health benefits. Instead of wasting hours and your hard-earned money on some architect, who will share the usual Garden Plan design with you, it is recommended to use EdrawMax to create your garden plan designs.
As you saw in this article, EdrawMax is tailored to create professional and presentation-quality garden designs for your house. With EdrawMax, it takes only a couple of minutes to import the attractive Garden Plan design on your dashboard. With the amazing collection of vector-based symbols, you add value to the designs and ensure that you save your money in the long run. Unlike other hefty and platform-dependent tools, all the files exported from EdrawMax are completely robust and can be accessed across all the operating systems.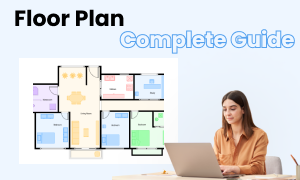 Floor Plan Complete Guide
Check this complete guide to know everything about floor plan, like floor plan types, floor plan symbols, and how to make a floor plan.