How to Create Reflected Ceiling Plan Quickly

Are you still worrying about how to create reflected ceiling plan? This guide will show you how to create reflected ceiling plan for your dream house step by step.
What is a Reflected Ceiling Plan?
Do you think a reflected ceiling plan is similar to a reflection of a floor plan? If you think so, I am sorry to tell you that you may get it wrong. As a part of architectural drawings, a reflected ceiling plan consists of various components you can see or cannot see on the ceiling, such as lighting, sprinklers, smoke detectors, wires, etc.
Symbols of Reflected Ceiling Plan
Before creating your own reflected ceiling plan, we need to learn its symbols. Generally, a well-designed reflected plan needs the same symbols as what a home plan needs, to name it a few, light symbols, electrical & telecom symbols, qualifying symbols, etc.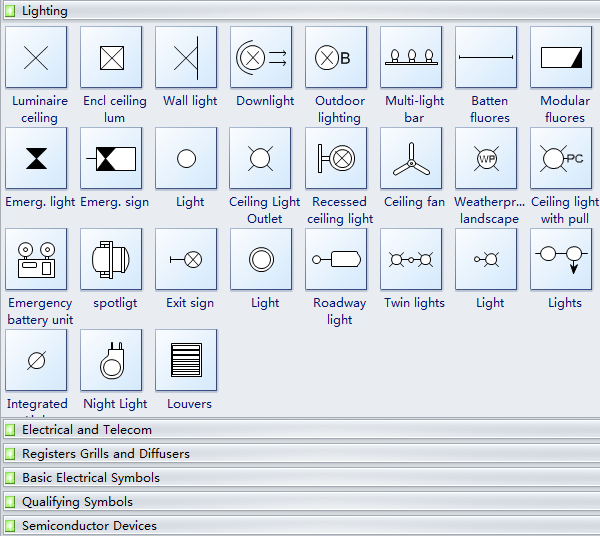 How to Create Reflected Ceiling Plan
Edraw is such a professional and smart reflected ceiling plan software which almost makes everything ready and enable users to be hands-free. Following are just some mouse clicks steps users need to do.
Step One: open a blank reflected ceiling plan drawing page.
Launch Edraw, go to the File menu, click New > Floor Plan, then double click the icon of Reflected Ceiling to open a blank ceiling drawing page.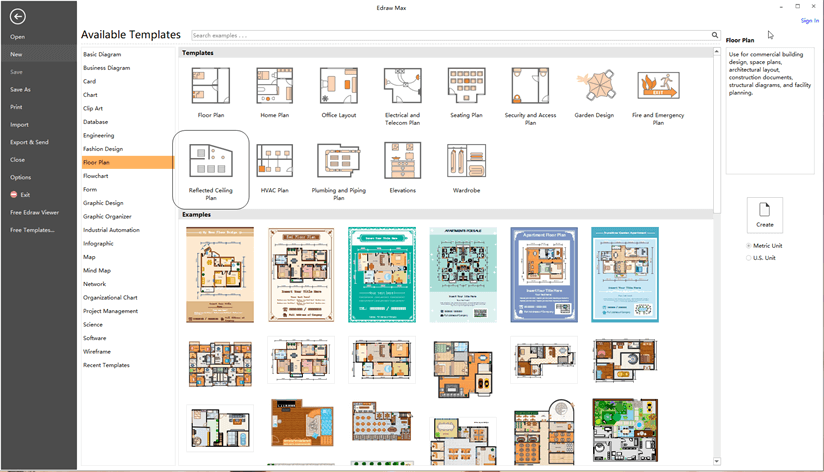 Step Two: drag and drop relevant symbols.
Drag relevant symbols from left libraries and drop on the drawing page, click Library button to drag more symbols if any necessary.
Step Three: connect the symbols.
There are two ways to connect the symbols. You can just drag a wire symbol from left library to connect symbols or choose a proper Connector under the Home page to connect them.
Then you can get a finished reflected ceiling plan drawing.
Step Four: save and export
Click Save on File tab to save as the default format .eddx. Choose Save as on File tab to save as other formats. You can choose to save in local files or save in your Cloud.
Hit Export & Send under File to export the reflected ceiling plan as images, ppt , web documents and so on.
Step Five: print completed reflected ceiling plan if necessary
Click File tab; choose Print and then the print setting and preview window shows. You can choose which pages and how many copies to print here.
If the drawing page is larger than the print paper, the drawing will be printed on more than 1 paper. To print it on only 1 paper, click More Print Setup... and then choose Fit to.
Related Articles:
Edraw - Professional Reflected Ceiling Plan Software
Design Guide for Reflected Ceiling Plan
Download Home Plan Software to Design Home Plan Easily