Free Bathroom Plan Templates

People don't pay much heed to bathroom floor plans when it comes to designing their dream house. As people don't use bathrooms every minute, they don't consider its planning important and necessary. They don't set much budget for bathroom planning, which results in many future problems.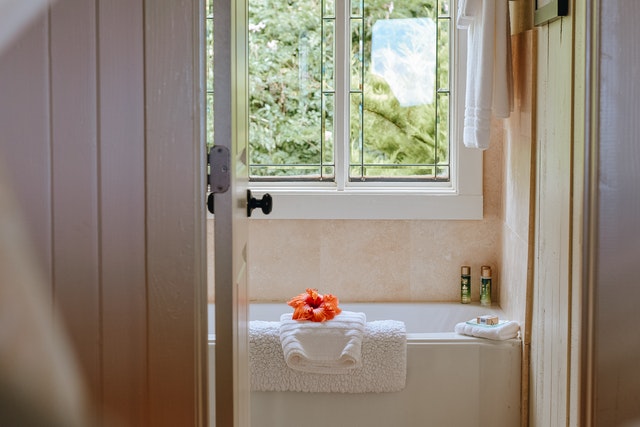 The bathroom floor planning is as necessary as home floor planning. You can't ignore the question arising in your mind: where would I put the bathtub in the bathroom, where would the toilet be? Would it be near to the sink or near to the tub? You can't ignore the question of where the mirror and sink would be. So, satisfying these questions results in better bathroom floor planning and mitigating seepage problems in the future due to water leakage. The most important question that arises in your mind is how much space would be allocated for the bathroom.
So, for these reasons, it is indispensable to do bathroom floor planning. In this topic, we will talk about bathroom floor planning.
Bathroom Layout Basics
We will make you understand what a full bathroom, three-quarter bathroom, a half bathroom and master bathroom is.
Full Bathroom
Full bathroom, in short, is all in one, elaborating more. A full bathroom contains one sink, one bathtub, one toilet, one shower. Yes, you can put more than one. But in the entire bathroom, these things should be there. If anyone is not available, then this is against the definition of the whole bathroom. People rarely make full bathrooms because they are expensive due to all those necessary things and their settings and space.
In the full bathroom, people usually put the bathtub and shower close to each other, far from the door and close to the window with a vanity. With vanity, they put the sink and toilet in the corner of the bathroom.
Three-Quarter Bathroom
If you live in a small home or an apartment and want to save some space, then a three-quarter bathroom will satisfy all your wants. A three-quarter bathroom contains either one shower or bathtub, one sink, and one toilet. The size of the three-quarter bathroom is smaller than the size of the full bathroom.
In a three-quarter bathroom, the shower or bathtub is still attached to the bathroom wall and closer to the window. When it comes to the toilet, it's next to the shower or bathtub, and the sink is next to the toilet and closer to the door. These bathrooms are not very resource or space expensive.
Half Bathroom
In a half bathroom, there is only a sink and toilet and no shower and bathtub. These bathrooms save your space more than the three-quarter bathroom. And they are common in almost all homes. This type of bathroom increases the number of bathrooms in the home because people can save space and make the washrooms and bathrooms different, far from each other.
In this bathroom, the toilet is placed hugging the wall, and the sink is placed opposite it. You can also put some kind of ventilation in half bathrooms, but it is a secondary thing.
Master Bathroom
When it comes to the most impressive and lovely situation in life that you want to share the bathroom with your partner, the master bathroom will fulfill all your needs. In a master bathroom, you have to do plumbing settings on the two walls. The bathtub and shower are hugging one side of the wall, and the toilet and the sinks are attached opposite the bathtub and shower. You usually have two sinks attached to the master bathroom.
Due to this layout, you have to do plumbing fixtures on both of the walls opposite each other. You can make this bathroom the luxurious one because there is no space problem in the master bathroom.
EdrawMax
All-in-One Diagram Software
Create more than 280 types of diagrams effortlessly
Start diagramming with various templates and symbols easily
Superior file compatibility: Import and export drawings to various file formats, such as Visio
Cross-platform supported (Windows, Mac, Linux, Web)
Security Verified |
Switch to Mac >>
Security Verified |
Switch to Linux >>
Security Verified |
Switch to Windows >>
The 7 Popular Bath Layout Ideas with Template
Following are some standard bath layouts.
5×8 Bathroom Layout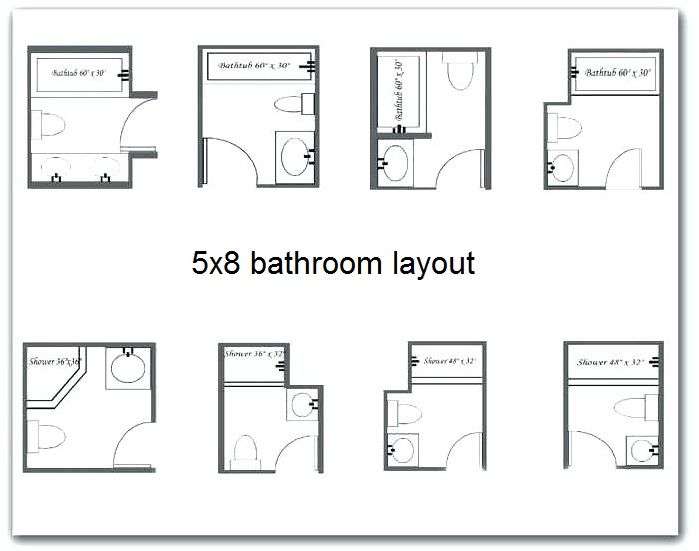 5x8 bathroom layout is the most common bathroom layout in traditional homes, and it is the most common design. You can place one sink, one toilet, and either of shower or bathtub or both in the 5x8 bathroom layout. It all depends on how you do it. You can still make your bathroom full or three-four quarters in a 5x8 bathroom layout.
8x8 Bathroom Layout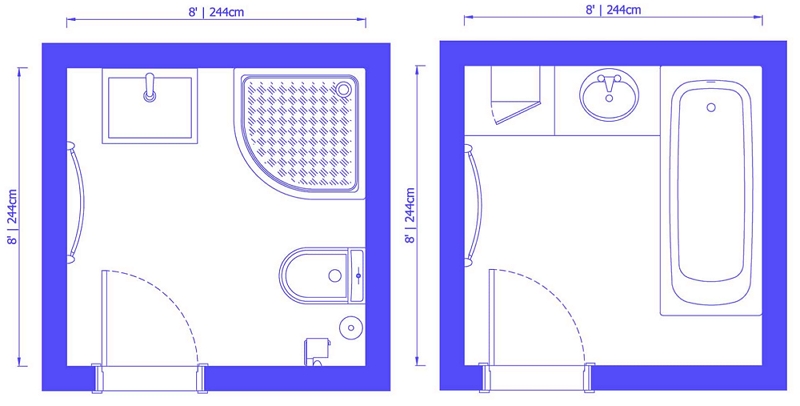 This 8x8 bathroom can be easily fit in a bungalow, and you can also make it in a normal-sized home if your family is small. In an 8x8 bathroom, you can quickly put in the sink and vanity, shower, bathtub, and toilet.
5x7 Bathroom Layout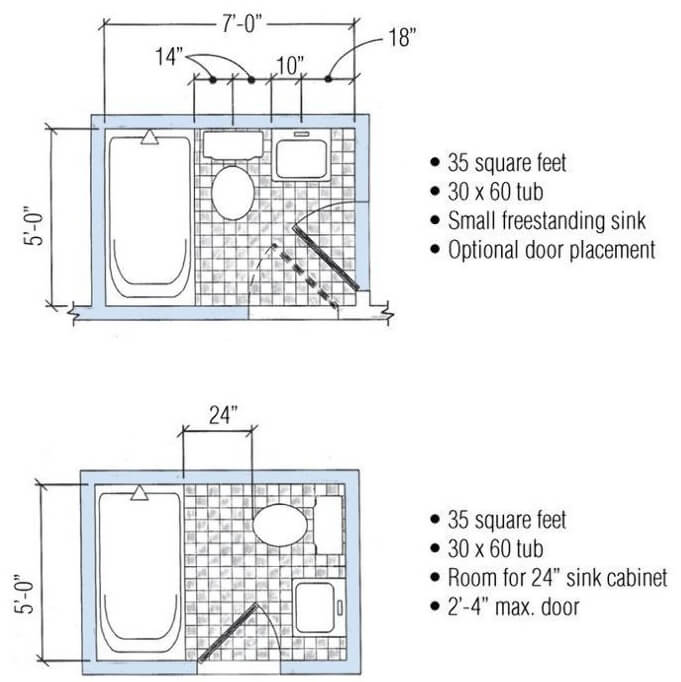 These bathrooms can be used in all average houses, bungalows, offices, etc. They can be made in apartments too. You can put a shower or bathtub, a sink, and a toilet in a 5x7 bathroom.
7x7 bathroom layout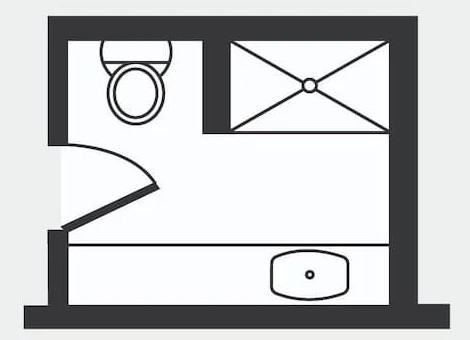 This type of bathroom can be made a full bathroom, but the shortage of space would disturb you the most, so it is better to make a three-quarter bathroom in this 7x7 layout. These types of bathrooms can be seen in tiny houses and apartments.
6x8 bathroom layout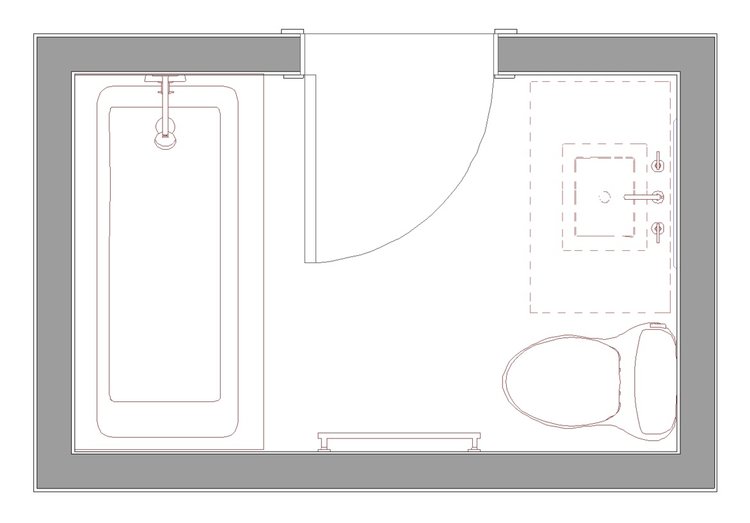 6x8 is still a tiny bathroom. This type of bathroom can be seen in normal-sized homes and apartments. You can make it a three-quarter bathroom easily. You can put a toilet, sink, and either shower and tub in a 6x8 bathroom.
Jack and Jill bathroom layout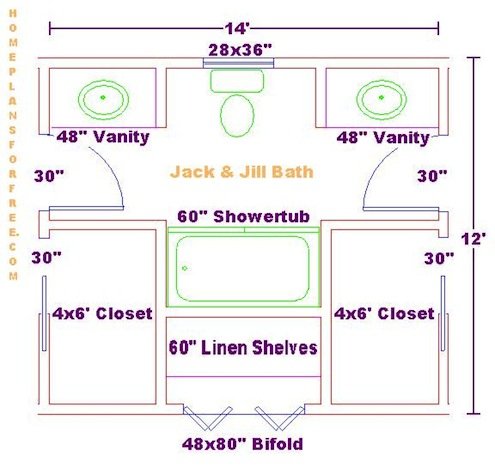 Jack and Jill are the bathrooms that have two or more opposite entrances. When you want two shared bathrooms between two rooms, then jack and jill will be the best choice. You can accommodate a master bathroom in the jack and jill bathroom.
Tips for Choosing the Best Layout for Your Bathroom
Following are some tips that might help you in choosing the best layout for your bathroom.
If you have a shortage of space but want to put in a sink, toilet, and either shower and tub, then 5x8 and 5x7 will be the best choice for you.
If you have enough space and want to put both shower and bathtub plus a toilet and a sink, then you can click on the 8x8 bathroom layout, but you can also accommodate a three-quarter bathroom in it.
If you don't have enough space but still want to add a bathtub and shower and a sink and toilet in your bathroom, you can easily choose a tiny 7x7 bathroom plan.
You can choose the jack and jill bathroom layout plan if you don't have a space problem, plus you want to share the bathroom between the two rooms. You can make a master bathroom plan in the jack and jill's bathroom layout.
Want to know more details? Watch the video below ↓↓↓
Use EdrawMax for Bathroom Planning
Either you are an ordinary person with no architectural background, or you are an architect. For bathroom planning, the EdrawMax is the best choice for your bathroom planning. The software is entirely free to use and contains dozens of templates that you can use and groom. You can also import your plan from Visio documents, too.
EdrawMax also provides built-in floor plan symbols and bathroom layout symbols. You just have to use the drag and drop and mouse drawing feature of Edrawmax to make your designs. You can export and download your drawings in many editable formats, including Word, Excel, PPT, PDF and Visio. Just download the software and start making your bathroom design.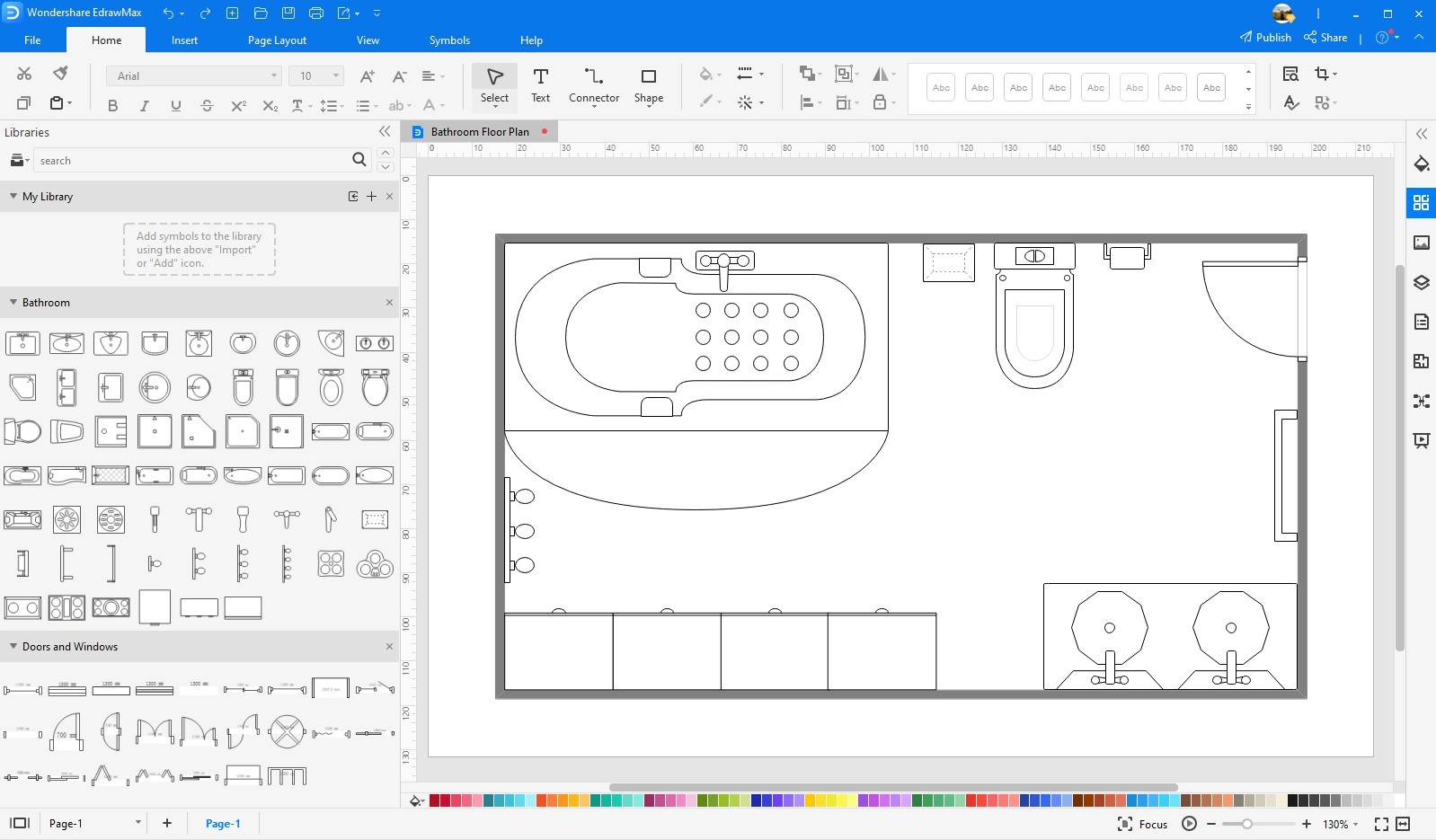 Bathroom Floor Plan Templates in Word, PPT, PDF
Bathroom Floor Plan for Word
Bathroom Floor Plan for PPT
Bathroom Floor Plan for PDF
More Related
How to Make a Perfect Wardrobe Plan?
How to Create a Plumbing and Piping Plan
How to Create a House Electrical Plan?