Knowledge
Customer Journey Map
Know it All about Customer Journey Map
What is a Customer Journey Map?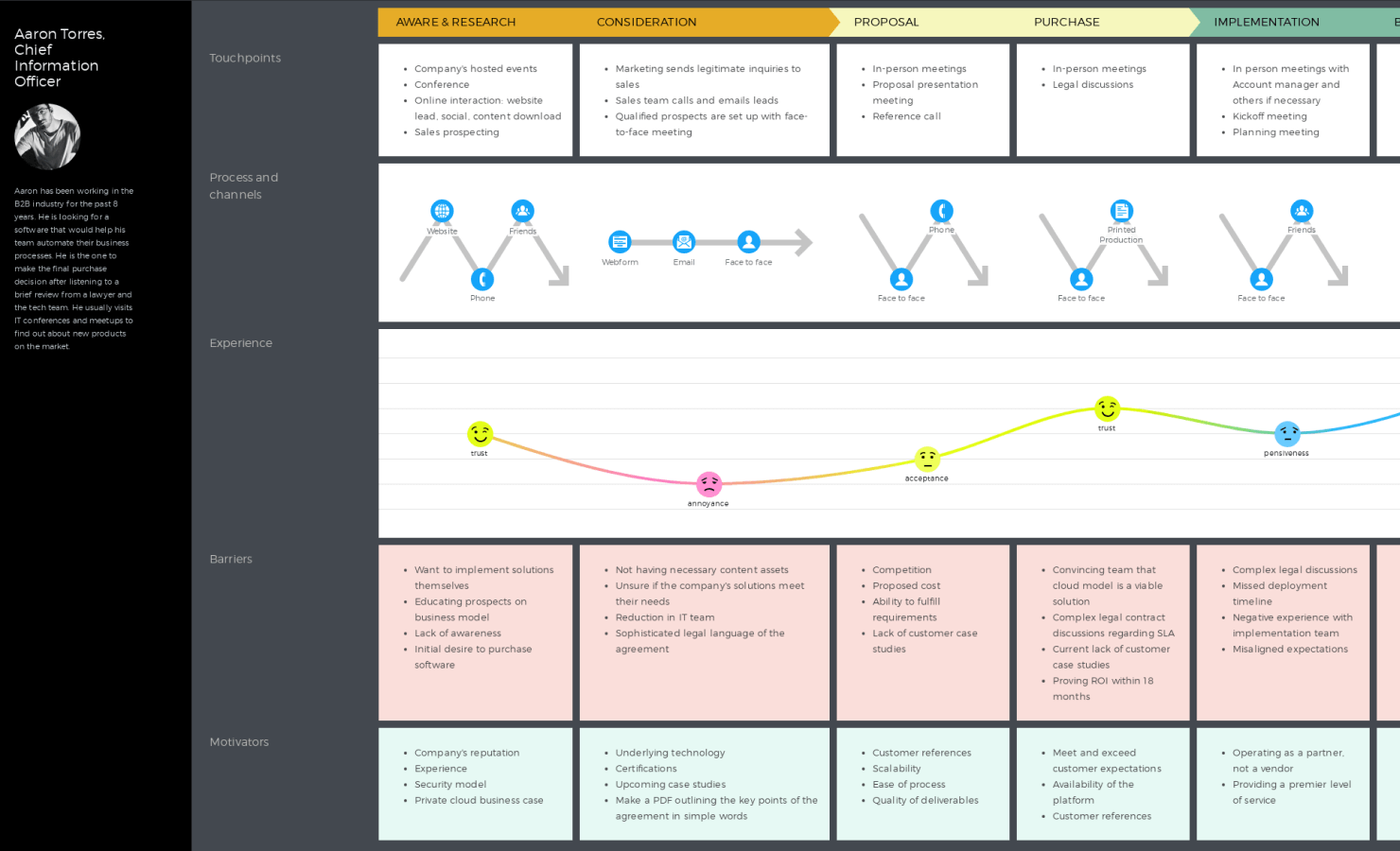 Customer Journey Map is a graphical illustration map the help create a comprehensive understanding of what motivates a customer. With it, you can visualize the whole customer's product or service purchasing cycle.
Ideally, this map shows and analyses all the phases a customer goes through when purchasing a product or service. Therefore, you can realize their experience on each phase/stage as well as how pleased they were to buy your service or product.
This means, with a perfectly drawn journey map, you can clearly assess your system effectiveness and loopholes and determine where and what to improve on.]
The Purposes and Benefits of Using Customer Journey Maps
It is a specially designed tool, such that when designed and used accordingly, will deliver a ton of benefits, including:
Determine and analyze the loopholes
Eliminate the ineffective steps or processes
Create an effective channel optimization technique that will improve your customer engagement
Determine and close the interdepartmental gaps
For UX or CX investments, this map can make it possible to evaluate your ROI.
To evaluate your quantitative data by knowing factors influencing it
Create personalized marketing campaigns
Create a new perspective that is customer-focused rather than company-focused.
What to Do before Creating a Customer Journey Map
Before creating a customer journey map, it is essential that you first complete specific tasks so as to have enough and correct data. These tasks involve activities like:
a) Define your customer. are your customers? Determining who your customers are is the first and the important step you should take.

b) Align customer goals. Basically, this is knowing what does a customer wants to do while on a consumer journey. You can use surveys, transcripts of interviews, emails, and other relevant methods to do this.

c) Gathering customer data. Well, as you know, you will need to have enough customer data to create a complete and comprehensive journey map. Therefore, you should gather meaningful customer data using ways like;
Interviews
Email surveys
Monitoring social media discussions about a company
Call center records
Web analytics
Use NPS (Net Promoter Score) data
Complain logs
Furthermore, you can use reference questions like:
How did a customer find your site?
How easy or difficult was it for them to find your site?
When did the customer made a purchase or canceled the order?
What highlighted problems did or didn't you solve?
How to Create a Customer Journey Map
EdrawMax is a multipurpose tool used to create different types of graphical charts or maps. It is the best online and offline graphical illustration maker adorned with a ton of impressive features.
EdrawMax
All-in-One Diagram Software
Create more than 280 types of diagrams effortlessly
Start diagramming with various templates and symbols easily
Superior file compatibility: Import and export drawings to various file formats, such as Visio
Cross-platform supported (Windows, Mac, Linux, Web)
Security Verified |
Switch to Mac >>
Security Verified |
Switch to Linux >>
Security Verified |
Switch to Windows >>
Below are steps on how to create an effective customer journey map using.
Step 1: Launch EdrawMax Software
Open EdrawMax and sign in. If you don't have an account, you can quickly create one to enjoy a seamless designing process and experience.
Step 2: Click Customer Journey map
On the blue navigation panel to your left, click [New] > [Marketing], and then select [Customer Journey Mapping] and let it load.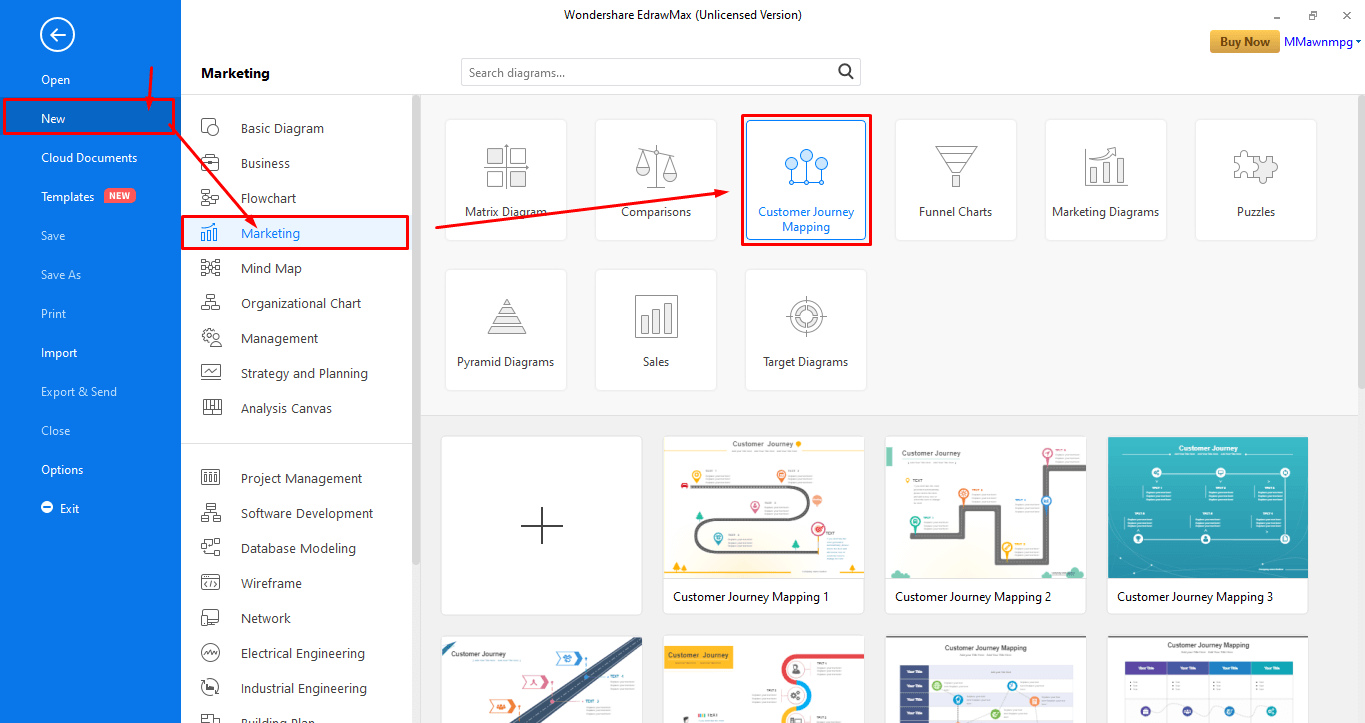 Step 3: Choose a Template or create from scratch
In this step, you will have two options to go with; you can browse through the available customer journey map templates and select to edit the template you like or click [+] and create a whole new map from scratch.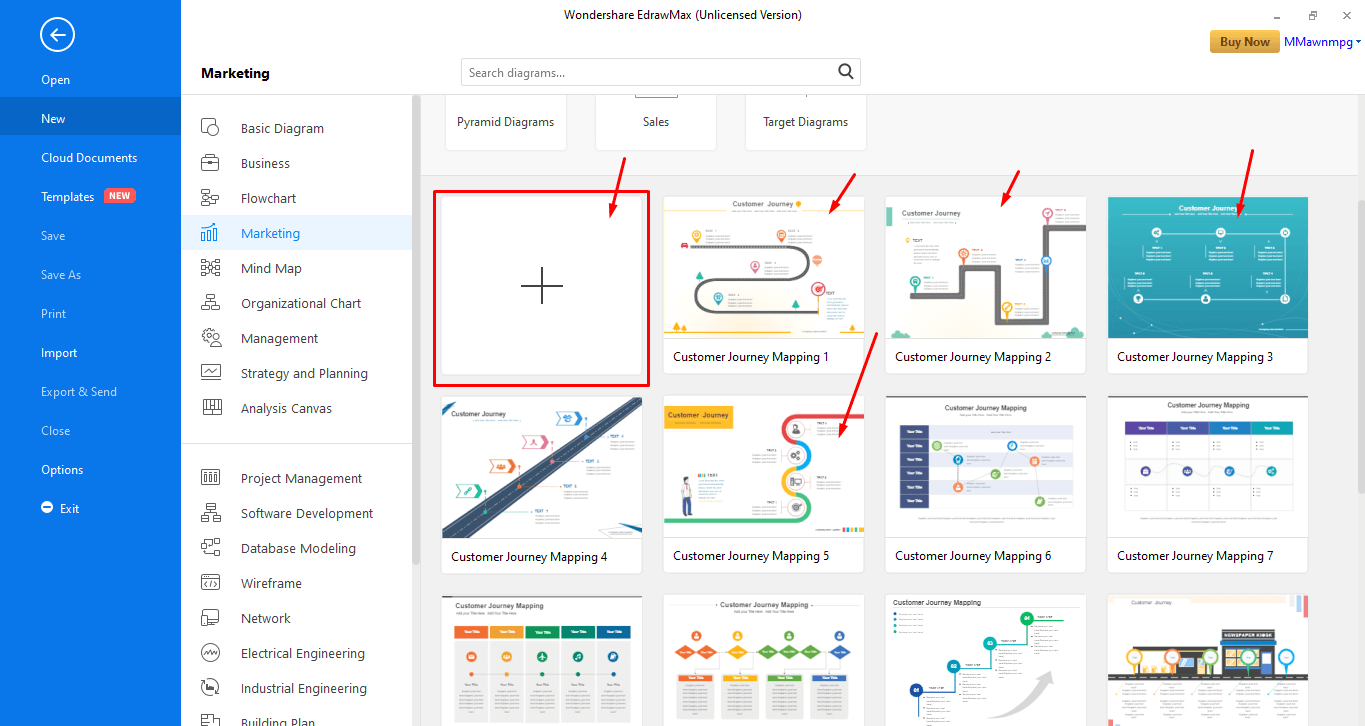 Step 4: Editing and Designing process
Regardless of your choice, you will still need to do some editing and designing for your map. For this, EdrawMax has you covered.
You can add symbols to your map by simply dragging and dropping symbols on the blank space from the symbol's library. You can edit color, size, shape, position, and text on your chart with just one or two clicks. All the tools to use all included in your canvas.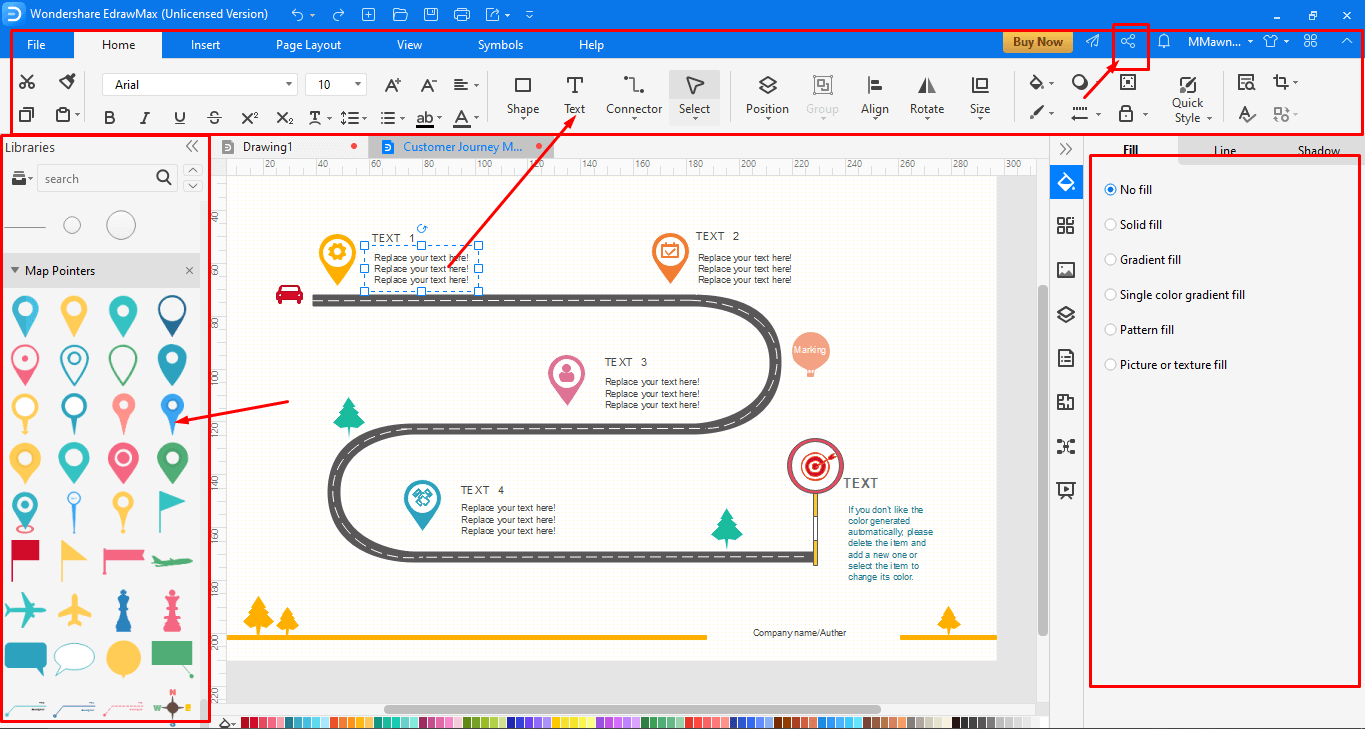 Step 5: Save, Export, or Share
Once finished designing and editing your diagram, you can save and share your diagram with friends. Furthermore, you export your diagram, and EdrawMax allows you to export your file in different formats, including PDF, editable MS Office file, Graphics, SVG, and Visio vsdx file.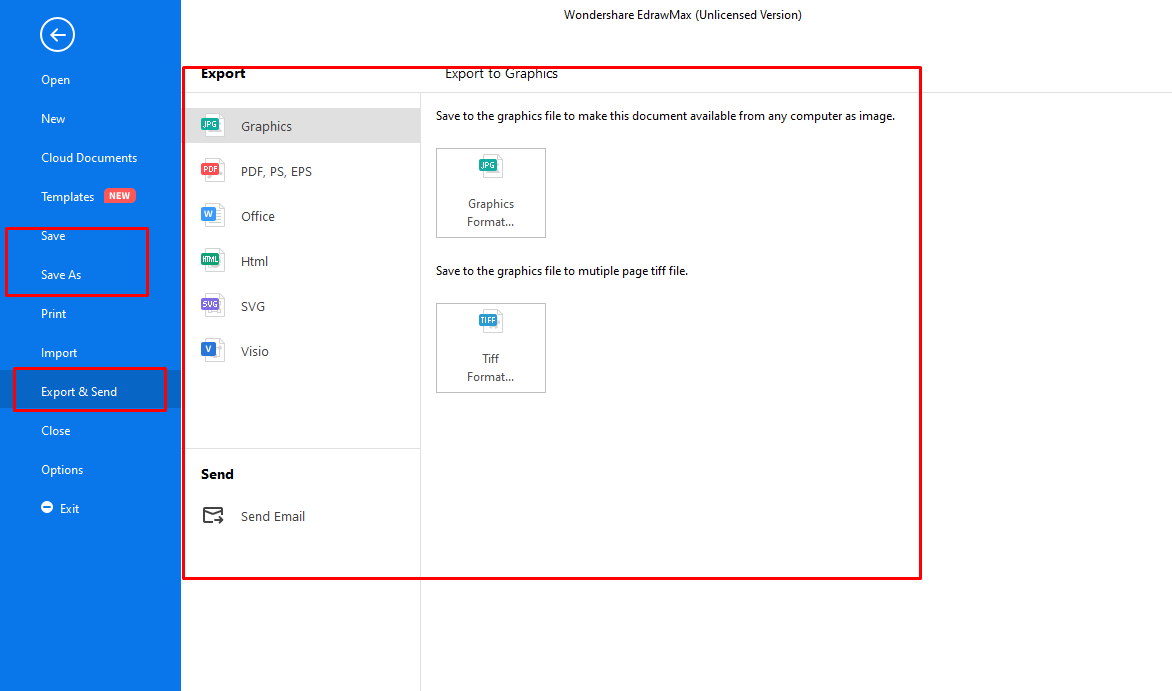 Tips for Making Customer Journey Maps
The following are the essential tips to help you create an effective and professional customer journey map.
Focus on presenting clear and accurate data, not just creating a colorful visualization map. This means you need to create not only a detailed map but also an easy-to-understand map.
Sometimes data may be wrong; therefore, don't rely mostly on data , if possible, verify your data before using them.
Remember, analysis of customers' experience improves your site's interactive performance and your digital and interactive content. Thus, you must avoid a narrow view of the customer journey.
Ensure your journey map covers all three phases; early, middle, and late in which a customer goes through. It is about answering how consumers come into contact with your brand, which also involves analyzing before, during, and after purchasing something. This will help you analyze the customers' consideration, awareness, preference, and purchases.
Customer Journey Map Example
The customer journey map example below shows Daniel Thomas's customer journey map for ordering custom face masks. The diagram illustrates his whole route in which he takes to purchase custom branded face masks online for his employees. The entire process starts with Daniel's online search, followed by browsing through several available options (which are a lot), and luckily, he ends up finding a 24HW site. From this map, you can easily visualize his entire experience step by step.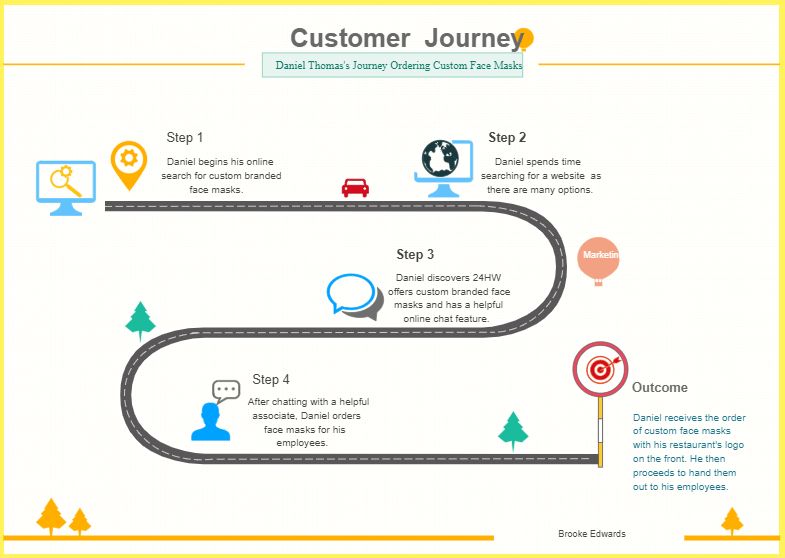 Related Articles
Create a Customer Journey Map with EdrawMax. Try it Free!