8 Customer Journey Map Examples To Inspire You

With the rise of "self-serving" technology, customer journey maps (CJM) are eventually becoming a salient tool for enterprise customer management, and also to optimize Customer Experience (CX). If you are in the middle of a CX/UX project yearning for some inspiration, you may find the following customer journey map examples useful to your cause.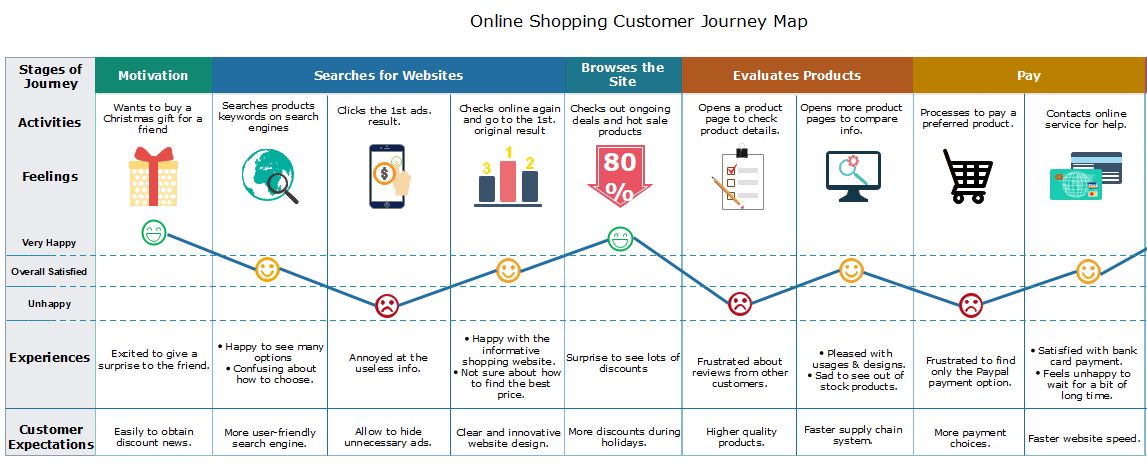 Part 1: What is Customer Journey Map and What it is Used for?
By nature, a customer journey map is a diagram that illustrates the IoT between a customer and the enterprise by chronicling the different stages of the customer's journey, mapping down all the touchpoints, activities, customer behaviors, goals, as well as the glitches and obstacles of specific processes.
This diagram's objective is quite straightforward - to have a visual idea of the customer's experience and to use this information to improve business processes and shape new imperatives.
However, diagramming the entire thing often turns out to be a sophisticated work from the design perspective. Since the design dynamics of CJMs are mostly unique to the business process's varying needs, whether online or offline, type of product or service, and the total value system of the enterprise that is based on the needs of the customer. Designing a CJM not only needs creating concepts but also requires the designer to be deeply aware of various aspects of the business.
Part 2: Benefits of Customer Journey Maps
The core advantage of CJMs is that they bridge the gap between a customer and the enterprise. The visualization of the intricate customer journey layers works as a guide, leading enterprises to make future decisions in a value-driven manner. The core advantage of CJMs are:
Clarity - being able to pinpoint any hidden shortcomings or glitches in the business process, aids the decision-makers in curbing future risks influenced by such deficiencies.
Growth - indicates the fact that these maps explore multiple aspects of a journey of a customer. It covers a host of topics in the processes and accomplishes them.
Simple to Use - compared to other blueprints and diagrams used within enterprises, the CJMs are undoubtedly the simplest to understand. Thus it is faster to implement and endorse new business decisions based on them.
Part 3: 8 Customer Journey Maps Examples to Inspire You
1. About Buying a New Phone Online

This all-inclusive yet straightforward user journey map example features the touchpoints of customer experience of buying a cellphone online. The flow-of-actions are followed with a vertical indicator, as the Positive and Negative aspects of the experience are neatly segregated into a top and bottom section without losing connection.
The timeline-based template is an excellent example of how a customer journey map can include both the customer's point of view and the business point of view.
2. Understanding Various Stages of Customer Behavior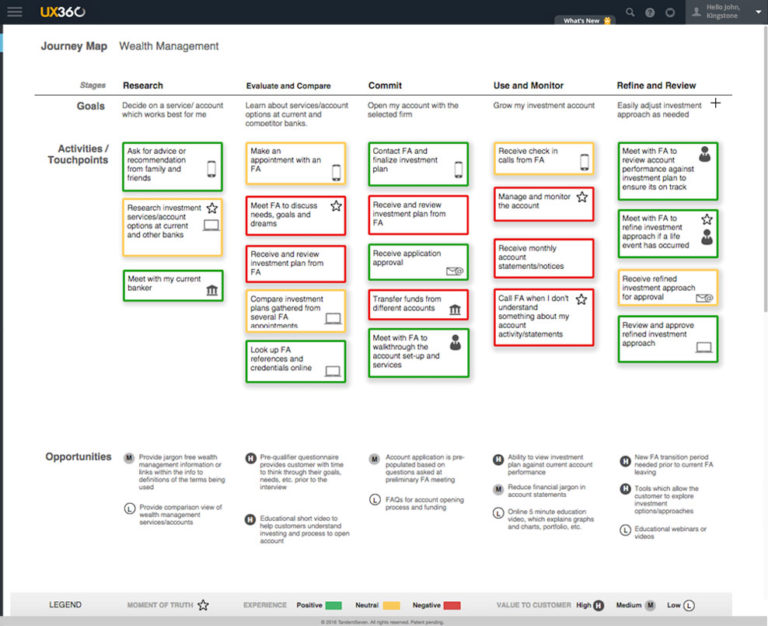 Image Source: tandemseven.com
The fact that there can be several aspects of CXs, such as customers in general, specific customer groups, or chronicle an "enterprise persona" to simulate the journey from that one point of view. It can be a big challenge for all these aspects to be included within a single diagram, especially when it's about large enterprises.
This grid-based template used for a Wealth Management scheme is a good example of creating a customer journey map with an in-depth analysis of customers' behavioral patterns with an unbiased approach.
3. Offline User Journey Map Example About Public Transportation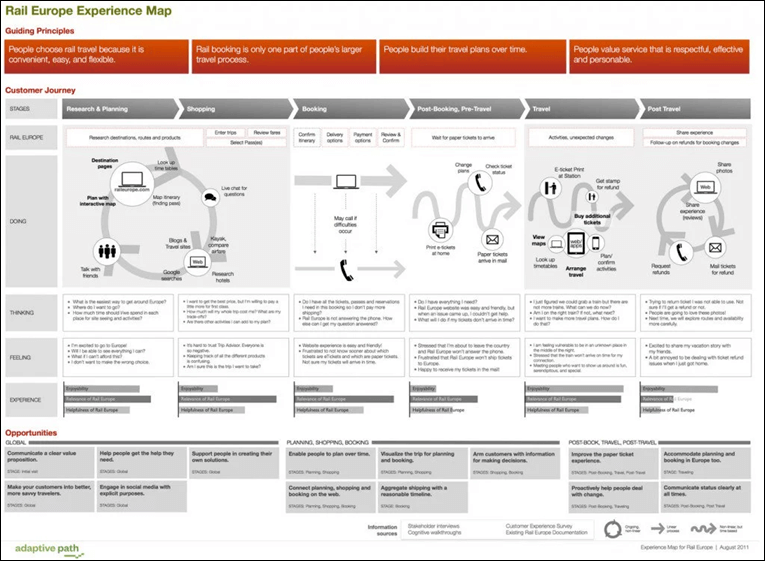 Image Source: conversionxl.com
If you are trying to map out the customer's Journey, as in literally, then refer to this CJM done for European Railways. This User Journey Map Example is most significant for highlighting the details oriented, intricate mapping principles that are radically about a customer-base that includes "everyone" and all the varying wavelengths of thought processes, activities, behaviors, and unique situations.
4. Design Dynamics of Creating a Visual Narrative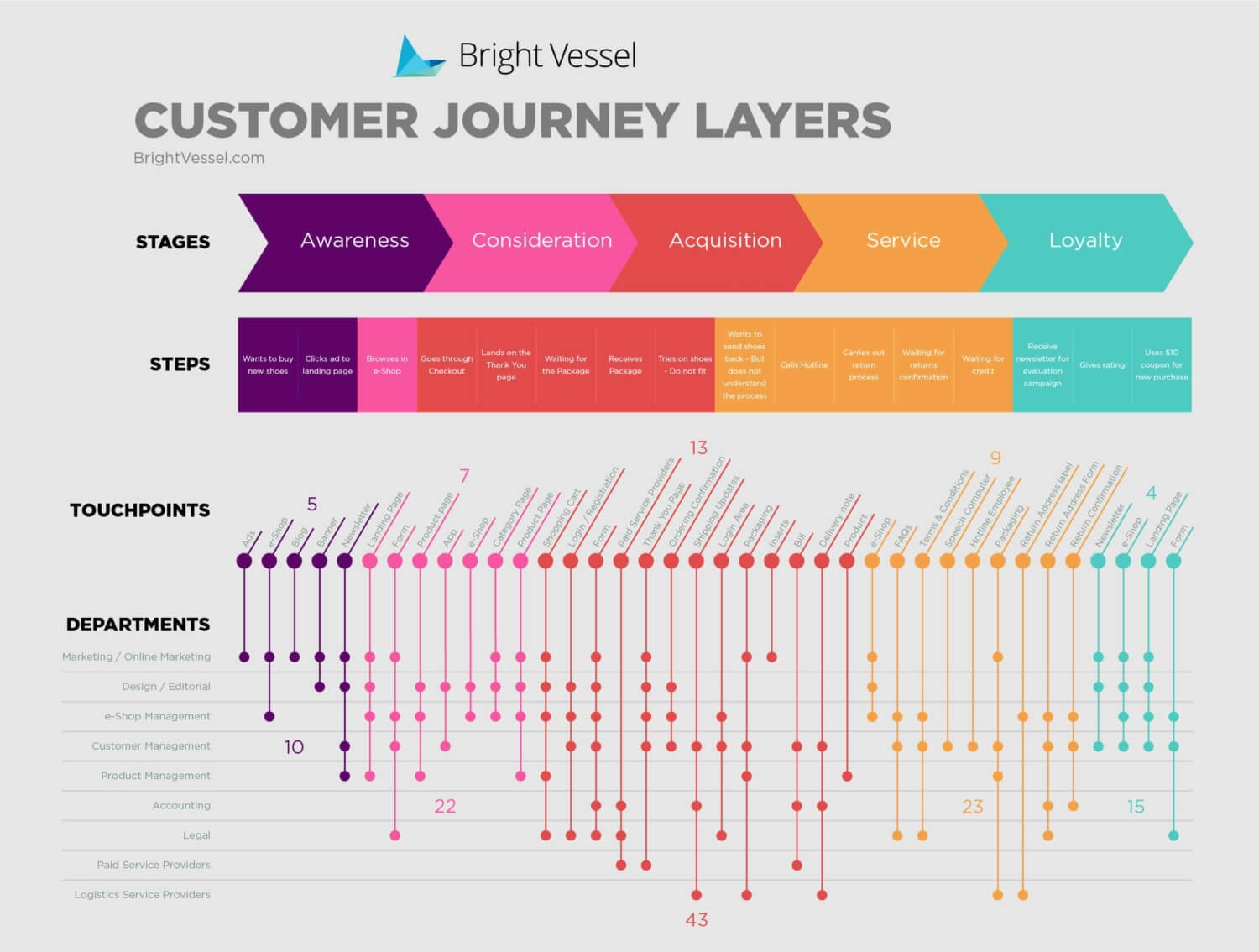 Image Source: brightvessel.com
While narrating the multiple layers of the user journey, this Web Technology provider has used appealing flux of color, shapes, and points while exploring a multitude of topics and cover all the departments in an all-encompassing manner.
It is a good method to use colors, patterns, images, grids, and other design elements to showcase the multiple layers of customer experience. However, when you do so, it is equally important to prevent the content from becoming visually cluttered. A white background and sufficient spacing is a simple trick to disperse the layout evenly.
5. Personifying a Customer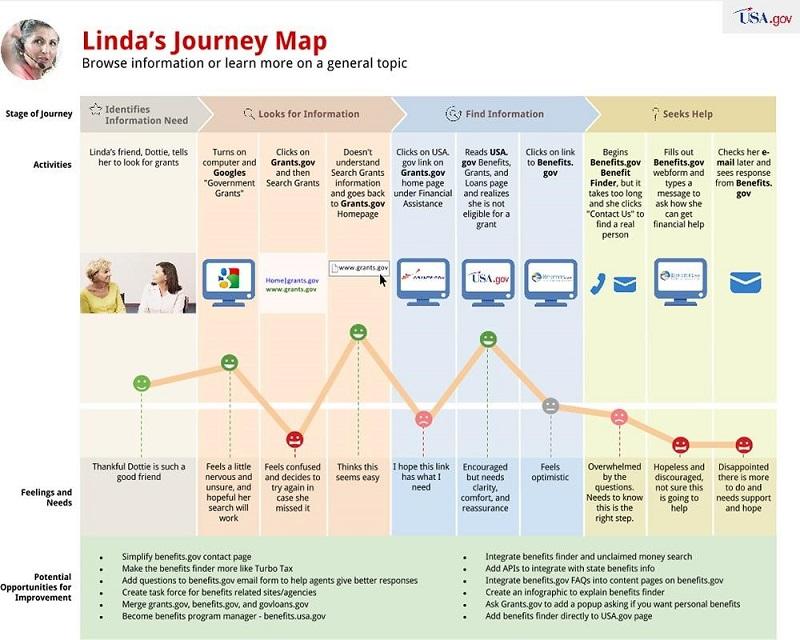 Image Source: wordstream.com
To create a user persona, the CJM designers have to know the customer, instead of basing it on the perception of how the customer may look from a business point of view. Take a cue from a user journey map example about a government grant program and is developed upon the real-life experience of a customer.
It should take into consideration of demographic information, such as age, gender, location, employment status, marital status, and others legitimately retrievable for your enterprise. Then, streamline the journey and the areas of improvement.
For example, if you were mapping the customer journey for a mobile application. It would be immensely different between how a 70-year-old man would use the technology and how a 17-year-old girl would use it, which requires you to consider the "pain-points" comprehensively when you map out their journeys.
6. Highlight the Pain-Points and See them as Opportunities to Improve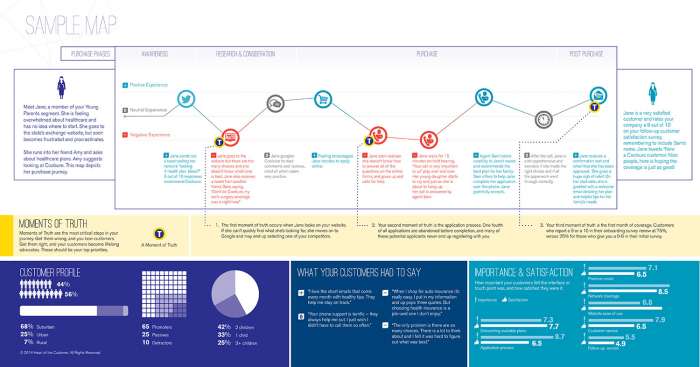 Image Source: mycustomer.com
Every business has a set of customers that go through "pain points," as shown in this customer journey map example from Heart of the Customer, which follows the customer persona's trail and their rate of satisfaction. Herein, the purchasing habits, situations, and the "importance of satisfaction are highlighted diligently.
Moreover, this is crucial to the cause. The better you know who your customer is and what they want, the easier it is for you is to go ahead with a decision, or even take risks, as to how you deliver.
7. Mapping Future Goals for Customers
Image Source: hubspot.com
This CJM, designed by a University, explores the thoughts, feelings, and actions of future customers and their journey, significantly outlining what the University aims to give its students and other users, with proposed changes, touchpoints, and devices, as well as the environment the students will have.
The subjective "future" here is about new systems, but your project may be about new goals, experiments, or just a new strategy. Either way, when you are working with such a diagram, its structure must be based on several scenarios, like this user journey map example here, so that you are always on familiar grounds and can act promptly.
8. Handcrafting an Idea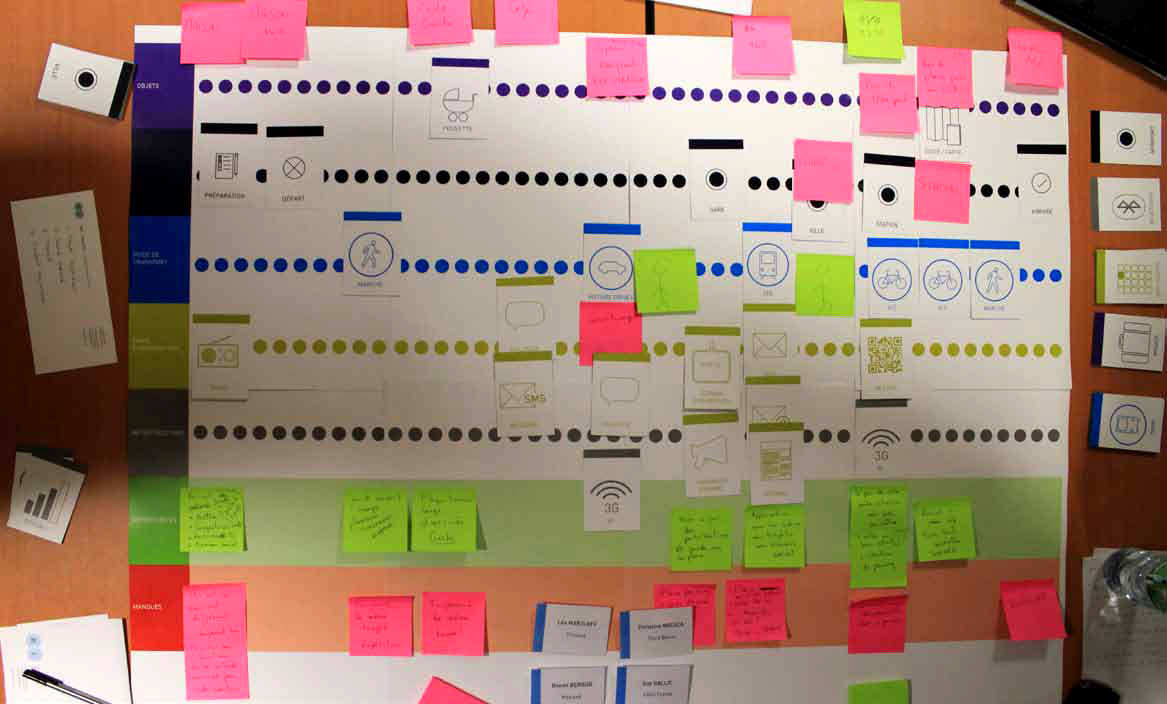 Image Source: mindtheproduct.com
It is the idea that makes the difference. In this first customer journey, there is not designed as such, and it is only the research that is spread across a pin-board with sticky notes. Whether or not you know how to create a customer journey map using sophisticated diagramming software and apps, you should be able to map this thing out, to have the prototype of the touchpoints you are aiming to cover in your diagram.
Part 4: How to Create a Customer Journey Map Using EdrawMax?
With the sophisticated diagramming software - EdrawMax, you can create professional CJMs on your own, even if you are not a designer. Explore the full range of ready-to-use templates that make your job way lot more comfortable, as you can drag and drop the elements like text box, graphics, templates, and themes single-handedly.
Here's a step by step guide on how you can create your CJM using EdrawMax:
Step 1: Download the software for Linux, Mac or Windows PCs
Step 2: Launch it in your desktop and click it open
Step 3: At the top left of the dashboard, select file>>Customer Journey Map
Step 4: On the new page, start creating your map by dragging and dropping the themes, colors, icons, shapes from the left panel.
Step 5: Customize the colors, size, text and other details according to your needs
Step 6: Export or Send your finished file from the "share" button at the top right of the toolbar
EdrawMax: a swiss knife for all your diagramming need
Effortlessly create over 280 types of diagrams.
Provide various templates & symbols to match your needs.
Drag and drop interface and easy to use.
Customize every detail by using smart and dynamic toolkits.
Compatible with a variety of file formats, such as MS Office, Visio, PDF, etc.
Feel free to export, print, and share your diagrams.
Related Articles & Tips