Customer Journey Map Templates & How to Create

Customer journey maps are great for presenting and analyzing potential user experience problems for business organizations. Read this article to learn more about the concept with editable free download customer journey map templates.
What is a Customer Journey Map?
Basically, a customer journey map tells you the user experience story of the customer from the initial awareness step to the final payment. It shows the customer's feelings, behaviors, concerns, and motivations across touch-points in their journey. The goal is to explore any key interactions your customers have with your brand in order to develop a better customer strategy for your organization, reduce costs, and increase sales.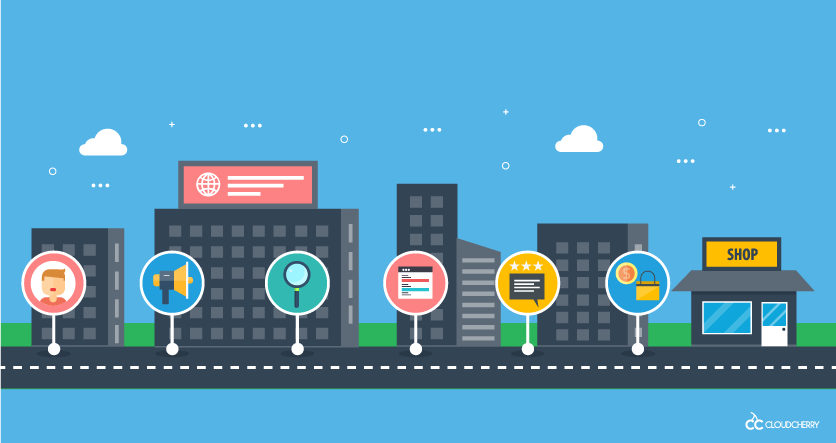 Why Should We Use Customer Journey Maps?
So far, many organizations are using customer journey maps to gain insights into the devise improvements of their service or products. Such maps offer a comprehensive view of your current organizational practices.
Easy to Focus - You may feel overwhelming for countless problems during brainstorm discussions, but drawing customer journey maps can help you quickly focus on the key hidden problems and pain-points according to the "happy" and "sad" face icons. This is especially helpful for inbound marketing.
Easy to Share - Unlike technical plans or diagrams, customer journey maps are understandable for nearly all backgrounds of professionals from the sales department to the finance team, and from the executive branch to the customer service staff. This is good for creating an organization-wide version.
Easy to Develop - Since customer journey maps cover a quite wide range of topics, therefore it is convenient to develop more related topics and do researches around the map. For example, you can develop more target customer base based on the existing demographics of your fans; or do more quantitative analysis to figure out customer preference.
Customer Journey Map Template - General Online Shopping Experience
The template here shows you the general stages of the online shopping experience. You can see the activities, feelings with face icons, customer expectations and so on. Click on it to see the full map.
Free download the easy and innovative customer journey map software.
EdrawMax
All-in-One Diagram Software
Create more than 280 types of diagrams effortlessly
Start diagramming with various templates and symbols easily
Superior file compatibility: Import and export drawings to various file formats, such as Visio
Cross-platform supported (Windows, Mac, Linux, Web)
Security Verified |
Switch to Mac >>
Security Verified |
Switch to Linux >>
Security Verified |
Switch to Windows >>
Customer Journey Map Template - Mobile Ordering Experience
The template here offers a different style of user experience presentation with a vertical indicator at the left-hand side, and a flow of actions and feelings on the map. You can check out more details by clicking on the map.
How to Create a Customer Journey Map - Key Steps
The specific process of creating a customer journey map may vary, but the essential steps should including the following:
Determine Your Goal
Make sure who is your target group; what is your business goal; which kind of product or service would you like to analyze etc.
Getting to Know Your Users
You may do so by undertaking quantitative or qualitative research methods. The former one may include data analysis, such as website traffic analytic; the latter one refers to do face-to-face interviews. If time is limited, just focus on researching your primary audiences. Moreover, Managers should also talk to front-line customer service staff within their organization to gain first-hand ordering experience and identify any potential pain points.
Build Your User Persona and Map out the Key Marketing Phases
The marketing persona, who represents your average customer, includes detailed demographic information about your target customers, such as their locations, gender, age group, job titles, organizational sizes, or even overlapping interests. Next, you should map out the key marketing steps: the discovery phase, the consideration phase, the purchase phase and finally the retention phase. For each of the step, you should ask yourself the following questions:
Why users want to purchase your product;
The motivation of your buyers' ordering behavior;
How do your users getting to know your product;
How do your customers feel;
Any pain points/touch points of your users; Touch points are all the chances where your customers can interact with your brand or service.
How to effectively follow up your returning customers etc.
Presenting Your Findings
You can use an infographic or timeline style to visually present your data and conclusions. However, don't make it very complex. Instead, just focus on the users' needs, thoughts, and feelings throughout their experience with your brand.
Analyze the Map
Now you should use the map to explore any solutions, like integrating the key performance indicators, to improve your sales and services. Try not to lose more potential buyers from your website or offline shops by offering their help in the very first place.
Further Tips for Creating Customer Journey Maps
Don't just focus on creating colorful visualization rather than presenting clear data - How to present easy-to-understand data should be the first thing you should consider when designing your customer journey map.
Don't rely too much on data - Sometimes data can go wrong. For instance, a long website visiting time may not reflect the wireframe design of your site is great, since it may due to the confusing information or structure of your site for visitors to search.
Now Create Your Own Customer Journey Maps
It's your turn to design your own customer journey maps based on the guide and tips in this article. Feel free to use the built-in auto-create tools to change colors, themes, shadow effects, text names, shape sizes and more. Drag and drop more preset marketing symbols for your work and one-click share on different social media platforms.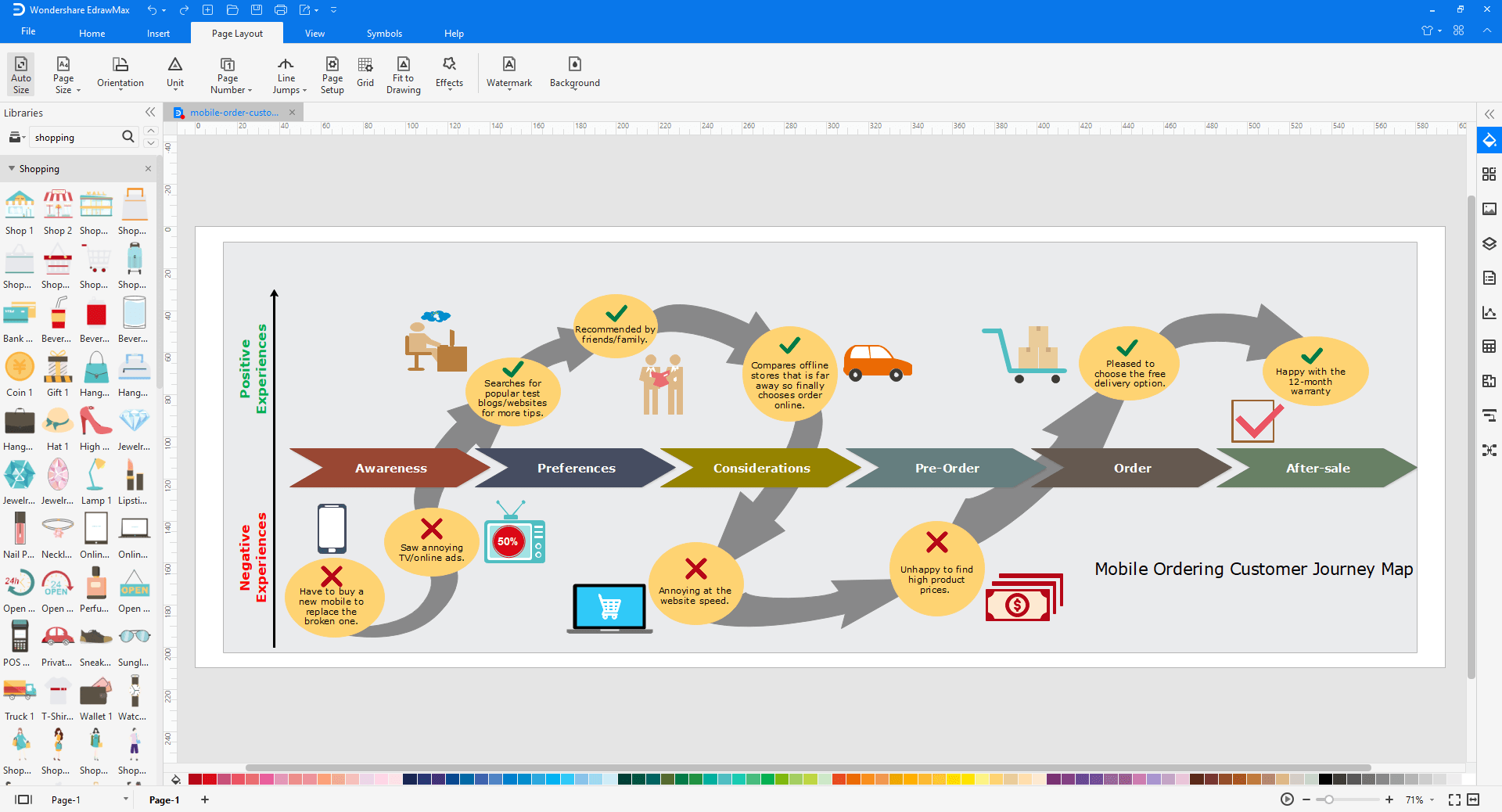 More Related