How to Create a Customer Journey Map
Visualize actions, thoughts, and emotions customers experience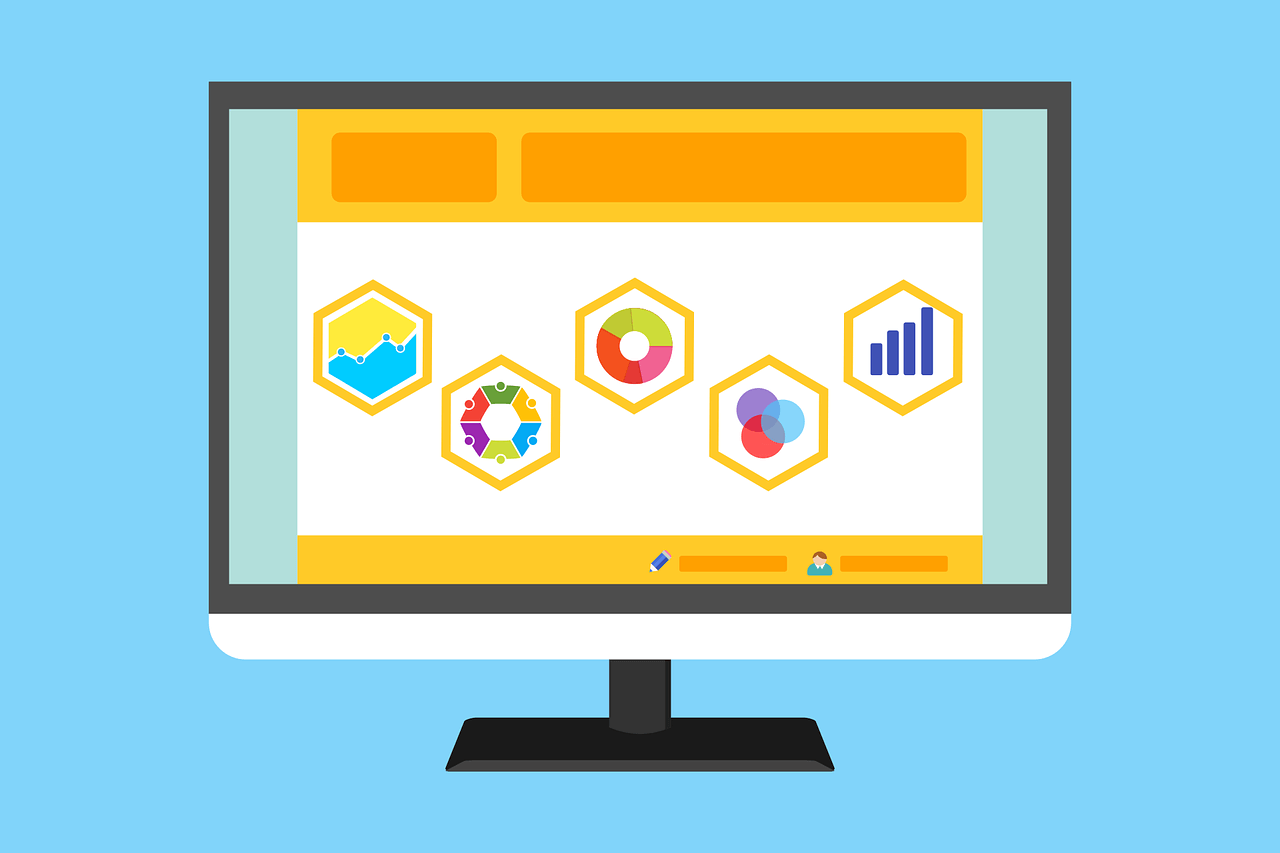 Part 1: What is The Customer Journey Map?
A customer journey map is a graphical illustration to demonstrate the entire product or service purchasing cycle of a client/customer. The diagrammatic representation clearly shows the phases a customer goes through in buying your service/product, what kind of experiences they get on each stage, and how pleased they were/are after making the purchase.
An efficiently drawn journey map helps you assess the loopholes in the customer service and the amendments that your selling policies need to increase your brand's satisfaction level among the buyers.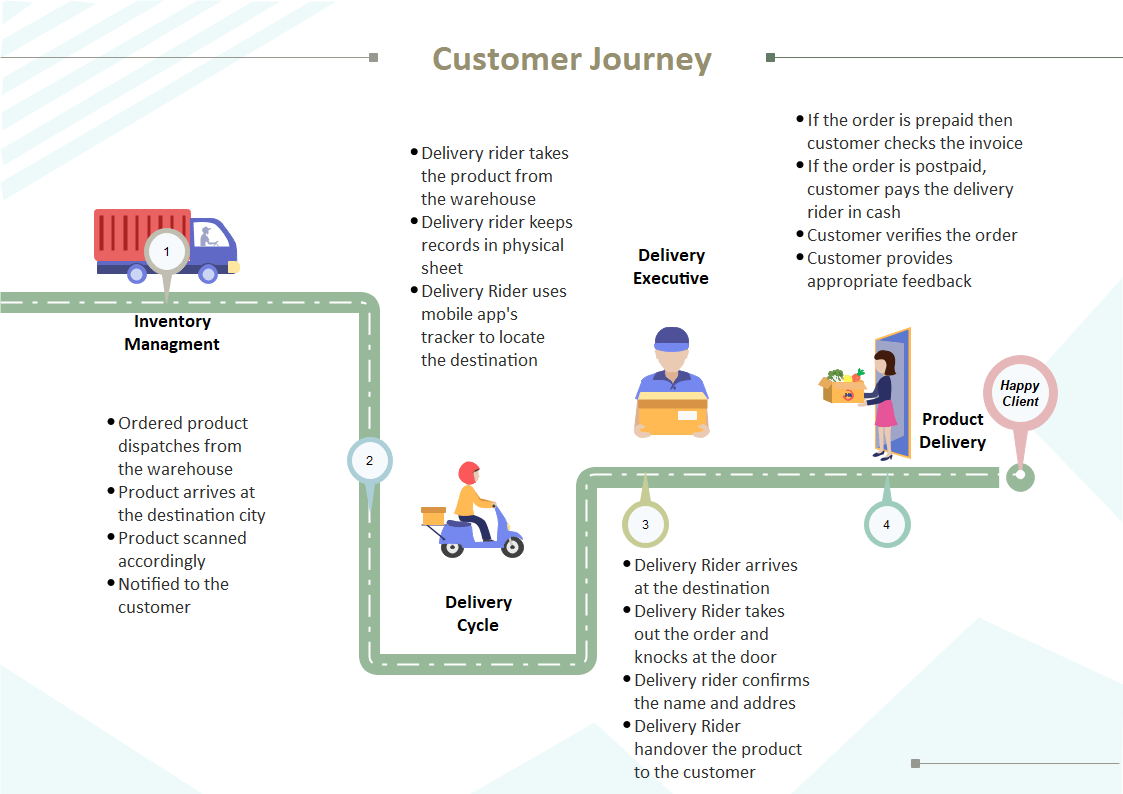 Part 2: How to Create A Customer Journey Map?
A couple of points are needed to create a customer journey map. Each point has its own significance and missing any of them might end up demonstrating incorrect statistics that may further result in loss of reputation and/or funds for your brand. The essential ingredients to make a customer journey map include:
How to Create A Customer Journey Map in General
Step 1: Setting Correct Goals
It is imperative to deeply analyze all the phases a customer passes through in the process of buying your product and then setting a target as to what areas you may need to improve in order to attract more customers. Depending on the interests of the majority of your buyers, you may want to make your inbound marketing materials like digital advertisements, promotional offers, etc. more lucrative according to the likings of the target audience.
It is also equally important to have a good sense of timing. For instance, if the crowd buys more stuff during Thanks Giving or Christmas, you should broadcast your ads right before the seasons start.
Step 2: Surveys and Researches
Conducting thorough surveys give you accurate insight into what the potential buyers look for when they plan to purchase the type of product/service you are offering. The survey kinds that can give you correct and most recent information might include:
In-House – Talking to the employees who regularly interact directly with the customers know what the potential purchasers demand while choosing a product.
Email Survey – Sending an email to the existing consumers seeking their feedback or suggestions help you assess the type of experiences they get while purchasing.
Call Recordings – If you happen to offer customer support via call center, listening to random call recordings might help you analyze the requirement of the clients.
Social Media Monitoring – You should also have a close watch on your social media pages and accounts to see what type of feedback your existing buyers share. It would help you fix the loopholes as you get the information 'directly from the horse's mouth.'
Step 3: Identify Customers' Hotspots
With all the information gathered, it would be easy for you to identify what encourages your potential customers to buy your product/service. This type of identification is extremely important as it helps you come up with engaging marketing material that could be broadcasted to appeal to the target audience.
Step 4: Analyze and Map Current Practice
In this step, you analyze how your customers are treated and what phases they go through while buying your product. For instance, you may want to check how the prospects are welcomed as they walk in, how promptly the product of their choice is demonstrated to them and in how much detail, how informative the sales people are and how do they handle the queries that are thrown upon them, how swift the transition between the sales pitch and the pricing is, etc.
Step 5: Map Expected Practice
With the available details drawn on paper, it would be easy for you to assess the flaws that your current practice has. With such an assessment, you can conveniently come up with solutions to bridge the gaps that keep your brand from generating as much as business as it should. Quick implementation of the fixes would then give you the expected outcome.
How to Create A Customer Journey Map Easier in EdrawMax
How to make a customer journey map easily? Using EdrawMax to create your own customer journey map.
Step 1: Open EdrawMax desktop software or EdrawMax web-based application.
EdrawMax
All-in-One Diagram Software
Create more than 280 types of diagrams effortlessly
Start diagramming with various templates and symbols easily
Superior file compatibility: Import and export drawings to various file formats, such as Visio
Cross-platform supported (Windows, Mac, Linux, Web)
Security Verified |
Switch to Mac >>
Security Verified |
Switch to Linux >>
Security Verified |
Switch to Windows >>
Step 2: Navigate to [New] > [Marketing] > [Customer Journey Mapping] in EdrawMax.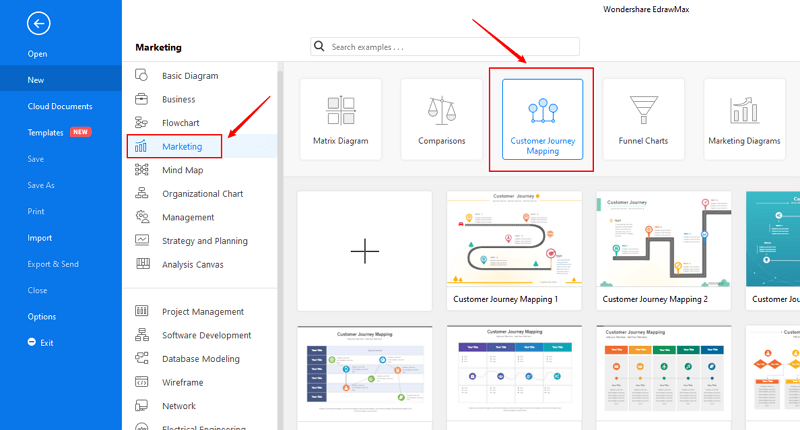 Step 3: Select one customer journey map template to edit on it or click the [+] sign to start from scratch. Also, you can use massive customer journey map symbols and elements from libraries in left menu to customize your customer journey mapping.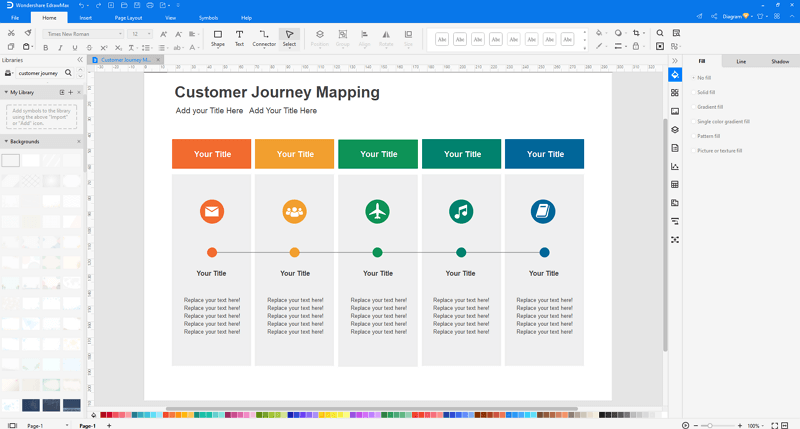 Step 4: Once finished your creation, you can export the file in multiple formats, including Graphics, PDF, editable MS Office file, SVG and Visio vsdx file.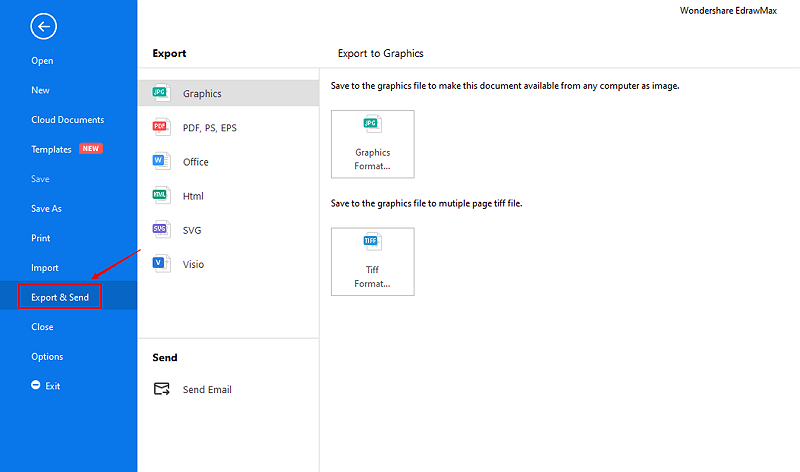 Step 5: Besides, you can share your customer journey map with others via social media and web page. Or publish your customer journey map in EdrawMax template gallery to show your work with others.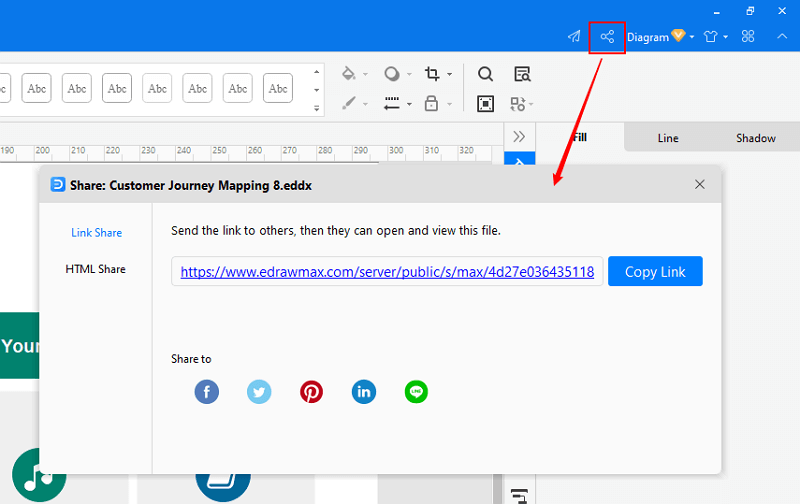 If you are still confused with the steps listed here, check this guide video for knowing more about how to make a customer journey map in EdrawMax with details. Also, you can explore more guide video from our Youtube channel.
Part 3: Customer Journey Map Maker - EdrawMax
One of the most powerful programs that can compete with Microsoft Visio, EdrawMax is yet another diagramming software available for Windows, macOS, and Linux. The tool has several categories for almost all types of industries, and each category further has numerous templates to choose from, thus saving you a lot of time that you would otherwise waste in structuring a diagram, journey map for this example, from scratch.
Price: free to use, lifetime plan for individuals, license for team and business.
Part 4: Customer Journey Map Examples
Following are a few customer journey map examples that would help you understand the diagrams' versatility and how many ways a journey map can be created:
A journey map for Dapper Apps that develops apps for various platforms like iOS, Android, Windows, etc. The map shows the process of how a customer can establish their business, especially when they are new and are starting up.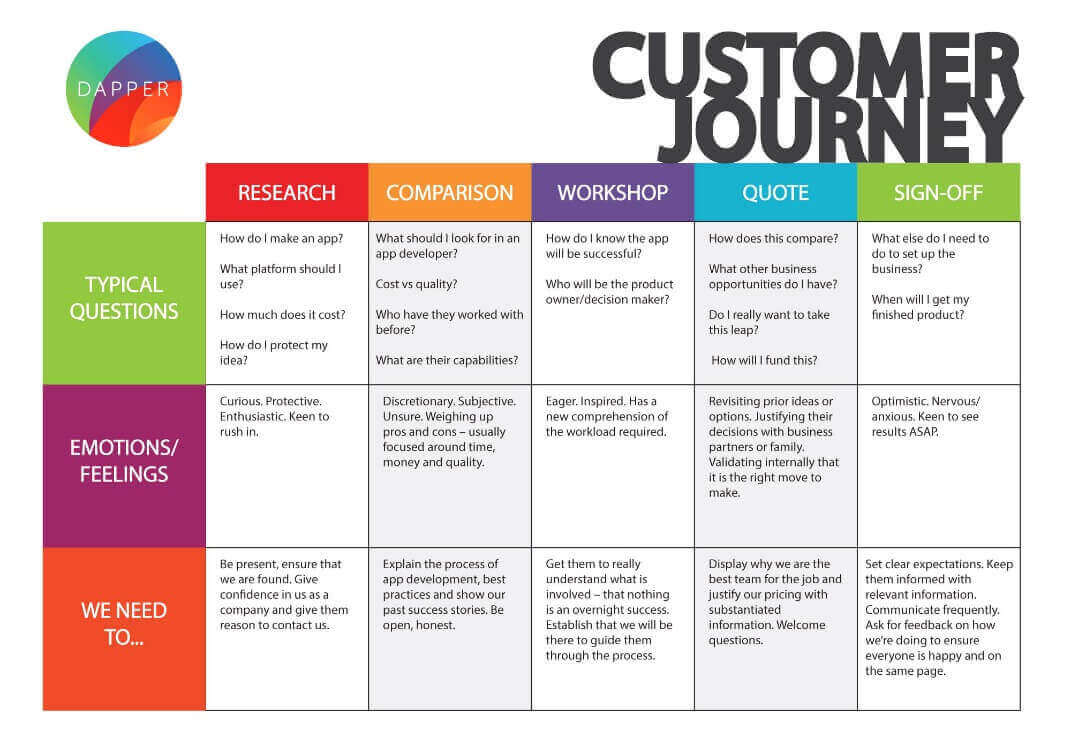 A journey map by Elevated Third that explains the process of construction in a Real Estate business.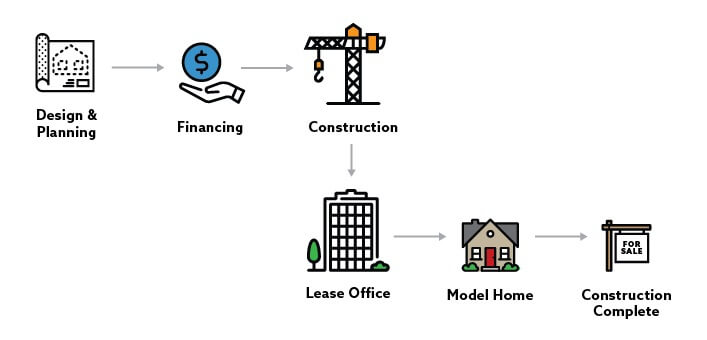 Part 5: Conclusion
A customer journey map helps you assess the current process, identify its loopholes, and eliminate all the flaws to come up with a better and productive plan to make your brand more popular among the prospects and existing customers. Thanks to some of the efficient tools like Visio and EdrawMax that make the entire journey map creation process extremely simple even for the novice users.
EdrawMax is an easiest all-in-one diagramming tool, you can create customer journey maps and any other type diagrams with ease! With substantial customer journey map symbols and cliparts, making customer journey maps could be as simple as possible. Also, it supports to export your work in multiple formats and share your work with others. Get started to create your customer journey maps now!